David Cay Johnston on the Trump We Don't Know
A Pulitzer Prize-winning journalist tells of his encounters with Donald Trump, a man he calls a "Potemkin president."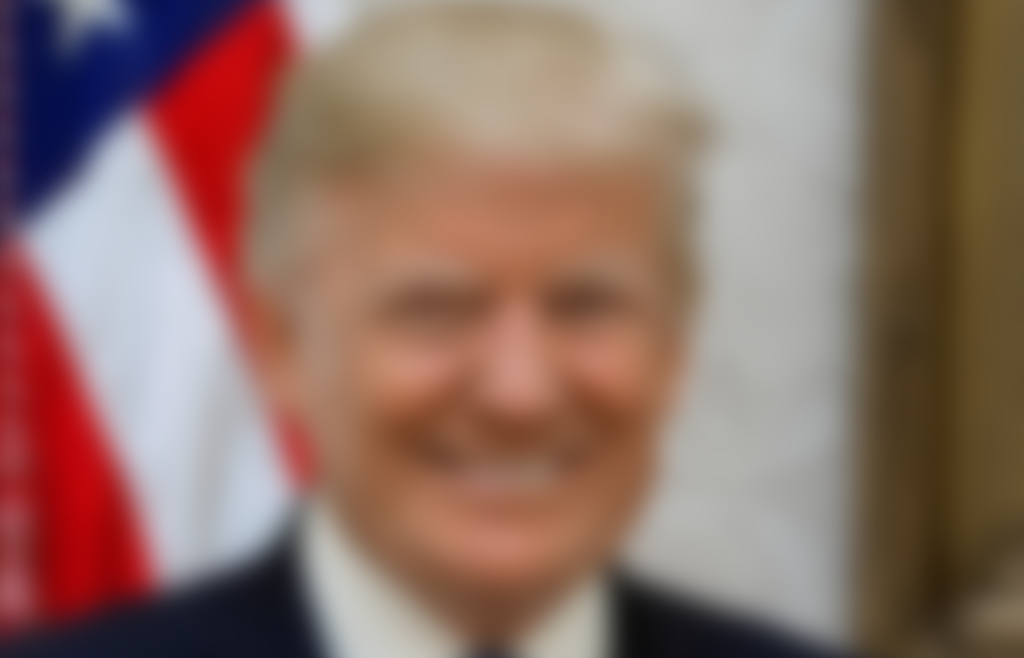 ---
"There's no good ending to Trump's presidency."
---
Investigative journalist David Cay Johnston has been reporting on Donald Trump since 1988, and admits that he has long been fascinated with a figure he calls "the greatest con artist in the history of the world." Johnston first met Trump while reporting on casinos for the Philadelphia Inquirer, and has since served as a one-man fact-checking operation on Trump's claims. His new book, It's Even Worse Than You Think: What the Trump Administration is Doing to America, tracks the first 250 days of the administration. Johnston spoke to Capital & Main about what he's learned while on the Trump beat, and why the mainstream media, despite incessant coverage of Trump, still tends to miss the big story.
---
Gabriel Thompson:  The title of your new book is It's Even Worse Than You Think. It seems pretty bad already — what are we missing?
David Cay Johnston:  Journalists have done a very good job of covering Donald's tweets and the nutty things that have gone on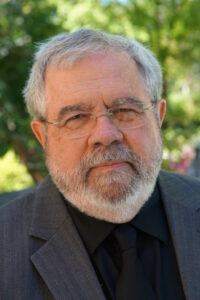 —the palace intrigues. A lot of journalists are not equipped to cover the government, because to do that, you have to understand regulations, budgets and accounting. Most journalists have not trained in those things. They've trained in how to accurately tell you the official version of events, and the official criticisms of the official version of events. I'm in the unofficial business.
What's an example of a story that is being missed or is not receiving the attention it deserves?
David Cay Johnston
Johnston:  Throughout the campaign, Trump talked about how he is all for the veterans. One of the most important things he did was use the word love. He would say to his audience, "We love you. We love our police. We love our veterans." I think that was a very powerful motivating word. And yet, his first budget proposal sought to cut the benefits for many disabled veterans when they reach retirement age. You're unable to work because you served your country and you paid a terrible physical price, and you're currently getting about $35,000 a year. Trump proposed to cut that amount to $13,000. That tells you that he doesn't care about the vets.
The only area that some Trump critics might give him some credit is on his knowledge of taxes. But you push back on this as well.
Johnston:  Donald testified under oath that he knows nothing about accounting. Well if you don't know accounting, you cannot know taxes. That's like saying I'm an expert in flying jet fighters, but I don't know what lift is. I tried to give Donald tax advice in 1990—my purpose wasn't to save him money, it was to find out if he really understood taxes. We had lunch in Trump's Castle [a hotel and casino in Atlantic City], and he couldn't follow my basic, simple advice. At the time, Donald was in deep financial trouble, and I was going over the terms of his ownership, but he didn't even understand his own deal. When I say Donald doesn't know anything, I literally mean that.
Of course, it's not just taxes.
Johnston:  He's appallingly ignorant. In my previous book, I tell the story of the primary debate, in December 2015, when Hugh Hewitt asked Trump about our nuclear triad and what his priorities would be if we had to make cuts for budgetary reasons. And Trump goes on about how he learned everything there is about nuclear energy from his Uncle John at MIT, a super genius. Hewitt asked again what his priority would be, and Trump mentioned how nuclear is so massive.
"Most journalists have trained in how to accurately tell you the official version of events, and the official criticisms of the official version of events. I'm in the unofficial business."
Then the question goes to Senator Marco Rubio, not exactly known as a heavyweight. Rubio explained that the nuclear triad is the capacity to deliver nuclear bombs from jet airplanes, land-based missiles, or submarines. This story is important because four months earlier, on his radio show, Hewitt had asked Trump the exact same question. I ran into Hewitt, and I asked him about this, and he said, "Yeah, isn't that something. He had four months to learn about this and obviously made no effort whatsoever."
What stood out to you in his recent State of the Union address?
There were of course tons of factual errors and claims that don't stand up. It was a pretty banal speech, and he applauded himself. Good God! But Donald has some skills. He's the greatest con artist in the history of the world, and he knows how to craft a line to appeal to people. He knows, when he's being interviewed, where to have the lighting and camera stationed. The man has significant skills in self-promotion and creating his image. But he's a Potemkin president. There's no substance there.
You write in the conclusion that Trump is a symptom of our country's problems, not the cause. Looking at all the terrible things he's done, what gives you hope?
Johnston:  There's no good ending to Trump's presidency. Whether he's voted out or impeached, he will go around the country claiming he was robbed and will foment violence. Nothing will hold him back. But we will get through this. We got through the Civil War, through the burning of the capital in the War of 1812, through the Great Depression. Some of the damage we can fix, and some will cause lasting problems. They are approving judges left and right, many of whom are ideologues and marginally qualified. We'll be dealing with that long after I am gone.
Here's what gives me hope. The day after he took office, six million Americans turned out in the biggest demonstrations in the history of this country. If that energy can be translated into votes in November, and we can get people to realize that it is our government and we need to act like owners instead of like we're powerless, then we can move our country in the direction of progress.
---
Copyright Capital & Main

Rick Scott Super PAC Donations Challenge Federal Anti-Corruption Rule
Co-published by Fast Company
The Florida governor led a group that raked in cash from Wall Street firms after Scott's administration gave them pension deals.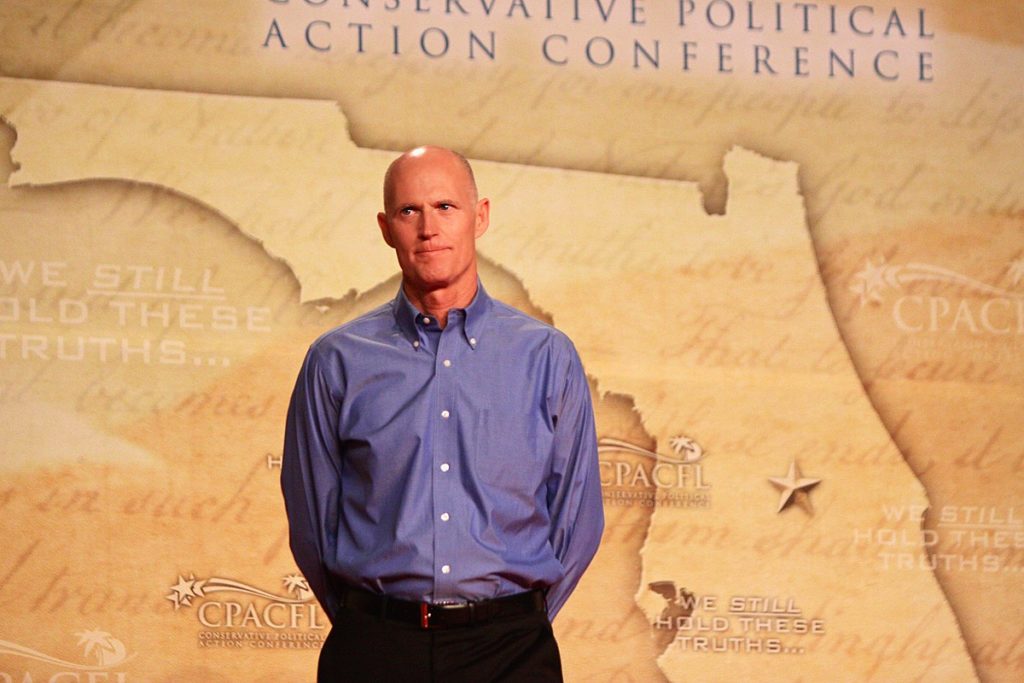 Co-published by Fast Company
A super PAC led by Florida Gov. Rick Scott raked in donations from two private equity executives after Scott's administration directed lucrative state pension investments to their firms, according to government records reviewed by MapLight and Capital & Main.
The donations were made to a committee that's now supporting Scott's U.S. Senate bid, despite a federal rule designed to prevent financial firms from bankrolling the election campaigns of public officials who oversee state pension investments.
Scott, a Republican, began chairing the New Republican PAC in May 2017 and announced his former campaign manager would serve as its executive director. Soon after, the group received $5,000 from New Mountain Capital Chief Executive Officer Steve Klinsky and $50,000 from Energy Capital Partners founder Douglas Kimmelman.
The contributions flowed to the super PAC after New Mountain Capital and Energy Capital Partners received a combined $250 million worth of new investment commitments from Florida's state pension system in 2014 and 2015. Scott is one of three state officials who oversee the $160 billion pension system. During the most recent fiscal year, the Florida investments generated more than $3 million in fees for the firms.
A 2010 Securities and Exchange Commission (SEC) rule prohibits firms from receiving investment fees from public pension systems if their executives donate campaign cash to pension overseers like Scott. SEC officials aimed to prevent investment decisions from being shaped by political influence.
But the commission didn't explicitly bar donations to "independent" political groups, unless the donations were deliberately designed to circumvent the restrictions. And it hasn't addressed whether a state official can lead a super PAC that received donations from firms with pension business and later be supported by the super PAC.
John Kuczwanski, a spokesperson for the Florida State Board of Administration, told MapLight/Capital & Main that Florida's first investments in the two private equity firms happened in 2005 and 2009, and he said Scott had nothing to do with new investments during his governorship, which started in 2011.
"The [state's] initial relationships with both managers predate Governor Scott's time in office," said Kuczwanski, whose agency manages the day-to-day operations of the pension system. "Neither the trustees, nor their appointed investment advisory council members are involved in the investment manager/fund selection process."
Scott's campaign and the super PAC did not respond to questions from MapLight/Capital & Main. New Mountain Capital and Energy Capital Partners did not return requests for comment.
Energy Capital recently completed the purchase of Calpine, whose natural gas power plant near Tampa is regulated by Scott's appointees at the Florida Public Service Commission. Kimmelman, who is now a director of Calpine, also donated $35,000 in 2017 to the National Republican Senatorial Committee, which is backing Scott's Senate campaign.
"A Very Clear Case"
Under the SEC rule — which GOP state parties have tried to overturn — investment executives are not prohibited from donating to independent political groups. But the rule allows regulators to apply restrictions to donations that are deliberately routed through third parties in order to support public officials — a situation that critics argue is happening with Scott and his super PAC.
After the governor announced his Senate bid last week, New Republican PAC's website began promoting his candidacy. End Citizens United, a Democratic-leaning political action committee based in Washington, DC, filed a complaint alleging that Scott has violated Federal Election Commission rules and is using the super PAC, which can accept unlimited donations, to evade contribution limits. Scott's campaign says he stepped down as New Republican PAC's chair in February.
In writing the original rule, SEC officials noted that while they could not restrict all donations to political action committees, contributions to third parties "may effectively operate as a funnel to the campaigns of the government officials." They said the final rule "prohibits acts done indirectly, which, if done directly, would violate the rule."
One ethics expert said that those anti-circumvention provisions should apply to the donations to Scott's super PAC.
"This appears to be a very clear case of close coordination and circumvention of the pay-to-play rule," said Craig Holman, an ethics lobbyist at the government watchdog group Public Citizen. "This is something that I'd like the SEC to pay attention to."
"No Loopholes"
The SEC has only occasionally enforced the pay-to-play rule, and the agency hasn't applied the provisions dealing with third parties to donations to super PACs. Because Scott is a sitting governor who can influence pension investments, he is covered by the rule, which has hampered the fundraising of past governors who tried to run for federal office.
A spokesman for former Texas Gov. Rick Perry's presidential campaign said the rule prevented him from raising enough money to be competitive in the 2012 race. Bloomberg reported that during the same election cycle, then-New Jersey Gov. Chris Christie was rejected as the vice presidential nominee, partly because Republicans feared the rule would prevent them from raising money from Wall Street firms that do business with his state's pension system.
"There is no way around it, and there are no loopholes," said Bill Palatucci, Christie's longtime advisor.
Even so, in recent years the rule has not deterred financial executives from donating to groups that help lawmakers who can influence pension investments. Financial executives whose firms received New Jersey and New Mexico investments continued to donate to the Republican Governors Association (RGA) when Christie and New Mexico Gov. Susana Martinez led the group. During the 2016 election cycle, executives at firms managing state pension money donated nearly $1.3 million to the GOP association, even as the group boosted the campaigns of Republican governors with power over state pension investments.
Last year, U.S. Sen. Tom Udall, D-N.M., called for the SEC to apply the pay-to-play rule to outside groups "to ensure that no one is able to circumvent these laws by using super PACs, dark money groups or other campaign spending vehicles." The RGA has argued that because it funds multiple candidates and does not allow donors to earmark contributions for particular races, it can accept donations from firms with investment business that can be influenced by individual governors. The SEC said in 2016 that donations to outside political groups "are independent expenditures that do not trigger" the rule.
"So long as the PAC faithfully observes the requirement to operate independently of candidates, a contribution to a super PAC will not trigger the [rule], even if the super PAC supports a covered official," Sam Brown, a former advisor to Federal Election Commissioner Ellen Weintraub, wrote in 2016. "Super PACs are increasingly being used in novel ways, and it remains to be seen whether these changes will result in increased circumvention risks."
---
This story is a collaboration between MapLight and Capital & Main.