David Bacon's Portraits of "Invisible" Farmworkers
When writer and veteran union organizer David Bacon speaks of "people who travel with the crops," he means the agricultural workers who move from place to place to cultivate and harvest California's fields. They are also the subject of his newest work of photojournalism.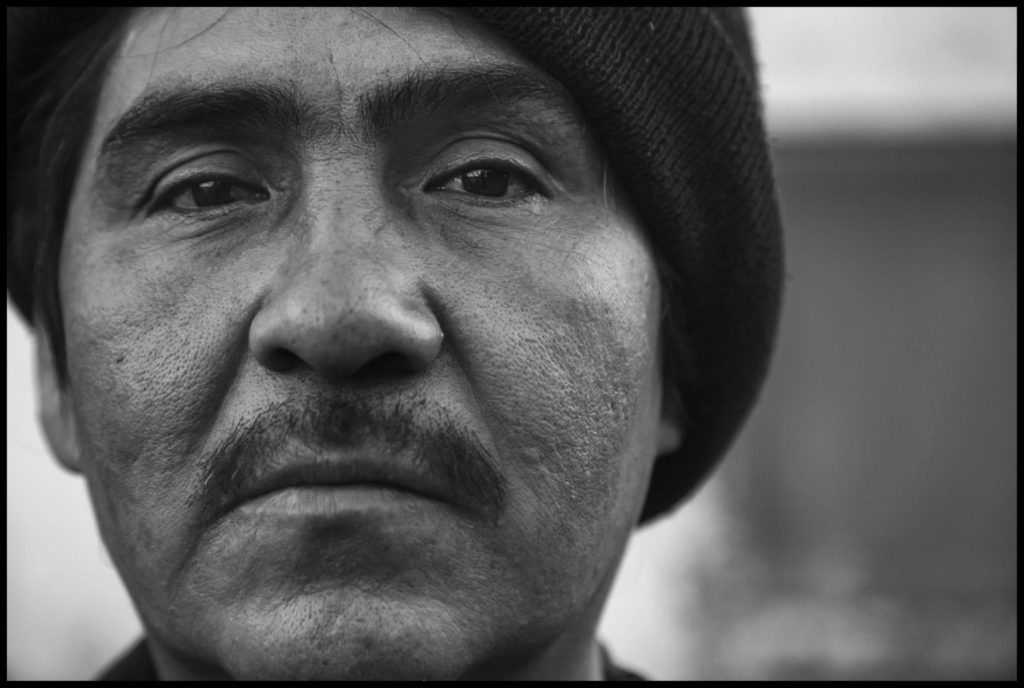 The writer, photographer and veteran union organizer David Bacon frequently refers to "people who travel with the crops." He means the agricultural workers who move from place to place to cultivate and harvest California's fields, as well as those across the United States. They are the subject of, and participants in his newest work of photojournalism, In the Fields of the North/En los campos del norte, a collaboration between El Colegio de la Frontera Norte and the University of California Press.
On Tuesday, May 23, David Bacon will appear at two book-related events in Los Angeles. The first takes place on UCLA's Westwood campus, 1-3 p.m.; the second, at the UCLA Downtown Labor Center, 5:30-8 p.m. Both events are free and open to the public. 
See details here.
---
Capital & Main: Some of the book's photos were originally displayed on a border wall?
David Bacon: There's a section of a border wall as it goes into the Pacific Ocean, at the Playas de Tijuana. There's a park there called, ironically, Friendship Park, on the Mexican side. During a conference that was organized by the Colegio de la Frontera Norte Mexico, they created really big prints of the photographs on discarded cloth. The idea of the conference was to talk about the situation of Mexicans living in the U.S. Ten percent of the people of Mexico live here in the U.S.
There are certain illusions that people have in Mexico about the Mexicans working here — that everybody's working for high wages, and doing really well. The images show you what the reality of life actually is.
The book is not just photos and captions—it includes first-person stories to introduce chapters.
Bacon: People comment about all kinds of things, how they crossed the border, about their work lives, about their families, the communities that they live in, their culture. A lot of the farm workers in the U.S., especially on the Pacific Coast here, are indigenous people, bringing with them this very vibrant culture from towns in Southern Mexico, Oaxaca in particular.
Your first chapter is "Where Does Our Food Come From?" and describes weeding an organic potato field — the heat, pulling weeds by hand.
Bacon: Does the fact that it's organic mean that it is healthy for the people who work there? In some ways, yes. In some ways, no. Yes, being that if no pesticides are being sprayed on the plants there, workers going through and picking weeds are not going to get a dose of pesticide. Human labor is required to come and get those weeds out of the ground before those potatoes are harvested. So there's more work for workers and that's a good thing too.
But when you look at other things, you see that not much has changed. Wages for workers are way down there on the bottom, as they are for workers in the other fields. The problems of sexual harassment are the same for workers at organic growers as they are for workers not [at] organic growers.
Most people in the U.S. don't see farm workers, don't know who they are. They don't know much about the food that's sent to the supermarket shelves. This book is a way of trying to peel that back.
Are there any ways for consumers to make reasonable choices?
Bacon: The last chapter in the book is about, among other things, the strike that was organized by workers in Washington state who worked at a farm, a grower, that was producing berries for Driscoll's berries. Driscoll's is a big berry marketer. They're all over the world. The way those workers were able to [get] the grower . . . to finally agree to negotiate a contract and to recognize their union, was by appealing the people in the cities not to buy Driscoll's berries until the grower had agreed to do those things.
This is basically what Cesar Chavez taught. The United Farm Workers movement . . . taught us how to use our power as consumers to help workers when they are involved in a fight with their employer and they need support in order to win. It worked for the workers in Washington state.
Ramon Valadez Tadeo
The union was founded here in California in 1966, but drive up the California coast—you'll still see people bent double in the fields picking crops in the heat. What has changed in all that time?
Bacon: Some things have changed and some things haven't. Or some things changed for a while and then kind of slid backwards. Some of the things that changed on a more permanent level were things like basic improvements in working conditions, like bathrooms and water for people to drink in the fields, which people didn't have before the union.
When the union was really strong at the end of the 1970s and the beginning of the 1980s, the wages for union farm workers were about two and a half times the wage for a nonunion farm worker–about two and a half times the minimum wage. If that were true today, farm workers would be making 25 or 30 bucks an hour, which obviously they're not. The union also made political changes.
The UFW pushed forward the organizing skills of a lot of people who then went on to use those skills in other areas. It also pushed forward the politics of social change and social justice in our communities. The 1965 grape strike was started by Filipinos who were living in labor camps in Delano. Delano was run by growers. The city government was all white. Today, the mayor of Delano is a Filipino. The politics changed. Workers got more power because of the union. They used that power in order to change the politics of the town.
I'm a product of that movement myself. I was an organizer for the UFW in the 1970s, then I went on to organize with other unions and help build up the labor movement through the 1980s.
Roberto Cruz
But many images in your book show people living in utter squalor—crowded rooms, dilapidated trailers, some building their own shelters. Why is farmworker housing so appalling?
Bacon: In the book, you see pictures of families with a lot of family members all living in one room, or two rooms, or a garage. That's primarily a function of people not having enough money. Also, because people are immigrants, [they] are sending money home. I've had people tell me, "I would rather live outside for a while, so long as that means that I'm not going to pay the money on rent, and I can send more money to my family back home and they'll live better."
Then, there is not enough housing in rural California, especially for people who travel with the crops.
There's also no real concern by the growers, who are, after all, the ones who really benefit from this system. The book in a way is trying to show us this and say, "Hey, what's fair about a system in which the person who's putting the food on the table for you can't find a place to live?"
Yet your photos show the things that people do to create home. I'm struck by images of people slipping off work shoes to keep the floors clean.
Bacon: Sure. There is this photograph in there of this guy who is sitting on a mattress that's on these shipping pallets.
Ansel Adams' photography draws viewers into a connection with the American West. Dorothea Lange's work places us right back into the Depression era. What makes your photography so universal? The subjects reach out to us and look us in the eye.
Bacon: What I'm after is a feeling of intimacy, of closeness. I'll get very close to the people that I'm photographing. I'll use a wide-angle lens — that has the advantage of being able to include a lot of the background, which tells you something about the person in the photograph. If it's a picture of a worker I'll try to include the hands as well so you can see what somebody's hands are doing.
The idea is to identify with, have empathy for the people in the photograph. What we're doing here is making the invisible visible.
ICE's Stealth Campaign to Expand Its Budget
The new Democratic majority in the House of Representatives could pose a challenge to the agency's chronic overspending — and to its aggressive detention and deportation policies.
---
In June the Dept. of Homeland Security asked Congress to allow it to transfer $200 million to ICE to cover agency overspending, continuing a pattern of such requests.
---
Big spending on immigration enforcement at the Department of Homeland Security promises to be a major sticking point as Congress prepares to negotiate a budget deal early next month.
Even though illegal immigration to the United States appears to be at its lowest point in 46 years, spending on immigration enforcement is at an all-time high. (The U.S. Border Patrol reported that in 2017, the last year for which statistics are available, apprehensions at the U.S.-Mexico border had dropped to 303,000, and had been declining nearly every year since 2000, when a record 1.6 million people were arrested.)
---
 By overspending its congressional allocation, ICE is effectively writing its own budget.
---
U.S. Immigration and Customs Enforcement's detention operations exceeded the agency's budget this year, while ICE spending on its vast system of immigration jails shows no sign of slowing.
But a newly elected Democratic majority in the House of Representatives could pose a challenge to the agency's chronic overspending — and to its aggressive detention and deportation policies.
ICE jailed so many immigrants in 2018 that it ran out of space in its more than 200 lock-ups, and placed 1,600 people in medium-security prisons.
Congress set detention and deportation spending for 2018 at $4.4 billion, enough to detain some 40,520 people annually.
However, by June, 44,000 men and women languished in immigration detention, filling 4,000 more beds than Congress authorized. DHS asked Congress to allow it to transfer $200 million to ICE to cover agency overspending. The department plucked the funds from several of its agencies, including the Federal Emergency Management Agency, the Coast Guard and the Transportation Security Administration.
Critics of ICE say that by overspending its congressional allocation, the agency has engineered a stealth expansion of the U.S. detention system, effectively writing its own appropriation, and skirting the Constitution's separation of powers in which Congress, not the executive branch, has the authority to set spending limits.
---
Congressman: "We shouldn't be using FEMA as a piggy bank to fund detention beds."
---
"It allows them to quickly expand the detention system contrary to congressional intent," said Heidi Altman, director of policy at the National Immigrant Justice Center, a non-profit immigrant rights group.
Such intradepartmental funds transfers aren't uncommon, but a congressional staffer who asked that his name not be used for this story said this one was controversial because nearly all of the money went to ICE for detention and deportation. ICE has received other big budget increases in the past two years. In March 2017, the agency got a $2.6 billion supplemental appropriation; three months later, ICE was back, requesting that Congress approve a $91 million funds transfer.
The $200 million June 2018 transfer, wrote DHS spokeswoman Katie Waldman in an email, was "in line with the FY 2019 president's budget request for U.S. Immigration and Customs Enforcement."
However, the additional funds covered FY 2018 overspending – not future shortfalls in 2019; Congress has yet to agree to a permanent fiscal year 2019 budget. Waldman didn't answer an email asking to clarify her comments.
---
Congressional Staffer: Whenever ICE outspends its budget and adds detention beds, it gains leverage for the next round of budget negotiations.
---
The same congressional staffer who discussed the controversy surrounding the $200 million DHS funds transfer also noted that when ICE outspends its budget and adds detention beds, it gains leverage for the next round of budget negotiations because reducing beds would mean freeing detainees and, ICE argues, their release could jeopardize public safety.
Growth by funds transfer also generally avoids public scrutiny. Transfer documents submitted by government agencies are not released to the public. But earlier this year, Sen. Jeff Merkley (D-OR) released DHS's June 2018 transfer and reprogramming request, noting that $10 million had been taken from FEMA just as Hurricane Florence was making landfall in North Carolina.
DHS shot back, claiming the funds were administrative and weren't earmarked for hurricane relief. But according to Ur Jaddou, director of the advocacy group DHS Watch, and a former Chief Counsel at U.S. Citizenship and Immigration Services, the DHS agency that oversees immigration and citizenship applications, "The government these days doesn't operate on a plethora of administrative resources. It's really functioning on a very limited budget. When they say they're using unused money, it's just a ruse."
Congress has shown its frustration with ICE's disregard for its authority, but hasn't acted to rein in agency spending.
---
Congress has scolded ICE for its "lack of fiscal discipline and cavalier management."
---
In budget recommendations for fiscal year 2019, the Senate Appropriations Committee wrote, "In light of the Committee's persistent and growing concerns about ICE's lack of fiscal discipline, whether real or manufactured, and its inability to manage detention resources…the Committee strongly discourages transfers or reprogramming requests to cover ICE's excesses."
Two years before, the explanatory language in the supplemental appropriations bill was even harsher. Appropriators pointed to a "lack of fiscal discipline and cavalier management" of detention funding, saying the agency seemed to think its detention operations were "funded by an indefinite appropriation. This belief is incorrect."
"We shouldn't be using FEMA as a piggy bank to fund detention beds," said Rep. Dutch Ruppersberger (D-MD). "Unelected agency heads shouldn't unilaterally shift taxpayer dollars for purposes they weren't intended."
Still, despite congressional annoyance with ICE's free-spending ways, it hasn't conducted meaningful oversight of the immigration detention system, said Greg Chen, director of government relations for the American Immigration Lawyers Association.
"The current leadership in Congress hasn't been interested in conducting hearings on detention spending and whether detention is even necessary at the scale it is now," Chen said.
When President Trump issued an executive order calling for no-holds-barred arrests of undocumented immigrants in January 2017, the border patrol reported that apprehensions at the U.S.-Mexico border were lower than at any time since 1972 — when the detention population was a fraction of its current size.
ICE reported that in fiscal year 2017, 41 percent of crimes of which detainees had been convicted were traffic- or immigration-related.  Just 11.4 involved murder, sexual assault, kidnapping, robbery or assault.
Chen argued that ICE has a legal responsibility to screen each person in its custody for risk – either of flight or to public safety. "ICE is just not doing that and defaulting to the practice of detaining people."
Democrats in Congress could take on a more robust role in overseeing ICE spending, now that they've gained a majority in the House. They could put conditions on spending, call for Government Accounting Office reports and hearings, cut funding, demand answers if ICE overspends and bring its actions to the attention of the press, said DHS Watch director Ur Jaddou, who is also a former congressional staffer.
"The next time they [ICE] need something," Jaddou said, Congress can respond, 'Do you really want it? You better listen.'"
---
Copyright Capital & Main