David Bacon's Portraits of "Invisible" Farmworkers
When writer and veteran union organizer David Bacon speaks of "people who travel with the crops," he means the agricultural workers who move from place to place to cultivate and harvest California's fields. They are also the subject of his newest work of photojournalism.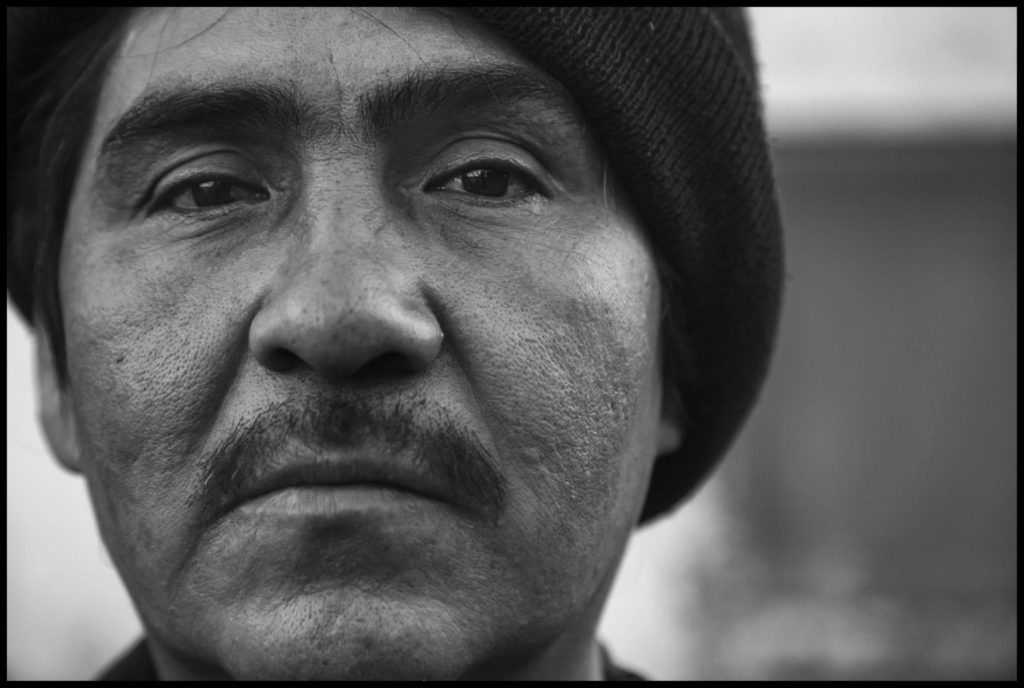 The writer, photographer and veteran union organizer David Bacon frequently refers to "people who travel with the crops." He means the agricultural workers who move from place to place to cultivate and harvest California's fields, as well as those across the United States. They are the subject of, and participants in his newest work of photojournalism, In the Fields of the North/En los campos del norte, a collaboration between El Colegio de la Frontera Norte and the University of California Press.
On Tuesday, May 23, David Bacon will appear at two book-related events in Los Angeles. The first takes place on UCLA's Westwood campus, 1-3 p.m.; the second, at the UCLA Downtown Labor Center, 5:30-8 p.m. Both events are free and open to the public. 
See details here.
---
Capital & Main: Some of the book's photos were originally displayed on a border wall?
David Bacon: There's a section of a border wall as it goes into the Pacific Ocean, at the Playas de Tijuana. There's a park there called, ironically, Friendship Park, on the Mexican side. During a conference that was organized by the Colegio de la Frontera Norte Mexico, they created really big prints of the photographs on discarded cloth. The idea of the conference was to talk about the situation of Mexicans living in the U.S. Ten percent of the people of Mexico live here in the U.S.
There are certain illusions that people have in Mexico about the Mexicans working here — that everybody's working for high wages, and doing really well. The images show you what the reality of life actually is.
The book is not just photos and captions—it includes first-person stories to introduce chapters.
Bacon: People comment about all kinds of things, how they crossed the border, about their work lives, about their families, the communities that they live in, their culture. A lot of the farm workers in the U.S., especially on the Pacific Coast here, are indigenous people, bringing with them this very vibrant culture from towns in Southern Mexico, Oaxaca in particular.
Your first chapter is "Where Does Our Food Come From?" and describes weeding an organic potato field — the heat, pulling weeds by hand.
Bacon: Does the fact that it's organic mean that it is healthy for the people who work there? In some ways, yes. In some ways, no. Yes, being that if no pesticides are being sprayed on the plants there, workers going through and picking weeds are not going to get a dose of pesticide. Human labor is required to come and get those weeds out of the ground before those potatoes are harvested. So there's more work for workers and that's a good thing too.
But when you look at other things, you see that not much has changed. Wages for workers are way down there on the bottom, as they are for workers in the other fields. The problems of sexual harassment are the same for workers at organic growers as they are for workers not [at] organic growers.
Most people in the U.S. don't see farm workers, don't know who they are. They don't know much about the food that's sent to the supermarket shelves. This book is a way of trying to peel that back.
Are there any ways for consumers to make reasonable choices?
Bacon: The last chapter in the book is about, among other things, the strike that was organized by workers in Washington state who worked at a farm, a grower, that was producing berries for Driscoll's berries. Driscoll's is a big berry marketer. They're all over the world. The way those workers were able to [get] the grower . . . to finally agree to negotiate a contract and to recognize their union, was by appealing the people in the cities not to buy Driscoll's berries until the grower had agreed to do those things.
This is basically what Cesar Chavez taught. The United Farm Workers movement . . . taught us how to use our power as consumers to help workers when they are involved in a fight with their employer and they need support in order to win. It worked for the workers in Washington state.
Ramon Valadez Tadeo
The union was founded here in California in 1966, but drive up the California coast—you'll still see people bent double in the fields picking crops in the heat. What has changed in all that time?
Bacon: Some things have changed and some things haven't. Or some things changed for a while and then kind of slid backwards. Some of the things that changed on a more permanent level were things like basic improvements in working conditions, like bathrooms and water for people to drink in the fields, which people didn't have before the union.
When the union was really strong at the end of the 1970s and the beginning of the 1980s, the wages for union farm workers were about two and a half times the wage for a nonunion farm worker–about two and a half times the minimum wage. If that were true today, farm workers would be making 25 or 30 bucks an hour, which obviously they're not. The union also made political changes.
The UFW pushed forward the organizing skills of a lot of people who then went on to use those skills in other areas. It also pushed forward the politics of social change and social justice in our communities. The 1965 grape strike was started by Filipinos who were living in labor camps in Delano. Delano was run by growers. The city government was all white. Today, the mayor of Delano is a Filipino. The politics changed. Workers got more power because of the union. They used that power in order to change the politics of the town.
I'm a product of that movement myself. I was an organizer for the UFW in the 1970s, then I went on to organize with other unions and help build up the labor movement through the 1980s.
Roberto Cruz
But many images in your book show people living in utter squalor—crowded rooms, dilapidated trailers, some building their own shelters. Why is farmworker housing so appalling?
Bacon: In the book, you see pictures of families with a lot of family members all living in one room, or two rooms, or a garage. That's primarily a function of people not having enough money. Also, because people are immigrants, [they] are sending money home. I've had people tell me, "I would rather live outside for a while, so long as that means that I'm not going to pay the money on rent, and I can send more money to my family back home and they'll live better."
Then, there is not enough housing in rural California, especially for people who travel with the crops.
There's also no real concern by the growers, who are, after all, the ones who really benefit from this system. The book in a way is trying to show us this and say, "Hey, what's fair about a system in which the person who's putting the food on the table for you can't find a place to live?"
Yet your photos show the things that people do to create home. I'm struck by images of people slipping off work shoes to keep the floors clean.
Bacon: Sure. There is this photograph in there of this guy who is sitting on a mattress that's on these shipping pallets.
Ansel Adams' photography draws viewers into a connection with the American West. Dorothea Lange's work places us right back into the Depression era. What makes your photography so universal? The subjects reach out to us and look us in the eye.
Bacon: What I'm after is a feeling of intimacy, of closeness. I'll get very close to the people that I'm photographing. I'll use a wide-angle lens — that has the advantage of being able to include a lot of the background, which tells you something about the person in the photograph. If it's a picture of a worker I'll try to include the hands as well so you can see what somebody's hands are doing.
The idea is to identify with, have empathy for the people in the photograph. What we're doing here is making the invisible visible.

Homeland Security Kicks the Ladder from Under Immigrants Seeking Green Cards
Co-published by American Prospect
"Self-sufficiency has been a basic principle of United States immigration law since this country's earliest immigration statutes," DHS tells would-be citizens. Then it lists the ways a proposed agency rule could devastate the health care of 5.5 million of them.

---
Millions of people could go hungry or forego medical treatment for fear they could jeopardize their chances or those of family members to legalize their status in the U.S.
---
Co-published by American Prospect
Immigrants who use Medi-Cal, food stamps, housing assistance or Medicare prescription drug subsidies could be barred from obtaining green cards or visa extensions under a proposed rule the Department of Homeland Security published in the Federal Register October 10. Currently only those who use cash assistance or who require long-term institutional care at government expense are barred on public charge grounds.
Immigrant rights advocates, health care providers and local governments predict devastating results, especially in California and other states with large immigrant populations: Millions of people would go hungry or forego medical treatment for fear they could jeopardize their chances or those of family members to legalize their status in the United States. The newly uninsured would seek care at hospital emergency rooms, likely waiting until their conditions are painful and costly to treat. Surprisingly the Department of Homeland Security echoes these predictions, but still contends the rule change is necessary.
---
"It's just unconscionable that a family would have to choose between food, health care or a green card for their children."
---
"DHS seeks to better ensure that applicants for admission to the United States…do not depend on public resources to meet their needs, but rather rely on their own capabilities and the resources of their family, sponsor, and private organizations," the government notes in its proposal. "Self-sufficiency has been a basic principle of United States immigration law since this country's earliest immigration statutes."
The California Primary Care Association, the trade group for the state's community health clinics, predicts that between 20 and 60 percent of non-citizens could disenroll from public programs, including Medi-Cal, delivering a potential body blow to California's health care safety net. The forecast is based on what happened during a similar scare 22 years ago, when Congress approved welfare and immigration reform laws that, for the first time, specified that those who received federal public benefits could be excluded from the country on public charge grounds. (The wide gap in the percentage forecast reflects varying rates of disenrollment from different programs and different immigration statuses of individuals, legal permanent residents, visa holders and refugees.) The Clinton administration initiatives didn't define federal public benefits, but later instructed immigration officials to bar only those who used cash welfare benefits or those who required government-paid institutionalization for long-term care.
---
One policy analyst says the rule change is an "end run around Congress" that would favor immigration of wealthier individuals and those with advanced degrees or job skills.
---
"It's just unconscionable that a family would have to choose between food, health care or a green card for their children," says Louise McCarthy, CEO of the Community Clinic Association of Los Angeles County.
The rule would instruct immigration officers to give positive weight to green card applicants with incomes of more than $62,000 for a family of four.
National Immigration Law Center policy analyst Jackie Vimo says the rule change is an "end run around Congress" that would favor immigration of wealthier individuals and those with advanced degrees or job skills.
---
Immigration officers would have broad discretion to exclude children, the elderly and non-English speakers in determining who would become a public charge.
---
"President Trump tried to change our immigration system, which has been a family-based system. This is trying to pass the RAISE Act through the back door," Vimo said, referring to the 2017 Reforming American Immigration for Strong Employment Act, which would cut legal immigration in half and limit legal immigrants' abilities to petition for legal status for family members.
The administration's proposal would exclude those who have received 15 percent or more of the federal poverty level in food stamps or cash assistance, or $1,821 for a single person annually, as well as those who have been on Medicaid or who have received housing assistance for 12 consecutive months in a three-year period from becoming legal permanent residents. It wouldn't penalize individuals who received benefits before the rule took effect.
Under the rule change, immigration officers would also have broad discretion to exclude children, the elderly and people who don't speak English in determining the likelihood that an individual would become a public charge.
---
DHS predicts dire health consequences if its own proposal takes effect.
---
DHS hasn't specifically proposed to exclude immigrants whose children are insured under the Children's Health Insurance Program, which offers low-cost care to children whose parents earn too much to qualify for Medi-Cal, but it has asked for the public to comment on whether it should do so.
DHS estimates that the new public charge rule would cause some 5.5 million people nationwide to either disenroll from Medicaid (as the program is known outside of California) or fail to sign up for fear of immigration consequences. (The DHS estimate is based on a percentage of the foreign-born population who sought to legalize their status between 2012 and 2017.) The government would save some $1.5 billion, but DHS also predicts dire health consequences if its proposal takes effect, writing that it would lead to:
•"Worse health outcomes, including increased prevalence of obesity and malnutrition, especially for pregnant or breastfeeding women, infants, or children, and reduced prescription adherence;
• Increased use of emergency rooms and emergent care as a method of primary health care due to delayed treatment;
• Increased prevalence of communicable diseases, including among members of the U.S. citizen population who are not vaccinated;
• Increases in uncompensated care in which a treatment or service is not paid for by an insurer or patient;
• Increased rates of poverty and housing instability; and
• Reduced productivity and educational attainment."
The DHS press office did not respond to an email query or to phone calls asking how it weighed these negative consequences against the potential benefits of the rule change.
The new rule is so stringent that if American citizens were subject to it, one in three would be excluded, Vimo said. It's also so complicated that among its costs to society, DHS listed an opportunity cost of eight to 10 hours for immigration lawyers representing immigrant clients and others who would seek to understand it.
Thus, it's likely that few people have read the fine print, either of the final proposal or of two earlier versions that were leaked to the public last spring.
But fear of applying for benefits is already palpable among immigrant patients at Eisner Health, a network of community health centers that serve low-income patients in Southern California, say staff members. Katie Tell, Eisner's Vice President for Development and Communications, noted that patients sometimes make untenable choices for fear of immigration consequences.
"Do they enroll or play it safe and not get the care they need? If we have less people in Medi-Cal, it could destabilize community clinics," she said.
But Eisner Health staff report that patients are increasingly fearful of applying for benefits. They say that several women who received Medi-Cal to pay for prenatal care and delivery have recently called insisting on reimbursing the clinic out of pocket for their services. Other patients have refused to sign up for Medi-Cal for their children, who are eligible for the program.
Today, health care providers predict similar outcomes, which they say would reverse some of the progress California has made in tightening its health care safety net. The Affordable Care Act included a major Medi-Cal expansion that added nearly four million people to its rolls and cut the uninsured rate in half, from 17 percent to 8.5 percent between 2013 and 2015. Many previously uninsured Californians who, in the past, had used costly emergency services, were able to access more cost-effective primary and preventive care. Clinics like Eisner expanded and increased their services, but Carmela Castellano Garcia, CEO of the California Primary Care Association, says disenrollment from Medi-Cal could mean some clinics would have to cut back on programs.
The Department of Homeland Security is legally required to consider public comments for 60 days in drafting its final rule, however the FCC ignored that requirement last year in scrapping net neutrality rules — claiming that it only considered comments that introduced new facts or made legal arguments. Meanwhile, the Department of Justice has announced its intention to change the way immigration judges apply the public charge rule, in order to align with the DHS proposal.
---
Copyright Capital & Main