A Combative Immigrant Fights Her 'Ironbound' Destiny
Born in Poland and brought up in New Jersey by an immigrant mom who cleaned houses for a living, playwright Martyna Majok has fashioned her experience into a compelling feminist work.

In American theater, as in life, not all voices receive equal airtime — one reason why Martyna Majok's pitch-black dramedy about a Polish-born factory worker/cleaning lady is so poignant and arresting. The play, first produced by New York's Rattlestick Playwrights Theatre in 2016, is currently running at the Geffen Playhouse under Tyne Rafaeli's direction.
Majok's insightfully written, unabashedly woman-centered tale is set at a bus stop in a squalid industrial neighborhood in Elizabeth, New Jersey. The central character is a hardscrabble female survivor. We first meet combative, down-on-her-luck Darja (Marin Ireland), an immigrant, in 2014, as she confronts her live-in lover, Tommy (Christian Camargo), over his sexual liaison with the wealthy woman she works for. Vulnerable beneath his swagger, Tommy pleads remorse and begs Darja not to leave him, to which she responds with an unsentimental demand for hard cash — money she needs to track down her missing wayward son, a drug addict. The pair negotiate; in the end, sexual attraction and codependence best rage and resentment, and they lock in fierce embrace, each extending a finger to the intrusive honks of passing motorists.
Marcel Spears and Marin Ireland, as Vic and Darja.
Scene 2 flashes back to 1992 and a more tender exchange between Darja and Maks (Josiah Bania), her Polish first husband and the father of her child. Maks is a musician, and the conflict between the couple revolves around his desire to relocate to Chicago to pursue art and fame — a move that makes Darja fearful (better the hell you're living in now….). So, Maks departs on his own, leaving Darja to an uncertain and, and as it turns out, far more purgatorial future.
That fate manifests later, in 2006, when (in this production's finest, most memorable scene) a teenage hustler, Vic (Marcel Spears), happens on a bruised and bleeding Darja, lying under a bench after a beating from her abusive second husband. A rich kid out at night sowing down-and-dirty oats, the youth is appalled by Darja's appearance and wants to help. But Darja, who doesn't know how to say thanks, rejects this offer of assistance, though she desperately needs it — till Vic points to the moon and offers a gift of surprising generosity.
Ironbound, which claims its title from a slum area in Newark, offers an illuminating portrait of a vulnerable, volatile woman most middle-class Americans would probably never look twice at. Yet Darja is no fool; despite being a stranger in a strange land, with limited language skills, she understands how the capitalist system operates to her disadvantage, and what she must do to get by. Her actions and choices, made in anger, fear or frustration (she sets fire to her fornicating employer's clothes), work against her.
Ireland, who commanded the role to accolades in New York, performs with energy and commitment (her character never leaves the stage) but without the fresh edge that must have brought down earlier houses. Some of that may have to do with Camargo, with whom she has the most stage time. As with Darja, Majok has drawn Tommy as a complex ambivalent figure, but instead of exploring why this two-faced lothario still needs Darja to be his woman, the actor storms about, relying on heated dialogue and comic gesture to define his role.
Bania, who also reprises his role from the original production, is warm and likable — and especially on target in moments when he pleads with Darja to let him have his dreams. Spears' glowing performance as a compassionate youngster determined to aid an abused, beleaguered stranger is the evening's highlight.
Born in Poland and brought up in New Jersey by an immigrant mom who cleaned houses for a living, Majok has written about what she knows, fashioning her experience into a compelling feminist work.
Gil Cates Theater at the Geffen Playhouse, 10886 Le Conte Ave., West Los Angeles; ; Tues.-Sat., 8 p.m.; Sat., 3 p.m.; Sun., 2 & 7 p.m.; through March 4.
---
Copyright Capital & Main

Two Cousins and a Magical Ice Cream Truck Figure in Leon Martell's New Play
Although not all of ICE's comedy clicks, Martell's story has both weight and charm. The production's overriding plus is its successful rendering, fashioned with humor and craft, of the difficulties immigrants face.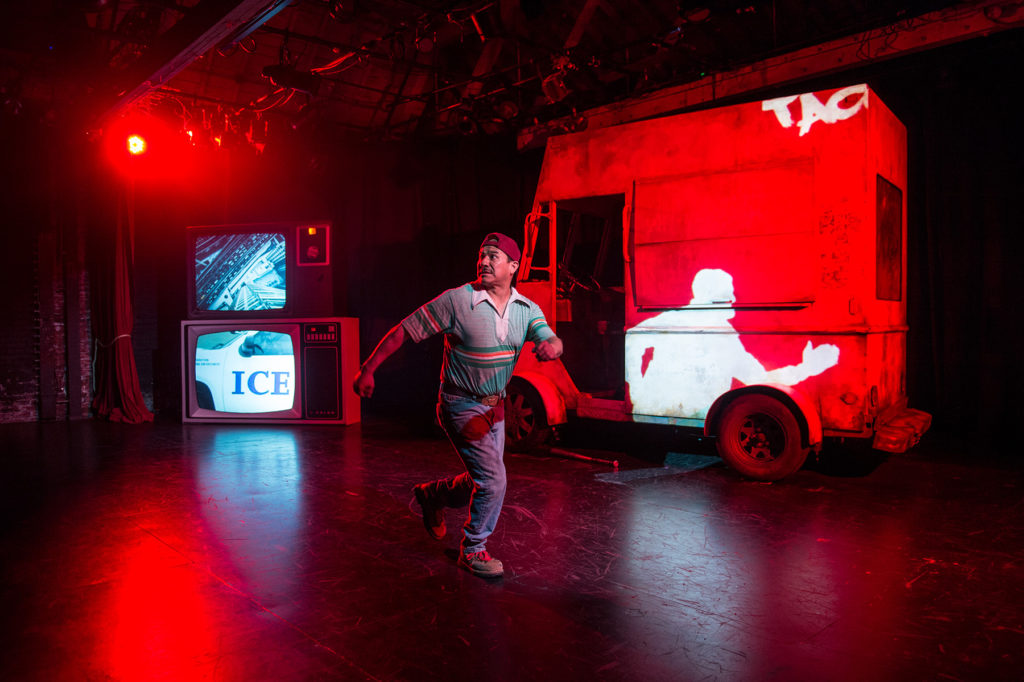 ICE, Leon Martell's family friendly play, takes place in 1988 and follows the misadventures of two undocumented immigrants: Chepe (Jesús Castaños-Chima), an avid baseball fan who dreams of making a fortune selling gourmet tacos; and his cousin Nacho (Tony Dúran), whom the beleaguered Chepe summons from Mexico to assist him in setting up his business. Directed by Debbie Devine at 24th Street Theatre, the show displays plenty of heart, not all of it realized in this premiere production. Despite this, there's enough political relevancy, moral truth and human comedy packed into the show's 65-minute time frame to overlook its shortcomings.
The core of the humor is the difference in personality between the two cousins. The ambitious Chepe is bitter and frustrated about his experience in America, where he's been cheated and lied to by bosses who exploit his labor and pay him next to nothing. Yet he's bought into the American Dream of money and fame, and to achieve that he's purchased a dilapidated old ice cream van to convert into a taco truck. It doesn't run, though, and the secret family salsa recipe is with his kin in Mexico. So, he phones home and implores his mechanic cousin to head north, bringing the salsa recipe as well as his skills.
Cousin Nacho, by contrast, is a sweet old-fashioned guy. He wants success too, but making money isn't the only thing he thinks about. He juggles tomatoes to make kids laugh and indignantly admonishes Chepe for his desperate inclination to do what it takes (steal tomatoes, for example) to score success.
Into the mix Martell tosses a blind, disgruntled priest (Davitt Felder), who plays guitar and wants to launch English classes for children in his parish (the archdiocese turns him down). Then there's Chepe's truck, which has opinions of its own. It breaks out in jingles at random intervals; later, it communicates with Nacho via blinking red letters that eerily appear on the side of the vehicle, furnishing the two men with simple directives and essential advice. When ICE (Immigration and Customs Enforcement) shows up, it alerts them to run.
Although not all of the comedy clicks, Martell's story has both weight and charm. The production's overriding plus is its successful rendering, fashioned with humor and craft, of the difficulties immigrants face. Its main weakness is Castaños-Chima's technically skilled but somewhat chilly depiction of his character, which leaves us wishing for more warmth and complexity. Felder appears awkward in his role of the blind priest, but proves versatile on video as Chepe's various nemeses. Dúran's naïve Nacho is a lovable presence from first to last.
Displayed on a monitor, Matthew G. Hill's video slides add historical and social perspective, and his backwall projections, in tandem with Dan Weingarten's lighting and Chris Moscatiello's sound, help conjure a magical aura to this parabolic piece.
24th Street Theatre, 1117 West 24th St., Los Angeles; Sat., 3 & 7:30 p.m.; Sun., 3 p.m.; through June 10, (213) 745-6516 or 24thstreet.org.
---
Copyright Capital & Main