A Combative Immigrant Fights Her 'Ironbound' Destiny
Born in Poland and brought up in New Jersey by an immigrant mom who cleaned houses for a living, playwright Martyna Majok has fashioned her experience into a compelling feminist work.

In American theater, as in life, not all voices receive equal airtime — one reason why Martyna Majok's pitch-black dramedy about a Polish-born factory worker/cleaning lady is so poignant and arresting. The play, first produced by New York's Rattlestick Playwrights Theatre in 2016, is currently running at the Geffen Playhouse under Tyne Rafaeli's direction.
Majok's insightfully written, unabashedly woman-centered tale is set at a bus stop in a squalid industrial neighborhood in Elizabeth, New Jersey. The central character is a hardscrabble female survivor. We first meet combative, down-on-her-luck Darja (Marin Ireland), an immigrant, in 2014, as she confronts her live-in lover, Tommy (Christian Camargo), over his sexual liaison with the wealthy woman she works for. Vulnerable beneath his swagger, Tommy pleads remorse and begs Darja not to leave him, to which she responds with an unsentimental demand for hard cash — money she needs to track down her missing wayward son, a drug addict. The pair negotiate; in the end, sexual attraction and codependence best rage and resentment, and they lock in fierce embrace, each extending a finger to the intrusive honks of passing motorists.
Marcel Spears and Marin Ireland, as Vic and Darja.
Scene 2 flashes back to 1992 and a more tender exchange between Darja and Maks (Josiah Bania), her Polish first husband and the father of her child. Maks is a musician, and the conflict between the couple revolves around his desire to relocate to Chicago to pursue art and fame — a move that makes Darja fearful (better the hell you're living in now….). So, Maks departs on his own, leaving Darja to an uncertain and, and as it turns out, far more purgatorial future.
That fate manifests later, in 2006, when (in this production's finest, most memorable scene) a teenage hustler, Vic (Marcel Spears), happens on a bruised and bleeding Darja, lying under a bench after a beating from her abusive second husband. A rich kid out at night sowing down-and-dirty oats, the youth is appalled by Darja's appearance and wants to help. But Darja, who doesn't know how to say thanks, rejects this offer of assistance, though she desperately needs it — till Vic points to the moon and offers a gift of surprising generosity.
Ironbound, which claims its title from a slum area in Newark, offers an illuminating portrait of a vulnerable, volatile woman most middle-class Americans would probably never look twice at. Yet Darja is no fool; despite being a stranger in a strange land, with limited language skills, she understands how the capitalist system operates to her disadvantage, and what she must do to get by. Her actions and choices, made in anger, fear or frustration (she sets fire to her fornicating employer's clothes), work against her.
Ireland, who commanded the role to accolades in New York, performs with energy and commitment (her character never leaves the stage) but without the fresh edge that must have brought down earlier houses. Some of that may have to do with Camargo, with whom she has the most stage time. As with Darja, Majok has drawn Tommy as a complex ambivalent figure, but instead of exploring why this two-faced lothario still needs Darja to be his woman, the actor storms about, relying on heated dialogue and comic gesture to define his role.
Bania, who also reprises his role from the original production, is warm and likable — and especially on target in moments when he pleads with Darja to let him have his dreams. Spears' glowing performance as a compassionate youngster determined to aid an abused, beleaguered stranger is the evening's highlight.
Born in Poland and brought up in New Jersey by an immigrant mom who cleaned houses for a living, Majok has written about what she knows, fashioning her experience into a compelling feminist work.
Gil Cates Theater at the Geffen Playhouse, 10886 Le Conte Ave., West Los Angeles; ; Tues.-Sat., 8 p.m.; Sat., 3 p.m.; Sun., 2 & 7 p.m.; through March 4.
---
Copyright Capital & Main

A Spiritual Mystery Play Fails to Enlighten
Yusuf Toropov's drama, set in a contaminated, cancer-ridden community, involves a publisher and his brother — a priest struggling against the local archdiocese.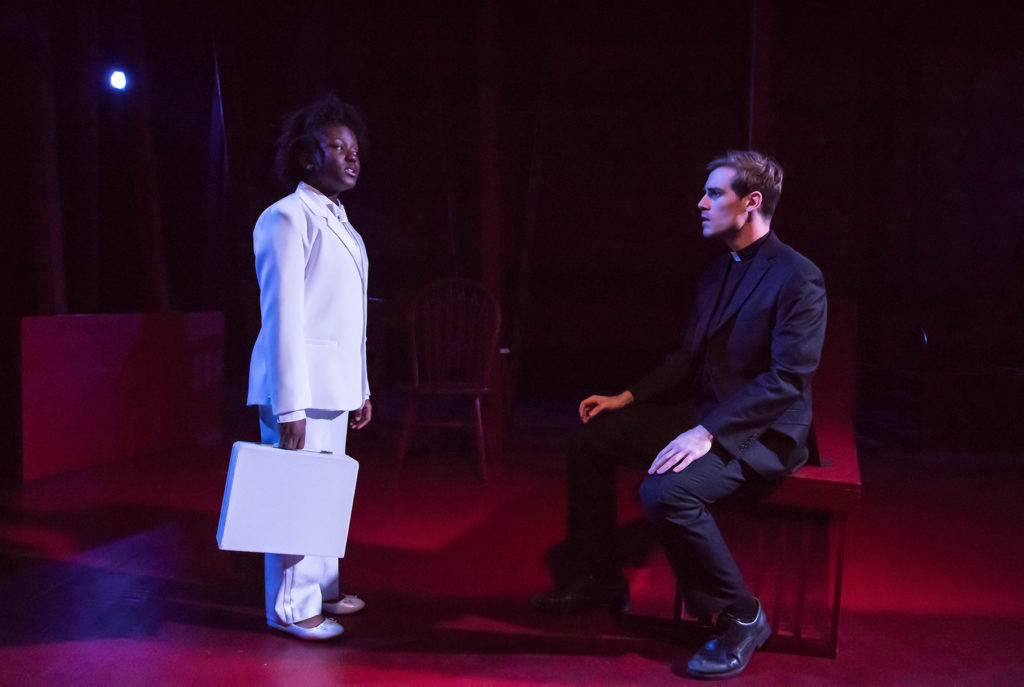 Directed by Chris Fields, Yusuf Toropov's An Undivided Heart, co-produced by the Echo Theater Company and the Circle X Theatre Co., is an aspiring work that aims to be deep but doesn't get there.
The play, running at the Atwater Village Theatre, unfolds on several levels. First, it tells the story of a young Catholic priest who must decide whether or not to publicly expose the pedophiles among his fellow clerics. Second, the work deals with our human struggle to understand why bad things happen with seeming random cruelty (a conundrum whose answers are regularly dispensed by spiritual leaders of all faiths, not very satisfactorily). On yet a third level, the play seeks to express the paradoxical wonder and mystery of life, with an assist from the supernatural.
That's a lot to cover in a little over two hours and, while the production is handsomely staged, its ambitious narrative is diminished by dangling threads, one major improbable setup near the end and too many bits of opaque dialogue.
Tim Wright, Alison Martin and Alana Dietze.
The setting is Holbrook, Massachusetts — a community whose residents have been exposed to contaminants, so cancer is rampant — in the summer of 1992. The story revolves around two brothers, both good guys: Mike (Matthew Gallenstein), a local priest who's written a revelatory book that his superiors want him not to publish, and Max (Tim Wright), an editor, who'd like to help his brother proceed.
When Max arrives at some sort of civic facility (the background particulars of this scene are unclear), he promptly tangles with an angry pregnant clerk named Lynne (Alana Dietz). A few minutes into their altercation, she goes into premature labor, and he rushes her to the hospital — the beginning of a nurturing romance.
Mike, meanwhile, is having strange dreams involving a burning typewriter and a cryptic little girl (Ann'Jewel Lee) who appears to him brandishing a dead cat. The same young person manifests in the dreams of Janice (Tracey A. Leigh, alternating with Jennifer A. Skinner), Max's Buddhism teacher, who is fond of posing riddles. Her favorite: If I am preparing to slice a cat in two, how would you prevent me from doing it?
The narrative shifts between Mike's struggle with his archdiocese, personified by its Cardinal (John Getz, alternating with William Salyers) and Lynne's problems with her dying mom Ruth (Alison Martin, alternating with Sigute Miller), a devout Catholic still in denial over her son's abuse by a priest when he was a youth.
These two storylines are interposed with the baffling dream sequences and Max's (and later Mike's) sessions with the inscrutably smiling Janice and her eschatological brain teasers. One crucial scene that leads to the dramatic climax has Mike looking to entrap an abusive priest (Jeff Alan-Lee, alternating with Jesse Bush) by attending confession with him and pretending to be a pedophile himself. The interchange, in which the priest probes for salacious details, is awkwardly plotted and escalates into over-the-top melodrama.
Cricket Myers' superlative sound design hints at the depth and scope that the playwright himself perhaps had in mind but was unable to attain. Amanda Knehans' set is an effective arrangement of wooden beams, tables and chairs that lighting designer Rose Malone smartly shades with a reddish-orange chroma, like the hues of hell. Elsewhere, she spotlights the players well.
Wright's warm and empathetic Max is highly likable, and he keeps you interested in the scenes he's involved with. Getz is appropriately unctuous as the Cardinal, and Martin draws a richly textured portrait of a not terribly educated housewife, who, buffeted by adversity, still clings to her faith. Michael Sturgis steals the limelight as a singing, simpering cleric. A couple of the other lead performances need refining.
Atwater Village Theatre, 3269 Casitas Ave., Los Angeles; Mon., 8 p.m.; Fri.- Sat., 8 p.m.; Sun., 4 p.m.; through April 22. www.EchoTheaterCompany.com
---
Copyright Capital & Main