A Combative Immigrant Fights Her 'Ironbound' Destiny
Born in Poland and brought up in New Jersey by an immigrant mom who cleaned houses for a living, playwright Martyna Majok has fashioned her experience into a compelling feminist work.

In American theater, as in life, not all voices receive equal airtime — one reason why Martyna Majok's pitch-black dramedy about a Polish-born factory worker/cleaning lady is so poignant and arresting. The play, first produced by New York's Rattlestick Playwrights Theatre in 2016, is currently running at the Geffen Playhouse under Tyne Rafaeli's direction.
Majok's insightfully written, unabashedly woman-centered tale is set at a bus stop in a squalid industrial neighborhood in Elizabeth, New Jersey. The central character is a hardscrabble female survivor. We first meet combative, down-on-her-luck Darja (Marin Ireland), an immigrant, in 2014, as she confronts her live-in lover, Tommy (Christian Camargo), over his sexual liaison with the wealthy woman she works for. Vulnerable beneath his swagger, Tommy pleads remorse and begs Darja not to leave him, to which she responds with an unsentimental demand for hard cash — money she needs to track down her missing wayward son, a drug addict. The pair negotiate; in the end, sexual attraction and codependence best rage and resentment, and they lock in fierce embrace, each extending a finger to the intrusive honks of passing motorists.
Marcel Spears and Marin Ireland, as Vic and Darja.
Scene 2 flashes back to 1992 and a more tender exchange between Darja and Maks (Josiah Bania), her Polish first husband and the father of her child. Maks is a musician, and the conflict between the couple revolves around his desire to relocate to Chicago to pursue art and fame — a move that makes Darja fearful (better the hell you're living in now….). So, Maks departs on his own, leaving Darja to an uncertain and, and as it turns out, far more purgatorial future.
That fate manifests later, in 2006, when (in this production's finest, most memorable scene) a teenage hustler, Vic (Marcel Spears), happens on a bruised and bleeding Darja, lying under a bench after a beating from her abusive second husband. A rich kid out at night sowing down-and-dirty oats, the youth is appalled by Darja's appearance and wants to help. But Darja, who doesn't know how to say thanks, rejects this offer of assistance, though she desperately needs it — till Vic points to the moon and offers a gift of surprising generosity.
Ironbound, which claims its title from a slum area in Newark, offers an illuminating portrait of a vulnerable, volatile woman most middle-class Americans would probably never look twice at. Yet Darja is no fool; despite being a stranger in a strange land, with limited language skills, she understands how the capitalist system operates to her disadvantage, and what she must do to get by. Her actions and choices, made in anger, fear or frustration (she sets fire to her fornicating employer's clothes), work against her.
Ireland, who commanded the role to accolades in New York, performs with energy and commitment (her character never leaves the stage) but without the fresh edge that must have brought down earlier houses. Some of that may have to do with Camargo, with whom she has the most stage time. As with Darja, Majok has drawn Tommy as a complex ambivalent figure, but instead of exploring why this two-faced lothario still needs Darja to be his woman, the actor storms about, relying on heated dialogue and comic gesture to define his role.
Bania, who also reprises his role from the original production, is warm and likable — and especially on target in moments when he pleads with Darja to let him have his dreams. Spears' glowing performance as a compassionate youngster determined to aid an abused, beleaguered stranger is the evening's highlight.
Born in Poland and brought up in New Jersey by an immigrant mom who cleaned houses for a living, Majok has written about what she knows, fashioning her experience into a compelling feminist work.
Gil Cates Theater at the Geffen Playhouse, 10886 Le Conte Ave., West Los Angeles; ; Tues.-Sat., 8 p.m.; Sat., 3 p.m.; Sun., 2 & 7 p.m.; through March 4.
---
Copyright Capital & Main

'Skeleton Crew' Is a Play With a Moral Spine
Set in a Detroit automobile outfitting plant, Dominique Morisseau's drama grabs you from the start with its focus on blue-collar men and women, and their struggle for dignity and self-respect.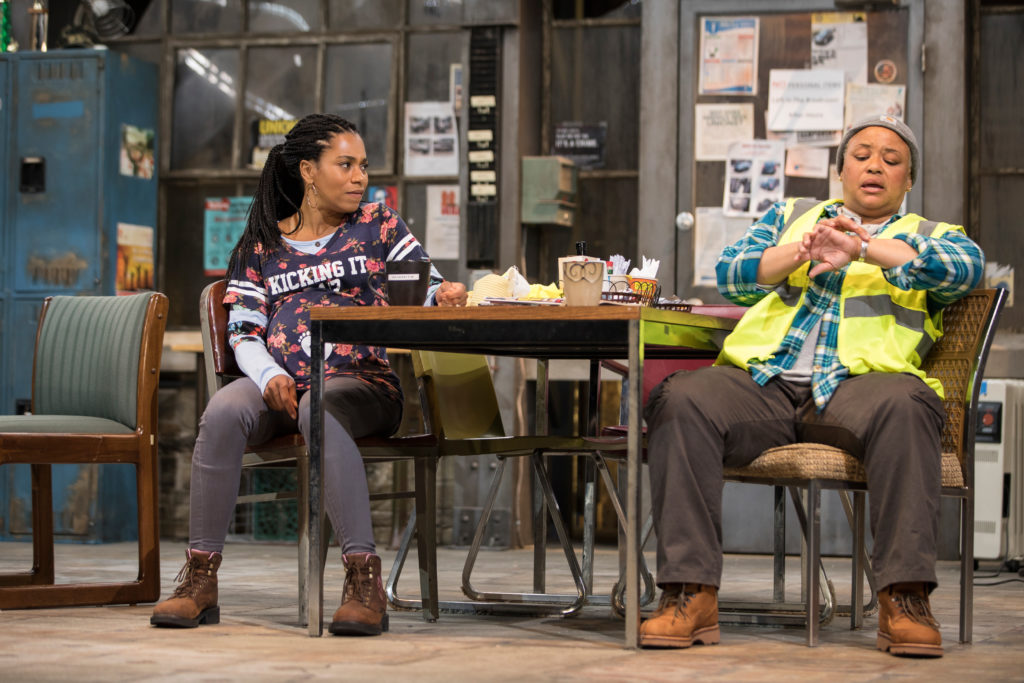 Working-class men and women of color are rarely front and center in today's media and, likewise, are presented all too occasionally on the American stage. So it's buoying to see that trend bucked in playwright Dominique Morisseau's percipient and well-crafted drama, Skeleton Crew. The play is the final installment in her Detroit  Project Trilogy; the first, Paradise Blue, is set in the 1940s amidst displacement caused by urban renewal and gentrification, while the second, Detroit '67, transpires on the eve of the 1967 Detroit riots sparked by a police action.
Directed by Patricia McGregor at Los Angeles' Geffen Playhouse, Skeleton Crew is a play with a moral spine. It takes place in 2008, when the shrinking U.S. auto industry is being further downsized. Morisseau's engaging quartet of characters — Faye (Caroline Stefanie Clay), Dez (Armari Cheatom), Shanita (Kelly McCreary) and Reggie (DB Woodside) – are employed at an automobile outfitting plant. Faye, Dez and Shanita are workers on the line while Reggie (who has a wife and kids, and has pulled himself together after a troubled youth) is their supervisor.
The first three customarily mingle in their break room (designer Rachel Myers' impressively cluttered, dingy and detailed set), trading the sort of familiar barbs and genuine concern for each other common among longtime co-workers. They also face off on philosophy: Upper-middle-aged Faye and the younger, pregnant Shanita take pride in their labor, while Dez, though a good worker, is a malcontent scornful of management and firm in the belief that everyone needs to watch out for himself. He's a thorn in Reggie's side, for while Reggie wants to be supportive of his workers, he must act at the behest of higher management. For his part, Dez resents Reggie's authority, and a palpable unease exists between them.
Besides this male matchup, we're made privy to Dez's attraction to Shanita, who mostly turns away his advances, but every now and then displays a hint of interest. Most poignant is Reggie's regard and affection for the lesbian Faye, which has roots in his boyhood when she loved, and lived, with his now-deceased mom.
These people's various predicaments intensify when rumors spread of the plant's shutdown — a disaster for all, but a particular calamity for the already near-broke Faye who, one year short of retirement, would lose her pension. The crisis forces each of these people to make a choice.
A sound piece of social realism, Skeleton Crew grabs you from the start in its focus on blue-collar men and women, and their struggle against odds for dignity and self-respect. Morisseau not only furnishes these characters a platform for their travails, she endows them with strong values, big hearts and the opportunity to choose between right and wrong.
Unfortunately, the performance I attended did not soar. Many exchanges lacked a fresh edge. The actors certainly had their characters down, but too often they appeared to be coasting on technique. (This seemed particularly true of Clay, who performed the role to great accolades in Washington, DC in 2017, also under McGregor's direction). Additionally, some of the stage movement was not entirely fluid; in confrontations, actors sometimes would just stand and face each other in an artificial way. And Cheatom's interpretation of Dez struck me as a bit overly churlish and depressive: I needed more glimpses of the intelligence and edge that would secretly attract the strong, self-directed Shanita.
The most compelling moments belong to Woodside, well-cast as a man trying his best in difficult circumstances to do the right thing.
---
Gil Cates Theater at the Geffen Playhouse, 10886 Le Conte Ave., Westwood Village; Tues.-Fri., 8 p.m.; Sat., 3 & 8 p.m. Sun., 2 & 7 p.m.; through July 8. (310) 208-5454 or www.geffenplayhouse.org