College Graduates: Cynicism Is a Self-Fulfilling Prophesy
Many of you soon-to-be college graduates are determined to make the world a better place. Some of you are choosing careers in public service or joining nonprofits or volunteering in your communities.
But many of you are cynical about politics. You see the system as inherently corrupt. You doubt real progress is possible.
"What chance do we have against the Koch brothers and the other billionaires?" you've asked me. "How can we fight against Monsanto, Boeing, JP Morgan and Bank of America? They buy elections. They run America."
Let me remind you: Cynicism is a self-fulfilling prophesy. You have no chance if you assume you have no chance.
"But it was different when you graduated," you say. "The Sixties were a time of social progress."
You don't know your history.
When I graduated in 1968, the Vietnam War was raging. Over half a million American troops were already there. I didn't know if I'd be drafted. A member of my class who spoke at commencement said he was heading to Canada and urged us to join him.
Two months before, Martin Luther King Jr. had been assassinated. America's cities were burning. Bobby Kennedy had just been gunned down.
George ("segregation forever") Wallace was on his way to garnering 10 million votes and carrying five southern states. Richard Nixon was well on his way to becoming president.
America was still mired in bigotry.
I remember a classmate who was dating a black girl being spit on in a movie theater. The Supreme Court had only the year before struck down state laws against interracial marriage.
My entire graduating class of almost 800 contained only six young black men and four Hispanics.
I remember the girlfriend of another classmate almost dying from a back-alley abortion, because safe abortions were almost impossible to get.
I remember a bright young woman law school graduate in tears because no law firm would hire her because she was a woman.
I remember one of my classmates telling me in anguish that he was a homosexual, fearing he'd be discovered and his career ruined.
The environmental movement had yet not been born. Two-thirds of America's waterways were unsafe for swimming or fishing because of industrial waste and sewage.
I remember rivers so polluted they caught fire. When the Cuyahoga River went up in flames Time magazine described it as the river that "oozes rather than flows," in which a person "does not drown but decays."
In those days, universal health insurance was a pipe dream.
It all seemed pretty hopeless. I assumed America was going to hell.
And yet, reforms did occur. America changed. The changes didn't come easily. Every positive step was met with determined resistance. But we became better and stronger because we were determined to change.
When I graduated college I would not have believed that in my lifetime women would gain rights over their own bodies, including the legal right to have an abortion. Or women would become chief executives of major corporations, secretaries of state, contenders for the presidency. Or they'd outnumber men in college.
I would not have imagined that 11 states would allow gays and lesbians to marry and a majority of Americans would support equal marriage rights.
Or that the nation would have a large and growing black middle class.
It would have seemed beyond possibility that a black man, the child of an interracial couple, would become President of the United States.
I would not have predicted that the rate of college enrollment among Hispanics would exceed that of whites.
Or that more than 80 percent of Americans would have health insurance, most of it through government.
I wouldn't have foreseen that the Cuyahoga River – the one that used to catch fire regularly – would come to support 44 species of fish. And that over half our rivers and 70 percent of bays and estuaries would become safe for swimming and fishing.
Or that some 200,000 premature deaths and 700,000 cases of chronic bronchitis would have been prevented because the air is cleaner.
Or that the portion of children with elevated levels of lead in their blood would have dropped from 88 percent to just over four percent.
I would not have believed our nation capable of so much positive change.
Yet we achieved it. And we have just begun. Widening inequality, a shrinking middle class, global warming, the corruption of our democracy by big money – all of these, and more, must be addressed. To make progress on these — and to prevent ourselves from slipping backwards — will require no less steadfastness, intelligence and patience than was necessitated before.
The genius of America lies in its resilience and pragmatism. We believe in social progress because we were born into it. It is our national creed.
Which is to say, I understand your cynicism. It looks pretty hopeless.
But, believe me, it isn't.
Not if you pitch in.
(Robert B. Reich, Chancellor's Professor of Public Policy at the University of California at Berkeley, was Secretary of Labor in the Clinton administration. Reposted from his Web site with permission.)

'Skeleton Crew' Is a Play With a Moral Spine
Set in a Detroit automobile outfitting plant, Dominique Morisseau's drama grabs you from the start with its focus on blue-collar men and women, and their struggle for dignity and self-respect.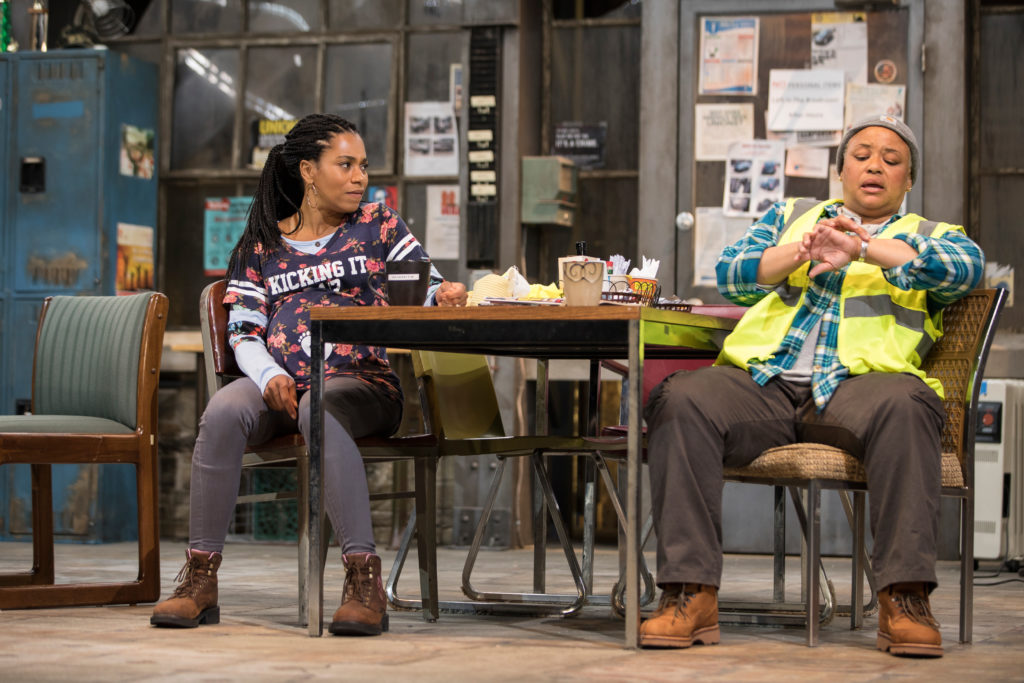 Working-class men and women of color are rarely front and center in today's media and, likewise, are presented all too occasionally on the American stage. So it's buoying to see that trend bucked in playwright Dominique Morisseau's percipient and well-crafted drama, Skeleton Crew. The play is the final installment in her Detroit  Project Trilogy; the first, Paradise Blue, is set in the 1940s amidst displacement caused by urban renewal and gentrification, while the second, Detroit '67, transpires on the eve of the 1967 Detroit riots sparked by a police action.
Directed by Patricia McGregor at Los Angeles' Geffen Playhouse, Skeleton Crew is a play with a moral spine. It takes place in 2008, when the shrinking U.S. auto industry is being further downsized. Morisseau's engaging quartet of characters — Faye (Caroline Stefanie Clay), Dez (Armari Cheatom), Shanita (Kelly McCreary) and Reggie (DB Woodside) – are employed at an automobile outfitting plant. Faye, Dez and Shanita are workers on the line while Reggie (who has a wife and kids, and has pulled himself together after a troubled youth) is their supervisor.
The first three customarily mingle in their break room (designer Rachel Myers' impressively cluttered, dingy and detailed set), trading the sort of familiar barbs and genuine concern for each other common among longtime co-workers. They also face off on philosophy: Upper-middle-aged Faye and the younger, pregnant Shanita take pride in their labor, while Dez, though a good worker, is a malcontent scornful of management and firm in the belief that everyone needs to watch out for himself. He's a thorn in Reggie's side, for while Reggie wants to be supportive of his workers, he must act at the behest of higher management. For his part, Dez resents Reggie's authority, and a palpable unease exists between them.
Besides this male matchup, we're made privy to Dez's attraction to Shanita, who mostly turns away his advances, but every now and then displays a hint of interest. Most poignant is Reggie's regard and affection for the lesbian Faye, which has roots in his boyhood when she loved, and lived, with his now-deceased mom.
These people's various predicaments intensify when rumors spread of the plant's shutdown — a disaster for all, but a particular calamity for the already near-broke Faye who, one year short of retirement, would lose her pension. The crisis forces each of these people to make a choice.
A sound piece of social realism, Skeleton Crew grabs you from the start in its focus on blue-collar men and women, and their struggle against odds for dignity and self-respect. Morisseau not only furnishes these characters a platform for their travails, she endows them with strong values, big hearts and the opportunity to choose between right and wrong.
Unfortunately, the performance I attended did not soar. Many exchanges lacked a fresh edge. The actors certainly had their characters down, but too often they appeared to be coasting on technique. (This seemed particularly true of Clay, who performed the role to great accolades in Washington, DC in 2017, also under McGregor's direction). Additionally, some of the stage movement was not entirely fluid; in confrontations, actors sometimes would just stand and face each other in an artificial way. And Cheatom's interpretation of Dez struck me as a bit overly churlish and depressive: I needed more glimpses of the intelligence and edge that would secretly attract the strong, self-directed Shanita.
The most compelling moments belong to Woodside, well-cast as a man trying his best in difficult circumstances to do the right thing.
---
Gil Cates Theater at the Geffen Playhouse, 10886 Le Conte Ave., Westwood Village; Tues.-Fri., 8 p.m.; Sat., 3 & 8 p.m. Sun., 2 & 7 p.m.; through July 8. (310) 208-5454 or www.geffenplayhouse.org