Coachella Rising: Aging Farmworkers, Unions, Organic Mangos & the Salton Sea
Co-published by The American Prospect /
"Sustainability" is the mantra for many groups and businesses near the Salton Sea. But sustainability for whom? BY DAVID BACON
Co-published by The American Prospect
Forty one years ago I was a young organizer for the United Farm Workers in the Coachella Valley, helping agricultural laborers win union elections and negotiate contracts. Suspicion of growers was a survival attitude. I was beaten by the son of one rancher in a vineyard, while trying to talk to people sitting in the vines on their lunch hour. When I met with workers in another field, my old Plymouth Valiant convertible was filled with fertilizer and its tires slashed.
By those standards, I could see that HMS Ranch Management, which manages day-to-day operations for ranch owners, was different. I'm sure Ole Fogh-Andersen, who ran the company, would have preferred that the laborers he employed voted against the union. But when they did vote for it in 1976, he sat down and negotiated. It took quite a while — he was no pushover. But Ruth Shy, a former nun who taught the virtues of patience and persistence, got most of our union committee's demands into the agreement. I did the field job of keeping everyone on board.
Jose Cruz Frias, a "palmero," works in a grove of date palms. Once up in the tree he walks around on the fronds themselves. Cruz has been doing this work for 15 years. He originally came to the Coachella Valley from Irapuato, Guanajuato in Mexico.
HMS workers irrigate fields, drive tractors and otherwise care for ranches in this harsh, beautiful desert valley. In the summer's 105-plus degree heat, the bright green leaves of grape vines shimmer below dark mountains, lunar in their sere, sharp edges. Coachella's winter air is thick with the fragrance of flowering grapefruit and tangerine trees. In the groves of the valley's unique crop — the date palms — dusty green and tan fronds create an arched ceiling over marching rows of bare trunks, rising 20 and 30 feet from the sand.
I've returned to the Coachella Valley many times in the last three decades, interviewing workers and photographing impoverished desert communities. Despite its beauty, the sustainability of large-scale farming, and of the communities that depend on it, is more clearly at risk here than anywhere I know. Published accounts of the valley's huge environmental problems offer some insight. But my interest is in the world as it's seen by the people working in it. Their biggest unanswered question is: sustainable for whom?
This spring I was driving up a rural road in Oasis, not far from the Salton Sea, when I met Rafael Navarro, busy trapping moles on an organic mango ranch. I wasn't surprised that he worked for HMS — many maintenance workers on ranches are HMS employees. But then he told me he'd been hired in 1976. He was there when we negotiated that first agreement.
Rafael Navarro, 72 years old, still works as a farmworker. He works in a grove of organic Keitt mango trees, belonging to Ava's Mangos, the largest mango grower in California. Among other jobs, he sets traps for moles, which eat the roots of the trees.
"That was the year people joined Cesar Chavez's union," he recalled. "From then until today we've been working under the union contract. It is very rare that someone can work in the fields, and keep working for one company for 40 years. Here we have been protected. It has a lot to do with the contract because it is not that easy to fire someone, unless you are drinking or you get in a fight. But if you don't have those problems you work here very comfortably."
The contract provides a medical plan, still a rarity for farmworkers. Pushed by the union, Cal-OSHA now enforces standards that provide shade from the fierce sun and heat, drinking water and some control over pesticides.
The mango ranch, however, is organic, so non-organic pesticides, herbicides and other chemicals can't be used. That means at work Navarro doesn't run the risk of chemical exposure, one of the greatest occupational health dangers for farmworkers. It also provides him work.
"My job is catching moles," he told me, "because they eat the roots of the mango trees. It is an organic orchard, so they can't use chemicals to kill the animals. We put traps with strong wires in their holes.  When a moles arrives it gets trapped and you grab it."
Since it is a grove of organic trees, the grower can't use pesticides or poison to kill animals. This means relatively constant work for Navarro in eliminating pests, and a regular paycheck.
Navarro is 72, well beyond the age when other workers can retire and get Social Security, but he continues working although he has problems with one of his legs. Bending his stiff joints, he took a shovel and, in the weeds, dug out the entrance to a mole burrow to show me how he places the trap. The sun on the brim of his sombrero cast dark shadows across his face, highlighting his big bigote (mustache).
"They gave me the chance to do this job," he explained, "but before, I worked fumigating the date palms on other ranches with sulfur, or spraying with different medicines. Then they decided some chemicals were too dangerous and took that work away."
The Coachella Valley produces about $500 million in farm produce every year, and dates, grapes, citrus and tree fruit account for about half. Organic agriculture produces a growing part of it. According to Linden Anderson, who manages HMS's field operations, mango growing is only a decade old. About 10 percent of mangoes and the much larger citrus crop are grown organically.
"It takes more work, its costs are higher and it's less efficient, but what drives it is return on investment," he explained to me in a phone interview. "Some growers like it for itself, but there is a growing market for organic produce, and while the premium isn't as big as it used to be, there's still a differential."
A ravine carries agricultural runoff into the Salton Sea.
The growth of organic agriculture, and the elimination of the use of some pesticides, has another impact on the valley's ecology and on the health of its communities. The runoff from irrigation in both the Coachella Valley, and the Imperial Valley to the south, flows into the Salton Sea, carrying with it whatever chemicals growers are using. Irrigation also dissolves naturally-occurring salts from the desert soil, increasing the salinity of the water table. Tile lines placed five to six feet below the surface to drain excess water can carry those leached-out salts, contributing them to the runoff as well.
In past decades, Coachella Valley growers would irrigate by simply flooding the rows between vines, trees or plants with water, and then collecting the runoff. Today, Anderson says, most use drip irrigation, which uses less water and targets it more closely to the plants. Reduced water use creates less runoff as well.
Nevertheless, the Coachella and Imperial valleys face an environmental crisis created over decades.  Both valleys lie in an ancient geologic depression that reaches a depth of 278 feet below sea level. In 1905, as Imperial Valley growers were building a system to bring nearby Colorado River water to irrigate their ranches, the levees built to contain the diversion failed. For two years the river poured into the depression, creating the Salton Sea, whose surface rose to over 80 feet above the desert floor.
Both valleys are dependent on Colorado River water.  Without it agriculture here would hardly exist. Until 1949 Coachella ranches depleted the aquifer during dry years, and their wells would run out. Then the Coachella Canal began bringing 300,000 acre-feet of water from the Colorado to the valley each year. The All-American Canal, built even earlier, drained the Colorado into Imperial Valley fields. After the 1960s, the State Water Project also gave Coachella farmers an even bigger allotment of water brought down from the north.
The branches and stumps of dead trees that were once on the shore emerge from the water.
Evaporation would eventually have dried out the sea, but in 1928 Congress designated land below -220 feet as a repository for agricultural runoff. Until recently, the lake's surface has been about -227 feet, giving it an area of 378 square miles — the largest lake in California. The Salton Sea became an important stopping point for birds migrating on the Pacific Flyway, and was stocked with fish species including corvina, sargo and bairdella. Tilapia introduced to control algae in irrigation canals also wound up in the lake.
Over the years the Salton Sea's salinity increased, however, from 3,500 parts per million to 52,000 ppm — about 50 percent saltier than the ocean. Fish, except the tilapia, died off.  Dissolved selenium salts now pose the same danger seen in the Kesterson Reservoir in the San Joaquin Valley, where birds ingesting selenium became sick and died, and laid eggs with shells so fragile they collapsed.
Even more seriously, starting next January, water flowing into the Salton Sea in the Imperial Valley will be diverted to San Diego. In 2003 the Imperial Irrigation District agreed to transfer 200,000 acre-feet per year, if California took responsibility for the lake. In one year alone, according to a 2005 assessment made by Victor Ponce of San Diego State University, the diversion could reduce the lake area by 30 percent. That would expose square miles of dried lakebed. Wind-blown sediment could easily reach the streets and golf courses of Palm Springs, travel south to Mexicali, a city of over a million in Mexico, and even blow into the cities of Riverside and San Bernardino to the north.
Whatever is in the sediment will wind up in people's lungs.
As the sea dries and recedes, it exposes dust and dead fish, causing respiratory difficulties for children in the small farmworker towns at its edge.
That's already the problem of the farmworker towns of the eastern Coachella Valley — Thermal, Oasis, Mecca and North Shore — where dust from the fields and the evaporating sea gives everything a gritty coating when the wind blows. Dust creeps through the doors of the beaten up mobile homes in the tiny trailer parks wedged into the corners of fields and date groves.
In one such settlement Elisa Guevara leads protests over rent hikes or high rates for undrinkable water.  As we sat talking in her living room, her trailer vibrated from the wind. The swamp cooler on the roof cut the temperature inside by only a few degrees from the sun's furnace outside.
Rancho del Sol Trailer Park in North Shore, near the Salton Sea.
"We're a forgotten community. We're invisible," she declared angrily. "We're called 'ranchos polancos' — trailers without city permits that don't meet local codes. There's hardly any housing for farmworkers, so park operators can rent or sell us these dilapidated trailers. There are more than 100 parks like this in the Coachella Valley. None have permits. Workers often go without electricity and a sewer system, or live with contaminated water. If you complain the owners threaten to call the county or the migra."
Driving down towards the Salton Sea, I passed one of those trailer park "colonias" a few miles from Oasis. Near the dirt entrance road two men sat back against the battered silver skin of one mobile home. They were still in their work clothes — one older, stocky worker with a few days beard, and a thinner, younger man. Looking at their work belts and bags in the dust at their feet, I guessed they were "palmeros," or date palm workers.
A memorial to two workers killed in March 2016, when the platform they were working on came into contact with an electric power line. The crane was leaking oil and one worker was electrocuted while the other burned to death. Both were Mexican immigrants, trimming palm fronds for Valencia Tree & Palm Trimming. One worker was 22-year-old Osvaldo Ceron-Sevilla of Thermal. Other workers built this memorial to them on the corner of 68th Avenue and Highway 86, in the Mexican tradition.
Alberto Castro, the younger man, had spent 15 years working in the palms, one of Coachella's most dangerous jobs. Earlier I'd passed a roadside memorial next to a chain-link fence around a palm grove. Religious candles in tall glasses were surrounded by plastic flowers, a power line visible overhead. Last year two palmeros had been electrocuted on that spot.
"I still think about the two men who died in the palms," Castro told me in a low voice. "I knew them. They lived nearby and worked 30 years in the palms. They made just a small mistake — it can happen to anyone. They were not watching closely enough, and when they pushed the button to raise the arm of the machine, they struck the power line overhead and died. It was a shock to the rest of us. The owner of the ranch should not have been planted trees with power lines above them. I would never have put a palm there. But that is how we work."
Carlos Chavez and Alberto Castro both work as palmeros. After work they sit in the shade of the trailer where they live in a trailer park near Thermal.
Castro and his friend Carlos Chavez have had no union contract to provide them security over the decades, as Navarro has. But they have a special set of skills. Not many people are willing to climb 30-foot trees, so if they don't get hurt, they'll have work.
"There are many different operations we have to do to the palms, like harvesting and pollinating," he told me. "One month we'll do one thing, and the next month another. We have work the whole year — we never stop. But it's dangerous. The thorns in the fronds are very long and sharp, and can poke your eye out. You can slice your hand with the machete. In the 15 years I've been working here I haven't cut myself badly, and I haven't fallen, thank God. But I do not have another job to go to, so here I am."
Castro has taken his children, one 7 and the other 11, to work with him on the weekend, "so they can see how the money in our family is earned. This job in palms isn't really enough to support everyone well, but at least it is enough to eat, pay rent and buy gas," he explains to them. "I hope it convinces them to put more effort into school. I do not want them to follow in my footsteps. Every day I tell them if they try hard they can become a doctor, a firefighter or whatever they like, but not a palmero."
Carlos Chavez, a palmero, sits with his daughter Michelle, in a trailer park near Thermal. Michelle is in high school, trying to win a scholarship so she can go to college. Carlos took her to work with him one summer, but she didn't like it. She says it motivated her to study harder.
While we were talking, moving to keep in the shade, Chavez's daughter Michelle came out of the trailer to join us. Her father's eyes lit up. Michelle is doing what Castro hopes his kids will do also — studying hard in high school, hoping to get a scholarship. She went to work with her dad too, and came away determined to go to college. But she says she wants to stay in Coachella with her family, and find ways to keep them healthy and not so poor. I wondered if she would find the answers she was seeking.
Michelle may go away to school, but she's not leaving this community, nor are her parents. Although they all come from Mexico no one is leaving the Coachella Valley. From time to time Navarro goes back to visit Salitre, his hometown in Michoacán. "I stay a month and then I come back," he explained to me. "I have a house but it is falling down since no one lives there. All my family was born when I was working here, and my children are not thinking about going to live in Michoacán. They go with me to visit, but then they come back right away. They like it for a while but not to live there."
These farmworker families are in Coachella to stay. Rosalinda Guillen, who was born into a farm-worker family and today organizes farm-worker co-ops and unions, charges that mainstream stereotypes paint field laborers as transient and unskilled. "We're treated as disposable," she charges, "but we're human beings and we're part of the community."
Sustainability is the mantra for many groups seeking a future in which communities near the Salton Sea can survive. Guillen sees sustainability from a farmworker's perspective. To her, and to the workers of this valley, sustainability means that organic agriculture could help solve the problems of water runoff. That, in turn, could lead to jobs for communities living in broken down trailers, depending on dangerous work in the palm and mango trees. And if there were a union, it might become work they'd want their children to do.
The hands of Carlos Chavez, a palmero for over 20 years, show the lines and creases of a lifetime of hard work in the trees.
Guillen especially sees the irony in workers producing organic fruits and vegetables, which their low wages don't allow them to buy. "Like these organic carrots," she fumes, pointing to a bunch on a market shelf. "A farmworker can't come and pay the price for these fresh carrots, and they grow them! It's totally off balance. [The system] is unsafe, unsustainable, inhumane and unhealthy for everybody — for people, for animals, for the earth."
As one looks out at the dried crust of the Salton Sea's playa at the end of the day, covered with hundreds of tilapia skeletons, Guillen's words seem terribly relevant.
---
This article was written and produced with the support of a journalism fellowship from New America Media, the Gerontological Society of America and the Silver Century Foundation.
Former EPA Official Finds Hope in the Middle of the Climate Crisis
"Those of us who've been working on environmental justice and climate justice," says Mustafa Ali, "understand we're talking about housing, transportation, the environment, public health and jobs."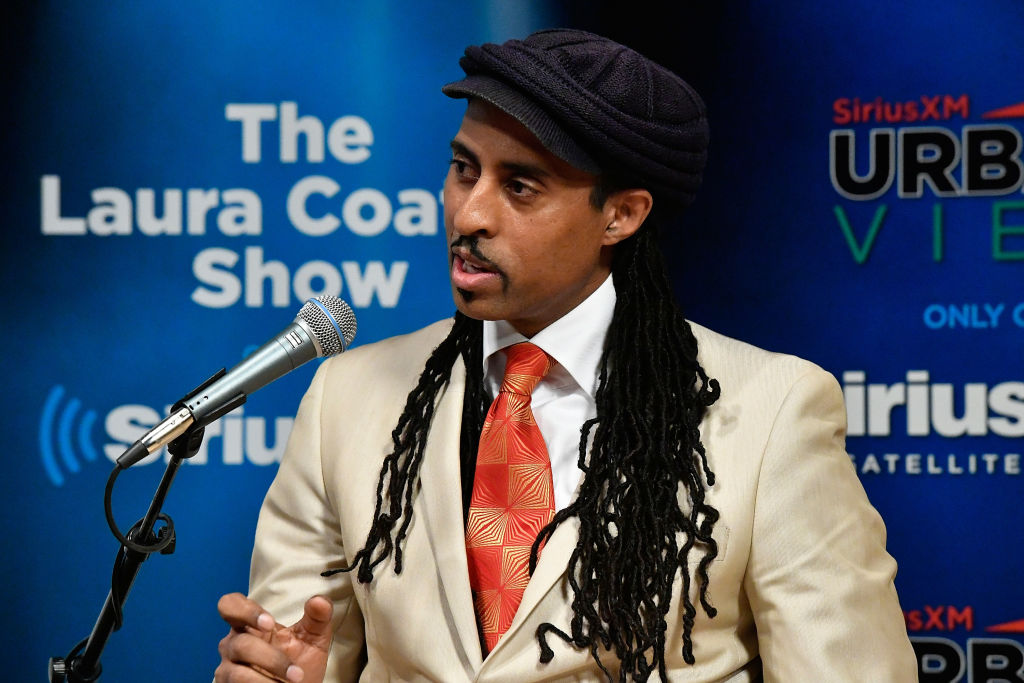 ---
"Because the current administration is so anti-science, so anti-environment, so anti-climate, people who weren't paying attention before are paying attention now."
---
Until he resigned last year, Mustafa Santiago Ali served as the Senior Advisor for Environmental Justice and Community Revitalization at the U.S. Environmental Protection Agency, where he'd worked since 1992. Under the direction of the agency's first administrator of the Office of Environmental Equity, Dr. Clarice Gaylord, Ali helped begin the EPA's effort to recognize and address the disproportionate impacts of pollution on communities situated closest to industrial polluters, communities where people — often people of color — live in poverty. He worked with the Clinton administration on Executive Order 12898, which established a federal program to address environmental justice in communities of color and low-income communities, and in 2007, he went to Capitol Hill to work as a Brookings Institution Congressional Fellow with Rep. John Conyers. He returned to the agency the next year, and stayed until the Trump administration proposed cutting nearly $2 billion from the EPA's already meager $8.2 billion budget, and a leaked memo revealed plans to eliminate the Office of Environmental Justice that Ali had helped found. (Congress ultimately rejected the cuts in the current federal budget, passed in March of 2018).
Ali is now the Senior Vice President of Climate, Environmental Justice & Community Revitalization for the Washington, DC-based Hip Hop Caucus, a national nonprofit that joins the hip hop community to the civic process of politics, social change and the environment. At the recent Climate Reality Conference in Los Angeles, he spoke on a panel of environmental justice advocates, which included Catherine Flowers and mark! Lopez of East Yard Communities for Environmental Justice. Ali had audience members join hands and reaffirm their collective power to effect social and political transformation. I spoke with him afterwards in the over-air-conditioned lobby of the Los Angeles Convention Center.
---
Capital & Main: You spent 24 years at EPA, beginning when George H.W. Bush was still in office, and stayed through the second Bush administration, too. How did you weather other more conservative administrations?
Mustafa Santiago Ali: When I started, at the end of [then-EPA Administrator] William Reilly's administration in 1992, we were really blessed that there was a lot of energy around environmental equity, which became environmental justice. A number of the leaders had gotten together in 1991, through the first National People of Color [Environmental Leadership] Summit in Washington, DC, and put together a set of recommendations before they began to engage with the federal government. One of those recommendations was the creation of an Office of Environmental Equity/Environmental Justice. Those recommendations drove a lot of work that happened in both Republican and Democratic administrations in the early days.
We began to move forward on the creation of the environmental justice small-grants program during the first Bush administration. In the transition to the Clinton administration, we were able to move things forward because an executive order came that I was blessed to be able to work on. Out of that executive order came the interagency working group, which means there are now 17 federal agencies – back then it was 11 — and a couple of White House offices that have distinct responsibility for environmental justice.
There had been successes under all of those administrations. There were challenges in that certain administrations were more tied into business and industry. But all of them made progress before this administration we're in now.
So even Bush II. They had an office to doctor studies done by scientists within Fish and Wildlife, for instance. But you're saying there was still progress on environmental justice then?
There was. It was incremental, and I don't want to oversell it. But without a doubt, it existed. No one ever talked about eliminating the Office of Environmental Justice under Bush.
How hard was it for you to leave?
I had to struggle with it. I prayed, I talked to my parents, I talked to my mentors. There were a couple of times I was going to jump out right at the beginning [of the Trump administration]. Maya Angelou has that great quote about how when someone tells you who they are, believe them. But there's always that thing, you know, maybe they'll have a road to Damascus moment. Maybe there'll be this transition. But it wasn't going to happen. That was being overly hopeful.
I knew the policies they were moving forward on literally could kill people. I knew that, because even when things are moving in a somewhat positive direction, people are still very vulnerable. And I knew that these folks, they just didn't care about all of these leaders, these grassroots leaders and others, who sacrificed everything to try and strengthen environmental laws, to try to get real enforcement actually happening. They've put into their own reports that they know their policies are going to kill people – especially people of color.
Enforcement of environmental crimes is almost non-existent.
I knew that was coming. They were very clear about what they wanted to do around air pollution issues. And since I led the inter-agency working group, I knew that the cumulative effect is that more people were going to get sick and more people were going to die.
You've addressed in your career an overlooked part of environmental justice: the impact of natural and man-made disasters on disadvantaged communities. We saw it in Katrina, in Harvey, and we saw it in Irma and Maria. There are vulnerable people who suffer a disproportionate share of the impacts of these events.
The reason for that — we saw it in Hurricane Maria, all the lives that were lost — is if you don't have a specific focus and understanding of the additional impacts that happen in vulnerable communities, you can't protect folks and help them recover. Flint, the BP oil spill, the hurricanes — we can go down the line in terms of disasters. It doesn't matter if you're talking about low-income white communities, communities of color or indigenous communities. You've got to be thinking, What are the additional things we need to do to help those people?
The Trump administration has been trying to weaken many regulations for chemical facilities and hazardous waste facilities that were written to protect the public. That will also affect vulnerable communities when disasters happen.
They're actually extracting wealth from these communities. Lots of times people think, Oh, these communities in Appalachia. These communities in the Rust Belt. What wealth is there? But when [industries] continue to put these [dangerous facilities] in these communities, housing values plummet, while everyone else's are going up. So you're taking wealth from these communities.
In the same way, when people say climate change isn't real, that means [those communities] can't invest in renewables. That means that communities in the Rust Belt that really need new jobs never get a chance at them. So once again you are taking wealth away from these communities.
How do you get those people to care — the people in the Rust Belt, for instance, who may not understand how they're being harmed by these policies? You tweeted a story about people in Kansas whose water had been contaminated for seven years, and the state health department knew about it but didn't bother to tell them.
That was intentional. It was intentional because sometimes we've set up these barriers in our country around environmental justice. That's a shame. It's about those black people, brown people, maybe indigenous people, and white brothers and sisters [who] sometimes don't think they're going to be impacted also. When we don't help everybody understand that these impacts affect everybody, then we allow people to put these boxes around it and say, "Well, I care, but that's something that's happening to these other folks."
Even in some of the disadvantaged communities of color, it can be hard to get people to care. People are busy feeding their kids. I heard Van Jones make the point years ago at the Bioneers Conference that you can't knock on doors in marginalized communities and scream about how the polar bears are dying. How do you reach out to those people who are already stressed just getting through a day in their lives? How do you talk to them about pollution, let alone climate?
I like to anchor my message in what's going on in people's lives. Normally I would talk about how 27 million people in our country have asthma. Seven million kids. Most folks of color in the urban setting can relate to asthma. They have kids or grandchildren or nieces or nephews [with] asthma. Then we have a conversation about, Okay, where's that coming from? How is this situation being exacerbated? It's because of pollution that's coming out of these plants and pollution coming from the backs of cars. Then I link them into, "Well, did you know that there's currently policy being made that's going to let more pollution come out, so there's going to be more health impacts?"
Those of us who've been working on environmental justice and climate justice for a while understand we're talking about housing, transportation, the environment, public health and jobs. So I talk to people also about their vote, not only in the environmental context, but in the context of the violence that continues to happen in some communities. And how your vote makes the decision about who's the police chief, who's the district attorney. I bring all that together. Then people are like, "Yeah, I got power. And my power's tied up in my vote. And the vote will determine the resources coming into my community, and who's leading that process."
In California the climate fight on the environmental justice front lines and the legislative space are often at odds. It's frustrating, because as mark! Lopez of East Yard Communities for Environmental Justice said on your panel, the frontline communities in the environmental justice fight are where our climate problems begin.
I've noticed that [about California]. Legislators can't do something because of how it will affect business or industry, [but] people in the environmental justice space are saying, "We're the ones who are going to be affected by pollution first. We're the ones who have to deal with this first." [The answer lies in] creating authentic collaborative partnerships.
If we're in a relationship, it means you care about me, and I care about you. In a good marriage, a healthy friendship, many times you care more about the other person than you do about yourself. We've got to get to that. That will get to a greater understanding of how to create a policy that's truly protective of everyone.
You mentioned that 200,000 people die every year prematurely because of air pollution. Can you imagine if 200,000 people were dying of bird flu?
It would be a public health emergency.
But we don't move like we would move if it were a public health emergency. How do you convince people who are making the laws that it is?
We've got two different dynamics going on. One, we really need to accelerate the creation of renewable energy jobs, to create a just transition for the workers in those industries, and to get new people into that space.
Two, we've got to get the money out of politics. We know that's an even harder fight than getting renewable energy jobs in place. There's an addiction to that money. I was at Netroots Nation and many of the political leaders who came to that signed the no fossil-fuel money pledge. If you don't have any accountability to the fossil-fuel world and that money that exists there, then you're less likely to make decisions based on a monetary thing, and you're more likely to be basing your decisions on public health.
You say you're a realist, but also an optimist. What is your cause for optimism right now?
This is an interesting time. I think that our country had to go through this. If we're going to have real talk, we have to acknowledge that there's been no administration that's lived up to what they should be doing on these issues. But now because the current administration is so anti-science, so anti-environment, so anti-climate, people who weren't paying attention before are paying attention now. Foundations are saying we've got to shift our portfolios to better support this work. We have a common destiny that's tied to this.
Even scientists. I have a science background and it hasn't always been the case that scientists [were involved in public policy]. There've always been good scientists, but it's not like the larger scientific organizations were saying we need to do more. Now that is happening. For all the craziness the current administration tries to do and does, [it has] also been a catalyst for people saying we've got to start honoring each other. We've got to start working together. That's what keeps me going — I see these new relationships forming.
---
Copyright Capital & Main