Clinton Official: New GOP Hates Government and Governing
Before January 2009, the filibuster was used only for measures and nominations on which the minority party in the Senate had their strongest objections. Since then, Senate Republicans have filibustered almost everything, betting that voters will blame Democrats for the dysfunction in Congress as much as they blame the GOP.
So far the bet is paying off because the press has failed to call out the GOP – which is now preventing votes on the President's choices for three D.C. Circuit Court nominees, the Labor Department and the EPA, the Consumer Finance Protection Bureau, and the National Labor Relations Board. (The GOP has blocked all labor board nominees, some to whom the President gave recess appointments, but he's now asking approval for all.)
The GOP has already violated hundreds of years of Senate precedent by filibustering the nomination of a Cabinet secretary, Chuck Hagel for Secretary of Defense, and using the filibuster to delay John Brennan's nomination as CIA Director.
Harry Reid may now be able to summon 51 votes to abolish the filibuster, at least for cabinet officials and other high-level policy makers. But that shouldn't be considered a victory. It's a sad commentary on where we've come to.
When I was in the cabinet I worked closely with several great Republican senators, such as Mark Hatfield of Oregon and Nancy Kassebaum of Kansas, who were willing to compromise, and who cared more about preserving the institutions of government than getting their way. Even Orrin Hatch and John McCain in those days were more concerned about the institutional integrity of the U.S. government than about any particular policy difference they may have had with the other side.
But the new breed – Rand Paul, Ted Cruz, Mike Lee, Sam Brownback, Jeff Sessions, David Vitter, to name a few – don't give a rat's ass about how or whether our government functions. In fact, they give every indication that they'd rather it didn't.
I can't help wondering why is it that Republicans who do want our governing institutions and processes to remain strong don't stand up to the fanatics? What happened to Hatch and McCain, or to Lamar Alexander, Susan Collins and Lindsay Graham? Are they so frightened of losing to a fanatic in the next primary that they've been silenced into submission? Why don't former Republican senators who lost to the fanatics, such as Indiana's Richard Lugar, speak up?
As has been noted many times in history, it is not so much the viciousness or carelessness of the bad people but the silence of the good people that brings societies to the brink, or beyond.
(Robert B. Reich, Chancellor's Professor of Public Policy at the University of California at Berkeley, was Secretary of Labor in the Clinton administration. Reposted from his website with permission.)
The Tests Facing California's New Governor
Gavin Newsom now leads the state with the nation's biggest economy and largest population — and one riven by economic inequality. What will be his most important challenges?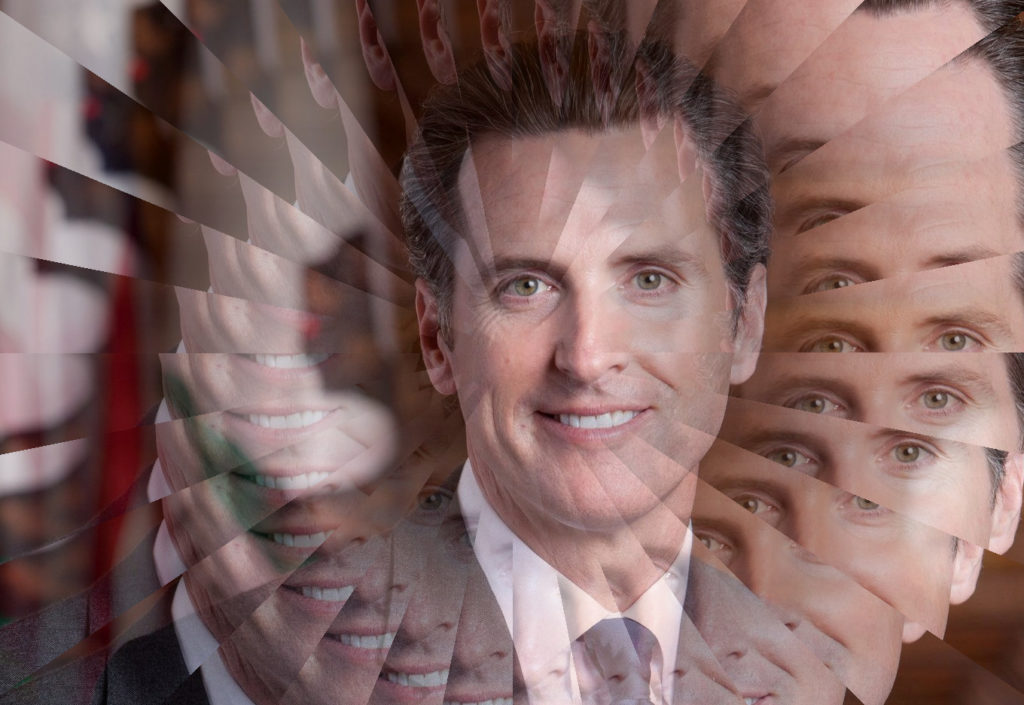 Gavin Newsom inherits a state that should be any governor's dream: A California that is the cradle of the tech revolution and brims with prosperity, a one-party state with supermajorities in both chambers for Newsom's Democrats. But there are clouds darkening the horizon: Daily prophecies tell of coming economic storms; legislative initiatives taken on behalf of immigrants, retirement security and the stemming of global warming are increasingly thwarted by a bellicose White House. And that Democratic Party monopoly in Sacramento masks a deepening ideological fault line dividing pro-business moderates and progressives – the latter of which have largely chafed for the last 16 years under the thrifty administrations of Jerry Brown and Arnold Schwarzenegger, and are eager to burst out with far-reaching (if pricey) legislation.
Then, there are memories of three high-riding liberal governors (Pat and Jerry Brown, and Gray Davis) whose programs or careers were derailed by resentful taxpayers. There are more recent memories, too: Of an impulsive, hard-partying San Francisco mayor whose blunted ambitions led him to spend eight years in the ceremonial wilderness of the lieutenant governor's office. Newsom is said to have matured into a more circumspect, pragmatic politician, although some of the old doubts were fanned back to life by an unflattering New Yorker profile that appeared shortly before his landslide victory November 6.
Perhaps overriding all these auguries is the undeniable fact that despite its enviable economy, its abundance of billionaires-in-residence and laudable array of social services, California still has the highest poverty rate in the U.S., nearly half of its children live in poverty or near-poverty, and merely finding an affordable place to live has become an existential challenge for many. These and similar factors superimpose on the state another kind of fault line, that of economic inequality. Most of the new governor's time will be spent wrangling crises that spring from this disparity. Which is why the following Capital & Main stories primarily focus on the inequality that separates so many Californians from one another.
Affordable Housing, by Jessica Goodheart.
Single-Payer Health Care, by Gabriel Thompson.
Climate Change and Big Oil, by Judith Lewis Mernit.
Inequality Interviews with Manuel Pastor, Ann Huff Stevens and David Grusky.
Early Childhood Education, by Bill Raden.
Inequality in California: Six Takeaways.
---
Copyright Capital & Main