Clancy Sigal (1926-2017) Has Gone Away
Clancy Sigal was probably better known in England than in his native country, but he still had many American fans who read his books and articles and marveled at his wide-ranging interests, his brilliant writing and his perpetual outrage at social injustice.
Clancy Sigal died Monday night at 90. 
At any given time, I have 10 to 12 used paperback copies of his autobiographical novel Going Away on my bookshelf at home. Whenever I go to a used bookstore, the first thing I do is look for, and buy, more copies of that novel. I am not a hoarder. I give the books away to friends. I want everyone to read Going Away. Reading Going Away — a fictional memoir of his life as a former union organizer and Hollywood agent, who travels across America to visit old friends victimized by the Red Scare blacklist — was transformational for me and for many others.
The novel describes a cross-country road trip that Sigal, then a 29-year old blacklisted Hollywood agent, embarked on in 1956 to visit old friends, and some old enemies, many of them victimized by McCarthyism. Some of his old friends left their leftism behind, but Sigal remained a radical, unwilling to give up hope. In collecting and telling the stories of his comrades, old girlfriends, and new acquaintances, Sigal captured the spirit of the era, much more so than Jack Kerouac's On the Road, to which Going Away (which was nominated for a National Book Award) is often compared.
Going Away is a soul-searching memoir filled with fascinating characters. Those familiar with the post-war American left will recognize some of them, including the thinly-disguised battles between socialist Walter Reuther and the Communists within the United Auto Workers, but most of the people Clancy portrays are not well-known figures. In Going Away, Sigal also chronicles the battles over racism at a time when the modern civil rights movement was just getting started.
Even during that dark time in our nation's history, he refuses to give in to cynicism, even while recognizing the terrible toll that the Red Scare took on America's politics and culture.
His view of America is hardly romantic and he is not uncritical of the blind spots of his left-wing friends, but his love of life, fighting spirit, and sense of adventure make it impossible for him to sink into despair, even as he gets ready to escape to England, where he lived for the next several decades.
The novel became something of a cult favorite among the baby-boom generation of radicals in the 1960s and 1970s, but it has remained in print and popular among subsequent generations, too. And rightly so.
If Going Away, published in 1961, was the only thing Clancy ever wrote, then, as we Jews say on Passover, "dayenu" — it would have been enough. But in fact he was a prolific writer of fiction, memoirs, biography, film and literary criticism, and political observation. He was still writing — essays, books, and lots of FB posts and emails — up to his death. There is nobody I know for whom the phrase "he lived a full life" is more appropriate.
After moving to L.A. in 1993, I was fortunate to meet Clancy a few times, but mostly we corresponded by email and via Facebook. He was warm, funny, always outraged, but always with a twinkle of sarcasm.
I don't recall how I discovered Going Away, which I read for the first time in the early 1970s when I lived in Chicago, but I immediately became a Clancy Sigal fan.
I quickly got my hands on Weekend in Dinlock, his earlier (1960) novel about the brutal lives of miners in a British town, which has much in common with Orwell's earlier nonfiction account, The Road to Wigan Pier. Like Orwell, Sigal goes down into the mine to describe the awful, dangerous, life-sucking conditions that the workers face on a daily basis. But most of the novel is about their lives in the village, their families, their hopes and dreams, their union, and the price they pay (pain, fatigue, injury, lung disease) for doing the work that provides England with heat and electricity. It is particularly relevant today, when Donald Trump is making false promises about reviving America's coal industry, while simultaneously gutting the health-and-safety regulations that the American mine workers union fought hard for to protect miners from disease, injury and death.
Two other autobiographical novels — Zone of the Interior, published in 1976 (about his involvement in a British therapeutic cult led by psychologist R.D. Laing in the 1960s) and The Secret Defector, published in 1992 (about his relationship with writer Doris Lessing and with the British left, and his return to the U.S. in the 1980s) — portray his life as an ex-pat American living in England. (In The Golden Notebook, published in 1962, Lessing had already used a fictionalized version of Clancy as her love interest Saul Green).
I loved Clancy's 2006 memoir/biography A Woman of Uncertain Character about his mother Jenny, a bohemian, union organizer and radical in Chicago, where Sigal was raised during the Depression. It must have been both a painful and liberating experience to research and write that book.
In Hemingway Lives!, a work of biography and literary criticism, published in 2013, Sigal celebrated the novelist's no-frills writing style and his political activism. I was never a Hemingway fan, but Sigal's book made me rethink my attitude.
Clancy's final book, published last year, was Black Sunset: Hollywood Sex, Lies, Glamour, Betrayal and Raging Egos, a nonfiction memoir of his life as a young Hollywood agent in the 1950s, a period that is considered the film industry's "Golden Age" but which also was the time of McCarthyism, the blacklist, and the fear of atomic bomb testing and nuclear war. It is filled with great stories about famous actors and actresses and unsung heroes.
Last December, soon after the book came out, Clancy emailed me to ask me to read it and, if I was so inclined, to recommend it to others. Here's what he wrote: "My latest is not a world changer or contributes to climate change. It's a lighthearted romp through a very bad time in the Hollywood I worked in when I was, of all things, a talent agent (for Humphrey Bogart among others). I'd been blacklisted but fell through the cracks/sweating it out making deals in the boiler room of the Dream Factory while at night organizing a small group of dissident oddballs 'fighting the power' of McCarthyism and the real threat of another world war. An American history lesson I hope easy to take. How to keep good people together in a bad time suddenly takes on more significance. My best, Clancy."
In between these books Clancy — who returned to live in the U.S. in the 1980s, settling back in L.A., and teaching at UC Santa Barbara and USC — wrote and published hundreds of essays about politics, films, and American culture (for a variety of leftist and mainstream British and American magazines) as well as several screenplays, including a biopic about artist Frida Kahlo.
In 2013, on the 50th anniversary of the March on Washington, Clancy wrote a wonderfully poignant essay for The Guardian about his participation in that history-making event. Just a few weeks ago, Clancy, who was a World War II veteran, published this essay, "Memorial Day: Remembering 70 U.S. Wars, Big and Small," about American militarism and how wars have been portrayed in Hollywood films.
Ironically, this American ex-pat was probably better known in England than in his native country. During his years in England, Clancy was a frequent voice on the BBC discussing books, films and politics. To gain an equivalent kind of celebrity or notoriety in this country, he would have had to be a regular commentator on NPR or MSNBC. But he still had many American fans who read his books and articles and marveled at his wide-ranging interests, his brilliant writing and his perpetual outrage at social injustice.
There will be various obituaries and perhaps memorials about Clancy in the next few days, weeks, and months, but I think the best way to celebrate his life is to organize resistance to Trump and to read his books and other writings. I have extra copies of Going Away if you can't find a copy in your local used bookstore or on Amazon.
---
This feature is crossposted with the Huffington Post.
The Power of the Poster
Carol Wells, the founder of the Center for the Study of Political Graphics in Los Angeles, talks to Capital & Main about the enduring power of political art.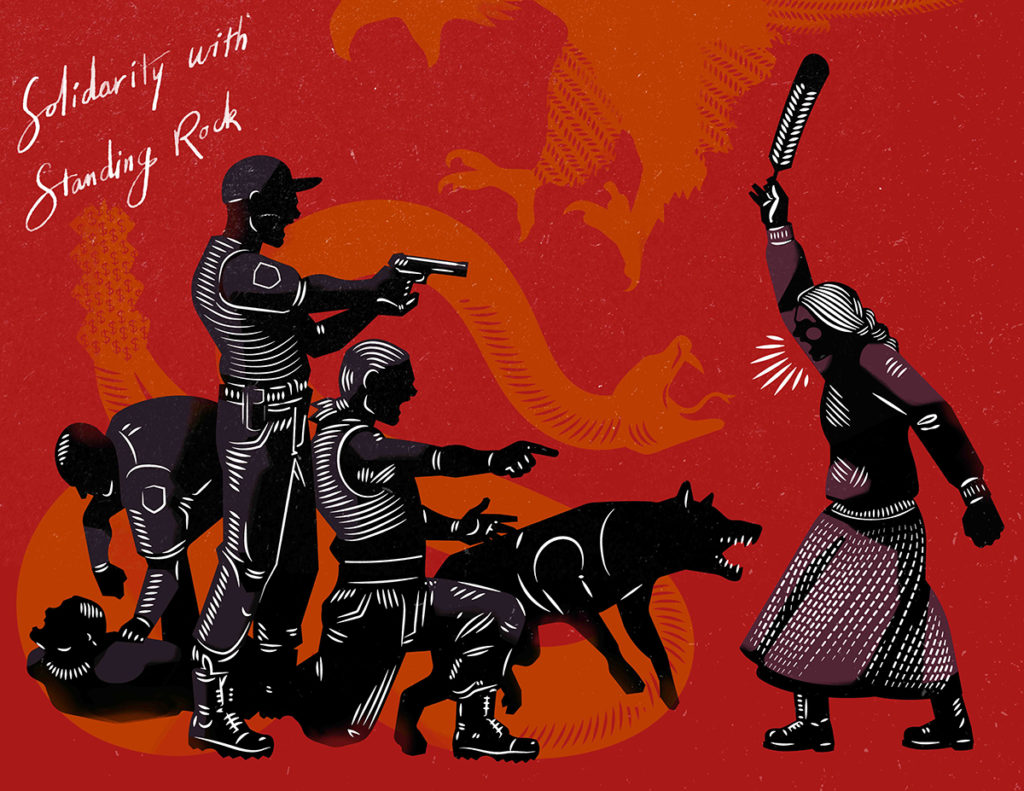 Carol Wells remembers the exact moment she discovered her calling. An art historian at the time, she was on a trip to Nicaragua with her friend David Kunzle, a UCLA art history professor, who was collecting political posters to add to his burgeoning collection. While staying with friends, Wells watched a neighbor's 8-year-old son approach a poster on the wall, stare at it intently, and then start to silently mouth the words. Wells was struck by how engaged the boy was. "In that moment I became obsessed with collecting posters."
Now over 40 years later, Wells is the founder and executive director of the Center for the Study of Political Graphics in Los Angeles. Wells has amassed approximately 90,000 posters, building one of the largest collections of its kind in the world. The Center shares its collection with the public in part through curated exhibits. This year the CSPG has produced Feminae: Typographic Voices of Women by Women and its latest is To Protect & Serve? Five Decades of Posters Protesting Police Violence, running through July 15 at the Mercado La Paloma in downtown Los Angeles.
Since that encounter in Nicaragua in 1981, Wells' obsession with collecting posters hasn't waned. In CSPG's nondescript West L.A. office space, Wells pulls out poster after poster, lecturing passionately on the backstory and cultural impact of each, including one that superimposes text from a New York Times interview with a shocking image of the My Lai massacre ("Q: And babies? A: And babies."). Recently, she managed to sit down with C&M to discuss her passion.
---
Capital & Main: So, you were an art history professor, you happen to see a kid on a trip, and suddenly your life was changed forever?
Carol Wells: Yeah, I'm in Nicaragua alone in the living room with this kid. He's looking around, and all of a sudden, he sees the poster. It was pretty big, bright green, a thick outlines of a woman holding a big basket of coffee beans. And the text in Spanish said, "In constructing the new country, we are becoming the new woman." I see him walk over to the poster and I'm watching him mouth the words. It was a pretty sophisticated concept, so I doubt he figured it out. But I literally had this epiphany: "Oh my God. That's how posters work." You're going about your daily life, and all of a sudden something breaks through the bubble, and it grabs your attention. It's the graphic, it's the color, it's the combination, and it pulls you out of your head and into that poster and it makes you ask a question. "Why is this here? What is this about? What does this mean?" And every time you ask a question, you're a different person than you were before you asked the question.
How many posters do you get a year?
We get between two to five thousand a year donated from all over the world. The bulk of our collection is [from] 1945 and later.
I assume technology has probably hurt the art form, but has it helped get the messages out?
Most people think that, and it's actually not true. Since the internet age started, there's actually a poster renaissance of works on paper. Because you can't walk with your computer monitor in a demonstration. You can't plant your monitor on your lawn.
And you can't put a laptop on the wall…
Exactly. You want to hear a really great story? Truthdig.org published a cartoon [made by] a political cartoonist named Mr. Fish. It was during the Arab spring, and he had superimposed Che Guevara with the stylized beard and King Tut's face, but it had Che's beret. And it [was titled], "Walk like an Egyptian." So, it was a reference to the music, but [it was also] a reference to what was going on the streets of Cairo. I sent it out as our poster of the week to 9,000 people. The very next day, somebody took a photograph on the street of Cairo, with somebody holding a piece of paper with that image on it. A poster can literally go around the world and people will print it out.
What struck me in viewing your exhibits is how many of these posters could still be used today, not only artistically but also, sadly, in the timeliness of their messages.
We had this fabulous poster by Yolanda Lopez, a Bay Area artist, which she first did in 1978. It depicts a young man in Aztec garb pointing a finger like Uncle Sam saying, "Who's the illegal alien, PILGRIM?" And it's a great poster, it's simple, not too many words, funny, provocative. So, we had an exhibit at UCLA in the mid '90s and there were 4 or 5 high school students standing around this poster saying, "Wow, you've got posters up to the minute." And I went over to them and I said, "Look at the date. This is before you were born."
Is that one of your goals with the exhibitions? To show the evergreen nature of this work?
Absolutely. I mean that's why we did the police abuse exhibition now. It basically goes back five decades. It's 50 years of posters protesting police abuse. Mainly in the United States, but also internationally.
What's the goal for CSPG?
Well the aim right now is really to digitize the collection and get it online. We have 10% of the collection digitized. But the mission is to collect and to document, because stories get lost. All the exhibitions, they're showing massacres, they're showing genocide, they're showing police abuse, they're showing all of these horrible things. And people often ask me, "How can you look at this stuff all day long?" I said, "Because the poster artists are optimists. They believe people can change if they have the information."
Yes, that's the reason why they're doing it, right?
That's why they're doing it, and that's why I'm doing this, because I believe that people can change if they knew the truth.
And what happens 20, 50 years from now?
Well, my goal is to stay independent, because the other option is to become part of the university. Universities, for all the fabulous things that they do, they also censor. We did an exhibition at USC in 1992 on the 500 years since Columbus, and how the legacy of racism and exploitation and genocide continues. And one of the board of trustees was Italian and took [the exhibit] as an affront to Columbus. It really wasn't about Columbus, it was about colonialism. And he ordered it down.
Do you have a favorite poster?
I'm always amazed at the creativity and vision of artists. Every week I'll say, "Oh my God, how do they think of that?" But it's always still going to be the poster I saw that kid trying to figure out. It has to be my favorite one because that one changed my life.
What makes a perfect poster?
The right balance between aesthetics and message. If you only rely on the corporate press, the New York Times and L.A. Times, for your information, you're not going to get the side from the street, from the movement, from the activists. The posters are primary historical documents that are recording the issues that were at the time, and the passions that were at the time, and the divisions that were at the time. You're not going to get it anyplace else.
---
Copyright Capital & Main