Clancy Sigal (1926-2017) Has Gone Away
Clancy Sigal was probably better known in England than in his native country, but he still had many American fans who read his books and articles and marveled at his wide-ranging interests, his brilliant writing and his perpetual outrage at social injustice.

Clancy Sigal died Monday night at 90. 
At any given time, I have 10 to 12 used paperback copies of his autobiographical novel Going Away on my bookshelf at home. Whenever I go to a used bookstore, the first thing I do is look for, and buy, more copies of that novel. I am not a hoarder. I give the books away to friends. I want everyone to read Going Away. Reading Going Away — a fictional memoir of his life as a former union organizer and Hollywood agent, who travels across America to visit old friends victimized by the Red Scare blacklist — was transformational for me and for many others.
The novel describes a cross-country road trip that Sigal, then a 29-year old blacklisted Hollywood agent, embarked on in 1956 to visit old friends, and some old enemies, many of them victimized by McCarthyism. Some of his old friends left their leftism behind, but Sigal remained a radical, unwilling to give up hope. In collecting and telling the stories of his comrades, old girlfriends, and new acquaintances, Sigal captured the spirit of the era, much more so than Jack Kerouac's On the Road, to which Going Away (which was nominated for a National Book Award) is often compared.
Going Away is a soul-searching memoir filled with fascinating characters. Those familiar with the post-war American left will recognize some of them, including the thinly-disguised battles between socialist Walter Reuther and the Communists within the United Auto Workers, but most of the people Clancy portrays are not well-known figures. In Going Away, Sigal also chronicles the battles over racism at a time when the modern civil rights movement was just getting started.
Even during that dark time in our nation's history, he refuses to give in to cynicism, even while recognizing the terrible toll that the Red Scare took on America's politics and culture.
His view of America is hardly romantic and he is not uncritical of the blind spots of his left-wing friends, but his love of life, fighting spirit, and sense of adventure make it impossible for him to sink into despair, even as he gets ready to escape to England, where he lived for the next several decades.
The novel became something of a cult favorite among the baby-boom generation of radicals in the 1960s and 1970s, but it has remained in print and popular among subsequent generations, too. And rightly so.
If Going Away, published in 1961, was the only thing Clancy ever wrote, then, as we Jews say on Passover, "dayenu" — it would have been enough. But in fact he was a prolific writer of fiction, memoirs, biography, film and literary criticism, and political observation. He was still writing — essays, books, and lots of FB posts and emails — up to his death. There is nobody I know for whom the phrase "he lived a full life" is more appropriate.
After moving to L.A. in 1993, I was fortunate to meet Clancy a few times, but mostly we corresponded by email and via Facebook. He was warm, funny, always outraged, but always with a twinkle of sarcasm.
I don't recall how I discovered Going Away, which I read for the first time in the early 1970s when I lived in Chicago, but I immediately became a Clancy Sigal fan.
I quickly got my hands on Weekend in Dinlock, his earlier (1960) novel about the brutal lives of miners in a British town, which has much in common with Orwell's earlier nonfiction account, The Road to Wigan Pier. Like Orwell, Sigal goes down into the mine to describe the awful, dangerous, life-sucking conditions that the workers face on a daily basis. But most of the novel is about their lives in the village, their families, their hopes and dreams, their union, and the price they pay (pain, fatigue, injury, lung disease) for doing the work that provides England with heat and electricity. It is particularly relevant today, when Donald Trump is making false promises about reviving America's coal industry, while simultaneously gutting the health-and-safety regulations that the American mine workers union fought hard for to protect miners from disease, injury and death.
Two other autobiographical novels — Zone of the Interior, published in 1976 (about his involvement in a British therapeutic cult led by psychologist R.D. Laing in the 1960s) and The Secret Defector, published in 1992 (about his relationship with writer Doris Lessing and with the British left, and his return to the U.S. in the 1980s) — portray his life as an ex-pat American living in England. (In The Golden Notebook, published in 1962, Lessing had already used a fictionalized version of Clancy as her love interest Saul Green).
I loved Clancy's 2006 memoir/biography A Woman of Uncertain Character about his mother Jenny, a bohemian, union organizer and radical in Chicago, where Sigal was raised during the Depression. It must have been both a painful and liberating experience to research and write that book.
In Hemingway Lives!, a work of biography and literary criticism, published in 2013, Sigal celebrated the novelist's no-frills writing style and his political activism. I was never a Hemingway fan, but Sigal's book made me rethink my attitude.
Clancy's final book, published last year, was Black Sunset: Hollywood Sex, Lies, Glamour, Betrayal and Raging Egos, a nonfiction memoir of his life as a young Hollywood agent in the 1950s, a period that is considered the film industry's "Golden Age" but which also was the time of McCarthyism, the blacklist, and the fear of atomic bomb testing and nuclear war. It is filled with great stories about famous actors and actresses and unsung heroes.
Last December, soon after the book came out, Clancy emailed me to ask me to read it and, if I was so inclined, to recommend it to others. Here's what he wrote: "My latest is not a world changer or contributes to climate change. It's a lighthearted romp through a very bad time in the Hollywood I worked in when I was, of all things, a talent agent (for Humphrey Bogart among others). I'd been blacklisted but fell through the cracks/sweating it out making deals in the boiler room of the Dream Factory while at night organizing a small group of dissident oddballs 'fighting the power' of McCarthyism and the real threat of another world war. An American history lesson I hope easy to take. How to keep good people together in a bad time suddenly takes on more significance. My best, Clancy."
In between these books Clancy — who returned to live in the U.S. in the 1980s, settling back in L.A., and teaching at UC Santa Barbara and USC — wrote and published hundreds of essays about politics, films, and American culture (for a variety of leftist and mainstream British and American magazines) as well as several screenplays, including a biopic about artist Frida Kahlo.
In 2013, on the 50th anniversary of the March on Washington, Clancy wrote a wonderfully poignant essay for The Guardian about his participation in that history-making event. Just a few weeks ago, Clancy, who was a World War II veteran, published this essay, "Memorial Day: Remembering 70 U.S. Wars, Big and Small," about American militarism and how wars have been portrayed in Hollywood films.
Ironically, this American ex-pat was probably better known in England than in his native country. During his years in England, Clancy was a frequent voice on the BBC discussing books, films and politics. To gain an equivalent kind of celebrity or notoriety in this country, he would have had to be a regular commentator on NPR or MSNBC. But he still had many American fans who read his books and articles and marveled at his wide-ranging interests, his brilliant writing and his perpetual outrage at social injustice.
There will be various obituaries and perhaps memorials about Clancy in the next few days, weeks, and months, but I think the best way to celebrate his life is to organize resistance to Trump and to read his books and other writings. I have extra copies of Going Away if you can't find a copy in your local used bookstore or on Amazon.
---
This feature is crossposted with the Huffington Post.

'Skeleton Crew' Is a Play With a Moral Spine
Set in a Detroit automobile outfitting plant, Dominique Morisseau's drama grabs you from the start with its focus on blue-collar men and women, and their struggle for dignity and self-respect.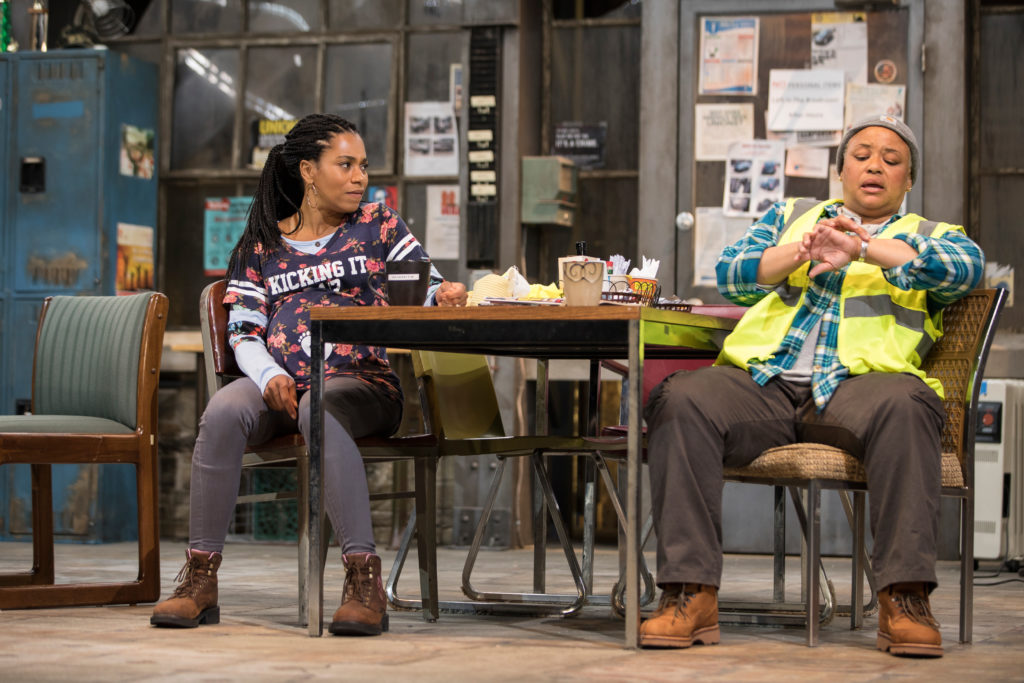 Working-class men and women of color are rarely front and center in today's media and, likewise, are presented all too occasionally on the American stage. So it's buoying to see that trend bucked in playwright Dominique Morisseau's percipient and well-crafted drama, Skeleton Crew. The play is the final installment in her Detroit  Project Trilogy; the first, Paradise Blue, is set in the 1940s amidst displacement caused by urban renewal and gentrification, while the second, Detroit '67, transpires on the eve of the 1967 Detroit riots sparked by a police action.
Directed by Patricia McGregor at Los Angeles' Geffen Playhouse, Skeleton Crew is a play with a moral spine. It takes place in 2008, when the shrinking U.S. auto industry is being further downsized. Morisseau's engaging quartet of characters — Faye (Caroline Stefanie Clay), Dez (Armari Cheatom), Shanita (Kelly McCreary) and Reggie (DB Woodside) – are employed at an automobile outfitting plant. Faye, Dez and Shanita are workers on the line while Reggie (who has a wife and kids, and has pulled himself together after a troubled youth) is their supervisor.
The first three customarily mingle in their break room (designer Rachel Myers' impressively cluttered, dingy and detailed set), trading the sort of familiar barbs and genuine concern for each other common among longtime co-workers. They also face off on philosophy: Upper-middle-aged Faye and the younger, pregnant Shanita take pride in their labor, while Dez, though a good worker, is a malcontent scornful of management and firm in the belief that everyone needs to watch out for himself. He's a thorn in Reggie's side, for while Reggie wants to be supportive of his workers, he must act at the behest of higher management. For his part, Dez resents Reggie's authority, and a palpable unease exists between them.
Besides this male matchup, we're made privy to Dez's attraction to Shanita, who mostly turns away his advances, but every now and then displays a hint of interest. Most poignant is Reggie's regard and affection for the lesbian Faye, which has roots in his boyhood when she loved, and lived, with his now-deceased mom.
These people's various predicaments intensify when rumors spread of the plant's shutdown — a disaster for all, but a particular calamity for the already near-broke Faye who, one year short of retirement, would lose her pension. The crisis forces each of these people to make a choice.
A sound piece of social realism, Skeleton Crew grabs you from the start in its focus on blue-collar men and women, and their struggle against odds for dignity and self-respect. Morisseau not only furnishes these characters a platform for their travails, she endows them with strong values, big hearts and the opportunity to choose between right and wrong.
Unfortunately, the performance I attended did not soar. Many exchanges lacked a fresh edge. The actors certainly had their characters down, but too often they appeared to be coasting on technique. (This seemed particularly true of Clay, who performed the role to great accolades in Washington, DC in 2017, also under McGregor's direction). Additionally, some of the stage movement was not entirely fluid; in confrontations, actors sometimes would just stand and face each other in an artificial way. And Cheatom's interpretation of Dez struck me as a bit overly churlish and depressive: I needed more glimpses of the intelligence and edge that would secretly attract the strong, self-directed Shanita.
The most compelling moments belong to Woodside, well-cast as a man trying his best in difficult circumstances to do the right thing.
---
Gil Cates Theater at the Geffen Playhouse, 10886 Le Conte Ave., Westwood Village; Tues.-Fri., 8 p.m.; Sat., 3 & 8 p.m. Sun., 2 & 7 p.m.; through July 8. (310) 208-5454 or www.geffenplayhouse.org