Clancy Sigal (1926-2017) Has Gone Away
Clancy Sigal was probably better known in England than in his native country, but he still had many American fans who read his books and articles and marveled at his wide-ranging interests, his brilliant writing and his perpetual outrage at social injustice.

Clancy Sigal died Monday night at 90. 
At any given time, I have 10 to 12 used paperback copies of his autobiographical novel Going Away on my bookshelf at home. Whenever I go to a used bookstore, the first thing I do is look for, and buy, more copies of that novel. I am not a hoarder. I give the books away to friends. I want everyone to read Going Away. Reading Going Away — a fictional memoir of his life as a former union organizer and Hollywood agent, who travels across America to visit old friends victimized by the Red Scare blacklist — was transformational for me and for many others.
The novel describes a cross-country road trip that Sigal, then a 29-year old blacklisted Hollywood agent, embarked on in 1956 to visit old friends, and some old enemies, many of them victimized by McCarthyism. Some of his old friends left their leftism behind, but Sigal remained a radical, unwilling to give up hope. In collecting and telling the stories of his comrades, old girlfriends, and new acquaintances, Sigal captured the spirit of the era, much more so than Jack Kerouac's On the Road, to which Going Away (which was nominated for a National Book Award) is often compared.
Going Away is a soul-searching memoir filled with fascinating characters. Those familiar with the post-war American left will recognize some of them, including the thinly-disguised battles between socialist Walter Reuther and the Communists within the United Auto Workers, but most of the people Clancy portrays are not well-known figures. In Going Away, Sigal also chronicles the battles over racism at a time when the modern civil rights movement was just getting started.
Even during that dark time in our nation's history, he refuses to give in to cynicism, even while recognizing the terrible toll that the Red Scare took on America's politics and culture.
His view of America is hardly romantic and he is not uncritical of the blind spots of his left-wing friends, but his love of life, fighting spirit, and sense of adventure make it impossible for him to sink into despair, even as he gets ready to escape to England, where he lived for the next several decades.
The novel became something of a cult favorite among the baby-boom generation of radicals in the 1960s and 1970s, but it has remained in print and popular among subsequent generations, too. And rightly so.
If Going Away, published in 1961, was the only thing Clancy ever wrote, then, as we Jews say on Passover, "dayenu" — it would have been enough. But in fact he was a prolific writer of fiction, memoirs, biography, film and literary criticism, and political observation. He was still writing — essays, books, and lots of FB posts and emails — up to his death. There is nobody I know for whom the phrase "he lived a full life" is more appropriate.
After moving to L.A. in 1993, I was fortunate to meet Clancy a few times, but mostly we corresponded by email and via Facebook. He was warm, funny, always outraged, but always with a twinkle of sarcasm.
I don't recall how I discovered Going Away, which I read for the first time in the early 1970s when I lived in Chicago, but I immediately became a Clancy Sigal fan.
I quickly got my hands on Weekend in Dinlock, his earlier (1960) novel about the brutal lives of miners in a British town, which has much in common with Orwell's earlier nonfiction account, The Road to Wigan Pier. Like Orwell, Sigal goes down into the mine to describe the awful, dangerous, life-sucking conditions that the workers face on a daily basis. But most of the novel is about their lives in the village, their families, their hopes and dreams, their union, and the price they pay (pain, fatigue, injury, lung disease) for doing the work that provides England with heat and electricity. It is particularly relevant today, when Donald Trump is making false promises about reviving America's coal industry, while simultaneously gutting the health-and-safety regulations that the American mine workers union fought hard for to protect miners from disease, injury and death.
Two other autobiographical novels — Zone of the Interior, published in 1976 (about his involvement in a British therapeutic cult led by psychologist R.D. Laing in the 1960s) and The Secret Defector, published in 1992 (about his relationship with writer Doris Lessing and with the British left, and his return to the U.S. in the 1980s) — portray his life as an ex-pat American living in England. (In The Golden Notebook, published in 1962, Lessing had already used a fictionalized version of Clancy as her love interest Saul Green).
I loved Clancy's 2006 memoir/biography A Woman of Uncertain Character about his mother Jenny, a bohemian, union organizer and radical in Chicago, where Sigal was raised during the Depression. It must have been both a painful and liberating experience to research and write that book.
In Hemingway Lives!, a work of biography and literary criticism, published in 2013, Sigal celebrated the novelist's no-frills writing style and his political activism. I was never a Hemingway fan, but Sigal's book made me rethink my attitude.
Clancy's final book, published last year, was Black Sunset: Hollywood Sex, Lies, Glamour, Betrayal and Raging Egos, a nonfiction memoir of his life as a young Hollywood agent in the 1950s, a period that is considered the film industry's "Golden Age" but which also was the time of McCarthyism, the blacklist, and the fear of atomic bomb testing and nuclear war. It is filled with great stories about famous actors and actresses and unsung heroes.
Last December, soon after the book came out, Clancy emailed me to ask me to read it and, if I was so inclined, to recommend it to others. Here's what he wrote: "My latest is not a world changer or contributes to climate change. It's a lighthearted romp through a very bad time in the Hollywood I worked in when I was, of all things, a talent agent (for Humphrey Bogart among others). I'd been blacklisted but fell through the cracks/sweating it out making deals in the boiler room of the Dream Factory while at night organizing a small group of dissident oddballs 'fighting the power' of McCarthyism and the real threat of another world war. An American history lesson I hope easy to take. How to keep good people together in a bad time suddenly takes on more significance. My best, Clancy."
In between these books Clancy — who returned to live in the U.S. in the 1980s, settling back in L.A., and teaching at UC Santa Barbara and USC — wrote and published hundreds of essays about politics, films, and American culture (for a variety of leftist and mainstream British and American magazines) as well as several screenplays, including a biopic about artist Frida Kahlo.
In 2013, on the 50th anniversary of the March on Washington, Clancy wrote a wonderfully poignant essay for The Guardian about his participation in that history-making event. Just a few weeks ago, Clancy, who was a World War II veteran, published this essay, "Memorial Day: Remembering 70 U.S. Wars, Big and Small," about American militarism and how wars have been portrayed in Hollywood films.
Ironically, this American ex-pat was probably better known in England than in his native country. During his years in England, Clancy was a frequent voice on the BBC discussing books, films and politics. To gain an equivalent kind of celebrity or notoriety in this country, he would have had to be a regular commentator on NPR or MSNBC. But he still had many American fans who read his books and articles and marveled at his wide-ranging interests, his brilliant writing and his perpetual outrage at social injustice.
There will be various obituaries and perhaps memorials about Clancy in the next few days, weeks, and months, but I think the best way to celebrate his life is to organize resistance to Trump and to read his books and other writings. I have extra copies of Going Away if you can't find a copy in your local used bookstore or on Amazon.
---
This feature is crossposted with the Huffington Post.

Two Cousins and a Magical Ice Cream Truck Figure in Leon Martell's New Play
Although not all of ICE's comedy clicks, Martell's story has both weight and charm. The production's overriding plus is its successful rendering, fashioned with humor and craft, of the difficulties immigrants face.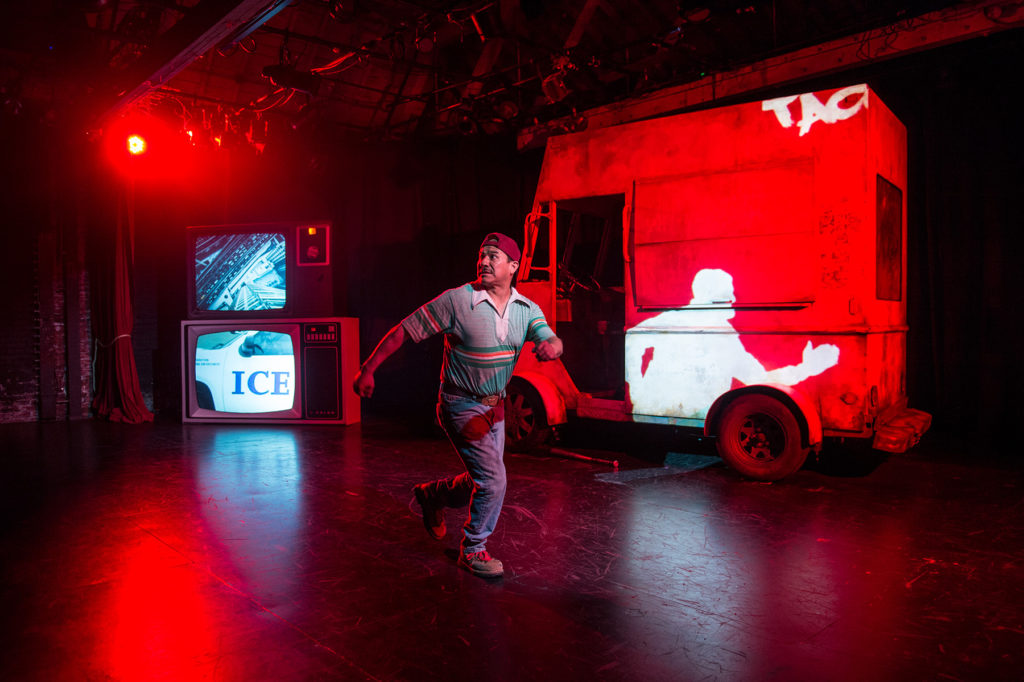 ICE, Leon Martell's family friendly play, takes place in 1988 and follows the misadventures of two undocumented immigrants: Chepe (Jesús Castaños-Chima), an avid baseball fan who dreams of making a fortune selling gourmet tacos; and his cousin Nacho (Tony Dúran), whom the beleaguered Chepe summons from Mexico to assist him in setting up his business. Directed by Debbie Devine at 24th Street Theatre, the show displays plenty of heart, not all of it realized in this premiere production. Despite this, there's enough political relevancy, moral truth and human comedy packed into the show's 65-minute time frame to overlook its shortcomings.
The core of the humor is the difference in personality between the two cousins. The ambitious Chepe is bitter and frustrated about his experience in America, where he's been cheated and lied to by bosses who exploit his labor and pay him next to nothing. Yet he's bought into the American Dream of money and fame, and to achieve that he's purchased a dilapidated old ice cream van to convert into a taco truck. It doesn't run, though, and the secret family salsa recipe is with his kin in Mexico. So, he phones home and implores his mechanic cousin to head north, bringing the salsa recipe as well as his skills.
Cousin Nacho, by contrast, is a sweet old-fashioned guy. He wants success too, but making money isn't the only thing he thinks about. He juggles tomatoes to make kids laugh and indignantly admonishes Chepe for his desperate inclination to do what it takes (steal tomatoes, for example) to score success.
Into the mix Martell tosses a blind, disgruntled priest (Davitt Felder), who plays guitar and wants to launch English classes for children in his parish (the archdiocese turns him down). Then there's Chepe's truck, which has opinions of its own. It breaks out in jingles at random intervals; later, it communicates with Nacho via blinking red letters that eerily appear on the side of the vehicle, furnishing the two men with simple directives and essential advice. When ICE (Immigration and Customs Enforcement) shows up, it alerts them to run.
Although not all of the comedy clicks, Martell's story has both weight and charm. The production's overriding plus is its successful rendering, fashioned with humor and craft, of the difficulties immigrants face. Its main weakness is Castaños-Chima's technically skilled but somewhat chilly depiction of his character, which leaves us wishing for more warmth and complexity. Felder appears awkward in his role of the blind priest, but proves versatile on video as Chepe's various nemeses. Dúran's naïve Nacho is a lovable presence from first to last.
Displayed on a monitor, Matthew G. Hill's video slides add historical and social perspective, and his backwall projections, in tandem with Dan Weingarten's lighting and Chris Moscatiello's sound, help conjure a magical aura to this parabolic piece.
24th Street Theatre, 1117 West 24th St., Los Angeles; Sat., 3 & 7:30 p.m.; Sun., 3 p.m.; through June 10, (213) 745-6516 or 24thstreet.org.
---
Copyright Capital & Main