Can California's Most Vulnerable Survive Obamacare's Replacement?
Under the American Health Care Act passed by the U.S. House of Representatives last week, California's half million in-home care recipients, who include the elderly, the blind and the disabled, could be facing big cuts in services.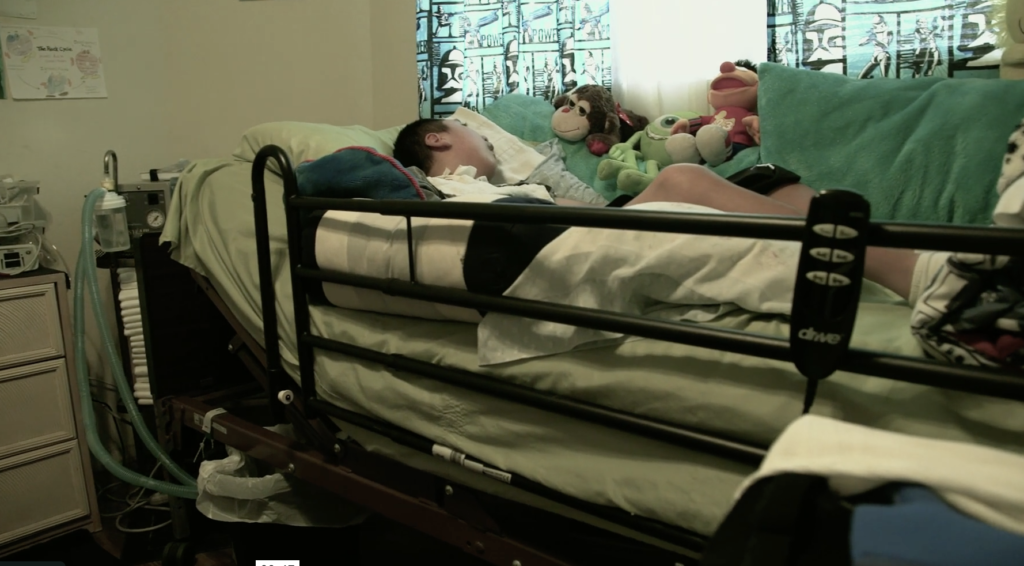 When Bonnie Kerlew retired from her job as a nurse at the U.S. Marine Corps Base Camp Pendleton in 2005, she wanted to continue helping others. She eventually became guardian to a boy with cerebral palsy, whose family she had been helping, and today she cares for him by herself eight hours a day, plus weekends, in Oceanside.
"After I got to be his guardian, his case worker came to me and asked why I wasn't on IHSS," Kerlew recalls.
In-Home Supportive Services is a state program, administered by California's 58 counties, that pays family members or professionals to care for the blind, disabled or elderly in their homes. For some recipients, the program makes their lives easier; they may need help with basic everyday needs such as administering medication, grocery shopping, cooking and laundry. Many recipients are severely disabled and without IHSS would need to be placed in an institution. Bonnie's son, Jaime, needs round-the-clock care: feeding, dressing, bathing, personal care and more.
"He has tube feeding every four hours, he's incontinent, he doesn't walk," Kerlew, now 74, says of Jaime. With him being nonverbal, she says, "you have to think for him. But if you look at his facial expressions you know what's going on."
Today, as an IHSS care-provider, Kerlew receives $10.50 per hour to care for Jaime, who is 12, every day from 11 p.m. to 7 a.m. (Another nurse comes to the home to cover the daytime shift.) IHSS is paid through Medi-Cal, the Medicaid program for low-income Californians, enabling recipients to be with their families, to attend school, and to retain ties to their communities.
But under the American Health Care Act passed by the U.S. House of Representatives last week, Kerlew and Jaime–and the state's other approximately 500,000 IHSS recipients — could be facing big changes.
The AHCA would change Medicaid from its current financing structure to what's called a "per capita cap." Republicans have been seeking to remake the federal health insurance program for the poor since 1981, when Ronald Reagan first proposed a similar change, making Medicaid a "block grant" for the states. Congress passed a bill in 1995 intended to link the amount of the grant to each state's need, while capping the total amount of federal Medicaid spending, but President Bill Clinton vetoed it. President George W. Bush floated the idea in 2003, but the task force of governors he delegated to figure out the specifics couldn't come to agreement on a proposal.
Currently, the federal government reimburses states for a share of their Medicaid costs–the average is 57 percent. States must provide a particular set of benefits to defined populations and may add services and eligible beneficiaries. If states' costs go up, the amount Washington pays rises in tandem.
Under a per capita cap, by contrast, states would get a fixed amount for each person on Medicaid in the state. The amount varies according to the subgroups Medicaid recipients belong to: Caps for children would be set at a particular level; for the disabled, at a presumably higher level to reflect their greater needs, and so on. The cap would rise and fall according to population, but not through other factors, such as an epidemic or natural disaster, which would raise costs, or a medical breakthrough, which would lower them. States would only get paid back for the amount they spend on care up to the cap. If the services cost more than the cap, states would either have to make up the difference out of their own budgets, or cut services.
In-Home Supportive Services is particularly vulnerable to such cuts. It's regularly on the chopping block in Sacramento whenever the state faces budget difficulties, as in the most recent recession, and because IHSS allows recipients to choose their providers, many are, like Kerlew, family members of those for whom they provide care. So cuts in benefits can hit a family twice.
"AHCA could further constrain the amount of money coming from the federal government to the state, with dire consequences for recipients of [IHSS]," said Kathryn Kietzman of the University of California, Los Angeles' Center for Health Policy Research. She has published extensively on long-term care of the needy. "That wage is providing not only for the hours of personal care, but is a contribution to put food on the table," Kietzman said. "More and more family members are going to assume unpaid care if AHCA passes in current form."
In-Home Supportive Services is growing at about five percent per year, Kietzman said, chiefly due to an aging population (a demographic trend not unique to California). "More demand and less money–I'm not an economist, but if you put those two together that spells trouble for [IHSS] consumers and providers, who are themselves low-income."
Reduced payments will also have a multiplier effect: If IHSS providers aren't getting paid, they aren't spending that money on local businesses, which will reduce their owners' ability to make payrolls, potentially leading to layoffs–and more people on Medi-Cal or who also need to purchase their own health insurance.
Many IHSS providers get their health insurance through the program and must maintain a certain number of hours to qualify for benefits, often patching together work assignments for several recipients to qualify. If the program is forced to cut recipients from the rolls to save money, providers are likely to lose their health insurance as well as some of their salary–which would make purchasing health insurance on their own more difficult yet. Lower payments to providers would require some to seek work elsewhere; those that are family members would then be left to search for someone from outside the home to provide the care, which in rural areas can be tough to find, according to Kietzman.
The health insurance benefit covers gaps in Kerlew's coverage under Medicare, the federal health insurance program for the elderly. "I have health insurance and dental through them, and my salary," she says. "If this deal goes through, I'm going to lose a lot, and Jaime's going to lose a lot and his quality of care is going to change."
Changes to Medicaid aren't the only way AHCA will affect people who provide or receive IHSS. The Affordable Care Act (also known as Obamacare) provided a six percent enhancement for the services; by repealing the ACA, that extra funding will be eliminated. Jennifer Kent, director of California's Department of Health Care Services, estimated that to make up the shortfall would cost the state $400 million a year beginning in 2020–an amount that would grow annually.
Fiscal hawks often cite the growth in Medicaid spending as a reason to move to a block-grant system. But health economists who have studied the question say that the way to lower a society's health-care expenses is to make its population healthier. It's hard to see how reducing the amount of health care people receive achieves that. Cuts to preventive care that Medicaid pays for are likely to result in more serious, more costly health-care needs in the future. If a child is identified early as having a developmental delay–something Medicaid pays for now–she can receive therapy that quickly catches her up with her peers. If states are forced to cut such a benefit because they have to shoulder a greater portion of their Medicaid costs than they do today, that child's delay will be more costly to address once it is identified; she will be less likely to catch up; and if she doesn't catch up, she'll be less productive, earning less over her lifetime and therefore contributing less in taxes to federal coffers–leaving less money to pay for higher health costs.
At the same time, there are other ways to save money on health care. Accountable-care organizations, which coordinate among doctors, hospitals and other providers to give the right care at the right time, have been shown to reduce costs by reducing errors and limiting duplicative care and unnecessary testing and procedures. A trend among HMOs is "shifting from volume to value," paying doctors and hospitals for the results they achieve rather than the services they provide. That provides an incentive to focus on health, not on costly procedures, and to stay abreast of what the literature says is working and what isn't.
The irony of the proposed change to Medicaid's funding structure, which is likely to overburden states, is that the alternative to in-home care–institutionalization–is both much more expensive than caring for the disabled in their homes, and it is a mandated benefit under Medicaid, meaning states would need to make cuts elsewhere to make up the difference. "Even five to 10 hours of help a week can make a world of a difference," Kietzman said. "It's a very distinct possibility that recipients will be institutionalized."
Why 24 Hour Fitness Is Going to the Mat Against Its Own Employees
Co-published by Fast Company
24 Hour Fitness' policies have brought the fitness chain in the crosshairs of the National Labor Relations Board, which has said the company's employee arbitration agreements violate federal labor law.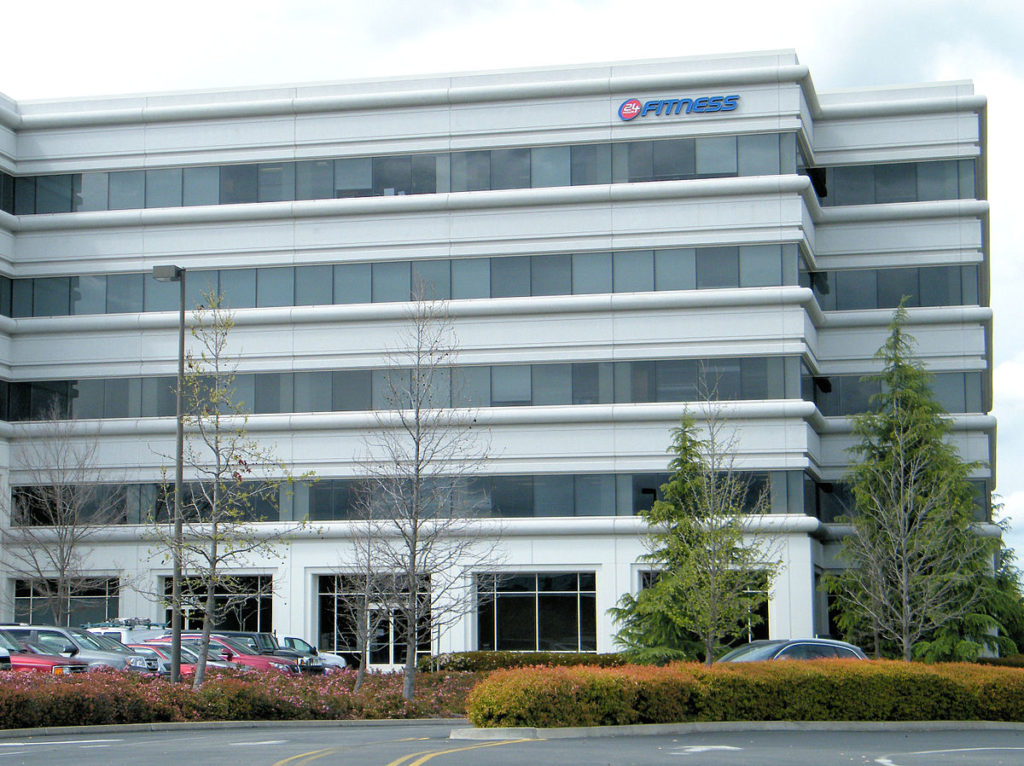 ---
Relentless pressure to sign up new members made one man question the chain's commitment to changing people's lives.
---
Co-published by Fast Company
On its website, 24 Hour Fitness says it has thousands of job openings. That's great news for fitness buffs hunting for work. Or is it?
Disgruntled former employees of the San Ramon, California-based company have filed hundreds of cases over almost two decades, some resulting in settlements in the millions of dollars.
And the large payouts appear to have made 24 Hour Fitness one of the nation's more aggressive advocates for curtailing workers' ability to defend their rights in court, labor lawyers say. That advocacy has also put the almost four-million-member-strong fitness chain in the crosshairs of the National Labor Relations Board, which has said the firm's employee arbitration agreements violate federal labor law.
The company's dispute with the NLRB may make it to the U.S. Supreme Court, which could hear oral arguments next term as to whether the contracts the firm asks workers to sign when they are hired violate historic worker protections put in place as part of New Deal legislation adopted in the 1930s. Those contracts ask employees to waive their right to come together to file class action lawsuits.
---
Attorney:  "24 Hour Fitness has been pretty aggressive in stripping workers of their rights."
---
Some workers say the company's single-minded focus on selling memberships caused it to run afoul of wage and hour law.
"We worked basically 8 to 8 every day no matter what, and if you got a lunch break it was usually at the club, or you went out and came right back," said Gabe Beauperthuy, a former general manager, who worked in fitness centers in Colorado before leaving the company in 2006.
At first, Beauperthuy said, he loved the work and embraced the company's philosophy of personal transformation. But the long days and relentless pressure to sign up new members made him question the company's commitment to changing people's lives, and even his own priorities. He developed a single-minded focus on bringing in the "almighty dollar" for the company because, he explained, "you're a product of your environment."
"I'm thankful that I realized that, and I'm thankful that I'm no longer there," said Beauperthuy, now a competitive amateur wrestler and coach.
24 Hour Fitness declined to comment for this story.
Beauperthuy was one of more than 900 managers, sales counselors and trainers to bring a collective action lawsuit under the Fair Labor Standards Act, alleging the company had misclassified them and denied them overtime pay. After the class was decertified and following seven years of litigation, the group settled for $17.5 million in 2013, according to published reports. The company settled another lawsuit involving thousands of California employees for $38 million, the nation's sixth largest wage and hour class action settlement of 2006.
Those cases may have made 24 Hour Fitness more steadfast in defending their employee arbitration agreement that asks employees to waive their right to bring class action lawsuits in NLRB v. 24 Hour Fitness, which the U.S. Supreme Court may review next year, depending on the outcome of a related case. The fact that 24 Hour Fitness has an employee arbitration agreement with a "class action waiver" does not make it unusual. But the company has been especially aggressive in defending its arbitration agreement in the courts, labor advocates say.
"Historically, there have been a few companies who went out of their way to fight and defend arbitration," says Cliff Palefsky, a San Francisco attorney who filed the unfair labor practice case resulting in the NLRB's finding that 24 Hour Fitness had violated the law. "They've been pretty aggressive in stripping workers of their rights."
About 60 million people—more than half of the non-union private sector workforce—are covered by mandatory arbitration agreements, according to an Economic Policy Institute study. These agreements require employees to resolve disputes through private arbitrators chosen by employers, rather than go through the courts.
An estimated 25 million of these arbitration agreements also include class action waivers, like those used by 24 Hour Fitness, in which employees give up their rights to band together to bring class action suits to address workplace disputes in the courts.
The contract language has received attention in recent months as the "Me Too" campaign has gained steam, and advocates pointed to the difficulty of raising workplace concerns individually in confidential arbitration proceedings that are crafted by the employer. Last year, U.S. Rep. Cheri Bustos (D-IL) introduced a bi-partisan bill that would prevent companies from keeping sexual harassment and sex discrimination claims from going to court, where the proceedings are typically in the public record.
A landmark case expected to be decided by the U.S. Supreme Court this term, National Labor Relations Board v. Murphy Oil USA, will determine whether class action waivers will be a continuing feature of employment contracts. It will also decide the fate of NLRB's dispute with 24 Hour Fitness.
"If the NLRB loses Murphy Oil, then our case would suffer the same fate, essentially," says Palefsky. In its Supreme Court brief, 24 Hour Fitness distinguishes its employment agreements from those at issue in the Murphy Oil case because the fitness employees are given 30 days to opt out of the class action ban.
But Palefsky counters that the rarely-used "opt out" provision is irrelevant because a worker's right to act collectively is one that cannot be signed away.
The argument about class action waivers might seem an academic one to job seekers if 24 Hour Fitness is now complying with the law.
There have been 621 employment cases filed in the federal courts against 24 Hour Fitness since 2000. On a per-establishment basis, that's more than eight times as many as have been filed against its competitor, Gold's Gym, during the same time period, according to a Capital & Main review of federal court records.
The disproportionately large number of cases is likely linked to the battle that took place between 24 Hour Fitness and Beauperthuy's attorney, Richard Donahoo, who continued to fight for his 900 or so clients even after a federal judge in San Francisco granted a 24 Hour Fitness motion in 2011 to decertify the class. (The judge's ruling that the plaintiffs' claims were not sufficiently similar prevented the case from moving forward as a collective action—not the class action decertification language–but the effect was similar.)
"Many times that means it's the death of the case because people don't want to proceed individually," said Donahoo, who is based in Orange County. "Attorneys can't do it economically."
Nevertheless, Donahoo and his colleagues decided to "swallow hard" and fight for each plaintiff individually. They filed hundreds of individual petitions in federal court to compel the company to arbitrate claims in Northern California, where 24 Hour Fitness is headquartered, and successfully fended off 24 Hour Fitness's efforts in 21 federal courts across the country to force the arbitration proceedings to take place near the clubs where each of the former employees had worked.
"Our case became a 'careful what you wish for' scenario for the company," Donahoo said. The company ultimately agreed to a settlement that resolved the individual claims at once.
Since then, 24 Hour Fitness has changed ownership. AEA Investors LP, a New York-based private equity firm, Fitness Capital Partners of Palm Beach, Florida, and the Toronto-based Ontario Teachers' Pension Plan purchased the firm in 2014 in a leveraged buyout. But reasons remain to be concerned about the practice of the fitness company, which employs about 20,000 workers and operates in a highly competitive industry.
In November, the company agreed to pay restitution and settled a lawsuit for $1.3 million filed by Orange County prosecutors, stemming from allegations the company increased annual renewal rates on prepaid memberships beginning in 2015 in violation of its contracts with customers. Customers were sold prepaid memberships and charged upfront fees with the guarantee of a low life-time renewal rate in 2006 but saw their rates rise as much as 300 percent nine years later, according to the Orange County Register. The company admitted no wrongdoing in the settlement agreement.
Last May, the ratings agency Moody's changed 24 Hour Fitness' investment outlook from "stable" to "negative." In justifying the downgrade, the report pointed to the growing number of fitness centers and the fact that the company is highly leveraged. The purchase of the company in 2014 was financed with $1.35 billion in debt, about 75 percent of the total cost, according to the Moody's report.
Moody's also singled out rising labor costs due to increases in the minimum wage in many of the regions where 24 Hour Fitness operates, suggesting the company employs a large number of low wage workers. Most of the clubs are concentrated in three states — California, Texas and Colorado.
"The company should be able to offset some of the pressure from minimum wage increases by using labor optimization, and reallocating the labor force within clubs based upon their age and member profile," according to Moody's report.
The economic pressures 24 Hour Fitness faces may explain the experience of one Ms. Randle, a former Kids' Club attendant, who asked that her first name not be used. She worked at a 24 Hour Fitness in Orange County from 2014 to 2016.
She said managers told her not to leave her post to take a break or use the rest room during her four-hour shift because the other staff on duty lacked the necessary clearance to work with children. She complained to managers and eventually to the human resources department, but had to file a complaint with the California Labor Commissioner's Office to resolve the issue and secure back pay for missed rest breaks, she said.
Ms. Randle thought that one of her co-workers endured repeated urinary tract infections that could have been caused by not being able to take bathroom breaks. Randle felt the managers lacked proper training. "They were always focused on selling memberships," she said. "They didn't care too much about their employees."
---
Roxane Auer provided additional research for this story.
Copyright Capital & Main