Bulletin: New L.A. Budget Shows $119 Million Surplus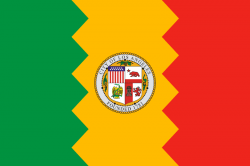 After several years of swimming in red ink, the city of Los Angeles is now projecting a $119 million surplus for Fiscal Year 2013-2014, according to city documents presented at a news conference today presided over by Mayor Antonio Villaraigosa. (See Page 3 of the mayor's Budget Presentation.)
City Administrative Officer Miguel Santana and other officials also attended the media event at City Hall.
The surplus is dependent on the city receiving certain one-time revenues, much of them due from the state and federal governments.
Nevertheless, this disclosure dramatically rebuffs a steady stream of predictions, made by an array of officials, mayoral candidates and commentators, that L.A. faces the possibility of bankruptcy. Such predictions have invariably been accompanied by calls to reduce the pension benefits of city employees.
Later this morning Frying Pan News will post investigative reporter Gary Cohn's analysis of what has produced the surplus – and of the motivations behind predictions of the city's insolvency.