Auto Union Files Complaint Against Tesla
Co-published by Fast Company
The United Auto Workers union has filed an unfair labor practice charge against Tesla for firing pro-union workers at its Fremont, California auto assembly plant.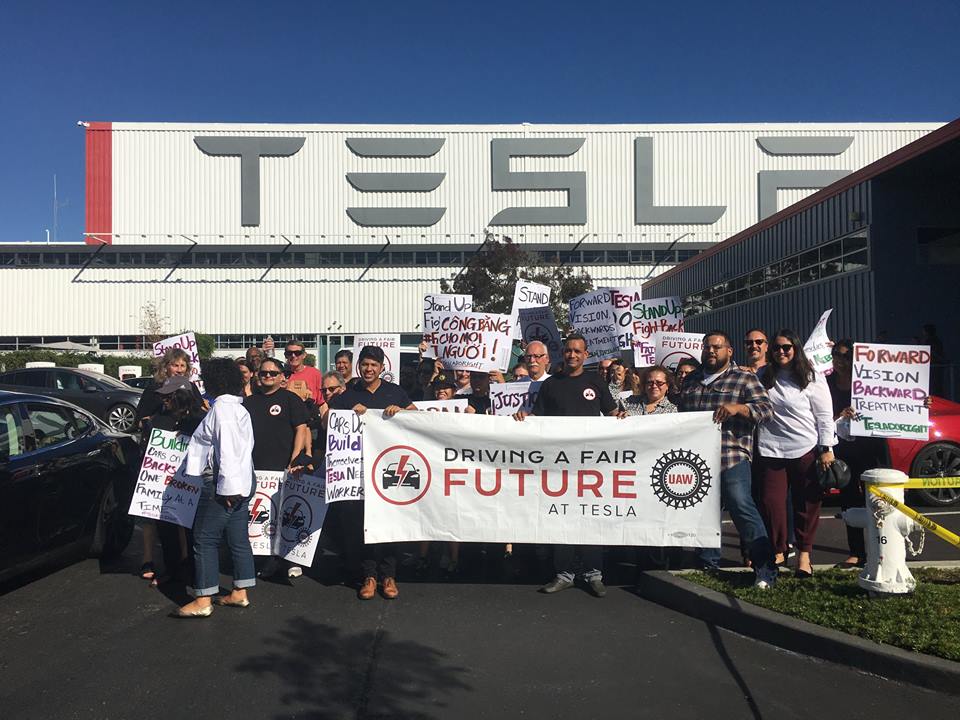 Co-published by Fast Company
The United Auto Workers has filed an unfair labor practice charge against Tesla for firing pro-union workers at its Fremont, California auto assembly plant. The UAW, which has been attempting to organize Tesla workers over the past year, accused Tesla of retaliation against those who participated in activities that are protected under the National Labor Relations Act, including passing out literature and wearing pro-union regalia. The charges also state that the firings of a handful of employees were meant to send a message to other workers and discourage them from speaking out.
According to the union organizing campaign, A Fair Future at Tesla, the company has fired as many as 1,200 employees after annual reviews. Tesla has declined to give an exact number over the past few weeks. The company has claimed the terminations were all linked to performance issues, although A Fair Future at Tesla asserts that none of the pro-union workers had any negative marks on their own performance reports.
Mike Williams, one of the fired employees, said in a statement that he "never had any performance-related complaints" in his five years of service. "I did, however, wear a union shirt. And I had union stickers on my water bottle."
Another fired employee, Richard Ortiz, was featured in Capital & Main's initial exposé of labor practices at Tesla. A production associate who assembled hoods and doors, Ortiz spoke out about what he claimed were hazardous working conditions and unusually high injury rates at Tesla, as well as pay packages lower than the rest of the auto manufacturing industry. According to a May, 2017 report researched by the nonprofit organization Worksafe, "The rate of serious injuries at Tesla's Fremont plant — those that result in days away from work, restricted duty, or job transfer — was approximately double the industry rate for 2015."
Ortiz was one of several employees who previously filed charges with the National Labor Relations Board, over a confidentiality agreement workers were made to sign last November. The agreement threatened "loss of employment" and "possible criminal prosecution" for speaking publicly or to the media about "everything that you work on, learn about or observe in your work at Tesla," including wages and working conditions. Workers who spoke to Capital & Main believe that the agreement violates their legal rights to freely assemble and communicate with others in labor organizing.
Tesla fired Ortiz last week, he believes, for violating that confidentiality policy. "I was fired for trying to better the lives of my co-workers," Ortiz said in a statement. Ortiz had worked 22 years at the Fremont plant, beginning when it was a joint operation of Toyota and General Motors. "I've worked in auto manufacturing my whole life," he said. "I do not believe – not for a second – that I was fired for cause."
The new unfair-labor-practice charges, submitted Wednesday afternoon, accuse Tesla of having "interfered with, restrained, and coerced employees in the exercise of their rights." It details six charges, mostly dealing with terminating employees who attempted to organize, as well as "intimidating and harassing employees" and restricting employees' rights to wear pro-union items.
On Tuesday, several dozen current and former Tesla workers held a protest at the Fremont facility with community and faith groups, calling for reinstatement of the pro-union employees. In a letter to the firm, several local labor groups also demanded that Tesla rehire the employees.
"What you're doing today represents the American workers' deepest power that we have available to us," Alameda County Supervisor Richard Valle told the rally. "We stand with you arm in arm, until the UAW organizes Tesla."
The terminations came at a time when Tesla has been attempting to ramp up production of the new Model 3, a more affordable electric vehicle. Only 260 Model 3 vehicles were produced last quarter, even though the company has 450,000 back orders. Third-party staffing organizations have been holding job fairs throughout the Bay Area, suggesting that the pro-union workers will be replaced at Tesla with contract workers for lower pay and no benefits.
Tesla is also close to announcing a production plant in China, which would make electric cars for Chinese and Asian markets. This would lessen the pressure on the Fremont plant, Tesla's sole production facility, but building a Chinese factory would take years. Even with a Chinese companion, Fremont would have to pump out many times the cars it does currently to keep up with orders.
Tesla has not responded to a request for comment. A spokesperson did tell the San Jose Mercury News that "no one at Tesla has ever or will ever have any action taken against them based on their feelings on unionization."
"I believed that a union would make us safer, and would make the company more organized and more efficient," said fired employee Mike Williams. "I hate to think that I was targeted because of it."
---
Editor's Note: A Tesla spokesperson provided this statement after the above article was written:
At Tesla, we strive to be a fair and just company, the only kind worth being. Performance reviews result in promotions and occasionally in employee departures. No one at Tesla has ever or will ever have any action taken against them based on their feelings on unionization. It's worth remembering that each year, roughly 20,000 ULPs are filed with the NLRB by unions like the UAW as an organizing tactic.
Copyright Capital & Main