Charge Time: Electric Car Workers Accuse Tesla of Low Pay and Intimidation
Co-published by The American Prospect
Although its products epitomize the future, assembly line workers say Tesla's labor conditions are mired in the past. BY DAVID DAYEN

Tesla's Fremont Plant: A 5.3-million-square-foot colossus. (Photo: Cindy Chew)
 Co-published by The American Prospect
Along Silicon Valley's interlocking freeways, low-slung tech offices with obscure names like Way.com or Oorja are populated by fresh-faced technologists in badges and pleated slacks, striving to create the next great app. But off the I-880 in Fremont, a white colossus rises from the landscape, a 5.3-million-square-foot monster that stretches across two interchanges. The gray lettering is a full story high: TESLA.
Here, the company makes high-end, zero-emission vehicles, luxury cruisers for a climate emergency. Chief executive officer Elon Musk has cultivated a reputation as an economic visionary and has been hailed for solving the world's great challenges with panache. Tesla's Fremont factory brought hope to a blue-collar, racially diverse town with a manufacturing tradition. And this week, after reports of a 69 percent increase in first-quarter sales, the automaker passed Ford in market value. But though its products epitomize the future, workers like Richard Ortiz say Tesla's labor conditions are mired in the past.
Ortiz is a production associate in the closures department, assembling hoods, doors — "anything that opens or closes" on Model S sedans and Model X SUVs. Though videos of the Tesla factory emphasize robotic automation, over 6,000 workers engage in intense manual labor to build the cars.
Richard Ortiz: "They want to make sustainable cars. We need sustainable employment." (Photo: Cindy Chew)
"I have an eight-pound rivnut gun," Ortiz said, referring to a tool that installs rivet nuts. "I'm doing that all day long. I'm to the point where, if I pick something up with any weight, within 30 seconds I have to drop it. That scares me, I want to be able to use my arm when I retire."
Tesla workers say circumstances like Ortiz's are commonplace at a factory that prioritizes production goals over health and safety. Now they're fighting back against low pay, hazardous conditions and a culture of intimidation, seeking to unionize through the United Auto Workers. Tesla is the only U.S. automaker using nonunion workers at a stateside plant, and breaking through would give organized labor a foothold in the tech industry as well. Until then, the Tesla experience reveals that green jobs aren't necessarily good jobs without worker power. "They want to make sustainable cars," says Ortiz. "We need sustainable employment."
Tesla purchased the Fremont facility in 2010, after Toyota and General Motors shuttered what was then the nation's most innovative auto plant. At NUMMI (New United Motor Manufacturing Inc.), management instituted Japanese production techniques that maximized efficiency. In the 1980s, "the productivity of the plant and the quality of the cars were equal to Toyota plants in Japan," said Ruth Milkman, author of Farewell to the Factory, a study of U.S. autoworkers. "It was the plant to watch for a while."
The Tesla experience reveals that green jobs aren't necessarily good jobs without worker power.
Jose Moran worked at NUMMI for eight years, and Tesla hired him as a production associate on the body line in 2012. "In the beginning, management would always promise, 'Things will be better,'" Moran said. "But they never got better. I felt it was time to speak up."
In February, Moran went public with a Medium blog post, confirming the union effort for the first time. His grievances with the way the plant operates, Moran wrote, "can't be resolved without workers having a voice and being included in the process."
The issues start with wages. According to Moran and co-workers, wages range from $17 to $21 an hour, well below the $29.04 national average hourly wage for motor vehicle manufacturing. Tesla claims stock awards push total compensation above autoworker averages, but workers counter that the stock doesn't fully vest until four years of service. "I can't tell a little kid, I'll feed you in a year," Ortiz said. Raises and promotions are also rare; Ortiz mentioned a colleague who received only one increase in seven years.
Tesla workers make luxury vehicles that can cost $90,000 or more but, unlike the people at Henry Ford's plant, have no chance of buying one. "Seventeen dollars to $21 without a lot of benefits is not much higher than you can get being a gardener or a hotel clerk," said Nelson Lichtenstein, a labor history professor at the University of California, Santa Barbara.
The low pay shrinks further in the San Francisco Bay Area, which has one of the nation's highest costs of living. Though the heavily Asian and Latino residential districts around the factory feature modest one-story tract homes and apartments – I even saw a large mobile home park – housing costs are so exorbitant that employees cannot hope to live near the worksite. The median two-bedroom apartment in Fremont rents for $2,640 a month, according to ApartmentList.com. For a married Tesla worker making entry-level wages and working 43 hours a week, that's equivalent to 90 percent of take-home pay.
At the end of 2015, employees claimed, they worked every day for a month to hit the production number, including weekends, plied with Red Bull and candy to keep going.
Moran, a father of two, left Fremont because, he said, "I couldn't make it, couldn't save." He now drives 59 miles to work from Manteca, in the San Joaquin Valley; his one-way commute can be as long as two hours. Jonathan Galescu, a body repair technician, lives 54 miles north, in Vallejo. Between gas and bridge tolls, "it costs me $15 to $17 just to get to work," he said. Galescu did carpool with a colleague in Richmond to cut costs, but it took him additional time. "I had to make a decision: Do I take that extra gas money or spend 30 more minutes with my children?"
(Even parking can be an ordeal, as spaces are limited and far from the worksite. A gleaming new BART rail station opened in March, but it's separated from the facility by freight train tracks, meaning workers using mass transit face a two-mile walk to work.)
Tesla has received numerous subsidies for its U.S. factories, including a 2015 California Competes tax credit of $15 million for expansion of the Fremont plant. The implicit bargain with these government subsidies is that the private sector will create good-paying jobs. But Tesla only had to promise a minimum salary of $35,000 a year and an average salary of $55,000 to maintain eligibility for the tax credit.
Told about pay at the Tesla plant, Madeline Janis, a member of the California Competes committee who voted against the Tesla tax credit, said: "As a longtime worker rights advocate, [I'd say] that's an outrage. Tesla should and can do better, as we know from the success of the company. There's no reason why they can't create good jobs in California."
Most workers get by with overtime that they have no choice of turning down. Sixty-hour weeks are mandatory on the Model S line (known colloquially as the "shit line"), which is entirely manual labor. Model X workers often don't know how long they'll be staying when they come into work. The schedule depends on a daily target number of cars to build.
"There's not a lot of attention toward anything but hitting the production goal," said Jose Moran. Breakdowns on the line can make the number impossible to reach, forcing employees to stagger breaks to catch up. At the end of 2015, employees claimed, they worked every day for a month to hit the number, including weekends, plied with Red Bull and candy to keep going.
Jonathan Galescu: "I see my kids grow up through Facebook." (Photo: Cindy Chew)
Without the overtime hours, low pay would make it difficult for workers to survive. But with OT, work-family balance becomes impossible. "I see my kids grow up through Facebook," said Galescu. "My son always cries for me to stay home – 'Don't go to work'!"
Galescu works the night shift repairing defects, mostly while the cars are still in motion. He and his five-man team jump in and out of cars, pulling out dents and dings. Management recently cut the repair work time per car from 180 seconds to 90. If workers can't complete the task, it causes slowdowns on the line. Sometimes every car has the same defect, created by small pieces of dirt in the auto body stamping machine. "I have a friend in stamping who said if they'd just allow them a few more minutes to make sure they're clean before they run, the defects would be way lower," said Richard Ortiz.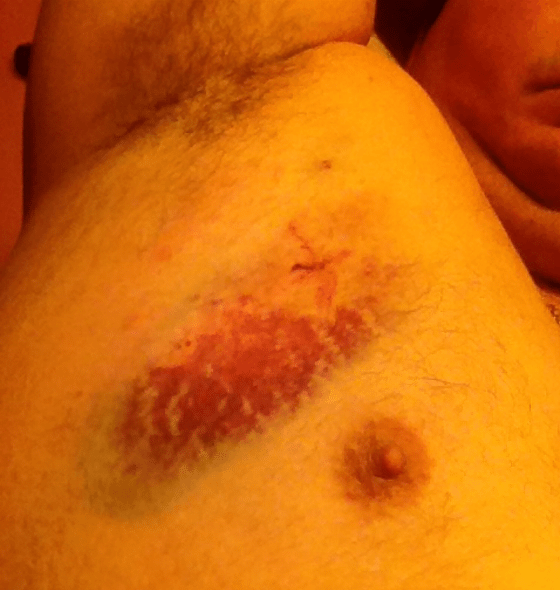 Bruising Work: A welt that Galescu says he received from a job accident.
Two years ago,Galescu said, a part from a Model S rear underbody popped out and hit Galescu in the chest, sending him flying across the shop floor. "My chest was on fire," Galescu said, showing me a picture of the massive welt it created. His supervisor tried to get him back on the line that day, but security personnel allowed him to go home. When Galescu returned to work, the supervisor berated him for the injury, even though he repeatedly warned the supervisor that the underbody machine was malfunctioning.
"He said, 'You caused me to be late going home to my wife,'" Galescu said. "I really thought I was going to lose my job."
In his blog post, Moran noted that six of the eight people on his team have been out on medical leave at one time. According to Occupational Safety and Health Administration statistics, since 2012 the plant has been cited for 40 different safety violations, compiling $143,835 in fines (about $6,000 of which are still being contested). By comparison, in its last five years of operation, NUMMI incurred only 17 violations, with $48,755 in fines, while pumping out far more vehicles. Tesla's fines resulted from numerous accidents and investigations, including explosions, burns, and a 2016 case where a contract worker fell three stories from the plant roof. (Tesla CEO Elon Musk has claimed that Tesla's injury rate was under half of the national average, and that Moran's assertion was erroneous.)
Workers allege that Tesla stigmatizes reporting injuries. While the company offers workers compensation insurance, light duty off the line can reduce pay to the minimum wage. Supervisors allegedly brand those willing to report injuries as malingerers. "They blacklist you, they treat you like crap," Galescu said. Ortiz added that workers have been fired for excessive medical problems. "They don't say they're fired, but all of a sudden they're gone." So workers often keep quiet about aches and pains.
Tesla spokesman Dave Arnold did not respond to a detailed list of questions for this story.
A voice on the job could help prevent unnecessary injuries, and make assembly lines more efficient. But unlike the NUMMI days, workers now have no say, and there's no process through which to lodge grievances. "I had a supervisor say, 'We're not dealing with HR, they're just a bunch of women in skirts who don't know what they're doing,'" Galescu said.
With workers pressured, overworked and battered by the line, and absent from family milestones, employee burnout is common and morale is low. "We're employed, but not gainfully," said Ortiz. "We need to see a future for ourselves."
In the short term, things could get worse. In March, Tesla announced a $1.15 billion stock offering, to finance the launch of the Model 3, its newest, mid-priced vehicle. Tesla already has almost 400,000 Model 3s on back order, with deliveries expected later this year. Elon Musk has promised that the plant will produce 500,000 cars a year by 2018. That's five times as many as current output, and it signals an even deeper attention to numbers.
But the Model 3 ramp-up also presents leverage for workers. Moran and his colleagues insist that they want to make the plant function better. "We work on the machines 10 to 12 hours a day, we know what could work," Moran said. "We're not trying to bash Tesla, we want the company to succeed."
Moran's open letter came after six months of internal organizing; the UAW confirmed hiring organizers for the plant in February. Tesla initially responded favorably. "You see safety people walking around, fixing things that weren't fixed before," Moran said. "It took one person to speak up." In November, Tesla offered a 50-cent increase to base pay for the first time in years. Four months later, the company added another 50 cents.
But after originally describing Tesla as "union neutral," Musk said on an earnings call in February that "there are really only disadvantages to someone to want the UAW here." In a later email to workers, Musk delivered a point-by-point rebuttal to Moran's Medium post, arguing that overtime had decreased and incident rates were below average. Instead of offering workers better wages and input on production, Musk promised "a really amazing party" for the launch of the Model 3, "free frozen yogurt stands" at the factory and "a Tesla electric pod roller coaster" connecting the parking lots. "It's going to get crazy good," Musk concluded.
Middle-class manufacturing workers seeking higher pay aren't dazzled by the kind of perks Facebook coders enjoy. They chuckled whenever I brought up the yogurt and the roller coaster. "If I want to go on a roller coaster, pay me enough so I can go when I want to," said Richard Ortiz. "It's insulting, it shows you what he thinks of us."
Labor historian Nelson Lichtenstein expressed horror at Musk's rhetoric. "It was the worst kind of caricature of a capitalist, like it's 1898," he said. "They have these sophisticated systems of production and distribution, but their social arrangements are utterly retrograde."
Moran has taken the assault from his boss in stride. "People come up to me and say you're doing a good job," he said. "It goes to show that [Musk] is 100 percent out of touch with what's going on at the plant." Moran and his colleagues have started a Facebook group, A Fair Future at Tesla, with videos of Moran and others telling their stories.
In November, workers were forced to sign an extremely broad, retroactive confidentiality agreement, one that vowed consequences if they speak publicly about Tesla – including about wages and working conditions. Confidentiality agreements are common in auto factories to protect trade secrets, but this was so far-reaching that five members of the California legislature wrote to Tesla, warning that the agreement violated protected employee activity guaranteed by the National Labor Relations Act.
Organizers say Tesla's aim was to create a chilling effect. "When you try to organize, [the workers] are afraid, they think you're undercover," said Ortiz.
The UAW has tried unsuccessfully to organize nonunion auto plants run by foreign manufacturers, including a Volkswagen plant in Tennessee where UAW secured the neutrality of the employer and still lost a union vote. (A later vote partially succeeded, but is mired in court). Not only is the Tesla factory in the heart of blue-state California, but in a region with a strong organizing history. However, Tesla also sits at the nexus between blue collar and Silicon Valley, where organized labor has barely penetrated.
Heightened activism after President Trump's election has forced tech firms to take stands of resistance, while union drives have arisen among security officers and cafeteria workers in tech office parks. But organizing Fremont would be an order of larger magnitude, especially because it would actually realize the promise of green technology jobs. "I'm always telling my environmental friends, don't be enamored of these green capitalists," said Joe Uehlein of the Labor Network for Sustainability. "We should be fighting for that missing leg of the sustainability stool, economic justice. And it's important for the UAW to signal that they see a future in renewables and clean vehicles, that they're not just a union of people who drive pickup trucks."
Tesla has been praised for creating manufacturing jobs domestically rather than overseas. Clean energy in the U.S. is as big an industry as pharmaceutical manufacturing. But the jobs created aren't automatically high-paying, good places to work. Politicians cite the quantity of green jobs without enough concern about their quality. The same problems of low wages, offshoring production and lack of collective bargaining prevalent throughout the economy can crop up in environmentally friendly enterprises. "No worker or community should ever be the roadkill on the path to a better world," said Uehlein.
Richard Ortiz, who worked at NUMMI for 22 years and actually had retired before being drawn back to Tesla, continually expressed pride in working at a leading-edge manufacturer. "I love to wear my gear all over town," he said. "I thank Tesla for giving me the opportunity to work there. They will give anyone a chance. But a chance at what?"
(Photo: Cindy Chew)

The 'Amazon Tax' Ruling: Disrupting the Disruptors?
Amazon's continuous resistance to collecting sales taxes made it the first major American company to build its business based on tax avoidance. Contrary to popular belief, the company is still resisting today.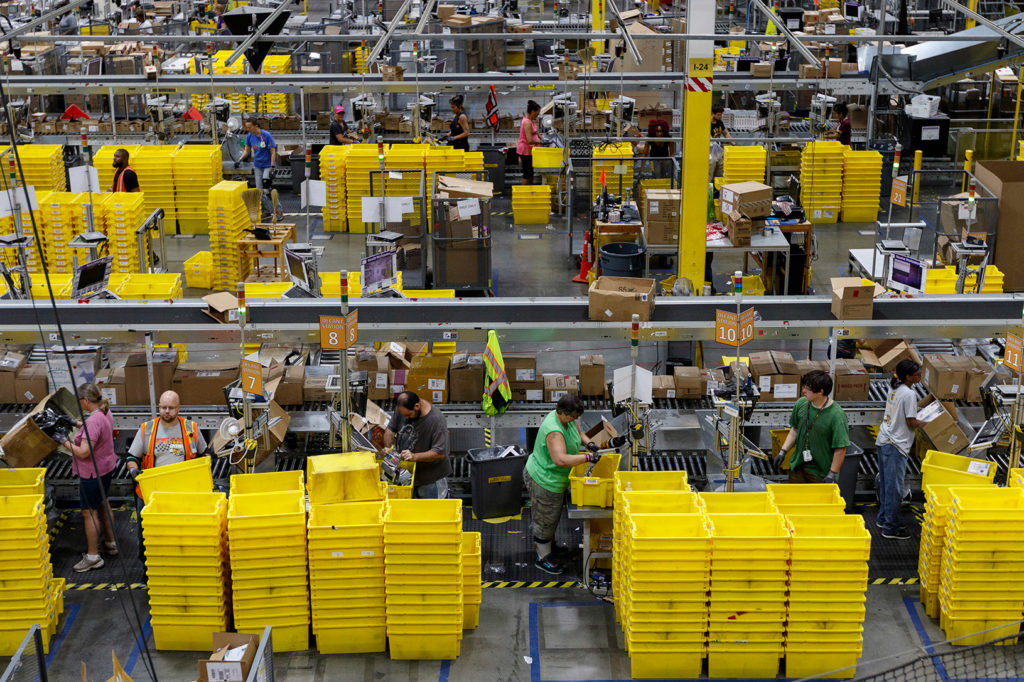 ---
Amazon gathers sales taxes on products it manufactures and sells directly, but doesn't collect on behalf of third-party businesses that use its marketplace.
---
On June 21, the Supreme Court changed the face of online retail, upholding a South Dakota law requiring any business making at least 200 transactions or $100,000 in sales to collect state sales taxes, even if it has no physical presence within a state's borders. This ends a structural pricing advantage that made the Internet the world's largest duty-free shop, at the expense of every restaurant, clothier, hardware store and pharmacy whose e-commerce rivals could always charge less.
The decision came too late for brick-and-mortar businesses wiped off the map in the retail apocalypse. It came too late for state and local governments losing between $8 billion and $26 billion per year in never-collected sales taxes — money that could have built roads, improved schools or bolstered the safety net. But now that it's here, states have choices to make.
---
Thin profit margins and cutthroat practices pit Amazon's third-party sellers against each other.
---
The Supreme Court merely validated South Dakota's law; other states must pass their own legislation to enable sales tax parity between online and offline businesses. And given the burden of complying with state tax laws, it seems at first blush tricky to design something that allows smaller retailers to still compete with the big boys.
But one California official has a solution that she's been advocating for several years. It would maximize revenue for states, reduce the load on small sellers, and create a truly level playing field. However, Board of Equalization member Fiona Ma's strategy requires that California join the tiny number of states willing to stand up to the 800-pound gorilla of online shopping, the source of nearly half of all e-commerce sales: Amazon.
Amazon often receives plaudits for voluntarily collecting sales tax in all 45 states that have one. But such praise ignores Amazon's scofflaw history. "Amazon was the first major American company that built its business based on tax avoidance," said Oren Teicher, CEO of the American Booksellers Association, referring to the company's continuous resistance to collecting sales taxes. Contrary to popular belief, the company is still resisting today.
---
Jeff Bezos notes that third-party sales represent
more than half

of the total units sold on Amazon.
---
While Amazon gathers sales taxes on products it manufactures and sells directly, it doesn't collect on behalf of third-party businesses that use its marketplace. (Technically, online shoppers are supposed to report untaxed items and pay the taxes; in reality, nobody does.) This may sound like a minor point, but in his annual letter to investors, CEO Jeff Bezos notes that third-party sales represent more than half of the total units sold on Amazon.
Amazon offers essentially no tax assistance to third-party sellers, save for a couple of dry documents on its website. Third-party Amazon merchants can theoretically sign up for tax calculation services, but they must still register with states and file taxes on their own, in potentially thousands of jurisdictions. When states tried to get third-party sellers to collect, Amazon didn't want any involvement with the effort and refused to publicize it.
The American Booksellers Association recently described the Amazon marketplace as the "Wild West." Third-party sales on the website doubled in volume from 2014 to 2016. The marketplace puts legitimate, authorized re-sellers and brick-and-mortar retailers alongside counterfeiters, scavengers who re-sell liquidated inventory, and Chinese and Indian importers. It's nearly impossible for consumers to tell the difference. Thin profit margins and cutthroat practices pit sellers against each other; a merchant who decides to collect sales taxes will lose out to tax-avoiding rivals.
With Amazon reluctant to police its marketplace, such tax avoidance is rampant. A 2017 Government Accountability Office report estimated that third-party sellers collect tax on only 14 to 33 percent of all sales. Sellers have basically followed Amazon's tax-avoidance path, determined to run afoul of the law.
---
There's a simple fix to all of this, says the Board of Equalization's Fiona Ma: 'Whoever's collecting the money should collect the sales tax.'
---
The big winner in all this is Amazon, which reaps large fees from third parties for access to its platform. Amazon typically takes 15 percent of gross third-party sales and sometimes as much as 20 percent, with fees on top of that for handling and shipping through the "Fulfillment by Amazon" network. This revenue pot has grown from $16 billion to $31 billion in just two years, according to Amazon's financial disclosures. It's highly likely that Amazon clears more profit than marketplace sellers on their transactions. So Amazon, by proxy, benefits financially from third-party tax avoidance, and the pricing advantage it provides. And, by not collecting tax, Amazon even avoids liability for mistakes made by third-party sellers that could trigger audits.
There's a simple fix to all of this, as Fiona Ma stated plainly to me: "Whoever's collecting the money should collect the sales tax."
Ma, who is likely to become California's next treasurer, spent years working on state tax issues as an Assemblywoman. In May 2016 she was serving on the Board of Equalization, which at the time oversaw state sales taxes. A Delaware business that used Fulfillment by Amazon (FBA) services told her it only learned it was responsible for sales tax collection after receiving a bill for three years of back taxes.
---
Amazon VP on the company's duty to collect sales taxes:  'Well, if the state of California forces us to, I guess we can.'
---
"I found out that third-party sellers don't actually know they should be collecting and remitting taxes to California," Ma said. And while researching the matter, she learned that through its website and FBA, Amazon handled storage, packaging, payment processing, logistics, delivery, customer service and returns. That Amazon wouldn't also collect the sales tax seemed odd.
In January 2017, Ma flew to Seattle to meet with Kurt Lamp, Amazon's Vice President of State Tax and Tax Operations. She began by asking Lamp how third-party sellers were supposed to know about sales tax collection. "He said they sign an agreement and there's a website," she recalled. "I said, 'Are you sure everyone's doing this?' He said, 'We don't know — we tell them to go to the website.'"
Ma found Amazon's reticence alarming. "I said come on guys, that's ridiculous, why can't you collect the sales tax? You're dealing with everything on the customer level. He said, 'Well, if the state of California forces us to, I guess we can.'"
---
Some state officials put the annual amount of revenue lost to uncollected third-party sales taxes at $1.8 billion.
---
Two months later, a report from a news publication, The Capitol Forum, estimated that California loses $431 million a year on third-party seller tax avoidance. Other state officials have put the number even higher: $1.8 billion in lost revenue every year. Ma couldn't believe that Amazon's attitude was essentially, Who cares?
Last August, Ma wrote to state Cabinet Secretary Keely Bosler, asking that Governor Jerry Brown demand Amazon collect sales tax on all orders within the state, requiring California to audit only one company, Amazon, instead of thousands of third-party sellers. This would also pull in millions of transactions that wouldn't otherwise be captured; just 20,000 third-party sellers generated over $1,000,000 in revenue last year, according to Amazon, and most states wouldn't audit businesses smaller than that. Plus, taxing all sales would create more equal treatment between Amazon and the state's local businesses, which create far more jobs and property taxes than Amazon's handful of warehouses.
Other states have gone this route. In Washington and Pennsylvania, Amazon and other platforms are responsible for collecting all relevant taxes on third-party sales. A similar law in Minnesota kicked in July 1, after the Supreme Court decision.
---
Why has California been reluctant to force Amazon's hand? "Number one," says Fiona Ma, "the governor's office has been trying to woo Amazon into putting a headquarters here."
---
Tellingly, Amazon does not charge sellers anything for this service in Washington and Pennsylvania. The tax itself is just a pass-through to customers, and since Amazon already collects on its own purchases, collecting for third parties represents merely flipping a switch. "They have all the infrastructure, it can't be very difficult to do," said Darien Shanske, a law professor with the University of California, Davis.
Amazon has argued that the company is prevented from collecting on behalf of third parties unless states pass marketplace laws like Washington's or Pennsylvania's.
But California has not taken Ma's advice and forced Amazon's hand. In fact, over the past year the state has become more aggressive against third-party sellers.
Last July responsibility for sales tax oversight shifted to the California Department of Tax and Fee Administration (CDTFA). That department has been threatening third-party sellers with fines and even prison time if they didn't start collecting sales tax. "Operating unlawfully you can be prosecuted," reads one email to an Amazon seller, who asked that his name be withheld. The back taxes demanded would bankrupt his business, the seller claimed. "The whole thing is taking a really hard toll on me," he said. "It's stressful, I wake up in the night, I cannot get back to sleep."
CDTFA spokesperson Paul Cambra would not tell Capital & Main how many threats like this have gone out, but the Sacramento Bee put the total at 2,500. Cambra admitted that the agency has not referred any Amazon sellers for criminal prosecution. But several posters on Amazon-seller message boards have complained and posted communications from the state. This January, the CDTFA sent letters to third-party sellers, citing sections of the state tax code to prove that they were liable for collection. A header in the letter, from November 2017, reads "Amazon Fulfillment Services, Inc. and Affiliates."
---
Amazon has willingly handed over third-party seller data to states like Rhode Island and Massachusetts — helping them target its own marketplace partners.
---
Paul Rafelson, an attorney for third-party sellers, believes this indicates that Amazon drafted or supplied content for the letter. Cambra responded that the letter "was authored by CDTFA staff members" and "at no point was this letter reviewed or edited by outside individuals or entities." That doesn't totally answer whether Amazon had initial involvement in the drafting. Cambra added that the header "was inadvertently left from a previous document." CDTFA denied a Freedom of Information Act request to obtain communications between its office and Amazon, terming it "confidential taxpayer information."
Amazon spokeswoman Jill Kerr also said that the company "had nothing to do with that communication. Amazon did not play any role in that."
In March Rafelson started the Online Merchants Guild, an association advocating for e-commerce sellers. He argues that registering with states and remitting dozens of income tax returns overly burdens small businesses, and that having Amazon collect is the simplest remedy. But he hasn't had much luck convincing state officials. "When I go to a state like Massachusetts, Illinois, New York and say, 'You can get Amazon to collect,' they're fighting me like I'm the problem," he said. "Nobody wants to tick off Amazon."
Amazon has even willingly handed over third-party seller data to states like Rhode Island and Massachusetts, helping them target its own marketplace partners. "It's striking to me as a citizen that your state's tax enforcement resources would be deployed [to] going after small fry instead of doing the obvious thing of getting Amazon to collect sales tax," said Stacy Mitchell of the Institute for Local Self-Reliance, a frequent Amazon critic.
Ma finds the aggressive enforcement of small sellers, when Amazon controls practically every aspect of the transactions, to be unconscionable. But why has California been so reluctant to force Amazon's hand? "Number one," Ma explained, "the governor's office has been trying to woo Amazon into putting a headquarters here. I've been pushing and they haven't wanted to do anything up front." Indeed, Los Angeles is on the shortlist for the massive HQ2 project.
California's legislature must author a solution, after the Supreme Court ruling, if the state intends to collect online sales taxes. But Ma wonders whether it will melt under pressure as well. "Republicans are not going to want to do it, and Democrats would have to go against Amazon," she said. "No one wants to do anything in an election year to stick their neck out."
A spokesperson for Senate President pro Tem Toni Atkins said her chamber was "looking into next steps" on the issue. Assembly Speaker Anthony Rendon's office didn't respond to requests for comment.
This dynamic of apparent subservience to Amazon has played out throughout the country. When Amazon first agreed to collect sales tax, it cut deals with states to delay collection or forgive back taxes, dangling warehouses and jobs as incentives. Mississippi's Department of Revenue admitted to a local TV news station last year that its agreement with Amazon to collect sales tax didn't cover "any sales made by an independent third-party seller, even though made through the Amazon marketplace." That enabled one Mississippian, Keith Bennett, to buy a laptop, mouse and bag worth several hundred dollars off Amazon and pay only $1.87 in sales tax; the computer sale went through a third-party business that literally named itself "Buy Tax Free."
---
Sellers have been the foot soldiers for Amazon in avoiding sales taxes for years. Now Amazon has abandoned them to fend for themselves against aggressive state governments.
---
Backroom deals are bound to occur when a giant company with armies of lobbyists intimidates states from implementing simple solutions. Rafelson, the attorney for third-party sellers, called their plight ridiculous. "It's like saying if you go to a Walmart in Georgia and buy a Coke, it's not Walmart's responsibility to collect the sales tax, it's Coke's!"
That's not to say sellers are blameless. Many willingly followed Amazon's model of avoiding sales tax to gain pricing advantage over rivals. "Sellers have been the foot soldiers for Amazon on this issue for years and years," said Stacy Mitchell. Now Amazon has effectively abandoned them to fend for themselves against aggressive state governments. "If you sleep with thieves, they may well steal from you," Mitchell said.
Only one state, South Carolina, has argued that existing law requires Amazon to collect sales taxes. The state filed a motion in state court, seeking as much as $500 million in uncollected taxes. Amazon is challenging the case, and a hearing is scheduled for November. "Under South Carolina law third parties are not considered sellers but suppliers or consignors; Amazon is the seller," said Bonnie Swingle, public information director for the South Carolina Department of Revenue.
If South Carolina prevails, other states could potentially seek back taxes from Amazon, creating significant monetary risk, as Amazon has acknowledged in financial disclosures. But states focusing on third parties would relinquish a small fortune, while allowing Amazon to continue to undercut competitors.
Ma has devised an alternative strategy. She's working with a number of attorneys, including Rafelson, who are considering filing a lawsuit against Amazon on behalf of third-party sellers. But the Supreme Court heard arguments that third-party sellers would suffer from the compliance burden, and dismissed them. Justice Elena Kagan suggested sales tax collection "would be essentially taken over by companies like Amazon… they would do it for all the retailers on their system." Somebody might want to inform Amazon.
---
Copyright Capital & Main