Charge Time: Electric Car Workers Accuse Tesla of Low Pay and Intimidation
Co-published by The American Prospect
Although its products epitomize the future, assembly line workers say Tesla's labor conditions are mired in the past. BY DAVID DAYEN
Tesla's Fremont Plant: A 5.3-million-square-foot colossus. (Photo: Cindy Chew)
 Co-published by The American Prospect
Along Silicon Valley's interlocking freeways, low-slung tech offices with obscure names like Way.com or Oorja are populated by fresh-faced technologists in badges and pleated slacks, striving to create the next great app. But off the I-880 in Fremont, a white colossus rises from the landscape, a 5.3-million-square-foot monster that stretches across two interchanges. The gray lettering is a full story high: TESLA.
Here, the company makes high-end, zero-emission vehicles, luxury cruisers for a climate emergency. Chief executive officer Elon Musk has cultivated a reputation as an economic visionary and has been hailed for solving the world's great challenges with panache. Tesla's Fremont factory brought hope to a blue-collar, racially diverse town with a manufacturing tradition. And this week, after reports of a 69 percent increase in first-quarter sales, the automaker passed Ford in market value. But though its products epitomize the future, workers like Richard Ortiz say Tesla's labor conditions are mired in the past.
Ortiz is a production associate in the closures department, assembling hoods, doors — "anything that opens or closes" on Model S sedans and Model X SUVs. Though videos of the Tesla factory emphasize robotic automation, over 6,000 workers engage in intense manual labor to build the cars.
Richard Ortiz: "They want to make sustainable cars. We need sustainable employment." (Photo: Cindy Chew)
"I have an eight-pound rivnut gun," Ortiz said, referring to a tool that installs rivet nuts. "I'm doing that all day long. I'm to the point where, if I pick something up with any weight, within 30 seconds I have to drop it. That scares me, I want to be able to use my arm when I retire."
Tesla workers say circumstances like Ortiz's are commonplace at a factory that prioritizes production goals over health and safety. Now they're fighting back against low pay, hazardous conditions and a culture of intimidation, seeking to unionize through the United Auto Workers. Tesla is the only U.S. automaker using nonunion workers at a stateside plant, and breaking through would give organized labor a foothold in the tech industry as well. Until then, the Tesla experience reveals that green jobs aren't necessarily good jobs without worker power. "They want to make sustainable cars," says Ortiz. "We need sustainable employment."
Tesla purchased the Fremont facility in 2010, after Toyota and General Motors shuttered what was then the nation's most innovative auto plant. At NUMMI (New United Motor Manufacturing Inc.), management instituted Japanese production techniques that maximized efficiency. In the 1980s, "the productivity of the plant and the quality of the cars were equal to Toyota plants in Japan," said Ruth Milkman, author of Farewell to the Factory, a study of U.S. autoworkers. "It was the plant to watch for a while."
The Tesla experience reveals that green jobs aren't necessarily good jobs without worker power.
Jose Moran worked at NUMMI for eight years, and Tesla hired him as a production associate on the body line in 2012. "In the beginning, management would always promise, 'Things will be better,'" Moran said. "But they never got better. I felt it was time to speak up."
In February, Moran went public with a Medium blog post, confirming the union effort for the first time. His grievances with the way the plant operates, Moran wrote, "can't be resolved without workers having a voice and being included in the process."
The issues start with wages. According to Moran and co-workers, wages range from $17 to $21 an hour, well below the $29.04 national average hourly wage for motor vehicle manufacturing. Tesla claims stock awards push total compensation above autoworker averages, but workers counter that the stock doesn't fully vest until four years of service. "I can't tell a little kid, I'll feed you in a year," Ortiz said. Raises and promotions are also rare; Ortiz mentioned a colleague who received only one increase in seven years.
Tesla workers make luxury vehicles that can cost $90,000 or more but, unlike the people at Henry Ford's plant, have no chance of buying one. "Seventeen dollars to $21 without a lot of benefits is not much higher than you can get being a gardener or a hotel clerk," said Nelson Lichtenstein, a labor history professor at the University of California, Santa Barbara.
The low pay shrinks further in the San Francisco Bay Area, which has one of the nation's highest costs of living. Though the heavily Asian and Latino residential districts around the factory feature modest one-story tract homes and apartments – I even saw a large mobile home park – housing costs are so exorbitant that employees cannot hope to live near the worksite. The median two-bedroom apartment in Fremont rents for $2,640 a month, according to ApartmentList.com. For a married Tesla worker making entry-level wages and working 43 hours a week, that's equivalent to 90 percent of take-home pay.
At the end of 2015, employees claimed, they worked every day for a month to hit the production number, including weekends, plied with Red Bull and candy to keep going.
Moran, a father of two, left Fremont because, he said, "I couldn't make it, couldn't save." He now drives 59 miles to work from Manteca, in the San Joaquin Valley; his one-way commute can be as long as two hours. Jonathan Galescu, a body repair technician, lives 54 miles north, in Vallejo. Between gas and bridge tolls, "it costs me $15 to $17 just to get to work," he said. Galescu did carpool with a colleague in Richmond to cut costs, but it took him additional time. "I had to make a decision: Do I take that extra gas money or spend 30 more minutes with my children?"
(Even parking can be an ordeal, as spaces are limited and far from the worksite. A gleaming new BART rail station opened in March, but it's separated from the facility by freight train tracks, meaning workers using mass transit face a two-mile walk to work.)
T
esla has received numerous subsidies for its U.S. factories, including a 2015
California Competes tax credit
of $15 million for expansion of the Fremont plant. The implicit bargain with these government subsidies is that the private sector will create good-paying jobs. But Tesla only had to promise a minimum salary of $35,000 a year and an average salary of $55,000 to maintain eligibility for the tax credit.
Told about pay at the Tesla plant, Madeline Janis, a member of the California Competes committee who voted against the Tesla tax credit, said: "As a longtime worker rights advocate, [I'd say] that's an outrage. Tesla should and can do better, as we know from the success of the company. There's no reason why they can't create good jobs in California."
Most workers get by with overtime that they have no choice of turning down. Sixty-hour weeks are mandatory on the Model S line (known colloquially as the "shit line"), which is entirely manual labor. Model X workers often don't know how long they'll be staying when they come into work. The schedule depends on a daily target number of cars to build.
"There's not a lot of attention toward anything but hitting the production goal," said Jose Moran. Breakdowns on the line can make the number impossible to reach, forcing employees to stagger breaks to catch up. At the end of 2015, employees claimed, they worked every day for a month to hit the number, including weekends, plied with Red Bull and candy to keep going.
Jonathan Galescu: "I see my kids grow up through Facebook." (Photo: Cindy Chew)
Without the overtime hours, low pay would make it difficult for workers to survive. But with OT, work-family balance becomes impossible. "I see my kids grow up through Facebook," said Galescu. "My son always cries for me to stay home – 'Don't go to work'!"
Galescu works the night shift repairing defects, mostly while the cars are still in motion. He and his five-man team jump in and out of cars, pulling out dents and dings. Management recently cut the repair work time per car from 180 seconds to 90. If workers can't complete the task, it causes slowdowns on the line. Sometimes every car has the same defect, created by small pieces of dirt in the auto body stamping machine. "I have a friend in stamping who said if they'd just allow them a few more minutes to make sure they're clean before they run, the defects would be way lower," said Richard Ortiz.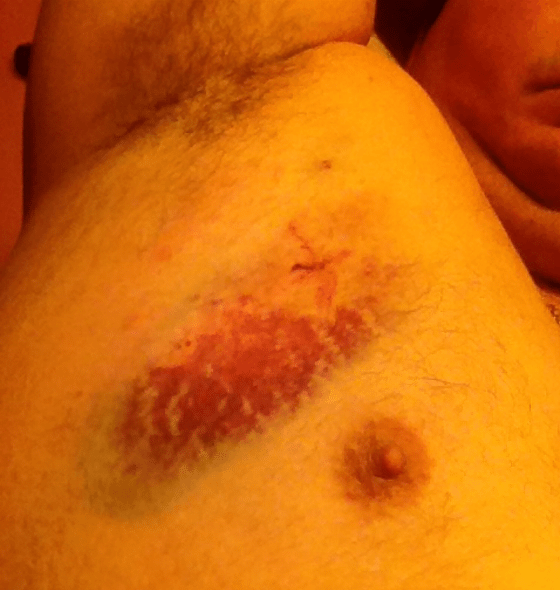 Bruising Work: A welt that Galescu says he received from a job accident.
Two years ago,Galescu said, a part from a Model S rear underbody popped out and hit Galescu in the chest, sending him flying across the shop floor. "My chest was on fire," Galescu said, showing me a picture of the massive welt it created. His supervisor tried to get him back on the line that day, but security personnel allowed him to go home. When Galescu returned to work, the supervisor berated him for the injury, even though he repeatedly warned the supervisor that the underbody machine was malfunctioning.
"He said, 'You caused me to be late going home to my wife,'" Galescu said. "I really thought I was going to lose my job."
In his blog post, Moran noted that six of the eight people on his team have been out on medical leave at one time. According to Occupational Safety and Health Administration statistics, since 2012 the plant has been cited for 40 different safety violations, compiling $143,835 in fines (about $6,000 of which are still being contested). By comparison, in its last five years of operation, NUMMI incurred only 17 violations, with $48,755 in fines, while pumping out far more vehicles. Tesla's fines resulted from numerous accidents and investigations, including explosions, burns, and a 2016 case where a contract worker fell three stories from the plant roof. (Tesla CEO Elon Musk has claimed that Tesla's injury rate was under half of the national average, and that Moran's assertion was erroneous.)
Workers allege that Tesla stigmatizes reporting injuries. While the company offers workers compensation insurance, light duty off the line can reduce pay to the minimum wage. Supervisors allegedly brand those willing to report injuries as malingerers. "They blacklist you, they treat you like crap," Galescu said. Ortiz added that workers have been fired for excessive medical problems. "They don't say they're fired, but all of a sudden they're gone." So workers often keep quiet about aches and pains.
Tesla spokesman Dave Arnold did not respond to a detailed list of questions for this story.
A voice on the job could help prevent unnecessary injuries, and make assembly lines more efficient. But unlike the NUMMI days, workers now have no say, and there's no process through which to lodge grievances. "I had a supervisor say, 'We're not dealing with HR, they're just a bunch of women in skirts who don't know what they're doing,'" Galescu said.
With workers pressured, overworked and battered by the line, and absent from family milestones, employee burnout is common and morale is low. "We're employed, but not gainfully," said Ortiz. "We need to see a future for ourselves."
In the short term, things could get worse. In March, Tesla announced a $1.15 billion stock offering, to finance the launch of the Model 3, its newest, mid-priced vehicle. Tesla already has almost 400,000 Model 3s on back order, with deliveries expected later this year. Elon Musk has promised that the plant will produce 500,000 cars a year by 2018. That's five times as many as current output, and it signals an even deeper attention to numbers.
But the Model 3 ramp-up also presents leverage for workers. Moran and his colleagues insist that they want to make the plant function better. "We work on the machines 10 to 12 hours a day, we know what could work," Moran said. "We're not trying to bash Tesla, we want the company to succeed."
Moran's open letter came after six months of internal organizing; the UAW confirmed hiring organizers for the plant in February. Tesla initially responded favorably. "You see safety people walking around, fixing things that weren't fixed before," Moran said. "It took one person to speak up." In November, Tesla offered a 50-cent increase to base pay for the first time in years. Four months later, the company added another 50 cents.
But after originally describing Tesla as "union neutral," Musk said on an earnings call in February that "there are really only disadvantages to someone to want the UAW here." In a later email to workers, Musk delivered a point-by-point rebuttal to Moran's Medium post, arguing that overtime had decreased and incident rates were below average. Instead of offering workers better wages and input on production, Musk promised "a really amazing party" for the launch of the Model 3, "free frozen yogurt stands" at the factory and "a Tesla electric pod roller coaster" connecting the parking lots. "It's going to get crazy good," Musk concluded.
M
iddle-class manufacturing workers seeking higher pay aren't dazzled by the kind of perks Facebook coders enjoy. They chuckled whenever I brought up the yogurt and the roller coaster. "If I want to go on a roller coaster, pay me enough so I can go when I want to," said Richard Ortiz. "It's insulting, it shows you what he thinks of us."
Labor historian Nelson Lichtenstein expressed horror at Musk's rhetoric. "It was the worst kind of caricature of a capitalist, like it's 1898," he said. "They have these sophisticated systems of production and distribution, but their social arrangements are utterly retrograde."
Moran has taken the assault from his boss in stride. "People come up to me and say you're doing a good job," he said. "It goes to show that [Musk] is 100 percent out of touch with what's going on at the plant." Moran and his colleagues have started a Facebook group, A Fair Future at Tesla, with videos of Moran and others telling their stories.
In November, workers were forced to sign an extremely broad, retroactive confidentiality agreement, one that vowed consequences if they speak publicly about Tesla – including about wages and working conditions. Confidentiality agreements are common in auto factories to protect trade secrets, but this was so far-reaching that five members of the California legislature wrote to Tesla, warning that the agreement violated protected employee activity guaranteed by the National Labor Relations Act.
Organizers say Tesla's aim was to create a chilling effect. "When you try to organize, [the workers] are afraid, they think you're undercover," said Ortiz.
The UAW has tried unsuccessfully to organize nonunion auto plants run by foreign manufacturers, including a Volkswagen plant in Tennessee where UAW secured the neutrality of the employer and still lost a union vote. (A later vote partially succeeded, but is mired in court). Not only is the Tesla factory in the heart of blue-state California, but in a region with a strong organizing history. However, Tesla also sits at the nexus between blue collar and Silicon Valley, where organized labor has barely penetrated.
Heightened activism after President Trump's election has forced tech firms to take stands of resistance, while union drives have arisen among security officers and cafeteria workers in tech office parks. But organizing Fremont would be an order of larger magnitude, especially because it would actually realize the promise of green technology jobs. "I'm always telling my environmental friends, don't be enamored of these green capitalists," said Joe Uehlein of the Labor Network for Sustainability. "We should be fighting for that missing leg of the sustainability stool, economic justice. And it's important for the UAW to signal that they see a future in renewables and clean vehicles, that they're not just a union of people who drive pickup trucks."
Tesla has been praised for creating manufacturing jobs domestically rather than overseas. Clean energy in the U.S. is as big an industry as pharmaceutical manufacturing. But the jobs created aren't automatically high-paying, good places to work. Politicians cite the quantity of green jobs without enough concern about their quality. The same problems of low wages, offshoring production and lack of collective bargaining prevalent throughout the economy can crop up in environmentally friendly enterprises. "No worker or community should ever be the roadkill on the path to a better world," said Uehlein.
Richard Ortiz, who worked at NUMMI for 22 years and actually had retired before being drawn back to Tesla, continually expressed pride in working at a leading-edge manufacturer. "I love to wear my gear all over town," he said. "I thank Tesla for giving me the opportunity to work there. They will give anyone a chance. But a chance at what?"
(Photo: Cindy Chew)
Saving Private Enterprise: Director Jacob Kornbluth on His New Robert Reich Film
After their critically acclaimed 2013 documentary, Inequality for All, Jacob Kornbluth and Robert Reich reunited to make Saving Capitalism, which explores the expanding economic and political power of America's wealthy.
Saving Capitalism  begins streaming on Netflix November 21.
Jacob Kornbluth had never had a job — not even an internship — by the time he graduated from college. When he applied to scoop ice cream at Double Rainbow, he was turned down. But he was used to feeling marginalized. Growing up in Manhattan and then in rural Michigan, he didn't have many friends and got beat up a lot. Both parents, wealthy in intellect but poor in assets, passed away by the time he was 18. All his grandparents too. With a life so rich in adversity, and unable to secure gainful employment, Kornbluth did what any young intellectual would do. He became a writer.
That led to directing some theater. In the early 2000s, inspired by the emotionally gritty films of British director Mike Leigh, he made a couple of feature comedies that not that many people saw. Then, with the economics of documentaries changing, he turned to the realm of nonfiction films to express himself. He grabbed a camera and followed Bill Clinton's former Secretary of Labor, Robert Reich, on his mission to raise awareness about America's widening economic gap. The resulting 2013 doc, Inequality for All, was no joke, both in its message and to critics, who lauded the film. But for Kornbluth and Reich there were some issues they touched on that still needed to be addressed. So they reunited in Saving Capitalism, a Netflix-streaming feature documentary that underscores the expanding economic power — and resulting political might — of America's wealthy. Nearly 30 years after someone decided against putting an ice cream scooper in his hands, Kornbluth sat down with Capital & Main to discuss politics and economics.
---
Capital & Main: The obvious divisions in this country are political ideology, race and gender, but it seems that few people focus that much on class.
Kornbluth: Well, I think the other divisions you mentioned are very real and meaningful, certainly, and I had started looking at class and economic divisions in Inequality for All. But I began to think that we were missing the story of power. As economic inequality grows, so does the concentration of political power, leaving a lot of people across the economic spectrum feeling like the game is rigged against them. You really see this line cutting across political viewpoints.
---

"As economic inequality grows, so does the concentration of political power, leaving a lot of people across the economic spectrum feeling like the game is rigged against them."

---
Perhaps the moment in the film that underscores that most is when you juxtapose footage of protesters in the Tea Party with those in the Occupy movement, and they are saying virtually the same things.
Kornbluth: Right. I certainly don't agree with a lot of the people in the Tea Party. But I have some empathy and I think we all need to see the connection between when economic inequality widens, this really does affect people and it changes the sort of reality that they live in. So basically, of those in the top 10 percent [economically], you see Republicans and Democrats disagree on just about everything — but the economy is essentially working for them. I don't think Americans like to see themselves as a country where class is that much at the forefront, in the way they do in Europe, but when you see the economic division spilling over into these other areas like politics, and it's really changing the way politics function on a meaningful level, I don't think you can ignore it anymore.
In the past, politicians had to play to the center to be successful. But in this last election, Trump didn't play to the middle and was able to get 60 million votes. People used to think that political ideology runs along a spectrum, but we see that [Bernie] Sanders and Trump supporters had a lot in common and that political ideology is really more circular.
Kornbluth: The political model has fundamentally changed into something that looks a lot more like a circle than like [a set of] polar opposites. We started making a film that was going to introduce that concept in 2015, before this election happened, when Hillary Clinton was the leader on the Democratic side and Jeb Bush was the leader on the Republican side, and it turned out we ran into that change as it happened.
---

"If you cede the system to the wealthy and powerful, and you don't fight back, then it's not going to get any better."

---
Your film and Reich's book are called Saving Capitalism. Some have said Marx was wrong about communism but he was right about capitalism, that eventually it would devour itself and spin out of control because of greed, and that is what we are seeing now. So why should we save it?
Kornbluth: It's a really important question. I mean, you're talking to the son of very left-leaning parents. One thing that Reich has taught me, is to forget the "ism" for a moment and just look at rules of an economic system. Stop thinking that capitalism is going to save or hurt us, and stop thinking socialism is going to save us or hurt us and start thinking that we have one economic political system and let's think about all the rules that go into it and examine them one by one, and ask, Who do those rules benefit and who do they hurt?
You see that the rules of our economic system are written by the people with the power to write them, and then over the last 40 or 50 years all of those rules have gone more towards the wealthy and the powerful and away from regular people. Well, it wasn't always like that in America.
But that system does keep breaking.
Kornbluth: You are absolutely right. But I think it's actually important, though, for people who think that maybe the materialism and greed of capitalism is fundamental and unchangeable [not to give up]. That's sort of like permission to check out, to say, "This system is broken and therefore I won't engage." And I think one of the crucial problems with that is if you cede the system to the wealthy and powerful, and you don't fight back, then it's not going to get any better.
A recent poll said that more millennials believe in socialism than capitalism. And more believed in fascism than capitalism, too. What does that say? Are millennials just fed up, or maybe more idealistic, or are they just more naïve?
Kornbluth: There's a bunch of ways to read something like that. One way to say it is [that] a lot of people feel like the game is rigged, which is true, and they are sick of it. They don't feel like their voices are heard. But there is a very important question which is, What is capitalism, specifically? If it's simply the free exchange of private property, then every country in the world today is some version of a capitalist country, or on some sort of a capitalism/socialism spectrum. You sort of can decide what you want to call it.
---

"This economic and political situation that we're in is unique — it means that we don't get to go back to normal."

---
But people forget, that in the past there was Ross Perot, and John Anderson to a lesser degree. Perot was an extremely viable candidate who had a chance of winning, before he imploded. There has been a bubbling of this discontent in every generation. Could one make the argument that the way a forest needs to burn to regenerate, you need a Trump to have both sides react and act — is this the equivalent of a political forest fire that could signal a regrowth for the country?
Kornbluth: I'd phrase it slightly differently. You certainly have seen bubbling of this growing anti-establishment wave [besides] Ross Perot, with Pat Buchanan on the right, when he was running his campaigns in the '90s. And you see in our film that in '92 Reich thought that they had a real chance to fix a systemic problem with the economy that was broken, that an increasing amount of gains from growth were going to the top. And he thought that this was going to be a long-term problem going forward. But I think the film's thesis is that this is not the same, but that, in fact, this economic and political situation that we're in is unique and it means that we don't get to go back to normal.
To your second point, I hear this argument sometimes from people on the left who say, "Maybe this Trump presidency is what we need to really have the progressive revolution that we've been waiting for." There may be some truth to that, but don't underestimate the threat to the economy and to democracy that we're experiencing right now.
There was a really poignant moment in the film, when Reich is talking to students about the regret he has, and it seems he may even be on the verge of tears. Tell me about that moment.
Kornbluth: You have a guy who's been fighting for 40 or 50 years, engaging in a political system and trying to in a very genuine way help out regular people around the country. And you look up after you've been at it for so long and you see a shorter time ahead of you than you have behind you and you say, "Wow, it's gotten worse. I can't say that all of the efforts that I've made have fixed it and what do we do with that? How do we answer to those questions?"
Reich is the same age as Donald Trump; and Hillary and Bill Clinton, and Clarence Thomas, were all at Yale when Reich attended. He's seen what his generation has done. I think that there's some answers he has to give about what [this generation] did to get us to where we are. I think he genuinely is torn, he's worried. He's fighting every day give his best to turn this system around but I think he's worried that time is running out.
You see in your film his ability to talk and connect with all types of people with differing politics than his own. What is it about him that lets him connect with people so well?
Kornbluth: Firstly, I think it's rare to see somebody who's that smart and successful who is that genuine, and I think that genuine quality, that sort of humanity, really comes across in him. It makes him an extraordinary screen presence. I've dealt with a lot of famous people in my time and I've never met anyone more grounded than him. But the real secret sauce, which makes him somebody that, if he didn't exist you'd want to invent, is that he's an unbelievable intellect and an unbelievable communicator. He can take complex issues and boil them down in a way that makes it easy for anybody to understand and not feel dumbed-down to. The smartest economists that I've talked to, the biggest idea people who I've talked to, are not always the best communicators.
Obviously, he did a lot of great work when he served the White House, but it's almost like his second act has been more powerful and more meaningful. Maybe because he's not hamstrung by the restrictions of working in the system?
Kornbluth: He was a Secretary of Labor in Clinton's administration but, honestly, how many labor secretaries can most Americans name? One of the most amazing and unique things about him is he has embraced social media in a way that a lot of his contemporaries haven't. I run a nonprofit with him, Inequality Media, and we make short videos for the Internet. Those videos in the last few years have been seen over 250 million times.
He is as motivated, passionate and driven as are people a quarter of his age. He runs me [and] everybody at our organization ragged, and he's 71 years old. He still feels like it's his legacy and he wants to do his best to fix the things that he sees are broken.
---
Copyright Capital & Main