Atlas Smirked: Why the GOP Kicks the Ladders to Prosperity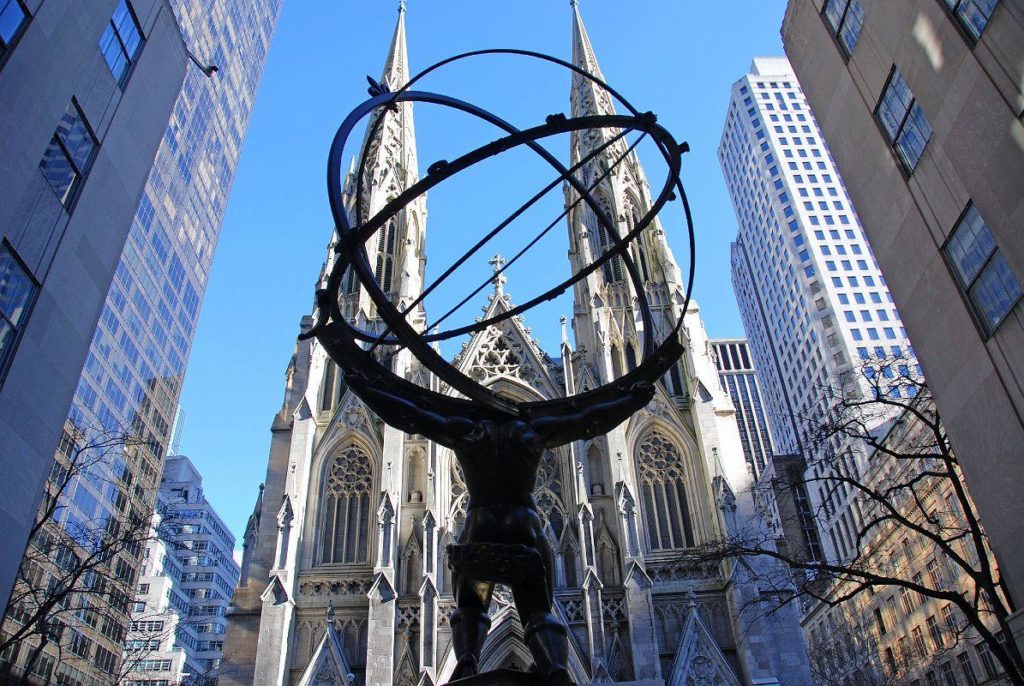 The Republican Party spent the better part of the past few years reaching back a century or more for ideas. Where liberals saw the dangers of a creeping Gilded Age on the horizon, conservatives cheered the true freedom that attends gross economic inequality. Paul Ryan, one of the GOP's standard-bearers, repeatedly excited crowds with the promise of the true adventure and excitement that comes from riding the free market without a social safety net. By adopting the Republican vision, he explained, you choose against "a dull, adventureless journey from one entitlement to the next, a government-planned life, a country where everything is free but us."
Similarly, there is currently a conservative attempt to rehabilitate the infamous 1905 Supreme Court decision of Lochner v. New York, which struck down on economic liberty grounds a New York state law that forbade bakers from working more than 10 hours per day and 60 hours per week. The Lochner decision was described at the time by the dissenting Justice Holmes as reading social Darwinism ("Mr. Herbert Spencer's Social Statics") into the 14th Amendment, and has been held up by progressives for a century as the epitome of the conservative view of the individual's freedom to work in an unregulated employment market. Many conservatives then and now see the case as a rightly decided rebuke to the state's continuous encroachment on the individual's freedom of contract.
Of the many attempts to reconcile the late 19th and early 21st Century, perhaps the strangest is the GOP's recent division of the electorate into moochers and makers, and in doing so erecting the edifice of a new Republican Ethic. This general division has been an underlying part of the modern Republican Party's dogma for some time — exemplified most starkly in its tax, labor and employment policies — but it was rarely stated outright beyond the pages of Ayn Rand or her acolytes. However, previous attempts like Rand's to divide the country into producers and takers always had the notion of mobility built into the system, where individuals could in theory move from one camp to another. Under the new Republican worldview, essentialism has become the order of the day and one's position as maker or moocher is immutable.
Last year, the party put on full display the dichotomy at the heart of its worldview. It made its mantra, "We Built It," with the "We" being Republicans, and staged a four-day paean to employers and entrepreneurs in Tampa. Covering the Convention for The Nation, Rick Perlstein talked with Republican employees who took pains to explain how they also run home-based Amway-type businesses in order to let "let nine-to-fivers…style themselves as members of the morally exalted caste of entrepreneurs." Though these home-based network-marketing businesses have long been criticized as pyramid schemes that are against the economic interests of the vast majority of participants, they allow individuals to hold parties where one announces to the community, "I am an entrepreneur."
Less than a week later, the House Majority Leader, Eric Cantor, tweeted that the true hero of Labor Day is capital: "Today, we celebrate those who have taken a risk, worked hard, built a business and earned their own success." It turns out that on Labor Day, we celebrate the employers who so kindly gave us the day off.
Mitt Romney's infamous 47 percent comment was caught on tape, but it was not a mistaken expression of the Republican worldview. After Romney, the acting CEO of the Party, was caught on tape presiding over a board meeting of donors explaining that 47 percent of the market will not buy their product, he had the choice of retracting the statement or bringing the full Republican belief into the light. He chose the latter, explaining that it was "not elegantly stated," but that "it's a message I'm going to carry and continue to carry." And in this coarse, inelegant set of statements, Romney articulated clearly a new politics of identity based on one's predestined economic salvation.
This theory has much in common with that explained by Max Weber in his Protestant Ethic and the Spirit of Capitalism, published in the same year as Lochner. According to Weber, there is a special affinity between Protestantism and modern capitalism, whereby the behavior encouraged by the former feeds into the divisions necessary in the latter. Weber argued that Protestantism introduced the notion of predestination, in which each of us is born already saved or damned, and there is nothing we can do in our lifetimes to change that eternal designation.
Protestants are weighed down, then, by the certitudo salutis question, always wondering, "am I saved?" One looks for signs of one's salvation everywhere. One of the primary material signs is that one has a vocational calling — a material version of the religious calling — and even better if one can amass material wealth. Certainly God would choose to bestow this worldly fortune on the chosen, rather than on the damned.
Weber argued that the attempt to create public signs of one's salvation — in other words, the drive to work and amass wealth to show to the world and oneself that you are counted among the saved — coincidentally fits well with modern capitalism. And in this way, the spirit of an economic system was built upon an ethos of a religious system.
Republicans, most recently under the leadership of Mitt Romney, have constructed a similarly mysterious division between the saved and the damned. On the one side there are "job-creators," "makers," "small businesses" (which by most estimations can run quite large), "producers," "capitalists" and the like. On the other side are those who work for others (workers?), "takers," "moochers," "welfare recipients," "socialists," non-payers of federal income tax, etc.
There is one more label that is attached to each category. To the former it should be added "Republicans," and to the latter "Democrats." If approximately half the country produces and the other half takes, Americans are left with a new certitudo salutis, having to constantly look for signs of one's economic chosenness. Making public one's tax return is unseemly in America, and conspicuous consumption is a coarse political message. Luckily, it turns out that the lawn signs and bumper stickers available at your nearest Republican headquarters allow you to express to the world that you throw your lot with the party of producers because you are a producer. Show up at a Republican rally, join your local Tea Party group, express anger publicly at the country's slide into Socialism, and you show that you are on the right side of the divide. Indeed, the lower on the economic ladder that you find yourself, and the more unlikely that you are a "maker," the more necessary it is for you to publicly choose Republican and denounce the Democratic moochers and victims, showing that you are of the saved.
This modern Republican worldview, where one is a maker or taker, is of a different quality than Ronald Reagan's description of the welfare queen who "has 80 names, 30 addresses, 12 Social Security cards and is collecting veterans benefits on four non-existing deceased husbands." The welfare queen was a straw man, easy to deride and easy to distinguish. The welfare — or Cadillac — queen was also a thinly veiled racial marker; if you were white, you didn't have to try hard to show the world that your car was bought using money earned. The new division requires the individual to prove that she is the type of person whose total activities in the aggregate add more to society than she takes out. It is an essentialist argument, where one is or is not a taker and victim, and nothing you can do can change the mark on your soul.
The division between makers and takers is also unlike the welfare bugaboo that the Republicans pulled out in the Nineties. Then, the focus was on whether one was a productive member of society, and being a worker qualified you as such. Indeed, the mantra behind many of the problematic welfare policies of the nineties was "welfare to work," where work was the promised land.
Liberals have longed for the day when conservatives can no longer trick people into voting against their economic self-interest by using social issues such as abortion, gay marriage, and the phantom war on religion, which have less apparent links to economic self-interest. In response to this possibility, the Republican Party has come up with a subtle solution: turn economic issues into social issues. Republicans have seized upon a core aspect of the American identity, where more important than actual economic self-interest is one's reputation as someone productive, successful, and worthy of the individualism that America allows.
Remember, this is a country where individuals have often chosen destitution or death before being willing to walk into a bankruptcy court. As liberals have fallen into the perennial fantasy of a permanent majority, they overlook a dangerous Republican argument that reaches deep into the American psyche. It failed in 2012 — perhaps because it was inelegantly stated, perhaps because the messengers were weak — but it is not necessarily a losing argument.
(Moshe Z. Marvit is a Fellow at the Century Foundation and the author (with Richard Kahlenberg) of Why Labor Organizing Should Be a Civil Right. His post first appeared on Unionosity and is republished with permission.)

Do Incarcerated Firefighters Deserve a Path to Employment?
Since 1983 six inmate firefighters have died while working on fire containment. Today they are paid $2 per day — and an extra $1 when fighting active fires.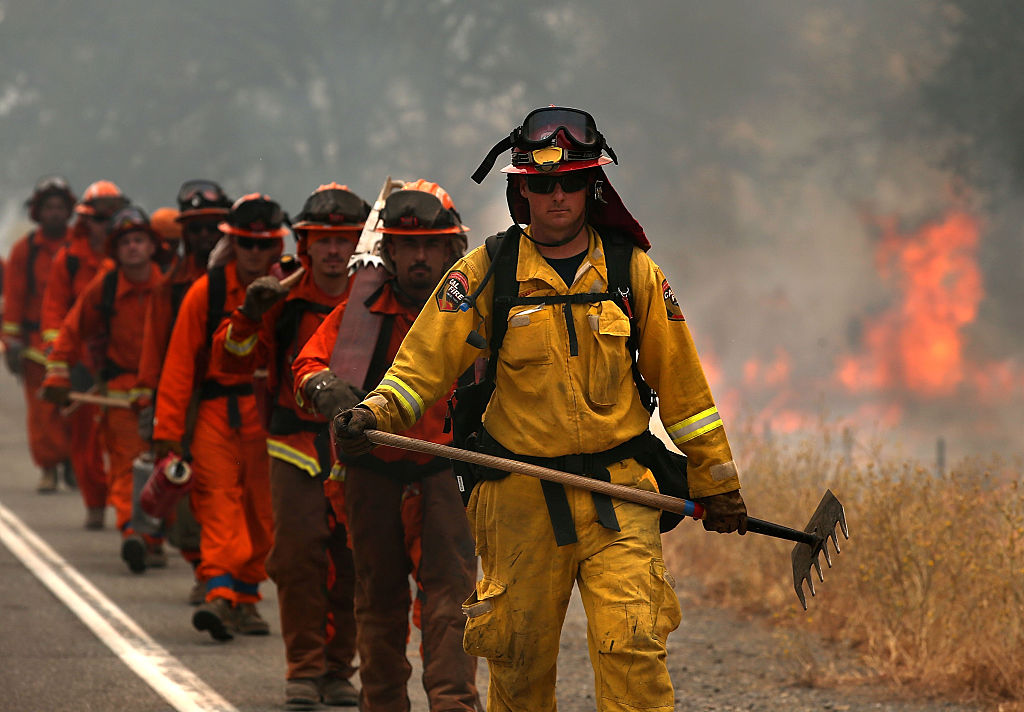 ---
California estimates that the Conservation Camp inmate-training program saves state taxpayers up to $100 million per year through firefighting and responses to other emergencies.
---
As California's wildfire season grows ever longer and more intense, the state has relied heavily on thousands of prisoners, including women, to battle blazes alongside approximately 6,000 professional full-time and seasonal firefighters. Prisoner advocates, however, point out that these inmates' criminal records prevent them from working as firefighters almost anywhere in California after their release.
Critics of the inmate program also say prisoners risking their lives to battle dozens of fires every year should get more out of the program than their current $2 per day and the additional $1 they receive whenever fighting active fires. The state's Cal Fire firefighters earn between $3,273 and $4,137 per month, plus benefits, not counting overtime, according to a Cal Fire spokesperson. California has been using inmate firefighters since World War II, when the workforce for Cal Fire was depleted.
---
Approximately 3,700 inmates work at fire camps and about 2,600 of those are qualified to work on the front lines of active fires.
---
When Laura Weigand applied to California's Conservation Camp, the program that trains inmates to fight wildfires, she knew it would be an uphill battle, literally. She was 43 when she joined the camp in 2009, twice the age of most of the women in pre-camp endurance trainings. One endurance test – hiking two miles straight uphill in 45 minutes – felled plenty of younger women, but Weigand was the first to the top of the hill, which meant she had her choice of camps to complete her trainings. She picked Malibu.
Two weeks after she completed training, she was working alongside Cal Fire firefighters to put out the Crown Fire, earning a fraction of what professional firefighters made for the same amount of risk. But she said she didn't feel exploited because she went into the program to get away from the prison grounds.
"The days flew by, because there were different experiences. Even though it was not good pay it was better than you get in prison," she said. But a foot injury threatened her limited freedom.
"I was hiking on a broken metatarsal bone for two years and was afraid to tell them about it because I didn't want to get kicked out of the program."
Weigand eventually became a "swamper" or trainer of other incarcerated firefighters. She estimated that she trained about 300 women before she left prison in 2012.
The California Department of Corrections and Rehabilitation (CDCR), cooperating with the California Department of Forestry and Fire Protection (Cal Fire) and the Los Angeles County Fire Department, operate 44 conservation camps across the state, including three female camps. Camp populations range from 80 to 160 inmates working and learning in minimum-security facilities, supervised by correctional staff. When they're working on an active fire, Cal Fire staff supervise them.
CDCR says approximately 30 percent of applicants who volunteer for the program successfully complete the curriculum. Not all inmates are eligible. Those who have committed more serious crimes, such as arson, rape or other sex offenses are disqualified.
Overall, there are approximately 3,700 inmates working at fire camps and approximately 2,600 of those are qualified to work on the front lines of active fires, according to CDCR. As of August 31 there were just over 1,100 inmate firefighters across 123 crews deployed to the Carr, Mendocino Complex, Hirz, Cooks, Cherae, Stone, Cache and Holy Fires.
After being released in 2011, Weigand didn't apply to be a professional firefighter because she was above most fire departments' threshold age. But Weigand, who now works at Social Model Recovery Systems, a substance abuse and mental health nonprofit, says even if she were younger, she probably couldn't have gotten such a job, because most local and county firefighting jobs require an emergency medical technician (EMT) license, and most former inmates, even those convicted of lower level felonies, can't obtain that.
In an email, a Cal Fire spokesperson said the department doesn't require an EMT license for employment, but admitted that many fire departments throughout the state have at least the expectation of an EMT license for employment.
Such a barrier doesn't make sense to Romarilyn Ralston, who was imprisoned 23 years and served as a fire camp swamper and clerk for Cal Fire while incarcerated. Now, as a member of the Los Angeles chapter of the California Coalition for Women Prisoners, and program coordinator for Project Rebound at California State University, Fullerton, she's advocating for raising state employment opportunities for former inmates who made it through the Conservation Camp program.
Ralston told Capital & Main that, even though the program offers valuable training, the lack of EMT training at the camps, as well as the seeming prohibition against hiring former felons for many firefighting jobs statewide, amounts to "an exploitation of prison labor."
"They should be paid at least the minimum wage, which is $15 in L.A. County," Ralston added. "They're putting their lives on the line and saving California hundreds of millions a year."
The CDCR has estimated that the Conservation Camp program saves California taxpayers between $90 million and $100 million per year through firefighting and responses to other emergencies. Those who make it through the program, when not fighting active fires, may also be asked to clear firebreaks, maintain parks and clear fallen trees and debris. Since 1983 six inmate firefighters have died while working on fire containment, according to CDCR.
Recently California has taken steps to ease restrictions on former felons, though none of the measures would mandate local emergency medical services authorities to allow them to earn EMT licenses.
As part of the 2018 budget bill, Governor Jerry Brown expanded employment opportunities for former inmate firefighters through the Ventura Conservation Camp (VCC), in Ventura County. The program is for parolees only, and the first group of 20 is set to begin training this fall.
An omnibus safety bill, AB 1812, approved by Governor Brown in June, would allow graduates of approved fire camp training to apply for lower-level emergency medical responder (EMR) licenses, though not for EMT licenses.
California's legislature is taking other small steps toward lowering the employment bar for incarcerated firefighters and other ex-cons seeking professional employment.
Assembly Bill 2293, in its original version would have, with certain conditions, prevented the authority licensing paramedics and EMTs from denying certification to anyone with a criminal record. But faced with strong opposition from the Emergency Medical Services Administrators Association of California, and the National Association of Emergency Medical Technicians, who said hiring those with criminal histories could pose a public safety risk, AB 2293 was amended down to a data reporting bill, according to California Assemblywoman Eloise Gómez Reyes (D-San Bernardino), who assisted in crafting both versions of the bill.
"We decided to address a glaring deficiency, which is the lack of data [on who is being denied jobs]," Gómez Reyes said of AB 2293, which now heads to an uncertain future on the governor's desk.
Today, Gómez Reyes added, the state only has anecdotal data on many former prisoners being denied EMT certification or jobs based on their criminal past, but no hard numbers yet. "We're trying to see in what circumstances are people being given these licenses, and what we suspect are the majority of circumstances of people being denied because of past offenses. Whatever decision we make in the future is going to be based on accurate data."
Another bill, AB 2138, authored by Assemblymen Evan Low (D-San Jose) and David Chiu (D-San Francisco), would ease licensing restrictions for former inmates in a variety of occupations, but not firefighters. That's still an important step, according to David Fathi, director of the American Civil Liberties Union National Prison Project, because its passage could remove some "arbitrary" barriers to employment.
"In many states there are over 100 occupations that former prisoners can't pursue," Fathi said. "One of the best predictors of successful reentry is securing and keeping stable employment. And yet as a society we go out of our way to make it difficult for prisoners to get a job when they get out. This is especially absurd when the prisoner has learned the skill in prison."
Fathi points to a neighboring state, Arizona, which last year eased restrictions on ex-cons from becoming professional firefighters, as well as to a study from Arizona State University, which showed that states with larger employment barriers for felons have higher recidivism rates.
"Employment disqualification for former prisoners should be the rare exception," Fathi said, "and it should be based on an individualized assessment of the risk posed by the particular person — not simply upon a criminal conviction."
---
Copyright Capital & Main