Are Courtrooms the Next Frontier for COVID Health Care Workers?
The nation's largest hospital chain faces a lawsuit alleging it failed to protect employees.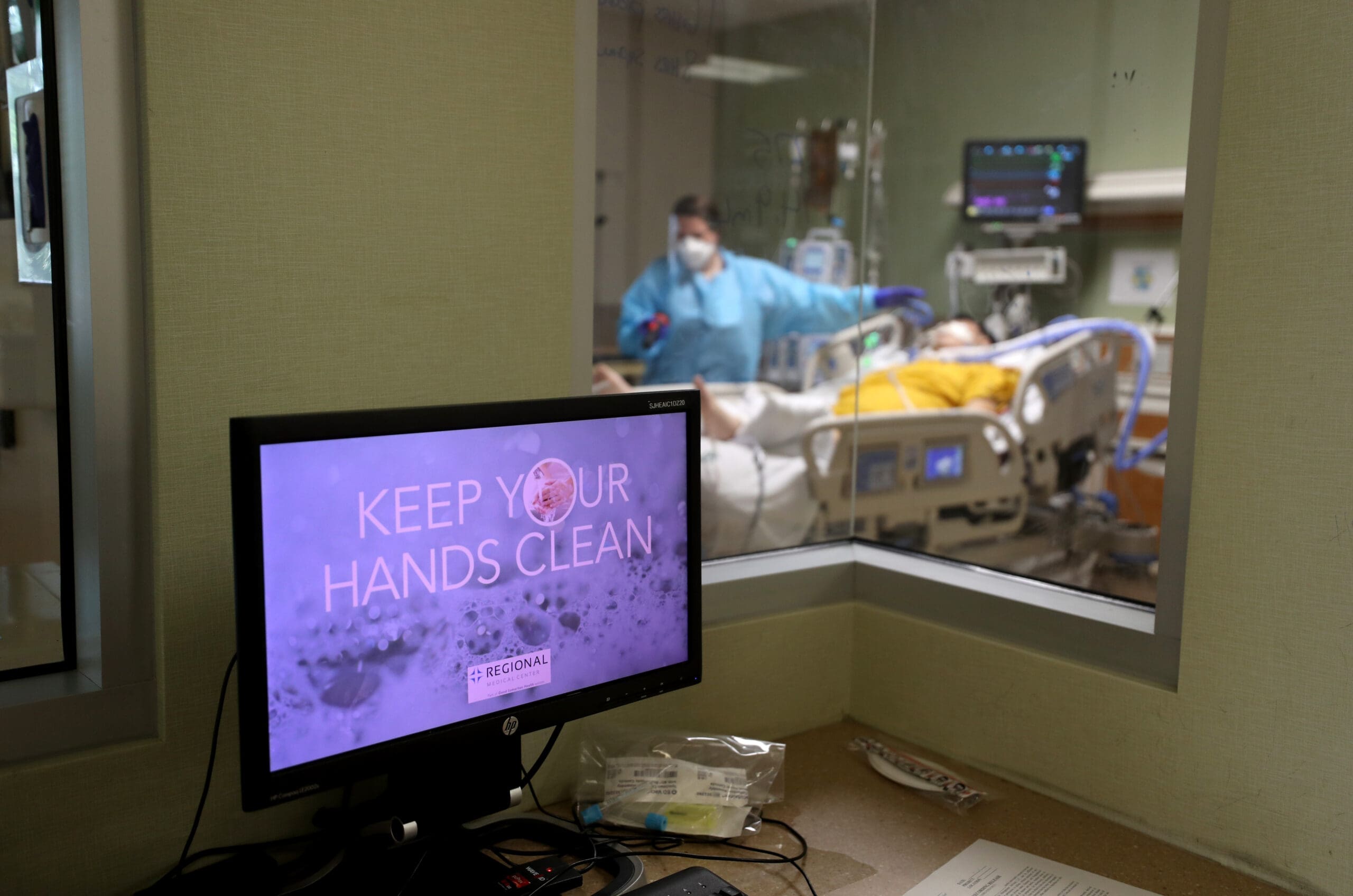 Almost from the initial U.S. response to the burgeoning threat of COVID-19, reports surfaced of tension-filled confrontations between employees and administrators in hospitals and health care centers around the country. The subject was generally the same: the staggering lack of personal protective equipment (PPE) and oft-inadequate safety measures at these facilities, many of which are run by health conglomerates.
Six months in, not much has changed. As recently as last week, in fact, nurses in four states protested at hospitals run by HCA Healthcare, the nation's largest chain, to draw attention to ongoing practices they said put both them and their patients at risk, including the repeated reuse of respirator masks.
That scene, of hospital workers standing in front of their own buildings and essentially pleading with health companies to gear them up with enough PPE to do their jobs, has played out again and again, with varying degrees of impact. So is there another way to prompt real change?
---
Some health care companies continue to place their workers at added risk in a time when the challenges of working with COVID patients are obvious enough.
---
A lawsuit currently making its way through the Southern California court system may provide guidance. Brought by several Riverside-based hospital workers and the Service Employees International Union, the civil suit accuses HCA of public nuisance and negligence "through knowing and reckless acts and omissions" that left employees, patients, visitors and the community vulnerable to the spread of the coronavirus.
Filed in Superior Court, the suit claims that Riverside Community Hospital (RCH) forced employees to work without adequate PPE, pressured sick employees to work despite their being symptomatic for the virus, and placed "efficiency and/or productivity" above concerns such as effective sanitation of commonly used medical tools and commonly touched surfaces. It names as plaintiffs three hospital employees who became infected with COVID-19 and the daughter of another, who died after contracting the virus.
You can read the full lawsuit here. (Disclosure: The union involved in the case is a financial supporter of this website.)
It's certainly not the first time someone has taken on a health care company in court, and the prospects for the suit's ultimate success in the time of COVID are difficult to gauge. Nurses in New York filed three lawsuits in April against that state's health department and two hospitals for failing to adequately protect them; two were dismissed, and The Washington Post reports that the status of the third suit is unclear.
But such actions, brought by health care facilities' employees themselves, can be damaging in their own right – if for no other reason than that they bring to a legal venue the same concerns that so many nurses, physicians and staffers at the hospitals have been expressing for months. Although it's counterintuitive and perhaps hard to fathom, some health care companies continue to place their workers at needless added risk in a time when the everyday challenges of working with and around COVID patients are obvious enough.
"Some hospitals have decent PPE now, but it's a minority," said Sal Rosselli, president of the National Union of Health Care Workers, which is not a party to this suit. "It's normal for major hospitals to say, 'Okay, nurse, you're full-time, five days a week. Here are five N95 masks and five paper bags. Use the Monday mask on Monday and then put it in a bag, then use it again next Monday,' and so on."
* * *
The Riverside case highlights a couple of specific stories, including that of Raymond Valdivia, a patient safety observer at RCH who contracted the virus after close contact with infected co-workers and patients (the suit claims Valdivia was never told of his exposure). He tested positive in May, and five weeks later was directed to return to work, although he said he was still experiencing shortness of breath and other symptoms consistent with COVID-19.
(That is not uncommon, by the way. A growing body of medical evidence suggests that COVID-19 can last for several weeks or even several months, despite earlier assertions that it was a short-term virus. Support groups have grown for so-called long-haulers, patients who continue to carry the sickness for extended periods of time.)
Valdivia went to the hospital and reported his continuing symptoms to supervisors on June 29, the suit says, but was told he had to work unless he tested positive again. Not until he had completed his shift that day did the result of his new test come back. The test was positive for COVID. One of the other allegations in the lawsuit is that Valdivia requested an N95 respirator mask to replace his "Level 1" cloth mask, but his request was denied.
In a statement released after the suit was filed, Riverside Community Hospital called it a publicity stunt by the union, adding, "No one takes the health and safety of our workers more seriously than we do, and since day one, our top priority has been to protect them." The suit contains allegations that cast fair doubt on that, but whether they rise to the level of a legal finding remains to be seen.
---
"Some hospitals have decent PPE now, but it's a minority," says Sal Rosselli, president of the National Union of Health Care Workers.
---
On a broad scale, the Riverside case contains some familiar complaints: that a hospital initially declined to provide PPE to employees unless they were doctors or nurses, and that even after it did relent, it demanded that employees wear the gear for multiple days, even as the equipment deteriorated and became less protective. As Sal Rosselli suggested, that may be the practice at many facilities, but it's no less worrisome for being common.
The story of COVID-19 in America, when it is finally and fully written, will include a grim accounting of the mistakes made in the early days, including the federal government's inept response and the sight of individual states battling one another to obtain adequate supplies. But perhaps a special section will be set aside for something as utterly baffling as the industry giants' repeated failure to protect their own people.
---
Copyright 2020 Capital & Main