Anaheim's Not-So Magic Kingdom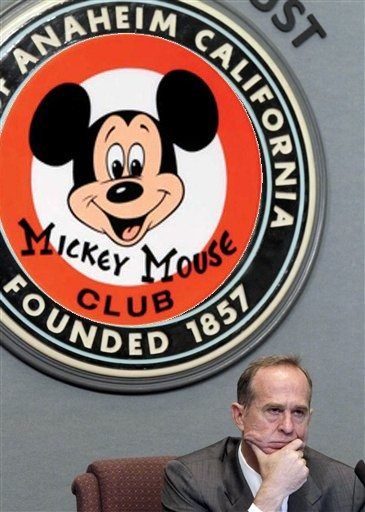 Tom Tait photo by Nick Ut/AP
New headlines have emerged almost daily in the explosive weeks following the death of Manuel Diaz, who was unarmed when Anaheim police shot him on July 21st.The night after Diaz's death, police shot and killed Joel Acevedo — the fifth  fatal officer-involved shooting in Anaheim this year. A city council meeting set for Wednesday afternoon (August 8th) at Anaheim High School's 1,300 seat auditorium is expected to be overflowing. The mayor, the police chief, angry residents—all make the news reports.
But Anaheim's most high-profile denizen has stayed out of the spot light. "The Mouse"– Disneyland and Disney Corporation – has wisely avoided taking a high-profile stand that would mix the Disney brand with news of conflict and racial strife in Anaheim, where tourism is king.
While Disney doesn't govern police policy (although some residents argue to the contrary, citing Disney's influence in the city), The Mouse does unquestionably wield major influence in shaping Anaheim's economic development gestalt, one of social inequality that keeps a low flame burning under simmering community tensions.
Anaheim's economy is based almost exclusively on tourism, and that particular workforce is largely Latino. In Orange County, where Disney is the largest employer, the median hourly wage for a housekeeper is $9.82 ($19,640 gross annual earnings based on a 50-week year); food preparation pays a median wage of $9.33 an hour ($18,660 gross) according to the California Employment Development Department. The average rate for a Disneyland Resort cashier is $21K, according to Careerbliss.com. (Disney did not respond to a request for information about its wage scales.)
Much has been written recently about the gulf between Anaheim's well-heeled neighborhoods and those home to the majority Latino population—many of whom are the children and grandchildren of immigrants. The Latino poverty rate in Anaheim hovers at 20 percent.
"If a city is oriented around one industry, one corporation, it squeezes out the needs of other neighborhoods in the city, certainly neighborhoods where Latino and working-class residents live," Eric Altman, Executive Director of Orange County Communities Organized for Responsible Development, said in a phone interview.
Anaheim city leaders have historically been anxious to cut Disney breaks since before the Magic Kingdom opened in 1955.
"Disneyland has essentially co-opted all industrial clout in the city, leaving Anaheim's government largely dependent on its survival to provide a strong base in tourism," Andrew Reovan , now an urban planner in Cambridge, Massachusetts, writes in his thesis analyzing Disney's influence on the local government in Anaheim.
Tax breaks and zoning support from the City of Anaheim has been the norm as Disney has created new resorts and hotels there. Anaheim even has a protected Disney territory: The Resort District, a 2.2 square mile area surrounding three Disney theme parks that was zoned in 1994 to exclude any development that is deemed to not support tourism.
A Disney-backed political force field surrounds it.
Support Our Anaheim Resort (SOAR) originated in 2008 as an Astroturf coalition designed to thwart a modest proposal: To build a 1,500-unit condo project in the Resort District that would have set aside 15 percent as affordable units. Disney bankrolled SOAR with $2 million. Then-Mayor Curt Pringle, a former California Republican Assemblyman and head of Pringle & Associates, a consulting firm that uses the many connections Pringle has garnered through years of politics to get deals done in OC and elsewhere, presided at the group's public launch.
The community coalition that fought for affordable housing included the union representing the Disney Resort workers who are unable to afford local housing at tourism industry wage scales. Many commute from as far away as Riverside and Victorville; others double up with other families in Anaheim's poor neighborhoods—the scene of the recent police shootings and unrest.
Political resistance and 2007's collapsing real estate market eventually scuttled the condo project.
Since then SOAR has blossomed, launching a political action committee in 2009 that backed three present city council members (two of whom, Gail Eastman and Kris Murray, are current SOAR advisory board members) based in part on the candidates' commitment to the Anaheim Resort District.
"Our political action committee is focused on electing resort-district-friendly officials, not just at City Hall but also county supervisors and state senators, anyone voting on matters that would affect the district," SOAR's executive director told the New York Times.
SOAR argues that tourism is an economic engine and the Resort District, only 5 percent of the city's land, generates 50 percent of city revenue.
Maybe so. But earlier this year city officials approved an outsized tax incentive for a developer building two luxury hotels in the Resort District across the street from Disneyland, a $283 million project. Anaheim suspended the 15 percent bed tax for 15 years, a subsidy of some $158 million.
No one is saying The Mouse is somehow responsible for the present Anaheim unrest, but you can argue that city leaders might look out for the good of all Anaheim residents instead of a training a single focus on the Biggest Employer In Town. And Disney might wield its influence on behalf of more equitable economic development now that the glaring disparities have been exposed. Could current events in Anaheim loosen The Mouse's grip? One of the council members originally backed by SOAR was Mayor Tom Tait—called the Unlikeliest Great Mayor in OC by Anaheim expert and OC Weekly editor Gustavo Arellano. Tait has called for federal investigations into the shooting of Manuel Diaz, has gone to visit and speak with neighbors on Anna Street near Diaz's home.
And Tait recently convened a meeting with Disney and Anaheim's sports teams to come up with programs for Anaheim's poorest neighborhoods.
According to the New York Times report the corporate participants at the meeting, including Disney executives, offered no comment about what emerged from the discussion.
The Power of the Poster
Carol Wells, the founder of the Center for the Study of Political Graphics in Los Angeles, talks to Capital & Main about the enduring power of political art.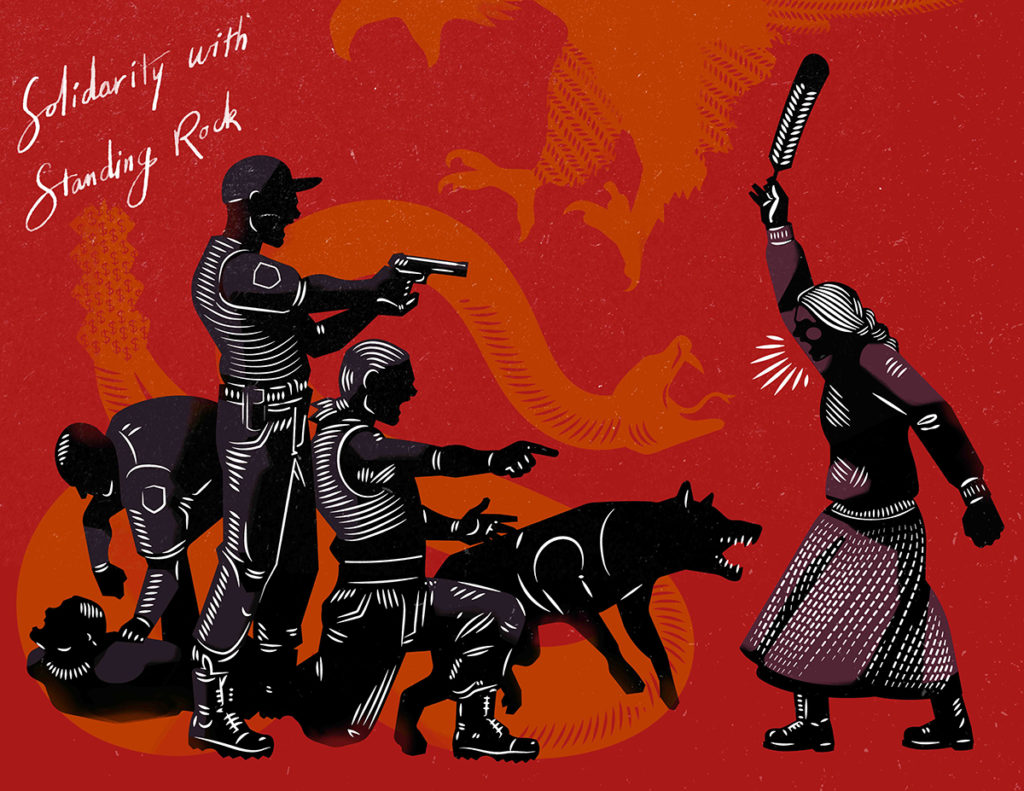 Carol Wells remembers the exact moment she discovered her calling. An art historian at the time, she was on a trip to Nicaragua with her friend David Kunzle, a UCLA art history professor, who was collecting political posters to add to his burgeoning collection. While staying with friends, Wells watched a neighbor's 8-year-old son approach a poster on the wall, stare at it intently, and then start to silently mouth the words. Wells was struck by how engaged the boy was. "In that moment I became obsessed with collecting posters."
Now over 40 years later, Wells is the founder and executive director of the Center for the Study of Political Graphics in Los Angeles. Wells has amassed approximately 90,000 posters, building one of the largest collections of its kind in the world. The Center shares its collection with the public in part through curated exhibits. This year the CSPG has produced Feminae: Typographic Voices of Women by Women and its latest is To Protect & Serve? Five Decades of Posters Protesting Police Violence, running through July 15 at the Mercado La Paloma in downtown Los Angeles.
Since that encounter in Nicaragua in 1981, Wells' obsession with collecting posters hasn't waned. In CSPG's nondescript West L.A. office space, Wells pulls out poster after poster, lecturing passionately on the backstory and cultural impact of each, including one that superimposes text from a New York Times interview with a shocking image of the My Lai massacre ("Q: And babies? A: And babies."). Recently, she managed to sit down with C&M to discuss her passion.
---
Capital & Main: So, you were an art history professor, you happen to see a kid on a trip, and suddenly your life was changed forever?
Carol Wells: Yeah, I'm in Nicaragua alone in the living room with this kid. He's looking around, and all of a sudden, he sees the poster. It was pretty big, bright green, a thick outlines of a woman holding a big basket of coffee beans. And the text in Spanish said, "In constructing the new country, we are becoming the new woman." I see him walk over to the poster and I'm watching him mouth the words. It was a pretty sophisticated concept, so I doubt he figured it out. But I literally had this epiphany: "Oh my God. That's how posters work." You're going about your daily life, and all of a sudden something breaks through the bubble, and it grabs your attention. It's the graphic, it's the color, it's the combination, and it pulls you out of your head and into that poster and it makes you ask a question. "Why is this here? What is this about? What does this mean?" And every time you ask a question, you're a different person than you were before you asked the question.
How many posters do you get a year?
We get between two to five thousand a year donated from all over the world. The bulk of our collection is [from] 1945 and later.
I assume technology has probably hurt the art form, but has it helped get the messages out?
Most people think that, and it's actually not true. Since the internet age started, there's actually a poster renaissance of works on paper. Because you can't walk with your computer monitor in a demonstration. You can't plant your monitor on your lawn.
And you can't put a laptop on the wall…
Exactly. You want to hear a really great story? Truthdig.org published a cartoon [made by] a political cartoonist named Mr. Fish. It was during the Arab spring, and he had superimposed Che Guevara with the stylized beard and King Tut's face, but it had Che's beret. And it [was titled], "Walk like an Egyptian." So, it was a reference to the music, but [it was also] a reference to what was going on the streets of Cairo. I sent it out as our poster of the week to 9,000 people. The very next day, somebody took a photograph on the street of Cairo, with somebody holding a piece of paper with that image on it. A poster can literally go around the world and people will print it out.
What struck me in viewing your exhibits is how many of these posters could still be used today, not only artistically but also, sadly, in the timeliness of their messages.
We had this fabulous poster by Yolanda Lopez, a Bay Area artist, which she first did in 1978. It depicts a young man in Aztec garb pointing a finger like Uncle Sam saying, "Who's the illegal alien, PILGRIM?" And it's a great poster, it's simple, not too many words, funny, provocative. So, we had an exhibit at UCLA in the mid '90s and there were 4 or 5 high school students standing around this poster saying, "Wow, you've got posters up to the minute." And I went over to them and I said, "Look at the date. This is before you were born."
Is that one of your goals with the exhibitions? To show the evergreen nature of this work?
Absolutely. I mean that's why we did the police abuse exhibition now. It basically goes back five decades. It's 50 years of posters protesting police abuse. Mainly in the United States, but also internationally.
What's the goal for CSPG?
Well the aim right now is really to digitize the collection and get it online. We have 10% of the collection digitized. But the mission is to collect and to document, because stories get lost. All the exhibitions, they're showing massacres, they're showing genocide, they're showing police abuse, they're showing all of these horrible things. And people often ask me, "How can you look at this stuff all day long?" I said, "Because the poster artists are optimists. They believe people can change if they have the information."
Yes, that's the reason why they're doing it, right?
That's why they're doing it, and that's why I'm doing this, because I believe that people can change if they knew the truth.
And what happens 20, 50 years from now?
Well, my goal is to stay independent, because the other option is to become part of the university. Universities, for all the fabulous things that they do, they also censor. We did an exhibition at USC in 1992 on the 500 years since Columbus, and how the legacy of racism and exploitation and genocide continues. And one of the board of trustees was Italian and took [the exhibit] as an affront to Columbus. It really wasn't about Columbus, it was about colonialism. And he ordered it down.
Do you have a favorite poster?
I'm always amazed at the creativity and vision of artists. Every week I'll say, "Oh my God, how do they think of that?" But it's always still going to be the poster I saw that kid trying to figure out. It has to be my favorite one because that one changed my life.
What makes a perfect poster?
The right balance between aesthetics and message. If you only rely on the corporate press, the New York Times and L.A. Times, for your information, you're not going to get the side from the street, from the movement, from the activists. The posters are primary historical documents that are recording the issues that were at the time, and the passions that were at the time, and the divisions that were at the time. You're not going to get it anyplace else.
---
Copyright Capital & Main