Anaheim's Not-So Magic Kingdom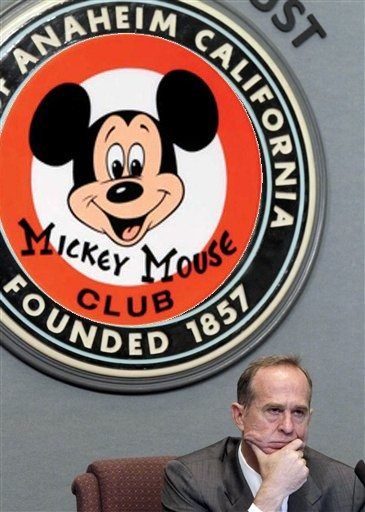 Tom Tait photo by Nick Ut/AP
New headlines have emerged almost daily in the explosive weeks following the death of Manuel Diaz, who was unarmed when Anaheim police shot him on July 21st.The night after Diaz's death, police shot and killed Joel Acevedo — the fifth  fatal officer-involved shooting in Anaheim this year. A city council meeting set for Wednesday afternoon (August 8th) at Anaheim High School's 1,300 seat auditorium is expected to be overflowing. The mayor, the police chief, angry residents—all make the news reports.
But Anaheim's most high-profile denizen has stayed out of the spot light. "The Mouse"– Disneyland and Disney Corporation – has wisely avoided taking a high-profile stand that would mix the Disney brand with news of conflict and racial strife in Anaheim, where tourism is king.
While Disney doesn't govern police policy (although some residents argue to the contrary, citing Disney's influence in the city), The Mouse does unquestionably wield major influence in shaping Anaheim's economic development gestalt, one of social inequality that keeps a low flame burning under simmering community tensions.
Anaheim's economy is based almost exclusively on tourism, and that particular workforce is largely Latino. In Orange County, where Disney is the largest employer, the median hourly wage for a housekeeper is $9.82 ($19,640 gross annual earnings based on a 50-week year); food preparation pays a median wage of $9.33 an hour ($18,660 gross) according to the California Employment Development Department. The average rate for a Disneyland Resort cashier is $21K, according to Careerbliss.com. (Disney did not respond to a request for information about its wage scales.)
Much has been written recently about the gulf between Anaheim's well-heeled neighborhoods and those home to the majority Latino population—many of whom are the children and grandchildren of immigrants. The Latino poverty rate in Anaheim hovers at 20 percent.
"If a city is oriented around one industry, one corporation, it squeezes out the needs of other neighborhoods in the city, certainly neighborhoods where Latino and working-class residents live," Eric Altman, Executive Director of Orange County Communities Organized for Responsible Development, said in a phone interview.
Anaheim city leaders have historically been anxious to cut Disney breaks since before the Magic Kingdom opened in 1955.
"Disneyland has essentially co-opted all industrial clout in the city, leaving Anaheim's government largely dependent on its survival to provide a strong base in tourism," Andrew Reovan , now an urban planner in Cambridge, Massachusetts, writes in his thesis analyzing Disney's influence on the local government in Anaheim.
Tax breaks and zoning support from the City of Anaheim has been the norm as Disney has created new resorts and hotels there. Anaheim even has a protected Disney territory: The Resort District, a 2.2 square mile area surrounding three Disney theme parks that was zoned in 1994 to exclude any development that is deemed to not support tourism.
A Disney-backed political force field surrounds it.
Support Our Anaheim Resort (SOAR) originated in 2008 as an Astroturf coalition designed to thwart a modest proposal: To build a 1,500-unit condo project in the Resort District that would have set aside 15 percent as affordable units. Disney bankrolled SOAR with $2 million. Then-Mayor Curt Pringle, a former California Republican Assemblyman and head of Pringle & Associates, a consulting firm that uses the many connections Pringle has garnered through years of politics to get deals done in OC and elsewhere, presided at the group's public launch.
The community coalition that fought for affordable housing included the union representing the Disney Resort workers who are unable to afford local housing at tourism industry wage scales. Many commute from as far away as Riverside and Victorville; others double up with other families in Anaheim's poor neighborhoods—the scene of the recent police shootings and unrest.
Political resistance and 2007's collapsing real estate market eventually scuttled the condo project.
Since then SOAR has blossomed, launching a political action committee in 2009 that backed three present city council members (two of whom, Gail Eastman and Kris Murray, are current SOAR advisory board members) based in part on the candidates' commitment to the Anaheim Resort District.
"Our political action committee is focused on electing resort-district-friendly officials, not just at City Hall but also county supervisors and state senators, anyone voting on matters that would affect the district," SOAR's executive director told the New York Times.
SOAR argues that tourism is an economic engine and the Resort District, only 5 percent of the city's land, generates 50 percent of city revenue.
Maybe so. But earlier this year city officials approved an outsized tax incentive for a developer building two luxury hotels in the Resort District across the street from Disneyland, a $283 million project. Anaheim suspended the 15 percent bed tax for 15 years, a subsidy of some $158 million.
No one is saying The Mouse is somehow responsible for the present Anaheim unrest, but you can argue that city leaders might look out for the good of all Anaheim residents instead of a training a single focus on the Biggest Employer In Town. And Disney might wield its influence on behalf of more equitable economic development now that the glaring disparities have been exposed. Could current events in Anaheim loosen The Mouse's grip? One of the council members originally backed by SOAR was Mayor Tom Tait—called the Unlikeliest Great Mayor in OC by Anaheim expert and OC Weekly editor Gustavo Arellano. Tait has called for federal investigations into the shooting of Manuel Diaz, has gone to visit and speak with neighbors on Anna Street near Diaz's home.
And Tait recently convened a meeting with Disney and Anaheim's sports teams to come up with programs for Anaheim's poorest neighborhoods.
According to the New York Times report the corporate participants at the meeting, including Disney executives, offered no comment about what emerged from the discussion.

'Skeleton Crew' Is a Play With a Moral Spine
Set in a Detroit automobile outfitting plant, Dominique Morisseau's drama grabs you from the start with its focus on blue-collar men and women, and their struggle for dignity and self-respect.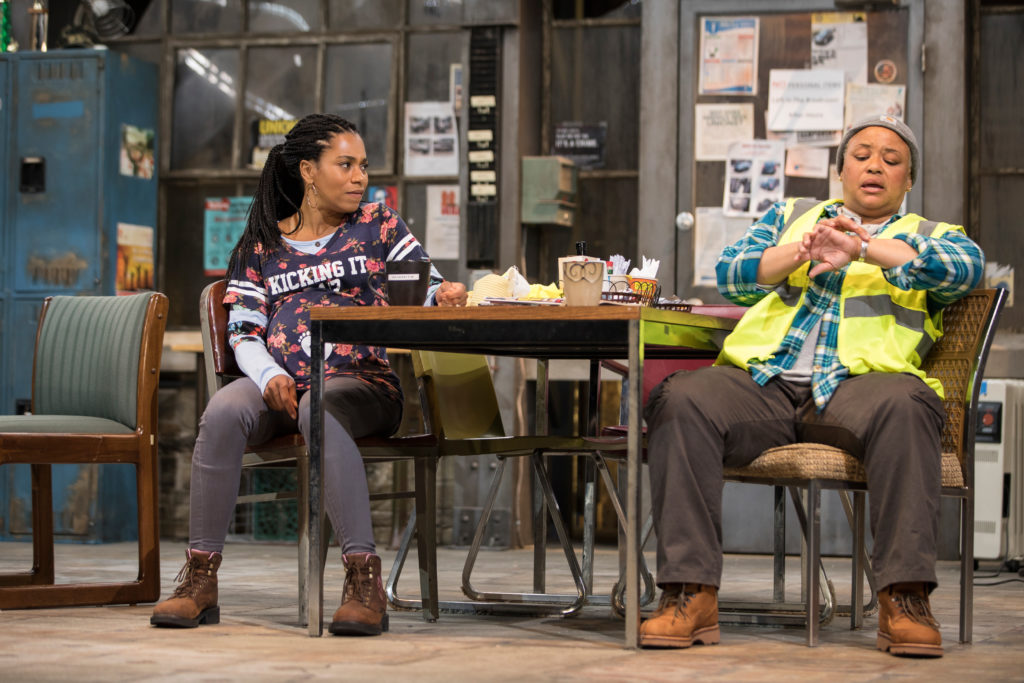 Working-class men and women of color are rarely front and center in today's media and, likewise, are presented all too occasionally on the American stage. So it's buoying to see that trend bucked in playwright Dominique Morisseau's percipient and well-crafted drama, Skeleton Crew. The play is the final installment in her Detroit  Project Trilogy; the first, Paradise Blue, is set in the 1940s amidst displacement caused by urban renewal and gentrification, while the second, Detroit '67, transpires on the eve of the 1967 Detroit riots sparked by a police action.
Directed by Patricia McGregor at Los Angeles' Geffen Playhouse, Skeleton Crew is a play with a moral spine. It takes place in 2008, when the shrinking U.S. auto industry is being further downsized. Morisseau's engaging quartet of characters — Faye (Caroline Stefanie Clay), Dez (Armari Cheatom), Shanita (Kelly McCreary) and Reggie (DB Woodside) – are employed at an automobile outfitting plant. Faye, Dez and Shanita are workers on the line while Reggie (who has a wife and kids, and has pulled himself together after a troubled youth) is their supervisor.
The first three customarily mingle in their break room (designer Rachel Myers' impressively cluttered, dingy and detailed set), trading the sort of familiar barbs and genuine concern for each other common among longtime co-workers. They also face off on philosophy: Upper-middle-aged Faye and the younger, pregnant Shanita take pride in their labor, while Dez, though a good worker, is a malcontent scornful of management and firm in the belief that everyone needs to watch out for himself. He's a thorn in Reggie's side, for while Reggie wants to be supportive of his workers, he must act at the behest of higher management. For his part, Dez resents Reggie's authority, and a palpable unease exists between them.
Besides this male matchup, we're made privy to Dez's attraction to Shanita, who mostly turns away his advances, but every now and then displays a hint of interest. Most poignant is Reggie's regard and affection for the lesbian Faye, which has roots in his boyhood when she loved, and lived, with his now-deceased mom.
These people's various predicaments intensify when rumors spread of the plant's shutdown — a disaster for all, but a particular calamity for the already near-broke Faye who, one year short of retirement, would lose her pension. The crisis forces each of these people to make a choice.
A sound piece of social realism, Skeleton Crew grabs you from the start in its focus on blue-collar men and women, and their struggle against odds for dignity and self-respect. Morisseau not only furnishes these characters a platform for their travails, she endows them with strong values, big hearts and the opportunity to choose between right and wrong.
Unfortunately, the performance I attended did not soar. Many exchanges lacked a fresh edge. The actors certainly had their characters down, but too often they appeared to be coasting on technique. (This seemed particularly true of Clay, who performed the role to great accolades in Washington, DC in 2017, also under McGregor's direction). Additionally, some of the stage movement was not entirely fluid; in confrontations, actors sometimes would just stand and face each other in an artificial way. And Cheatom's interpretation of Dez struck me as a bit overly churlish and depressive: I needed more glimpses of the intelligence and edge that would secretly attract the strong, self-directed Shanita.
The most compelling moments belong to Woodside, well-cast as a man trying his best in difficult circumstances to do the right thing.
---
Gil Cates Theater at the Geffen Playhouse, 10886 Le Conte Ave., Westwood Village; Tues.-Fri., 8 p.m.; Sat., 3 & 8 p.m. Sun., 2 & 7 p.m.; through July 8. (310) 208-5454 or www.geffenplayhouse.org