An Activist's Page-Turner
Last Saturday's commemoration of the 1963 March on Washington spotlighted the power of grassroots activism. But it was no exercise in nostalgia. Activists are pushing for social change across the nation, and I discuss dozens of these campaigns in my new book, The Activist's Handbook, Second Edition: Winning Social Change in the 21st Century, officially released today by UC Press. The book thoroughly revises and updates the 1996 edition, which the late Howard Zinn praised as "enormously valuable for anyone interested in social change." The new edition adds my analysis of the strategies used by social movements around immigration reform, gay and lesbian rights, the Keystone XL Pipeline, school "reform" and other campaigns that really took off in the past decade.
While some believe the past 15 years have weakened the power of grassroots activism against big moneyed interests, I disagree. In fact, in writing the new book I realized that activism has increased since the original edition, which preceded activists' widespread use of the Internet and social media. And today's grassroots campaigns involve core economic and social justice issues, from raising the wages of low-paid workers, to pushing for marriage equality, to providing a path to citizenship for over ten million undocumented immigrants. Winning progressive change has never been easy, which is why activists must use the strategies and tactics most likely to win.
"Fear and Loathing"
In the original edition of The Activist's Handbook I argued that a major obstacle to change is activists' failure to hold politicians accountable for campaign promises. I showed that, with some exceptions, activists have to inspire "fear and loathing" in politicians to get them to act.
The new edition allowed me to further prove this thesis by looking at Barack Obama's presidency. I analyze how the contrast between the approaches of activists pushing comprehensive immigration reform and those urging the repeal of the Defense of Marriage Act (DOMA) and Don't Ask, Don't Tell (DADT) provides vital support for the "fear and loathing" strategy.
My new book also shows how environmentalists and organized labor also took different approaches toward Obama and obtained markedly different results. The former's relentless pressure on Obama to reject the Keystone XL pipeline turned a "done deal" into a potentially game changing victory against climate change; in contrast, labor's failure to pressure the President on the Employee Free Choice Act (EFCA) resulted in unions spending over $200 million in the 2008 national elections without even getting a Senate vote on their top legislative priority.
Rising National Activism
When I wrote the original edition of The Activist's Handbook, activists were far more likely to be involved in neighborhood struggles than national campaigns. Now activists fly to various states to work on presidential contests, or make phone calls into swing states from lists provided by groups like MoveOn.org. The Internet, smartphones, Twitter, Instagram, Facebook and dozens of websites connect activists to national campaigns around immigration reform, Keystone, Trayvon Martin and other national struggles in a way that was not possible even a decade ago.
I discuss in my new book how teachers and parents have built a strong national campaign to resist the elite and corporate driven effort to privatize the nation's public schools. I also describe how the Tea Party "nationalized" a Town Hall strategy in August 2009 that not only set back health care reform but sparked the GOP takeover of the House in the November 2010 elections.
It's sounds hard to believe, but the influential national political mobilizing site DailyKos only began in 2002, and the Huffington Post and YouTube in 2005. Activists now have so many tools to connect to national campaigns that, as I point out in my new book, it is now state campaigns that need mobilizing help; that's why California's Courage Campaign is such an important model.
My new book shows that local activism remains strong. As San Francisco demonstrated in both its historic Section 504 disability rights protests and in reigniting the battle for marriage equality, acting locally can bring change nationally. And local and state activism is typically the best strategy for impacting Congress members, Senators and even a President; that's how environmental activists won the Clean Air Act fight and why the immigrant rights marches of spring 2006 were particularly powerful by their occurring in so many cities where such mass protests were unique.
Harnessing the Power of Online Activism
I also argue that while the Internet and social media have greatly expanded the activist toolkit, many activists and progressive organizations fail to effectively use these new tools. Too many use them as a substitute for traditional organizing or direct action, rather than as a supplement to such tried and true strategies.
I discuss in my new book how Van Jones and James Rucker used colorofchange.org to bring national attention to the mistreatment of five African-American students in the small town of Jena, Louisiana. Change.org did the same to bring attention to Trayvon Martin's killing. In both cases online activism was coupled with mobilizing on the ground, which is how new media tools are best used.
Yet a massive online petition around Ugandan Joseph Kony lacked such on-the-ground activism, and confused the underlying political issue. For too many activists the test has become the number of online signatures obtained on petitions rather than whether this strategy is actually furthering the underlying goal.
Past Victories Offer Roadmap for Success
I have always believed that successful activist campaigns provide a roadmap for future struggles. But the mainstream media rarely credits activists' movements with winning struggles against big moneyed interests. This has left many activists unaware of these victories and unable to use the lessons of these successes to their own struggles.
Young people new to activism often lack knowledge of past winning campaigns. That's why the new edition has a chapter chronicling successful student activism, whose rise in the past 15 years has largely been ignored by the traditional media.
Contrary to those who believe big money always win, I offer many examples of people and organizations winning social justice campaigns against overwhelming odds. I also show why potentially winning campaigns failed due to strategic errors.
If you enjoy my writing in BeyondChron, you will definitely find the book worthwhile. And please contact me after you read it to give your feedback. The new edition will hopefully build activists' enthusiasm for winning their own struggles, adding to their confidence that they too can harness grassroots power to win positive change.
The book is available from the UC Press website, Amazon, and from bookstores and other online retailers.
(Randy Shaw is Editor of BeyondChron, where this post first appeared. His post is republished with permission.)
The Power of the Poster
Carol Wells, the founder of the Center for the Study of Political Graphics in Los Angeles, talks to Capital & Main about the enduring power of political art.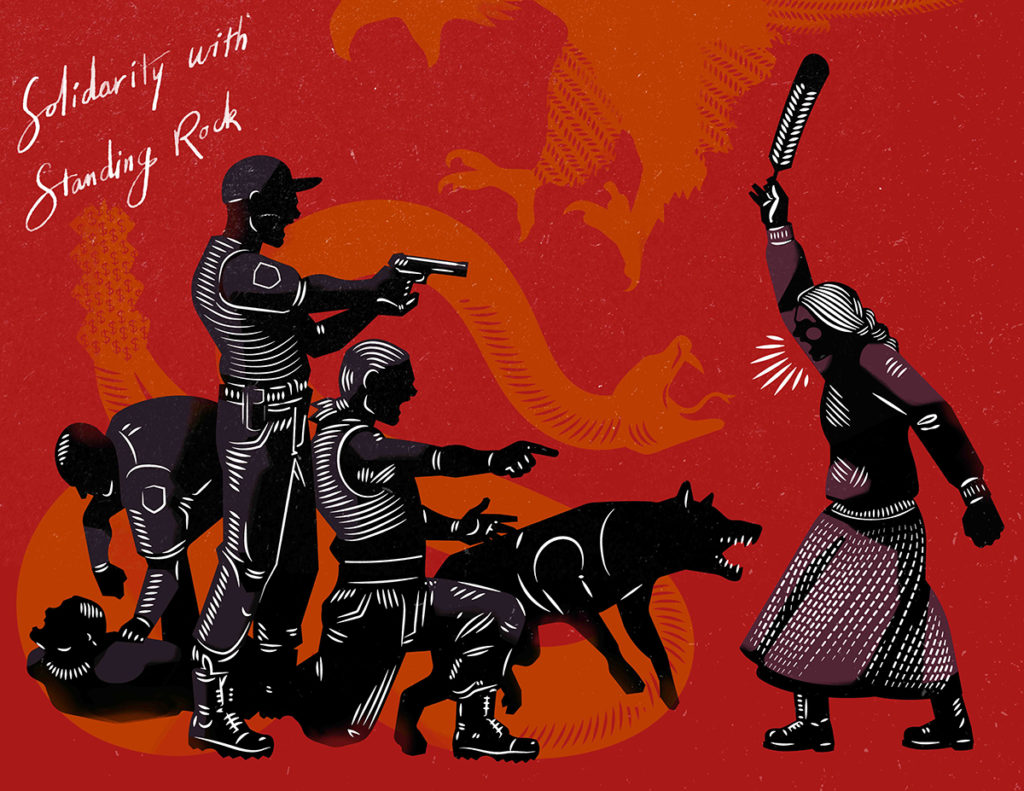 Carol Wells remembers the exact moment she discovered her calling. An art historian at the time, she was on a trip to Nicaragua with her friend David Kunzle, a UCLA art history professor, who was collecting political posters to add to his burgeoning collection. While staying with friends, Wells watched a neighbor's 8-year-old son approach a poster on the wall, stare at it intently, and then start to silently mouth the words. Wells was struck by how engaged the boy was. "In that moment I became obsessed with collecting posters."
Now over 40 years later, Wells is the founder and executive director of the Center for the Study of Political Graphics in Los Angeles. Wells has amassed approximately 90,000 posters, building one of the largest collections of its kind in the world. The Center shares its collection with the public in part through curated exhibits. This year the CSPG has produced Feminae: Typographic Voices of Women by Women and its latest is To Protect & Serve? Five Decades of Posters Protesting Police Violence, running through July 15 at the Mercado La Paloma in downtown Los Angeles.
Since that encounter in Nicaragua in 1981, Wells' obsession with collecting posters hasn't waned. In CSPG's nondescript West L.A. office space, Wells pulls out poster after poster, lecturing passionately on the backstory and cultural impact of each, including one that superimposes text from a New York Times interview with a shocking image of the My Lai massacre ("Q: And babies? A: And babies."). Recently, she managed to sit down with C&M to discuss her passion.
---
Capital & Main: So, you were an art history professor, you happen to see a kid on a trip, and suddenly your life was changed forever?
Carol Wells: Yeah, I'm in Nicaragua alone in the living room with this kid. He's looking around, and all of a sudden, he sees the poster. It was pretty big, bright green, a thick outlines of a woman holding a big basket of coffee beans. And the text in Spanish said, "In constructing the new country, we are becoming the new woman." I see him walk over to the poster and I'm watching him mouth the words. It was a pretty sophisticated concept, so I doubt he figured it out. But I literally had this epiphany: "Oh my God. That's how posters work." You're going about your daily life, and all of a sudden something breaks through the bubble, and it grabs your attention. It's the graphic, it's the color, it's the combination, and it pulls you out of your head and into that poster and it makes you ask a question. "Why is this here? What is this about? What does this mean?" And every time you ask a question, you're a different person than you were before you asked the question.
How many posters do you get a year?
We get between two to five thousand a year donated from all over the world. The bulk of our collection is [from] 1945 and later.
I assume technology has probably hurt the art form, but has it helped get the messages out?
Most people think that, and it's actually not true. Since the internet age started, there's actually a poster renaissance of works on paper. Because you can't walk with your computer monitor in a demonstration. You can't plant your monitor on your lawn.
And you can't put a laptop on the wall…
Exactly. You want to hear a really great story? Truthdig.org published a cartoon [made by] a political cartoonist named Mr. Fish. It was during the Arab spring, and he had superimposed Che Guevara with the stylized beard and King Tut's face, but it had Che's beret. And it [was titled], "Walk like an Egyptian." So, it was a reference to the music, but [it was also] a reference to what was going on the streets of Cairo. I sent it out as our poster of the week to 9,000 people. The very next day, somebody took a photograph on the street of Cairo, with somebody holding a piece of paper with that image on it. A poster can literally go around the world and people will print it out.
What struck me in viewing your exhibits is how many of these posters could still be used today, not only artistically but also, sadly, in the timeliness of their messages.
We had this fabulous poster by Yolanda Lopez, a Bay Area artist, which she first did in 1978. It depicts a young man in Aztec garb pointing a finger like Uncle Sam saying, "Who's the illegal alien, PILGRIM?" And it's a great poster, it's simple, not too many words, funny, provocative. So, we had an exhibit at UCLA in the mid '90s and there were 4 or 5 high school students standing around this poster saying, "Wow, you've got posters up to the minute." And I went over to them and I said, "Look at the date. This is before you were born."
Is that one of your goals with the exhibitions? To show the evergreen nature of this work?
Absolutely. I mean that's why we did the police abuse exhibition now. It basically goes back five decades. It's 50 years of posters protesting police abuse. Mainly in the United States, but also internationally.
What's the goal for CSPG?
Well the aim right now is really to digitize the collection and get it online. We have 10% of the collection digitized. But the mission is to collect and to document, because stories get lost. All the exhibitions, they're showing massacres, they're showing genocide, they're showing police abuse, they're showing all of these horrible things. And people often ask me, "How can you look at this stuff all day long?" I said, "Because the poster artists are optimists. They believe people can change if they have the information."
Yes, that's the reason why they're doing it, right?
That's why they're doing it, and that's why I'm doing this, because I believe that people can change if they knew the truth.
And what happens 20, 50 years from now?
Well, my goal is to stay independent, because the other option is to become part of the university. Universities, for all the fabulous things that they do, they also censor. We did an exhibition at USC in 1992 on the 500 years since Columbus, and how the legacy of racism and exploitation and genocide continues. And one of the board of trustees was Italian and took [the exhibit] as an affront to Columbus. It really wasn't about Columbus, it was about colonialism. And he ordered it down.
Do you have a favorite poster?
I'm always amazed at the creativity and vision of artists. Every week I'll say, "Oh my God, how do they think of that?" But it's always still going to be the poster I saw that kid trying to figure out. It has to be my favorite one because that one changed my life.
What makes a perfect poster?
The right balance between aesthetics and message. If you only rely on the corporate press, the New York Times and L.A. Times, for your information, you're not going to get the side from the street, from the movement, from the activists. The posters are primary historical documents that are recording the issues that were at the time, and the passions that were at the time, and the divisions that were at the time. You're not going to get it anyplace else.
---
Copyright Capital & Main