An Activist's Page-Turner
Last Saturday's commemoration of the 1963 March on Washington spotlighted the power of grassroots activism. But it was no exercise in nostalgia. Activists are pushing for social change across the nation, and I discuss dozens of these campaigns in my new book, The Activist's Handbook, Second Edition: Winning Social Change in the 21st Century, officially released today by UC Press. The book thoroughly revises and updates the 1996 edition, which the late Howard Zinn praised as "enormously valuable for anyone interested in social change." The new edition adds my analysis of the strategies used by social movements around immigration reform, gay and lesbian rights, the Keystone XL Pipeline, school "reform" and other campaigns that really took off in the past decade.
While some believe the past 15 years have weakened the power of grassroots activism against big moneyed interests, I disagree. In fact, in writing the new book I realized that activism has increased since the original edition, which preceded activists' widespread use of the Internet and social media. And today's grassroots campaigns involve core economic and social justice issues, from raising the wages of low-paid workers, to pushing for marriage equality, to providing a path to citizenship for over ten million undocumented immigrants. Winning progressive change has never been easy, which is why activists must use the strategies and tactics most likely to win.
"Fear and Loathing"
In the original edition of The Activist's Handbook I argued that a major obstacle to change is activists' failure to hold politicians accountable for campaign promises. I showed that, with some exceptions, activists have to inspire "fear and loathing" in politicians to get them to act.
The new edition allowed me to further prove this thesis by looking at Barack Obama's presidency. I analyze how the contrast between the approaches of activists pushing comprehensive immigration reform and those urging the repeal of the Defense of Marriage Act (DOMA) and Don't Ask, Don't Tell (DADT) provides vital support for the "fear and loathing" strategy.
My new book also shows how environmentalists and organized labor also took different approaches toward Obama and obtained markedly different results. The former's relentless pressure on Obama to reject the Keystone XL pipeline turned a "done deal" into a potentially game changing victory against climate change; in contrast, labor's failure to pressure the President on the Employee Free Choice Act (EFCA) resulted in unions spending over $200 million in the 2008 national elections without even getting a Senate vote on their top legislative priority.
Rising National Activism
When I wrote the original edition of The Activist's Handbook, activists were far more likely to be involved in neighborhood struggles than national campaigns. Now activists fly to various states to work on presidential contests, or make phone calls into swing states from lists provided by groups like MoveOn.org. The Internet, smartphones, Twitter, Instagram, Facebook and dozens of websites connect activists to national campaigns around immigration reform, Keystone, Trayvon Martin and other national struggles in a way that was not possible even a decade ago.
I discuss in my new book how teachers and parents have built a strong national campaign to resist the elite and corporate driven effort to privatize the nation's public schools. I also describe how the Tea Party "nationalized" a Town Hall strategy in August 2009 that not only set back health care reform but sparked the GOP takeover of the House in the November 2010 elections.
It's sounds hard to believe, but the influential national political mobilizing site DailyKos only began in 2002, and the Huffington Post and YouTube in 2005. Activists now have so many tools to connect to national campaigns that, as I point out in my new book, it is now state campaigns that need mobilizing help; that's why California's Courage Campaign is such an important model.
My new book shows that local activism remains strong. As San Francisco demonstrated in both its historic Section 504 disability rights protests and in reigniting the battle for marriage equality, acting locally can bring change nationally. And local and state activism is typically the best strategy for impacting Congress members, Senators and even a President; that's how environmental activists won the Clean Air Act fight and why the immigrant rights marches of spring 2006 were particularly powerful by their occurring in so many cities where such mass protests were unique.
Harnessing the Power of Online Activism
I also argue that while the Internet and social media have greatly expanded the activist toolkit, many activists and progressive organizations fail to effectively use these new tools. Too many use them as a substitute for traditional organizing or direct action, rather than as a supplement to such tried and true strategies.
I discuss in my new book how Van Jones and James Rucker used colorofchange.org to bring national attention to the mistreatment of five African-American students in the small town of Jena, Louisiana. Change.org did the same to bring attention to Trayvon Martin's killing. In both cases online activism was coupled with mobilizing on the ground, which is how new media tools are best used.
Yet a massive online petition around Ugandan Joseph Kony lacked such on-the-ground activism, and confused the underlying political issue. For too many activists the test has become the number of online signatures obtained on petitions rather than whether this strategy is actually furthering the underlying goal.
Past Victories Offer Roadmap for Success
I have always believed that successful activist campaigns provide a roadmap for future struggles. But the mainstream media rarely credits activists' movements with winning struggles against big moneyed interests. This has left many activists unaware of these victories and unable to use the lessons of these successes to their own struggles.
Young people new to activism often lack knowledge of past winning campaigns. That's why the new edition has a chapter chronicling successful student activism, whose rise in the past 15 years has largely been ignored by the traditional media.
Contrary to those who believe big money always win, I offer many examples of people and organizations winning social justice campaigns against overwhelming odds. I also show why potentially winning campaigns failed due to strategic errors.
If you enjoy my writing in BeyondChron, you will definitely find the book worthwhile. And please contact me after you read it to give your feedback. The new edition will hopefully build activists' enthusiasm for winning their own struggles, adding to their confidence that they too can harness grassroots power to win positive change.
The book is available from the UC Press website, Amazon, and from bookstores and other online retailers.
(Randy Shaw is Editor of BeyondChron, where this post first appeared. His post is republished with permission.)

'Skeleton Crew' Is a Play With a Moral Spine
Set in a Detroit automobile outfitting plant, Dominique Morisseau's drama grabs you from the start with its focus on blue-collar men and women, and their struggle for dignity and self-respect.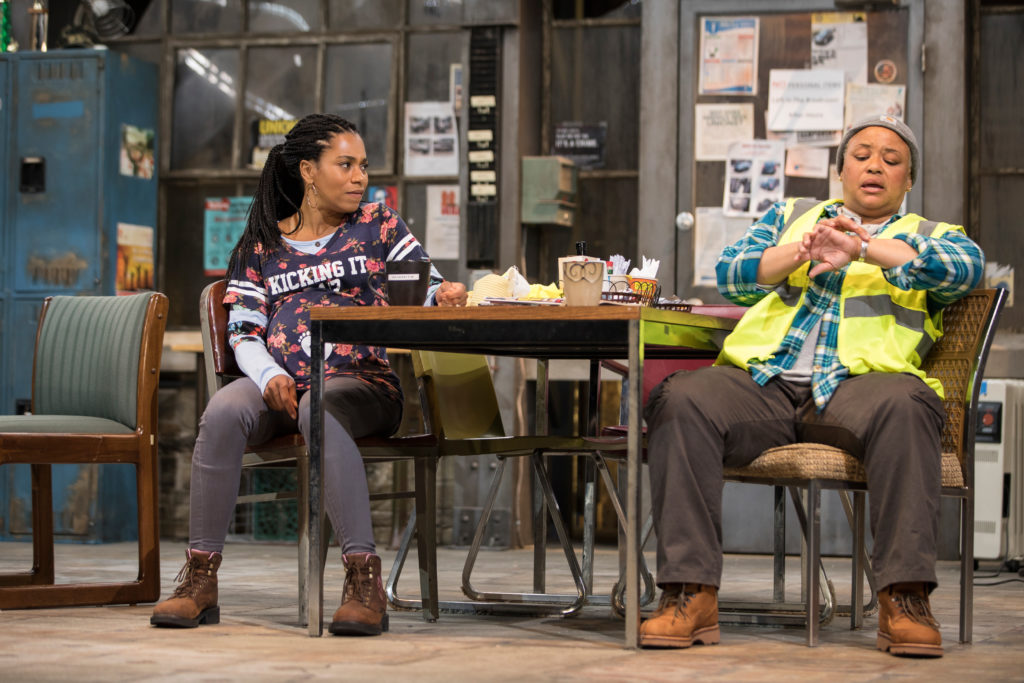 Working-class men and women of color are rarely front and center in today's media and, likewise, are presented all too occasionally on the American stage. So it's buoying to see that trend bucked in playwright Dominique Morisseau's percipient and well-crafted drama, Skeleton Crew. The play is the final installment in her Detroit  Project Trilogy; the first, Paradise Blue, is set in the 1940s amidst displacement caused by urban renewal and gentrification, while the second, Detroit '67, transpires on the eve of the 1967 Detroit riots sparked by a police action.
Directed by Patricia McGregor at Los Angeles' Geffen Playhouse, Skeleton Crew is a play with a moral spine. It takes place in 2008, when the shrinking U.S. auto industry is being further downsized. Morisseau's engaging quartet of characters — Faye (Caroline Stefanie Clay), Dez (Armari Cheatom), Shanita (Kelly McCreary) and Reggie (DB Woodside) – are employed at an automobile outfitting plant. Faye, Dez and Shanita are workers on the line while Reggie (who has a wife and kids, and has pulled himself together after a troubled youth) is their supervisor.
The first three customarily mingle in their break room (designer Rachel Myers' impressively cluttered, dingy and detailed set), trading the sort of familiar barbs and genuine concern for each other common among longtime co-workers. They also face off on philosophy: Upper-middle-aged Faye and the younger, pregnant Shanita take pride in their labor, while Dez, though a good worker, is a malcontent scornful of management and firm in the belief that everyone needs to watch out for himself. He's a thorn in Reggie's side, for while Reggie wants to be supportive of his workers, he must act at the behest of higher management. For his part, Dez resents Reggie's authority, and a palpable unease exists between them.
Besides this male matchup, we're made privy to Dez's attraction to Shanita, who mostly turns away his advances, but every now and then displays a hint of interest. Most poignant is Reggie's regard and affection for the lesbian Faye, which has roots in his boyhood when she loved, and lived, with his now-deceased mom.
These people's various predicaments intensify when rumors spread of the plant's shutdown — a disaster for all, but a particular calamity for the already near-broke Faye who, one year short of retirement, would lose her pension. The crisis forces each of these people to make a choice.
A sound piece of social realism, Skeleton Crew grabs you from the start in its focus on blue-collar men and women, and their struggle against odds for dignity and self-respect. Morisseau not only furnishes these characters a platform for their travails, she endows them with strong values, big hearts and the opportunity to choose between right and wrong.
Unfortunately, the performance I attended did not soar. Many exchanges lacked a fresh edge. The actors certainly had their characters down, but too often they appeared to be coasting on technique. (This seemed particularly true of Clay, who performed the role to great accolades in Washington, DC in 2017, also under McGregor's direction). Additionally, some of the stage movement was not entirely fluid; in confrontations, actors sometimes would just stand and face each other in an artificial way. And Cheatom's interpretation of Dez struck me as a bit overly churlish and depressive: I needed more glimpses of the intelligence and edge that would secretly attract the strong, self-directed Shanita.
The most compelling moments belong to Woodside, well-cast as a man trying his best in difficult circumstances to do the right thing.
---
Gil Cates Theater at the Geffen Playhouse, 10886 Le Conte Ave., Westwood Village; Tues.-Fri., 8 p.m.; Sat., 3 & 8 p.m. Sun., 2 & 7 p.m.; through July 8. (310) 208-5454 or www.geffenplayhouse.org