Randy Shaw's The Activist's Handbook is a book with legs. First published in the early 1990s, it has now been updated as a guide to "winning social change" in the new millennium. If you're a long distance runner in any U.S. social movement—or trying to figure out how to become one—this is the training manual for your team.
The appearance of a second edition has given the California-based author and community organizer a chance to expand upon the case studies he utilized in the initial edition, adding new material about protest activity not yet stirring two decades ago. The eclectic mix of older and new material makes the information and advice that Shaw dispenses even more useful to organizers of all types. His latest Handbook examines "new strategies, tactics, issues and grassroots campaigns and revisits whether activists have learned from past mistakes."
The ground covered includes fights for better housing and tenant rights, neighborhood preservation and safer cities, affordable higher education, fair treatment of immigrants and AIDS victims, "sweat-free" manufacturing, gay and lesbian rights. The author analyzes, in very ecumenical fashion, many different arenas for political work, including state and local ballot initiatives, legislative lobbying, running for office, direct action, litigation and media campaigns.
One particularly helpful thread is Shaw's exploration of how modern-day insurgents are utilizing "social media and other new tools to achieve their goals and how new media can be best connected to traditional organizing and 'old media' strategies." His chapters on "Winning More Than Coverage" and "Maximizing the Power of Online Activism" provide a thoughtful survey of how the PR terrain for public interest work has been transformed from its "pre-Internet, pre-social media days," creating "enormous opportunities and formidable challenges."
Shaw reminds readers that "new-media tools do not change the activist rule that 'media coverage alone is not enough.'" He warns against too much tinkering with a "YouTube video that few swing voters will see" or over-reliance on websites "that fail as a communication and mobilization vehicle" because "old school campaign tactics" have been neglected in the meantime.
Shaw is a lawyer (one of the good ones) and co-founder of the Tenderloin Housing Clinic. Launched when he was a law student, the 33-year-old THC is now San Francisco's leading provider of permanent housing for homeless single adults. From a small store-front operation, providing advice to tenants, the group has grown to a (unionized) staff of nearly 250. They administer a range of innovative programs and services, while continuing to struggle against neighborhood gentrification and joust, when needed, with local politicians and developers.
Shaw also operates a lively on-line alternative news source and blog called Beyond Chron, which covers books, politics, culture, community organizing and other subjects of interest to left-leaning residents of the Bay Area and beyond. (In the interests of full disclosure, I should note that I am a Beyond Chron contributor on labor topics.)
Drawing on his personal experience with THC-related campaigns, Shaw tallies up, in fairly candid fashion, the successes and setbacks of advocates for the homeless nationally and locally. He also devotes an entire chapter, with wider application, to the question of whether lawyers are "allies or obstacles to social change?" With a telling anecdote from early in his career, Shaw illustrates the sometimes problematic role of legal advisors (and top union officials) in settings where direct action is in the offing:
As the demonstration approached, I observed a renewed sense of vigor and excitement among the hotel tenants…I also learned that the legal- aid attorneys had called a tenants' meeting for the night before the demonstration. Apparently, the hotel owner was once again appearing reasonable and was now interested in negotiating. The attorneys, who had kept their distance from the proposed demonstration, felt that holding the event would jeopardize the possibility of a negotiated settlement.
Anyone who's ever had to fight having the rug pulled out from under them–and people they were working with, in similar circumstances—will relate to the denouement of this familiar story. In their successful bid to get the protest called off, Shaw notes that "the attorneys did not emphasize that the landlord had so far agreed to nothing," plus had a history of "promising compromise, only to renege." The cancellation proved deflating for the tenants. Now, "they were again reduced to passive participation in the ongoing drama affecting their lives. They had lost a sense of personal empowerment and, more critically, a sense of unity."
Throughout his new version of the book, Shaw does a consistently good job of categorizing, in general, what works and what doesn't and why. For example, in his dissection of the strengths and weaknesses of the "tactical activism" of Occupy Wall Street, he praises Occupiers, far and wide, for having "the audacity to launch a national debate about income inequality that still shapes public attitudes about the nation's commitment to economic fairness and equal opportunity for all." Yet, despite the enduring brilliance of Occupy's framing of the problem (aka "the 1 percent versus the 99 percent"), the movement itself became bogged down, he believes, in a defensive crouch. "Occupy's preoccupation with preserving its public encampments reflected its shift from a proactive approach."
In Oakland, where OWS succeeded in promoting a "general strike" that brought 10,000 marchers into the streets in November, 2011, its organizational culture was not always sufficiently welcoming of non-fulltime activists. "A process that required people to attend meetings deep into the night did not work for those with family responsibilities or other work commitments, "Shaw notes. "In fact, it skewed decision-making to a small segment of 'the 99 percent' that had time to attend hours of outdoor meetings on work nights."
One of the Handbook's most compelling new case studies involves the successful organizing by young immigrants after Congress failed to legalize those who came to the U.S. as children and ended up in college or seeking jobs, but still without papers. According to Shaw, proponents of the DREAM Act did not give up after broader immigration reform efforts stalled. Even when legislation to address their own precarious legal situation was thwarted in the lame-duck session of the still Democrat-controlled Congress in late 2010, they did not despair either. Instead, they escalated their direct action campaign, based on the calculation that they "could still achieve something close to the DREAM Act by appealing to someone who was depending on Latino votes to secure his re-election: President Obama."
In June, 2012, DREAM Activists began sit-ins in Obama campaign offices in more than a dozen cities; their goal was an executive order that would end the deportation threat for DREAMers, even if risking arrest raised the stakes immensely for those directly involved and now coming out as undocumented. The "student activists willingness to adopt a 'by all means necessary' approach" had the desired effect on Obama.
His administration unveiled a "Deferred Action for Childhood Arrivals" program that implemented much of the DREAM Act administratively. This new policy grants work permits and a two-year renewable right to stay in the country to an estimated one million "young undocumented immigrants who can now live openly and work in their chosen fields."
What's changed for the better in the several decades that Shaw has been observing grassroots organizing for progressive causes? According to the author, there is plenty of room for optimism—and not just among DREAMers. "Today's activists feel more confident because the Internet has exposed a vast world of social change activism that traditional media gate-keepers once excluded." He cites several examples of progress being made, even if the ultimate objective has yet to be achieved, under the Obama Administration at least.
He believes the gay rights movement should take particular pride in going from "pushing Democratic presidential primary candidates to back state recognition of same sex 'civil unions' in 2004, to getting President Barack Obama to publicly endorse gay marriage only eight years later." On the environmental front, "green activists transformed a 'done deal' to build the Keystone XL pipeline into a national grassroots campaign and a litmus test for the nation's commitment to combating climate change."
Shaw sums up the formula for "overcoming all obstacles" in any electoral season or under any national administration, Democrat or Republican, as follows:
create proactive agendas, establish fear-and-loathing relationships with elected officials, seek coalitions with ideologically diverse constituencies when necessary, strive to align the media with the cause and understand how to use direct action and the courts….
Most important of all, never forget "that neither politicians nor political parties are the prime movers for progressive change."
With that checklist for change and a wealth of accompanying detail about individual campaigns, there are few modern-day iterations of Saul Alinsky's Rules for Radicals more instructive than Randy Shaw's Activist's Handbook. Read Alinsky's book first, then Shaw's and then, as all those email in-box appeals say, "get active!"
(Steve Early has been active in the labor movement since 1972 and is the author of Save Our Unions: Dispatches From a Movement in Distress. His review comes to us from BeyondChron, via Social Policy. Republished here with permission.)

Rick Scott Super PAC Donations Challenge Federal Anti-Corruption Rule
Co-published by Fast Company
The Florida governor led a group that raked in cash from Wall Street firms after Scott's administration gave them pension deals.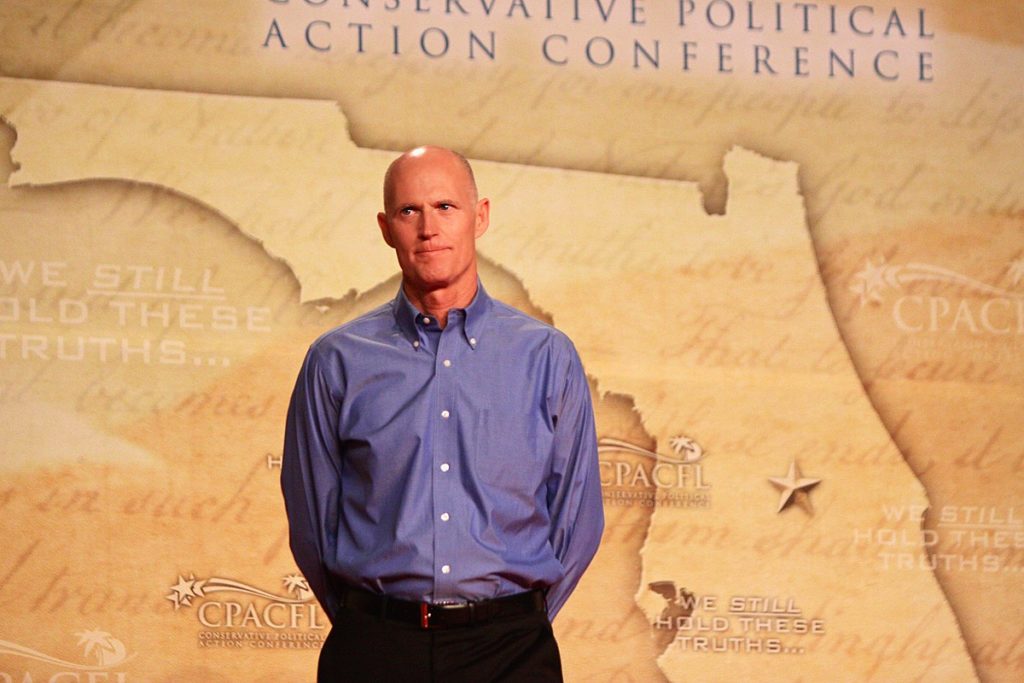 Co-published by Fast Company
A super PAC led by Florida Gov. Rick Scott raked in donations from two private equity executives after Scott's administration directed lucrative state pension investments to their firms, according to government records reviewed by MapLight and Capital & Main.
The donations were made to a committee that's now supporting Scott's U.S. Senate bid, despite a federal rule designed to prevent financial firms from bankrolling the election campaigns of public officials who oversee state pension investments.
Scott, a Republican, began chairing the New Republican PAC in May 2017 and announced his former campaign manager would serve as its executive director. Soon after, the group received $5,000 from New Mountain Capital Chief Executive Officer Steve Klinsky and $50,000 from Energy Capital Partners founder Douglas Kimmelman.
The contributions flowed to the super PAC after New Mountain Capital and Energy Capital Partners received a combined $250 million worth of new investment commitments from Florida's state pension system in 2014 and 2015. Scott is one of three state officials who oversee the $160 billion pension system. During the most recent fiscal year, the Florida investments generated more than $3 million in fees for the firms.
A 2010 Securities and Exchange Commission (SEC) rule prohibits firms from receiving investment fees from public pension systems if their executives donate campaign cash to pension overseers like Scott. SEC officials aimed to prevent investment decisions from being shaped by political influence.
But the commission didn't explicitly bar donations to "independent" political groups, unless the donations were deliberately designed to circumvent the restrictions. And it hasn't addressed whether a state official can lead a super PAC that received donations from firms with pension business and later be supported by the super PAC.
John Kuczwanski, a spokesperson for the Florida State Board of Administration, told MapLight/Capital & Main that Florida's first investments in the two private equity firms happened in 2005 and 2009, and he said Scott had nothing to do with new investments during his governorship, which started in 2011.
"The [state's] initial relationships with both managers predate Governor Scott's time in office," said Kuczwanski, whose agency manages the day-to-day operations of the pension system. "Neither the trustees, nor their appointed investment advisory council members are involved in the investment manager/fund selection process."
Scott's campaign and the super PAC did not respond to questions from MapLight/Capital & Main. New Mountain Capital and Energy Capital Partners did not return requests for comment.
Energy Capital recently completed the purchase of Calpine, whose natural gas power plant near Tampa is regulated by Scott's appointees at the Florida Public Service Commission. Kimmelman, who is now a director of Calpine, also donated $35,000 in 2017 to the National Republican Senatorial Committee, which is backing Scott's Senate campaign.
"A Very Clear Case"
Under the SEC rule — which GOP state parties have tried to overturn — investment executives are not prohibited from donating to independent political groups. But the rule allows regulators to apply restrictions to donations that are deliberately routed through third parties in order to support public officials — a situation that critics argue is happening with Scott and his super PAC.
After the governor announced his Senate bid last week, New Republican PAC's website began promoting his candidacy. End Citizens United, a Democratic-leaning political action committee based in Washington, DC, filed a complaint alleging that Scott has violated Federal Election Commission rules and is using the super PAC, which can accept unlimited donations, to evade contribution limits. Scott's campaign says he stepped down as New Republican PAC's chair in February.
In writing the original rule, SEC officials noted that while they could not restrict all donations to political action committees, contributions to third parties "may effectively operate as a funnel to the campaigns of the government officials." They said the final rule "prohibits acts done indirectly, which, if done directly, would violate the rule."
One ethics expert said that those anti-circumvention provisions should apply to the donations to Scott's super PAC.
"This appears to be a very clear case of close coordination and circumvention of the pay-to-play rule," said Craig Holman, an ethics lobbyist at the government watchdog group Public Citizen. "This is something that I'd like the SEC to pay attention to."
"No Loopholes"
The SEC has only occasionally enforced the pay-to-play rule, and the agency hasn't applied the provisions dealing with third parties to donations to super PACs. Because Scott is a sitting governor who can influence pension investments, he is covered by the rule, which has hampered the fundraising of past governors who tried to run for federal office.
A spokesman for former Texas Gov. Rick Perry's presidential campaign said the rule prevented him from raising enough money to be competitive in the 2012 race. Bloomberg reported that during the same election cycle, then-New Jersey Gov. Chris Christie was rejected as the vice presidential nominee, partly because Republicans feared the rule would prevent them from raising money from Wall Street firms that do business with his state's pension system.
"There is no way around it, and there are no loopholes," said Bill Palatucci, Christie's longtime advisor.
Even so, in recent years the rule has not deterred financial executives from donating to groups that help lawmakers who can influence pension investments. Financial executives whose firms received New Jersey and New Mexico investments continued to donate to the Republican Governors Association (RGA) when Christie and New Mexico Gov. Susana Martinez led the group. During the 2016 election cycle, executives at firms managing state pension money donated nearly $1.3 million to the GOP association, even as the group boosted the campaigns of Republican governors with power over state pension investments.
Last year, U.S. Sen. Tom Udall, D-N.M., called for the SEC to apply the pay-to-play rule to outside groups "to ensure that no one is able to circumvent these laws by using super PACs, dark money groups or other campaign spending vehicles." The RGA has argued that because it funds multiple candidates and does not allow donors to earmark contributions for particular races, it can accept donations from firms with investment business that can be influenced by individual governors. The SEC said in 2016 that donations to outside political groups "are independent expenditures that do not trigger" the rule.
"So long as the PAC faithfully observes the requirement to operate independently of candidates, a contribution to a super PAC will not trigger the [rule], even if the super PAC supports a covered official," Sam Brown, a former advisor to Federal Election Commissioner Ellen Weintraub, wrote in 2016. "Super PACs are increasingly being used in novel ways, and it remains to be seen whether these changes will result in increased circumvention risks."
---
This story is a collaboration between MapLight and Capital & Main.