A Detention Center Vigil Defies La Migra
Over the years, vigils at one immigrant-detention center in Richmond, California have changed, with some churches providing sanctuary to migrant families threatened with deportation, and raising funds for bonds and other forms of emergency support for detainees.

Paola, after the phone call
---
All Photographs by David Bacon
---
Paola was standing outside the West County Detention Facility, a prison in Richmond, California for 150 to 300 people awaiting deportation, when she got the phone call.  She'd been fearing it for days.  Florencio, her husband, was in another detention center in Arizona, calling to tell her that la migra (immigration agents) had caught him in the desert, walking north with a dozen others.
Paola (not her real name) hadn't spoken to Florencio for several weeks, not since the day before he crawled into the luggage compartment of a bus in Puebla in southern Mexico.  The bus, he hoped, would take him close to the U.S. border.
It had already been a harrowing journey for himself and Paola's brother Lorenzo.  "After we left Guatemala and crossed the river into Mexico, we wound up in a kind of camp in Chiapas," Florencio recalls. "There were hundreds of people there." When the day to leave on the long trip north finally arrived, the coyotes running the camp organized a kind of shape up.  It was not that different from the stories told by an earlier generation of migrants, the braceros (contract farm laborers), who remember being herded together at Mexican way stations, inspected and shipped to the border between 1942 and 1964.
Vigil participant
"Different coyotes called us by numbers, separating us into groups," Florencio says.  "Then they put 80 or 90 of us into the back of a truck.  There was so little space we had to stand pushed up against each other like sardines.  It was a bumpy ride, and soon people began to get sick and faint, especially the pregnant women.  They stopped the truck and gave us pills and lemons, but people were already throwing up and the smell was terrible."
The ride resumed, but after 12 hours the people inside began to bang on the walls.  Hearing the noise, the driver pulled over.  "He let us out and told us to run around a little," Florencio says.  "Then we got back in, and it was another 12 hours."  When the truck got to Puebla, Florencio called Paola to tell her he was coming.
During the vigil organized by Mujeres Unidas y Activas
He got through the next stage from Puebla hidden in the luggage compartment of a bus.  That took him to Sonora.  There, in a house near the border, the group faced another obstacle.  "The mafia guys came and told us they controlled this territory, and we had to pay another $1,000 to get to the line to cross," Florencio says. "Some of us knew this would happen, and we'd already paid the coyote. I don't know what happened to the others.  Soldiers came, but they didn't see any problems, and let us keep moving."
Not having money to pay at this stage could have been fatal.  In the last decade mass graves of migrants have been discovered across the desert of Mexico's northern states.  Many guess that these were migrants too broke to pay the toll.  Perhaps others were robbed and then killed.
For Florencio's group, actually crossing the line wasn't the big problem.  It was getting to a place north of it, where they could get picked up by a van to take them to Phoenix.  To get to the meeting place, they had to walk three days in the heat through rocks, sand and sagebrush.  "On the third day one boy from my hometown got pains in his stomach, and began fainting," Florencio says. "At first I said we had to stay with him, but the coyote said we had to leave him and that the Border Patrol would find him.  If we stayed we'd all be caught."
Paola and Teresa
In the end, that's what happened anyway.  The group passed across a freeway, but then Florencio began hearing helicopters.  They all ran.  He tried hiding under a bush, but an agent on a motorcycle found him.  He was taken to a detention center close by.  When he called Paola, it was the day of the monthly vigil in front of the West County Detention Facility in Richmond, nearly 900 miles north.
"I was there with people from the church who were helping us," Paola remembers.  "We'd been praying for people they knew who were inside, and we began singing.  Then my cell phone rang.  I was so afraid of getting that call, but I knew what it would be.  Then they were praying for me."  She collapsed into the arms of a church member next to her, both of them weeping.
Teresa
At the end of the detention center vigil, the people assembled there clap, shout and make enough noise that the detainees inside can hear them.  "We want them to know we're here, that someone knows they're inside, and that our community cares what happens to them," explains Reverend Deborah Lee, director of the Interfaith Movement for Human Integrity (IM4HI).  "When we started in 2011 our idea was to put out a call to people of faith and conscience concerned about what was happening to immigrants, to bear witness and provide a way for them to act on that concern."
On the first Saturday of the month, a church or congregation brings its members to the center to bear witness.  For an hour they speak out, much in the style of a Quaker meeting, remembering migrants who've suffered as a result of U.S. policies of detention and deportation.  They sing, pray, make impassioned political speeches condemning the immorality of the center looming behind them, and talk about the reasons why people are forced into migrating to begin with.
As the years have gone by, the vigils have changed.  At first they were made up mostly of congregations from progressive, middle-class churches. Then some of those churches went from hosting vigils to providing sanctuary to migrant families threatened with deportation.  Churches have raised funds for bonds and emergency support, found housing and rides for released detainees, and accompanied newcomer families.  "Accompaniment," a term used by faith and solidarity activists, came out of efforts to protect activists in El Salvador from the death squads in the 80s.  People show their solidarity with those who are in danger by accompanying them, physically or by helping them survive.  Today it's applied to migrants as well – activists support a family by giving them sanctuary, helping them find food and shelter, getting them legal help.
As sanctuary congregations have multiplied to 32 throughout the Bay Area, migrants themselves have increasingly participated in the vigils.  "We always include testimony from directly impacted families as well as a call to action," Lee adds.  "We started very small–15 to 20–and now it's averaging 100 people."
Rev. Deborah Lee
Berkeley's St. John's Presbyterian Church helped Paola and her mother, who fled violence in Guatemala in 2014, gain refugee status.  The family then came to the vigil at the West County Detention Facility to speak out.  "Because these families are with us, they provide a first-hand account of why they were forced to leave home,"Lee said at the vigil, urging other congregations to get involved. "We hear the pain of the separation of their families in their voices and see it in their eyes."
St. John's was one of the first churches to give sanctuary to immigrants.  "In the early 1980s we saw people fleeing the wars in El Salvador and Nicaragua, and felt we had to do something to help them," says Fred Goff, a member of the congregation who brought Teresa and Paola to the vigil.
The vigils have grown to involve more than people of faith.  Some have been organized by immigrant community organizations, like Mujeres Unidas y Activas, which organizes immigrant working women in San Francisco and the East Bay.  Local high schools and colleges have organized others, and a Jewish congregation, Kehilla Community Synagogue, has started its own vigil on second Sundays.  When workers at a local foundry were fired for not having immigration papers, Lee and the East Bay Interfaith Immigration Coalition began meeting with them in the Lutheran Church near the University of California, Berkeley campus, working with a labor/community coalition called the East Bay Alliance for a Sustainable Economy (EBASE).  A few workers came to a vigil, and people of faith helped organize a community march and hunger strike to protest anti-immigrant firings.
During the vigil organized by Mujeres Unidas y Activas
After hearing from people like Teresa and Paola, Rev. Lee and IM4HI began holding meetings throughout the Bay Area to talk about the reasons for forced displacement and migration, and for the growth of the detention and deportation industry.  For two years she's organized delegations to Central America together with La Fundación SHARE, to support social justice movements there, and to give congregations in California a first-hand experience of the reasons why people leave home.
Over many Saturdays, the vigils have provided a way for activists to reach out to people inside the center as well.  On a recent Saturday, Lourdes Barraza and her daughters Sofia, Isabel and Anna, waited to hear news of Fernando, her husband and the girls' father.  The following Tuesday would be Fernando's birthday, and he'd already spent three months inside, staring at the concrete walls of his cell.
Reverend Pablo Morataya gathered members of his congregation at the First Hispanic Presbyterian Church in east Oakland, a sanctuary congregation, as well as other pastors and lay ministers serving immigrant congregations throughout the Bay Area.  They went to the detention center to hold a vigil for Fernando.  "There are risks," Pastor Morataya says, "but for us it is a calling of our faith."
Rev. Pablo Morataya comforts Lourdes Barraza
At the vigil for Fernando, one of Lourdes' daughters had written birthday greetings on a large card, and placed it on an overturned milk crate covered with a cloth.  First one boy stepped forward and signed it.  Then two older congregants did the same.  Finally a line stretched out of people adding their names and greetings.
Despite the support and greetings for Lourdes and her daughters, it was still an awful experience to think of Fernando inside.  They'd tried to arrange bail for him so that he would be able to come home.  "But they told me he didn't qualify because he'd already been deported once," Lourdes explained. "He's been living in this country for many years.  He is not a threat to society. All he does is work, and all I do is work, too.  I don't know how we'll survive without him.  I need my husband and the girls need their father."
She broke down and began crying.
Lourdes Barraza speaks out in front of the detention center
In October Fernando was dropping off the youngest of their three daughters at her daycare center in San Jose.  As he pulled away from the curb, he saw he was being followed by the vehicles that figure in the nightmares of millions of immigrants–the green cars of la migra.
He must have wondered whether he could run for it, and what that might mean for his family.  He decided instead to pull into a shopping mall parking lot.  The ICE agents jumped out of their cars, put him in cuffs, and took him to a detention center.  When he was finally able to call his home, all he could do was leave a message:  "Don't worry. I am not going to get deported right away; just stay calm."
Quick deportation was indeed a big danger.  Fernando had been deported in 2012, Lourdes recalled. He was picked up on a Friday and in Tijuana by the following Sunday.  But he came back because she was here.  His family, his life — all were in San Jose, not Tijuana.  Like Paola and Florencio, the bonds of love and life would not and could not be denied.
To ICE, however, being deported once before makes you a criminal subject to jail and to their euphemism for deportation–"removal."  Since October Fernando has been imprisoned in the West County Detention Facility, nearly 60 miles from San Jose.  When he appealed to be released on bail, ICE field director David Jennings refused.
"I could not believe it was all happening again," Lourdes told Cindy Knoebell, a volunteer for Community Initiatives for Visiting Immigrants in Confinement (CIVIC).  "I told our daughters that their father had been detained and they completely broke down sobbing. My oldest is now on an independent study program because she can barely get out of bed in the morning. It is tough because I am alone now and have to take care of my daughters' needs without any help.  I am completely consumed by fear and anxiety. I worry constantly about how long I'll be able to keep a roof over our heads."
A daughter thinking about her father
Knoebell reports that Lourdes debated for a long time whether to come to the vigil and speak.  She'd heard about many other families facing the same disaster.  "But we have nothing to be ashamed of," she said.
Inside the detention center the monthly noise has not only let Fernando know there are supporters outside.  It has also encouraged detainees to begin protesting what they say are terrible conditions.
The West County Detention Facility is housed in a much larger jail, one of four Contra Costa County lockups.  Its official capacity is 1,096 people, of whom 150 to 300 are detainees in the facility run by ICE, which pays $6 million a year to the county for using it.  Some immigration detainees are held because ICE says they're in the country illegally.  Others are asylum seekers who are detained immediately on arrival in the U.S. or legal residents with past offenses (often very minor ones) that makes them deportable.
So they await a hearing before an immigration judge.  That hearing, however, is not the normal courtroom procedure one might imagine.  The judge sits in a room in the ICE building on Sansome Street in San Francisco.  The immigrant sits in a room at the detention center in Richmond.  The hearing takes place over the Internet.  If immigrants have a lawyer, their chances of staying in the U.S. are better, but odds are not good even then.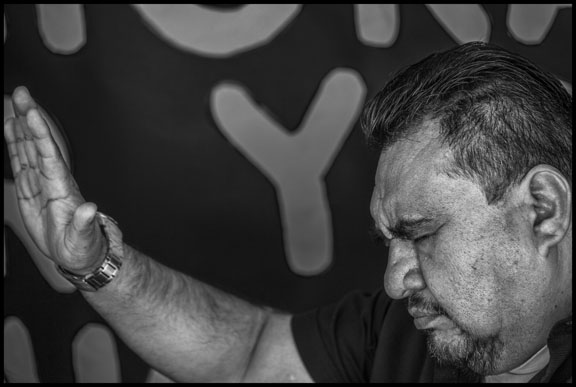 A vigil participant shows support for the people inside
People like Fernando wait, while weeks stretch into months and even years.
In October the immigration detainees went public about what that waiting is like.  In a letter written to CIVIC by one of the prisoners, Nancy Meyer, and signed by 27 others, women described being held in cells for 23 hours a day.  While regular inmates in the county jail section of the facility get classes and other resources, the immigration detainees don't.
The cells are grouped in pods, with a bathroom that is supposed to serve them all.  There are no toilets in the cells.  If the cell door is locked, a prisoner has to ask to be let out in order to go to the bathroom.  While Contra Costa County Sheriff David Livingston says doors are normally open, the women signing the letter denied this.  Instead, they charged, they're told to "hold it" and have to urinate or defecate into plastic bags.
One detainee told immigration Judge Joseph Park in October that she that she preferred being deported to staying in the jail.  In a phone interview with San Francisco Chronicle reporter Otis R. Taylor, Dianny Patricia Menendez said detainees put the plastic bags over a trash can in order to go to the bathroom.  Their one hour of free time to make calls to family or take a shower is often canceled, she added.
ICE did not respond to the allegations of bad conditions.  However, Taylor wrote that the detainees who spoke with him were later punished by being denied soap, shampoo and the chance to brush their teeth.

Immigrant women supporting each other
Senator Dianne Feinstein was one of several elected officials to protest.  She wrote acting ICE director Thomas Homan in December, saying, "It has been reported that the conditions are so deplorable that detainees are requesting deportation over pursuing claims in immigration court."  Criticism also came from U.S. Rep. Mark DeSaulnier (D-Richmond), State Senator Nancy Skinner (D-Berkeley), Assemblyman Tony Thurmond (D-Richmond), Contra Costa County Supervisor John Gioia and Richmond Mayor Tom Butt.
Outside the West County jail, a few minutes after Paola got the call from Florencio saying he'd been caught, she got a second one that frightened her even more.  Her brother Lorenzo was hiding in a small community between Tucson and the border.  He'd been traveling with Florencio, but the coyotes separated them in northern Sonora.
Holding hands is part of the vigil ritual
Once across the border, Lorenzo lost his own group, and a friendly resident gave him temporary refuge in a garage.  Terrified that the Border Patrol, which was constantly circulating in the area, would find him, he called Teresa.  At the vigil, church members began making calls to Arizona, trying to find help.  Finally a person was contacted who drove down from Tucson and rescued him.
It was only a temporary respite, however.  Not long afterwards Lorenzo was picked up and deported.  When he calls Teresa and Paola these days, it's from Guatemala once again.
Since Florencio had tried to cross the border twice before and had been caught, he wasn't deported immediately when he was picked up in Arizona.  Instead, he was charged in the special court for immigrants in Tucson, Operation Streamline.  Afterwards he spent seven months in an Arizona prison before finally being released on bail while he appeals his deportation order.
To Rev. Lee, the stories of Florencio, Lorenzo and Fernando, with their repeated attempts to cross the border to reunite with their families, are a natural human response to separation.  She cited another example in an opinion piece she cowrote with Bob Lane, a faith leader at EBASE, for the San Jose Mercury News.  "Consider the story of Alfonso Martinez Sanchez, a 39-year-old father of five U.S. citizen children and his family's main breadwinner, she wrote. "Five years ago, a trip to a store to buy milk led to a senseless deportation. Alfonso repeatedly tried to come home to his family.  Wouldn't you?  The Border Patrol arrested Alfonso several times, but he never gave up on his family. He died of heatstroke in the desert trying to reunite."
When Rev. Lee thinks about what's happened to Paola and Teresa, to Florencio and Lorenzo, to Lourdes and her three children, to Fernando, it's clear to her that for them to survive people have to act.  "We can't just watch the immigration policy of this country play itself out and do nothing, while ICE and the Border Patrol hunt people down and tear their families apart," she said at a recent vigil.  "The administration talks about our efforts to protect people and fight this detention system as though this was just a state or a city passing a law to defy their enforcement efforts.  What they don't understand is that these laws exist because our community is making a moral commitment and acting on it, and our representatives are responding to that.  Sanctuary isn't just a law.  It's our community defending people in danger."
Sanctuary is a vigil in front of the detention center.

California Lawyers Strategize to Save Targeted Immigrants
Attorneys are gearing up for an intensification of a brutal, two-year fight to protect immigrant communities from an increasingly punitive federal government and its enforcement agencies.

Since Donald Trump's election in 2016, immigrant-rights attorneys have been waging a furious rearguard action to protect immigrants and would-be immigrants from a race-baiting federal administration. The last couple of months have been particularly ferocious.
In April, the Trump administration embraced a "zero tolerance" policy against those crossing the southern border without papers, a decision that resulted in the separation of thousands of children from their parents. It also slowed to a crawl the processing of asylum claims, locking out thousands of asylum seekers who have been left encamped in Mexico. It continued to largely shut U.S. doors to refugees – barely a few dozen Syrian refugees have been admitted into the U.S. in the first half of 2018. It continued the roll back of temporary protected status for more than half a million U.S. residents. And it has made clear it intends to lock legal immigrants out of a vast array of public services. In June, the Supreme Court upheld Trump's Muslim travel ban, paving the way for the president to claim a national security prerogative for an array of anti-immigrant and discriminatory policies.
Here in California, attorneys across the state are gearing up for an intensification of an already brutal, two-year fight to protect immigrant communities from an increasingly punitive federal government and its enforcement agencies.
Capital & Main interviewed five leading immigrant-rights attorneys about their legal strategies and their predictions as to how these struggles will play out in California, and nationally — with California continuing to take the lead in efforts to resist the swing to xenophobia — over the coming months and years.
---
Capital & Main: Are we at the nadir now, nationally, vis-à-vis immigration policy?
Judy London, directing attorney for Public Counsel's Immigrants' Rights Project in Los Angeles: How low can our government get? It keeps getting lower than anyone thought. The meanness, the complete disregard for human rights is staggering. And the sophistication in trying to eliminate every remedy. The illegality of what they're doing is stunning. Pre-Trump, we could advocate and reach out to human beings in government. We didn't always prevail, but we prevailed a lot.
Kevin Johnson, Dean of the University of California, Davis Law School: We're seeing a series of skirmishes on immigration that reveal some fundamental problems with our immigration laws. We still haven't been able to come to a consensus about the kinds of compromises immigration reform might entail. It has to deal with the undocumented, with legal immigration and with some kind of enforcement devices – like workplace enforcement. I view all these things as part of the bigger problem and inability to agree on reform. We're currently at a place where we can't have rational and unemotional discussions about the hard issues.
C&M: Let's not forget that many of the harsh government actions towards immigrants, especially those without documents arriving from Central America, began under President Obama. Is this simply more of the same or is it qualitatively different?
Holly Cooper, co-director of the Immigration Law Clinic at UC Davis, and co-counsel in Flores v. Sessions (a case that limited the amount of time children caught crossing the border could spend in detention facilities): We had predictability under Obama. Now there's just a huge level of unpredictability. Obama was very hard on women and children arriving as asylum seekers. He had family separation; we had to litigate that. [But] we could kind of tell what his priorities were and develop strategies for the long term. Now, it's a war on everything, and we never know when the next executive order will come down.
DACA [Deferred Action for Childhood Arrivals] was beneficial, but a limited recourse for young people. Trump's tried to take that away. It's still under heavy litigation. There's also the travel ban. Immigration advocates are under a constant hyper-vigilance. I never felt like I was always responding to a massive crisis under Obama.
Judy London: Post-2014, there [has been] a great deal of success getting foundations to fund legal services for unaccompanied minors. Right now we represent 180 unaccompanied minors. And we've done a lot of work around protections for immigrant children, both in the DACA context and [with] asylum seekers amongst the unaccompanied children. They have more access to lawyers than families released from detention, who land in L.A. and literally are sleeping on Skid Row. We have a team of about 12 people serving unaccompanied minors released from shelters.
C&M: How do you respond to the huge crisis created not only by neglectful treatment of unaccompanied minors, but also by the recent deliberate wholesale separation of parents from children along the border?
Judy London: We're going to see all kinds of different lawsuits. The scope is new — there's going to be a lot of law created. It's just a matter of time before a child dies in custody or is raped. There is absolutely no plan for how to manage detaining families and children. They have no idea what they're doing. There's very much the banality of evil. It is breathtaking.
C&M: There are so many fires to try to put out at the moment. What, for you, are the most urgent?
Holly Cooper: For children's detention, in the short term we have a plan to defend the Flores settlement agreement. There's been an executive order where Trump has told the government to modify it so he can create internment camps. [On June 21] they filed an ex parte motion to modify the agreement, even though the judge already decided the issue in 2015. It was upheld by the Ninth Circuit. Now they're saying things have changed and the decision has led to more immigration. We don't believe it has. They don't provide any evidence. Most people are telling me they are migrating to protect their children from death. I've never met an immigrant who said, "I migrated with my child so I wouldn't be detained." To say someone from the highlands of Guatemala understands the Flores settlement is pretty far-fetched.
We have one girl, a client, [who] crossed the border, was traumatized when she was separated from her siblings, had a psychotic breakdown and was put in a residential psychiatric treatment center. At the time, she was 15. We're even hearing reports there are kids as young as 6 this is happening to. We've had reports from the American Bar Association that the kids are so traumatized they're being sedated. The government has told us they believe they have the authority to medicate children. We're getting reports 300 parents can't find their children in Texas. There may be more. It's the kind of stuff that keeps you up at night. I can't sleep.
Stephen Kang, detention attorney with the American Civil Liberties Immigrants' Rights Project, based in San Francisco: There's so much work to be done. There's been such activity in this administration to roll back protections for immigrants and take an extreme enforcement-oriented position to immigration. We're in year two, and it doesn't look that much better than year one. My role as a litigator is mitigating this. I view it as part of a broader movement of folks mobilizing around immigrant-rights issues. It's important to remember the Muslim ban was an executive decision. Congress still has the power to override it. I think there's hope in the sense that there's going to be individual and potentially systemic cases.
C&M: Does being in California, with a legislature and an attorney general sympathetic to immigrants, help you here?
Kevin Johnson: The attorney general of California understands that the more [federal] policies are at the edge, the more lawsuits you're going to see. Over the next six months we'll see challenges to the legality of indefinite detention; it's an issue the Supreme Court recently bounced back to the Ninth Circuit, in Jennings v. Rodriguez. We'll return to DACA rescission and a lot of fights over sanctuary legislation.
Holly Cooper: When you put the state in as well, that's helpful. We can pool our ideas — the more brains behind something, the better your legal case is. That can have an effect on the judiciary. Judges are now very, very receptive to granting more creative forms of relief.
Anoop Prasad, senior staff attorney at the Asian Law Caucus' Immigrant-Rights Program: One of the biggest challenges is the Justice Department lawsuit against California's sanctuary policy — the series of laws putting limits on the way California cooperates with immigration officers.
C&M: Do you think the Justice Department challenge will succeed?
Anoop Prasad: It seems like it is going to get dismissed, [though] I'm sure they will appeal it up. It's going to be a fairly slow process working its way up to the Supreme Court. We're looking at three-plus years of litigation. It seems unlikely the district court judge will issue an injunction. So, the laws will stand. State and local jurisdictions have a lot of tools [with which] to push back on deportations – because the deportation machine has been built on state and local law enforcement.
The primary driver of internal deportations is local law enforcement. ICE is picking up most people because they have some contact with local law enforcement, and there is a very high level of electronic information sharing. California's sanctuary policy says it's up to them to say, "No, we're not going to cooperate." Also, ICE's detention system is spread over hundreds of facilities; very few are federally owned. California passed a law restricting the abilities of local sheriffs to rent future space to ICE. The goal is to make it as hard on ICE as possible, to push back. Long-term, we must think about chipping away at, and dismantling, this really awful system of deportation we've built over the past couple of decades.
C&M: Does the Supreme Court's upholding of the travel ban, which uses national security arguments to bar visitors and immigrants from several Muslim-majority countries, open the door to broader bans? And if so, how will immigrant-rights attorneys in the state respond?
Kevin Johnson: This president likes to poke the bear every day on immigration. Just this weekend, he tweeted something about deporting people without hearings. It's not legal — you can't just summarily deport people. This is a time when lawyers can really make a difference – organizations, and the attorney general of California, who understand that the only way to deal with ignorance of the rule of law is to file lawsuits. Resort to the courts — bring lawsuits, get injunctions stopping illegal executive orders going into place. The next step will be to challenge them [national security executive orders] and show they are not legitimate. They are arbitrary and capricious, possibly motivated by discriminatory intent. We're going to see things being slowed down. The public outrage with pictures of family separations really touched a chord and got this president to change his mind. The thing with this president, it took him three times to get the travel ban maybe right. It's not like they're technicians who take the time to get things right.
Anoop Prasad: It's very important for lawyers to bear witness. In terms of the ban, there are challenges that are still available. It's not a complete blank check he has. [But Trump] may try and abuse his power even more, and inch toward broader and broader bans. It's quite possible he'll attempt to add more countries to the ban. I'd assume he would be sued again.
---
Copyright Capital & Main