A Detention Center Vigil Defies La Migra
Over the years, vigils at one immigrant-detention center in Richmond, California have changed, with some churches providing sanctuary to migrant families threatened with deportation, and raising funds for bonds and other forms of emergency support for detainees.

Paola, after the phone call
---
All Photographs by David Bacon
---
Paola was standing outside the West County Detention Facility, a prison in Richmond, California for 150 to 300 people awaiting deportation, when she got the phone call.  She'd been fearing it for days.  Florencio, her husband, was in another detention center in Arizona, calling to tell her that la migra (immigration agents) had caught him in the desert, walking north with a dozen others.
Paola (not her real name) hadn't spoken to Florencio for several weeks, not since the day before he crawled into the luggage compartment of a bus in Puebla in southern Mexico.  The bus, he hoped, would take him close to the U.S. border.
It had already been a harrowing journey for himself and Paola's brother Lorenzo.  "After we left Guatemala and crossed the river into Mexico, we wound up in a kind of camp in Chiapas," Florencio recalls. "There were hundreds of people there." When the day to leave on the long trip north finally arrived, the coyotes running the camp organized a kind of shape up.  It was not that different from the stories told by an earlier generation of migrants, the braceros (contract farm laborers), who remember being herded together at Mexican way stations, inspected and shipped to the border between 1942 and 1964.
Vigil participant
"Different coyotes called us by numbers, separating us into groups," Florencio says.  "Then they put 80 or 90 of us into the back of a truck.  There was so little space we had to stand pushed up against each other like sardines.  It was a bumpy ride, and soon people began to get sick and faint, especially the pregnant women.  They stopped the truck and gave us pills and lemons, but people were already throwing up and the smell was terrible."
The ride resumed, but after 12 hours the people inside began to bang on the walls.  Hearing the noise, the driver pulled over.  "He let us out and told us to run around a little," Florencio says.  "Then we got back in, and it was another 12 hours."  When the truck got to Puebla, Florencio called Paola to tell her he was coming.
During the vigil organized by Mujeres Unidas y Activas
He got through the next stage from Puebla hidden in the luggage compartment of a bus.  That took him to Sonora.  There, in a house near the border, the group faced another obstacle.  "The mafia guys came and told us they controlled this territory, and we had to pay another $1,000 to get to the line to cross," Florencio says. "Some of us knew this would happen, and we'd already paid the coyote. I don't know what happened to the others.  Soldiers came, but they didn't see any problems, and let us keep moving."
Not having money to pay at this stage could have been fatal.  In the last decade mass graves of migrants have been discovered across the desert of Mexico's northern states.  Many guess that these were migrants too broke to pay the toll.  Perhaps others were robbed and then killed.
For Florencio's group, actually crossing the line wasn't the big problem.  It was getting to a place north of it, where they could get picked up by a van to take them to Phoenix.  To get to the meeting place, they had to walk three days in the heat through rocks, sand and sagebrush.  "On the third day one boy from my hometown got pains in his stomach, and began fainting," Florencio says. "At first I said we had to stay with him, but the coyote said we had to leave him and that the Border Patrol would find him.  If we stayed we'd all be caught."
Paola and Teresa
In the end, that's what happened anyway.  The group passed across a freeway, but then Florencio began hearing helicopters.  They all ran.  He tried hiding under a bush, but an agent on a motorcycle found him.  He was taken to a detention center close by.  When he called Paola, it was the day of the monthly vigil in front of the West County Detention Facility in Richmond, nearly 900 miles north.
"I was there with people from the church who were helping us," Paola remembers.  "We'd been praying for people they knew who were inside, and we began singing.  Then my cell phone rang.  I was so afraid of getting that call, but I knew what it would be.  Then they were praying for me."  She collapsed into the arms of a church member next to her, both of them weeping.
Teresa
At the end of the detention center vigil, the people assembled there clap, shout and make enough noise that the detainees inside can hear them.  "We want them to know we're here, that someone knows they're inside, and that our community cares what happens to them," explains Reverend Deborah Lee, director of the Interfaith Movement for Human Integrity (IM4HI).  "When we started in 2011 our idea was to put out a call to people of faith and conscience concerned about what was happening to immigrants, to bear witness and provide a way for them to act on that concern."
On the first Saturday of the month, a church or congregation brings its members to the center to bear witness.  For an hour they speak out, much in the style of a Quaker meeting, remembering migrants who've suffered as a result of U.S. policies of detention and deportation.  They sing, pray, make impassioned political speeches condemning the immorality of the center looming behind them, and talk about the reasons why people are forced into migrating to begin with.
As the years have gone by, the vigils have changed.  At first they were made up mostly of congregations from progressive, middle-class churches. Then some of those churches went from hosting vigils to providing sanctuary to migrant families threatened with deportation.  Churches have raised funds for bonds and emergency support, found housing and rides for released detainees, and accompanied newcomer families.  "Accompaniment," a term used by faith and solidarity activists, came out of efforts to protect activists in El Salvador from the death squads in the 80s.  People show their solidarity with those who are in danger by accompanying them, physically or by helping them survive.  Today it's applied to migrants as well – activists support a family by giving them sanctuary, helping them find food and shelter, getting them legal help.
As sanctuary congregations have multiplied to 32 throughout the Bay Area, migrants themselves have increasingly participated in the vigils.  "We always include testimony from directly impacted families as well as a call to action," Lee adds.  "We started very small–15 to 20–and now it's averaging 100 people."
Rev. Deborah Lee
Berkeley's St. John's Presbyterian Church helped Paola and her mother, who fled violence in Guatemala in 2014, gain refugee status.  The family then came to the vigil at the West County Detention Facility to speak out.  "Because these families are with us, they provide a first-hand account of why they were forced to leave home,"Lee said at the vigil, urging other congregations to get involved. "We hear the pain of the separation of their families in their voices and see it in their eyes."
St. John's was one of the first churches to give sanctuary to immigrants.  "In the early 1980s we saw people fleeing the wars in El Salvador and Nicaragua, and felt we had to do something to help them," says Fred Goff, a member of the congregation who brought Teresa and Paola to the vigil.
The vigils have grown to involve more than people of faith.  Some have been organized by immigrant community organizations, like Mujeres Unidas y Activas, which organizes immigrant working women in San Francisco and the East Bay.  Local high schools and colleges have organized others, and a Jewish congregation, Kehilla Community Synagogue, has started its own vigil on second Sundays.  When workers at a local foundry were fired for not having immigration papers, Lee and the East Bay Interfaith Immigration Coalition began meeting with them in the Lutheran Church near the University of California, Berkeley campus, working with a labor/community coalition called the East Bay Alliance for a Sustainable Economy (EBASE).  A few workers came to a vigil, and people of faith helped organize a community march and hunger strike to protest anti-immigrant firings.
During the vigil organized by Mujeres Unidas y Activas
After hearing from people like Teresa and Paola, Rev. Lee and IM4HI began holding meetings throughout the Bay Area to talk about the reasons for forced displacement and migration, and for the growth of the detention and deportation industry.  For two years she's organized delegations to Central America together with La Fundación SHARE, to support social justice movements there, and to give congregations in California a first-hand experience of the reasons why people leave home.
Over many Saturdays, the vigils have provided a way for activists to reach out to people inside the center as well.  On a recent Saturday, Lourdes Barraza and her daughters Sofia, Isabel and Anna, waited to hear news of Fernando, her husband and the girls' father.  The following Tuesday would be Fernando's birthday, and he'd already spent three months inside, staring at the concrete walls of his cell.
Reverend Pablo Morataya gathered members of his congregation at the First Hispanic Presbyterian Church in east Oakland, a sanctuary congregation, as well as other pastors and lay ministers serving immigrant congregations throughout the Bay Area.  They went to the detention center to hold a vigil for Fernando.  "There are risks," Pastor Morataya says, "but for us it is a calling of our faith."
Rev. Pablo Morataya comforts Lourdes Barraza
At the vigil for Fernando, one of Lourdes' daughters had written birthday greetings on a large card, and placed it on an overturned milk crate covered with a cloth.  First one boy stepped forward and signed it.  Then two older congregants did the same.  Finally a line stretched out of people adding their names and greetings.
Despite the support and greetings for Lourdes and her daughters, it was still an awful experience to think of Fernando inside.  They'd tried to arrange bail for him so that he would be able to come home.  "But they told me he didn't qualify because he'd already been deported once," Lourdes explained. "He's been living in this country for many years.  He is not a threat to society. All he does is work, and all I do is work, too.  I don't know how we'll survive without him.  I need my husband and the girls need their father."
She broke down and began crying.
Lourdes Barraza speaks out in front of the detention center
In October Fernando was dropping off the youngest of their three daughters at her daycare center in San Jose.  As he pulled away from the curb, he saw he was being followed by the vehicles that figure in the nightmares of millions of immigrants–the green cars of la migra.
He must have wondered whether he could run for it, and what that might mean for his family.  He decided instead to pull into a shopping mall parking lot.  The ICE agents jumped out of their cars, put him in cuffs, and took him to a detention center.  When he was finally able to call his home, all he could do was leave a message:  "Don't worry. I am not going to get deported right away; just stay calm."
Quick deportation was indeed a big danger.  Fernando had been deported in 2012, Lourdes recalled. He was picked up on a Friday and in Tijuana by the following Sunday.  But he came back because she was here.  His family, his life — all were in San Jose, not Tijuana.  Like Paola and Florencio, the bonds of love and life would not and could not be denied.
To ICE, however, being deported once before makes you a criminal subject to jail and to their euphemism for deportation–"removal."  Since October Fernando has been imprisoned in the West County Detention Facility, nearly 60 miles from San Jose.  When he appealed to be released on bail, ICE field director David Jennings refused.
"I could not believe it was all happening again," Lourdes told Cindy Knoebell, a volunteer for Community Initiatives for Visiting Immigrants in Confinement (CIVIC).  "I told our daughters that their father had been detained and they completely broke down sobbing. My oldest is now on an independent study program because she can barely get out of bed in the morning. It is tough because I am alone now and have to take care of my daughters' needs without any help.  I am completely consumed by fear and anxiety. I worry constantly about how long I'll be able to keep a roof over our heads."
A daughter thinking about her father
Knoebell reports that Lourdes debated for a long time whether to come to the vigil and speak.  She'd heard about many other families facing the same disaster.  "But we have nothing to be ashamed of," she said.
Inside the detention center the monthly noise has not only let Fernando know there are supporters outside.  It has also encouraged detainees to begin protesting what they say are terrible conditions.
The West County Detention Facility is housed in a much larger jail, one of four Contra Costa County lockups.  Its official capacity is 1,096 people, of whom 150 to 300 are detainees in the facility run by ICE, which pays $6 million a year to the county for using it.  Some immigration detainees are held because ICE says they're in the country illegally.  Others are asylum seekers who are detained immediately on arrival in the U.S. or legal residents with past offenses (often very minor ones) that makes them deportable.
So they await a hearing before an immigration judge.  That hearing, however, is not the normal courtroom procedure one might imagine.  The judge sits in a room in the ICE building on Sansome Street in San Francisco.  The immigrant sits in a room at the detention center in Richmond.  The hearing takes place over the Internet.  If immigrants have a lawyer, their chances of staying in the U.S. are better, but odds are not good even then.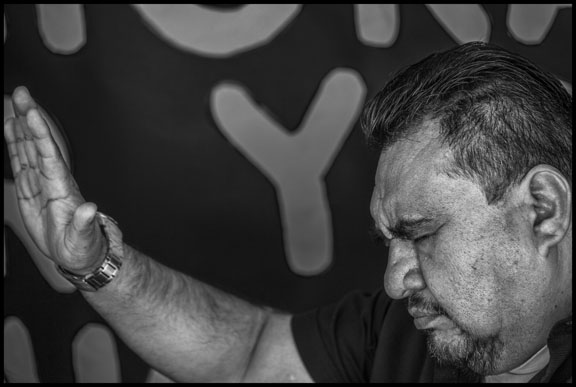 A vigil participant shows support for the people inside
People like Fernando wait, while weeks stretch into months and even years.
In October the immigration detainees went public about what that waiting is like.  In a letter written to CIVIC by one of the prisoners, Nancy Meyer, and signed by 27 others, women described being held in cells for 23 hours a day.  While regular inmates in the county jail section of the facility get classes and other resources, the immigration detainees don't.
The cells are grouped in pods, with a bathroom that is supposed to serve them all.  There are no toilets in the cells.  If the cell door is locked, a prisoner has to ask to be let out in order to go to the bathroom.  While Contra Costa County Sheriff David Livingston says doors are normally open, the women signing the letter denied this.  Instead, they charged, they're told to "hold it" and have to urinate or defecate into plastic bags.
One detainee told immigration Judge Joseph Park in October that she that she preferred being deported to staying in the jail.  In a phone interview with San Francisco Chronicle reporter Otis R. Taylor, Dianny Patricia Menendez said detainees put the plastic bags over a trash can in order to go to the bathroom.  Their one hour of free time to make calls to family or take a shower is often canceled, she added.
ICE did not respond to the allegations of bad conditions.  However, Taylor wrote that the detainees who spoke with him were later punished by being denied soap, shampoo and the chance to brush their teeth.

Immigrant women supporting each other
Senator Dianne Feinstein was one of several elected officials to protest.  She wrote acting ICE director Thomas Homan in December, saying, "It has been reported that the conditions are so deplorable that detainees are requesting deportation over pursuing claims in immigration court."  Criticism also came from U.S. Rep. Mark DeSaulnier (D-Richmond), State Senator Nancy Skinner (D-Berkeley), Assemblyman Tony Thurmond (D-Richmond), Contra Costa County Supervisor John Gioia and Richmond Mayor Tom Butt.
Outside the West County jail, a few minutes after Paola got the call from Florencio saying he'd been caught, she got a second one that frightened her even more.  Her brother Lorenzo was hiding in a small community between Tucson and the border.  He'd been traveling with Florencio, but the coyotes separated them in northern Sonora.
Holding hands is part of the vigil ritual
Once across the border, Lorenzo lost his own group, and a friendly resident gave him temporary refuge in a garage.  Terrified that the Border Patrol, which was constantly circulating in the area, would find him, he called Teresa.  At the vigil, church members began making calls to Arizona, trying to find help.  Finally a person was contacted who drove down from Tucson and rescued him.
It was only a temporary respite, however.  Not long afterwards Lorenzo was picked up and deported.  When he calls Teresa and Paola these days, it's from Guatemala once again.
Since Florencio had tried to cross the border twice before and had been caught, he wasn't deported immediately when he was picked up in Arizona.  Instead, he was charged in the special court for immigrants in Tucson, Operation Streamline.  Afterwards he spent seven months in an Arizona prison before finally being released on bail while he appeals his deportation order.
To Rev. Lee, the stories of Florencio, Lorenzo and Fernando, with their repeated attempts to cross the border to reunite with their families, are a natural human response to separation.  She cited another example in an opinion piece she cowrote with Bob Lane, a faith leader at EBASE, for the San Jose Mercury News.  "Consider the story of Alfonso Martinez Sanchez, a 39-year-old father of five U.S. citizen children and his family's main breadwinner, she wrote. "Five years ago, a trip to a store to buy milk led to a senseless deportation. Alfonso repeatedly tried to come home to his family.  Wouldn't you?  The Border Patrol arrested Alfonso several times, but he never gave up on his family. He died of heatstroke in the desert trying to reunite."
When Rev. Lee thinks about what's happened to Paola and Teresa, to Florencio and Lorenzo, to Lourdes and her three children, to Fernando, it's clear to her that for them to survive people have to act.  "We can't just watch the immigration policy of this country play itself out and do nothing, while ICE and the Border Patrol hunt people down and tear their families apart," she said at a recent vigil.  "The administration talks about our efforts to protect people and fight this detention system as though this was just a state or a city passing a law to defy their enforcement efforts.  What they don't understand is that these laws exist because our community is making a moral commitment and acting on it, and our representatives are responding to that.  Sanctuary isn't just a law.  It's our community defending people in danger."
Sanctuary is a vigil in front of the detention center.

The Rise and Fall of an Immigration Detention Empire
Co-published by Newsweek
In a rush to create detention space, ICE has used opaque noncompetitive contracts called Intergovernmental Service Agreements to quickly bring beds online. A result has been the government's inability to impose accountability standards on its sprawling immigrant-prison system.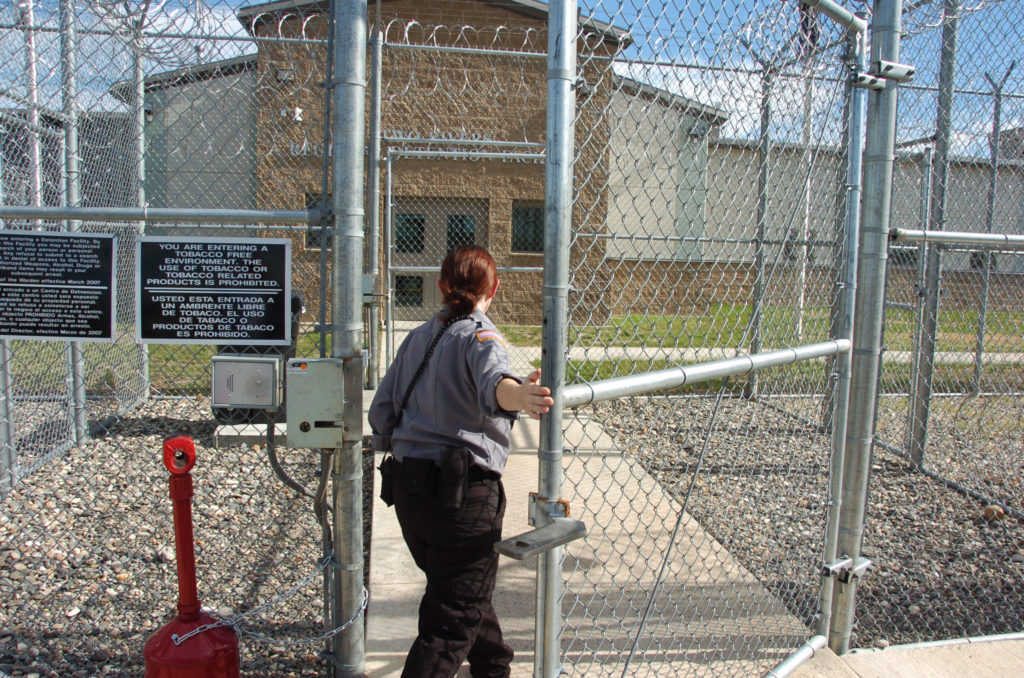 ---
Lawyer: Without private prison companies to warehouse thousands of immigrants, the federal government would face "an existential crisis."
---
Co-published by Newsweek
In 2016 two immigrant detainees died after receiving care at facilities run by Emerald Correctional Management, a small Louisiana-based for-profit prison firm that at the time managed detention centers for U.S. Immigration and Customs Enforcement.
A Russian asylum seeker, 46-year old Igor Zyazin, died of a heart attack several days after medical staff at Emerald's San Luis Regional Detention Facility near Yuma, Arizona failed to adequately treat his severe chest pain. (See "Could an Undocumented Russian's Life Have Been Saved?") Olubunmi Joshua, 54, passed away after enduring eight months of medical errors and treatment delays at the Rolling Plains Detention Center in Haskell, Texas. (See "Anatomy of an ICE Death.")
Emerald operated three ICE detention centers and a county jail before going out of business in early 2017. A Capital & Main investigation has found Emerald took in millions of government dollars as it skimped on essential expenses and damaged detainees, its own employees and, likely, taxpayers while ICE officials looked the other way. Like other for-profit prison companies, Emerald did business with ICE through secretive no-bid contracts using city governments as middlemen. Critics charge these contracts allow ICE to avoid legal responsibility—for deaths, injuries and sexual abuse that occur in detention—and play a role in the government's see-no-evil approach to detention abuses. Since 2003, 183 detainees have died in ICE custody.
The federal government depends on profit-driven prison companies, including smaller firms like Emerald and corrections giants, such as CoreCivic and the Geo Group, to run its sprawling, 200-plus-prison detention network.
At Emerald, chaos reigned in the form of wage theft, poor medical care and crowded, unsanitary conditions. But ICE officials didn't intervene, and it's rare that it does at other facilities with serious problems. Between 2010 and 2017, just two of more than 200 detention centers received failing or "deficient" ratings from ICE inspectors.
The government's failure to act against these facilities is partly the result of an insatiable hunger for lockups, said Mark Fleming, an attorney with the National Immigrant Justice Center. Fleming contended that without the capacity to warehouse thousands of immigrants in facilities run by private prison companies, the government would face "an existential crisis."
In a rush to create detention space, ICE has used opaque noncompetitive contracts called Intergovernmental Service Agreements to quickly bring beds online.
Now, as ICE seeks to expand family detention, it is likely to turn to IGSAs just as it did in 2014, when a wave of Central American children and families sought asylum in the U.S. It is reportedly planning to house families at the Fort Bliss Army base in Texas.
Critics argue that the sole purpose of some of these agreements is to avoid public protest and federal contracting rules that officially are aimed at ensuring transparency and avoiding overpayment by the government.
Immigration detention has expanded fivefold in the past 23 years, and with the Trump administration's deportation surge, is growing larger.
But when Emerald got its start in 1997, the immigration detention system was just ramping up, and immigration detention contracts were a reliable source of business for the company – even as Emerald's blunders were getting it ousted from county jails and knocked out of the running for state and local bids to operate jails and prisons nationwide.
The company drummed up some of its business by convincing small towns that jails and prisons would revive their dying economies.
In the 1980s and '90s, Raywood J. LeMaire, one of the company's four partners, learned firsthand as the five-term Vermilion Parish sheriff that there was money to be made in renting out jail beds to relieve state-prison overcrowding. Louisiana sheriffs like LeMaire generated money and power for their offices by housing state prisoners in their jails—often on the cheap and in poor conditions.
"As long as you didn't feed them too well – grits and beans and cold bologna — you could make some money," alleged Keith Nordyke, a Louisiana attorney who has long represented prisoners.
Asked about his partnership in Emerald, LeMaire, now in his late 70s, told Capital & Main, "I got out of it in January," before refusing to talk further and hanging up the phone. Emerald's other partners, Glenn Hebert, who also once worked for the Vermilion Parish Sheriff's Office, Clay Lee, W.T. Lee and former CEO Steve Afeman couldn't be reached for comment. Hull Youngblood, an attorney who represented the company, didn't return calls or answer emails.
Red flags had warned of trouble inside the company at least since 2003, when Emerald took over operations at the Rolling Plains Detention Center from another private firm.
"We saw things go to hell," said Judy Morrell, who worked as a guard at Rolling Plains. Food for detainees was scarce, she alleged: "They would feed these people chicken bones and rice. If you don't feed them, they've got to get money to buy [from] the commissary." Morrell noted that Emerald profited from its in-prison store. "But you take people who didn't have money, by God, they didn't eat. They'd get to stealing and thieving."
Now 70, Morrell said that when she started with Emerald she knew how prisons were supposed to run, having put in five years with the Texas prison system.
Morrell publicly complained about bad food and overcrowding, and quit her job in 2004. Federal officials were quoted in local media at the time as pledging to investigate her accusations. Three years later, a habeas corpus petition filed on behalf of five members of a Palestinian family alleged they were the victims of sexual harassment, inadequate medical treatment, excessive use of solitary confinement and religious intolerance.
Over the years at Rolling Plains, Texas Commission on Jail Standards inspectors found repeated incidents of overcrowding, unsafe and unsanitary conditions, failure of medical staff to follow doctors' orders, understaffing and failure of staff to perform regular checks on detainees. (ICE inspectors became more critical of the facility only in its later years, noting dozens of violations of its standards but, based on available inspection reports, never appears to have given Rolling Plains an overall deficient rating.) Cases of egregious neglect by Emerald have included:
— The 2016 suicide of a 77-year-old county inmate, Kennie Moore, who hanged himself using his boxer shorts as a noose.
— Emerald's 2012 ousting, by a Louisiana sheriff, from the Riverbend Detention Center when his officers discovered a mother lode of drugs, cellphones and shanks during a shakedown.
— A lawsuit filed by workers at the West Texas Detention Facility against Emerald that alleged they were forced to work off the clock and weren't paid for overtime; it was eventually settled out of court.
By 2016 the company had abandoned or been fired from more detention contracts than it maintained. As early as 2005, local and state governments in Florida, Vermont and Texas began to turn down the company's bids to house prisoners or build facilities, citing its record. What's more, the prison building boom was winding down as states tried to reduce their prison populations.
But ICE was Emerald's ace in the hole. In 2016, Emerald finished construction on the $60 million Prairieland Detention Center in Alvarado, Texas and began managing the 700-bed facility for the agency. Prairieland replaced Rolling Plains, whose location was too remote for adequate staffing and transportation of detainees, said one former ICE official.
Perhaps ICE could overlook the company's checkered history because technically the federal agency wasn't in business with Emerald. Emerald's contract was not with the government, but rather with Alvarado, a town of 4,000 near Fort Worth, which has no actual role in running the detention center.
ICE spokesman Carl Rusnok didn't address Capital & Main's questions about whether it reviewed Emerald's record before approving it as the operator of the Prairieland facility. He wrote in an email that new facilities contracts must meet the latest ICE standards, which require that all facilities "vigorously investigate all claims of abuse, and mistreatment of detainees by staff and other detainees."
Like all Intergovernmental Service Agreements, the deal was made without the transparency that federal contracting rules dictate. ICE signed the agreement with Alvarado city officials, but city officials have no role in operating Prairieland.
"If you told me today that I'd have to start running the jail tomorrow, that wouldn't work," said Rick Holden, Alvarado's city manager. "We're not set up for that." Holden is new on the job, having arrived in early May. Still, he said that after six weeks in office he hadn't visited Prairieland.
"We don't manage it from here. Nobody out there reports to me," Holden said. "ICE is the agency that has the facility."
If Holden would find it daunting to manage a detention center in his backyard, imagine the task that would face city officials in Eloy, Arizona. On paper, Eloy manages the 2,400-bed South Texas Family Residential Center, which is located more than 900 miles away in Dilley, Texas. But last February, the Department of Homeland Security's inspector general found that Eloy doesn't actually run the detention center, and didn't even negotiate the agreement with ICE. Private prison operator CoreCivic did.
CoreCivic appears to have engineered the whole deal by asking the Eloy City Council to modify an existing ICE contract to also include the South Texas facility.
The town of Eloy was simply a middleman that was paid more than $400,000 annually by CoreCivic for the job, the inspector general concluded.
The IG noted that a lack of accountability is built into this particular contracting arrangement: "Because ICE's agreement and legal relationship is with the city of Eloy, CCA's [Core Civic's] performance is effectively insulated from government scrutiny."
The absurdity of a small city like Eloy overseeing a massive detention center in another state may be apparent, but the basics of its contract don't differ much from a number of other IGSAs between ICE and local governments: Cities are routinely paid fees to act as middlemen between ICE and private companies.
Still, for the most part, the inspector general's office limited its criticism to the Eloy agreement. But it did express its disapproval of ICE's handling of IGSAs in general.
"ICE has no assurance that it executed detention center contracts in the best interest of the Federal Government, taxpayers, or detainees," the report observed.
Eloy isn't the only city supposedly overseeing detention operations from afar. In California, the city of Adelanto, in San Bernardino county, signed a 2014 agreement to provide guard services for a family detention center in New Mexico for a year. The services were provided by the for-profit prison firm, the GEO Group, not the city of Adelanto. The small San Joaquin Valley town of McFarland has a long-standing IGSA with ICE to operate the Mesa Verde Detention Center in Bakersfield, nearly 30 miles away.
The legitimate purpose of IGSAs is to allow government agencies to fill urgent needs by piggybacking onto services a local government already offers. In many cases, ICE does exactly that by signing an agreement with a local sheriff to rent beds in a county jail.
However, in other cases, ICE has used IGSAs only to rapidly bring detention facilities online by skirting federal contracting rules, which require an open bidding process that ensures transparency and competition.
About a third of all immigrant detainees are housed under these sort of agreements between ICE and cities.
Attorney Mark Fleming believes these are sham contracts, especially in cases where the city doesn't even own the facility, much less operates it.
"These are fraudulent contracts to allow ICE to float money to a private company to avoid federal procurement laws," Fleming said. "That's a fraudulent contract because the locality has nothing to offer."
For example, the Adelanto Detention Center in San Bernardino County is operated under an IGSA between the city of Adelanto and ICE. The city, however, doesn't run the detention center. The for-profit GEO Group does.
Fleming said that even in cases like Prairieland, where the city of Alvarado owns the facility, its operations are controlled by the for-profit subcontractor, now LaSalle Corrections.
"The actual performance is happening between the private contractor and ICE," Fleming said. "Yet, because there's a private subcontractor, there's no direct accountability that ICE can assert."
Because of these contract arrangements, it's difficult to hold ICE or local governments responsible for detention center abuses, Fleming noted.
Alvarado City Manager Holden and Mayor Tom Durington declined to comment on their city's contracts with Emerald and ICE because neither was in office when they were signed. City councilmembers Jacob Wheat and Shawn Goulding, who, from its inception, served on the board of the Prairielands Public Facilities Corporation (PPFC), the economic development entity that operated the facility, couldn't be reached for comment.
One former high-ranking Department of Homeland Security official, who asked not to be named in this story, disagreed with agency critics that IGSAs are a means by which ICE shirks its responsibility for detainee welfare, but he would not comment on whether IGSAs are legitimate contracts. However, he expressed concerns about the process of granting them.
"I think the way some of these contracts are done is troubling," the former DHS official said. "It gives a lot of authority to bypass procurement rules and be selective about who benefits."
Could Emerald have won a competitive bid under federal procurement standards? It officially obtained ICE approval to operate Prairieland after responding to a request for proposals issued by the city of Alvarado. It was the only firm to submit a bid, city officials said. Furthermore, the company appeared to have enjoyed an unusual advantage: In July 2011, CEO Steve Afeman, a Louisiana resident, was appointed by Alvarado city officials to serve as a governing board member of the PPFC. Afeman resigned his post the following month.
Then, less than a year after Prairieland was built, Emerald announced to each of the local governments with which it held contracts that it could no longer honor them, reportedly because of financial problems.
Emerald seems to have remained out of the detention business; at least two of its creditors have gone to Louisiana courts seeking to collect the company's debts.
---
Note: This story was updated July 5.
This reporting was supported by a grant from the Fund for Investigative Journalism.
Copyright Capital & Main