1992 Remembered: Smoke Gets in Your Eyes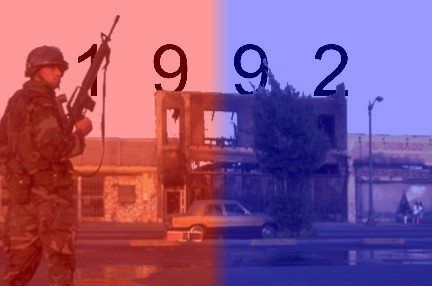 What do I most remember about the uprising of '92? That certain feeling of powerlessness.
I have so many vivid memories: People swarming the supermarket on Third Street and Bonnie Brae, just west of downtown, rushing out with baskets loaded with diapers and food supplies. Outraged young men standing in the middle of Crenshaw Boulevard near Adams, blocking my way home — at least until I figured out how to go around them. Burning buildings all around where I worked in Pico Union, and where I lived in South Los Angeles. And then the drawings of my five-year-old twins, showing burning buildings and people running for their lives.
I was a 32-year-old mother of three young children, and working as the Executive Director of the Central American Refugee Center (CARECEN) in Pico Union. I was living in a four-bedroom bungalow house near Crenshaw and Venice boulevards, so between my home and work, I was surrounded by the biggest flashpoints of the uprising. For several days. I remember being afraid for my kids, watching burning and smoldering buildings and being so vividly aware of the overwhelming poverty and desperation of the city I lived in.
But it's what I experienced in the aftermath of the uprising that really sticks with me. That feeling of utter powerlessness where larger events were so overwhelming that it was hard to know which way to step or what to do. The day after the uprising is when I remember most vividly having that feeling of powerlessness in the pit of my stomach. The buildings were still smoking, but the National Guard troops were everywhere and most people were inside, so I felt safe enough going back to work. I remember arriving back at my office on Bonnie Brae Street and seeing all kinds of debris in the streets with an absolute eerie silence everywhere. After going inside and talking to my coworkers about what to do, we – like many other people in the city — grabbed brooms, went outside and started sweeping up debris. We all put up a good face of doing "something." We all agreed that sweeping up was a great symbolic activity to show that the city was coming together and moving on.
But I remember thinking that we should have been storming City Hall instead, doing something to change the utter hopelessness and desperate poverty that reigned supreme throughout so much of Los Angeles.
That's an emotion that stuck with me for a long time and motivated me to join together with other progressives in the following year to form the L.A. Alliance for a New Economy (LAANE) — to build a coalition to fight poverty, racism and hopelessness with organizing, advocacy and power-building strategies.
A few years later we launched our first living-wage campaign, to win a law that would require employers doing business with the city of Los Angeles to pay their workers a living wage and health benefits, and to give them paid sick time. I remember going down to the city council, with hundreds of workers, faith leaders and community organizers from our poorest neighborhoods, and thinking that I had finally found something to do to counter that feeling of utter powerlessness that I had had since April of 1992. Something besides taking a broom outside and sweeping up the debris.
Click here for more 1992 Remembered stories.