1992 Remembered: Smoke Gets in Your Eyes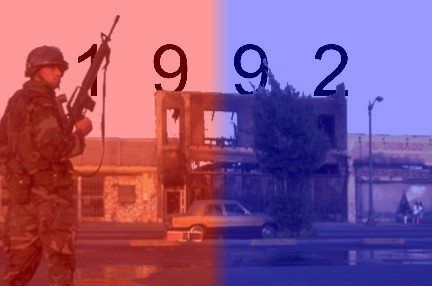 What do I most remember about the uprising of '92? That certain feeling of powerlessness.
I have so many vivid memories: People swarming the supermarket on Third Street and Bonnie Brae, just west of downtown, rushing out with baskets loaded with diapers and food supplies. Outraged young men standing in the middle of Crenshaw Boulevard near Adams, blocking my way home — at least until I figured out how to go around them. Burning buildings all around where I worked in Pico Union, and where I lived in South Los Angeles. And then the drawings of my five-year-old twins, showing burning buildings and people running for their lives.
I was a 32-year-old mother of three young children, and working as the Executive Director of the Central American Refugee Center (CARECEN) in Pico Union. I was living in a four-bedroom bungalow house near Crenshaw and Venice boulevards, so between my home and work, I was surrounded by the biggest flashpoints of the uprising. For several days. I remember being afraid for my kids, watching burning and smoldering buildings and being so vividly aware of the overwhelming poverty and desperation of the city I lived in.
But it's what I experienced in the aftermath of the uprising that really sticks with me. That feeling of utter powerlessness where larger events were so overwhelming that it was hard to know which way to step or what to do. The day after the uprising is when I remember most vividly having that feeling of powerlessness in the pit of my stomach. The buildings were still smoking, but the National Guard troops were everywhere and most people were inside, so I felt safe enough going back to work. I remember arriving back at my office on Bonnie Brae Street and seeing all kinds of debris in the streets with an absolute eerie silence everywhere. After going inside and talking to my coworkers about what to do, we – like many other people in the city — grabbed brooms, went outside and started sweeping up debris. We all put up a good face of doing "something." We all agreed that sweeping up was a great symbolic activity to show that the city was coming together and moving on.
But I remember thinking that we should have been storming City Hall instead, doing something to change the utter hopelessness and desperate poverty that reigned supreme throughout so much of Los Angeles.
That's an emotion that stuck with me for a long time and motivated me to join together with other progressives in the following year to form the L.A. Alliance for a New Economy (LAANE) — to build a coalition to fight poverty, racism and hopelessness with organizing, advocacy and power-building strategies.
A few years later we launched our first living-wage campaign, to win a law that would require employers doing business with the city of Los Angeles to pay their workers a living wage and health benefits, and to give them paid sick time. I remember going down to the city council, with hundreds of workers, faith leaders and community organizers from our poorest neighborhoods, and thinking that I had finally found something to do to counter that feeling of utter powerlessness that I had had since April of 1992. Something besides taking a broom outside and sweeping up the debris.
Click here for more 1992 Remembered stories.

No Walk in the Garden for the Urban Homeless
Throughout Los Angeles, landscaping is put to aggressive use, functioning as a weapon of anti-homelessness under the guise of beautification.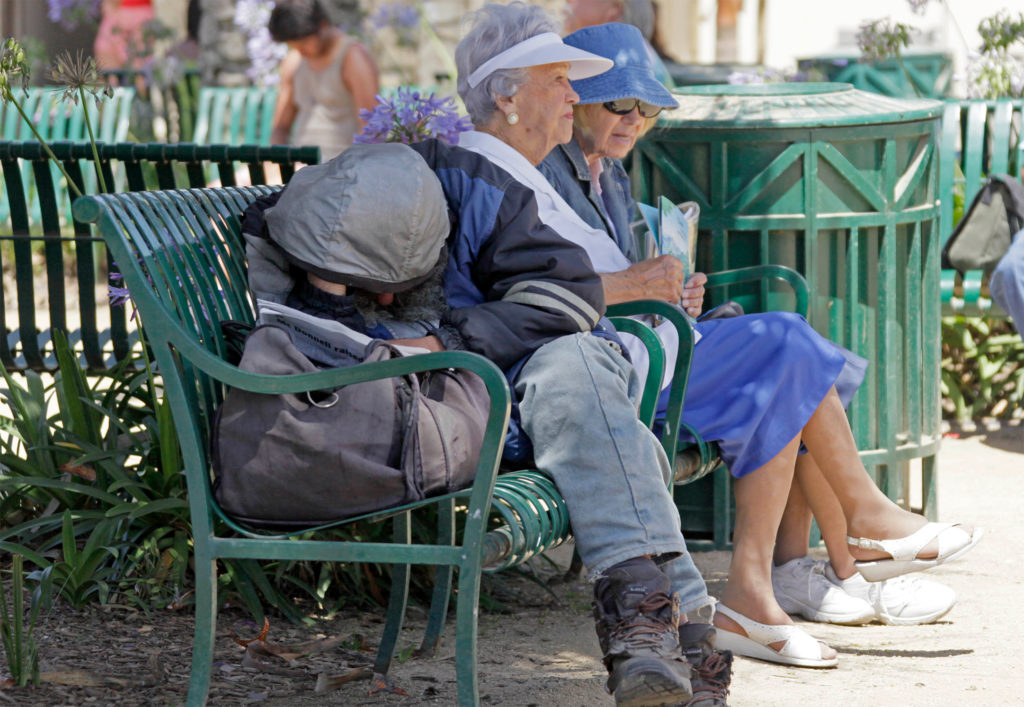 ---
The phenomenon of hostile landscaping in Los Angeles has further marginalized a swelling unhoused population.
---
Last May, in Los Angeles' coastal Venice neighborhood, Adam Smith noticed a series of planter boxes in the middle of a familiar sidewalk. Affixed near the intersection of Third and Sunset avenues, mere blocks from a Google campus and a suite of oceanside cafes, the standalone planters ran roughly the length of a wall delineating a parking lot behind a luxury condo complex.
Previously, Smith told Capital & Main, a group of six to 10 homeless people had regularly slept in tents on that block, favoring it for its relatively plentiful street light. A volunteer for the Culver-Palms Burrito Project, which prepares and serves the titular food to the unhoused of West Los Angeles, he'd become acquainted with individuals living there over the course of several years.
Once the planters were installed, however, the sidewalk was clear. "That next day, after I saw [the planter boxes] for the first time, I went there to look around because I figured they were sleeping somewhere else," Smith said. "I found people up around the corner, just, like, a block away."
---
Companies are privatizing public space to create more "landscape" for their businesses.
---
Throughout Los Angeles, landscaping is put to aggressive use, functioning as a weapon of anti-homelessness under the guise of beautification. Just as both public and private architectural design throttle space available to the unhoused internationally — via, among other examples, spikes on ledges and bars on benches to discourage sitting and lying down — and cities such as San Francisco arrange boulders to deter homeless encampments, the phenomenon of hostile landscaping in Los Angeles has further marginalized a swelling unhoused population.
Nearly 20 miles from Venice, a Los Feliz traffic median at the intersection of Vermont and Prospect avenues, and Hollywood Blvd., has regularly seen encampments arranged on its concrete ground, abutting a raised patch of desert landscaping and sycamore trees.
Christened "Vermont Triangle," the median's first redesign occurred in 2008, when the now-defunct Community Redevelopment Agency spearheaded a project to "improv[e] the pedestrian amenities" and "enhanc[e] the physical appearance of the existing median park." According to the Los Angeles Times, this yielded seating areas, lampposts to echo those at nearby Barnsdall Art Park, and the sycamores. Eventually, unhoused people began to pitch tents, availing themselves of the median's modest stretches of open public space.
Now, due to pressure from local business owners, Vermont Triangle is in flux. City Councilmember David Ryu's office, the Times noted, plans to invest $18,000 in another redesign, following a 2013 re-landscape. The 2013 update was financed in part by the Hollywood Hotel and Kaiser Permanente, according to Jeff Zarrinnam, who serves on the board of governors of the East Hollywood Business Improvement District. (Ryu's office couldn't be reached for comment.) Current proposals range from adding art installations and neighborhood signs, which Zarrinnam said the Los Feliz Neighborhood Council and East Hollywood Neighborhood Council have floated, to putting in planters.
Zarrinnam said he supports "bridge housing," a term the municipal government, neighborhood councils and local businesses use to favorably denote temporary homeless shelters and transitional housing. Yet reports indicate that the current state of temporary housing for many homeless people in Los Angeles County — who, as of May, numbered approximately 53,000 — is nothing short of abysmal. A recent investigation by radio station KPCC found infestations, harassment and medical negligence, among other scourges at various facilities throughout Los Angeles County, including those funded by the Los Angeles Homeless Services Authority (LAHSA), which conducts the county's annual homeless census.
Steve Diaz, an organizer for Los Angeles Community Action Network (LA CAN) who works with unhoused populations in downtown and South L.A., calls hostile landscaping of public space "the next level of criminalization" of homelessness. He alluded to an industrial neighborhood overlapping Skid Row, whose business owners call "The North Sea": a cluster of converted seafood warehouses and factories painted the same hues of oceanic blue — complete with landscaped sidewalks.
"They started breaking the concrete and taking away from the sidewalk to place different types of flowers, whatever garden they were putting in," Diaz said. "You have a major street [on] Skid Row that, at one point, was home to a lot of homeless folks now being gated off, and then the concrete being broken to start using these gardening pockets within the space to eliminate sidewalk access." (Miguel Nelson, a North Sea business owner involved in the area's marketing efforts, declined to respond publicly.)
As private property owners adopt guerrilla tactics to thwart homeless encampments, legal issues arise. Skid Row activist General Jeff Page has observed that, while property owners are permitted to control up to three feet of sidewalk extending from their buildings, "The North Sea is taking upwards of five to 10 feet of sidewalk, allowing only for ADA (Americans with Disabilities Act) compliance and zero space for homeless tents and/or encampments." (The Los Angeles Department of Public Works stated that the North Sea sidewalk landscaping is currently under investigation and thus couldn't comment further on the matter.)
What's more, business owners in South L.A. have illegally installed fences around their property, which, according to Diaz, will eventually give way to sidewalk landscaping. Relatedly, Adam Smith has been corresponding with city officials to ascertain the permit status of the Venice planters. The West L.A. office of the Bureau of Engineering, which issues revocable permits, told Capital & Main that it did not have a permit on file for the planters. Without one, according to the bureau, "no portion of the public right-of-way, including sidewalk, is allowed for private use."
Nevertheless, the planters remain and, according to Smith, have multiplied. Additional boxes, he said, are now ensconced in the sidewalk around the corner, to where the previously ousted people had first moved.
"For some people, [landscaping] sounds like a great idea," Diaz said. "But you're literally privatizing public space to create more 'landscape' for your business."
---
Copyright Capital & Main