Woody Guthrie's Los Angeles
Woody Guthrie — who wrote more than 3,000 songs and is best known for "This Land Is Your Land," often considered America's alternative national anthem — had his first big break and taste of success while living in Los Angeles from 1937 to 1940. His experiences in South California during the Depression inspired his radical views about social and political conditions. He wrote songs about families facing foreclosure by unscrupulous banks, migrant Mexican farm workers exploited by agribusiness, and politicians who turned a blind eye to the widespread suffering — topics that unfortunately still resonate today. He also penned patriotic songs about America's promise and its natural beauty, and angry songs encouraging Americans to organize unions and protest against injustice.
On Saturday, Los Angeles will celebrate Guthrie's life and legacy, part of a nationwide year-long series of conferences, concerts, and museum exhibits sponsored by the Los Angeles-based Grammy Museum and the New York-based Woody Guthrie Archives. The local events include a day-long conference at the University of Southern California and a concert at Club Nokia at LA Live with Jackson Browne, David Crosby and Graham Nash, Tom Morello, Dawes, Kris Kristofferson, Ramblin' Jack Elliott, and the duo Johnny Irion and Sarah Lee Guthrie (Woody's granddaughter).
This local embrace of Guthrie as a favorite son — where he developed his craft before becoming a national icon — is long overdue. The City Council even recently named the intersection of Fifth and Main streets in downtown LA not far from Skid Row as "Woody Guthrie Square."
Born on July 14, 1912, in Okemah, Oklahoma, Guthrie joined the exodus of an estimated 400,000 farmers and jobless workers forced by drought, dust storms, and the Depression to head west in search of work. He hitchhiked and rode freight trains, earning money painting signs, playing guitar, and singing in the streets and saloons along the way, before arriving, broke, in Los Angeles in 1937.
While living at first in a quarter-a-night Skid Row hotel, and later with relatives in Glendale, Guthrie sang in the streets and bars, and took odd jobs, to make ends meet. He eventually landed a gig on a local radio station, KFVD, singing cowboy songs, hillbilly tunes, religious hymns, and old-time ballads. He initially performed with his cousin Jack, but found a larger audience — with two shows a day, six days a week — when he joined forces with Maxine Crissman, known as "Lefty Lou".
Guthrie gradually began adding his own compositions and political commentary. He sang and talked about corrupt politicians, lawyers, and businessmen. He praised the people who were fighting for the rights of migrant workers. Their radio listeners included many transplanted Texans and Oklahomans ("Okies") who were living in Los Angeles and in makeshift shelters in Southern California's migrant camps and enjoyed hearing songs and stories that reminded them of their homes. The station began receiving a steady stream of letters from listeners praising Woody and "Lefty Lou." Their on-air success led to bookings at local rodeos and other events.
When "Lefty Lou" fell ill and could no longer continue to perform, Frank Burke, the station's owner, offered Woody his own half-hour program once a day for a dollar a day. Glad to be getting paid to sing his songs, Guthrie agreed.
While working at KFVD, Guthrie met Ed Robbin, an editor for People's World, the Communist Party's West Coast paper, and actor Will Geer, another left-wing activist, who introduced him to the local radical scene. Robbin helped Guthrie get bookings entertaining at local benefits (some at the homes of Hollywood stars) to raise money for striking workers and other left-wing causes. Geer traveled with Guthrie to support union organizing drives among cannery workers, cotton pickers, and construction workers throughout California. He also sang at the New Deal's government agricultural camps that provided a handful of migrant workers with food, safe water, and decent housing.
Guthrie's songs from that period — including "I Ain't Got No Home," "Goin' Down the Road Feelin' Bad," "Talking Dust Bowl Blues," "Hard Ain't It Hard," "Hard Travelin'," "Dust Bowl Refugee," "So Long It's Been Good to Know You," and "Tom Joad" (based on the hero of John Steinbeck's 1939 novel about California's migrant workers, The Grapes of Wrath) — reflected his growing mission to give a voice to the disenfranchised. An advertisement for one of Guthrie's Los Angeles concerts promised that he would sing "songs of the common people dedicated to Skid Road and Dust Bowl Refugees."
Many of his songs exposed the harsh conditions facing California's working class families lured to California by the promise of jobs, sunshine, and abundance. In "Do Re Mi," he wrote about the Los Angeles Police Department's illegal blockade at the California border — hundreds of miles outside its jurisdiction — to stop Dust Bowl migrants from entering the state unless they had fifty dollars or could prove they already had a job.
California is a garden of Eden,
A paradise to live in or see;
But believe it or not,
you won't find it so hot
If you ain't got the do re mi.
In "Pretty Boy Floyd," Guthrie portrayed the real-life outlaw as a Robin Hood character, contrasting him to the bankers and businessmen who exploit workers and foreclose on families' farms and homes: "Yes, as through this world I've wandered / I've seen lots of funny men / Some will rob you with a six-gun / And some with a fountain pen."
In "Christ for President," the deeply religious Guthrie wrote that "The only way we can ever beat/These crooked politician men/Is to run the money changers out of the temple/Put the Carpenter in." In another stanza, he observed: "Every year we waste enough/To feed the ones who starve/We build our civilization up/And we shoot it down with wars."
When a 1938 huge flood destroyed nearly 5,600 homes in Los Angeles, Orange and Riverside counties, Guthrie's Glendale neighbors told him about an earlier torrential downpour, on January 1, 1934, that resulted in mud, rocks and trees sliding down the San Gabriel Mountains' steep canyons and devastated Glendale, Montrose, Burbank, Flintridge, Tujunga, and La Crescenta. His solemn ballad, "Los Angeles New Year's Flood," described the disaster that destroyed over 600 homes, and left at least 100 people dead, including many recent migrants.
Oh, my friends, do you remember?
On that fatal New Year's night
The lights of old Los Angeles
Were a flick'ring, Oh, so bright.
A cloud burst hit our city
And it swept away our homes;
It swept away our loved ones
In that fatal New Years flood.
In the summer and fall of 1938, Guthrie took a break from his radio show to become the "hobo correspondent" for The Light, a newspaper started by KFVD's owner to promote the Democrats' progressive candidate for governor, Culbert Olson, who — despite opposition from business, growers, and most newspapers — eventually won the election. Guthrie wrote about the miserable living conditions facing unemployed squatters around Bakersfield and the San Joaquin Valley and the abuses perpetrated by police, sheriffs deputies, and private vigilantes on homeless men and striking workers. That year he also volunteered in local reformers' successful recall campaign that ousted the corrupt Los Angeles Mayor Frank Shaw and elected judge Fletcher Bowron to replace him.
The next year, having returned to KFVD, Guthrie began writing a daily column, usually just one or two paragraphs, called "Woody Sez," for People's World, and drawing occasional cartoons, commenting on the news of the day. "I ain't a Communist necessarily," he wrote in one column, "but I been in the red all my life." In another column, he observed, "A policeman will jest stand there an let a banker rob a farmer, or a finance man rob a workin man. But if a farmer robs a banker — you would have a hole dern army of cops out a shooting at him."
Always restless, Guthrie moved to New York City in 1940 and was quickly embraced by progressive organizations, artists, writers, musicians, and intellectuals. He performed on radio and developed a loyal following, who admired his homespun wisdom and passion for society's have-nots. Alan Lomax, a musicologist at the Library of Congress, helped Guthrie get a recording contract, leading to the first of his many recordings, the album Dust Bowl Ballads.
Guthrie began writing "This Land Is Your Land" while traveling to New York with his Los Angeles experiences still fresh in his mind. In the song, which he viewed as an answer to Irving Berlin's popular "God Bless America," Guthrie celebrated America's natural beauty and bounty but criticized the country for its failure to share its riches. The lyrics reflect Guthrie's belief that patriotism and support for the underdog were interconnected.
Most Americans know the song's chorus –"This land is your land, this land is my land / From California, to the New York Island / From the redwood forest, to the gulf stream waters / This land was made for you and me" — and perhaps some of the verses about the "ribbon of highways," "sparkling sands," "diamond deserts," and "wheat fields waving." But few people know the two radical verses of the song, which are usually omitted from songbooks and recordings:
As I went walking I saw a sign there
And on the sign it said "No Trespassing"
But on the other side it didn't say nothing
That side was made for you and me.
 In the shadow of the steeple I saw my people
By the relief office I seen my people
As they stood there hungry, I stood there asking
Is this land made for you and me?
While living in New York in 1948, Guthrie was angered by newspaper and radio accounts of a plane crash near Los Gatos Canyon in Fresno County that killed 32 people, including 28 migrant farm workers who were being deported back Mexico. The New York Times story, for example, mentioned the names of the flight crew and the security guard, but simply referred to the other victims as "deportees," who were buried in a mass grave in Fresno. Guthrie's song about the incident — "Plane Wreck at Los Gatos," often known as "Deportee" – expressed his outrage at the mistreatment of Mexican migrants. He gave them symbolic names — "Goodbye to my Juan/Goodbye Rosalita/Adiós, mis amigos/Jesús y María". He protested their exploitation in words that surely resonate today:
Some of us are illegal, and some are not wanted,
Our work contract's out and we have to move on;
Six hundred miles to that Mexican border,
They chase us like outlaws, like rustlers, like thieves.
We died in your hills, we died in your deserts,
We died in your valleys and died on your plains.
We died 'neath your trees and we died in your bushes,
Both sides of the river, we died just the same.
Is this the best way we can grow our big orchards?
Is this the best way we can grow our good fruit?
To fall like dry leaves to rot on my topsoil
And be called by no name except "deportees"?
Saturday's USC conference will examine many aspects of Guthrie's life, music, and politics. It will include several talks about Guthrie's Southern California years and observations by Guthrie biographers Ed Cray (a USC journalism professor) and Robert Santelli (director of the Grammy Museum).
Although Guthrie helped inspire the folk music revival of the late 1950s and 1960s, he was unable to enjoy it or benefit from it financially, because he spent his last decade hospitalized by a debilitating illness, Huntington's chorea, before dying, at age 55, in 1967.
Guthrie's daughter Nora (who oversees the Guthrie Archives) hopes that the centennial celebration will introduce younger Americans not only to Guthrie's music but also to the tradition of linking songs to social protest. A newly-released album, Note Of Hope – A Celebration Of Woody Guthrie, features a diverse group of artists and performers, including Pete Seeger, Jackson Browne, Tom Morello, Ani DiFranco, Studs Terkel, Lou Reed, Van Dyke Parks, Tony Trischka, and Nellie McKay, who have turned many of Guthrie's unpublished songs, poems, and journals into songs and spoken word tributes. Available soon will be a 3-CD box set, also called Woody at 100, that includes some previously unreleased recordings discovered by the Smithsonian Folkways label.
Several new Guthrie biographies have just come out or will soon be published, including Santelli's This Land Is Your Land: Woody Guthrie and the Journey of an American Folk Song, historian Ronald Cohen's Woody Guthrie: Writing America's Songs, and Will Kaufman's Woody Guthrie: American Radical. They follow in the footsteps of Ed Cray's Ramblin' Man: The Life and Times of Woody Guthrie (2006) and Joe Klein's Woody Guthrie: A Life (1980).
Guthrie viewed his music as part of the struggle for social justice and joined forces with many unions and other progressive movements of his time. He painted the words "This Machine Kills Fascists" on his guitar. Many folksingers and rockers — including his friend Seeger, his son Arlo, Bob Dylan, Joan Baez, Phil Ochs, Tom Paxton, Ry Cooder, Bonnie Raitt, John McCutcheon, Bruce Springsteen, Billy Bragg, DiFranco, Browne, and Morello — have followed in Guthrie's political footsteps, recorded his songs, and joined forces with activist movements.
It is a wonderful accident of good timing that the 100th anniversary of Guthrie's birth arrives just as the Occupy Wall Street movement is revitalizing the American Left. Last October, soon after the first protesters descended on Zuccotti Park, singer-songwriter Morello (formerly with Rage Against the Machine) brought his guitar to the encampment to entertain the troops, including a sing-along rendition of "This Land is Your Land." Surely if Guthrie were alive today and living in Los Angeles he'd be writing songs about the growing number of families fighting bank foreclosures, university students protesting tuition increases, workers organizing to win a union voice, and people mobilizing for immigrants rights.
(This feature originally appeared April 10 on the Huffington Post.)
The Power of the Poster
Carol Wells, the founder of the Center for the Study of Political Graphics in Los Angeles, talks to Capital & Main about the enduring power of political art.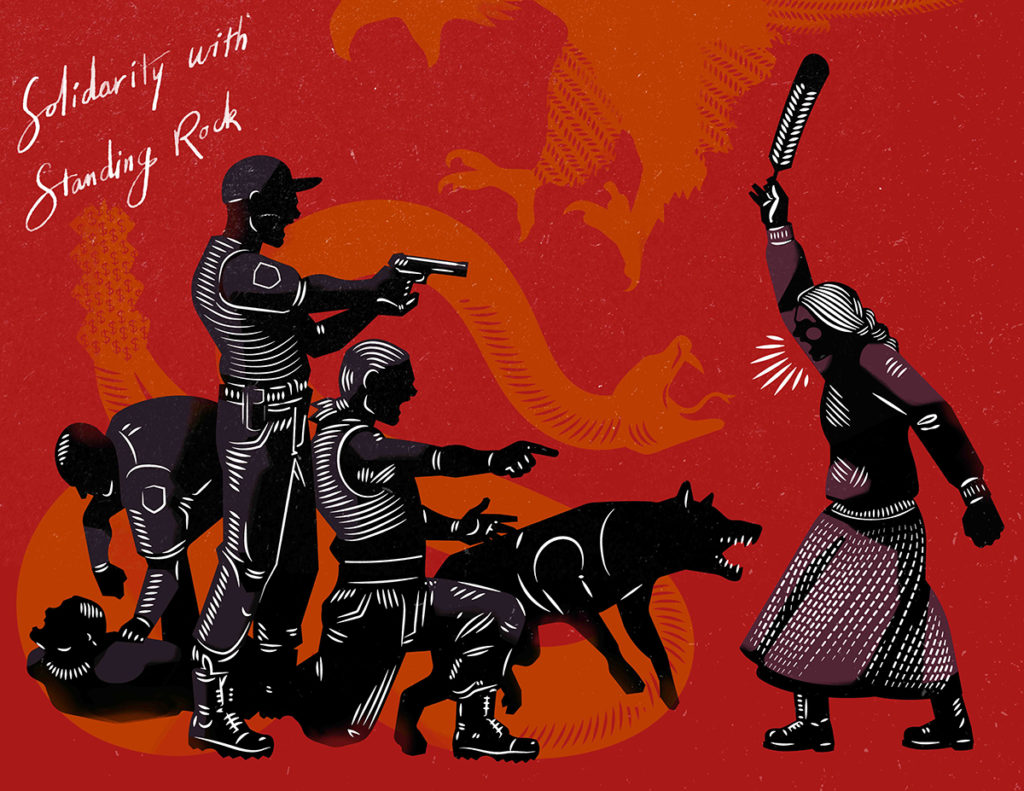 Carol Wells remembers the exact moment she discovered her calling. An art historian at the time, she was on a trip to Nicaragua with her friend David Kunzle, a UCLA art history professor, who was collecting political posters to add to his burgeoning collection. While staying with friends, Wells watched a neighbor's 8-year-old son approach a poster on the wall, stare at it intently, and then start to silently mouth the words. Wells was struck by how engaged the boy was. "In that moment I became obsessed with collecting posters."
Now over 40 years later, Wells is the founder and executive director of the Center for the Study of Political Graphics in Los Angeles. Wells has amassed approximately 90,000 posters, building one of the largest collections of its kind in the world. The Center shares its collection with the public in part through curated exhibits. This year the CSPG has produced Feminae: Typographic Voices of Women by Women and its latest is To Protect & Serve? Five Decades of Posters Protesting Police Violence, running through July 15 at the Mercado La Paloma in downtown Los Angeles.
Since that encounter in Nicaragua in 1981, Wells' obsession with collecting posters hasn't waned. In CSPG's nondescript West L.A. office space, Wells pulls out poster after poster, lecturing passionately on the backstory and cultural impact of each, including one that superimposes text from a New York Times interview with a shocking image of the My Lai massacre ("Q: And babies? A: And babies."). Recently, she managed to sit down with C&M to discuss her passion.
---
Capital & Main: So, you were an art history professor, you happen to see a kid on a trip, and suddenly your life was changed forever?
Carol Wells: Yeah, I'm in Nicaragua alone in the living room with this kid. He's looking around, and all of a sudden, he sees the poster. It was pretty big, bright green, a thick outlines of a woman holding a big basket of coffee beans. And the text in Spanish said, "In constructing the new country, we are becoming the new woman." I see him walk over to the poster and I'm watching him mouth the words. It was a pretty sophisticated concept, so I doubt he figured it out. But I literally had this epiphany: "Oh my God. That's how posters work." You're going about your daily life, and all of a sudden something breaks through the bubble, and it grabs your attention. It's the graphic, it's the color, it's the combination, and it pulls you out of your head and into that poster and it makes you ask a question. "Why is this here? What is this about? What does this mean?" And every time you ask a question, you're a different person than you were before you asked the question.
How many posters do you get a year?
We get between two to five thousand a year donated from all over the world. The bulk of our collection is [from] 1945 and later.
I assume technology has probably hurt the art form, but has it helped get the messages out?
Most people think that, and it's actually not true. Since the internet age started, there's actually a poster renaissance of works on paper. Because you can't walk with your computer monitor in a demonstration. You can't plant your monitor on your lawn.
And you can't put a laptop on the wall…
Exactly. You want to hear a really great story? Truthdig.org published a cartoon [made by] a political cartoonist named Mr. Fish. It was during the Arab spring, and he had superimposed Che Guevara with the stylized beard and King Tut's face, but it had Che's beret. And it [was titled], "Walk like an Egyptian." So, it was a reference to the music, but [it was also] a reference to what was going on the streets of Cairo. I sent it out as our poster of the week to 9,000 people. The very next day, somebody took a photograph on the street of Cairo, with somebody holding a piece of paper with that image on it. A poster can literally go around the world and people will print it out.
What struck me in viewing your exhibits is how many of these posters could still be used today, not only artistically but also, sadly, in the timeliness of their messages.
We had this fabulous poster by Yolanda Lopez, a Bay Area artist, which she first did in 1978. It depicts a young man in Aztec garb pointing a finger like Uncle Sam saying, "Who's the illegal alien, PILGRIM?" And it's a great poster, it's simple, not too many words, funny, provocative. So, we had an exhibit at UCLA in the mid '90s and there were 4 or 5 high school students standing around this poster saying, "Wow, you've got posters up to the minute." And I went over to them and I said, "Look at the date. This is before you were born."
Is that one of your goals with the exhibitions? To show the evergreen nature of this work?
Absolutely. I mean that's why we did the police abuse exhibition now. It basically goes back five decades. It's 50 years of posters protesting police abuse. Mainly in the United States, but also internationally.
What's the goal for CSPG?
Well the aim right now is really to digitize the collection and get it online. We have 10% of the collection digitized. But the mission is to collect and to document, because stories get lost. All the exhibitions, they're showing massacres, they're showing genocide, they're showing police abuse, they're showing all of these horrible things. And people often ask me, "How can you look at this stuff all day long?" I said, "Because the poster artists are optimists. They believe people can change if they have the information."
Yes, that's the reason why they're doing it, right?
That's why they're doing it, and that's why I'm doing this, because I believe that people can change if they knew the truth.
And what happens 20, 50 years from now?
Well, my goal is to stay independent, because the other option is to become part of the university. Universities, for all the fabulous things that they do, they also censor. We did an exhibition at USC in 1992 on the 500 years since Columbus, and how the legacy of racism and exploitation and genocide continues. And one of the board of trustees was Italian and took [the exhibit] as an affront to Columbus. It really wasn't about Columbus, it was about colonialism. And he ordered it down.
Do you have a favorite poster?
I'm always amazed at the creativity and vision of artists. Every week I'll say, "Oh my God, how do they think of that?" But it's always still going to be the poster I saw that kid trying to figure out. It has to be my favorite one because that one changed my life.
What makes a perfect poster?
The right balance between aesthetics and message. If you only rely on the corporate press, the New York Times and L.A. Times, for your information, you're not going to get the side from the street, from the movement, from the activists. The posters are primary historical documents that are recording the issues that were at the time, and the passions that were at the time, and the divisions that were at the time. You're not going to get it anyplace else.
---
Copyright Capital & Main