Women in Politics: Nancy L. Cohen's 'Breakthrough'
If you're a woman and running for political office has ever crossed your mind, historian Nancy L. Cohen's new book, Breakthrough: The Making of Americas First Woman President, is a must-read.
If you're a woman and running for political office has ever crossed your mind, historian Nancy L. Cohen's new book, Breakthrough: The Making of Americas First Woman President, is a must-read. Despite Donald Trump's misogynist rants, you'll learn that all those prejudices we thought American voters have towards female candidates don't really exist.
"I was as surprised as any reader would be that …the myths that keep women back in politics are just that — myths," said Cohen in a recent Capital and Main interview. And thanks to the early women who fought to win political office, and feminist advocates who want more women in power, there are now support networks for women seeking top elected offices in both the Democratic and Republican camps.
In writing this book Cohen scored interviews with some of the most inspiring and informed women in national politics, including Barbara Mikulski, the first and longest serving Democratic woman to hold a U.S. Senate seat; and Ellen Malcolm, founder of EMILY's List, the influential feminist fundraising and training organization for women candidates. "The best part [of writing this book], Cohen said, "was getting to interview these women pioneers who have gotten us to this point where women comprise 20 percent of Congress."
The interviews describe female friendships that have sustained and empowered women leaders, often across party lines. For example, coordination between Senator Mikulski and Republican Senator Kay Bailey Hutchison of Texas in the early 1990s led to their co-sponsoring legislation to end discriminatory provisions against women in growing their IRA savings accounts, something both women had personally experienced. This collaboration eventually led to monthly meetings of women senators, from both parties, that built personal trust and went on to win passage of the Lilly Ledbetter Fair Pay Act with votes from all Senate Republican women — the only Senate Republicans to support it.
Cohen also interviewed younger women now leading important national women's organizations like NARAL, Planned Parenthood and the Feminist Majority Foundation, who assert that "gender equality is good for everyone; it's not a men versus women, or women-are-victims [message]," Cohen explained. "It is basically that these women's organizations have rescued progressivism and the Democratic Party," as defenders of women's rights against attacks from Republican legislators at the national and state levels.
Breakthrough digs down into the numerous studies, election analyses and statistical reviews that underlie Cohen's conclusions that "the double standard in politics is dead; voters are not voting with a gender bias." This is not to say that women don't face obstacles to winning elections. "The [women's fundraising and political contact] networks aren't as old and deep and tenacious as the old boys' network," Cohen admitted. "Incumbency is a huge barrier [for women seeking elected office]; with re-election rates at over 90 percent there just aren't a lot of opportunities [for women] to run and win."
As Cohen quotes Congresswoman Nancy Pelosi: "It's brutal. It's tough. You are going for power. It's never been just given away." But voters are shown to care more about party and ideology than they do about gender. "Changing the narrative about what women really do face [in running for office], I hope, will lead more women to understand that they can win and so will decide to run," Cohen added.
The Tests Facing California's New Governor
Gavin Newsom now leads the state with the nation's biggest economy and largest population — and one riven by economic inequality. What will be his most important challenges?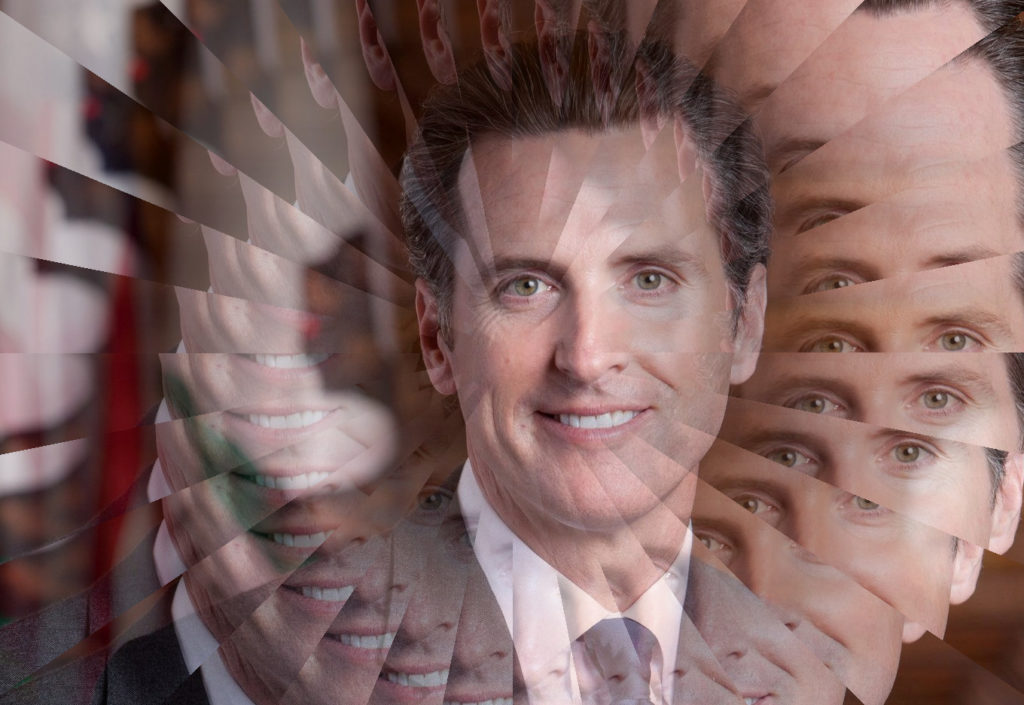 Gavin Newsom inherits a state that should be any governor's dream: A California that is the cradle of the tech revolution and brims with prosperity, a one-party state with supermajorities in both chambers for Newsom's Democrats. But there are clouds darkening the horizon: Daily prophecies tell of coming economic storms; legislative initiatives taken on behalf of immigrants, retirement security and the stemming of global warming are increasingly thwarted by a bellicose White House. And that Democratic Party monopoly in Sacramento masks a deepening ideological fault line dividing pro-business moderates and progressives – the latter of which have largely chafed for the last 16 years under the thrifty administrations of Jerry Brown and Arnold Schwarzenegger, and are eager to burst out with far-reaching (if pricey) legislation.
Then, there are memories of three high-riding liberal governors (Pat and Jerry Brown, and Gray Davis) whose programs or careers were derailed by resentful taxpayers. There are more recent memories, too: Of an impulsive, hard-partying San Francisco mayor whose blunted ambitions led him to spend eight years in the ceremonial wilderness of the lieutenant governor's office. Newsom is said to have matured into a more circumspect, pragmatic politician, although some of the old doubts were fanned back to life by an unflattering New Yorker profile that appeared shortly before his landslide victory November 6.
Perhaps overriding all these auguries is the undeniable fact that despite its enviable economy, its abundance of billionaires-in-residence and laudable array of social services, California still has the highest poverty rate in the U.S., nearly half of its children live in poverty or near-poverty, and merely finding an affordable place to live has become an existential challenge for many. These and similar factors superimpose on the state another kind of fault line, that of economic inequality. Most of the new governor's time will be spent wrangling crises that spring from this disparity. Which is why the following Capital & Main stories primarily focus on the inequality that separates so many Californians from one another.
Affordable Housing, by Jessica Goodheart.
Single-Payer Health Care, by Gabriel Thompson.
Climate Change and Big Oil, by Judith Lewis Mernit.
Inequality Interviews with Manuel Pastor, Ann Huff Stevens and David Grusky.
Early Childhood Education, by Bill Raden.
Inequality in California: Six Takeaways.
---
Copyright Capital & Main