With DeVos Vote, Some Republican Senators Must Weigh Opposing Trump Versus Supporting Policies That Hurt Public Education in Their Own States
Co-published by Newsweek

In her home state of Michigan, Amway heiress Betsy DeVos, Donald Trump's pick for education secretary, has been a fierce proponent of taxpayer-funded vouchers for private schools, arguing that "choice" would fix the state's ailing public education system.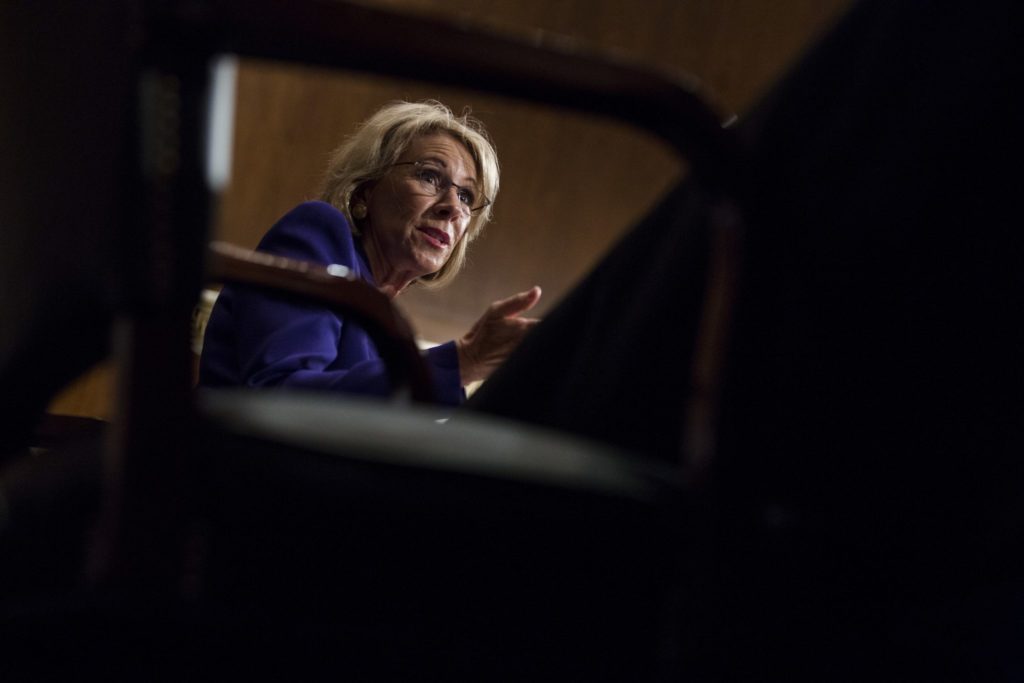 Photographer: Zach Gibson/Bloomberg via Getty Images
Co-published by Newsweek

In her home state of Michigan, Amway heiress Betsy DeVos, Donald Trump's pick for education secretary, has been a fierce proponent of taxpayer-funded vouchers for private schools, arguing that "choice" would fix the state's ailing public education system. Since establishing the Great Lakes Education Project in 2001, DeVos has also persuaded the state legislature to lift the state cap on charter schools and relax oversight, allowing for-profit academies to spend more than $1 billion annually in taxpayer dollars on charter schools.
The result has indeed been more school choice, at least in urban Detroit. But the charter school movement in Michigan has not raised academic performance, particularly among students of color. According to a report by the nonpartisan Education Trust-Midwest, by 2013, two-thirds of African-American charter students in Michigan were performing worse on math assessments than students in Detroit Public Schools. "That is truly devastating," write the report's authors, "given that DPS is one of the worst-performing urban districts nationwide."
Every Democrat in the U.S. Senate has already pledged to oppose DeVos's confirmation when it comes up for a vote next week. Only two Republican senators, however, Lisa Murkowski of Alaska and Susan Collins of Maine, have made the same decision. Of the remaining Republican senators, many represent states where the policies promoted by DeVos have already proved unworkable, and in some cases damaging, to public education.
Opponents of DeVos still hold out hope that a Republican will break the projected tie in the confirmation vote (a 50-50 split would give Vice President Mike Pence the deciding vote, thus assuring her victory). Here are five senators who face the difficult choice of opposing Trump or voting to confirm an education secretary whose actions may not be in the best interests of their constituents:
Sen. Dean Heller, Nevada: Nevada, where the public education system has long been one of the worst in the nation by every metric, has already experimented with ideas favored by DeVos when Republican lawmakers passed a "Super Voucher" program that ended up disproportionately benefiting wealthier families.
One Nevada school, the Nevada Virtual Academy, a cyber-charter in the DeVos model, was nearly shut down last year by state regulators, despite DeVos's claim, in a letter to Sen. Patty Murray (D-Wash.), that the school has a 100 percent graduation rate. In reality, the school has a graduation rate closer to 67 percent.
Heller on Wednesday affirmed his support for DeVos, but many of his constituents are hoping the senator's vulnerability in 2018, when he's up for re-election, will cause him to reconsider. "We're lighting up his phones until the second he casts his vote in the hopes he'll change his mind," says Bob Fulkerson of the Progressive Leadership Alliance of Nevada Action Fund.
Sen. Cory Gardner, Colorado: Gardner announced early he'd be backing DeVos, appearing with her on his Facebook page on January 10. But that post drew more than 3,000 comments, almost all of them criticizing DeVos's education privatization agenda. On Friday, he was still the target of a vigorous anti-DeVos effort. "It's just been a firehose," he told Denver's CBS affiliate, while accusing the protestors of being paid activists.
Like Nevada, Colorado has had its run-ins with the charter-school movement, and school vouchers have met with bipartisan criticism. In 2010, the Colorado Department of Education accused a major charter school operation in the state, the Cesar Chavez School Network, of "egregious financial practices and dubious leadership," squandering taxpayer money without keeping proper records and engaging in "severe nepotism." In 2015, the Colorado Supreme Court declared one county's voucher program, which would have funded private religious schools, unconstitutional.
Sen. Rob Portman, Ohio: Until her November nomination, Betsy DeVos ran a charter school political action committee, All Children Matter, that successfully lobbied state legislatures in several states, including Ohio. But the state's $1 billion school voucher program has been a singular disaster — a national laughing stock, according to the Cleveland Plain Dealer, for its low standards and poor oversight. ("Be very glad that you have Nevada, so you are not the worst," Stanford University researcher Margaret "Macke" Raymond told Ohio education leaders at a conference, the Plain Dealer reported.)
What's more, DeVos's PAC stands accused of violating election law and failing to pay the state $5.3 million in fines for diverting campaign funds meant for Virginia to Ohio. DeVos says she doesn't owe the money, because the PAC has since been dissolved and DeVos herself was just a volunteer. While she has some defenders in the state, including Ohio Governor John Kasich, the dustup has damaged her popularity among Portman's constituents.
Portman only voiced his support for the nominee on February 2, saying that he had confidence in "her support for local control." Nothing in DeVos's testimony supports that theory, however while her record of ferocious political activism in Michigan suggests she'll be anything but hands off.
Sen. Pat Toomey, Pennsylvania:  Pennsylvania Auditor General Eugene DePasquale has declared Pennsylvania charter school law "simply the worst" in the U.S., citing, in an April 2016 report, examples of alleged waste, fraud and abuse of public resources that have gone undetected by regulators. The report generated a scandal when it was released, as did a December 2016 Economic Policy Institute study demonstrating how charter schools in Philadelphia and other urban centers have drained funds from traditional public schools, with mixed results.
Perhaps that's why, as Bob Casey, Pennsylvania's Democratic senator, told Cox Media's Dorey Scheimer on Thursday, "correspondence is up 900 percent" to his office this year, most of it urging a no vote on DeVos. FaxZero, a free faxing service, listed Casey's colleague, Sen. Pat Toomey, as the most faxed congressperson in the 24-hour period that ended Thursday morning at 10 a.m. Still, Toomey has not budged from his enthusiastic position on DeVos, whom he said will ensure that "poor children trapped in failing schools have the same opportunities that wealthy and middle-class kids already have." That might have something to do with the $60,050 in campaign contributions Toomey received from the DeVos family, though the same group gave $43,200 to Alaska Sen. Lisa Murkowski, who is voting no.
Sen. Dan Sullivan, Alaska: Of all the testimony in the Senate committee hearings on DeVos, some of the most persuasive came from Murkowski, who described in detail how the charter school movement would drain rural school districts. "Eighty-two percent of the communities in the state of Alaska are not attached by road," Murkowski said. "They are islanded in every sense of the word." Offering rural districts "choice" is meaningless.
It's in part for that same reason that Sen. Susan Collins won't support DeVos: Maine's 60 percent rural population is the highest in the nation. When you have 60 students in a district, Murkowski pointed out, you need public education dollars to fund one school, not vouchers for fictional options.
Sullivan says he shares his colleague's concerns, but believes, like Portman, that she'll "return the decision-making process back" to teachers and parents.
It doesn't appear that Sullivan is persuadable, but DeVos opponents in the state aren't giving up. The public advocacy group Great Alaska Schools is holding an "Emergency DeVos Tie-Breaker Telethon" today to get around Sullivan's jammed communication lines.