Racial Justice Activists Split Over Proposition 22
Major endorsements arrive as critics worry the measure will be disastrous for California labor.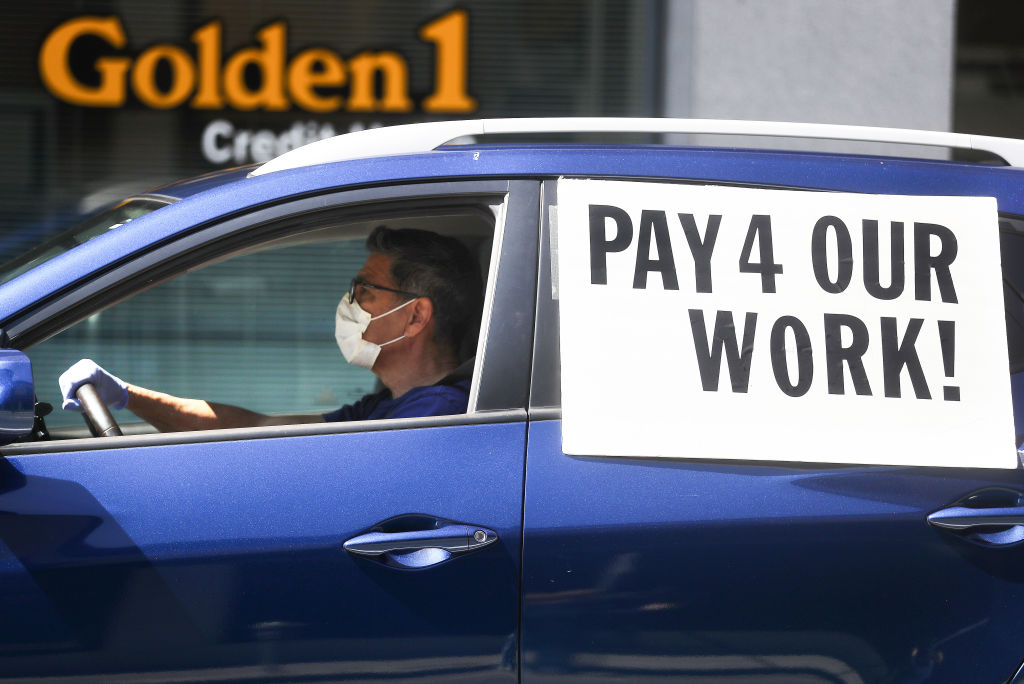 "Well – it's simple," Jay King says. The DJ's voice, so crisp on Traffic Jams, 97.5 KDEE Sacramento, is hissing and buzzing out of an iPhone speaker. "Why would we limit opportunities for people who need as many as they can get?"
King, president of the California Black Chamber of Congress, is one member of a coalition of racial justice groups endorsing Proposition 22. The November 3 ballot measure would classify rideshare drivers as independent contractors instead of employees, exempting them from the provisions of Assembly Bill 5.
The Yes on 22 coalition also includes 10 NAACP chapters, Black Lives Matter Sacramento, the National Asian American Coalition, the Baptist Ministers Conference of Los Angeles and Southern California, and the California branch of the National Action Network, Reverend Al Sharpton's civil rights organization. "Driving with these platforms provides an accessible, low barrier-to-entry way to earn income for those who often find traditional employment challenging – communities of color, seniors, disabled veterans and those formerly incarcerated," the coalition wrote in a letter to state politicians.
---
Both campaigns for and against Prop. 22 are fighting to frame their side as the one allied with racial justice.
---
"Rideshare and delivery has provided a lifeline for many within our communities, especially during the pandemic," says Dr. Tecoy Porter Sr., chair of the California State National Action Network. Hundreds of thousands of jobs would be lost if Prop. 22 fails to pass, he explains, hitting black and brown communities the hardest.
Meanwhile, critics of the measure are sounding the alarm, arguing it would create "a permanent underclass of workers" in California, paying drivers less than minimum wage, rolling back benefits, and denying them their right to organize. That's according to Rigging the Gig, a report from the National Employment Law Project and the Partnership for Working Families. ("If workers of color are 'their own boss' on these platforms, it is a cruel irony that they have been made to reproduce the conditions that perpetuate vast wealth gaps between themselves and their white peers," the authors write.)
One study examining rideshare and delivery workers in the San Francisco gig economy found the workforce to be 78 percent people of color, and 56 percent to be immigrants. Thirty-one percent of Hispanic adults work in the United States gig economy, according to a 2018 Marketplace-Edison study, compared to 27 percent of African American adults and 21 percent of white adults.

Following a summer of rebellion against the police, both campaigns are fighting to frame their side as the one allied with racial justice, and the fate of their argument could dictate the futures of hundreds of thousands of workers in California.
A question hangs over their debate: Must the struggle for racial equity in the United States necessarily be anti-capitalist, too? "I want people to know that racial justice is economic justice," says Cherri Murphy, a Black Lyft driver and organizer with Rideshare Drivers United, a union representing rideshare employees. "Allyship is not a performance." Until the pandemic halted her work, Murphy drove 30 to 40 hours a week and still qualified for MediCal.
But on the Yes on 22 website, Dr. Tecoy Porter also argues that "racial justice and economic justice are closely intertwined" – and this is why he supports the measure.
When asked if Prop. 22's anti-union provisions undermine a fight for racial equity, Jay King insists that, looking to history, skirmishes between American corporations and their workers have little to do with Black oppression. Blame lies more with the United States government, guilty of centuries of cold-blooded murder.
"Go read about Ocoee, Florida, go read about Tulsa, Oklahoma, go read about Wilmington, North Carolina, 1898, and you'll see the inequities and injustices that exist in this country aren't because of companies not allowing people to organize," he says. "Equity and justice is about the treatment of the human being because of the color of his or her skin, not whether they're an independent contractor or not."
* * *
Codified into law under Assembly Bill 5, Dynamex Operations West, Inc. v. Superior Court rocked the tech world in 2018.
California companies must prove their workers are independent contractors with an A-B-C test, the California Supreme Court ruled, demonstrating a) that their workers operate outside their control, b) that the labor of their workers is not central to the company's business, and c) that the workers run an independent business in the service they provide. If any prong of the test is flunked, the worker is classified as an employee with employee's rights.
AB 5 went into effect this January, just over a year after it was introduced by San Diego Assemblywoman Lorena Gonzalez. But Uber and Lyft are refusing to follow the law, prompting California Attorney General Xavier Becerra to sue the companies this May. The companies threatened to leave the state following an August 10 ruling that they had 10 days to comply with AB 5, but Uber & Lyft won an appeal against the ruling on August 20. The appeals trial is set for October 13.
Meanwhile, corporations behind Proposition 22, including Uber, Lyft, and DoorDash, invested an additional $70 million into the Yes on 22 campaign this month, bringing their investment so far to $181 million. No on 22, funded by organized labor, has raised $4.8 million and is being outspent nearly 38:1.
"That tells me that their proposition is in trouble," says Assemblywoman Gonzalez. "You don't add that big of a pot of money if your polling looks good."
The rideshare companies behind Proposition 22 celebrate the measure as a "new progressive framework" for rideshare drivers: The ballot measure guarantees workers 120 percent of the California minimum wage, health care subsidies after 15 hours of work, sick leave, and injury protection.
But the measure contains a major catch.
Pay, leave, and benefits are all given based on a driver's "engaged time" – when they have a passenger in the car or are on their way to pick up another. Time spent waiting for new ride requests is discounted.
According to Ken Jacobs and Michael Reich of the University of California, Berkeley Labor Center, engaged time is only 67 percent of a driver's shift, and workers under Proposition 22 could make as little as $5.64 an hour. "Not paying for [wait] time would be the equivalent of a fast food restaurant or retail store saying they will only pay the cashier when a customer is at the counter," they wrote in 2019.

---
Until the pandemic halted her work,
Lyft driver
Murphy drove 30 to 40 hours a week and still qualified for MediCal.
---

Yes on 22 disputes this analysis, pointing to a study from UC Riverside saying drivers would make an average of $25 an hour under the measure. Jacobs and Reich recently doubled down on their findings, calling the Riverside study "Lyft-funded."
According to a spokesman for Yes on 22, the engaged time rubric ensures workers aren't paid for having the app open and not accepting rides. The "vast majority of drivers, by a 4 to 1 margin, want to be independent contractors, not employees," the spokesperson wrote in an email, citing "independent polls."
Under Proposition 22, drivers will have their health care premiums 100 percent covered after 25 hours of work – based on the "average ACA contribution" to Covered California, the California exchange. But on page 14 of the measure, the average contribution is defined as only 82 percent of the average monthly Covered California premium.
And again, hours logged by a driver toward those required for health subsidies or other benefits are based on engaged time, not total drive time. To reach the 100 percent reimbursement – or 82 percent reimbursement – a driver would have to work 39.6 hours, not 25, according to Rigging the Gig. (Yes on 22 calls the report "unabashed campaign propaganda.")
Nicole Moore, an organizer with Rideshare Drivers United, says every time she opens her Lyft app she sees a new advertisement urging her to defend her flexibility by voting yes on 22. (She also receives messages to "stand against racism.")
"Flexibility is equal to them not having to pay up," she says. "The flexibility they're talking about right now is the flexibility to do whatever they want."
Any amendment to Proposition 22 would require approval by seven-eighths of the State Legislature. Such requirements, known as "lock-ins," are not new in California ballot initiatives, but Proposition 22's lock-in is unusually stringent; Proposition 11, passed in 2018, would get closest to the rideshare measure's threshold with a four-fifths lock-in, according to Rigging the Gig authors Rey Fuentes, Rebecca Smith and Brian Chen, who reviewed California ballot measures dating back to 2014.
Furthermore, amendments to Proposition 22 would have to be "consistent with, and further the purpose" of the measure. Any legislation reclassifying rideshare workers as employees, or seeking in any way to alter their employment status, could be called "inconsistent" and easily tossed out in a legal challenge. In a grandfather clause, these rules retroactively apply to amendments passed before the measure's implementation and as far back as October 29, 2019.
Insisting California must establish "uniform standards," Proposition 22 would nullify local rideshare law, like legislation addressing compensation or gratuities, scheduling, leave, health care subsidies and "any other work-related stipends, subsidies, or benefits," undoing sick-leave benefits passed by San Francisco and Los Angeles.
Independent contractors, including farmworkers, are exempted from the National Labor Relations Act. And while collective bargaining protections could always be built at the state level – California gave farmworkers bargaining rights by passing the Agricultural Labor Relations Act in 1975 – Proposition 22 says such laws would constitute an amendment and, again, require seven-eighths approval.
"It's like a statewide anti-union campaign that's involving the electorate," says Moore.
* * *
In the dog days of August, a billboard went up in Oakland.
"If you tolerate racism, delete Uber," it read – "Black people have the right to move without fear." The advertisement was part of a new campaign developed for the rideshare giant by Wieden+Kennedy, the firm behind "Just Do It." Uber also shared an American Civil Liberties Union guide of protesters' rights, and sponsored Al Sharpton's "Get Your Knee Off Our Necks" rally commemorating the March on Washington, giving out free rides to marchers.
A week later, smoke from nearby fires carried into the Bay Area. The skies over Uber's new billboard turned red.
"Our world is changing," Jay King says. His first cell phone, he explains, was attached by a cord to his car; so too must labor law be updated for the 21st century.
"The legislature, they're not looking at this through young eyes," he says. "They just don't know what the future looks like."
---
Copyright 2020 Capital & Main