Why Climate Activists Protested Jerry Brown's Swan Song
Climate-change activists hoping to hear the governor propose a new climate initiative during his State of the State speech Thursday were disappointed.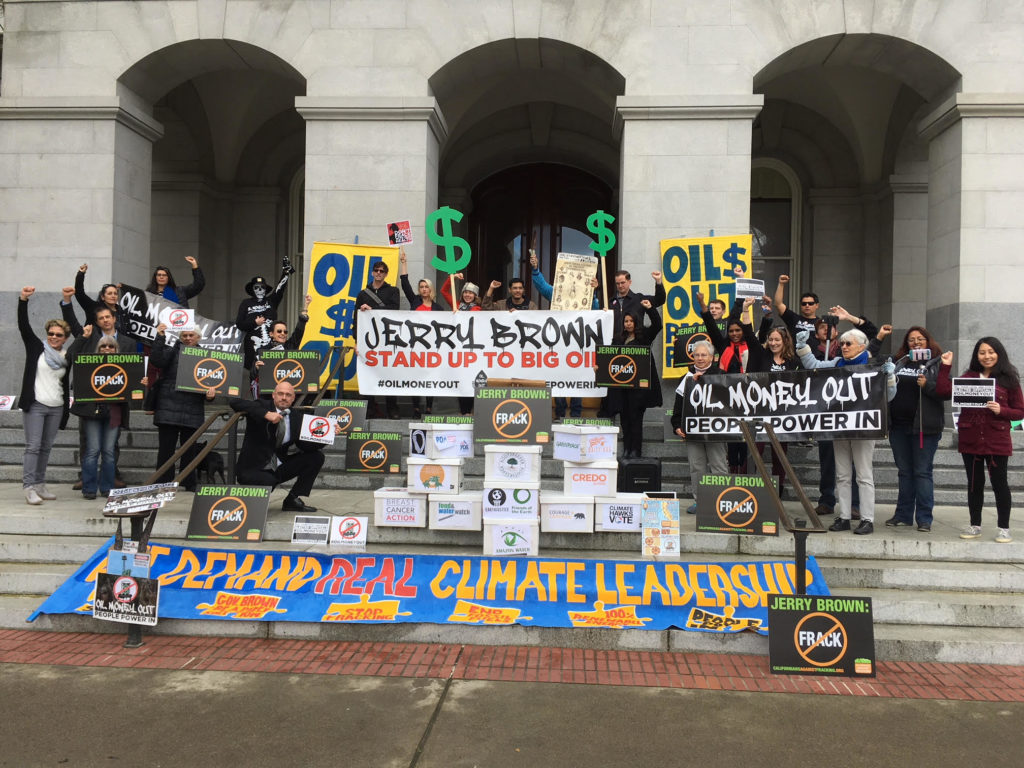 One might expect the final State of the State address from a governor who spent nearly half a century on California's political scene to be a bit of a victory lap. Speaking before the state's assembled legislators on Thursday, Jerry Brown took the time to list many of his achievements , including a balanced budget, low unemployment and criminal justice reforms.
But on what might be Brown's signature accomplishment, climate change policy, activists hoping to hear a new initiative were disappointed. Brown didn't mention oil and gas in his speech, and that's a problem, activists say, because despite his reputation as a climate leader, his record on climate is mixed at best.
Shortly after Brown's address, health professionals and members of the Oil Money Out campaign, a coalition of environmental, advocacy and political groups, gave a press conference on the steps of the state capitol prior to delivering more than 80,000 signatures petitioning Governor Brown and California's elected officials to refuse to accept oil money.
South L.A. resident Gabriela Garcia gave an emotional recounting of the health problems her family had suffered as a result of living near the AllenCo oil wells.
"We would feel tremors," Garcia said. "We would smell interesting smells in our neighborhood . . . Later we found out they were using masking agents. At 4 o'clock in the afternoon or at 5 in the morning we [felt] these tremors in the earth or . . . we smelled these smells that are not normal. My own daughter was waking up with blood all over her face."
Garcia and other neighbors started People Not Pozos (People Not Wells) and were able to shut down one nearby well, but she said she fears AllenCo will keep trying to reopen it.
Several speakers said Garcia's experience with urban oil drilling shows how Brown has been far too accommodating to the oil and gas industry.
David Braun, director of Rootskeeper and Oil Money Out, was an organizer of the event. He told Capital & Main that Brown needs to "walk the walk" on the environment and climate change.
"I'm always encouraged to hear Brown talk about climate change, but he has ignored the science about fracking and oil production," Braun said.
"The influence of Big Oil has long been felt in California politics," said R.L. Miller, chair of the California Democratic Party's Environmental Caucus. She and other activists fought against the extension of Assembly Bill 398 last year, saying cap-and-trade was too friendly to the oil and gas industry.
Environmental advocates say California can't meet its greenhouse gas emissions targets, let alone live up to its reputation as a climate leader, without severely reducing the amount of oil and gas production. California is third on the U.S. Energy Information Administration's list of top crude oil-producing states, behind Texas and North Dakota. Though the state has reduced crude oil production since the 1980s, California still delivers two million barrels per day from 12 refineries. According to a 2015 report commissioned by industry lobbying group Western States Petroleum Association, oil and gas contributes to nearly 500,000 direct and indirect jobs in the state, and accounts for 3.4 percent of the state GDP.
That amount of oil and gas activity has an effect on the state beyond economics. In 2015, a California Council on Science and Technology (CCST) report determined that fracking and urban drilling are dangerous for California and made recommendations such as mandatory human health buffer zones around oil operations. But so far, none of the scientific recommendations have been implemented.
And a 2017 report by the Center for Biological Diversity showed that urban oil drilling releases toxic air pollutants that cause cancer, asthma and other health problems, and that communities of color are disproportionately affected.
"Urban oil drilling uses the same chemicals used in fracking," Braun said. "But because routine oil operations, which constitute most of the urban oil drilling in California, is not considered well stimulation, nobody is overseeing it."
Despite California's reputation of leading the fight for environmentally friendly policies, the oil industry spent more than $36 million in the 2015-16 legislative session, up from $34 million the previous year, according to an American Lung Association study. Miller says that money had influence on climate policies, including AB 398, the extension of cap-and-trade, which Miller said had its "genesis in oil industry talking points."
A 2016 report by Consumer Watchdog, "Brown's Dirty Hands," found that energy companies, including giants Occidental, Chevron and NRG, had donated $9.8 million to Jerry Brown's campaigns, cause, and initiatives, and to the California Democratic Party between 2009 and 2014. "This was hush money to protect the oil industry," Liza Tucker, alleges. The report and demands by climate advocates led the California Democratic party to pledge that it would no longer accept donations from oil companies.
In her other capacity as co-founder of Climate Hawks Vote, Miller recently got the four major Democratic candidates – including Lieutenant Governor Gavin Newsom, State Treasurer John Chiang, former L.A. Mayor Antonio Villaraigosa and former California Superintendent of Public Instruction Delaine Eastin – to sign a pledge to take no oil money.
"I think this [pledge] shows the candidates at least acknowledge there's an oil lobbying problem," Miller said, adding that activists need to hold candidates accountable to ensure oil money doesn't quietly seep into campaigns through independent expenditures.
---
Copyright Capital & Main
Green New Deal Targets Link Between Trade Policy and Climate Change
Rep. Alexandria Ocasio-Cortez's resolution spotlights stealth connections between free trade deals, offshoring and carbon emissions.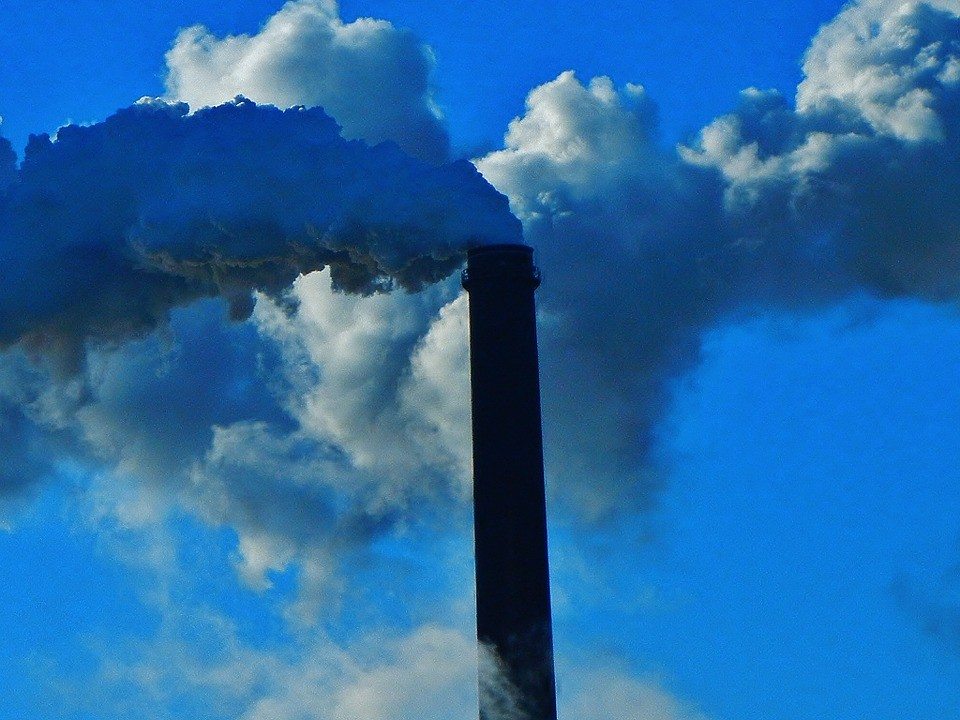 Congressional Democrats on Thursday unveiled landmark Green New Deal legislation outlining proposals to combat climate change — and the measure does not stop at the American border. The resolution calls for new trade laws to halt America's continued export of carbon pollution to countries across the globe.
The link between trade policy and climate change may seem far-fetched, but it is illustrated by the relationship between emissions in different countries. For example: In recent years the United States and Europe had been reducing their own greenhouse gas emissions. That seeming progress has been offset in developing countries such as China, which has seen a significant spike in emissions to the point where it now produces more greenhouse gases than the United States and the European Union combined.
On the surface, these trends might appear to show wealthy nations' proactively decarbonizing their economies, and developing nations failing to do the same. However, China's emissions are not happening in a vacuum: Research suggests they are being fueled by the United States through the trade policies that the Green New Deal resolution targets.
Over the last few decades, under major free trade agreements, corporations have been shifting manufacturing facilities from the United States to developing-world nations like China, where labor and environmental laws are weaker. That shift has not only eliminated millions of American manufacturing jobs, it has also moved carbon emissions to those countries.
The result: The United States and EU had been domestically producing less greenhouse gas emissions, but the picture looks much more grim when considering "consumption-based" emissions — that is, emissions associated with the production of imported goods purchased by a nation's consumers.
"What appears [at first sight] to be the result of structural change in the economy is in reality just a relocation of carbon-intensive production to other regions—or carbon leakage," wrote Dutch researchers in a 2016 report for the Institute for New Economic Thinking (INET).
* * *
Data compiled by researchers at Oxford and the University of Edinburgh show that when consumption-based emissions are considered, the United States and the EU have been fueling carbon emissions through their import-dependent economies.
"If we switched to a consumption-based reporting system," wrote these researchers, "the annual CO2 emissions of many European economies would increase by more than 30 percent and the USA's emissions would increase by seven percent."
While not fully fleshed out, the Green New Deal resolution appears to recognize the link between trade and climate change. The measure, which is sponsored by Rep. Alexandria Ocasio-Cortez (D-NY) and Sen. Ed Markey (MA), calls for "enacting and enforcing trade rules, procurement standards, and border adjustments with strong labor and environmental protections to stop the transfer of jobs and pollution overseas; and to grow domestic manufacturing in the United States."
That demand challenges the existing template of American trade pacts: Up until now, those deals have not included provisions designed to reduce carbon emissions. Indeed, watchdog groups have noted that the term "climate change" was not mentioned in the draft of the proposed Trans Pacific Partnership — a deal that environmentalists said would accelerate greenhouse gas emissions.
The Green New Deal — which is only a non-binding resolution and would not create new programs — asks for a change in that trade model. The idea is to include environmental provisions in trade pacts and to use trade policies to encourage manufacturing facilities to return to the United States, where they would be subjected to more stringent emissions rules as they produce goods for Americans.
That demand is supported by the findings of the INET report, which noted that because of the globalized economy, domestic emissions reductions alone will not be enough to ward off catastrophic climate change.
"It is no great achievement to reduce domestic per capita carbon emissions by outsourcing carbon-intensive activities to other countries and by being a net importer of [greenhouse gases]," they wrote.
---
Copyright Capital & Main