Why Climate Activists Protested Jerry Brown's Swan Song
Climate-change activists hoping to hear the governor propose a new climate initiative during his State of the State speech Thursday were disappointed.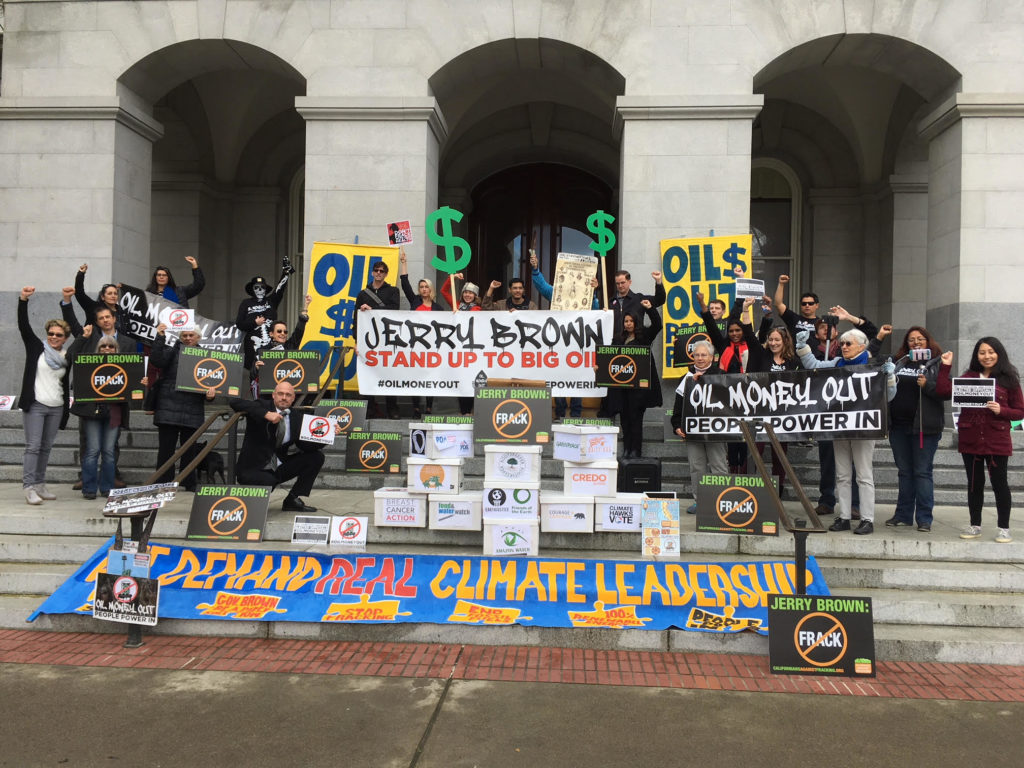 One might expect the final State of the State address from a governor who spent nearly half a century on California's political scene to be a bit of a victory lap. Speaking before the state's assembled legislators on Thursday, Jerry Brown took the time to list many of his achievements , including a balanced budget, low unemployment and criminal justice reforms.
But on what might be Brown's signature accomplishment, climate change policy, activists hoping to hear a new initiative were disappointed. Brown didn't mention oil and gas in his speech, and that's a problem, activists say, because despite his reputation as a climate leader, his record on climate is mixed at best.
Shortly after Brown's address, health professionals and members of the Oil Money Out campaign, a coalition of environmental, advocacy and political groups, gave a press conference on the steps of the state capitol prior to delivering more than 80,000 signatures petitioning Governor Brown and California's elected officials to refuse to accept oil money.
South L.A. resident Gabriela Garcia gave an emotional recounting of the health problems her family had suffered as a result of living near the AllenCo oil wells.
"We would feel tremors," Garcia said. "We would smell interesting smells in our neighborhood . . . Later we found out they were using masking agents. At 4 o'clock in the afternoon or at 5 in the morning we [felt] these tremors in the earth or . . . we smelled these smells that are not normal. My own daughter was waking up with blood all over her face."
Garcia and other neighbors started People Not Pozos (People Not Wells) and were able to shut down one nearby well, but she said she fears AllenCo will keep trying to reopen it.
Several speakers said Garcia's experience with urban oil drilling shows how Brown has been far too accommodating to the oil and gas industry.
David Braun, director of Rootskeeper and Oil Money Out, was an organizer of the event. He told Capital & Main that Brown needs to "walk the walk" on the environment and climate change.
"I'm always encouraged to hear Brown talk about climate change, but he has ignored the science about fracking and oil production," Braun said.
"The influence of Big Oil has long been felt in California politics," said R.L. Miller, chair of the California Democratic Party's Environmental Caucus. She and other activists fought against the extension of Assembly Bill 398 last year, saying cap-and-trade was too friendly to the oil and gas industry.
Environmental advocates say California can't meet its greenhouse gas emissions targets, let alone live up to its reputation as a climate leader, without severely reducing the amount of oil and gas production. California is third on the U.S. Energy Information Administration's list of top crude oil-producing states, behind Texas and North Dakota. Though the state has reduced crude oil production since the 1980s, California still delivers two million barrels per day from 12 refineries. According to a 2015 report commissioned by industry lobbying group Western States Petroleum Association, oil and gas contributes to nearly 500,000 direct and indirect jobs in the state, and accounts for 3.4 percent of the state GDP.
That amount of oil and gas activity has an effect on the state beyond economics. In 2015, a California Council on Science and Technology (CCST) report determined that fracking and urban drilling are dangerous for California and made recommendations such as mandatory human health buffer zones around oil operations. But so far, none of the scientific recommendations have been implemented.
And a 2017 report by the Center for Biological Diversity showed that urban oil drilling releases toxic air pollutants that cause cancer, asthma and other health problems, and that communities of color are disproportionately affected.
"Urban oil drilling uses the same chemicals used in fracking," Braun said. "But because routine oil operations, which constitute most of the urban oil drilling in California, is not considered well stimulation, nobody is overseeing it."
Despite California's reputation of leading the fight for environmentally friendly policies, the oil industry spent more than $36 million in the 2015-16 legislative session, up from $34 million the previous year, according to an American Lung Association study. Miller says that money had influence on climate policies, including AB 398, the extension of cap-and-trade, which Miller said had its "genesis in oil industry talking points."
A 2016 report by Consumer Watchdog, "Brown's Dirty Hands," found that energy companies, including giants Occidental, Chevron and NRG, had donated $9.8 million to Jerry Brown's campaigns, cause, and initiatives, and to the California Democratic Party between 2009 and 2014. "This was hush money to protect the oil industry," Liza Tucker, alleges. The report and demands by climate advocates led the California Democratic party to pledge that it would no longer accept donations from oil companies.
In her other capacity as co-founder of Climate Hawks Vote, Miller recently got the four major Democratic candidates – including Lieutenant Governor Gavin Newsom, State Treasurer John Chiang, former L.A. Mayor Antonio Villaraigosa and former California Superintendent of Public Instruction Delaine Eastin – to sign a pledge to take no oil money.
"I think this [pledge] shows the candidates at least acknowledge there's an oil lobbying problem," Miller said, adding that activists need to hold candidates accountable to ensure oil money doesn't quietly seep into campaigns through independent expenditures.
---
Copyright Capital & Main
Can the EPA Roll Back California's Clean Air Standards?
Co-published by The American Prospect
The Trump administration wants to argue that California has no special right to regulate greenhouse gas emissions from cars and trucks. But their case, experts say, is weak.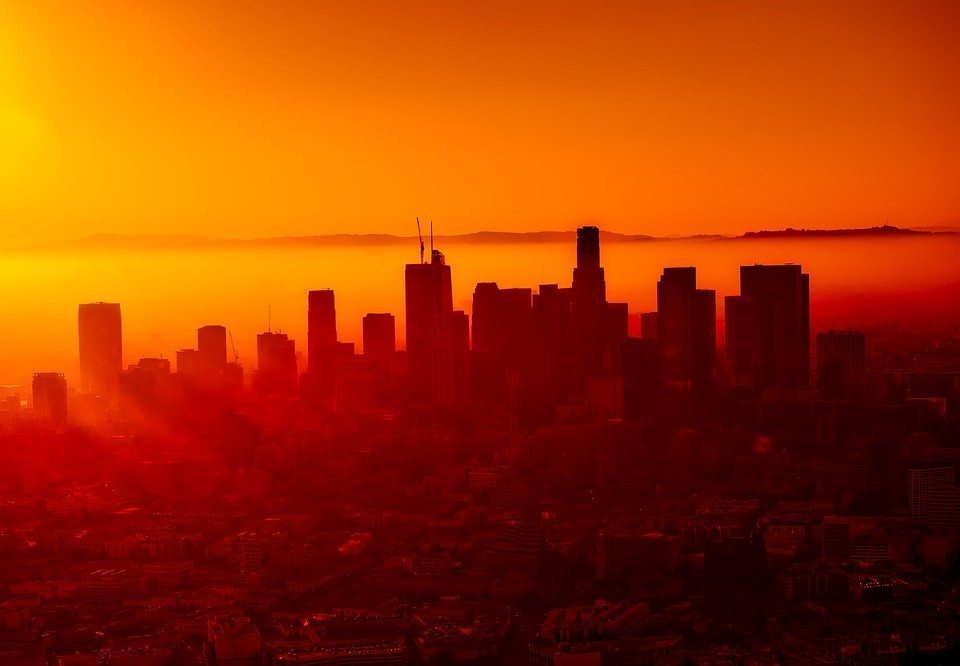 ---
The new Safer and Affordable Fuel-Efficient Vehicles rule would nullify California regulations to reduce greenhouse gas emissions from tailpipes and its zero-emission vehicle program.
---
Co-published by The American Prospect
When officials within the Trump administration, on August 2, proposed scaling back Obama-era fuel-economy standards and revoking California's authority to regulate greenhouse gas emissions from tailpipes, they were betting on the chance that courts can't tell the difference between a law against gas guzzlers and one against carbon belchers. Low-mileage cars and low-emissions cars are often one and the same, they may have reasoned. If you're requiring a car to emit less carbon dioxide, you're also asking that it burn less fuel.
That part might be mostly true, although there are emissions controls that have nothing to do with gas mileage. But from a legal standpoint, fuel economy and tailpipe emissions take distinctly different routes to regulation. Fuel-economy standards, known as the Corporate Average Fuel Economy, or CAFE standard, as defined in the Energy Policy Conservation Act, forbid states from making their own rules. The National Highway Traffic Safety Administration enforces them; states have no control.
The 1970 Clean Air Act, on the other hand, gives California the explicit authority to regulate air pollution, albeit with EPA sign-off in the form of a "waiver" each time the state wants to impose a new standard. Other states can adopt California's stricter rules (12 of them and the District of Columbia, have). Or states can stick with the standards set by the federal government. Tailpipe emissions of other pollutants from cars and trucks — carbon monoxide and nitrous oxides, for starters — have long been a chief source of air pollution, and California since 1961 has acted to curtail them.
---
"California regulators were the first to understand how smog was formed, the first to act on how to control that smog."
---
That's one of the reasons why the administration might lose its coming battle with 19 states and a host of environmental groups gearing up to fight the "Safer and Affordable Fuel-Efficient Vehicles" rule, as the Environmental Protection Agency calls its apocalypse-hastening rollback, which would freeze the CAFE standard at 37 miles per gallon instead of aiming toward the 54.5 miles per gallon by 2025 that the previous administration had set. It would nullify not only California regulations to reduce greenhouse gas emissions from tailpipes but also California's zero-emission vehicle program, which requires carmakers to market a certain number of all-electric or hydrogen vehicles in the state.
But the rollback doesn't pass legal muster, says Irene Gutierrez, clean-energy attorney with the Natural Resources Defense Council. Among its many legal and factual flaws, the proposed rule seeks to revoke California's authority over tailpipe emissions of greenhouse gases on the grounds that "the environmental problems it addresses are not particular or unique to California." Yet nowhere does the Clean Air Act mention "particular or unique" as a waiver requirement.
---
California's transportation sector puts more carbon-dioxide and its equivalents into the atmosphere than any state but Texas.
---
"The EPA has not in the past looked at California and said, 'Prove to us that your ozone problems are worse than any other place in the country,'" Gutierrez says. "It's not like there aren't polluted air basins in other states." When past waivers were granted — there have been more than 50 — it wasn't because California and California alone had an air-quality problem. It was because California was seen as particularly aggressive about cleaning up its air and, in 1970, was far ahead of the federal government in doing so.
"California regulators were the first to understand how smog was formed, the first to act on how to control that smog," says Meredith Hankins, a legal scholar at the University of California, Los Angeles. So it allowed the state to forward with what's known as "technology-forcing" regulation.
"Technology-forcing means regulators aren't picking the technology, aren't picking the winners and losers," Hankins says. "They're saying 'You figure it out — you're the technology experts. All we care about is public health.'"
---
Climate change is undeniably hitting the state now with a particular and unique dose of fury.
---
But even if the law said California had to be unique in its suffering from greenhouse gas emissions, it would not be hard to make the case that it is. For one thing, with its glut of cars, California has an urgent responsibility to reduce its contribution to greenhouse gas pollution from cars and trucks. Forty-one percent of California's greenhouse gas emissions come from transportation, according to the California Air Resource Board's latest climate inventory. The state's transportation sector puts more carbon-dioxide and its equivalents into the atmosphere than any state but Texas.
Plus, climate change is undeniably hitting the state this moment with a particular and unique dose of fury. "There are 18 fires burning in the state right now, and none of them are contained," Gutierrez says. Several more have already leveled neighborhoods. One of them, near Redding, in Northern California, burned so hot that it scorched away a layer of earth.
It's an odd time, then, for the Environmental Protection Agency to be fighting against environmental protection. Especially in California.
California's climate gas waiver for cars was first denied by the Bush administration in 2008, when then-EPA Administrator Stephen Johnson made basically the same case: That California does not "need to meet compelling and extraordinary conditions" with respect to greenhouse gas pollution. Six months into the Obama administration, the EPA officially reversed that decision. "Opponents of the waiver have not demonstrated that California does not need its greenhouse gas emission standards to meet compelling and extraordinary conditions," EPA Administration Lisa Jackson wrote at the time. She also affirmed that "Congress recognized that California could serve as a pioneer and a laboratory for the nation in setting new motor vehicle emissions standards."
"Trump is trying to rehash those old Bush administration arguments," Gutierrez says. Trump's administration is also adding a bonus caveat: that clean vehicles are, by definition, small and unsafe. The proposal claims that canceling out both national fuel standards and California's waiver will reduce traffic fatalities by 12,700 from 2021 to 2029.
Never mind that it's possible to produce a substantial, low-emissions plug-in hybrid, such as Chrysler's Pacifica minivan, just as it is to make a smaller car that pollutes (the 2009 model of the Ferrari F430, for instance, isn't particularly big, but it packs the same climate wallop as the 2001 model of the hulking Ford Explorer.) Carmakers are getting better all that time at designing more substantial, longer-range and affordable cars that qualify as clean. Nearly every manufacturer has a plug-in hybrid crossover SUV on the line for 2019. Even Ford, which has been slow to the EV game — dutifully churning out "compliance" vehicles just to qualify for the strict California market — has announced a plug-in hybrid model of its crossover SUV, the Escape.
Besides, the goal of saving 12,000 lives rings a little hollow when you consider that heat, according to the Centers for Disease Control and Prevention, is the leading cause of all annual weather-related deaths in the U.S. The World Health Organization predicts that between 2030 and 2050, 250,000 people will die globally due to climate-related health impacts. Maybe we could all just drive a little more carefully.
---
Copyright Capital & Main