Whitemare on Elm Street: Jordan Peele's "Get Out"
New York City photographer Chris Washington has set aside his weekend for a trip to the country, where he must endure an ancient custom: meeting a girlfriend's parents for the first time.

New York City photographer Chris Washington has set aside his weekend for a trip to the country, where he must endure an ancient custom: meeting a girlfriend's parents for the first time. His understandable apprehension is heightened by the fact that Rose Armitage and her family are white, while he is black – a detail Rose hasn't yet shared with her parents. On paper and in politically correct conversation, none of this should matter, especially for the super-empathetic Armitages, whose patriarch is the kind of man who prefers to greet strangers with hugs instead of handshakes. In real-life America, however, Chris' skin color is all that seems to count – which soon becomes apparent in Jordan Peele's disturbing debut film, Get Out.
As the story's photogenic couple drives through an idyllic landscape of woods and manicured parkways, Chris begins to enter an Upstate of the mind — until some rude foreshadowing intrudes in the form of a deer that bounds across the road and into the front of their car. This somewhat familiar movie trope should remind viewers that Get Out is a horror film, albeit one with sardonic observations about contemporary race relations. For despite some awkward good fun had at the expense of Rose's neurosurgeon dad, who never fails to tell black people he would have voted for Obama a third time if permitted, an unmistakable creepiness settles in after Chris meets the two black people who work at the Armitages' large, rustic home. Both the groundsman and housekeeper move robotically in attentive orbits around the Armitages, and their clipped speech is an unnerving blend of obsequiousness and cloying courtesy. From the moment Chris encounters them, the movie begins its dance toward a bloody denouement.
Peele's film is provocative fun to watch as both a social satire and old-fashioned fright flick, all the more so because the writer-director leaves the sledge hammer at home. Instead, the script's shocks are administered in drips, and we're never quite sure what lurks around the corner of the scene we're watching. The story begins before we even meet Chris and Rose, as the camera travels down a darkened suburban street that a lone black man has mistakenly wandered onto. In moments a white car begins dogging the man's steps, its stereo playing "Run Rabbit Run," a silly old British ditty that will take on a very sinister meaning – and remain in our heads for days.
Likewise, a party thrown by the Armitages becomes a cringefest as the mostly older partygoers reveal their racial hangups to Chris – not through loud taunts or insults, but by their self-conscious attempts to buddy up to him and through comments that teeter between the solicitous and the patronizing. In literature, African-American observations about the phoniness of white society have pinched the national nerves from Ralph Ellison's Invisible Man to William Melvin Kelley's dem and beyond, and Get Out has done the same onscreen, becoming a film that seamlessly sutures together The Stepford Wives and Dutchman.
Peele's script is carried on the shoulders of an excellent cast, including Daniel Kaluuya as the low-keyed, increasingly bewildered Chris, and Allison Williams as his funny, comforting girlfriend, Rose. As Rose's parents, Bradley Whitford portrays the armchair progressive Dean with wit and restraint, while Catherine Keener's turn as a psychiatrist with an anti-smoking obsession would alone have made this picture scary. By the film's Grand Guignol end, these characters remind us that race remains a demon menacing the American soul.
'Skeleton Crew' Is a Play With a Moral Spine
Set in a Detroit automobile outfitting plant, Dominique Morisseau's drama grabs you from the start with its focus on blue-collar men and women, and their struggle for dignity and self-respect.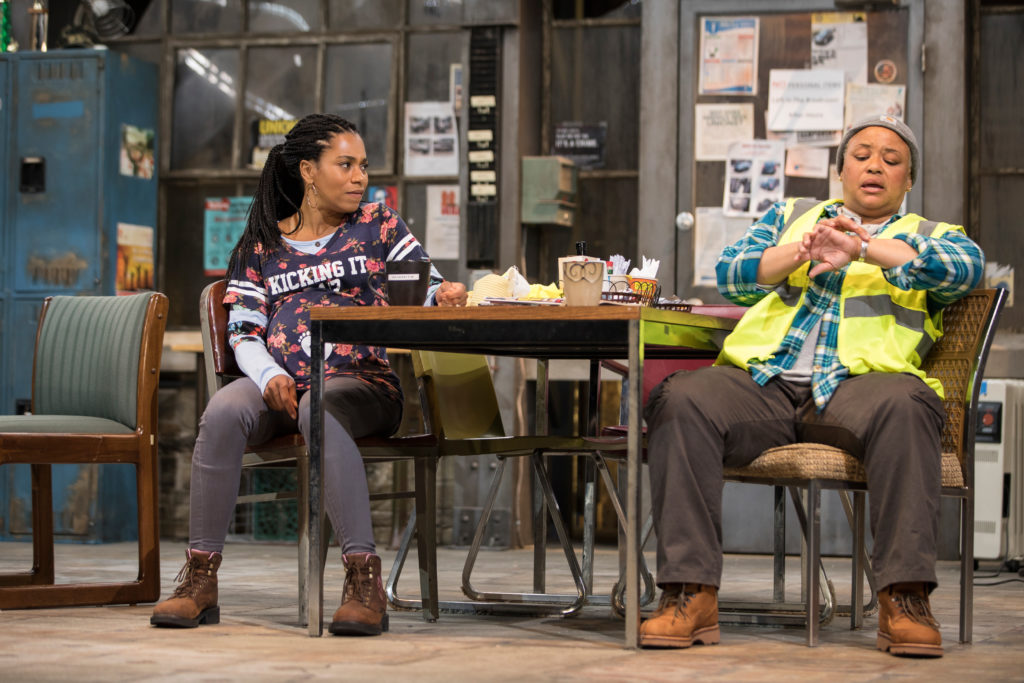 Working-class men and women of color are rarely front and center in today's media and, likewise, are presented all too occasionally on the American stage. So it's buoying to see that trend bucked in playwright Dominique Morisseau's percipient and well-crafted drama, Skeleton Crew. The play is the final installment in her Detroit  Project Trilogy; the first, Paradise Blue, is set in the 1940s amidst displacement caused by urban renewal and gentrification, while the second, Detroit '67, transpires on the eve of the 1967 Detroit riots sparked by a police action.
Directed by Patricia McGregor at Los Angeles' Geffen Playhouse, Skeleton Crew is a play with a moral spine. It takes place in 2008, when the shrinking U.S. auto industry is being further downsized. Morisseau's engaging quartet of characters — Faye (Caroline Stefanie Clay), Dez (Armari Cheatom), Shanita (Kelly McCreary) and Reggie (DB Woodside) – are employed at an automobile outfitting plant. Faye, Dez and Shanita are workers on the line while Reggie (who has a wife and kids, and has pulled himself together after a troubled youth) is their supervisor.
The first three customarily mingle in their break room (designer Rachel Myers' impressively cluttered, dingy and detailed set), trading the sort of familiar barbs and genuine concern for each other common among longtime co-workers. They also face off on philosophy: Upper-middle-aged Faye and the younger, pregnant Shanita take pride in their labor, while Dez, though a good worker, is a malcontent scornful of management and firm in the belief that everyone needs to watch out for himself. He's a thorn in Reggie's side, for while Reggie wants to be supportive of his workers, he must act at the behest of higher management. For his part, Dez resents Reggie's authority, and a palpable unease exists between them.
Besides this male matchup, we're made privy to Dez's attraction to Shanita, who mostly turns away his advances, but every now and then displays a hint of interest. Most poignant is Reggie's regard and affection for the lesbian Faye, which has roots in his boyhood when she loved, and lived, with his now-deceased mom.
These people's various predicaments intensify when rumors spread of the plant's shutdown — a disaster for all, but a particular calamity for the already near-broke Faye who, one year short of retirement, would lose her pension. The crisis forces each of these people to make a choice.
A sound piece of social realism, Skeleton Crew grabs you from the start in its focus on blue-collar men and women, and their struggle against odds for dignity and self-respect. Morisseau not only furnishes these characters a platform for their travails, she endows them with strong values, big hearts and the opportunity to choose between right and wrong.
Unfortunately, the performance I attended did not soar. Many exchanges lacked a fresh edge. The actors certainly had their characters down, but too often they appeared to be coasting on technique. (This seemed particularly true of Clay, who performed the role to great accolades in Washington, DC in 2017, also under McGregor's direction). Additionally, some of the stage movement was not entirely fluid; in confrontations, actors sometimes would just stand and face each other in an artificial way. And Cheatom's interpretation of Dez struck me as a bit overly churlish and depressive: I needed more glimpses of the intelligence and edge that would secretly attract the strong, self-directed Shanita.
The most compelling moments belong to Woodside, well-cast as a man trying his best in difficult circumstances to do the right thing.
---
Gil Cates Theater at the Geffen Playhouse, 10886 Le Conte Ave., Westwood Village; Tues.-Fri., 8 p.m.; Sat., 3 & 8 p.m. Sun., 2 & 7 p.m.; through July 8. (310) 208-5454 or www.geffenplayhouse.org