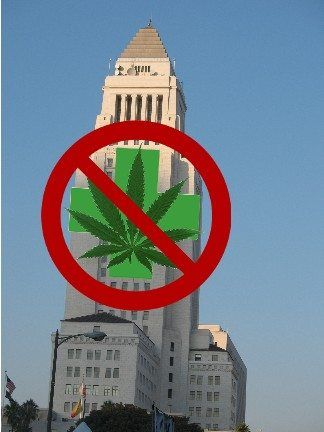 On Tuesday, July 24, the L.A. City Council voted unanimously to ban all medical marijuana dispensaries within the city. As the Los Angeles Times explains, this is the "latest attempt to regulate what many say is an out-of-control proliferation" of the pot shops.
I am one of those who say that. Dispensaries are out of control. I am also one of those who think that the council got today's vote totally wrong.
When the city set up its initial, partial regulatory system years ago, many dispensaries followed the city's and the state's rules about when and where they could operate. They worked with doctors and fully vetted their patients. They lab-tested their medicine. They submitted taxes to the city. They took over vacant storefronts. They became good employers and good neighbors.
Other dispensaries, however, skirted the rules. These dispensaries opened in a mad dash. They let people through the door without proper paperwork. They located near schools and other sensitive areas. They didn't bother registering with the city and submitted no tax revenue. They sold dubious medicine of dubious provenance. They classified their staff, improperly, as "independent contractors."
So, we can identify a problem that we all, it seems, agree on. The sponsor of the ban, Councilman Jose Huizar, told the Times that "the ban would be enforced, especially against problem dispensaries." (emphasis added)
Yet, if the issue is "problem dispensaries," and not "dispensaries," then how does a full ban on all dispensaries – rather than robust regulation, thoroughly enforced – address the issue?
This ban is overbroad and unnecessary. If fully enacted, yes, it will shut down those dispensaries that have been bad neighbors. But it will also shut down the rest. Storefronts will go empty once more. Patients will be denied access or will go back to buying who-knows-what from who-knows-whom. (It is cold comfort to tell a patient that she can become an expert on horticulture and grow it herself.) Workers will be thrown out of work. Tax revenue will dip.
(The council also voted 9-5 today to proceed with a more sensible approach, directing staff to prepare an ordinance that would grant a limited immunity from the ban to those dispensaries that meet strict standards. This second approach may yet carry the day – uphill as the struggle is – if city councilmembers feel pressure from their constituents.)
Reportedly, some of the negative effects of marijuana use are paranoia, magical thinking and faulty decision-making. Who, today, is exhibiting those symptoms? Just sayin'.