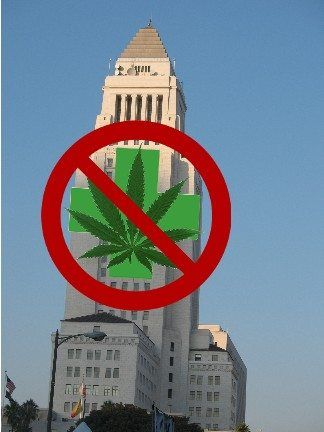 On Tuesday, July 24, the L.A. City Council voted unanimously to ban all medical marijuana dispensaries within the city. As the Los Angeles Times explains, this is the "latest attempt to regulate what many say is an out-of-control proliferation" of the pot shops.
I am one of those who say that. Dispensaries are out of control. I am also one of those who think that the council got today's vote totally wrong.
When the city set up its initial, partial regulatory system years ago, many dispensaries followed the city's and the state's rules about when and where they could operate. They worked with doctors and fully vetted their patients. They lab-tested their medicine. They submitted taxes to the city. They took over vacant storefronts. They became good employers and good neighbors.
Other dispensaries, however, skirted the rules. These dispensaries opened in a mad dash. They let people through the door without proper paperwork. They located near schools and other sensitive areas. They didn't bother registering with the city and submitted no tax revenue. They sold dubious medicine of dubious provenance. They classified their staff, improperly, as "independent contractors."
So, we can identify a problem that we all, it seems, agree on. The sponsor of the ban, Councilman Jose Huizar, told the Times that "the ban would be enforced, especially against problem dispensaries." (emphasis added)
Yet, if the issue is "problem dispensaries," and not "dispensaries," then how does a full ban on all dispensaries – rather than robust regulation, thoroughly enforced – address the issue?
This ban is overbroad and unnecessary. If fully enacted, yes, it will shut down those dispensaries that have been bad neighbors. But it will also shut down the rest. Storefronts will go empty once more. Patients will be denied access or will go back to buying who-knows-what from who-knows-whom. (It is cold comfort to tell a patient that she can become an expert on horticulture and grow it herself.) Workers will be thrown out of work. Tax revenue will dip.
(The council also voted 9-5 today to proceed with a more sensible approach, directing staff to prepare an ordinance that would grant a limited immunity from the ban to those dispensaries that meet strict standards. This second approach may yet carry the day – uphill as the struggle is – if city councilmembers feel pressure from their constituents.)
Reportedly, some of the negative effects of marijuana use are paranoia, magical thinking and faulty decision-making. Who, today, is exhibiting those symptoms? Just sayin'.
The Tests Facing California's New Governor
Gavin Newsom now leads the state with the nation's biggest economy and largest population — and one riven by economic inequality. What will be his most important challenges?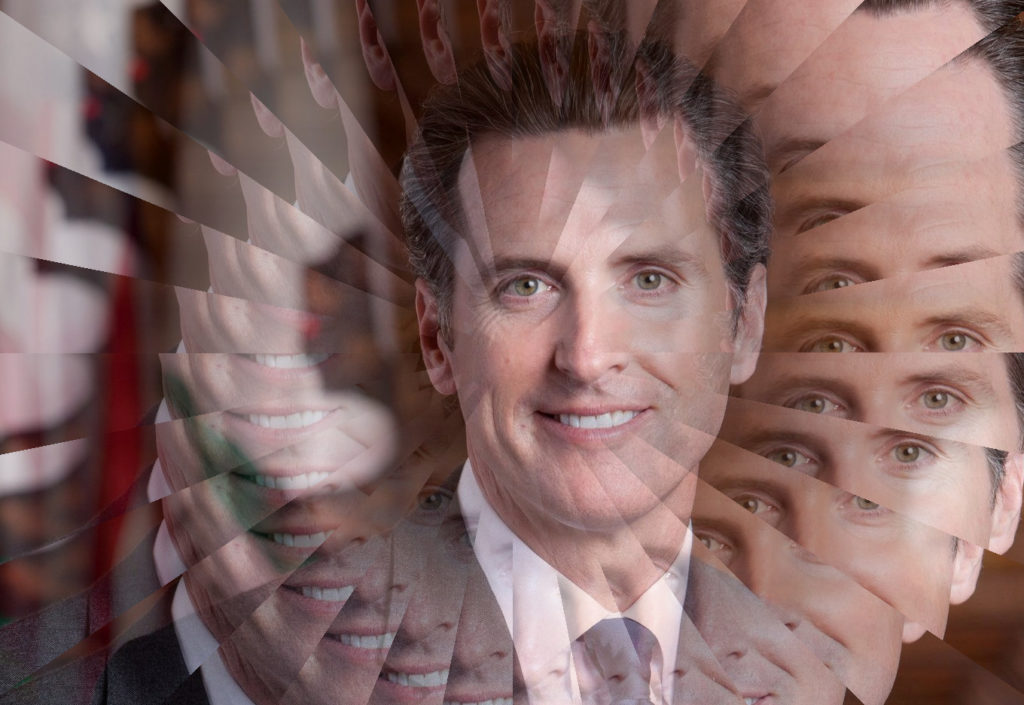 G
avin Newsom inherits a state that should be any governor's dream: A California that is the cradle of the tech revolution and brims with prosperity, a one-party state with supermajorities in both chambers for Newsom's Democrats. But there are clouds darkening the horizon: Daily prophecies tell of coming economic storms; legislative initiatives taken on behalf of immigrants, retirement security and the stemming of global warming are increasingly thwarted by a bellicose White House. And that Democratic Party monopoly in Sacramento masks a deepening ideological fault line dividing pro-business moderates and progressives – the latter of which have largely chafed for the last 16 years under the thrifty administrations of Jerry Brown and Arnold Schwarzenegger, and are eager to burst out with far-reaching (if pricey) legislation.
Then, there are memories of three high-riding liberal governors (Pat and Jerry Brown, and Gray Davis) whose programs or careers were derailed by resentful taxpayers. There are more recent memories, too: Of an impulsive, hard-partying San Francisco mayor whose blunted ambitions led him to spend eight years in the ceremonial wilderness of the lieutenant governor's office. Newsom is said to have matured into a more circumspect, pragmatic politician, although some of the old doubts were fanned back to life by an unflattering New Yorker profile that appeared shortly before his landslide victory November 6.
Perhaps overriding all these auguries is the undeniable fact that despite its enviable economy, its abundance of billionaires-in-residence and laudable array of social services, California still has the highest poverty rate in the U.S., nearly half of its children live in poverty or near-poverty, and merely finding an affordable place to live has become an existential challenge for many. These and similar factors superimpose on the state another kind of fault line, that of economic inequality. Most of the new governor's time will be spent wrangling crises that spring from this disparity. Which is why the following Capital & Main stories primarily focus on the inequality that separates so many Californians from one another.
Affordable Housing, by Jessica Goodheart.
Single-Payer Health Care, by Gabriel Thompson.
Climate Change and Big Oil, by Judith Lewis Mernit.
Inequality Interviews with Manuel Pastor, Ann Huff Stevens and David Grusky.
Early Childhood Education, by Bill Raden.
Inequality in California: Six Takeaways.
---
Copyright Capital & Main