What the NLRB's About-Face on McDonald's Means for Franchise Workers
While the National Labor Relations Board is currently divided 2-2, the confirmation of another Trump appointee will restore the Republican majority — which is bad news for fast-food-chain workers.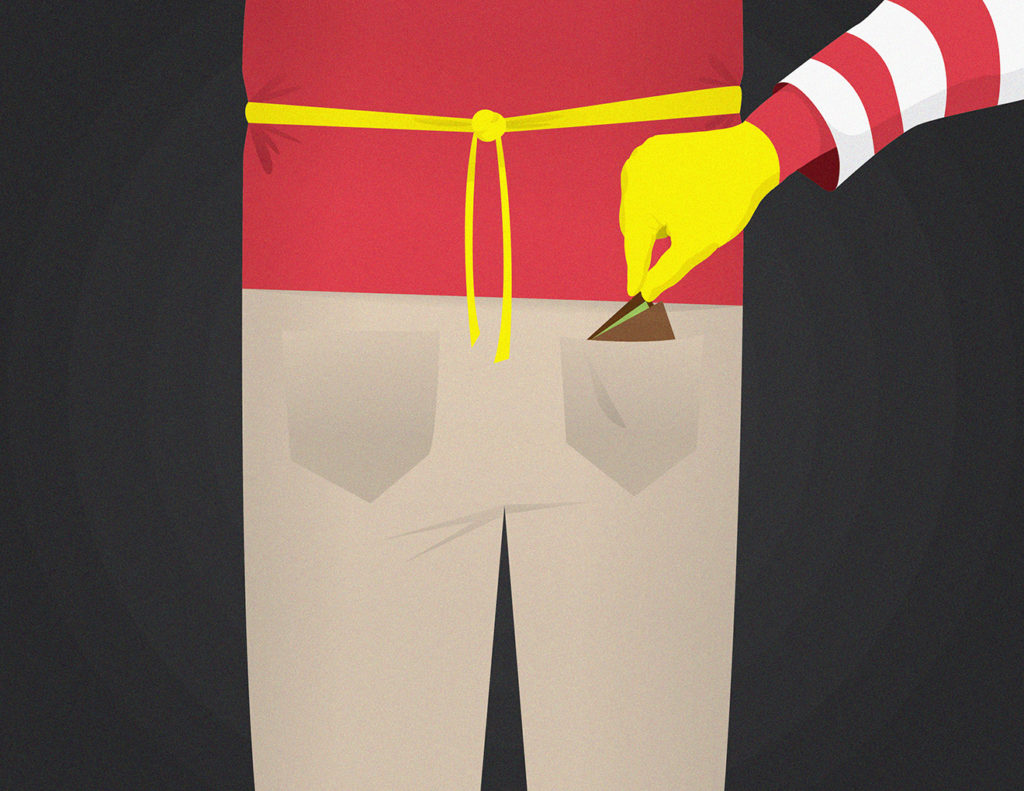 ---
With Donald Trump's election, the momentum at the NLRB is now with employers.
---
Workers at McDonald's joined the union-backed Fight for $15 campaign because many found that they could not get by on minimum wage without the help of family and public assistance. But joining that campaign spurred retaliation, with dozens of employees alleging that they lost money or their job for organizing to get better pay.
Enter the U.S. National Labor Relations Board.
In a victory for workers, the board decided the McDonald's Corporation was jointly responsible for punitive actions against employees across the country because the company dictates, among other things, how those employees cook and clean. That 2015 decision, in a case called Browning-Ferris, established a broad definition of "joint employer." It made franchisors potentially liable for the actions of individual franchises, citing the "indirect" control they exercised over employees and their workplaces. And it meant fast-food chains, among others, would have to collectively bargain with employees who joined a union.
Donald Trump was elected president the next year. By December 2017, the NLRB was back on the side of business with respect to who is and who is not a joint employer, the board overturning with a 3-2 vote the "indirect control" standard of Browning-Ferris.
Then a Republican member of the board retired, evenly dividing the NLRB along partisan lines. The board's inspector general then issued a report in February 2018 saying the December decision never should have been made — that, in particular, a Trump appointee should have recused himself due to a conflict of interest. The decision was thrown out, with congressional Democrats, such as Massachusetts Senator Elizabeth Warren, calling for hearings.
By that point, however, the NLRB had already ordered its lawyers to retreat in the most visible battle over the "indirect" joint-employer standard.
When an administrative trial began back in 2016, the NLRB had said McDonald's was jointly responsible for alleged labor violations at its franchises, including reduced hours, surveillance and wrongful termination of employees who had been organizing for better pay.
"If McDonald's is involved in determining working conditions at its franchised operations, it is responsible for what happens to workers subject to those conditions," NLRB lawyer Jamie Rucker said at the time.
But the NLRB sought and won a 60-day suspension of that trial earlier this year. Lawyers representing the Fight for $15 movement and its allies say the NLRB is now rushing through a proposed settlement that would see McDonald's get off without a finding of joint liability — which won't make it any easier for low-wage workers to collectively bargain.
"What I see is an attack on workers' ability to form a union," said attorney Marni von Wilpert of the progressive Economic Policy Institute (EPI). "If you were able to find a joint-employment relationship with the corporate [franchisor], then all of a sudden they all have one big employer, and all the employees can go to corporate McDonald's. That's really what it's all about, whether workers can organize."
Under the proposed settlement, McDonald's admits no wrongdoing, but its franchisees agree to cover back pay for workers fired as a result of their organizing.
The NLRB "is proposing a sham settlement," said Mary Joyce Carlson, a lawyer representing Fight for $15. "McDonald's directed a wave of retaliation that stretched from coast to coast and included illegally harassing, surveilling and firing workers in the Fight for $15. The hardworking cooks and cashiers who were organizing to get off of food stamps and out of poverty deserve a ruling in their case, not a settlement hammered out at the last minute in collusion with the Trump administration."
With Trump's election, the momentum at the NLRB is now with employers. Any setbacks would appear to be temporary: while divided 2-2 for now, the confirmation of another Trump appointee will restore the Republican majority. Once that happens, the NLRB can be expected to seek another opportunity to overturn the Browning-Ferris joint employer standard.
While Browning-Ferris did not explicitly pertain to the franchise model, it clearly spooked those who depend on it — and inspired those who think franchisors like McDonald's should be liable for the mistreatment of employees at locations bearing its name.
Fight for $15 has prioritized organizing at fast-food businesses, but forming unions is extremely difficult when a dozen small restaurants with the same name may have a dozen different owners. There are over 14,000 McDonald's restaurants in the United States, with only one in 10 owned by the corporation. The ability to collectively bargain with McDonald's, the corporate franchisor, would make a union's task easier — and help address the sort of labor violations that regulators routinely find at fast-food franchises. An EPI report says unionized workers are half as likely to be victims of wage theft, for example.
At an April 5 hearing, Fight for $15 attorney Kathy Krieger urged NLRB Administrative Law Judge Lauren Esposito to reject the settlement. Krieger argued that McDonald's had conspired with its franchises to thwart worker organizing, the corporation recommending, she said, that franchisees "restrict crew members from taking their meals or their rest breaks outside the crew room" as a means "to prevent concerted activity."
McDonald's attorney Willis Goldsmith said the company would never accept a settlement identifying it as a joint employer. "The franchisees, they're independent business people," he said. "They did whatever they did, and if they are willing to concede that, they're going to have to pay people. It's not our job."
While it appears the NLRB under Trump will ultimately reimpose the stricter, pre-Browning-Ferris standard that a joint employer must have direct rather than indirect control of workers, industry groups aren't taking any chances.
Jenna Weisbord, a communications manager at the International Franchise Association to which McDonald's belongs, said her group is looking to Congress to pass the "Save Local Business Act," which would legislatively reimpose the pre-Browning-Ferris standard. "We understand the Senate will take on this task later this year," she said of the bill, which passed the House last year.
A television ad campaign sponsored last year by the franchise association and the U.S. Chamber of Commerce argues the measure would restore "balance to labor law" in the face of a "runaway government agency." That agency, in the era of Trump, is increasingly tilting in the favor of business.
---
Copyright Capital & Main
Municipal Broadband: Urban Savior or Gentrification's Wrecking Ball?
Co-published by Fast Company
While municipal-broadband initiatives and digital-friendly promotional campaigns project a narrative of progressive growth, the repercussions for disenfranchised communities often go overlooked.

---
"The coattails on tech jobs aren't like they used to be in the industrial economy, where large industries would come in and 800 jobs would be created in a factory."
---
In March, Los Angeles City Councilmember Paul Krekorian introduced a motion to study the feasibility of municipal broadband, citing the increasing indispensability of Internet access in daily life. Los Angeles would not be the first city to do so; eyeing the precedents set in Chattanooga, Tennessee, which implemented a high-speed municipal broadband program in 2010, local governments elsewhere in California, Colorado, Kentucky and other states have initiated their own efforts, buttressed by popular support.
The case for city-operated broadband is compelling. It offers comparatively fast service: Chattanooga's broadband runs up to 10 gigabits per second, whereas traditional providers such as Comcast and Verizon claim to offer a maximum of two or nearly one gigabits, respectively (and deceptively). It's celebrated as a means by which to preserve net neutrality, which prevents Internet service providers from altering the speeds and availability of individual websites. It also has the potential to liberate communities from ISPs' notorious monopolistic control of regional billing inflation, and denial of service to rural and low-income communities — a phenomenon popularly termed the "digital divide."
---
Chattanooga's tech-centric downtown has the fastest rate of gentrification in the nation.
---
Furthermore, municipalities often tout broadband alternatives as a means of "economic development," an expression typically denoting the process of attracting businesses and, by theoretical extension, creating jobs. Fast, reliable Internet connections, the logic goes, are appealing to companies — particularly tech startups that rely on consistent broadband access in their daily operations and seek environs cheaper than West Coast metropolises. Chattanooga has exemplified this selling point. As of 2015, the city had reportedly generated $865 million over a four-year period by "cutting power outages, improving data connections, lowering power bills and attracting businesses to the self-described 'Gig City'"; Mayor Andy Berke, meanwhile, has cited its fiber-optic infrastructure as a fundamental part of his city's nascent tech economy.
Yet, while cities' broadband initiatives and digital-friendly promotional campaigns project a narrative of progressive growth, the repercussions for disenfranchised communities often go overlooked.
Chattanooga has remodeled its downtown Innovation District, a locus of coffee shops and office space for the largely white, middle-class constituency of the tech-centric "knowledge economy." Mimicking Silicon Valley's tech centers, this area has aggravated displacement of low-income communities. As of 2012, downtown Chattanooga's ZIP code was found to have the fastest rate of gentrification in the nation; between 2000 and 2010, more than 500 white residents moved in, displacing nearly 1,000 African-American residents. The situation has since worsened.
---
Coding is "not going to catapult you
into the next income bracket."
---
Ken Chilton, an associate professor of public administration at Tennessee State University, told Capital & Main that Chattanooga has "done a lot in terms of funding a place that would be attractive to what Richard Florida used to call the 'creative class': that kind of young, tech, hipster persona. That was intentional." He added, "The broadband [initiative] kind of magnified that, once they figured out how to monetize it." Chilton estimates that, since then, 4,000 to 5,000 white residents have moved into neighborhoods in or near the downtown area, such as Jefferson Heights and Southside, while roughly 5,000 to 6,000 African-American residents have left.
The numbers may be even greater. "We've had [approximately] 7,000 people come into the area in the past four years," added Michael Gilliland, board chair of the community-organizing nonprofit Chattanooga Organized for Action. "A lot of this is a combination of tech professionals, higher-income earners, as well as empty-nesters."
Media outlets — and the city itself — portray Chattanooga as a progressive, burgeoning hub of innovation, a once-scrappy postindustrial municipality transformed by its novel broadband program and corresponding downtown revitalization. However, "You're only seeing a small sliver of what Chattanooga actually is," Gilliland said. "That sort of shiny facade is really hiding a lot of  inequality in the city."
Chattanooga isn't alone. Among cities entertaining nontraditional broadband projects and fostering local tech industries, Columbus, Ohio has gained significant attention. In addition to contracting with a private broadband consultancy firm in 2015 in an effort to become the next "gigabit city," Columbus won the U.S. Department of Transportation's 2016 "Smart Cities Challenge," vowing to outfit more vehicles and city resources with Internet connectivity, putatively, to benefit low-income neighborhoods. Meanwhile, corporate tech publications rank it among America's top tech-job locations, while former Silicon Valley venture capitalist and Hillbilly Elegy author J.D. Vance recently relocated there, pledging to invest in startups in Columbus and the broader Midwest.
As in Chattanooga, the image Columbus projects — a new beacon of enterprise with relatively low costs for developers and business owners — neglects a considerable portion of the existing population. "The city has an idea of what they consider to be a 'Smart' citizen," said Columbus tenants-rights organizer Bernard Hayman. "When they construct these plans, it's based around one kind of demographic — white, male, early 20s, early 30s, with a certain kind of background, certain kind of income, and a certain kind of aspiration."
This environment is increasingly evident. As is the case in most major cities, Columbus suffers from a housing-affordability crisis: As property values have risen 50 percent in neighborhoods like Franklin Park over the last handful of years, luxury housing is rendering low-income public housing scarce. More uniquely, Columbus is home to a longstanding infant-mortality crisis disproportionately affecting poor, African-American communities; in the neighborhood of South Linden, the rate is four times the national average.
Aware of many of the problems afflicting its poorest residents, Columbus' local government claims it will leverage its Smart City capabilities to address them. Columbus City Council president pro tem Michael Stinziano cited the Smart Columbus Operating System and multimodal trip-planning and common-payment system as examples "geared towards connecting neighborhoods and residents." Stinziano also alluded to the city's prenatal trip assistance program, wherein expectant mothers in underserved communities may have access to subsidized "Uber-like" ride-sharing services for transportation to medical facilities. (The initiative has garnered skepticism from urban-planning and reproductive-justice experts.)
Among some residents' concerns of cities' unfurling strategic tech initiatives is another issue: government and police surveillance. As part of its broadband program, Columbus boasts improved mobile connectivity among police stations, as well as the transmission of video from cameras that monitor specific neighborhoods — developments for a city that, in recent years, has been home to the highest rates of fatal police violence against African-Americans among major U.S. cities. (Stinziano told Capital & Main the camera installation was driven by citizen feedback.)
"If we're giving police even more powers of surveillance and control than they already have, where's the accountability for that?" asked Hayman. "How are we going to make this function in a way that's not going to . . . make people feel even more surveilled?"
Columbus and Chattanooga officials concede that economic and racial disparity pervades their cities. In an email, Chattanooga's Berke noted that "We are fully aware…that we have a responsibility to make sure this best-in-class, municipally-owned Internet infrastructure benefits all Chattanoogans, including low-income households and older citizens." Berke mentioned Tech Goes Home Chattanooga, a program that offers digital training and assists low-income residents with obtaining access to low-cost home Internet.
Still, community activists are skeptical that digital training and access alone, even if they're purported to broaden job opportunities and address transportation and health-care issues, will suffice to improve the quality of life of its most vulnerable residents. Tennessee, for example, has a historically high concentration of low-wage workers, many of whom work in tourism and hospitality, as well as service industries offering little to no job security, benefits or upward mobility.
"The coattails on tech jobs aren't like they used to be in the industrial economy, where large industries would come in and 800 jobs would be created in a factory," said Chilton. "The old factory job that might have been 40 hours a week, with some benefits, has been replaced by an accommodation job that might be 24 to 26 hours a week and no benefits."
Furthermore, while Chattanooga and other cities courting the middle-class tech labor force offer programs to train workers and "recruit candidates in underrepresented communities," Hayman cautions that the financial promise of work available to them may not be as high as suggested. "A lot of cities, and Columbus among them, look to coding as the next [way] that everyone can be an affluent tech worker, and if you gain these skills…then you have an entry into that industry," he said. "The flip side of this is that coding is not necessarily the most affluent tech job. It's becoming a rote, blue-collar kind of job, to where you're not going to make a lot of money. It's not going to catapult you into the next income bracket."
Access to alternative broadband is a boon to cities, but Gilliland and Hayman agree that technological progress alone isn't a societal panacea. Rather, meeting all residents' material needs, they contend, requires a multi-pronged effort that entails investments in housing, education and other resources necessary to all members of the community. "The public aspect has to extend beyond…just the gig," Gilliland said. "There has to be an increased investment across the board if this is going to become an equitable model. You have to be very purposeful about the attempt to lift all boats."
---
Copyright Capital & Main