What the Hell Is a Solidarity Sleepover?
Electricians Kevin Norton (left) and Gary Parker at Occupy LA. (Photo by Ted Soqui)
What would cause 13 mostly 30- and 40-something electricians to come up with an event like the "Solidarity Sleepover" at Occupy LA? It all started with a text message. Howard Brown, adventurer, electrician and Occupy LA supporter wrote me, "would like 2 c mas union presence." I had not been down to Occupy LA and before I put my name near it, I needed to do some recon to check it out. I had heard that it was this leaderless movement that really had no strong positions on anything because they could not get a consensus from the group. Being a lifelong Democrat, that sounded vaguely familiar.  So down to City Hall I went with my good friend Gary in tow. I figured I needed some backup in case somebody tried to put a red Che Guevara beret on me when I wasn't looking.
What Gary and I found instead were really cool, smart kids like I used to meet back in the days when I was involved with the hardcore punk scene. I quickly realized that there were as many reasons for being there as there were people. However, one overriding theme was that the majority of people in this country are watching their hopes and dreams slip away in a tide of bank bailouts and no one seems to be fighting hard enough for them. These are the same kind of reasons that people join unions, write a letter to the editor or wear a revolutionary war hat with Lipton tea bags attached. As a jaded union organizer, I had to admit I was impressed with the passion.
So I thought about how I could support them, and bought a couple cases of water and dropped them off. Next I got them an Occupy LA banner and a frame to hold it. (I'm old school. If you want to be a real movement you need a banner, for Christ's sake.)
All the while I was texting back and forth with Howard and eventually we met out there. Howard just got back from Burning Man, the dusty desert fest in Nevada. Like 30 percent of workers in the construction industry, he is unemployed. What that meant to me was that he likes to sleep in a tent and is not real happy with the way things are going. That also meant that he would be the anchor at Camp Solidarity.
I couldn't help but start thinking this was coming together pretty good. I bought a tent and some sleeping bags for our group. Now, I never slept in a tent. I'm not sure I had even spent five minutes in a tent in my life, so why not try my first adventure in downtown LA on a sidewalk? We decided to make it a three-day event called the "Solidarity Sleepover."  We announced it at a couple of union meetings and got nine people to sign up. Over the next six days we had 13 members sleep over or spend a shift at Occupy LA.
We had a friend, Joel, who was already there and knew the lay of the land. He told us where we could put our tent. After we set up shop, we walked around the encampment and ended up back at the tent swapping stories — like people probably do at a campfire. (What do I know? I'm not exactly John Muir.) We ended up hanging out in the tent and talking until about 4 a.m. After three hours of light sleep, I called it a wrap at 7 a.m.
I have to admit I didn't get to the General Assembly or some of the other things I have read about since. Mainly, because that's not really my bag and secondly because I just wanted to support them and I thought they were doing a fine job without my help.
There were two things that have stuck with me from the sleepover. First is how I drive by people every night sleeping in tents downtown and how much that must suck. The other was when a guy driving by us yelled, "Get a job!" — to which Joel replied "Give me a job!"  Some people have called this generation a lost generation because so many of them can't find jobs. I think the lost generation is the group of people that think we should write off our aspirations so that the one  percent can take all of the wealth that is created in this country and all we get is a big deficit.
I don't honestly know what will happen with this movement.  I hope that the 99 percent of us figure out that when 400 people in LA have the same amount of money as two million, things are just not working right and just maybe, if we are lucky, somebody in a tent at  200 N. Spring St. might have an idea how to fix it.

'Skeleton Crew' Is a Play With a Moral Spine
Set in a Detroit automobile outfitting plant, Dominique Morisseau's drama grabs you from the start with its focus on blue-collar men and women, and their struggle for dignity and self-respect.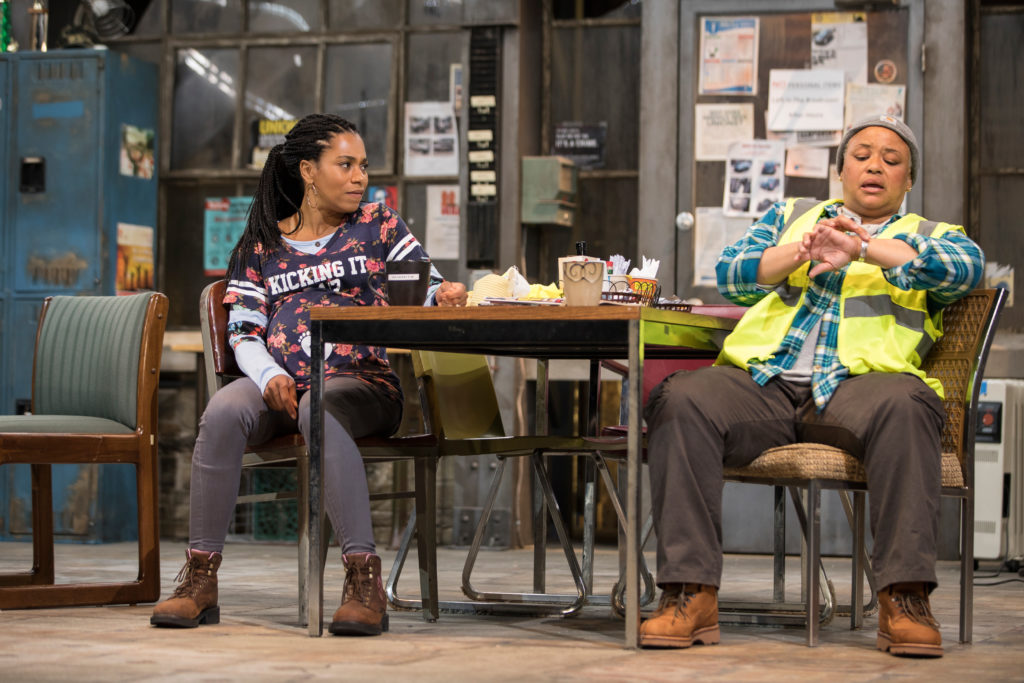 Working-class men and women of color are rarely front and center in today's media and, likewise, are presented all too occasionally on the American stage. So it's buoying to see that trend bucked in playwright Dominique Morisseau's percipient and well-crafted drama, Skeleton Crew. The play is the final installment in her Detroit  Project Trilogy; the first, Paradise Blue, is set in the 1940s amidst displacement caused by urban renewal and gentrification, while the second, Detroit '67, transpires on the eve of the 1967 Detroit riots sparked by a police action.
Directed by Patricia McGregor at Los Angeles' Geffen Playhouse, Skeleton Crew is a play with a moral spine. It takes place in 2008, when the shrinking U.S. auto industry is being further downsized. Morisseau's engaging quartet of characters — Faye (Caroline Stefanie Clay), Dez (Armari Cheatom), Shanita (Kelly McCreary) and Reggie (DB Woodside) – are employed at an automobile outfitting plant. Faye, Dez and Shanita are workers on the line while Reggie (who has a wife and kids, and has pulled himself together after a troubled youth) is their supervisor.
The first three customarily mingle in their break room (designer Rachel Myers' impressively cluttered, dingy and detailed set), trading the sort of familiar barbs and genuine concern for each other common among longtime co-workers. They also face off on philosophy: Upper-middle-aged Faye and the younger, pregnant Shanita take pride in their labor, while Dez, though a good worker, is a malcontent scornful of management and firm in the belief that everyone needs to watch out for himself. He's a thorn in Reggie's side, for while Reggie wants to be supportive of his workers, he must act at the behest of higher management. For his part, Dez resents Reggie's authority, and a palpable unease exists between them.
Besides this male matchup, we're made privy to Dez's attraction to Shanita, who mostly turns away his advances, but every now and then displays a hint of interest. Most poignant is Reggie's regard and affection for the lesbian Faye, which has roots in his boyhood when she loved, and lived, with his now-deceased mom.
These people's various predicaments intensify when rumors spread of the plant's shutdown — a disaster for all, but a particular calamity for the already near-broke Faye who, one year short of retirement, would lose her pension. The crisis forces each of these people to make a choice.
A sound piece of social realism, Skeleton Crew grabs you from the start in its focus on blue-collar men and women, and their struggle against odds for dignity and self-respect. Morisseau not only furnishes these characters a platform for their travails, she endows them with strong values, big hearts and the opportunity to choose between right and wrong.
Unfortunately, the performance I attended did not soar. Many exchanges lacked a fresh edge. The actors certainly had their characters down, but too often they appeared to be coasting on technique. (This seemed particularly true of Clay, who performed the role to great accolades in Washington, DC in 2017, also under McGregor's direction). Additionally, some of the stage movement was not entirely fluid; in confrontations, actors sometimes would just stand and face each other in an artificial way. And Cheatom's interpretation of Dez struck me as a bit overly churlish and depressive: I needed more glimpses of the intelligence and edge that would secretly attract the strong, self-directed Shanita.
The most compelling moments belong to Woodside, well-cast as a man trying his best in difficult circumstances to do the right thing.
---
Gil Cates Theater at the Geffen Playhouse, 10886 Le Conte Ave., Westwood Village; Tues.-Fri., 8 p.m.; Sat., 3 & 8 p.m. Sun., 2 & 7 p.m.; through July 8. (310) 208-5454 or www.geffenplayhouse.org