What Budget Cuts? Tax Dollars Promote Rush Limbaugh's Show
By Earl Ofari Hutchinson
The Pentagon's defiant pledge to stick with the Rush Limbaugh show, no matter what, bumps up against a few hard and insulting realities. The Armed Forces Network that carries the Limbaugh show is not a private business, corporation, or proprietorship that can do whatever it pleases with its money, personnel, operations and policy. Every penny of the armed forces bloated budget comes from taxpayers. The Armed Forces Network, which has beamed the Limbaugh show for two decades, is oiled to the tune of an estimated $27 million annually. Every penny of which comes from the pockets of taxpayers. And since the military is not a democracy, and decisions are made top down, there was never any chance that taxpayers would have any say about the use of their money to subsidize the naked bias of one radio jock at public expense.
The same rule applies to those in the military that have had Limbaugh shoved down their listening palate. They are the tens of thousands of servicemen and women who dial up the network. They are young, many well-educated, and just as important, female and minority. Blacks make up nearly 20 percent of the armed forces. Hispanics make up nearly 15 percent. Women make up from 10 to 20 percent in the four armed services. Like it or not, Limbaugh's drumbeat war on, and trash of, women and minorities is a daily feature on their network. True, no one is putting a club to their head and forcing them to listen. But that's not the point. Whether they tune in or out, the show is an established part of the military's airwaves and has political influence and impact that reverberate beyond the listener's ears.
The network counters that it airs a "variety" of shows and views. It cites the liberal Ed Schultz show and NPR to prove that Limbaugh is only one voice and there's a view for everyone. There are problems with this claim too. Schultz 's show (2005) was added to the network's talk show line-up more than a decade after Limbaugh had ruled the military talk roost for a decade. And then it was only added after the first firestorm of protest from media groups that Limbaugh's views were biased, bigoted and one-sided, and hardly represented "balanced" news and information which is the much touted mandate of the network.
The initial demand to then-Defense Secretary Donald Rumsfeld the year before Schultz was added to the network was to can Limbaugh. That wasn't going to happen. Adding Schultz was the bone tossed out to squelch the protests.
The other problem is that Limbaugh has been the flagship show on the network for a long time. It airs for one hour daily and is heard by millions locally and globally. The Armed Forces Network blew off every public squawk and complaint about the show down through the years not because it regards balanced views as a sacred broadcast right, but because of fear, badgering and intimidation from the GOP.
The show was plopped on the network in 1993 when dozens of GOP house members bullied then Clinton Defense Secretary Les Aspin into putting the show on. They didn't stop at the radio show. They also demanded that it run his mercifully flop of a TV show on the network too. The armed forces network then at least was more honest and made no pretense to con itself, the public and military personnel that the show presented "balanced" news and information. It flatly admitted that the show was biased. But, it still went ahead and made it a fixture in its broadcast line-up while parroting the conservative pressure point that not to air it would be tantamount to censorship. This was an Orwellian stretch that was left dangling during the next decade of government supported and licensed unabashed Limbaugh trashing and bashing of minorities, women, gays, the poor, and his always favored targets, Democrats, especially Democratic president Clinton, and with even more glee, President Obama.
The Armed Forces Network has been bombarded with letters, emails, a petition and a flood of angry responses on its feedback Website to dump Limbaugh. But the military brass, being the military brass, is playing hardball. Limbaugh has been a fixture too long, and for many military personnel, a guy whose phony flag waving, patriotism, and misogyny fits in neatly with a military that has deeply embedded this thinking in its culture for decades.
If the military was a private outfit it would still be open to attack for airing Limbaugh. But there's not much that a taxpayer could do to make it change. But it's not a private outfit, the military is bankrolled by taxpayers, and they have no obligation to subsidize bias, bigotry, and slander in the name of "balance." The Armed Forces Network must dump Limbaugh.
Earl Ofari Hutchinson is an author and political analyst. He is a weekly co-host of the Al Sharpton Show on American Urban Radio Network. This post first appeared on Huffington Post.


'Skeleton Crew' Is a Play With a Moral Spine
Set in a Detroit automobile outfitting plant, Dominique Morisseau's drama grabs you from the start with its focus on blue-collar men and women, and their struggle for dignity and self-respect.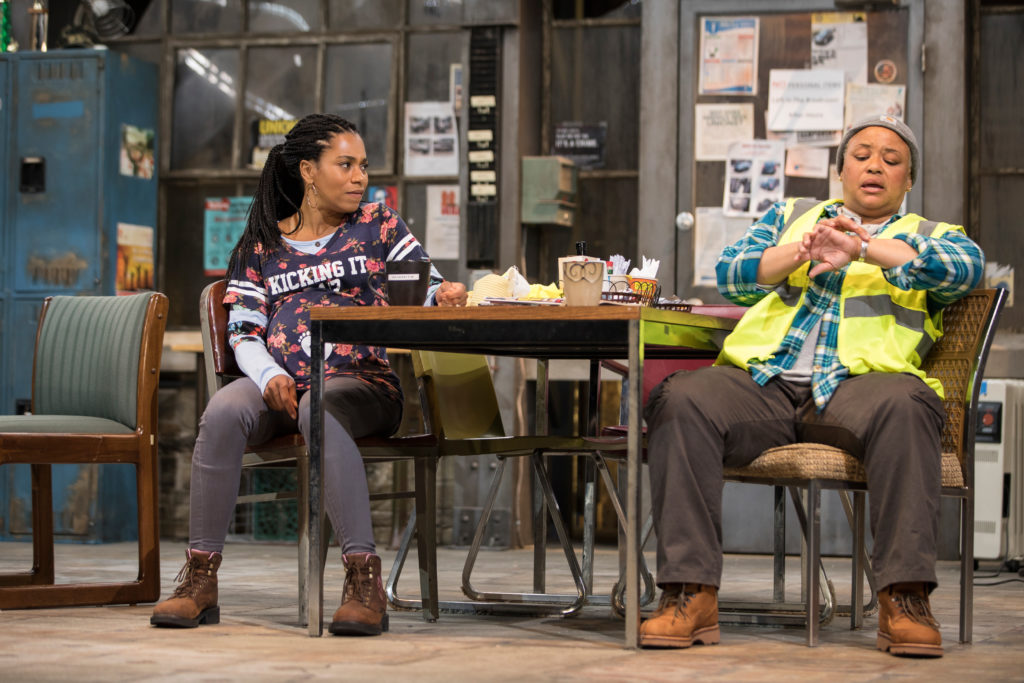 Working-class men and women of color are rarely front and center in today's media and, likewise, are presented all too occasionally on the American stage. So it's buoying to see that trend bucked in playwright Dominique Morisseau's percipient and well-crafted drama, Skeleton Crew. The play is the final installment in her Detroit  Project Trilogy; the first, Paradise Blue, is set in the 1940s amidst displacement caused by urban renewal and gentrification, while the second, Detroit '67, transpires on the eve of the 1967 Detroit riots sparked by a police action.
Directed by Patricia McGregor at Los Angeles' Geffen Playhouse, Skeleton Crew is a play with a moral spine. It takes place in 2008, when the shrinking U.S. auto industry is being further downsized. Morisseau's engaging quartet of characters — Faye (Caroline Stefanie Clay), Dez (Armari Cheatom), Shanita (Kelly McCreary) and Reggie (DB Woodside) – are employed at an automobile outfitting plant. Faye, Dez and Shanita are workers on the line while Reggie (who has a wife and kids, and has pulled himself together after a troubled youth) is their supervisor.
The first three customarily mingle in their break room (designer Rachel Myers' impressively cluttered, dingy and detailed set), trading the sort of familiar barbs and genuine concern for each other common among longtime co-workers. They also face off on philosophy: Upper-middle-aged Faye and the younger, pregnant Shanita take pride in their labor, while Dez, though a good worker, is a malcontent scornful of management and firm in the belief that everyone needs to watch out for himself. He's a thorn in Reggie's side, for while Reggie wants to be supportive of his workers, he must act at the behest of higher management. For his part, Dez resents Reggie's authority, and a palpable unease exists between them.
Besides this male matchup, we're made privy to Dez's attraction to Shanita, who mostly turns away his advances, but every now and then displays a hint of interest. Most poignant is Reggie's regard and affection for the lesbian Faye, which has roots in his boyhood when she loved, and lived, with his now-deceased mom.
These people's various predicaments intensify when rumors spread of the plant's shutdown — a disaster for all, but a particular calamity for the already near-broke Faye who, one year short of retirement, would lose her pension. The crisis forces each of these people to make a choice.
A sound piece of social realism, Skeleton Crew grabs you from the start in its focus on blue-collar men and women, and their struggle against odds for dignity and self-respect. Morisseau not only furnishes these characters a platform for their travails, she endows them with strong values, big hearts and the opportunity to choose between right and wrong.
Unfortunately, the performance I attended did not soar. Many exchanges lacked a fresh edge. The actors certainly had their characters down, but too often they appeared to be coasting on technique. (This seemed particularly true of Clay, who performed the role to great accolades in Washington, DC in 2017, also under McGregor's direction). Additionally, some of the stage movement was not entirely fluid; in confrontations, actors sometimes would just stand and face each other in an artificial way. And Cheatom's interpretation of Dez struck me as a bit overly churlish and depressive: I needed more glimpses of the intelligence and edge that would secretly attract the strong, self-directed Shanita.
The most compelling moments belong to Woodside, well-cast as a man trying his best in difficult circumstances to do the right thing.
---
Gil Cates Theater at the Geffen Playhouse, 10886 Le Conte Ave., Westwood Village; Tues.-Fri., 8 p.m.; Sat., 3 & 8 p.m. Sun., 2 & 7 p.m.; through July 8. (310) 208-5454 or www.geffenplayhouse.org