What Budget Cuts? Tax Dollars Promote Rush Limbaugh's Show
By Earl Ofari Hutchinson
The Pentagon's defiant pledge to stick with the Rush Limbaugh show, no matter what, bumps up against a few hard and insulting realities. The Armed Forces Network that carries the Limbaugh show is not a private business, corporation, or proprietorship that can do whatever it pleases with its money, personnel, operations and policy. Every penny of the armed forces bloated budget comes from taxpayers. The Armed Forces Network, which has beamed the Limbaugh show for two decades, is oiled to the tune of an estimated $27 million annually. Every penny of which comes from the pockets of taxpayers. And since the military is not a democracy, and decisions are made top down, there was never any chance that taxpayers would have any say about the use of their money to subsidize the naked bias of one radio jock at public expense.
The same rule applies to those in the military that have had Limbaugh shoved down their listening palate. They are the tens of thousands of servicemen and women who dial up the network. They are young, many well-educated, and just as important, female and minority. Blacks make up nearly 20 percent of the armed forces. Hispanics make up nearly 15 percent. Women make up from 10 to 20 percent in the four armed services. Like it or not, Limbaugh's drumbeat war on, and trash of, women and minorities is a daily feature on their network. True, no one is putting a club to their head and forcing them to listen. But that's not the point. Whether they tune in or out, the show is an established part of the military's airwaves and has political influence and impact that reverberate beyond the listener's ears.
The network counters that it airs a "variety" of shows and views. It cites the liberal Ed Schultz show and NPR to prove that Limbaugh is only one voice and there's a view for everyone. There are problems with this claim too. Schultz 's show (2005) was added to the network's talk show line-up more than a decade after Limbaugh had ruled the military talk roost for a decade. And then it was only added after the first firestorm of protest from media groups that Limbaugh's views were biased, bigoted and one-sided, and hardly represented "balanced" news and information which is the much touted mandate of the network.
The initial demand to then-Defense Secretary Donald Rumsfeld the year before Schultz was added to the network was to can Limbaugh. That wasn't going to happen. Adding Schultz was the bone tossed out to squelch the protests.
The other problem is that Limbaugh has been the flagship show on the network for a long time. It airs for one hour daily and is heard by millions locally and globally. The Armed Forces Network blew off every public squawk and complaint about the show down through the years not because it regards balanced views as a sacred broadcast right, but because of fear, badgering and intimidation from the GOP.
The show was plopped on the network in 1993 when dozens of GOP house members bullied then Clinton Defense Secretary Les Aspin into putting the show on. They didn't stop at the radio show. They also demanded that it run his mercifully flop of a TV show on the network too. The armed forces network then at least was more honest and made no pretense to con itself, the public and military personnel that the show presented "balanced" news and information. It flatly admitted that the show was biased. But, it still went ahead and made it a fixture in its broadcast line-up while parroting the conservative pressure point that not to air it would be tantamount to censorship. This was an Orwellian stretch that was left dangling during the next decade of government supported and licensed unabashed Limbaugh trashing and bashing of minorities, women, gays, the poor, and his always favored targets, Democrats, especially Democratic president Clinton, and with even more glee, President Obama.
The Armed Forces Network has been bombarded with letters, emails, a petition and a flood of angry responses on its feedback Website to dump Limbaugh. But the military brass, being the military brass, is playing hardball. Limbaugh has been a fixture too long, and for many military personnel, a guy whose phony flag waving, patriotism, and misogyny fits in neatly with a military that has deeply embedded this thinking in its culture for decades.
If the military was a private outfit it would still be open to attack for airing Limbaugh. But there's not much that a taxpayer could do to make it change. But it's not a private outfit, the military is bankrolled by taxpayers, and they have no obligation to subsidize bias, bigotry, and slander in the name of "balance." The Armed Forces Network must dump Limbaugh.
Earl Ofari Hutchinson is an author and political analyst. He is a weekly co-host of the Al Sharpton Show on American Urban Radio Network. This post first appeared on Huffington Post.


A Woman's Art Is Never Done: The Feminae Exhibition
A striking juxtaposition between the past and present courses throughout the small gallery. Celia Blomberg's "International Women's Day March 8" can't help but make one think of 2017's Women's March, which occurred 37 years after the print's first appearance.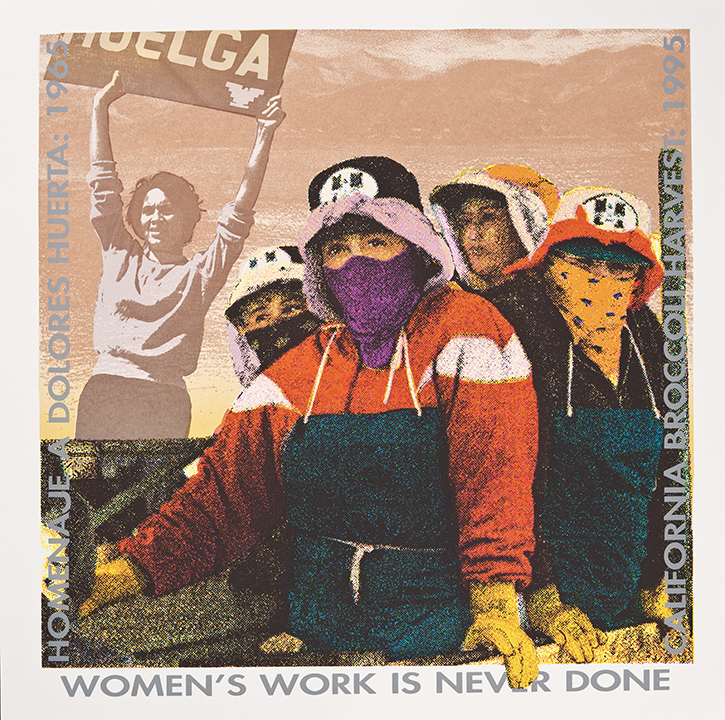 Among the 50-plus works in the Feminae: Typographic Voices of Women By Women exhibit is Yolanda Lopez's "Women's Work is Never Done." Lopez's title is particularly ironic, given the exhibit's gender-based subject matter. The show spans work from the past 50 years, making it easy to understand how much society is still grappling with its themes of gender inequality. Culled from the archives of the Center for the Study of Political Graphics, the graphic images of protest, persuasion and empowerment are truly works of art in their own right.
However, political posters aren't made to merely spruce up walls, but to help figuratively bring barriers down as well.
Two silkscreens from the 1970s, Liliana Porter and John Schneider's "This Woman is Vietnamese" and See Red Woman's Workshop's "So Long As Women Are Not Free People Are Not Free," are particularly powerful, underscoring, as they do, the fact that the subjugation and persecution of women crosses borders and cultures as an unfortunate shared global experience. These two pieces' stark simplicity exemplifies most of the work in the exhibit. In the former, a New York Times photo of a distraught Vietnamese woman with a gun held to her head is centered above these basic words typed out in a typewriter font: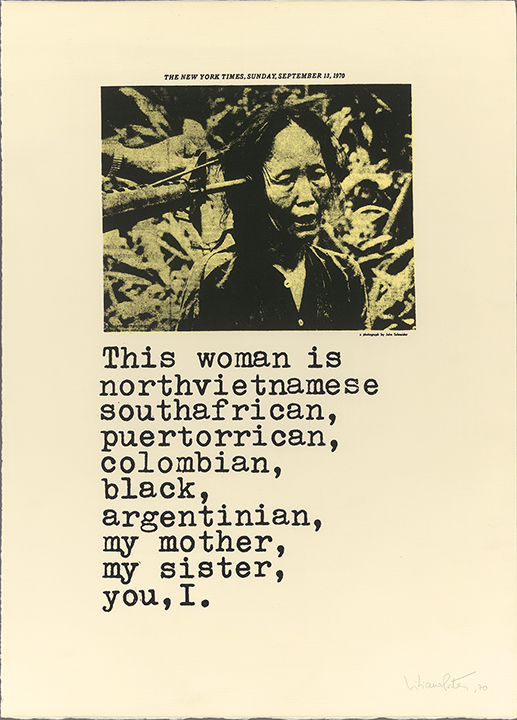 This woman is
northvietnamese
southafrican
puertorrican,
colombian,
black,
argentinian,
my mother,
my sister,
you, I.
By juxtaposing the photo with these words, the creators take the plight of this woman and immediately globalize her pain. In the latter, three female demonstrators are silkscreened in red onto a yellow background. They are marginalized by being stuck in the lower left third of the poster, but two of them are raising their fists skyward and their mouths are open, screaming in defiance. Its non-serif, eponymous type reads: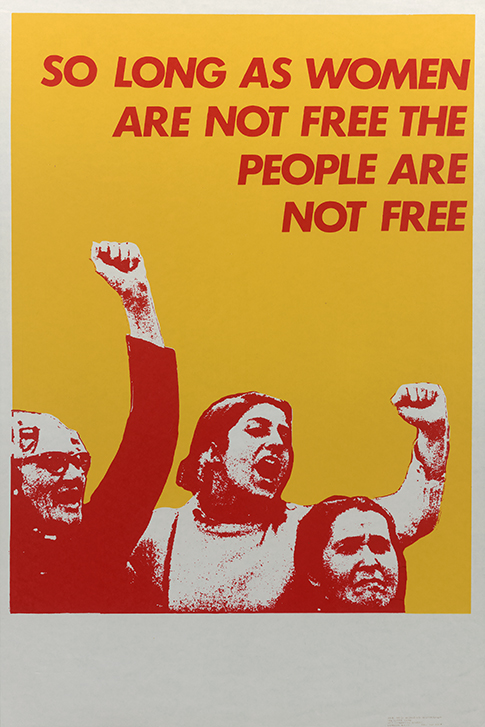 SO LONG AS WOMEN
ARE NOT FREE THE
PEOPLE ARE
NOT FREE
This piece's message takes the global message even farther, making the plight of women a human one — a common theme in the exhibition.
There is also a striking juxtaposition between the past and present that seethes throughout the small gallery. Celia Blomberg's "International Women's Day March 8" can't help but make one think of 2017's Women's March that would take place 37 years later. See Red Woman's Workshop's 1977 "Black Women Will Not Be Intimidated" could easily be repurposed to address the recent spate of blue-on-black brutality. Notable works by Barbara Kruger, Sister Corita Kent and the Guerilla Girls are also included.
Ironically , while it can be surmised that most of these works were made as populist posters to be distributed at the time as banners of protest, their beautiful simplicity and nostalgic elegance probably have resulted in the originals (mostly now found in art museums) sporting hefty vintage-resale prices.
But it is not just the art that has stood the test of time. The fact that the issues addressed in the show — feminism, choice, gender equality, war, immigration, police brutality or violence against women — are all issues at the forefront of debate in 2018 ultimately engenders conflicting feelings.
On one the hand, it is inspiring to see a vibrant exhibit that showcases such diversity in artistic styles, no doubt spawned by the diversity of the artists' own backgrounds. On the other hand, there is a realization that while there has been some progress over the past half century, there is so much work to be done.
Art Center's Hoffmitz Milken Center for Typography, 950 South Raymond Ave., Pasadena; through May 15.
---
Copyright Capital & Main