Walmart Gets Ready for Labor Day With Arrests
(This post first appeared on The Nation and is republished with permission.)
Nine fired workers and a current employee were arrested around 2:30 p.m. Thursday after locking arms and sitting in front of the entrance to a Washington, D.C., Walmart office. The planned act of civil disobedience concluded a noon rally at which workers announced a Labor Day deadline for Walmart to raise wages and reinstate workers they allege were fired for their activism. Twenty workers who joined a June strike by the labor group OUR Walmart have since been terminated; another 50-some have been otherwise disciplined by Walmart.
"Hopefully it opens Walmart's eyes and lets them know that this is just the beginning," OUR Walmart activist Barbara Collins told The Nation prior to her arrest. If Walmart doesn't meet the Labor Day deadline, she said yesterday, "then we're going to give them a lot more actions, a lot stronger actions, a lot bolder ones. And it'll be across the country."
Collins was fired by Walmart in June, after protesting fellow strikers' firings by participating in civil disobedience at the headquarters of Yahoo! CEO and Walmart Board Member Marissa Mayer. As The Nation first reported, this wave of alleged retaliation—the most serious to face OUR Walmart since its founding two years ago—began two weeks after workers concluded a weeklong work stoppage and caravan to the company's Arkansas shareholder meeting. OUR Walmart is closely tied to the United Food and Commercial Workers union.
Organizers say hundreds of supporters joined this afternoon's rally to demand Walmart cease retaliation and offer full-time jobs that pay a minimum of $25,000 a year. Chants included "Whose Walmart? OUR Walmart!" and "If we don't get it, shut it down!" In live video posted online by the campaign, people in suits could be seen stepping over the human chain of seated ex-workers to enter the Walmart office. According to the campaign, arrests took place following three warnings issued over a bullhorn by police; participants in the civil disobedience were individually escorted to a nearby area where they were issued citations for a misdemeanor of blocking a passage, and then released.
The D.C. protest comes as the city's mayor mulls a veto of a retail living wage bill fiercely opposed by the retail giant. Some marched to the rally from the offices of the federal National Labor Relations Board, the agency charged with investigating the workers' claims of widespread illegal discipline against activists. OUR Walmart has urged the NLRB to seek a federal injunction to more quickly address the alleged retaliation; the NLRB did not respond to a Wednesday request for comment on the case.
In a Wednesday e-mail, Walmart spokesperson Kory Lundberg said, "No associates were disciplined for participating in any specific protests." Rather, he said, "we applied the time and attendance policy to the individual absences in the same way we do for other associates." He noted that some protesting workers "did not receive any discipline because their absences in their individual circumstances did not trigger the no-fault attendance rules." Lundberg previously told The Nation that "as a general rule, the law does not protect hit-and-run intermittent work stoppages that are part of a coordinated union plan."
Asked in June about Walmart claims that workers were fired for threatening customer service by violating attendance rules, former Obama-appointed NLRB Chair Wilma Liebman said that "the case law doesn't sustain that as a valid defense" against the charge of illegally punishing strikers. As for the lack of legal protection for "intermittent strikes," Liebman told The Nation, "I think it would be hard on the facts so far to say that the conduct constitutes intermittent striking."
The fired workers were on Capitol Hill yesterday to meet with congressional staffers and seek sponsors for a bill introduced by Congressman Alan Grayson that would dramatically strengthen the legal remedies available to workers fired for workplace activism. In an August 5 letter, sixteen congressional Democrats criticized the Walmart discipline, urging CEO Mike Duke "to stop all retaliatory actions against employees engaged in protests regarding Walmart's labor policies." Walmart's "tense labour relations" were also cited by the major Dutch pension administrator PGGM in its July 1 announcement that, like some peers, it would cease investing in the company.
While fired Walmart workers were rallying against the company in D.C., U.S. Secretary of Commerce Penny Pritzker was delivering remarks and participating in a panel at an afternoon U.S. Manufacturing Summit in Orlando hosted by Walmart. The White House did not immediately respond to a request for comment this morning on the alleged retaliation or the administration's participation in the summit, and has not responded to inquiries from The Nation over the past nine months regarding labor strife at the retail giant.
Asked this month whether the Obama administration should stop praising and appearing with Walmart, Service Employees International Union President Mary Kay Henry, whose union has backed organizing efforts against the company, told The Nation she "would rather, instead of dealing with the specific tactics of the president's behavior with individual companies, keep calling on the president to say we have to have both a tax policy and an ability for workers to bargain again as a way to get off this low-wage road that the economy's on. And I'd like to keep pressing on him to lead on the sort of bigger concern than grievance publicly about what he's doing on individual things."
Another of the fired workers arrested today, Brandon Garrett, yesterday told The Nation that his termination had taken a toll in his Baker, Louisiana, store: "When we came back from striking and we wasn't fired right away, even more associates wanted to join the organization. But I guess Walmart got a sense of that, and when they terminated me, they kind of scared a lot of them off." Now, said Garrett, "they're still behind us," but "a lot of them are scared to be retaliated against. So that's another reason I'm standing up like I am."
OUR Walmart Field Director Andrea Dehlendorf said that in some stores where activists were fired, "there's really been a chill that's created, which is clearly why Walmart does this." However, she said, "We have some stores where people have gotten so angry and so frustrated about it that they're really stepping up and getting more involved…. And not one person who've been fired or disciplined has backed off."
Barbara Collins said that since being fired, she hasn't had as much contact with workers at her Placerville, California, store because managers "are putting that fear back into the workers." "But some of them," she added, "they really do know that it's all a bunch of lies." Collins said OUR Walmart members in her store are "definitely standing stronger, even though management's intimidating them. They still know that if we stand together and strong, hopefully it will stop."

What the NLRB's About-Face on McDonald's Means for Franchise Workers
While the National Labor Relations Board is currently divided 2-2, the confirmation of another Trump appointee will restore the Republican majority — which is bad news for fast-food-chain workers.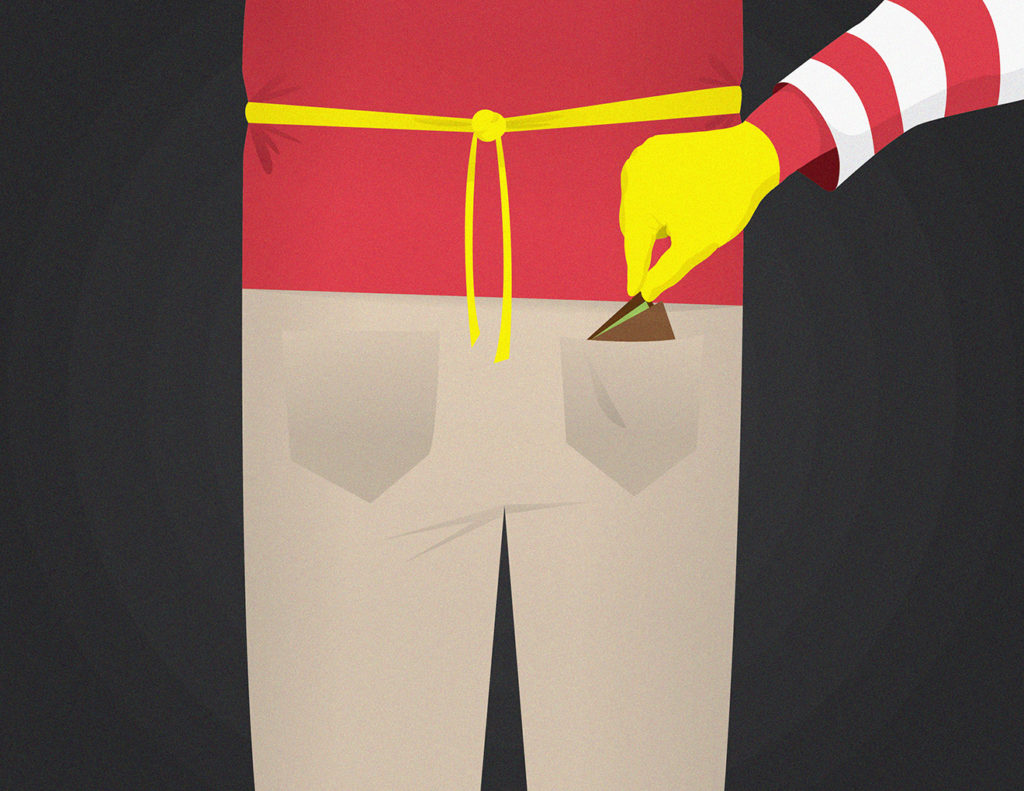 ---
With Donald Trump's election, the momentum at the NLRB is now with employers.
---
Workers at McDonald's joined the union-backed Fight for $15 campaign because many found that they could not get by on minimum wage without the help of family and public assistance. But joining that campaign spurred retaliation, with dozens of employees alleging that they lost money or their job for organizing to get better pay.
Enter the U.S. National Labor Relations Board.
In a victory for workers, the board decided the McDonald's Corporation was jointly responsible for punitive actions against employees across the country because the company dictates, among other things, how those employees cook and clean. That 2015 decision, in a case called Browning-Ferris, established a broad definition of "joint employer." It made franchisors potentially liable for the actions of individual franchises, citing the "indirect" control they exercised over employees and their workplaces. And it meant fast-food chains, among others, would have to collectively bargain with employees who joined a union.
Donald Trump was elected president the next year. By December 2017, the NLRB was back on the side of business with respect to who is and who is not a joint employer, the board overturning with a 3-2 vote the "indirect control" standard of Browning-Ferris.
Then a Republican member of the board retired, evenly dividing the NLRB along partisan lines. The board's inspector general then issued a report in February 2018 saying the December decision never should have been made — that, in particular, a Trump appointee should have recused himself due to a conflict of interest. The decision was thrown out, with congressional Democrats, such as Massachusetts Senator Elizabeth Warren, calling for hearings.
By that point, however, the NLRB had already ordered its lawyers to retreat in the most visible battle over the "indirect" joint-employer standard.
When an administrative trial began back in 2016, the NLRB had said McDonald's was jointly responsible for alleged labor violations at its franchises, including reduced hours, surveillance and wrongful termination of employees who had been organizing for better pay.
"If McDonald's is involved in determining working conditions at its franchised operations, it is responsible for what happens to workers subject to those conditions," NLRB lawyer Jamie Rucker said at the time.
But the NLRB sought and won a 60-day suspension of that trial earlier this year. Lawyers representing the Fight for $15 movement and its allies say the NLRB is now rushing through a proposed settlement that would see McDonald's get off without a finding of joint liability — which won't make it any easier for low-wage workers to collectively bargain.
"What I see is an attack on workers' ability to form a union," said attorney Marni von Wilpert of the progressive Economic Policy Institute (EPI). "If you were able to find a joint-employment relationship with the corporate [franchisor], then all of a sudden they all have one big employer, and all the employees can go to corporate McDonald's. That's really what it's all about, whether workers can organize."
Under the proposed settlement, McDonald's admits no wrongdoing, but its franchisees agree to cover back pay for workers fired as a result of their organizing.
The NLRB "is proposing a sham settlement," said Mary Joyce Carlson, a lawyer representing Fight for $15. "McDonald's directed a wave of retaliation that stretched from coast to coast and included illegally harassing, surveilling and firing workers in the Fight for $15. The hardworking cooks and cashiers who were organizing to get off of food stamps and out of poverty deserve a ruling in their case, not a settlement hammered out at the last minute in collusion with the Trump administration."
With Trump's election, the momentum at the NLRB is now with employers. Any setbacks would appear to be temporary: while divided 2-2 for now, the confirmation of another Trump appointee will restore the Republican majority. Once that happens, the NLRB can be expected to seek another opportunity to overturn the Browning-Ferris joint employer standard.
While Browning-Ferris did not explicitly pertain to the franchise model, it clearly spooked those who depend on it — and inspired those who think franchisors like McDonald's should be liable for the mistreatment of employees at locations bearing its name.
Fight for $15 has prioritized organizing at fast-food businesses, but forming unions is extremely difficult when a dozen small restaurants with the same name may have a dozen different owners. There are over 14,000 McDonald's restaurants in the United States, with only one in 10 owned by the corporation. The ability to collectively bargain with McDonald's, the corporate franchisor, would make a union's task easier — and help address the sort of labor violations that regulators routinely find at fast-food franchises. An EPI report says unionized workers are half as likely to be victims of wage theft, for example.
At an April 5 hearing, Fight for $15 attorney Kathy Krieger urged NLRB Administrative Law Judge Lauren Esposito to reject the settlement. Krieger argued that McDonald's had conspired with its franchises to thwart worker organizing, the corporation recommending, she said, that franchisees "restrict crew members from taking their meals or their rest breaks outside the crew room" as a means "to prevent concerted activity."
McDonald's attorney Willis Goldsmith said the company would never accept a settlement identifying it as a joint employer. "The franchisees, they're independent business people," he said. "They did whatever they did, and if they are willing to concede that, they're going to have to pay people. It's not our job."
While it appears the NLRB under Trump will ultimately reimpose the stricter, pre-Browning-Ferris standard that a joint employer must have direct rather than indirect control of workers, industry groups aren't taking any chances.
Jenna Weisbord, a communications manager at the International Franchise Association to which McDonald's belongs, said her group is looking to Congress to pass the "Save Local Business Act," which would legislatively reimpose the pre-Browning-Ferris standard. "We understand the Senate will take on this task later this year," she said of the bill, which passed the House last year.
A television ad campaign sponsored last year by the franchise association and the U.S. Chamber of Commerce argues the measure would restore "balance to labor law" in the face of a "runaway government agency." That agency, in the era of Trump, is increasingly tilting in the favor of business.
---
Copyright Capital & Main