Wall Street Can't Buy the Facts on Charter Schools
When the Olympics ended so did a multimillion-dollar assault on democracy. From the start of the games in Rio to the closing ceremony, television viewers in Massachusetts had been bombarded with a $2.3 million ad campaign funded by Wall Street.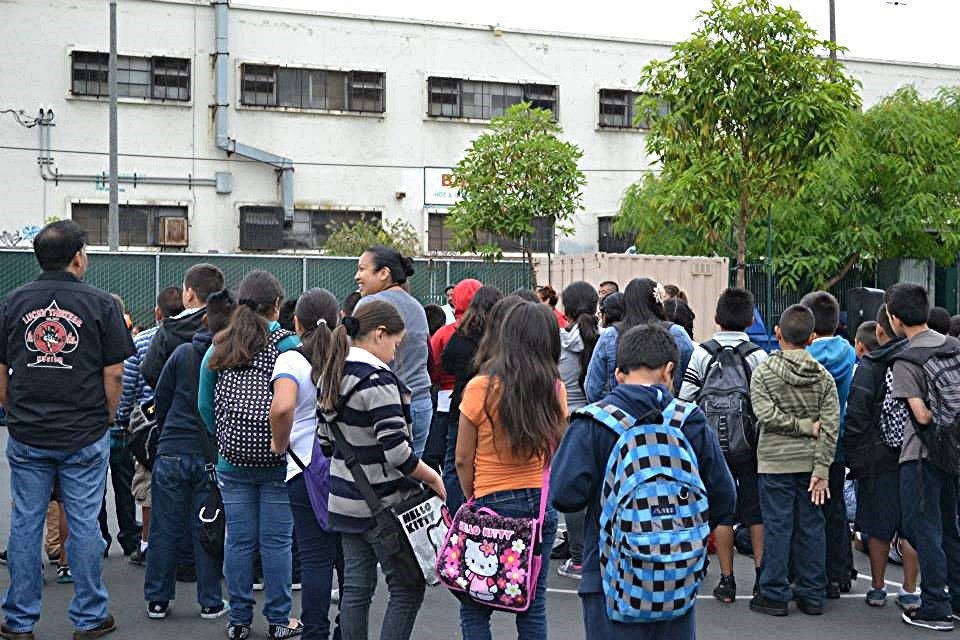 When the Olympics ended so did a multimillion-dollar assault on democracy. From the start of the games in Rio to the closing ceremony, television viewers in Massachusetts had been bombarded with a $2.3 million ad campaign funded by Wall Street.
What does Wall Street want in Massachusetts? Not the normal stuff, like financial deregulation or lower taxes. They want more charter schools.
November's election is pivotal for public education in Massachusetts. That's because the state's residents will decide whether to add more charter schools, which are publicly funded but privately operated. And a coalition of organizations backed by hedge fund investors and billionaires just spent millions during the Olympics to convince them to say "yes."
Why charter schools? Because there's big money at stake. Billionaire Rupert Murdoch, who has given money to one of the organizations that funded the Olympics ad campaign, once told reporters, "When it comes to K through 12 education, we see a $500 billion sector in the U.S. alone."
But Wall Street can't buy facts.
Allowing more charter schools without serious planning and strong oversight is threatening public school districts across the country, most notably in Los Angeles and Detroit. In Massachusetts, neighborhood schools are projected to lose over $450 million in funding to charter schools this school year alone. Adding more would further destabilize school districts across the state.
And a new study of one of the states with the most charter schools, Texas, just found that while the best performing charter schools improve test scores, they don't seem to help kids get better jobs or earn more money in the long run.
But there's hope. In Nashville earlier this month, we shut out Wall Street. The pro-charter organization Stand for Children, which has received money from private equity investors including Mitt Romney's Bain Capital, spent $750,000 to back four pro-charter school board candidates. All four lost.
More and more people are starting to wake up to the problems with unregulated charter schools. Recently, HBO's John Oliver took on the charter school industry. In a searing 18-minute segment, he highlighted the waste, fraud, and abuse far too common in charter schools.
Charter school planning must take into account all children in a school district, and the schools themselves should be held to the standards we expect of any publicly funded institution.
But most of all, public education must be centered on the needs of students, not Wall Street.
---
This article is cross-posted at Huffington Post.
L.A. Charter School Teachers Also Flex Strike Muscles
Obscured by Los Angeles' massive public teachers strike, a separate charter-schools walkout targets many of the same issues.
---
Teachers at three charter schools are decrying a lack of job protections and rising health-care costs.
---
A day after more than 30,000 teachers in the country's second-largest school district went on strike, 80 teachers at three South Los Angeles charter schools coincidentally also walked out, marking only the second charter school teacher strike the nation has seen.
Earlier this month 99 percent of the teachers at the three schools operated by The Accelerated Schools (TAS) voted to authorize a strike. Their demands, aside from a pay increase, have been different from those of other United Teachers Los Angeles (UTLA) teachers who walked off on Monday.
TAS and UTLA had reached an agreement in March 2018 for an average salary increase of 17 percent for teachers working 195 days in the current school year. But sticking points remained, including binding arbitration to enforce the contract, "just cause" language to govern terminations or nonrenewals, so that teachers can't be fired arbitrarily, and competitive health benefits. According to Hong Bui, UTLA's Charter Representative, TAS management proposes to freeze the company contributions, so that any future increase in health-care premiums is borne by employees. Bui noted that binding arbitration and just cause are "enjoyed by 90 percent of unionized teachers in Los Angeles County."
---
Grandmother: "There is no excuse that we're at this point. The money is there. We are not investing in the kids' education as was promised."
---
"Most unionized charter schools have some due process and just cause, but TAS schools do not," Bui said. "Without these protections, the employer can and has made life unbearable for those teachers who speak up."
Bui added that between 2016 and 2018, TAS schools had nearly a 50 percent staff turnover.
On Monday TAS co-founder and CEO Johnathan Williams said, in a prepared statement: "TAS presented UTLA with a new offer that included a process for teachers with strong performance evaluations to receive a guaranteed two-year contract with a $2,000 bonus upon completion. UTLA refused the offer. Teachers who are doing a great job for students will always have a place at TAS. On behalf of our students, we implore UTLA to work with us to find a reasonable resolution that puts kids first."
Los Angeles has the nation's most charter schools, with 277 independent and affiliated schools serving more than 154,000 students. The breakdown can get complicated: District-affiliated charter schools are directly operated by the Los Angeles Unified School District (LAUSD) and their teachers are part of the larger strike that began Monday against the LAUSD.
---
Union: Between 2016 and 2018, The Accelerated Schools had a nearly 50 percent staff turnover.
---
Thirty-seven independent charter schools are unionized, and some of those unionized schools, like TAS, are represented by UTLA, while others are represented by the California Teachers Association. (Disclosure: The CTA is a financial supporter of this website.) But their collective bargaining agreements are negotiated with the charter school management, not LAUSD. The California Charter Schools Association (CCSA) estimates that 30 percent of charter schools in the state have some form of a collective bargaining agreement or representation.
At a news conference last week, teachers emphasized that their goal is to improve teacher retention by increasing teacher protections. German Gallardo, who has taught 12th-grade history at Wallis Annenberg High School for the past two years, says that educational progress cannot be made with high teacher turnover. "I have students who have missed teachers for a year, and that inconsistency hurts when we send them off to college," he said, referring to students who had substitutes for an entire school year.
---
Randi Weingarten: Educators are not the ones who have framed public schools and charters as competitors. "That's done by people like Austin Beutner."
---
Second-grade teacher Simone Barclay told Capital & Main that TAS instructors are technically "at will" employees without the ability to appeal dismissals, and who don't know whether their contracts will be renewed year to year. "It creates anxiety and stress and doesn't allow us to advocate for our students, whether it is [for] special education or resources for our classroom. And it leads to much higher turnover," Barclay said.
The TAS strike comes after the release of a report by a state-appointed fact-finding panel that included recommendations for resolving many of the outstanding contract issues at TAS.
In the past year there has been a groundswell of public teacher walkouts and strikes in states including West Virginia, Arizona, Oklahoma, North Carolina, Kentucky and Colorado. But until December's walkout of 500 charter educators in Chicago, strikes at charter schools were unheard of. According to the American Federation of Teachers (AFT), between 10 and 12 percent of the charter school sector nationwide is unionized, and the rapid growth of charter schools is outpacing the growth of unionization. (Disclosure: AFT is a financial supporter of this website.)
California's explosive charter growth and competition for students have made charter detractors worry about those quasi-public schools siphoning resources from traditional schools. UTLA president Alex Caputo-Pearl said teachers are asking for "common-sense regulations on charter school growth" as part of their contract demands, making the concurrent strikes by TAS and LAUSD school educators, in theory, somewhat awkward, although teachers at both schools have told Capital & Main that, no matter where they work, they are in solidarity with one another.
---
Until last December's walkout of 500 charter educators in Chicago, strikes at charter schools were unheard of.
---
Randi Weingarten, president of AFT, said educators are not the ones who have framed public schools and charters, per se, as competitors. "That's done by people like [LAUSD Superintendent] Austin Beutner . . . and that creates a survival of the fittest. For years they have said that competition in schools is good, but this is a very wrongheaded premise."
"The charter school industry said their teachers are private school employees," Weingarten added, "but most charter schools by laws are public schools funded by taxpayers and must enable a voice for parents and educators."
Charter school supporters, such as TAS founding member and grandmother Hilda Rodriguez-Guzman, say that charters ideally provide a higher quality and more robust education with more flexibility.
"But that's not what's happening [at TAS]," Rodriguez-Guzman recently admitted. "There is no excuse that we're at this point. The money is there. We are not investing in the kids' education as was promised. It is not acceptable that we keep losing good quality teachers and having substitutes. Sometimes we have computers teaching kids in high school, when they need that human instruction and interaction."
---
Copyright Capital & Main