Wage Theft Confidential: How Your Earnings Are Stolen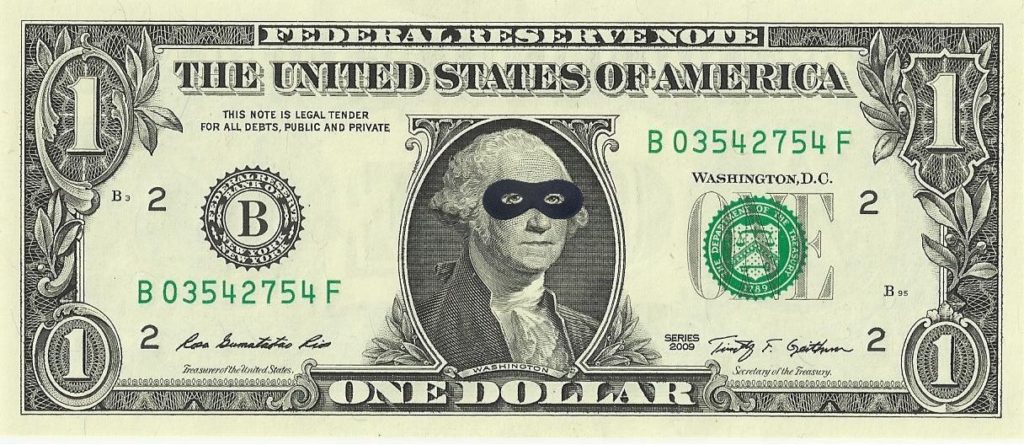 Wage theft is a serious yet seldom-reported crime that victimizes millions of Americans – particularly low-income and immigrant workers. Today, as part of an ongoing examination of workplace issues,  Capital & Main debuts a new series focusing on wage theft, beginning with a primer on the problem by Bobbi Murray, followed by Joe Rihn's profile of a port truck driver who works in an industry where wage theft is a daily fact of life.
---
The expression "wage theft" is a deceptively gentle term. Perhaps "paycheck mugging" more accurately describes the violence done to the earnings of millions of Americans each year.
If you are a target of wage theft no one pistol-whips you to acquire your valuables–but you definitely get robbed. Every week Los Angeles workers get held up for $26.2 million through unpaid overtime, being pressured to work through unpaid breaks or off the clock; some employees are simply shortchanged on their hours or pay.
Based on data from New York, Chicago and Los Angeles, the Economic Policy Institute calculates that workers in the United States lose $50 billion a year in unpaid wages. By comparison, high-profile crimes such as bank, convenience store and residential robberies, auto theft and other larcenies cost victims less than $14 billion in 2012, according to FBI statistics quoted by the EPI.
In Los Angeles 655,000 low-wage workers get dinged each week by at least one pay violation— employees already scraping by at $16,536 a year get mugged for $2,070 annually, according to Human Impact Partners in a study created with the UCLA Labor Center and the Restaurant Opportunities Centers United.
Here's one typical way that wage theft works: You show up for an eight-hour shift at a fast-food restaurant. California law requires you to get a 30-minute unpaid break no later than five hours after you begin. Actually using that half hour is another matter, however.
Citing a 2012 California Supreme Court decision, the California Chamber of Commerce advises business owners that "employers do not have to ensure employees take their meal breaks. Once the meal period is provided, there is no duty to police meal breaks to ensure no work is being done."
You need this job—so you work through your unpaid break.
This means that if you're a $9-an-hour employee, you've just forfeited $4.50. Later you might give up another $4.50 to comply with the manager's request to help clean up for a half hour after you've clocked out.
So you've given up a free hour today—and probably yesterday and maybe tomorrow.
"It's a zero-sum game," says Tia Koonse, Legal and Policy Research manager at the UCLA Labor Center and one of the authors of the National Employment Law Project's (NELP) report, "Hollow Victories: The Crisis in Collecting Unpaid Wages for California Workers."
"In a high-pressure workplace you're not going to take a break," Koonse tells Capital & Main, adding that off-the-clock violations were common throughout the 26 industries the "Hollow Victories" study surveyed.
In retail businesses, management often requires employees to clean up work areas after they've clocked out. In the restaurant industry, workers roll up the silverware before their shifts—and then clock in.
"At every possible moment management is under pressure to squeeze everything out of you," Koonse says.
Also in This Series:
A Truck Driver's Story
Do Laws Work?
The Worst Scofflaw Industries
Finding Solutions

Legal action is unlikely to collect what a worker is owed in stolen wages— the "Hollow Victories" survey showed that only 17 percent of California workers who won wage claim-cases between 2008 and 2011 were able to recover any payment.
Employers skip out, change names and disappear rather than pay up. Sometimes workers don't even know who is stiffing them—a NELP study called Who's The Boss shows an increasing tendency for big-name employers to subcontract their work. You may fill orders at an Amazon warehouse but really work for Integrity Staffing Solutions.
Amazon and Integrity Staffing Solutions are currently involved in a case before the U.S. Supreme Court that looks at whether workers can be required to wait for as much as 25 unpaid minutes as they wait to be screened at the end of a work day for stolen items. Interestingly, the contractor argues that the searches are extraneous.
Stephanie Luce, a longtime wage and work-standards scholar, and a professor at the City University of New York's Murphy Institute, is the co-author of a 2012 report, "Discounted Jobs: How Retailers Sell Workers Short." She says such unpaid wait-time is common in retail.
"You clock out and you get your bags searched to make sure you haven't stolen anything—you are searched off the clock," says Luce. "People get assigned three-hour shifts and then have to wait 20 minutes to be searched."
Wage theft is a part of a business model designed to keep employer pay costs as low as possible, Luce says. "It's very clear from reading management literature from back in the '90s that the new frontier in maximizing profits is not paying a minute more in wages."
At a multimillion operation like Victoria's Secret, Luce points out, "local stores get the marching orders and the budget from headquarters—there's a centralized plan for what your costs are, [for] sales projections and keeping payroll on track." That means timing workers down to the minute.
In the meantime, wage enforcement efforts by government agencies have been eviscerated through staff reductions. "The Department of Labor has been under-funded and de-funded," Luce says. "There are fewer inspectors—there are not enough resources for monitoring and enforcement."
Enforcement is the first thing that gets cut during a recession when workers are most vulnerable, Koonse agrees.
The national honor roll of employers busted for robbing their employees of millions includes quite a few famous names:
Staples Inc. agreed in 2010  to pay $42 million as part of a global settlement resolving several wage-and-hour collective actions that claimed the office supply vendor misclassified its assistant store managers as exempt from federal overtime pay requirements.
Walmart settled in Washington State for $35 million in an unpaid wages case; in 2008 the retail giant settled 63 cases in 42 states for $352 million related to charges that Walmart forced employees to work off the clock and skip meal breaks.
Levi Strauss (once considered a paragon of corporate responsibility) was required to pay more than $1 million in wages for misclassifying employees as assistant store managers and then obliging them to work off the clock. Job websites list Levi Strauss sales associates' salaries at around $9 hourly, and supervisors' at $11 plus change.
FedEx  was ordered by a court-appointed official in 2008 to pay out $14.4 million to some 200 drivers who had been classified by the company as independent contractors and who therefore had to pay for gas, maintenance and other operating expenses. Defining workers as independent contractors has become a wage-theft battleground—as in the case of L.A.'s port truck drivers, who bear the cost of operating and maintaining the vehicles they lease to haul goods and often end up owing money instead of collecting a check at the end of a pay period. (See "A Truck Driver's Story" in this series.)
Forever 21 has been sued more than once for stiffing workers on overtime compensation and meal breaks.
The fines these and other companies received were a pittance compared to the Fortune 500 bottom lines involved.
"These are big companies that can afford to pay," says employment attorney Victor Narro of the UCLA Labor Center and co-author, with Ruth Milkman and Ana Luz Gonzalez, of the 2014 study "Wage Theft and Workplace Violations in Los Angeles."
"They do have the ability to pay their workers–they continue to choose to violate the law," Narro adds. "They calculate–What are the chances of being investigated again?"
But it's still easier (and therefore more profitable) for corporations to retaliate against employees who file wage claims rather than to pay up. They can afford to out-wait the employee living paycheck-to-paycheck who must prove that she was denied her rights.
Given these realities, is there any hope at all for curtailing wage theft? Despite the odds facing American workers, and the fact that federal oversight has been diminished, local efforts to put teeth into anti-theft measures have been advancing.
Chicago is the nation's largest city to pass a measure that would revoke the business license of any operation convicted of wage theft. Seattle has also enacted a wage theft ordinance.
The Los Angeles Coalition Against Wage Theft—an alliance of 60 local organizations—has promoted similar measures in L.A. Last June City Council members Gilbert Cedillo and Paul Koretz announced plans to revive a five-year-old proposal to criminalize wage theft and potentially put scofflaws behind bars. In response to a media query, Koretz's office sent an email explaining that the proposal is now on the desk of City Attorney Mike Feuer, whose office is charged with drafting an ordinance based on the council resolution.
At the state level, California will follow the lead of 15 other states to investigate unscrupulous contracting and subcontracting arrangements. A new law goes into effect on January 1, 2015 that establishes joint liability for contractors and their clients—if a worker gets stiffed by a name-brand employer that is hiding behind a contractor then both the contractor and the name-brand company are potentially liable for criminal penalties.
"It incentivizes companies to come to the table" rather than ignore worker claims, says Koonse.

Home, Shared Home: Renters Watch as Their Buildings Become Apartels
The displacement of renters by large-scale operators who turn apartment buildings into de facto hotels has hit urban areas like Greater Los Angeles hard.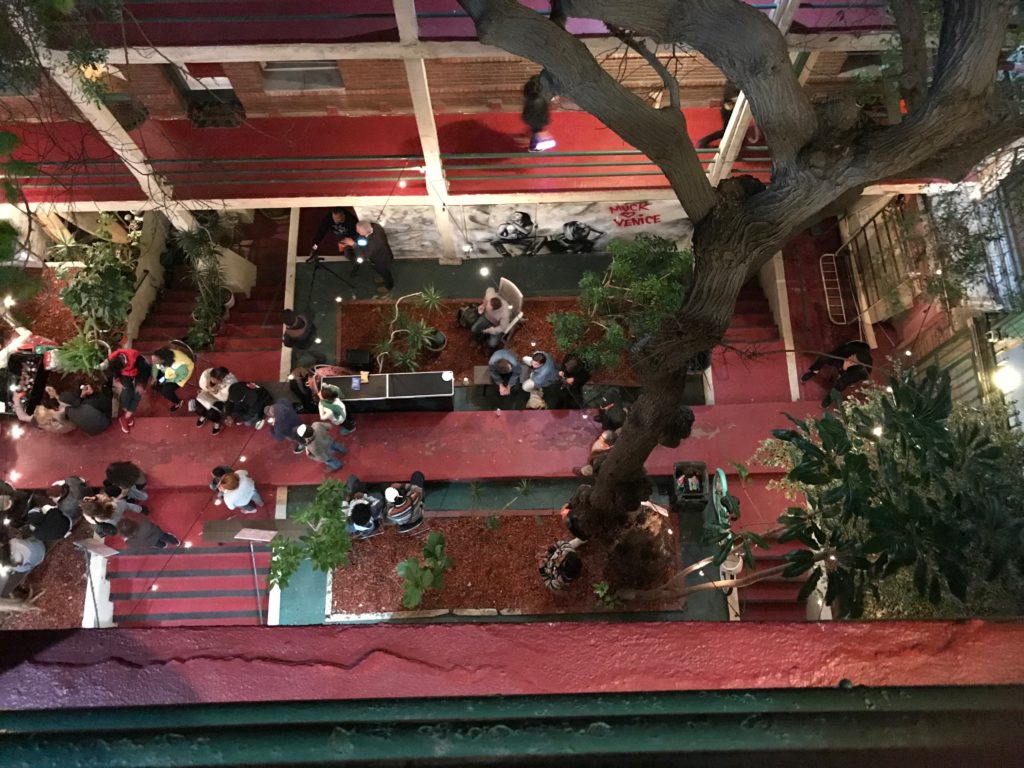 ---
Apartment Renter: Short-term guests begin lining up around 11 a.m., spilling out onto the street as other guests check out.
---
Home-sharing

. This cozy phrase once conjured images of a homeowner generously opening up a room to out-of-towners—while the fee charged by the owner helped him with mortgage payments. Or perhaps we pictured an apartment dweller who left for the weekend and made a little extra cash letting someone else use the premises.
But the present reality of home-sharing is not so cozy for single-family residential neighborhoods, where out-of-town guests may feel no social pressure to allow the neighbors a peaceful night's sleep or to not trash the rental home.
To see today's home-sharing up close, visit the Ellison Suites in coastal Venice, just a block from the famed Venice Boardwalk. Built in 1913 and covered with gigantic murals of Jim Morrison, Marilyn Monroe, John Hurt and Lana Del Rey, it boasts 58 units—but only 12 apartments are occupied by permanent tenants, according to one resident.
---
"We used to have neighbors for 20 years—now we have them for 20 hours."
---
Beyond the Ellison's courtyard, people bump wheeled suitcases up the building's front steps and, on Fridays, signs advertise the night's upcoming party. It might offer a fire dancer, but most parties will at least include free beer and wine — and music that reverberates up through the courtyard.
"We used to have neighbors for 20 years—now we have them for 20 hours," said Bruce Kijewski, one of the remaining tenants, who has lived here since 1977. In the summer, he said, guests begin lining up around 11 a.m., spilling out onto Paloma Avenue as other guests check out.
An online search for The Ellison Suites yields a number of home-sharing and lodging platforms—Booking.com and Expedia among them–advertising its amenities as a short-term beachside rental. The building's own website promotes it as a vacation destination, extolling Jonas Never's murals as "Venice Masterpieces."
The displacement of tenants by large-scale operators who turn their buildings into de facto hotels hit hard in urban areas like Greater Los Angeles, which is plagued by a nearly three percent rental vacancy rate.
While mom and pop are in on some of the home-sharing, today its booming business model most benefits commercial operators who can make more on short-term rentals (STRs) than on permanent residents.
STRs are promoted by a slew of home-sharing platforms, including Airbnb, now valued at $31 billion as it moves toward being publicly traded; and HomeAway and subsidiary VRBO, valued around $3 billion in 2015. The platforms profit by collecting a percentage on every rental offered on their sites by home-sharers.
Local municipalities are scrambling to figure out and ameliorate STR impacts on their neighborhoods and housing stock. In May, Los Angeles City Council measure was sent to the city attorney's office for language changes and is expected to go before the city planning commission in September. The proposed ordinance would set up a permitting system for short-term rentals and establish a 120-day yearly limit for home-sharing. Two nuisance violations—enforced by a city agency—could get an operator's permit revoked.
The Ellison Suites, zoned as a rent-stabilized apartment building, in effect operates as a hotel.
The lowest nightly rate listed on the website is $149. That apartment, when rented to vacationers, could yield $4,470 monthly.
With the Ellison's current rent-stabilized protections, it's hard to straight-up evict someone, but there are ways of persuading them to flee their apartments to make them available for tourists and other visitors.
Michael and Susanne Detto, Ellison residents for 14 years, rented their apartment for $2,000 a month before they moved out in May. All-night parties in the courtyard below their apartment made it impossible to sleep—both work 12-hour shifts as nurses. "It was so loud we couldn't even talk to each other," Susanne Detto said.
Breakdowns in maintenance–power outages, faulty plumbing, leaking ceilings—plus an altercation with management during one of the raucous parties were all part of what the Dettos claim drove them out.
"Especially in summer, he makes three times the money if he rents out every day," Michael Detto said of the Ellison's landlord.
Kijewski and other Ellison tenants say landlord investment goes into creating a hotel entertainment experience rather than supporting habitable apartments. Residents have filed dozens of complaints with the city against building owner Lance Jay Robbins' Paloma Partnership LLC, citing bad plumbing, inadequate water supply, construction without permits and change of use/occupancy without a building permit. (Multiple attempts to get a response from Robbins for this story were unsuccessful.)
---
Michael spoke wistfully of a community where neighbors once shared poetry readings, art discussions and fundraisers in the courtyard now occupied by high-octane weekend parties.
---
The company appealed the building's status to Los Angeles' Building and Safety Commission, arguing that short-term rentals should be allowed because the city's initial certificate of occupancy designating the Ellison a residential apartment was in error and that the building is a hotel.
The company lost. Another appeal is headed for the city planning department.
Meanwhile the Ellison continues to advertise online as a hotel.
With today's lucrative rates of return, it's easy to see why, for large-scale operators, short-term stays make for a more attractive business model than permanent housing. Customers staying for a few nights might do some hating online, but won't be there to press on long-playing maintenance issues.
Tenants at the Metropolitan in Hollywood experience the same push-out climate as Ellison residents, according to Susan Hunter, a case worker with the LA Tenants Union, which is part of a coalition that includes representatives from Los Angeles' hotel industry, labor unions and community groups.
Hunter counts a dozen permanent residents remaining in the sleek, 12-story high-rise that boasts sweeping views of Hollywood and sits within walking distance of Hollywood Boulevard sites.
The website for Apartments.com says there are no apartments presently available.
Zoned as a residential building, the 52-unit Sunset Boulevard property owned by the Harridge Development Group is advertised online as an "apartel." Tenants approached for this story didn't want to speak, they said, for fear of retaliation, but they have complained to Hunter of loud parties, with fighting in the halls and kicked-in doors.
Apart from creating chaotic conditions for tenants sharing space with STRs, the home-sharing model leaves an even larger social footprint. The incentive for large-scale operators everywhere to acquire units—including entire homes — and move them off the permanent housing market places upward price pressure on housing.
From Seattle to New Orleans to Barcelona and beyond, housing advocates are assessing the effects of short-term rentals on housing markets and figuring out how to respond.
In New York City, short-term rentals have resulted in a loss of as many as 13,500 rental housing units, according to a January 2018 report from the School of Urban Planning at McGill University. (The study was commissioned by a labor group opposed to home-sharing.) New York has passed legislation requiring registration and other monitoring measures.
A 2015 San Francisco Board of Supervisors Budget and Legislative Analyst report estimated that Airbnb short-term rentals alone had removed between 925 and 1,960 units from the city's housing market. These, along with 8,000 units already being used for short-term rentals, add up to an 11 percent reduction in rental housing.
Like other cities, San Francisco has aimed to define and enforce the number of nights STRs are permitted. Studies based on data from insideairbnb.com show that, in Los Angeles, renting out a property as a short-term rental for 83 nights or more annually produces more profit than the property could earn as a long-term rental.
In San Francisco, the cradle of Airbnb and adjacent to tech hubs, municipal leaders face an affordable housing shortage and a vacancy rate below three percent, and have established a registration process for short-term rental hosts. Regulations set a cap of 90 days per year for hosts that don't live on the property. Violators are subject to stiff fines.
Seattle, headquarters of several tech giants, took an approach that attacks the short-term rental issue as part of the affordable housing problem. The city defines a short-term rental as a maximum stay of 29 nights and sets up a licensing system.
Using a wider lens on the affordable housing crunch, the city council in May approved an "Amazon tax" that charges the larger employers such as Groupon and Amazon $275 per worker annually to support housing and homeless services. (The city council repealed the tax in August.) Seattle comes in third, behind only New York and Los Angeles, in the numbers of homeless, while boasting only a fraction of those cities' total populations.
Joan Ling, an urban policy analyst who has worked in affordable housing and mixed-use development for over 30 years, supports short-term rental regulation but sees it as only a piece of the larger question of creating affordable housing to support working families. Los Angeles, she said, "has a ways to go . . . Anything is better than nothing. What [regulation] can do is reduce the harm that can be done [by] removing units. The affordability crisis is so pervasive, so deep—we need a huge number of policies to address the crisis."
Michael and Susanne Detto are happy living in their new apartment in Santa Monica—no all-night parties, the plumbing works and it's a 10-minute walk to work. But before the Ellison got pieced out for short term-rentals, the couple also liked their Venice home.
Michael spoke wistfully of the community where neighbors once shared poetry readings, art discussions and fundraisers in the courtyard now occupied by high-octane weekend parties.
Susanne likes where the couple landed, but reflected on the overall cost as tenants got pushed out by the STR model.
"We lost a lot. We lost a lot of our neighbors. We're still kind of recovering."
---
Copyright Capital & Main