Wage Theft Confidential: A Truck Driver's Story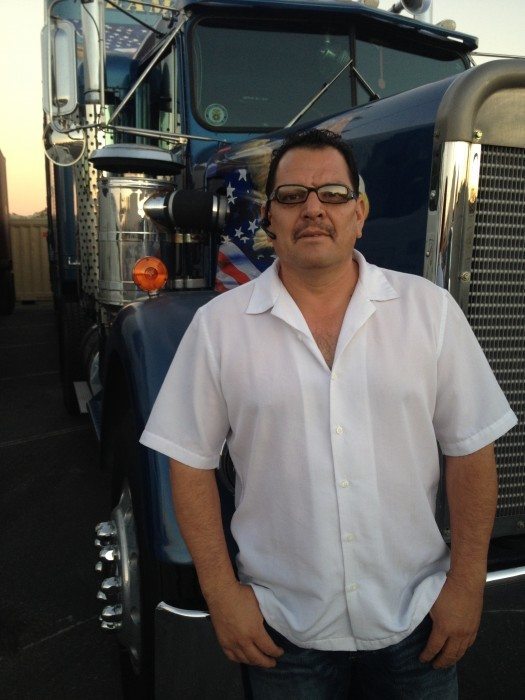 Victor Vitela (Photo: Joe Rihn)
For Victor Vitela life revolves around work. A reserved man with dark hair and a powerful frame, Victor makes his living driving an 18-wheeler loaded with cargo back and forth from the ports of Long Beach and Los Angeles to the Inland Empire. His tone is matter of fact when he talks about his job with QTS Inc., a Gardena-based hauling firm. Victor often works late, until three or four in the morning, leaving just enough time to catch a few hours of sleep before the day begins again at 7 a.m. In his line of work, 20-hour days are the norm. That doesn't leave enough time to return to his family in Ventura County, so he spends Monday through Friday living out of his truck.
Victor may spend a huge amount of time working for QTS, but you wouldn't know it from his paycheck, which is eaten up by the kind of expenses and deductions many employers would be expected to pay – the insurance on his truck, its diesel fuel ($1,000 per week), its tires, maintenance and upkeep. Some port truck drivers have reported receiving "negative paychecks" showing they owe their companies money because the companies handled their drivers' truck leases or repair bills for them.
This is because, while Victor works for exclusively for QTS, technically he is not its employee. Like many other port drivers, he is classified as an independent contractor. Working for QTS grants him access to the ports, but little else – as a contractor, Victor is not entitled to the basic workplace protections afforded most employees who draw a company paycheck. This is a less obvious form of wage theft but it is a major problem among port truckers.
QTS does, however, treat Victor like an employee in certain critical ways. They decide his hours and his pay, they dictate his assignments and they can terminate him if he fails to comply. Victor claims the company has been unsympathetic to sick and injured workers, and that it's extremely difficult to get time off. "We don't have any control of anything in the company," he says.
In recent years dozens of drivers have successfully challenged their independent contractor status in court and before labor boards – winning millions of dollars in back pay and job reinstatements.
Also in This Series:
How Your Earnings Are Stolen
Do Laws Work?
The Worst Scofflaw Industries
Finding Solutions
Victor's route to port truck driving took several detours. He emigrated from Durango, Mexico to the United States in 1986, settling first in Colorado before moving to Southern California two years later. He has worked as an auto mechanic and got into the construction business as well.
"I used to have my own company doing demolition, excavation and grading," he explains. But a recessionary slump in the market around 2009 left him without enough work. "I had to look for something else more stable." Victor heard about port trucking jobs through a friend. Now his day begins parked in a long line of trucks waiting to pick up the day's first container at the Port of Long Beach or Los Angeles. He waits two or three hours for a container, but some days it's five or even 10 hours.
"We don't get paid for the time we spend waiting to get the container," says Victor. That's because independent contractors are paid by the load. Sometimes drivers will wait a whole day and never get a container at all.
When Victor finally gets a load on his truck, he will haul it to a distribution facility in Ontario and then transports an empty container back to the port. Then it's back in line to drop off the empty container and the cycle starts again. On a good day Victor will make three roundtrips at $246 each and finish around 3 a.m. On weekends Victor gets to see his wife and college-age son and daughter. However, there is always work to be done, such as maintaining his truck, which he does himself. With his hectic schedule, Victor no longer has time for the activities he used to enjoy.
"Since I started working here, for the last two and a half years, I don't have free time," he laments. "Before that I was a soccer coach. We had a team over the weekends, but not anymore."
Although Victor hasn't considered himself politically active in the past, he hopes the port drivers will be able to secure a new arrangement with the company. "Getting benefits and working less hours," are his biggest concerns. He worries about getting older without a retirement plan.
If Victor cannot get fair treatment from his company, he hopes to find work transporting containers closer to where he lives, so that at least he will be able to go home at night. In Victor's case wage theft isn't just about the money his employer takes from him; it's about the time.