Villa Carlotta's Tenant Warriors Fight to Save Homes and History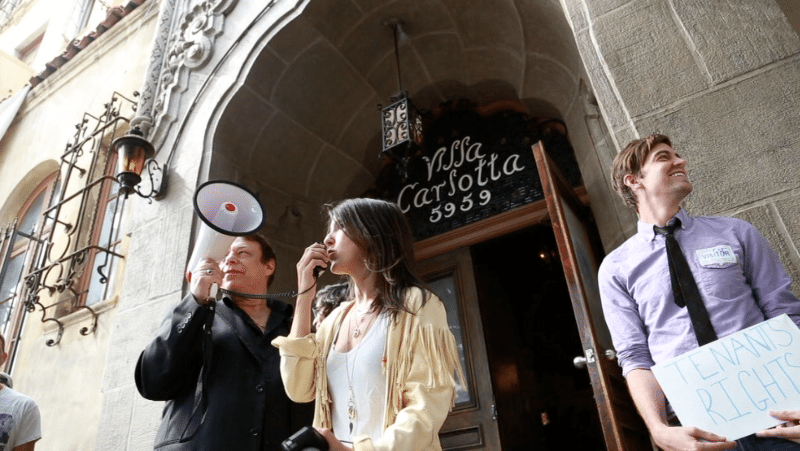 History may record the August 2014 sale of the Villa Carlotta in Hollywood's Franklin Village neighborhood as the moment in time when the legendary 'Grande Dame' became a statistic.
The 1926 apartment building was famously a stop along the path through Hollywood for numerous actors, musicians and other artists, but it has also been a home to those like eighty-three year old Sam Fuller, who lived there for 40 years. He and many other long-term residents who had hoped to live at the Carlotta for the rest of their lives received eviction notices just before Christmas last year.
"We were [being evicted and then] atomic-bombed—Ellis-Acted," said Sylvie Shain, one of the few remaining residents, referring to a 1985 state law that allows landlords to evict tenants from their rent-controlled units if they are changed to non-rental use.
The Villa's new owners, CGI Strategies, are attempting to use the Ellis Act to convert the 50-unit rent-controlled complex into a luxury hotel for extended stay tenants.
Every year, hundreds of rent-controlled apartments in Los Angeles are taken off the market under the Ellis Act, according to Larry Gross, Executive Director of the L.A.-based Coalition for Economic Survival. Unlike many of these 'Ellis-ed' units, the Carlotta is a designated Los Angeles historic cultural monument.
At the Villa Carlotta, the process actually started with the previous owner, David Lesser, who had reduced the building to 42 percent occupancy. Lesser and CGI dismantled common areas, stripping the beautifully landscaped courtyard of its furnishings, eliminating the rooftop garden and playground, and removing the plush, luxurious décor from the once sumptuous lobby. Undoubtedly, latter day former residents, actor Neil Patrick Harris and singer–songwriter Rickie Lee Jones would not recognize the Villa in its present state.
Preservationists and residents hope to return the building to what it once was and rescue its affordable housing. Regrettably, if City Hall grants CGI the necessary permit to rehab the Villa, tenants may become a footnote in the drama—even those who stayed on the front lines, fighting to save the architectural and historical gem along with the right to affordable housing.
Shain is one such tenant. She continues to 'stand her ground' in the practically vacant complex, defying harassment, eviction, relocation, payout offers and lawsuits.
Shain told Capital & Main she felt her fully restored one bedroom home with views of Hollywood and period architecture was threatened the moment after learning that the Villa had been sold. "None of us knew about the sale prior to it being announced."
"For one and a half years prior to being Ellis-ed, we went through a virulent course of harassment designed to get us to leave. Five of us are left in the building. Two tenants are currently fighting their Ellis evictions and three have the right to stay until December 22, 2015.  Many units are boarded up."
"I went to city council meetings and spoke at public comment, I showed up at events …all in vain. This discouraged a lot of our tenants. They felt hopeless and thought the city didn't care about them," Shain said. "People told me to 'forget it,' that this was a lost cause because the developers buy city hall."
An entertainment industry craft worker and songwriter, Shain now devotes most of her time to the 'Save the Villa Carlotta' Campaign, historic preservation, and helping to educate and support others in the fight against displacements. Similar ones have occurred in Highland Park and Boyle Heights, and some now threaten areas in the Crenshaw District.
Sitting on the window seat with Brad Pitt, her Chihuahua mix, Shain used the word 'gentrification' sparingly.
"The term is ugly," she said. "Speculators and city hall dealmakers are looking to remake Hollywood into the epicenter of L.A. by constructing mixed use, high-rise and high-density development—some sort of Hong Kong or Manhattan. What's happening is a mass infusion of money."
"The handwriting is on the wall," Shain said of the enclave of renters, the pedestrian nightlife, independent booksellers, shops, bars and eateries in the once affordable Franklin Village. "In the last two years, the market exploded—rents are through the roof."
"There is a huge problem with rent control and affordable housing," Shain says. "Ask me or a minimum wage worker what 'affordable housing' means. Many residents pay more than 30 percent of their monthly income and still don't qualify" for assistance.
Shain wants to preserve the village vibe created by artists and entrepreneurs working non-traditional jobs and schedules, and the charm and authenticity of the Villa.
"The functions we had as people went beyond our apartments," she explained. "We created a web that connected us to the city and infrastructure. That connection is not easy to regain, especially for older tenants or the incapacitated and disadvantaged. People are losing their anchors—and it's about profit. The very thing that developers want to capitalize on was built by people who did not get paid for it."
As one of the founders of the newly-established L.A. Tenant's Union, Shain is initiating those conversations. The Union helps to identify and organize people and areas like the Crenshaw District, Boyle Heights, and Highland Park, where change is on the horizon, but many tenants may not yet be suffering evictions.
"The group embraces non-English speakers and meets in different areas to support tenant–led initiatives," Shain said. "We supported tenants fighting eviction under the Ellis Act on Rodney Drive in Los Feliz and against the demolition of a potential historical cultural monument on Edinburgh Avenue in Beverly Grove."
In the meantime, Shain and the Tenants Union, the Coalition for Economic Survival and other allies aim to strengthen rent control to ensure the Villa remains an apartment building and to prevent tenant displacements elsewhere. They are seeking a city ordinance requiring landlords to notify tenants if a building will be sold. Tenants would have first right-of-refusal if they want to create a coop. As for the Ellis Act, the group wants the city to require owners to request and procure their entitlements prior to causing displacement. Tenants would have more time before having to look for alternative living arrangements, and property owners would have to be forthcoming about the human impact of their projects.
---
Debra A. Varnado is the founder, editor and publisher of The Fifth Avenue Times Online Journal and Newsletter. Her work has been published by Oxford University Press, Tsehai Publishers and Distributors, StorySouth.com, Howard University, George Mason University and the Wave Community Newspaper.