Villa Carlotta's Tenant Warriors Fight to Save Homes and History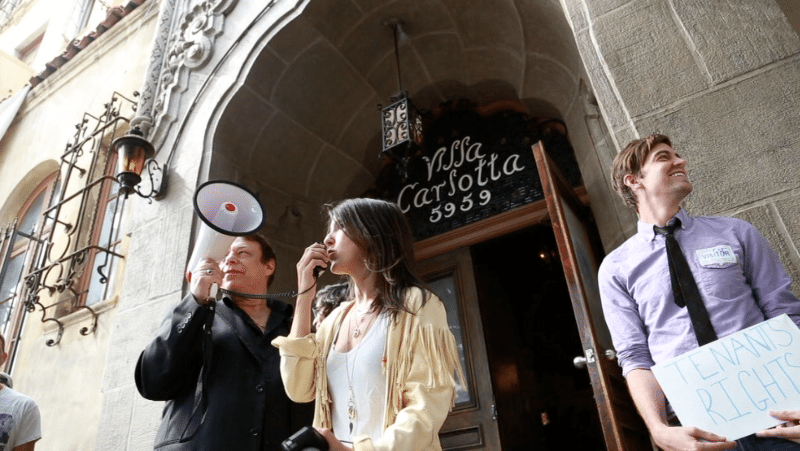 History may record the August 2014 sale of the Villa Carlotta in Hollywood's Franklin Village neighborhood as the moment in time when the legendary 'Grande Dame' became a statistic.
The 1926 apartment building was famously a stop along the path through Hollywood for numerous actors, musicians and other artists, but it has also been a home to those like eighty-three year old Sam Fuller, who lived there for 40 years. He and many other long-term residents who had hoped to live at the Carlotta for the rest of their lives received eviction notices just before Christmas last year.
"We were [being evicted and then] atomic-bombed—Ellis-Acted," said Sylvie Shain, one of the few remaining residents, referring to a 1985 state law that allows landlords to evict tenants from their rent-controlled units if they are changed to non-rental use.
The Villa's new owners, CGI Strategies, are attempting to use the Ellis Act to convert the 50-unit rent-controlled complex into a luxury hotel for extended stay tenants.
Every year, hundreds of rent-controlled apartments in Los Angeles are taken off the market under the Ellis Act, according to Larry Gross, Executive Director of the L.A.-based Coalition for Economic Survival. Unlike many of these 'Ellis-ed' units, the Carlotta is a designated Los Angeles historic cultural monument.
At the Villa Carlotta, the process actually started with the previous owner, David Lesser, who had reduced the building to 42 percent occupancy. Lesser and CGI dismantled common areas, stripping the beautifully landscaped courtyard of its furnishings, eliminating the rooftop garden and playground, and removing the plush, luxurious décor from the once sumptuous lobby. Undoubtedly, latter day former residents, actor Neil Patrick Harris and singer–songwriter Rickie Lee Jones would not recognize the Villa in its present state.
Preservationists and residents hope to return the building to what it once was and rescue its affordable housing. Regrettably, if City Hall grants CGI the necessary permit to rehab the Villa, tenants may become a footnote in the drama—even those who stayed on the front lines, fighting to save the architectural and historical gem along with the right to affordable housing.
Shain is one such tenant. She continues to 'stand her ground' in the practically vacant complex, defying harassment, eviction, relocation, payout offers and lawsuits.
Shain told Capital & Main she felt her fully restored one bedroom home with views of Hollywood and period architecture was threatened the moment after learning that the Villa had been sold. "None of us knew about the sale prior to it being announced."
"For one and a half years prior to being Ellis-ed, we went through a virulent course of harassment designed to get us to leave. Five of us are left in the building. Two tenants are currently fighting their Ellis evictions and three have the right to stay until December 22, 2015.  Many units are boarded up."
"I went to city council meetings and spoke at public comment, I showed up at events …all in vain. This discouraged a lot of our tenants. They felt hopeless and thought the city didn't care about them," Shain said. "People told me to 'forget it,' that this was a lost cause because the developers buy city hall."
An entertainment industry craft worker and songwriter, Shain now devotes most of her time to the 'Save the Villa Carlotta' Campaign, historic preservation, and helping to educate and support others in the fight against displacements. Similar ones have occurred in Highland Park and Boyle Heights, and some now threaten areas in the Crenshaw District.
Sitting on the window seat with Brad Pitt, her Chihuahua mix, Shain used the word 'gentrification' sparingly.
"The term is ugly," she said. "Speculators and city hall dealmakers are looking to remake Hollywood into the epicenter of L.A. by constructing mixed use, high-rise and high-density development—some sort of Hong Kong or Manhattan. What's happening is a mass infusion of money."
"The handwriting is on the wall," Shain said of the enclave of renters, the pedestrian nightlife, independent booksellers, shops, bars and eateries in the once affordable Franklin Village. "In the last two years, the market exploded—rents are through the roof."
"There is a huge problem with rent control and affordable housing," Shain says. "Ask me or a minimum wage worker what 'affordable housing' means. Many residents pay more than 30 percent of their monthly income and still don't qualify" for assistance.
Shain wants to preserve the village vibe created by artists and entrepreneurs working non-traditional jobs and schedules, and the charm and authenticity of the Villa.
"The functions we had as people went beyond our apartments," she explained. "We created a web that connected us to the city and infrastructure. That connection is not easy to regain, especially for older tenants or the incapacitated and disadvantaged. People are losing their anchors—and it's about profit. The very thing that developers want to capitalize on was built by people who did not get paid for it."
As one of the founders of the newly-established L.A. Tenant's Union, Shain is initiating those conversations. The Union helps to identify and organize people and areas like the Crenshaw District, Boyle Heights, and Highland Park, where change is on the horizon, but many tenants may not yet be suffering evictions.
"The group embraces non-English speakers and meets in different areas to support tenant–led initiatives," Shain said. "We supported tenants fighting eviction under the Ellis Act on Rodney Drive in Los Feliz and against the demolition of a potential historical cultural monument on Edinburgh Avenue in Beverly Grove."
In the meantime, Shain and the Tenants Union, the Coalition for Economic Survival and other allies aim to strengthen rent control to ensure the Villa remains an apartment building and to prevent tenant displacements elsewhere. They are seeking a city ordinance requiring landlords to notify tenants if a building will be sold. Tenants would have first right-of-refusal if they want to create a coop. As for the Ellis Act, the group wants the city to require owners to request and procure their entitlements prior to causing displacement. Tenants would have more time before having to look for alternative living arrangements, and property owners would have to be forthcoming about the human impact of their projects.
---
Debra A. Varnado is the founder, editor and publisher of The Fifth Avenue Times Online Journal and Newsletter. Her work has been published by Oxford University Press, Tsehai Publishers and Distributors, StorySouth.com, Howard University, George Mason University and the Wave Community Newspaper.

No Walk in the Garden for the Urban Homeless
Throughout Los Angeles, landscaping is put to aggressive use, functioning as a weapon of anti-homelessness under the guise of beautification.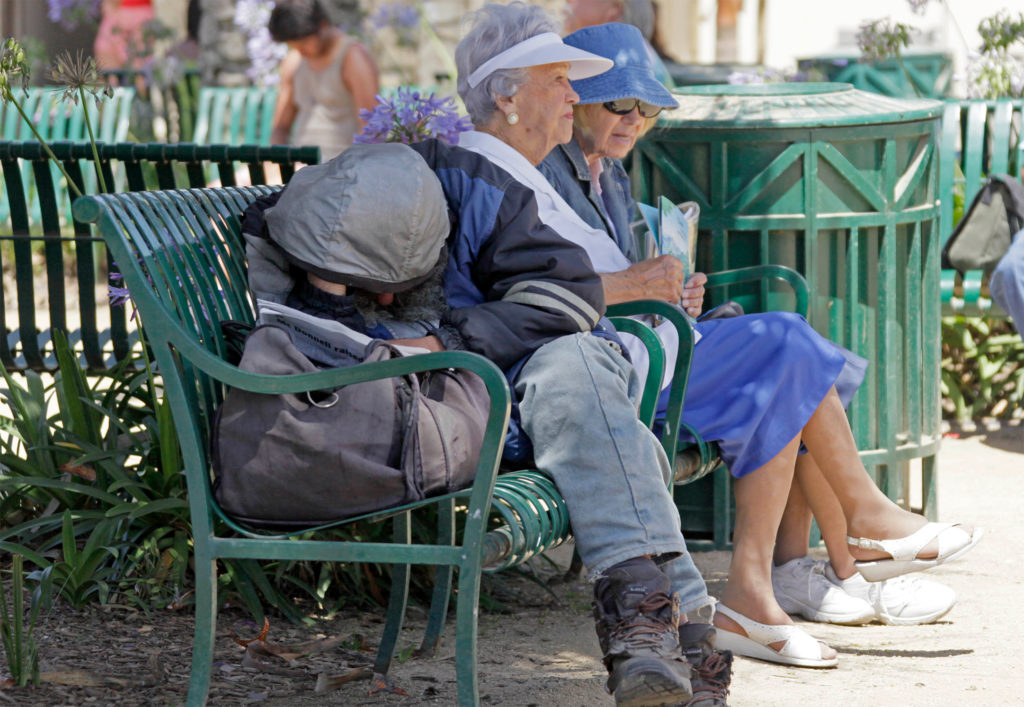 ---
The phenomenon of hostile landscaping in Los Angeles has further marginalized a swelling unhoused population.
---
Last May, in Los Angeles' coastal Venice neighborhood, Adam Smith noticed a series of planter boxes in the middle of a familiar sidewalk. Affixed near the intersection of Third and Sunset avenues, mere blocks from a Google campus and a suite of oceanside cafes, the standalone planters ran roughly the length of a wall delineating a parking lot behind a luxury condo complex.
Previously, Smith told Capital & Main, a group of six to 10 homeless people had regularly slept in tents on that block, favoring it for its relatively plentiful street light. A volunteer for the Culver-Palms Burrito Project, which prepares and serves the titular food to the unhoused of West Los Angeles, he'd become acquainted with individuals living there over the course of several years.
Once the planters were installed, however, the sidewalk was clear. "That next day, after I saw [the planter boxes] for the first time, I went there to look around because I figured they were sleeping somewhere else," Smith said. "I found people up around the corner, just, like, a block away."
---
Companies are privatizing public space to create more "landscape" for their businesses.
---
Throughout Los Angeles, landscaping is put to aggressive use, functioning as a weapon of anti-homelessness under the guise of beautification. Just as both public and private architectural design throttle space available to the unhoused internationally — via, among other examples, spikes on ledges and bars on benches to discourage sitting and lying down — and cities such as San Francisco arrange boulders to deter homeless encampments, the phenomenon of hostile landscaping in Los Angeles has further marginalized a swelling unhoused population.
Nearly 20 miles from Venice, a Los Feliz traffic median at the intersection of Vermont and Prospect avenues, and Hollywood Blvd., has regularly seen encampments arranged on its concrete ground, abutting a raised patch of desert landscaping and sycamore trees.
Christened "Vermont Triangle," the median's first redesign occurred in 2008, when the now-defunct Community Redevelopment Agency spearheaded a project to "improv[e] the pedestrian amenities" and "enhanc[e] the physical appearance of the existing median park." According to the Los Angeles Times, this yielded seating areas, lampposts to echo those at nearby Barnsdall Art Park, and the sycamores. Eventually, unhoused people began to pitch tents, availing themselves of the median's modest stretches of open public space.
Now, due to pressure from local business owners, Vermont Triangle is in flux. City Councilmember David Ryu's office, the Times noted, plans to invest $18,000 in another redesign, following a 2013 re-landscape. The 2013 update was financed in part by the Hollywood Hotel and Kaiser Permanente, according to Jeff Zarrinnam, who serves on the board of governors of the East Hollywood Business Improvement District. (Ryu's office couldn't be reached for comment.) Current proposals range from adding art installations and neighborhood signs, which Zarrinnam said the Los Feliz Neighborhood Council and East Hollywood Neighborhood Council have floated, to putting in planters.
Zarrinnam said he supports "bridge housing," a term the municipal government, neighborhood councils and local businesses use to favorably denote temporary homeless shelters and transitional housing. Yet reports indicate that the current state of temporary housing for many homeless people in Los Angeles County — who, as of May, numbered approximately 53,000 — is nothing short of abysmal. A recent investigation by radio station KPCC found infestations, harassment and medical negligence, among other scourges at various facilities throughout Los Angeles County, including those funded by the Los Angeles Homeless Services Authority (LAHSA), which conducts the county's annual homeless census.
Steve Diaz, an organizer for Los Angeles Community Action Network (LA CAN) who works with unhoused populations in downtown and South L.A., calls hostile landscaping of public space "the next level of criminalization" of homelessness. He alluded to an industrial neighborhood overlapping Skid Row, whose business owners call "The North Sea": a cluster of converted seafood warehouses and factories painted the same hues of oceanic blue — complete with landscaped sidewalks.
"They started breaking the concrete and taking away from the sidewalk to place different types of flowers, whatever garden they were putting in," Diaz said. "You have a major street [on] Skid Row that, at one point, was home to a lot of homeless folks now being gated off, and then the concrete being broken to start using these gardening pockets within the space to eliminate sidewalk access." (Miguel Nelson, a North Sea business owner involved in the area's marketing efforts, declined to respond publicly.)
As private property owners adopt guerrilla tactics to thwart homeless encampments, legal issues arise. Skid Row activist General Jeff Page has observed that, while property owners are permitted to control up to three feet of sidewalk extending from their buildings, "The North Sea is taking upwards of five to 10 feet of sidewalk, allowing only for ADA (Americans with Disabilities Act) compliance and zero space for homeless tents and/or encampments." (The Los Angeles Department of Public Works stated that the North Sea sidewalk landscaping is currently under investigation and thus couldn't comment further on the matter.)
What's more, business owners in South L.A. have illegally installed fences around their property, which, according to Diaz, will eventually give way to sidewalk landscaping. Relatedly, Adam Smith has been corresponding with city officials to ascertain the permit status of the Venice planters. The West L.A. office of the Bureau of Engineering, which issues revocable permits, told Capital & Main that it did not have a permit on file for the planters. Without one, according to the bureau, "no portion of the public right-of-way, including sidewalk, is allowed for private use."
Nevertheless, the planters remain and, according to Smith, have multiplied. Additional boxes, he said, are now ensconced in the sidewalk around the corner, to where the previously ousted people had first moved.
"For some people, [landscaping] sounds like a great idea," Diaz said. "But you're literally privatizing public space to create more 'landscape' for your business."
---
Copyright Capital & Main