USC Neighbors Face Eviction as Landlords Make Way for 'Rich Kids'
Christian and her neighbors who live on a gentrifying block near the University of Southern California have formed an association to fight their eviction, hoping there is power in numbers.
Protest at 1100 Exposition Boulevard. (Photo by Charles Davis)
---
The new owners wasted little time. Soon after completing their purchase of a dilapidated set of apartment buildings in South Los Angeles, they greeted their 70-some tenants with a message: Get out, and do it two weeks before Christmas.
"Almost immediately all of them were served with 60- and 90-day notices to evict the premises," said Paul Lanctot, an organizer with the Los Angeles Tenants Union. "Tenants have been forced to live in slumlord conditions and now they're being kicked out."
The buildings aren't much to look at, and the current residents say it's worse on the inside: electrical outlets don't work, some units don't have heat and the whole place is infested with bugs, prompting a few tenants to withhold rent payments to the new owners to protest the lack of repairs. It's the location, across the street from light rail and a block away from the University of Southern California, that led these buildings at 1100 Exposition Boulevard to be listed for $10 million.
An 18-page brochure depicted new, two-story beige apartments decked in USC Trojans regalia, behind a gate: "This multifamily portfolio is situated in an incredibly desirable location."
"Although no reason is required to terminate a non rent-control month to month tenancy," states an eviction letter posted October 12 on one tenant's door, "this notice is given for the reason that the new owner intends in good faith to renovate your unit and the property in which it is located and rent it as student housing."
That demand to leave came one week after tenants were alerted to the fact they had a new landlord.
It's not hard to see the attraction of eviction to a landlord: One-bedroom units across the street, marketed to USC students, go for $1,500; a two-bedroom goes for $2,500. Those are prices that current residents — primarily working-class black and Latino families — cannot afford.
At least 24 other properties within 1,000 feet of the apartments have been sold in the last two years, according to Los Angeles County records. The buying-spree comes after USC, where undergraduate tuition is over $53,000 a year, announced in 2011 that it was planning to massively expand its footprint and "improve the blocks around the school," as the Los Angeles Times reported. That expansion culminated in last August's opening of a $700 million mixed-use space, USC Village, which includes a Target, Trader Joe's and beds for 2,500 students.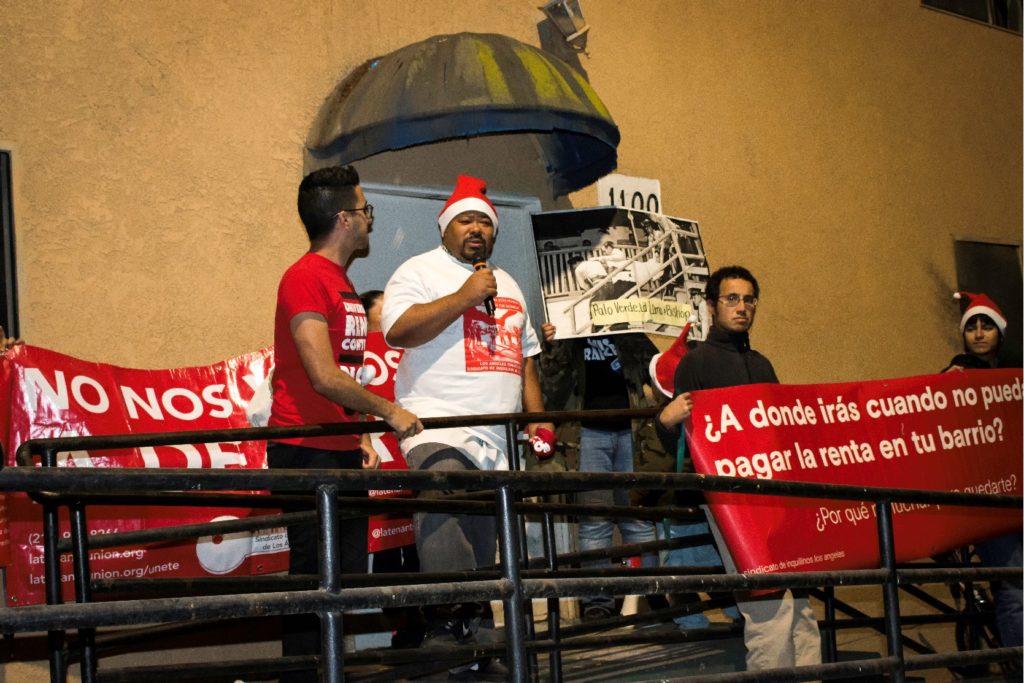 Photo: Charles Davis
Outside investors have been eager to build on the school's work.
"This is the largest contiguous, development parcel left in the USC student housing submarket," reads the sales listing for the seven-building property on Exposition Boulevard. "The investment is not subject to rent control ordinance."
A listing originally posted in 2013 for the same property notes, "Although the existing apartments are full rented and producing $594,900 gross income per year, this project (all seven lots together) is sold for the land value."
A year later, the commercial real estate company Lee & Associates was suggesting in an 18-page brochure what one could build on that land: A "Student Housing Community," depicted in a rendering as new, two-story beige apartments decked in USC Trojans regalia, behind a gate. "This multifamily portfolio is situated in an incredibly desirable location," the company states, noting that the property lies within the USC security perimeter, patrolled by the college's private police. It noted rents could be raised 40 to 50 percent.
It's no wonder none of the people living there — the brochure notes that some of the 23 units are "occupied by Section 8 tenants," and other units are occupied by recently homeless individuals partaking in a county program to get them off the streets — have been asked if they would like to stay, according to Lanctot. He added that only a few tenants in the transitional housing program have received any moving assistance at all, and that the majority of renters remain in their units.
"What are we going to do? Most people can't get up and move like that," one tenant, Christian, said from her stoop on Friday night. "And this is holiday season. Now we can't even think of that." (Like some other tenants interviewed for this story, she asked that her last name not be used.)
Legally, the new landlords are within their rights to evict the tenants whose homes they bought. But when Christian spoke, she was addressing a crowd: She and her neighbors have formed an association to fight their removal, hoping there is power in numbers. At the very least, they can challenge their evictions in court, dragging out the process. However, the goal is to convince the new owners themselves to grant them more time to move, and to provide them monetary assistance to do that in what is now one of the United States' most expensive housing markets.
On the notice of new management that tenants received before their eviction notice, the contact for the owners is listed as Jack Baker of Buena Town Management. A call to the Google Voice number was answered by a man who would not identify himself, but who asked why a reporter was calling. When informed of the tenants' demands, the man said "No comment" and hung up.
At Friday's action, which included a short march to an intersection by USC, residents appealed to the owners for more time to move, and help to do it.
"Just because our bank accounts don't have as many zeros as theirs does not give them the right to put us on the streets," said one resident, Tracey. While landlords are attracted by the allure of "these rich kids who have decided to move here," she said, to her it isn't just a temporary and soon-to-be-forgotten roof over her head.
"They will only be here for a couple years and move on," she said. "This is our home."
Her neighbor, Berta Romero, echoed that sentiment. "We have made our lives here," she said, and "they've given us until December 12 to move out." That's "not enough time to find affordable housing."
"It's not just that we have to leave our communities," added another neighbor, Jaclyn. "Our children have to find new friends." And, for their grandmother, new doctors. "My mother is suffering from cancer right now," she said, describing it as advanced. "This is not okay. This is not just."
"I have had two strokes, so it's very difficult for me to find a place," said one neighbor, Christine. "And that's all I have to say. This has to stop."
Soon after, notices to pay up or evict the premises within 72 hours were posted on the doors of tenants who have been withholding rent.
---
Copyright Capital & Main