USC Neighbors Face Eviction as Landlords Make Way for 'Rich Kids'
Christian and her neighbors who live on a gentrifying block near the University of Southern California have formed an association to fight their eviction, hoping there is power in numbers.

Protest at 1100 Exposition Boulevard. (Photo by Charles Davis)
---
The new owners wasted little time. Soon after completing their purchase of a dilapidated set of apartment buildings in South Los Angeles, they greeted their 70-some tenants with a message: Get out, and do it two weeks before Christmas.
"Almost immediately all of them were served with 60- and 90-day notices to evict the premises," said Paul Lanctot, an organizer with the Los Angeles Tenants Union. "Tenants have been forced to live in slumlord conditions and now they're being kicked out."
The buildings aren't much to look at, and the current residents say it's worse on the inside: electrical outlets don't work, some units don't have heat and the whole place is infested with bugs, prompting a few tenants to withhold rent payments to the new owners to protest the lack of repairs. It's the location, across the street from light rail and a block away from the University of Southern California, that led these buildings at 1100 Exposition Boulevard to be listed for $10 million.
An 18-page brochure depicted new, two-story beige apartments decked in USC Trojans regalia, behind a gate: "This multifamily portfolio is situated in an incredibly desirable location."
"Although no reason is required to terminate a non rent-control month to month tenancy," states an eviction letter posted October 12 on one tenant's door, "this notice is given for the reason that the new owner intends in good faith to renovate your unit and the property in which it is located and rent it as student housing."
That demand to leave came one week after tenants were alerted to the fact they had a new landlord.
It's not hard to see the attraction of eviction to a landlord: One-bedroom units across the street, marketed to USC students, go for $1,500; a two-bedroom goes for $2,500. Those are prices that current residents — primarily working-class black and Latino families — cannot afford.
At least 24 other properties within 1,000 feet of the apartments have been sold in the last two years, according to Los Angeles County records. The buying-spree comes after USC, where undergraduate tuition is over $53,000 a year, announced in 2011 that it was planning to massively expand its footprint and "improve the blocks around the school," as the Los Angeles Times reported. That expansion culminated in last August's opening of a $700 million mixed-use space, USC Village, which includes a Target, Trader Joe's and beds for 2,500 students.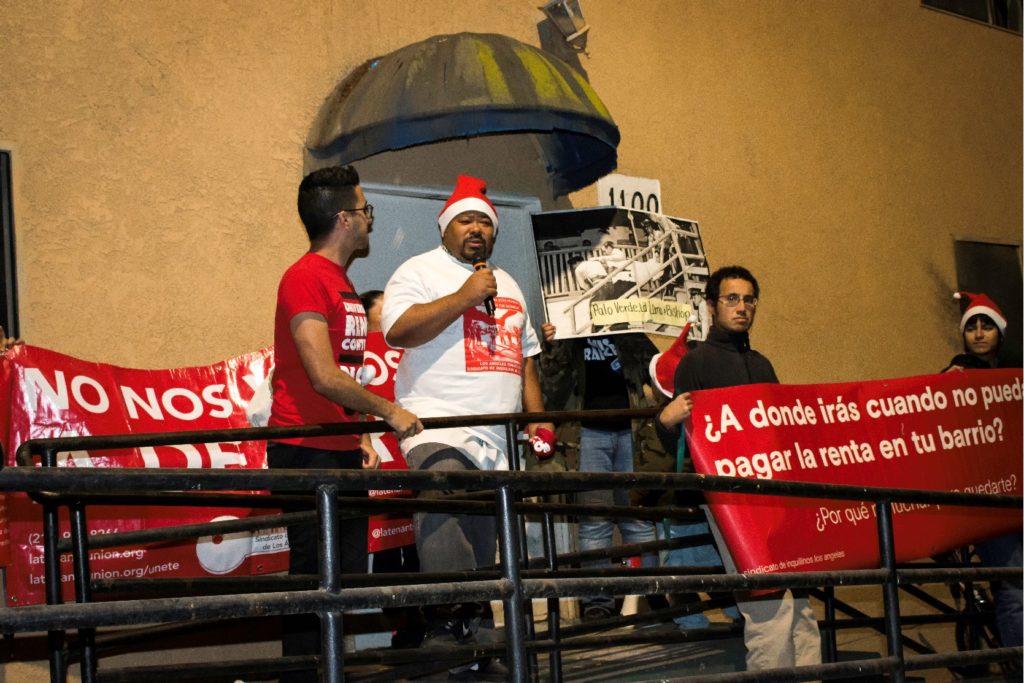 Photo: Charles Davis
Outside investors have been eager to build on the school's work.
"This is the largest contiguous, development parcel left in the USC student housing submarket," reads the sales listing for the seven-building property on Exposition Boulevard. "The investment is not subject to rent control ordinance."
A listing originally posted in 2013 for the same property notes, "Although the existing apartments are full rented and producing $594,900 gross income per year, this project (all seven lots together) is sold for the land value."
A year later, the commercial real estate company Lee & Associates was suggesting in an 18-page brochure what one could build on that land: A "Student Housing Community," depicted in a rendering as new, two-story beige apartments decked in USC Trojans regalia, behind a gate. "This multifamily portfolio is situated in an incredibly desirable location," the company states, noting that the property lies within the USC security perimeter, patrolled by the college's private police. It noted rents could be raised 40 to 50 percent.
It's no wonder none of the people living there — the brochure notes that some of the 23 units are "occupied by Section 8 tenants," and other units are occupied by recently homeless individuals partaking in a county program to get them off the streets — have been asked if they would like to stay, according to Lanctot. He added that only a few tenants in the transitional housing program have received any moving assistance at all, and that the majority of renters remain in their units.
"What are we going to do? Most people can't get up and move like that," one tenant, Christian, said from her stoop on Friday night. "And this is holiday season. Now we can't even think of that." (Like some other tenants interviewed for this story, she asked that her last name not be used.)
Legally, the new landlords are within their rights to evict the tenants whose homes they bought. But when Christian spoke, she was addressing a crowd: She and her neighbors have formed an association to fight their removal, hoping there is power in numbers. At the very least, they can challenge their evictions in court, dragging out the process. However, the goal is to convince the new owners themselves to grant them more time to move, and to provide them monetary assistance to do that in what is now one of the United States' most expensive housing markets.
On the notice of new management that tenants received before their eviction notice, the contact for the owners is listed as Jack Baker of Buena Town Management. A call to the Google Voice number was answered by a man who would not identify himself, but who asked why a reporter was calling. When informed of the tenants' demands, the man said "No comment" and hung up.
At Friday's action, which included a short march to an intersection by USC, residents appealed to the owners for more time to move, and help to do it.
"Just because our bank accounts don't have as many zeros as theirs does not give them the right to put us on the streets," said one resident, Tracey. While landlords are attracted by the allure of "these rich kids who have decided to move here," she said, to her it isn't just a temporary and soon-to-be-forgotten roof over her head.
"They will only be here for a couple years and move on," she said. "This is our home."
Her neighbor, Berta Romero, echoed that sentiment. "We have made our lives here," she said, and "they've given us until December 12 to move out." That's "not enough time to find affordable housing."
"It's not just that we have to leave our communities," added another neighbor, Jaclyn. "Our children have to find new friends." And, for their grandmother, new doctors. "My mother is suffering from cancer right now," she said, describing it as advanced. "This is not okay. This is not just."
"I have had two strokes, so it's very difficult for me to find a place," said one neighbor, Christine. "And that's all I have to say. This has to stop."
Soon after, notices to pay up or evict the premises within 72 hours were posted on the doors of tenants who have been withholding rent.
---
Copyright Capital & Main

Serfing USA: New 'Bracero' Bill Could Cut Agriculture Workers' Rights and Wages
A new Congressional bill would reduce a broad range of agriculture workers to the status of "guest workers." California's dairy owners are ecstatic. Co-published by International Business Times.

---
The AG Act would prevent the government from inspecting worksites without first checking in with the employer, transfers all travel and housing costs to employees and allows employers to pay workers at a lower wage scale.
---
Co-published by International Business Times
On a cool December afternoon, Luis Alberto Echeverria Melchor approached a dusty corral on the western outskirts of Turlock, a city in California's Central Valley. Several young cows ambled over to greet him. "They are very intelligent," he said, reaching out to stroke the face of an animal. "Sensitive, too." Melchor should know. The 38 year old has spent half his life milking and feeding the cows of Stanislaus County, a mostly rural region whose landscapes are dominated by sprawling dairy farms that produced half a billion gallons of milk in 2016 worth more than $600 million.
During the 20-minute drive south from Melchor's Modesto apartment, we had passed more than a dozen dairies, including several where he had once worked. From the passenger's seat, Melchor, whose soft oval face is framed by a neatly trimmed beard, narrated the experiences in a sort of CliffsNotes of labor abuses: The boss who stiffed him a week's pay; the boss who refused to give breaks; the boss who yelled too much. But it was this Turlock dairy that Melchor remembered best, for it was here that he finally decided to complain about labor abuses, and those complaints would eventually result in his deportation to Mexico.
He had worked at the dairy for eight months when, in March of 2008, a cow kicked him in the chest. He didn't remember the kick, only that he woke up staring at the barn's ceiling while a coworker fanned his face with a shirt. His chest throbbed and he was unable to speak above a whisper. Melchor alleged that the dairy owner, Joe Sallaberry, took a glance at him and told Melchor to go back to his trailer, located on the property, and rest. "You'll be fine," Sallaberry said. (Sallaberry did not respond to multiple requests for comment.)
CRLA Attorney: "We've had workers who have been smashed by cows. The response from employers is often, 'Walk it off.' Many people won't complain, because they fear retaliation."
Melchor didn't feel fine. His wife drove him to the hospital, where he said he learned that his rib was fractured. That night, he handed Sallaberry a doctor's note that stated he couldn't work. The next day, Sallaberry fired him. "I only had three days to move out," Melchor recalled. On the third day, as he struggled to pack his things—the injury made even the slightest upper-body movement painful—two officers from the Sheriff's Department drove up and reminded him that he needed to vacate by sundown.
Stories like Melchor's are familiar to Esmeralda Zendejas, an attorney at California Rural Legal Assistance (CRLA) who has represented numerous dairy workers over the years. She told me that wage theft is routine in the dairy industry, and that employer-provided housing, often onsite, tends to be less than optimal. There can be serious safety hazards for children, like open manure lagoons, and injuries are common. "We've had workers who have been smashed by cows," she said. "The response from employers is often, 'Walk it off.' Many people won't complain, because they fear retaliation."
Yet if the dairy industry gets its way, the workforce they rely upon will soon become even more vulnerable to exploitation. This fall, Republican representative Bob Goodlatte of Virginia introduced the Agricultural Guestworker Act, or AG Act, which was voted out of the House Judiciary Committee in October. The proposal would replace the H-2A guestworker program, which currently only covers farmworkers, to include dairy workers and meat and poultry processors, while also gutting many of the existing worker protections.
Guest workers are even less likely than undocumented immigrants to lodge complaints about wage theft or dangerous workplaces, because their employers can quickly have them deported and replaced. Added to that power imbalance is the problem of debt. Saket Soni is the head of the National Guestworker Alliance, which in recent years has helped dozens of guest workers escape from labor camps patrolled by armed guards. He told me that many guest workers are charged illegal fees by labor brokers in their home countries, and so arrive in the U.S. "in virtual, and sometimes literal, debt peonage." Such workers, he said, "are afraid of being deported into debt, and so can't blow the whistle on unsafe and abusive conditions."
Critics often liken the current guest worker system to the Bracero Program, which brought in Mexicans from 1942 to 1964, and was notorious for labor abuses and lax oversight. But Adrienne DerVartanian of Farmworker Justice, a Washington, DC-based advocacy organization, told me that there "are even fewer protection in Goodlatte's bill than in the original Bracero program." The AG Act, which would create a new visa, the H-2C, prevents the government from inspecting worksites without first checking in with the employer, transfers all travel and housing costs to employees, has no provisions to outlaw labor recruitment fees and allows employers to pay workers at a lower wage scale. It also allows companies to prevent their workers from suing, instead forcing them into mandatory arbitration—an arbitration for which the guest workers have to shoulder half the costs. (Even a successful wage theft case would be partly paid for by the employee who was owed money.)
Perhaps most crucially, the new program would be overseen by the Department of Agriculture, not the Department of Labor. When Goodlatte announced the AG Act, he described the USDA as "an agency that clearly understands the unique needs of America's farm and ranch operations." The agency is certainly more closely aligned with the needs of farm operators than is the DOL. What it isn't is an agency that enforces labor laws. In fact, the USDA can be outright indifferent to worker safety. Several years ago, the USDA tried to increase the already dizzying line speeds at poultry plants from 140 to 175 birds a minute, a move that was supported by the National Chicken Council. Investigations by the National Institute of Occupational Safety and Health, an arm of the Centers for Disease Control, have found that carpal tunnel syndrome is widespread among poultry workers. But the USDA's speedup promised to save poultry companies $256 million a year, and the agency only caved when faced with sustained public outcry from groups that included Oxfam America and the Southern Poverty Law Center.
All of which helps explain why the AG Act is being championed by the American Dairy Coalition and the National Milk Producers Federation, and why donors to Goodlatte this year included California Dairies, Inc., a 400-member cooperative that produces 43 percent of the state's milk. "You would create a temporary workforce with no ability to become legal immigrants, who are completely dependent on their employers, and who have extremely minimal protections," DerVartanian of Farmworker Justice told me. "The lack of respect it shows towards hard-working people is really stunning."
Dairy Worker: "[Bosses] look at a worker as a machine. They don't want the worker to get sick or injured, or they'll get rid of you and look for someone else."
She said that the prospects of AG Act weren't clear, but that it represented what had been "on the agribusiness wish list for a long time," and what the industry now hoped to push through in the Trump administration. Indeed, the breadth of support for the proposal is impressive. The bill is backed by the American Farm Bureau Federation, the North American Meat Institute, the California Strawberry Commission and dozens of other food-related groups, along with the Cato Institute and the U.S. Chamber of Commerce.
During our tour of local dairy farms, Melchor told me that he had heard a supervisor talk about dairy owners hoping to some day bring workers directly from Mexico. He believed the reason was simple: abusive bosses had a hard time finding enough willing workers. "They look at a worker as a machine," he said. "They don't want the worker to get sick or injured, or they'll get rid of you and look for someone else. You are an instrument." He said that if people are faced with only two options—stay quiet on the job or be deported to Mexico—many will stay and endure all manner of labor abuses.
To illustrate how far some bosses will go, he referred to his own case. During his hospital visit, a nurse had passed along the CRLA number. Melchor called and told his story to Esmeralda Zendejas, who filed a case in 2010 against Joe Sallaberry for wrongful termination and back wages. The following year, they met for a deposition in Stockton. After the deposition had begun, Sallabery's lawyer, Anthony Raimondo, apologized and said that he had to take an urgent phone call. He returned several minutes later.
After the deposition, Melchor stopped to get gas before driving home. As he was leaving the station, two unmarked vehicles pulled him over, lights flashing. He was handcuffed and driven to Bakersfield, where he was put on a flight to San Diego and bused across the border. "Listen, I've been deported and I'm in Tijuana," he told Zendejas over the phone. "I don't know what happened."
Zendejas eventually pieced it together: Raimondo, who frequently represents dairy workers, had tipped off a contact at Immigration and Customs Enforcement. This was a tactic that he would employ numerous times against dairy workers who filed suits against his clients; as Raimondo admitted in an email to the Legal Services Corporation, "The attorneys find out when their clients are already gone."
Raimondo initially told me by email that he had not wanted Melchor deported, but did later admit that he had told ICE that Melchor would be at the deposition.
He also wrote that shortly before the deposition, Sallaberry claimed that Melchor, then an undocumented immigrant using the last name "Masedo," had attempted to murder Sallaberry. In a court document, Sallaberry said that, around midnight on April 3, 2011, he discovered "Masedo" outside his house with another man. Both fled, Sallaberry said, but not before one of them allegedly fired a bullet that nearly struck Sallaberry. A judge later issued a temporary restraining order against Masedo/Melchor based on Sallaberry's testimony, and set a future date for a hearing in which both sides could present their sides. By the time of the hearing, Melchor was in Mexico.
Melchor laughed when I asked him about the allegations, calling them "complete lies." (Neither "Masedo" nor "Melchor" was listed as a suspect in the police report of the incident.)
After several months of failed attempts, Melchor was able to crawl through a tunnel than ran along the border and return to California. As Raimondo had hoped, CRLA had been forced to settle the case in Melchor's absence, but Zendejas began a U visa application for her client, alleging that he had been intimidated while trying to assert his legal rights. He was granted the U visa in October 2016 and can now legally work in the country. He left a dairy job several months ago, after experiencing what were likely the early signs of carpal tunnel, and now is employed by a tile fabrication company in Stockton.
As for Raimondo, CRLA and the non-profit Legal Aid at Work filed a federal lawsuit against him in 2013, arguing that as a representative of the employer, he had violated the Fair Labor Standards Act by retaliating against another dairy worker named José Arias. Last June, the 9th U.S. Circuit of Appeals reversed an earlier decision and ruled against Raimondo, finding that the act applied not only to the employer but the employer's representatives as well. To protect his right to continue to use ICE to quash labor disputes, Raimondo has retained a powerhouse appellate firm, Horvitz & Levy, which recently petitioned the Supreme Court to hear the case.
Whether Raimondo is able to gain a Supreme Court audience, the dairy industry will continue to seek new sources of pliant labor. On his website, Raimondo describes himself as the "primary labor and employment resource for California's Western United Dairymen," a trade association based in Modesto. Anja Raudabaugh, the group's CEO, recently told a reporter with the investigative website FairWarning that her members considered Raimondo "something of a hero" for his work. She emailed me that her organization "considers having the AG Act pass out of committee a major step forward" and that it looks forward to working with House members "as legislation now moves to the floor for a vote." It is perhaps no surprise that the group, whose members produce 70 percent of California's milk, are excited by the AG Act. It is an act, after all, that has no protections against retaliation and that shifts labor enforcement to an agency that has never enforced labor laws. It is an act that Raimondo himself could have written.
---
Copyright Capital & Main