UC Clerical Workers: Nickel and Dimed in a High-Rent Economy
Serious contract negotiations are now underway between the University of California system and the International Brotherhood of Teamsters, which represents nearly 14,000 clerical workers and administrative support staff.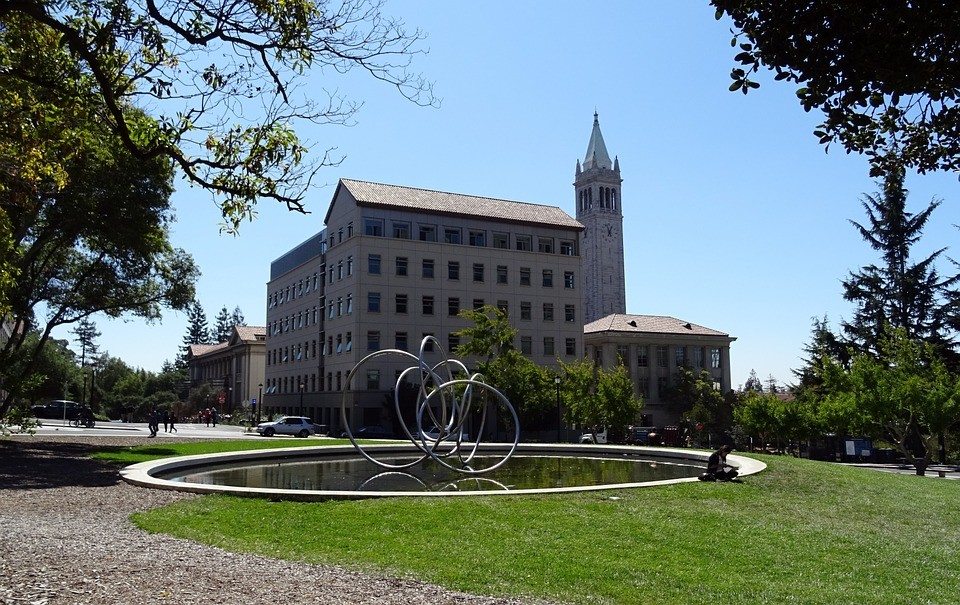 University of California, Berkeley campus.
Serious contract negotiations are now underway between the University of California system and the International Brotherhood of Teamsters, which represents nearly 14,000 clerical workers and administrative support staff. At issue is a union-proposed, five-year contract that includes six percent annual raises, plus cost of living increases and a freeze on employee parking rates, according to Teamsters Local 2010 spokesperson Christian Castro. The raises and benefits, Castro told Capital & Main, will "just get our clerical and administrative workers back to where they were financially in 2012." Castro claimed that the employees had suffered a 24 percent cut in real wages over the past 18 years.
Requests to the University of California for replies to these and other allegations were not answered by press time.
The union says that UC has only slightly increased its initial wage counter-proposal, to the current offer of two-and-a-half percent.
"So we're still very far apart," said Teamsters research analyst Timothy Mathews. Underscoring these issues, Mathews alleged, is UC's deliberate neglect of this unit: "We believe it's been a case of gender-wage exploitation because about 81 percent of the workers we represent in this unit are women."
Local 2010 is basing some of its economic demands on research the union asked the Economic Policy Institute to conduct, in 2015, on family budgets and wage sufficiency as these relate to UC's administrative and support employees.
That research found more than 93 percent of the workers did not earn enough, working full-time, to pay for a basic family budget for one adult and one child in their respective metropolitan districts. The hourly wage for UC's clerical and administrative support staff ranges from the minimum wage of $15.39 per hour to $30.93 per hour, according to Mathews, with about 20 police dispatchers making slightly more than the highest rate.
EPI's wages-versus-costs analysis covered from a high budget of $72,914 in the San Francisco area to a low of $44,585 in metropolitan Merced. Living without frills in the Los Angeles metropolitan area would require these workers to make at least $57,862 a year to make ends meet for just one adult and one child, according to the institute's research.
The current labor agreement expires at the end of November, but Castro said the Teamsters began negotiations early in order to try and work out an agreement to head off any necessity for a strike.
The first contract the Teamsters negotiated on behalf of the clerical workers and administrative support staff was a four-year deal agreed upon in 2011, according to Castro. Prior to 2010, Mathews said, the clerical workers had either been represented by other unions or were without a contract.
The 2011 contract at least gave the bargaining unit raises that varied from between two to five percent a year, depending on the worker's classification and, in some cases, included a step raise as well.
"The problem," Castro said, "was that the UC system then got some of that money back by nickel and diming the workers on items such as health benefits, retirement and, especially, parking."
Mathews said the issues of payments for health care, retirement contributions and a parking fee freeze came up during the 2011 talks but, since the unit had not had a wage hike in four years, it was decided to "forgo that issue so we could front-load money to our members, since they desperately needed a wage increase."
Parking fees are a particularly thorny issue in these negotiations, explained Mathews, who said that they will not take a backseat this time around.
The University of California owns the parking lots on its individual campuses, but charge workers anywhere between $60 and $80 per month to use, with no ceilings projected for the future. "Even a small increase means so much to workers who are struggling to make ends meet," Castro said, while Mathews noted that UC has been dead-set against granting workers a freeze on parking rates.
Demetria Evans, who works as a administrative assistant in a University of California, Los Angeles financial information department, exemplifies the challenges faced by UC's low-wage clerical workers.
"I love my job but I can't really support my family," Evans said. "I just want to make a living wage." Besides, she added, at 52 she can't quit UCLA because it would be too hard to find a better job at her age.
Evans is a single parent who lives with her daughter and two grandchildren.
"It breaks my heart that I can't help out with kids financially," Evans said. She added that she makes just under $21 per hour at UCLA, but is always broke a few days before paydays – which come every two weeks – because of the bills she has to pay.
Evans said she is still angry that after the last contract was signed and she got a three percent increase, UCLA and the UC system got most of that back by raising their rates for parking and health benefits, and for the retirement contributions she has to pay.
"I ended up with a 28-cents-per-hour raise after everything was paid for," Evans complained. "What is 28 cents an hour going to do for me or anyone else?"
Tania Rivas is another worker who faces tough decisions every single day because of the wages she earns.
Rivas, 40, is a single mother of two – a 14-year-old daughter and 6-year-old son — who lives with her father and his wife in an apartment in La Crescenta. She is an Administrative Assistant, Class III, working in UCLA's Ophthalmology Department in Westwood, and attends the state university at Northridge to earn her bachelor's degree so she can move up the ladder at UCLA or get a better job.
"My daughter asks me all time, 'Are we ever going to get a place of our own?'" Rivas said. "And I have to tell her, Probably not unless our money situation changes."
According to Rivas, there is no way she can afford local rents. She said she ends up clearing a little more than $980 every two weeks.
"It hurts me that I can't give the kids everything they want and everything I want to give them, but I am always penny-pinching to pay for food, gas, part of the rent, child care for my son," she said. "And then there is school and books for the kids and for me, as well as braces, shoes, clothing. It never seems to end."
Her UCLA department, she noted, is ranked fifth in the nation by U.S. News & World Report. "I just wish these people negotiating for the UC system would walk one day in our shoes," Rivas said. "Then they would know what a great job we do every day to serve our patients and the staff. They need to know it's very tough being on the front lines to serve our patients."
In support of a new UC contract, her Teamster local will hold a march and rally at noon, Friday, featuring its international president, James P. Hoffa, at Loews Hotel, 1755 N. Highland Ave., Hollywood.

Growing Pains: Guest Farm Workers Face Exploitation, Dangerous Conditions – Part 2
The influx of migrant agricultural workers brought to the U.S. on temporary visas means increased competition for resident laborers – and less bargaining power.

The H-2A temporary agricultural program allows employers to bring workers from other countries, mainly Mexico, for temporary farm labor in the U.S. The workers are given visas that allow them to work in the U.S. but tie them to the employer that recruits them. Part 1 of this story explored unsafe working conditions and the explosive growth of the program.
In 2013 a pair of recruiters showed up in the Mexican state of Michoacán, promising jobs in California with free housing and transportation. To get the jobs, however, recruits had to pay a deposit of $1,500 each into the bank account of labor contractor Jorge Vasquez.
Charging recruitment fees is a violation of federal H-2A regulations. Nevertheless, Jose Raul Gonzalez, Efrain Cruz, Ana Teresa Cruz and Rosaura Chavez paid the money and went to Tijuana to wait for their visas. There they were taken to a house where 12 recruits slept in each room. The workers had to wait six weeks before they finally crossed the border. Then their passports were taken away. Their recruiter, Vasquez's nephew Diego, said they'd get them back only after they came up with an additional $1,500.
The four wound up in Santa Maria picking strawberries, housed in a two-bedroom residence with 14 to 16 other H-2A workers. Each paid $80 a week for housing and food — another legal violation. Vasquez told them they couldn't leave the residence except to go to work, threatening them with deportation and saying he could hurt their families in Mexico. Every day they were dropped off at the fields at 4 a.m. and worked until 3 to 5 p.m. They picked 30 to 35 boxes of berries a day, at $1 per box, but their first week's pay was only $200. They were paid in cash, with no pay records. At the AEWR wage at the time, they should have been paid $721.
The second week they weren't paid at all. Instead, they were told their pay was going towards their $1,500 "debt." When Chavez asked to leave, Diego told him that he had to continue working until the debt was paid. Finally one of them escaped. The other three worked for two more weeks. After each deposited $1,500 into Vasquez's account, they were fired and thrown out of the house.
On May 17 Vasquez and two others were indicted by the Department of Justice and arrested for charging workers for visas and making false promises that the visas would last for three years. Since 2012 they have filed petitions for over 350 workers.
Bad housing conditions for H-2A workers are not unusual. Last October the city of Santa Maria filed suit against a local slumlord, Dario Pini, over extreme violations of health and housing codes in hundreds of apartments in eight complexes. One of them, the Laz-E-Daze Boardinghouses at 1300, 1308, 1318 and 1324 North Broadway, is used as housing for H-2A workers. There city inspectors cited Pini for "deteriorated concrete walkways, accumulated trash, abandoned inoperable vehicles, plumbing leaks, unpermitted construction work, bedbug infestation, cockroach infestation, lack of hot water, faulty and hazardous electrical systems and broken windows and missing window screens."
Two H-2A labor contractors list 1318 North Broadway as company housing in their applications for certification by the Department of Labor. Big F Company says 80 workers live there, and Savino Farms has 60 more. Other certification forms list even more questionable housing. La Fuente Farming Inc. lists one small dwelling at 403 W. Creston St. as housing for 14 workers. A completely tumble-down derelict trailer next to a strawberry field at 1340 Prell St. is listed as housing for six workers, also by La Fuente Farming. There is no record that the Department of Labor or the Employment Development Department actually examined the housing employers said they were providing.
Meanwhile, Santa Maria rents are rising. According to California Rural Legal Assistance attorney Corrie Arellano, growers and contractors bring about 800 workers into the Santa Ynez Valley each year. "At first they filled up almost all the inexpensive motel rooms in town," she said. "Now they're renting out houses and apartments, and pushing up rents." Francisco Lozano, a Mixtec farm worker and community activist, and longtime Santa Maria resident, says his rent for a two-bedroom apartment has gone from $1,000 to $1,300 in three years. Mixtecos are an indigenous population in Mexico, whose language and culture long pre-date European colonization. A large percentage of California farm workers today are migrants from Mixteco and other indigenous Mexican towns.
"Our Mixteco community is upset for two reasons," he explained. "We struggled with the school district to get them to hire a Mixtec-speaking translator for our children, some of whom don't speak Spanish. But the new H-2A workers are all single men who leave after the harvest is over, so they have no stake in the schools or our families. In addition, Mixteco farm workers used to organize short strikes at the beginning of every picking season to push up piece rates and wages. Now people are afraid that if we do that the growers will bring in H-2A workers. I think H-2A is a kind of modern slavery."
---
Mixtec farm worker: "I think H-2A is a kind of modern slavery."
---
Similar community concerns are reflected in a study of housing conditions in Salinas made by demographer Rick Mines, "The Social Impact of the H2A Program in the Salinas/Pajaro Valleys."
"There is a growing competition between the new migrants (the H-2A) and the old (the settled Mexican families)," he says. "This competition affects the availability of housing as the older migrants face higher prices and increased crowding in the apartments where most live. But, more importantly perhaps, the older settled workers will be getting less work as their younger co-nationals (the H2A) replace them in the fields." By one estimate, half of the strawberry workers in the Salinas-Watsonville area are H-2A workers.
In Salinas two of California's largest vegetable growers, Tanimura & Antle and the Nunes Company, are building new worker housing. These complexes are similar to those being rapidly constructed by growers in Washington State for their H-2A workers. While the Tanimura complex, with 800 beds, was made available to local residents, and the Nunes family says it may do the same with its 600 beds, both complexes eventually will likely become housing for H-2A workers. Tanimura already brings 800 H-2A workers into Yuma, Arizona, every year.
The regulation that originally required each employer to advertise jobs to local residents first, and allowed them to recruit H-2A workers only if there was no local labor available, has been drastically altered. Today labor contractors are allowed to apply for certifications, recruit workers and then move them from grower to grower, field to field. In effect, these contractors employ a flexible labor pool they place at the disposal of many growers. The assertion that they've tried to find local labor is just that — an unchecked assertion.
Last year Fresh Harvest Inc. was certified for 4,623 H-2A workers, and Elkhorn Packing Co. for 2,653. Fresh Harvest calls itself "one of the largest H-2A employers in the Western United States." Its website has a special section where potential recruits in Mexico can register, with a schedule of recruitment events at offices in San Quintín, Baja California, and Zamora, Michoacán. Fresh Harvest manages the recruitment, certification and visa processing for growers, sets up housing, trains workers, files all government reports, and provides worker transportation. "We insist on taking an active role in the in-field/job site management of our employees," the site claims. The company's owner, Steve Scaroni, predicts that this year Fresh Harvest will bring over 7000 workers into California, Arizona, Nevada, Oregon and Colorado, housing them in motels, apartments and labor camps.
Elkhorn Packing's website describes the company as "a leading custom harvester with operations in the Salinas Valley, Santa Maria, El Centro and Yuma regions." With a contract labor force of thousands of H-2A workers dispersed that widely, it is unlikely that the individual growers whose fields it harvests have each determined separately that no local workers are available.
Using Immigration Enforcement to Expand H-2A
While growers' use of the H-2A program has increased sharply, immigration raids in rural areas of California have increased as well, especially following the election of President Trump. The high visibility of the Border Patrol in farm worker towns was dramatized in March by the deaths of an immigrant couple in Delano, who crashed their van while fleeing in terror from immigration agents. Over the last six months the Department of Homeland Security has initiated document checks leading to the firing of hundreds of workers at several large San Joaquin Valley farms, including Pitman Family Farms and Poindexter Nut Company in Sanger, Bee Sweet Citrus in Fowler, and Fresh Select in Dinuba.
Grower concern about maintaining a stable workforce has been exacerbated by threats from the President to build more border walls, and to use the E-Verify database to identify undocumented workers for termination or deportation. WGA President Nassif, who belongs to Trump's agricultural advisory board, argues that this increased immigration enforcement is restricting the number of immigrant workers. That complaint, in turn, provides a rationale for expanding the H-2A program, reducing its requirements, and even redrafting the contract labor scheme entirely.
---
Concern about maintaining a stable workforce has been exacerbated by the President's threats to build more border walls.
---
Replacing undocumented workers with H-2A recruits is not a new idea. In 2010 immigration authorities went through the payroll records of one of Washington State's largest apple growers, Gebbers Farms, and identified 550 people they said had no legal immigration status. After the company fired them, it was then encouraged to use the H-2A program. According to Gebbers manager Jon Wyss, "Our first year, we hired 300 workers from Jamaica and 750 workers from Mexico for a total 1,150 H-2A workers." By 2017 Gebbers was bringing more than 2,000 H-2A workers, Wyss testified to the House Immigration Subcommittee.
That committee was considering a bill sponsored by Virginia Republican Congressman Bob Goodlatte, chair of the Judiciary Committee, called the Agricultural Guestworker Act. Goodlatte explained its goal: "A reliable, efficient, and fair program that provides American farmers access to a legal, stable supply of workers … [in] a new, flexible, and market-driven guest worker program."
That bill would have provided employers with 450,000 workers yearly under a new H-2C visa at states' minimum wages, or 115 percent [confirmed from actual text of act] of the federal minimum of $7.25/hour. Ten percent of workers' wages would be withheld, and could be collected at the U.S. consulate only after returning to their home country. The proposal would have eliminated requirements that growers provide transportation and housing, and allowed them to employ guest workers year around, so long as they returned to the border every year to "touch back" before returning to their jobs.
In January Goodlatte incorporated the guest worker bill into a larger immigration bill, the Securing America's Future Act. It would eliminate family-based visas for parents, children, brothers and sisters of legal immigrants and citizens. Guest workers would be prohibited from bringing their families with them. All employers would have to use the E-Verify system to identify and fire all undocumented workers.
"The White House right now is fully committed to the Goodlatte bill and trying to pass [it] out of the House," a spokesperson told the Washington Times in February. President Trump owns a Virginia vineyard that employs H-2A workers, and won strong support from rural agricultural areas of California increasingly dependent on guest worker labor. Some of the state's most powerful Republican congressmen have roots in agribusiness, including Jeff Denham, Devin Nunes and David Valadao. The House Majority Leader, Kevin McCarthy, represents Bakersfield and Kern County.
The Western Growers Association declined to support the Goodlatte bill, saying its touch-back provision was unworkable and its 410,000 annual guestworker limit too low. However, H-2A contractors like the Washington Farm Labor Association (WAFLA) are optimistic. "We are very positive about the Trump administration. I was in D.C. in December and met with the transition team, and our industry lobbyists have followed up," WAFLA head Dan Fazio told a meeting of growers not long after the election, the Seattle Times' Hal Bernton reported. "I don't think there is a person in this room who voted for President Trump who wouldn't vote for him again tomorrow."
The Trump administration isn't simply waiting for Congress to decide on the Goodlatte bill. On May 24 the secretaries of Agriculture, Homeland Security, State and Labor issued an "H-2A Agricultural Worker Visa Modernization Joint Cabinet Statement" promising to change the program rules "in a way that is responsive to stakeholder concerns and that deepens our confidence in the program as a source of legal and verified labor for agriculture." While the promise is unspecific, changed regulations could do away with guarantees of housing and transportation, AEWR wage rates, and protections for resident farm workers — all changes growers have advocated. The statement also says the administration "plans to incentivize farmers' use of the E-Verify program." Requiring growers to use E-Verify to identify undocumented employees and fire them could lead to hundreds of thousands of workers losing their jobs, given that about half the farm labor workforce of 2 million people have no legal immigration status.
United Farm Workers national vice president Armando Elenes, however, condemned the political agenda that combines increased immigration enforcement with rising use of the H-2A program. "There's a huge explosion of H-2A in California," he said. "ICE does audits and raids, and then growers demand changes that will make H2-A workers even cheaper, by eliminating wage requirements or the requirement that they provide housing. Reducing the available labor and the increased use of H2-A are definitely connected."
---