I've always believed that democracy was the best form of government because people can change it. And like a lot of us, I was taught that the American form of democracy was the model that should be imitated by nations across the planet. Especially ingenious was the system of "checks and balances." This arrangement means that no one branch of government can singularly decide a political course without the consent of the others.
This much-praised system was adopted to prevent the re-emergence of an autocracy. But checks and balances also worked to keep the practice of slavery alive up until the Civil War. And in the wake of abolition, when corporations became the dominant form of business organization, the same systems were used to exploit the labor force. Even as the country's wealth grew, the gap between rich and poor widened. It took more than half a century of effort and the devastation of the Great Depression before important reforms like a minimum wage, child labor protections, the 40-hour work-week and the right to organize became federal law.
Political scientists have begun to research the issues that arise around veto power in multiple branches of government. Studies have shown that the more capacity a democracy has for blocking changes, the more income inequality the nation is likely to have. Harvard historian Jill Lepore wrote about this phenomenon in a recent New Yorker piece. Drawing on the work of several scholars using different analytical tools, she says that income inequality is greater in the United States than any other democratic country in the developed world. In fact, we regularly hold the record for inequality across 40 countries on six continents.
This inequality ranking also correlates with the number of ways democracies block change. Lepore reviews the work of two scholars of comparative politics who studied 23 long-time democratic countries with developed economies. They counted the number of "veto players" or choke points in each form of democratic government. Most democracies have parliaments with one body (not two), and therefore only one house with veto power. A few countries have two veto points. Australia and Switzerland have three. Of those democracies with developed economies, only the United States has four. The scholars found a correlation between the size of the income inequality in a democracy and the number of choke points in the system. The more veto players a government has, the greater the income inequality gap.
To compound the problem, the American system not only contains the most veto players, it has the most malapportioned legislative body. Among the eight economically developed democracies in the world with an upper house, the U.S. Senate is the most unrepresentative.  California, with almost 40 million residents, has two Senators, as does Hawaii, with less than a million and a half. The Senate simply does not represent the population the way upper houses in other democratic countries do.
That distortion helped keep slavery going for decades after the British had outlawed both the trading and owning of human beings. It also means that any legislative attempt to change the rules of the economy that might narrow income inequality or stop human caused climate change or do any other big job will require the four veto players to line up in agreement – including the one that represents dramatic population disparity. That's been rarely possible in our history.
To get all four lined up in this country usually takes a crisis, a strong grassroots movement and elected officials willing to push for change. Even then, there is no guarantee. This month marks the fiftieth anniversary of the signing of the Voting Rights Act. But even after it was renewed by a sizeable majority in both the House and Senate, and then signed by the President, the Supreme Court voted five to four to eviscerate its key section. That's what happens when a system includes as many veto players as ours does.
Sad that our democracy is so cluttered by checks and balances that it stymies justice. From slavery to workers' rights to saving the planet, it has kept the blocks in place that hold us back from making changes, even when they are so obviously necessary. But it feels better to know what's required for change to occur than to live in a fog of constant frustration. Our situation is ominous, but it isn't hopeless.
Image via DonkeyHotey.
The Tests Facing California's New Governor
Gavin Newsom now leads the state with the nation's biggest economy and largest population — and one riven by economic inequality. What will be his most important challenges?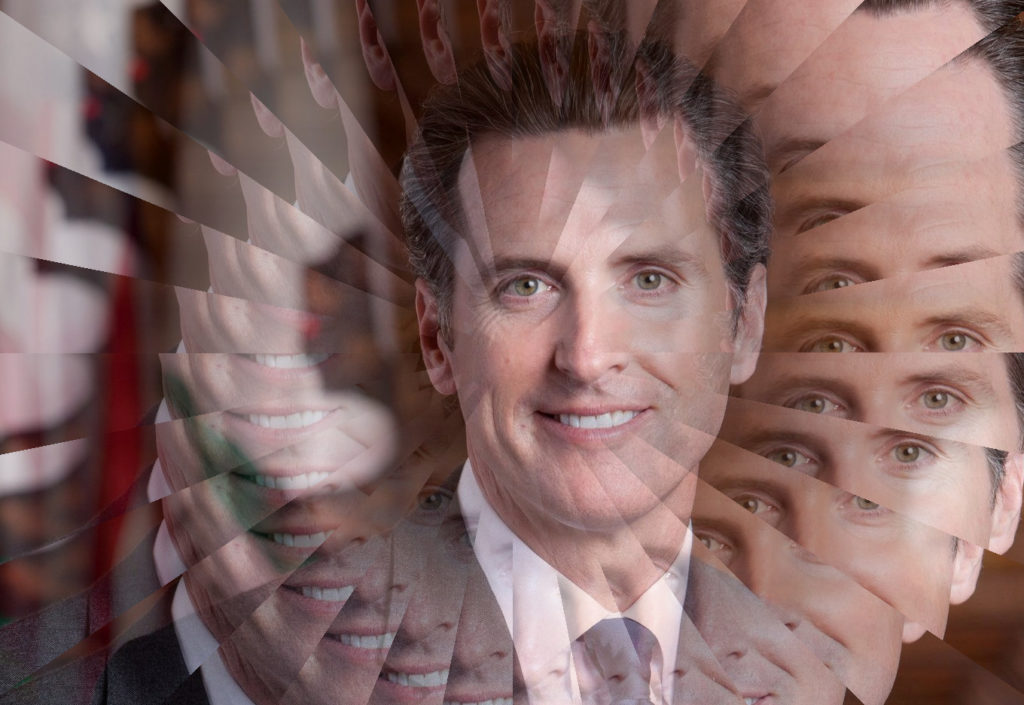 Gavin Newsom inherits a state that should be any governor's dream: A California that is the cradle of the tech revolution and brims with prosperity, a one-party state with supermajorities in both chambers for Newsom's Democrats. But there are clouds darkening the horizon: Daily prophecies tell of coming economic storms; legislative initiatives taken on behalf of immigrants, retirement security and the stemming of global warming are increasingly thwarted by a bellicose White House. And that Democratic Party monopoly in Sacramento masks a deepening ideological fault line dividing pro-business moderates and progressives – the latter of which have largely chafed for the last 16 years under the thrifty administrations of Jerry Brown and Arnold Schwarzenegger, and are eager to burst out with far-reaching (if pricey) legislation.
Then, there are memories of three high-riding liberal governors (Pat and Jerry Brown, and Gray Davis) whose programs or careers were derailed by resentful taxpayers. There are more recent memories, too: Of an impulsive, hard-partying San Francisco mayor whose blunted ambitions led him to spend eight years in the ceremonial wilderness of the lieutenant governor's office. Newsom is said to have matured into a more circumspect, pragmatic politician, although some of the old doubts were fanned back to life by an unflattering New Yorker profile that appeared shortly before his landslide victory November 6.
Perhaps overriding all these auguries is the undeniable fact that despite its enviable economy, its abundance of billionaires-in-residence and laudable array of social services, California still has the highest poverty rate in the U.S., nearly half of its children live in poverty or near-poverty, and merely finding an affordable place to live has become an existential challenge for many. These and similar factors superimpose on the state another kind of fault line, that of economic inequality. Most of the new governor's time will be spent wrangling crises that spring from this disparity. Which is why the following Capital & Main stories primarily focus on the inequality that separates so many Californians from one another.
Affordable Housing, by Jessica Goodheart.
Single-Payer Health Care, by Gabriel Thompson.
Climate Change and Big Oil, by Judith Lewis Mernit.
Inequality Interviews with Manuel Pastor, Ann Huff Stevens and David Grusky.
Early Childhood Education, by Bill Raden.
Inequality in California: Six Takeaways.
---
Copyright Capital & Main