Unfair at Any Speed: How Traffic Stops Punish California's Poor
Californians of color are more likely to be subjected to traffic stops and to be booked on arrests related to failure to appear or failure to pay. In Bay Area counties, African-Americans are four to 16 times more likely to be booked on arrests related to failure to pay an infraction ticket.

"California has the highest traffic fines in the country, with $490 red-light fines and fees that are over three times the national average," said Elisa Della-Piana. The legal director of the Lawyers' Committee for Civil Rights of the San Francisco Bay Area (LCCR), which provides civil legal aid, spoke by phone last week to Capital & Main on the release of the group's 56-page report, Paying More for Being Poor: Bias and Disparity in California's Traffic Court System.
The study's title may be long, but its findings are short and to the point, linking minor traffic offenses for low-income and nonwhite people to harsh civil and criminal policies and practices. That $490 ticket for missing a red light is a result of "add-on fees that are used to fund 10 separate special projects, including a DNA fund and an emergency medical transport fund," according to the LCCR report. This amount rises to $815 if an offender fails to pay by the deadline.
Low-income drivers in over-policed black and Latino communities are in harm's way of such punitive traffic fees and fines — and are at risk of losing their licenses, vehicles and jobs. The U.S. Census Bureau's Supplemental Poverty Measure ranks California with the highest poverty rate, 20.6 percent, in the nation.
In California, where public transit is in short supply relative to demand, operating a car is basic to earning income. Seventy-eight percent of workers in the Golden State drive to and from work, according to Della-Piana.
"Once stopped, people of color are also more likely to be booked on arrests related to failure to appear or failure to pay," the LCCR study further claimed. "The available county-level data of nine Bay Area municipalities shows that African-American people in particular are four to 16 times more likely to be booked on arrests related to failure to pay an infraction ticket," Della-Piana said.
The LCCR surveyed Alameda, Contra Costa, Marin, Napa, San Mateo, San Francisco, Santa Clara, Solano and Sonoma counties.
The issue of unfairly profiling African-Americans as local tax revenue sources came to national light after a white police officer shot and killed Mike Brown, an unarmed black teen, in Ferguson, Missouri, a St. Louis suburb, during the summer of 2014. "We think of Ferguson as the town that was fining mostly black residents as a way of raising municipal revenue," said Della-Piana, adding that her group estimates California could raise $70 to $140 million more tax revenue by allowing low-income people to keep their licenses, instead of suspending them for failure to pay. That would allow workers to drive to and from their jobs via adjusting traffic fines to the ability of low-income people to pay for traffic infractions.
Suspending driver licenses should be a public safety policy and not a debt-collection tool, said Della-Piana.
California lawmakers are moving forward to address the void created by last month's termination of the statewide 18-month Traffic Amnesty Program. This program paved a path for low-income people to pay traffic fees and fines, and allowed 200,000 Californians to regain their driver licenses.
"The new LCCR report shows that the fines and penalties for minor traffic offenses remain too high and too harsh for many Californians struggling to make ends meet," said state Senator Bob Hertzberg (D-Van Nuys), in an email to Capital & Main. "It's crucial that we fix this problem once and for all. That's why I have authored Senate Bill 185." Hertzberg's measure would end automatic suspension of people's driver licenses when they can't pay the fees or fines for minor traffic infractions. SB 185 would also require courts to assess an individual's income to pay prior to assigning fines.
Meanwhile, Assemblymember Phil Ting (D-San Francisco) has introduced Assembly Bill 412, which would end a $300 late penalty charge in traffic court fines for poor Californians.
Opposing license suspension that hurts the working poor and the state economy unites the right and the left, said Michael Herald, director of policy advocacy for the Western Center on Law and Poverty, in a phone interview. He cited a New Jersey study that showed 42 percent of those surveyed lost their jobs with the loss of a driver license.
In the state Capitol there is bipartisan opposition to onerous traffic fees and fines. "We have across-the-board political support among lawmakers," Herald said. The WCLP is a sponsor of SB 185.
The LCCR calls for reform of fines and fees to ease the burden for minority and poor people unable to pay traffic infraction costs. States such as Maine, Massachusetts, Mississippi and Texas have reformed traffic fees and fines to help poor persons. "California could improve its traffic court system to become a national model for change," according to the LCCR report.

Rick Scott Super PAC Donations Challenge Federal Anti-Corruption Rule
Co-published by Fast Company
The Florida governor led a group that raked in cash from Wall Street firms after Scott's administration gave them pension deals.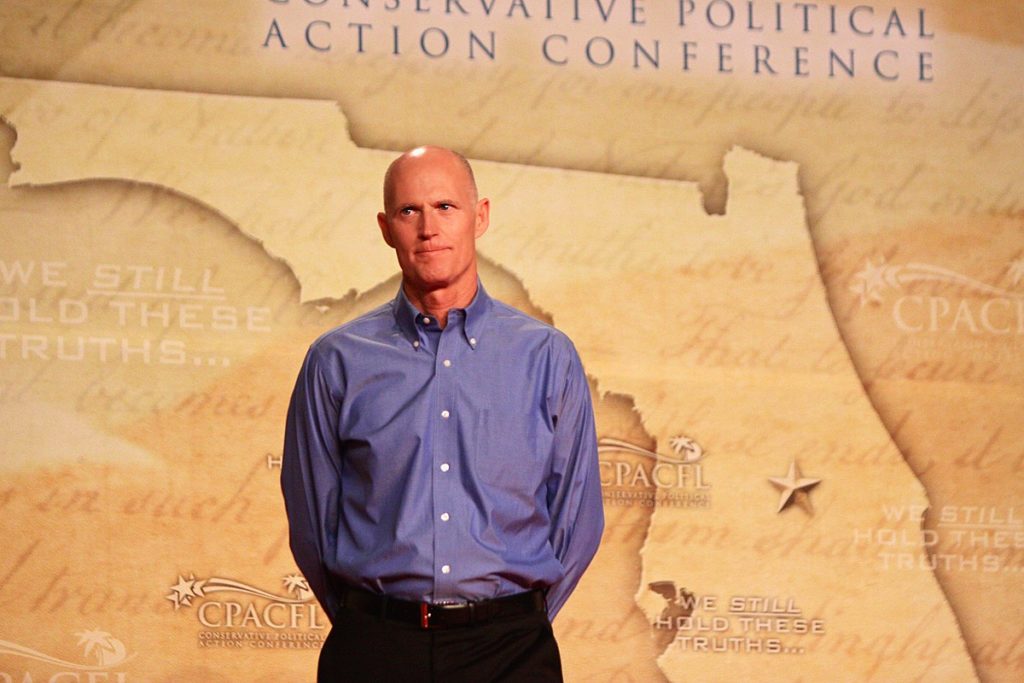 Co-published by Fast Company
A super PAC led by Florida Gov. Rick Scott raked in donations from two private equity executives after Scott's administration directed lucrative state pension investments to their firms, according to government records reviewed by MapLight and Capital & Main.
The donations were made to a committee that's now supporting Scott's U.S. Senate bid, despite a federal rule designed to prevent financial firms from bankrolling the election campaigns of public officials who oversee state pension investments.
Scott, a Republican, began chairing the New Republican PAC in May 2017 and announced his former campaign manager would serve as its executive director. Soon after, the group received $5,000 from New Mountain Capital Chief Executive Officer Steve Klinsky and $50,000 from Energy Capital Partners founder Douglas Kimmelman.
The contributions flowed to the super PAC after New Mountain Capital and Energy Capital Partners received a combined $250 million worth of new investment commitments from Florida's state pension system in 2014 and 2015. Scott is one of three state officials who oversee the $160 billion pension system. During the most recent fiscal year, the Florida investments generated more than $3 million in fees for the firms.
A 2010 Securities and Exchange Commission (SEC) rule prohibits firms from receiving investment fees from public pension systems if their executives donate campaign cash to pension overseers like Scott. SEC officials aimed to prevent investment decisions from being shaped by political influence.
But the commission didn't explicitly bar donations to "independent" political groups, unless the donations were deliberately designed to circumvent the restrictions. And it hasn't addressed whether a state official can lead a super PAC that received donations from firms with pension business and later be supported by the super PAC.
John Kuczwanski, a spokesperson for the Florida State Board of Administration, told MapLight/Capital & Main that Florida's first investments in the two private equity firms happened in 2005 and 2009, and he said Scott had nothing to do with new investments during his governorship, which started in 2011.
"The [state's] initial relationships with both managers predate Governor Scott's time in office," said Kuczwanski, whose agency manages the day-to-day operations of the pension system. "Neither the trustees, nor their appointed investment advisory council members are involved in the investment manager/fund selection process."
Scott's campaign and the super PAC did not respond to questions from MapLight/Capital & Main. New Mountain Capital and Energy Capital Partners did not return requests for comment.
Energy Capital recently completed the purchase of Calpine, whose natural gas power plant near Tampa is regulated by Scott's appointees at the Florida Public Service Commission. Kimmelman, who is now a director of Calpine, also donated $35,000 in 2017 to the National Republican Senatorial Committee, which is backing Scott's Senate campaign.
"A Very Clear Case"
Under the SEC rule — which GOP state parties have tried to overturn — investment executives are not prohibited from donating to independent political groups. But the rule allows regulators to apply restrictions to donations that are deliberately routed through third parties in order to support public officials — a situation that critics argue is happening with Scott and his super PAC.
After the governor announced his Senate bid last week, New Republican PAC's website began promoting his candidacy. End Citizens United, a Democratic-leaning political action committee based in Washington, DC, filed a complaint alleging that Scott has violated Federal Election Commission rules and is using the super PAC, which can accept unlimited donations, to evade contribution limits. Scott's campaign says he stepped down as New Republican PAC's chair in February.
In writing the original rule, SEC officials noted that while they could not restrict all donations to political action committees, contributions to third parties "may effectively operate as a funnel to the campaigns of the government officials." They said the final rule "prohibits acts done indirectly, which, if done directly, would violate the rule."
One ethics expert said that those anti-circumvention provisions should apply to the donations to Scott's super PAC.
"This appears to be a very clear case of close coordination and circumvention of the pay-to-play rule," said Craig Holman, an ethics lobbyist at the government watchdog group Public Citizen. "This is something that I'd like the SEC to pay attention to."
"No Loopholes"
The SEC has only occasionally enforced the pay-to-play rule, and the agency hasn't applied the provisions dealing with third parties to donations to super PACs. Because Scott is a sitting governor who can influence pension investments, he is covered by the rule, which has hampered the fundraising of past governors who tried to run for federal office.
A spokesman for former Texas Gov. Rick Perry's presidential campaign said the rule prevented him from raising enough money to be competitive in the 2012 race. Bloomberg reported that during the same election cycle, then-New Jersey Gov. Chris Christie was rejected as the vice presidential nominee, partly because Republicans feared the rule would prevent them from raising money from Wall Street firms that do business with his state's pension system.
"There is no way around it, and there are no loopholes," said Bill Palatucci, Christie's longtime advisor.
Even so, in recent years the rule has not deterred financial executives from donating to groups that help lawmakers who can influence pension investments. Financial executives whose firms received New Jersey and New Mexico investments continued to donate to the Republican Governors Association (RGA) when Christie and New Mexico Gov. Susana Martinez led the group. During the 2016 election cycle, executives at firms managing state pension money donated nearly $1.3 million to the GOP association, even as the group boosted the campaigns of Republican governors with power over state pension investments.
Last year, U.S. Sen. Tom Udall, D-N.M., called for the SEC to apply the pay-to-play rule to outside groups "to ensure that no one is able to circumvent these laws by using super PACs, dark money groups or other campaign spending vehicles." The RGA has argued that because it funds multiple candidates and does not allow donors to earmark contributions for particular races, it can accept donations from firms with investment business that can be influenced by individual governors. The SEC said in 2016 that donations to outside political groups "are independent expenditures that do not trigger" the rule.
"So long as the PAC faithfully observes the requirement to operate independently of candidates, a contribution to a super PAC will not trigger the [rule], even if the super PAC supports a covered official," Sam Brown, a former advisor to Federal Election Commissioner Ellen Weintraub, wrote in 2016. "Super PACs are increasingly being used in novel ways, and it remains to be seen whether these changes will result in increased circumvention risks."
---
This story is a collaboration between MapLight and Capital & Main.