UC Retirement Plan Under Threat
As next week's June 15 budget deadline looms, legislative leaders hammering out differences between the Assembly and Senate versions of this year's $171 billion budget for the fiscal year that begins July 1 will also be deciding the fate of retirement security for future University of California workers.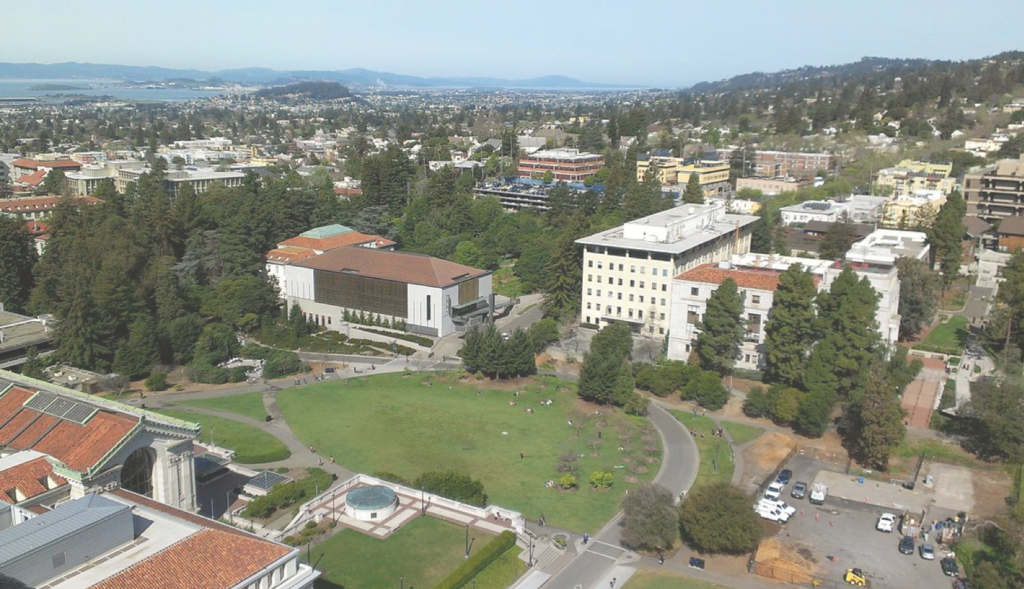 University of California, Berkeley. Image by Firstcultural, Wikimedia Commons.
As next week's June 15 budget deadline looms, legislative leaders hammering out differences between the Assembly and Senate versions of this year's $171 billion budget for the fiscal year that begins July 1 will also be deciding the fate of retirement security for future University of California workers.
At stake is a controversial, new two-tiered pension plan that regents passed in March as part of a budget accord reached last year between UC president Janet Napolitano and Governor Jerry Brown. To the shock of many faculty members, the new plan would allow new employees to opt out of the University of California Retirement Plan (UCRP) and instead take a potentially more lucrative but far riskier 401(k).
"They are proposing a plan that encourages their highest-paid employees to leave the defined-benefit pension," said Todd Stenhouse, a spokesperson for American Federation of State, County and Municipal Employees (AFSCME) Local 3299, which represents UC non-academic workers. "By its very nature, that will weaken the defined-benefit pension by pulling resources out…It's akin to the health insurance metaphor: If you have everybody in a pool and then pull out all the healthiest from that pool, what happens to the pool that is left? It gets more costly [for] fewer benefits."
The Napolitano-Brown agreement promised the university additional funding and a one-time state contribution of $436 million over three years to help pay down the UCRP's unfunded liability. In exchange, Napolitano agreed to cap pensionable earnings for new hires after July 1, 2016 and bring workers in line with other state employees under 2013's Public Employees' Pension Reform Act of 2013 (PEPRA).
But when UC regents unveiled details of the new pension benefits in January, faculty and labor leaders responded with outrage over the UCRP opt-out. In addition to undermining the fiscal integrity of the UCRP's defined benefit system, they charged, the new tier amounted to an extravagant loophole tailored exclusively for top-earning UC faculty and administrators. (Napolitano's office did not respond to a request for comment on this story.)
Under the new plan, incoming employees would have two options: a "hybrid," combining UCRP membership with a defined-contribution 401(k)-styled supplement; or a plan in which new employees could opt out of UCRP entirely and take only the 401(k). The 401(k)s, which would vest in a mere year (as opposed to the five years required by UCRP), would also be portable and follow the employee to jobs outside the UC system (retirement benefits for non-academic employees are covered by collective bargaining agreements).
But the 401(k)s would also sidestep the PEPRA cap. Though employer contributions to the UCRP would be lowered to the first $117,000 of salary, high earners choosing the 401(k) opt-out would get contributions on the first $265,000 in salary — a windfall worth up to $7,400 each year.
Critics contend that the new tier represents a double whammy: Aside from destabilizing UCRP's long-term solvency by diverting new contributions into the 401(k)s, it will simultaneously undercut the attractiveness of the defined benefit plan, which has been key for public universities both in competing with the private sector for top research talent and retaining it.
A new outcry over the tier erupted two weeks ago, just as the Legislature was finalizing the separate Senate and Assembly versions of the 2016 budget bill. The release of an actuarial study found that the PEPRA loophole will actually cost the university over $500 million over the next 15 years — more than wiping out the $436 million pension stabilization funding promised by Brown. 
That was enough for the State Assembly. Kevin McCarty (D-Sacramento), who chairs the State Assembly Budget Subcommittee on Education, responded by amending this year's budget with a poison pill that will withhold the stabilization funding if UC proceeds with the new tier.
"Our view is that this [PEPRA change] goes above and beyond what UC is proposing," McCarty told Capital & Main, "and it goes counter to our desire to save the taxpayers and UC money in the long run. … That was the whole point of the cap — a fundamental fairness to state workers and state taxpayers…and it would save the UC money, which we would hope they would redirect to priority number one, which is enrolling California students. Here are resources that we could better spend on higher education."
Ironically, it was the joint decision by the state and the university to take advantage of a pension surplus reaped by the roller-coaster stock market boom of the '90s that led to UCRP's funding shortfall. Like many state employers, UC and the state in effect raided the employee pension piggy bank by suspending employer contributions in what's known as a "pension holiday."
Because of the cascading effects of 1978's Proposition 13, state funding for higher education was getting tight. Between 1990 and 2008, state support for UC dropped by 40 percent on a per-student basis even as annual tuition and fees for resident UC undergraduates ballooned from $1,296 to a total $7,434. By the 2009–10 budget year, higher education's slice of the state's general fund expenditures was barely more than half of the 11 percent it had been in 1985.
Unlike with other state employers, however, UC's pension holiday lasted an epic two decades. In 1990, UCRP boasted 137 percent of the projected assets needed to pay future pension obligations; by 2000's tech boom, the funding surplus peaked at 156 percent of obligation; with 2008's stock market crash, the surplus vanished, leaving UC with the painful task of restarting pension contributions during a time of deep budget cuts. Today the system is at 87 percent of the projected assets needed to pay future pension obligations, leaving a so-called "unfunded liability."
"I think a large issue with that 2015 deal is that the university negotiated a permanent change in the pension system in exchange for a short-term commitment from the state," observed Dr, Michael Meranze, a UCLA history professor who also blogs about UC faculty issues. "Whereas the state, for instance, makes annual contributions, say, to [California State University's] pension and to other state employee pensions. … The state has never formally admitted that it benefited from those years of non-contribution, nor [has it] formally committed to restarting its contributions on a regular basis."
The point is more than academic, explained Celeste Langan, co-chair of the UC Berkeley Faculty Association. Part of the lure of a lower-paying public research university for scholars, who have already delayed entering the job market for as much as decade to get a PhD (along with a mountain of student loan debt), is precisely the robust retirement security offered by its pensions compared to 401(k)s at private universities.
"There used to be a pretty clear combination of scaled salary and defined benefits," she told Capital & Main. "So that we understood that our salaries did not match other comparable private enterprise salaries, and that in return for that lower salary we got defined benefits. … And for all of the difficulties that we experienced during the Great Recession in terms of a faculty cut in pay with a furlough, etc., in many ways we were better off than our colleagues at universities with IRAs. The story was, 'I'm going to roll over my IRA for another ten years of labor.' People who had been planning to retire had their savings wiped out."
A survey of UC faculty and staff conducted at the height of the recession in 2010 bears out Langan: 82 percent of respondents said that UC's defined-benefit retirement program is an important reason they stay at the university. There was little variation among employment and age groups.
"I can understand that there needs to be some reform perhaps, but not in terms of [cutting] defined benefits," Langan added. "I could see some kind of compromise where [the state] would make contributions to UCRP up to the PEPRA cap. I think that would be totally fair if they would do it for the foreseeable future, right? To return to their responsibility. And then we would be fully funded in a few years, and for anything above the PEPRA cap, the university could take on the responsibility of paying that."
As far as McCarty is concerned, for the foreseeable future pensionable salary at UC will remain capped at $117,000, but only if he can convince his Senate counterparts on the Joint Legislative Budget Conference Committee to accept his measure withholding the pension stabilization money until UC drops its PEPRA-immune 401(k)s.
When contacted by Capital & Main, a spokesperson for Senate President Pro Tempore Kevin de León (D-Los Angeles), who is also the Senate chair on the committee, replied that de León is still studying the matter. And should the Senate concur, the measure would still need to survive the governor's blue pencil. McCarty is optimistic.
"Last year, we were pretty clear on what we asked UC to do, and then the governor embraced it," he noted. "It was kind of his accord, our final deal at the end… I just think that we are tightening our belts in state government left and right… And we continue to urge, prod, encourage, entice and work to get them to adhere to this goal."
The final budget must pass both houses and get to the governor's desk by June 15.
Years of Infamy: A New Documentary About the Japanese-American Internment
And Then They Came For Us is not the first to tell the story of Executive Order 9066. Rarely, however, has any account of this shameful history been presented with such persuasively contemporary urgency.
On February 19, 1942, President Franklin D. Roosevelt signed Executive Order 9066, which authorized the War Department to declare much of the West Coast to be military exclusion zones, resulting in the arrest, removal and incarceration of 120,000 law-abiding residents — including roughly 70,000 birthright American citizens — for the offense of being of the wrong race during wartime. Civil rights vanished for Americans of Japanese descent who were forcibly uprooted and deprived of their property without due process.
Social justice filmmakers Abby Ginzberg and Ken Schneider's powerful new documentary, And Then They Came For Us, is not the first to tell the story of one of modern America's most ignominious mass violations of civil rights. Rarely, however, has any account of this shameful history been presented with such persuasively contemporary urgency.
From Ginzberg's opening shots of protest at San Francisco Japantown's February 19th Day of Remembrance march, to the film's concluding call for solidarity between the survivors of 9066 and the Muslim immigrants who now find themselves targeted by yet another baldly racist executive action, it is always harrowingly apparent who is behind today's clear and present danger to bedrock civil liberties.
In fact, as Ginzberg explained to Capital & Main, it wasn't until the days following Donald Trump's 2016 election victory that she became convinced she had a compelling enough hook on which to hang an otherwise oft-told tale. That's when she saw Trump surrogate Carl Higbie appear on TV and cite the wartime internment as a precedent for candidate Trump's calls for a "complete shutdown of Muslims entering the United States," which included surveillance against mosques and establishing a database for all U.S. Muslims.
"I could suddenly see the politics of the film, I could understand its importance to today," she recalled. "It didn't become [a] dry history based on post-World War II analysis. It made me get very excited about it and decide that this film had to be done. We needed to find a way to get it out into the world as quickly as possible."
Her idea was to approach the internment as if it were a breaking news story. By keeping it lean, forgoing lengthy fundraising or complicated locations, the film might get from script to screen while the headlines were still fresh enough to have an impact. That's when the Jonathan Logan Family Foundation, which funds progressive investigative journalism, ponied up for the entire budget — a rare stroke of fortune in the social justice filmmaking world: "I was able to create a budget, give it to them and say, 'I will do this film if you pay the bills.' And they did. We started filming in October of 2016. And we finished it kind of mid- to end-of-April, 2017. For me that is record time." (Disclosure: The foundation is a financial supporter of this website.)
The heart of And Then They Came for Us lies in the trauma and unreconciled anger of the incarcerated — including the articulate testimony of former camp children like actor-activist George Takei. The experiences of now-deceased adults survive in an extraordinary trove of documentary images taken by photographers hired as government propagandists by the War Relocation Authority (WRA). The photographers, among them Ansel Adams and the magnificent Dorothea Lange, were carefully monitored by minders lest they violate rules against taking photos of camp barbed wire, guard towers and heavily armed military police. The prisoners themselves were forbidden cameras of any kind, and it is ironic that the only images of the Japanese-Americans behind barbed wire are those taken by internee Toyo Miyatake, using smuggled equipment and film.
"We tapped into a reservoir of stories," said Ginzberg, "and we were able to kind of cobble the film from everybody contributing something. But the two people who lead the film are George Takei and Satsuki Ina, who really have spent a lot of their lives working on this. … A third person, who's not related at all to George, is Barbara Takei, who's part of the Tule Lake Committee." Local authorities, she added, "are now threatening to build an airfield sorta smack in the middle of the Tule Lake camp, which would mean that any notion of sacred space, or being able to [honor] it as a historical site, will go to hell."
Eschewing the usual newsreel footage, Ginzberg sought — and was given — unrestricted access to recently unearthed and previously unpublished photographs, and research culled by photo historians Richard Cahan and Michael Williams for their 2016 coffee-table tome Un-American: The Incarceration of Japanese Americans During World War II. The book includes 170 images drawn from a 7,000-shot archive of the "evacuation." Ginzberg mostly narrows that to the work of Adams and Lange. And it is the unwavering gaze of the Lange portraits — part of an almost legendary, 800-image cache that was immediately impounded and "lost" for 60 years by the U.S. Army — that drives home the human scale of the tragedy. Many of Lange's photos were impounded for too truly reflecting the emotional reality of the camps.
"We try to let the photos in a certain way speak for themselves," Ginzberg pointed out. "We're letting people sort of read it in the faces of the Dorothea Lange [images], and something — "magical" is not the right word — but something deep happens in the experience of looking at those photos that are up there a little bit longer than they might be in some other setting. [Audiences are] able to read, as Takei says, the resilience and the stress. And so there's something happening that becomes a first-person experience."
In one of the most haunting scenes, internment historian and filmmaker Satsuki Ina, who was born in 1944 at the Tule Lake Segregation Camp near the Oregon border, a maximum security facility reserved for "troublemaker" activists, pensively encounters a Lange portrait of her mother, Shizuko, taken in 1942. Capturing an attractive, immaculately dressed young woman, the picture freezes a moment when her features are visibly drawn in worry as she waits with other first- and second-generation Japanese-Americans on a long sidewalk queue underneath government posters announcing their imminent removal.
Other speakers describe remarkably similar memories of the pain of witnessing their parents undergo the humiliation of gradually being shorn of their freedom and independence. Within a matter of weeks, the WRA froze bank accounts, limited movement and finally stripped internees of their automobiles and other property through forced sales. Los Angeles families were shipped to the Santa Anita racetrack and housed in horse stalls. Orwellian euphemisms ran through a government narrative that spoke soothingly of "evacuations" and "relocation centers," rather than forced removals and concentration camps.
According to Ginzberg the film has been well received by audiences at the handful of film festivals it has entered since its May premiere. She's been offering it for sale on the movie's website for activist groups that have already hosted a number of screenings around the country, and it has played particularly well with teachers. Ginzberg's strategy is to market the film as a classroom-friendly component (the runtime is 46 minutes) to lesson plans about the incarceration.
"Let's see if we can't educate people, organize people and have this film be as relevant as possible to what is going on, particularly with the Muslim travel ban, and then with other really repressive immigration policies."
---
The November 27 Los Angeles premiere for And Then They Came for Us, at the Downtown Independent Theater, is sold out.  Other screenings can be found at thentheycamedoc.com.
Copyright Capital & Main