UC Retirement Plan Under Threat
As next week's June 15 budget deadline looms, legislative leaders hammering out differences between the Assembly and Senate versions of this year's $171 billion budget for the fiscal year that begins July 1 will also be deciding the fate of retirement security for future University of California workers.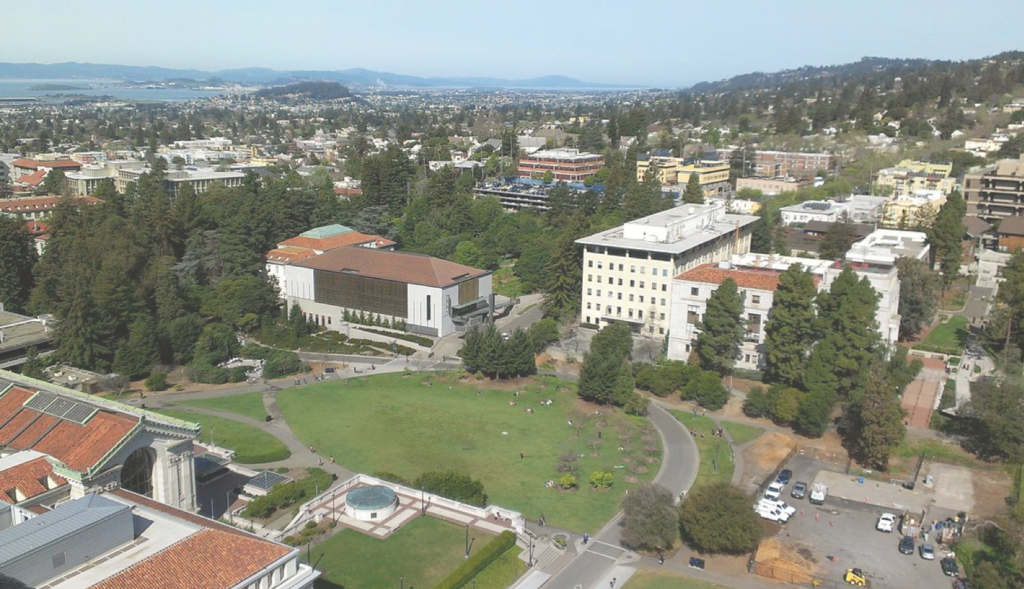 University of California, Berkeley. Image by Firstcultural, Wikimedia Commons.
As next week's June 15 budget deadline looms, legislative leaders hammering out differences between the Assembly and Senate versions of this year's $171 billion budget for the fiscal year that begins July 1 will also be deciding the fate of retirement security for future University of California workers.
At stake is a controversial, new two-tiered pension plan that regents passed in March as part of a budget accord reached last year between UC president Janet Napolitano and Governor Jerry Brown. To the shock of many faculty members, the new plan would allow new employees to opt out of the University of California Retirement Plan (UCRP) and instead take a potentially more lucrative but far riskier 401(k).
"They are proposing a plan that encourages their highest-paid employees to leave the defined-benefit pension," said Todd Stenhouse, a spokesperson for American Federation of State, County and Municipal Employees (AFSCME) Local 3299, which represents UC non-academic workers. "By its very nature, that will weaken the defined-benefit pension by pulling resources out…It's akin to the health insurance metaphor: If you have everybody in a pool and then pull out all the healthiest from that pool, what happens to the pool that is left? It gets more costly [for] fewer benefits."
The Napolitano-Brown agreement promised the university additional funding and a one-time state contribution of $436 million over three years to help pay down the UCRP's unfunded liability. In exchange, Napolitano agreed to cap pensionable earnings for new hires after July 1, 2016 and bring workers in line with other state employees under 2013's Public Employees' Pension Reform Act of 2013 (PEPRA).
But when UC regents unveiled details of the new pension benefits in January, faculty and labor leaders responded with outrage over the UCRP opt-out. In addition to undermining the fiscal integrity of the UCRP's defined benefit system, they charged, the new tier amounted to an extravagant loophole tailored exclusively for top-earning UC faculty and administrators. (Napolitano's office did not respond to a request for comment on this story.)
Under the new plan, incoming employees would have two options: a "hybrid," combining UCRP membership with a defined-contribution 401(k)-styled supplement; or a plan in which new employees could opt out of UCRP entirely and take only the 401(k). The 401(k)s, which would vest in a mere year (as opposed to the five years required by UCRP), would also be portable and follow the employee to jobs outside the UC system (retirement benefits for non-academic employees are covered by collective bargaining agreements).
But the 401(k)s would also sidestep the PEPRA cap. Though employer contributions to the UCRP would be lowered to the first $117,000 of salary, high earners choosing the 401(k) opt-out would get contributions on the first $265,000 in salary — a windfall worth up to $7,400 each year.
Critics contend that the new tier represents a double whammy: Aside from destabilizing UCRP's long-term solvency by diverting new contributions into the 401(k)s, it will simultaneously undercut the attractiveness of the defined benefit plan, which has been key for public universities both in competing with the private sector for top research talent and retaining it.
A new outcry over the tier erupted two weeks ago, just as the Legislature was finalizing the separate Senate and Assembly versions of the 2016 budget bill. The release of an actuarial study found that the PEPRA loophole will actually cost the university over $500 million over the next 15 years — more than wiping out the $436 million pension stabilization funding promised by Brown. 
That was enough for the State Assembly. Kevin McCarty (D-Sacramento), who chairs the State Assembly Budget Subcommittee on Education, responded by amending this year's budget with a poison pill that will withhold the stabilization funding if UC proceeds with the new tier.
"Our view is that this [PEPRA change] goes above and beyond what UC is proposing," McCarty told Capital & Main, "and it goes counter to our desire to save the taxpayers and UC money in the long run. … That was the whole point of the cap — a fundamental fairness to state workers and state taxpayers…and it would save the UC money, which we would hope they would redirect to priority number one, which is enrolling California students. Here are resources that we could better spend on higher education."
Ironically, it was the joint decision by the state and the university to take advantage of a pension surplus reaped by the roller-coaster stock market boom of the '90s that led to UCRP's funding shortfall. Like many state employers, UC and the state in effect raided the employee pension piggy bank by suspending employer contributions in what's known as a "pension holiday."
Because of the cascading effects of 1978's Proposition 13, state funding for higher education was getting tight. Between 1990 and 2008, state support for UC dropped by 40 percent on a per-student basis even as annual tuition and fees for resident UC undergraduates ballooned from $1,296 to a total $7,434. By the 2009–10 budget year, higher education's slice of the state's general fund expenditures was barely more than half of the 11 percent it had been in 1985.
Unlike with other state employers, however, UC's pension holiday lasted an epic two decades. In 1990, UCRP boasted 137 percent of the projected assets needed to pay future pension obligations; by 2000's tech boom, the funding surplus peaked at 156 percent of obligation; with 2008's stock market crash, the surplus vanished, leaving UC with the painful task of restarting pension contributions during a time of deep budget cuts. Today the system is at 87 percent of the projected assets needed to pay future pension obligations, leaving a so-called "unfunded liability."
"I think a large issue with that 2015 deal is that the university negotiated a permanent change in the pension system in exchange for a short-term commitment from the state," observed Dr, Michael Meranze, a UCLA history professor who also blogs about UC faculty issues. "Whereas the state, for instance, makes annual contributions, say, to [California State University's] pension and to other state employee pensions. … The state has never formally admitted that it benefited from those years of non-contribution, nor [has it] formally committed to restarting its contributions on a regular basis."
The point is more than academic, explained Celeste Langan, co-chair of the UC Berkeley Faculty Association. Part of the lure of a lower-paying public research university for scholars, who have already delayed entering the job market for as much as decade to get a PhD (along with a mountain of student loan debt), is precisely the robust retirement security offered by its pensions compared to 401(k)s at private universities.
"There used to be a pretty clear combination of scaled salary and defined benefits," she told Capital & Main. "So that we understood that our salaries did not match other comparable private enterprise salaries, and that in return for that lower salary we got defined benefits. … And for all of the difficulties that we experienced during the Great Recession in terms of a faculty cut in pay with a furlough, etc., in many ways we were better off than our colleagues at universities with IRAs. The story was, 'I'm going to roll over my IRA for another ten years of labor.' People who had been planning to retire had their savings wiped out."
A survey of UC faculty and staff conducted at the height of the recession in 2010 bears out Langan: 82 percent of respondents said that UC's defined-benefit retirement program is an important reason they stay at the university. There was little variation among employment and age groups.
"I can understand that there needs to be some reform perhaps, but not in terms of [cutting] defined benefits," Langan added. "I could see some kind of compromise where [the state] would make contributions to UCRP up to the PEPRA cap. I think that would be totally fair if they would do it for the foreseeable future, right? To return to their responsibility. And then we would be fully funded in a few years, and for anything above the PEPRA cap, the university could take on the responsibility of paying that."
As far as McCarty is concerned, for the foreseeable future pensionable salary at UC will remain capped at $117,000, but only if he can convince his Senate counterparts on the Joint Legislative Budget Conference Committee to accept his measure withholding the pension stabilization money until UC drops its PEPRA-immune 401(k)s.
When contacted by Capital & Main, a spokesperson for Senate President Pro Tempore Kevin de León (D-Los Angeles), who is also the Senate chair on the committee, replied that de León is still studying the matter. And should the Senate concur, the measure would still need to survive the governor's blue pencil. McCarty is optimistic.
"Last year, we were pretty clear on what we asked UC to do, and then the governor embraced it," he noted. "It was kind of his accord, our final deal at the end… I just think that we are tightening our belts in state government left and right… And we continue to urge, prod, encourage, entice and work to get them to adhere to this goal."
The final budget must pass both houses and get to the governor's desk by June 15.
The Governor and the Oil Lobbyist: Report Blasts Jerry Brown's Friendship With Lucie Gikovich
Co-Published by Fast Company
How much influence has a former Jerry Brown staffer-turned-lobbyist had over the governor?
---
A report calls on incoming governor Gavin Newsom to investigate a lobbyist's efforts in California.
---
Co-Published by Fast Company
Lucie Gikovich, a longtime friend and former member of California Governor Jerry Brown's staff, repeatedly lobbied his office on behalf of a group of oil and gas companies that won major concessions from the governor on important state legislation, according to a report released today by a New York-based non-profit organization.
Gikovich's decades-long friendship with Brown has previously been reported by the Sacramento Bee, including the fact that he stays at her home while on official business in Washington, DC. But her oil and gas industry ties have not received attention prior to this report, according to report author Derek Seidman, a research analyst with the Public Accountability Initiative, which is funded by foundations and the American Federation of Teachers.
---
Lucie Gikovich, her business partner and firm have donated $114,500 to Brown's campaigns over the years.
---
"She's someone that Brown clearly completely trusts and yet is being extremely well paid by her clients to lobby on behalf of their interests," said Seidman, whose report is titled The California Oil Veto: The Lobbyist Behind Governor Jerry Brown's Concessions to Big Oil. Gikovich, who works with the D.C.-based Crane Group, has lobbied Brown's office on behalf of corporate clients for a range of industries since 2011. Gikovich, her business partner and firm have donated $114,500 to Brown's campaigns over the years.
For her part, Gikovich denies having an outsized influence on Brown and minimizes her role in legislation that the report says she influenced. "Governor Brown, more than anyone I know, makes up his own mind after hearing from all sides and carefully analyzing all aspects of the issues," she wrote in an email. "He makes his decisions on the merits, regardless of his relationships with those involved."
Evan Westrup, a spokesperson for the Governor, added a few choice words about the then-unpublished report, when it was described to him in an email. "This report is about as factual – and substantive – as a tweet from Donald Trump," said Westrup. "The governor had no knowledge that any of these companies were her clients, but even if he did, it would've made no difference. On these bills – and the thousands of others that have crossed his desk – the focus has always been on what's best for California, which is why the state's record of climate action is unmatched in the Western world."
---
Phillips 66, one of Gikovich's clients, has paid her $937,500 in fees and retainers to lobby the governor's office and state regulatory boards since 2012.
---
The Public Accountability Initiative's report builds on a longstanding critique of the California governor who, many environmentalists claim, has been too cozy with Big Oil interests in spite of his reputation as a national leader in combating global climate change and reducing demand for fossil fuels in the state. The report also calls on incoming governor Gavin Newsom to investigate Gikovich's lobbying efforts in California and to "sever the state's ties to Gikovich."
One of Gikovich's clients, the oil refinery operator Phillips 66, has paid her $937,500 in fees and retainers to lobby the governor's office and various state regulatory boards since 2012. She was the Houston-based firm's highest paid lobbyist in California, according to the report.
Gikovich served as a top aide to Brown during his first two terms as governor and he hired her as his federal lobbyist when he was mayor of Oakland, a job that earned her $780,000 from 2001 to 2007, according to the report. She also served as Brown's press secretary during his failed 1982 run for the U.S. Senate. As governor, Brown has included her in trade delegations to China and Mexico.
Brown reportedly stayed with Gikovich in her Washington D.C. home in 2013, at the time she was lobbying on behalf of Phillips 66 and Halliburton, and other corporate clients. Such hospitality might not violate ethics laws if the stay "is related to another purpose unconnected with the lobbyist's professional activities," according to the state's ethics rules at the time.
"I find it hard to believe that they would've not talked about any official business but no one can know for certain, of course," says Seidman, whose report says those visits may constitute a "possible violation of ethics rules."
The visits were "all personal, not business" and evidence of Brown's frugality as well as his desire to visit with friends, according to Gikovich's email.
Gikovich's client during the battle over two bills to extend California's landmark climate program, known as cap-and-trade, was Phillips 66, which operates oil refineries in Santa Maria and Rodeo. The package that the governor signed last year included major concessions to the oil industry and split the environmental community, with mainstream environmentalists supporting the compromise and environmental justice groups turning against it.
Gikovich said that her work on the cap-and-trade program—for which she reportedly was paid $105,000 in 2017—was mostly confined to monitoring the legislation. "There was no contact with the Governor personally on these issues," she wrote.
In 2013, Gikovich also reported lobbying Brown's office on behalf of Houston-based Halliburton, the oilfield services giant, on a proposed senate bill sponsored by then-Democratic State Senator Fran Pavley that regulated hydraulic fracturing—"fracking"—an oil extraction method that brings with it the risks of drinking water contamination and of inducing earthquakes, as well as air pollution.
That bill lost the support of environmentalists after the oil industry lobbied to amend it to allow fracking to continue while the process was being studied, as High Country News reported at the time. Westrup countered via email that "prior to this bill, there was no integrated, comprehensive regulatory oversight of this production stimulation method, which has been used in California for more than 30 years."
Gikovich wrote that the Crane Group "had a small subcontract" to provide strategic advice to Halliburton and that she "never spoke even once to the Governor or staff on their issues, including fracking."
The report also credits Gikovich with playing a key role in advocating for the Southern California Gas Company after its Aliso Canyon natural gas storage facility sprung a massive methane leak in 2015, causing the evacuation of thousands of nearby residents. She lobbied Brown's office on behalf of the utility in opposition of a bill that would have granted disaster victims more latitude in litigation against the company. In an email, she said that she submitted a lengthy policy memo, but did not speak to Brown or his staff.
Brown nixed the bill, writing that "nothing has been shown to indicate that current law is insufficient to holding polluters accountable."
"It seems pretty clear that Gikovich's lobbying of his office correlated really closely with his veto of this," said Seidman.
---
Copyright Capital & Main