Two Bills Shine Light on Skyrocketing Drug Prices
Senate Bill 17, a prescription drug reform law, is headed to Governor Jerry Brown's desk. But its authors are not taking a victory lap just yet. "We assume [the governor] will sign it, but you know anything can happen," says state Senator Ed Hernandez.

Last week Capital & Main spoke with the authors of Senate Bill 17, comprehensive legislation establishing transparency for prescription drug prices, a day after the bill crossed the final hurdle in the California state Senate. It's now on its way to Governor Jerry Brown's desk. But Sen. Ed Hernandez (D-West Covina) and Assemblyman David Chiu (D-San Francisco) told Capital & Main that they weren't taking a victory lap just yet.
"We assume [the governor] will sign it, but you know anything can happen," Hernandez said.
U.S. spending on prescription drugs hit a record $450 billion in 2016, according to one health-care research group.
SB 17 requires pharmaceutical companies to notify health insurers and government health plans at least 60 days before any prescription drug price hike would exceed 16 percent over a two-year period. It compels drug makers to provide a rationale for price increases, including documentation of any improvement in "clinical efficacy" over other drugs. Supporters of SB 17 say that transparency alone won't stop drug price spikes, but it's an important first step.
In addition, the bill requires health insurers to annually report the 25 most frequently prescribed drugs, the 25 most costly drugs, the 25 drugs with the highest year-over-year increase in total annual spending and the proportion of premiums spent on prescription drugs. Chiu and Hernandez have said these mandates would give the public and health insurers a clearer sense of which drugs are driving up the cost of health care. Vermont, Maryland, Nevada have similar laws, but SB 17 is considered more comprehensive, partly because it covers generic and brand drugs.
The authors' tempered enthusiasm about SB 17's passage springs from years of heavy lifting and many setbacks. The legislation was fiercely opposed by the pharmaceutical industry, which up until its passage was taking out full-page newspaper ads denouncing it.
"Big Pharma knows that California can be a blueprint for drug price transparency for the rest of the nation," Hernandez said. He also urged the U.S. Congress to act on pricing transparency. "If lawmakers in DC want to get something done [in] a bipartisan way, this is the issue."
It was not just legislative muscle but growing public anger that shifted the political winds, Chiu said, citing an April poll conducted by the Kaiser Family Foundation, in which 86 percent of respondents said drug companies should be required to disclose how prices are set.
"Drug prices have been skyrocketing," Chiu said. "Recently we've had stories of $1,000 for an EpiPen, and Martin Shkreli raising the price of a lifesaving drug 5,000 percent. The public is clearly frustrated."
U.S. spending on prescription drugs hit a record $450 billion in 2016 – or $323 billion after discounts from manufacturers to insurance companies – according to a recent report by the health-care research group QuintilesIMS.
With the public strongly behind transparency, the bill attracted a broad and eclectic coalition, including labor groups, Republican legislators, the California Hospital Association and several chambers of commerce.
However, Pharmaceutical Research and Manufacturers of America deputy vice president for public affairs Priscilla VanderVeer lamented SB 17's passage, claiming in a statement that it was "unfortunate that lawmakers chose to score political points instead of addressing patients' concerns with access and affordability to medicine."
The California Life Sciences Association was also opposed to SB 17. Its president and CEO, Sara Radcliffe, said in a prepared statement that the bill would "tell us nothing of the actual costs resulting from discounts, rebates and other price concessions that pharmacy benefit managers (PBMs) and insurers extract from manufacturers, it will create an incomplete and misleading picture of drug costs in California."
Trish Riley, executive director of the National Academy for State Health Policy, dismissed that concern, telling Capital & Main that SB 17 was a "strong first step, but not the last step, toward getting pricing information that consumers deserve."
A companion bill to rein in pharmaceutical company practices is also on its way to the governor. Assembly Bill 265, authored by Assemblyman Jim Wood (D-Healdsburg), prohibits the use of coupons for medications when cheaper drug options are available.
Riley said that consumers benefit from these coupons, but "[the coupons] are time-limited, and then the patients have started a higher-priced drug that they ultimately won't be able to afford when the coupon expires."
Anthony Wright, executive director of Health Access California, a nonprofit advocacy group, said in an interview that, in addition to being a first step toward drug price control, the passage of both bills shows that the industry is not invincible.
"For too long, common sense ideas to rein in drug prices haven't been introduced," Wright said. "People thought, 'We can't win, so what's the point?' SB 17 and AB 265 offer a counter-narrative that Big Pharma can be beat."
---
Copyright Capital & Main

State Senator Predicts "Sledgehammer Time" If GOP Tax Bill Passes
Holly Mitchell, a leading legislative advocate for children and low-income Californians, says the state may return to the days of budget cutting if the current Congressional Republican tax plan becomes law.

State Senator Holly Mitchell (All photos by Joanne Kim)
Holly Mitchell, the state Senator who represents Los Angeles' heavily blue-collar 30th District, has been called by one colleague the "social conscience of the entire Senate." A personable policy wonk whose career included a stint as chief executive of Crystal Stairs, a child development nonprofit, Mitchell chairs the Senate Budget Committee — the first African-American woman to do so. She recently sat down in Pico-Fairfax with Capital & Main at the Paper and Plastik Cafe to talk about the possible effects of the Republican tax bill on California's poor.
---
Capital & Main: Taking the temperature between now and New Year's, what's your prognosis for the House and Senate tax bills?
Senator Mitchell: The GOP tax plan is a redistribution of wealth from the poor to the rich or semi-rich. It gambles away the health care of poor people and this is unacceptable.
I'm so disappointed with the work of the [U.S.] Senate Budget Committee. I can't imagine being a legislator, getting a report from the Congressional Budget Office that says the things it says about these bills — and voting to pass it. Did they ignore it? Did they not care?
One Senator, when interviewed, expressed concern about the bill's potential to make the deficit skyrocket. When asked if that was enough to make him not vote for it he said, "I'm not sure. I'm still working on it."
Senator Mitchell: The whole point of having the support of fiscal analysts and the Congressional Budget Office, with their independent status, is to provide you with critical data to help you make a decision. How can you say, "Oh yeah, that's bad, but I'm not sure if I'm going to go forward on this or not"? Politics is continuing to trump — lowercase T—what's best.
Is Sacramento concerned?
Senator Mitchell: Am I concerned? Yes! But I think what I'm more concerned about now is the Healthy Families Program.
This is the entitlement for California families who aren't poor enough for Medi-Cal — but don't earn enough to have private insurance.
Senator Mitchell: It provides care for about two million kids [and] requires federal reauthorization. And [Congress] has not reauthorized it. That could have immediate impacts on California's budget. It's a separate process [from the federal tax bills] but they have already missed the deadline.
It's also been said that the tax proposals could undermine affordable housing construction in California because they would affect the credits and tax breaks that developers receive.
Senator Mitchell: Yes, which are critical for developments to pencil out. Given how far behind we are in terms of our housing-unit need, it would be devastating. L.A. County has done amazing things — voters have said yes to Prop M, yes to Prop HHH. All of that could be compromised — this delicate balance where developers can come in, get these credits to build affordable units. We're already behind the eight ball in terms of our need. This would be yet another blow.
Defenders of the tax bill say everybody will get their taxes cut initially. Then by 2027, according to the Congressional Budget Office, middle- and low-income people will experience a net loss.
Senator Mitchell: They claim that they're protecting "the middle class" — folks who make $100,000 and over. But that's not how we define the middle class in California—here the salary threshold is much lower. What they claim is good news, I think, masks the bad news. And they're rushing it through the process.
What steps are needed to analyze and create a response for a new federal tax plan's effect on California?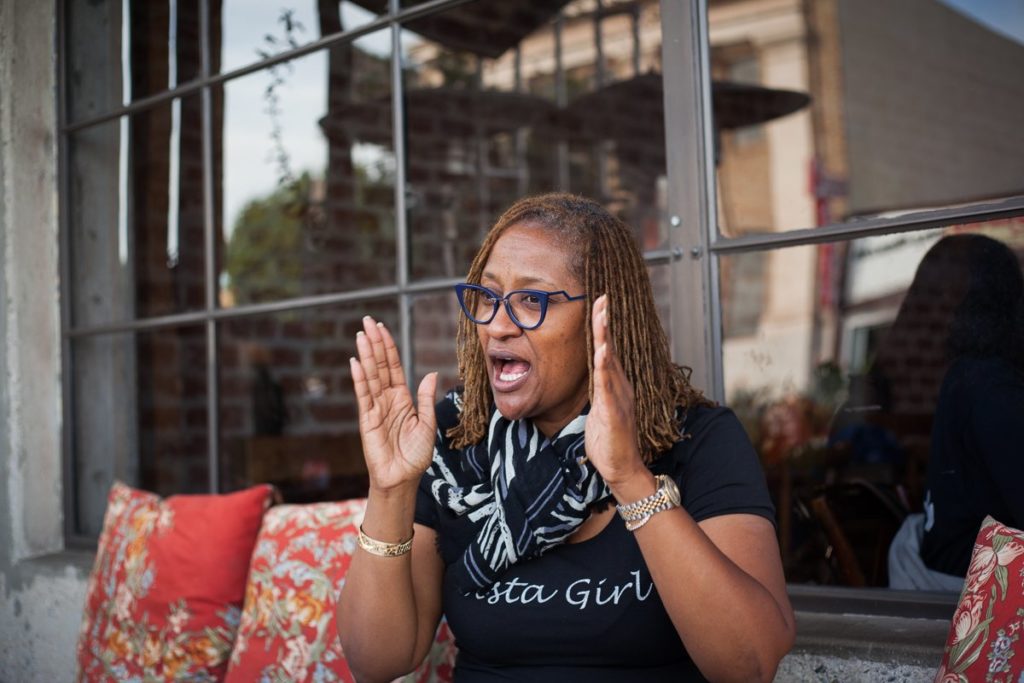 Senator Mitchell: It will be a process. Unlike [the U.S. Senate], I will rely on our Department of Finance, the Legislative Analyst's Office, the Senate Budget Committee staff to have discussions, to have a full budget hearing.
What's your sense of the tax proposals' potential effect on the state's economic health?
Senator Mitchell: How we earn income as a state government could be severely impacted. We are socking money away into rainy-day funds to try to prepare for the time at which our recovery will slow down — [but] we couldn't save enough to prepare for these [federal] proposals and the kind of hole they could blow in the state's general fund.
What's your plan if California does take a financial hit?
Senator Mitchell: As budget chair, I would be forced, as painful as that would be, to go back to the days of cutting. We may not be able to use a scalpel. It may be sledgehammer time — it would be devastating. In terms of the trend we've experienced with investments in K through 12, early education, the investments we have made in the last couple of years in the University of California and Cal State University systems — all these investments that we've made to expand access to services, would be impacted.
We fund Opti-Cal and Dental-Cal [for eye and dental care] — those are the kinds of core, basic human services that we could potentially have to roll back again. Medi-Cal funding helps undergird and support our overall health-care delivery system. If that went away, everything would be compromised.
---
Copyright Capital & Main