Trump Poised to Repeal Popular Federal Jobs Initiative, With Disproportionate Impact to Be Felt by Minorities
Co-published by Newsweek

With momentum on infrastructure rebuilding stalled, the Trump administration this week is moving ahead to repeal a two-year initiative dating from the Obama administration that might be the only dynamic infrastructure and jobs program in existence at the federal level.

Ami Rasmussen, an interior assembly foreman at the Kinkisharyo railcar factory in Palmdale, CA. (Photo: Deanne Fitzmaurice)
A program that has enabled states and cities to create thousands of new, high-wage transportation and construction jobs will be terminated Friday.
---
Co-published by Newsweek


When President Donald Trump presented his latest round of regulatory cuts at an August 15 press conference, he billed the sweeping elimination of environmental reviews and restrictions in federal construction permitting rules as a prelude to his long-stalled $1 trillion infrastructure rebuilding program.
But with momentum on infrastructure stuck in neutral, the administration this week is quietly moving ahead to repeal a two-year-old initiative dating from the Obama administration that might be the only dynamic infrastructure and jobs program in existence at the federal level. According to its August Significant Rulemaking Report, the Department of Transportation (DOT) has set Friday as the termination date for a program that has already enabled states and cities to create thousands of new, high-wage transportation and construction jobs in some of the nation's most depressed local labor markets.
"Many of these jobs were finally addressing long-term unemployment — many, for people of color," said Angela Glover Blackwell, CEO of PolicyLink, an economic and social equity think tank. "This is yet another example of the Trump administration not standing up for jobs for the nation's most vulnerable."
Madeline Janis, executive director of Jobs to Move America (JMA), a national coalition that has been at the center of leveraging public transit projects to generate opportunities for the unemployed, has been raising the alarm about the repeal. She told Capital & Main that she discovered it buried in the DOT rules change report almost by accident.
"It's inexplicable to us why the Trump DOT would withdraw a proposal to make jobs available to people who need them — and in places where transportation infrastructure is being built and invested in," she said. "For an administration that has talked about caring about creating good jobs related to infrastructure, it's a complete contradiction between the stated policy versus the actual policy."
Called the Local Labor Hiring Pilot Program, it essentially created an exception to a Reagan-era, free market interpretation of the Common Grant Rule, the department-wide administrative requirements for all of DOT's federal grants. The Reagan Justice Department had prohibited contract requirements unrelated to price and engineering specifications, calling them an unfair competitive burden on corporate bidders. The Obama DOT didn't repeal the old rule, but it enabled local agencies to get permission from DOT to write "geographic-based hiring preferences" into their federally funded transportation construction projects.
This pilot, which was given a five-year extension by outgoing Transportation Secretary Anthony Foxx days before Trump's inauguration, has offered cities and states that receive federal transportation grants a process that enables them to include otherwise prohibited local hire and project labor agreements that local agencies have used to steer high-quality jobs to the kind of low-income areas where big transportation projects invariably get built.
"Policies like construction local hire have created tremendous opportunity in cities like Los Angeles, like Cleveland, like New Orleans," Janis noted. "We have seen direct benefits for a lot of people, from low-income communities who really have almost no prospects for a career-path job."
Janis also worries that the repeal of Local Hire may be only the first shot in a broader offensive by the Trump administration that will be aimed at similar, DOT-approved targeted hiring provisions on the manufacturing side of federally funded procurement contracts. Although not tied to the construction contracting pilot, these DOT-compliant work-arounds of the "competition rule" have had the same effect — incentivizing the creation of targeted manufacturing jobs for disadvantaged and historically excluded U.S. workers.
Los Angeles voters last year overwhelmingly passed Measure M, a sales-tax ballot initiative that will raise $120 billion over the next 40 years for a major rail and bus expansion by LA Metro. The public transit system has made targeted hiring a centerpiece of its major capital projects. That commitment was expressed last week in a letter opposing the repeal sent to DOT Secretary Elaine Chao, and cosigned by Metro CEO Phil Washington and Los Angeles Mayor Eric Garcetti.
"When federal funding often constituted 80 percent of the funding for transportation projects, it may have made sense to prohibit local hiring practices," Washington told Capital & Main by email. "Today, with most of Metro's projects being built with local funds paid for by Los Angeles County taxpayers, the old federal local hire prohibition no longer makes sense or represents sound policy."
What's more, he pointed out, by pulling the plug on Local Hire, Trump is eliminating the one program that has unequivocally delivered the homegrown jobs promised by his April "Buy American and Hire American" executive order.
After Friday, the Reagan free-market doctrine will once again be the administrative law of the land at DOT.
But equally as worrying, says Anastasia Christman, a policy analyst for the National Employment Law Project, is that the repeal also leaves the real job of Local Hire half-finished. When it launched, DOT had also published a notice that it eventually intended to amend the Common Grant Rule to permit all federal transportation contracts to include geographic hiring provisions. Local Hire was designed to support the change with objective data to determine once and for all whether geographic hiring preferences do in fact "unduly limit competition" in the bidding process.
Washington insists that LA Metro turned up no evidence that the targeted hiring negatively impacted the agency's labor or capital construction costs. "We do know that the workers who were hired," he explained, "were able to secure good-paying jobs, and in some instances, they were able to turn their lives around with a ladder of opportunity to enter the middle class."
"This is distressing in [two] ways," Christman said. "Rather than actually looking at the data, looking at the economy, looking at measurable outcomes and making policy decisions, [the repeal] is yet another example of some policymaker [reacting] to partisan pushing and lobbying. Local people lose, and we as a society as a whole lose, because we're just not making decisions in a smart way."
---
Copyright Capital & Main

Why 24 Hour Fitness Is Going to the Mat Against Its Own Employees
Co-published by Fast Company
24 Hour Fitness' policies have brought the fitness chain in the crosshairs of the National Labor Relations Board, which has said the company's employee arbitration agreements violate federal labor law.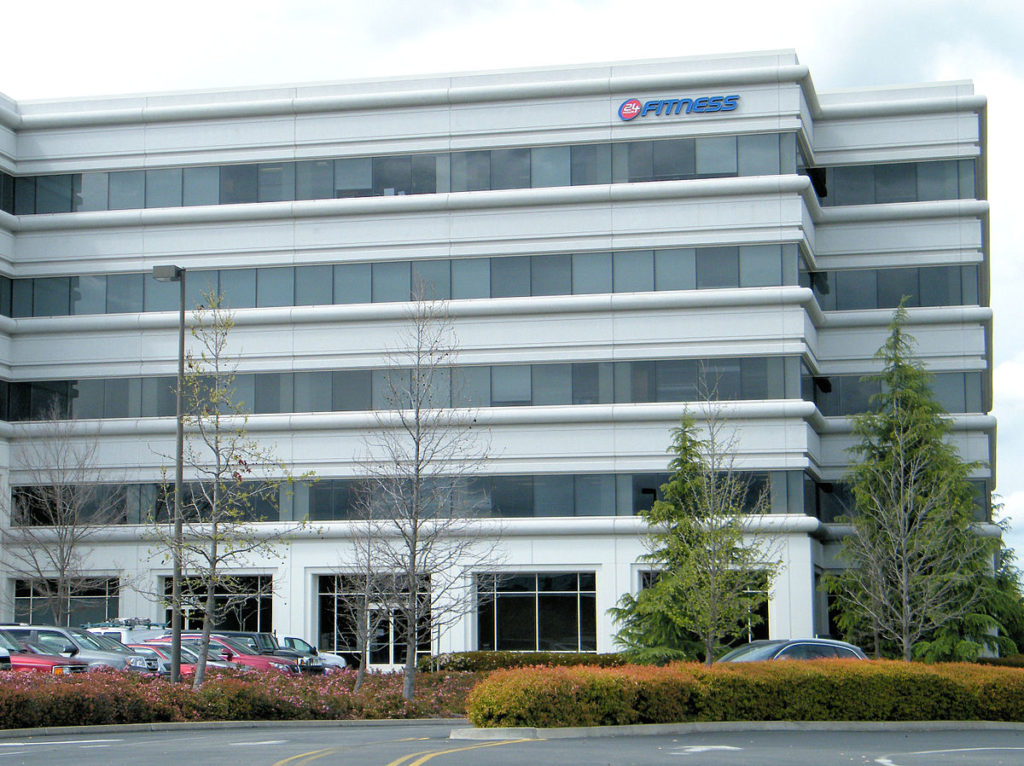 ---
Relentless pressure to sign up new members made one man question the chain's commitment to changing people's lives.
---
Co-published by Fast Company
On its website, 24 Hour Fitness says it has thousands of job openings. That's great news for fitness buffs hunting for work. Or is it?
Disgruntled former employees of the San Ramon, California-based company have filed hundreds of cases over almost two decades, some resulting in settlements in the millions of dollars.
And the large payouts appear to have made 24 Hour Fitness one of the nation's more aggressive advocates for curtailing workers' ability to defend their rights in court, labor lawyers say. That advocacy has also put the almost four-million-member-strong fitness chain in the crosshairs of the National Labor Relations Board, which has said the firm's employee arbitration agreements violate federal labor law.
The company's dispute with the NLRB may make it to the U.S. Supreme Court, which could hear oral arguments next term as to whether the contracts the firm asks workers to sign when they are hired violate historic worker protections put in place as part of New Deal legislation adopted in the 1930s. Those contracts ask employees to waive their right to come together to file class action lawsuits.
---
Attorney:  "24 Hour Fitness has been pretty aggressive in stripping workers of their rights."
---
Some workers say the company's single-minded focus on selling memberships caused it to run afoul of wage and hour law.
"We worked basically 8 to 8 every day no matter what, and if you got a lunch break it was usually at the club, or you went out and came right back," said Gabe Beauperthuy, a former general manager, who worked in fitness centers in Colorado before leaving the company in 2006.
At first, Beauperthuy said, he loved the work and embraced the company's philosophy of personal transformation. But the long days and relentless pressure to sign up new members made him question the company's commitment to changing people's lives, and even his own priorities. He developed a single-minded focus on bringing in the "almighty dollar" for the company because, he explained, "you're a product of your environment."
"I'm thankful that I realized that, and I'm thankful that I'm no longer there," said Beauperthuy, now a competitive amateur wrestler and coach.
24 Hour Fitness declined to comment for this story.
Beauperthuy was one of more than 900 managers, sales counselors and trainers to bring a collective action lawsuit under the Fair Labor Standards Act, alleging the company had misclassified them and denied them overtime pay. After the class was decertified and following seven years of litigation, the group settled for $17.5 million in 2013, according to published reports. The company settled another lawsuit involving thousands of California employees for $38 million, the nation's sixth largest wage and hour class action settlement of 2006.
Those cases may have made 24 Hour Fitness more steadfast in defending their employee arbitration agreement that asks employees to waive their right to bring class action lawsuits in NLRB v. 24 Hour Fitness, which the U.S. Supreme Court may review next year, depending on the outcome of a related case. The fact that 24 Hour Fitness has an employee arbitration agreement with a "class action waiver" does not make it unusual. But the company has been especially aggressive in defending its arbitration agreement in the courts, labor advocates say.
"Historically, there have been a few companies who went out of their way to fight and defend arbitration," says Cliff Palefsky, a San Francisco attorney who filed the unfair labor practice case resulting in the NLRB's finding that 24 Hour Fitness had violated the law. "They've been pretty aggressive in stripping workers of their rights."
About 60 million people—more than half of the non-union private sector workforce—are covered by mandatory arbitration agreements, according to an Economic Policy Institute study. These agreements require employees to resolve disputes through private arbitrators chosen by employers, rather than go through the courts.
An estimated 25 million of these arbitration agreements also include class action waivers, like those used by 24 Hour Fitness, in which employees give up their rights to band together to bring class action suits to address workplace disputes in the courts.
The contract language has received attention in recent months as the "Me Too" campaign has gained steam, and advocates pointed to the difficulty of raising workplace concerns individually in confidential arbitration proceedings that are crafted by the employer. Last year, U.S. Rep. Cheri Bustos (D-IL) introduced a bi-partisan bill that would prevent companies from keeping sexual harassment and sex discrimination claims from going to court, where the proceedings are typically in the public record.
A landmark case expected to be decided by the U.S. Supreme Court this term, National Labor Relations Board v. Murphy Oil USA, will determine whether class action waivers will be a continuing feature of employment contracts. It will also decide the fate of NLRB's dispute with 24 Hour Fitness.
"If the NLRB loses Murphy Oil, then our case would suffer the same fate, essentially," says Palefsky. In its Supreme Court brief, 24 Hour Fitness distinguishes its employment agreements from those at issue in the Murphy Oil case because the fitness employees are given 30 days to opt out of the class action ban.
But Palefsky counters that the rarely-used "opt out" provision is irrelevant because a worker's right to act collectively is one that cannot be signed away.
The argument about class action waivers might seem an academic one to job seekers if 24 Hour Fitness is now complying with the law.
There have been 621 employment cases filed in the federal courts against 24 Hour Fitness since 2000. On a per-establishment basis, that's more than eight times as many as have been filed against its competitor, Gold's Gym, during the same time period, according to a Capital & Main review of federal court records.
The disproportionately large number of cases is likely linked to the battle that took place between 24 Hour Fitness and Beauperthuy's attorney, Richard Donahoo, who continued to fight for his 900 or so clients even after a federal judge in San Francisco granted a 24 Hour Fitness motion in 2011 to decertify the class. (The judge's ruling that the plaintiffs' claims were not sufficiently similar prevented the case from moving forward as a collective action—not the class action decertification language–but the effect was similar.)
"Many times that means it's the death of the case because people don't want to proceed individually," said Donahoo, who is based in Orange County. "Attorneys can't do it economically."
Nevertheless, Donahoo and his colleagues decided to "swallow hard" and fight for each plaintiff individually. They filed hundreds of individual petitions in federal court to compel the company to arbitrate claims in Northern California, where 24 Hour Fitness is headquartered, and successfully fended off 24 Hour Fitness's efforts in 21 federal courts across the country to force the arbitration proceedings to take place near the clubs where each of the former employees had worked.
"Our case became a 'careful what you wish for' scenario for the company," Donahoo said. The company ultimately agreed to a settlement that resolved the individual claims at once.
Since then, 24 Hour Fitness has changed ownership. AEA Investors LP, a New York-based private equity firm, Fitness Capital Partners of Palm Beach, Florida, and the Toronto-based Ontario Teachers' Pension Plan purchased the firm in 2014 in a leveraged buyout. But reasons remain to be concerned about the practice of the fitness company, which employs about 20,000 workers and operates in a highly competitive industry.
In November, the company agreed to pay restitution and settled a lawsuit for $1.3 million filed by Orange County prosecutors, stemming from allegations the company increased annual renewal rates on prepaid memberships beginning in 2015 in violation of its contracts with customers. Customers were sold prepaid memberships and charged upfront fees with the guarantee of a low life-time renewal rate in 2006 but saw their rates rise as much as 300 percent nine years later, according to the Orange County Register. The company admitted no wrongdoing in the settlement agreement.
Last May, the ratings agency Moody's changed 24 Hour Fitness' investment outlook from "stable" to "negative." In justifying the downgrade, the report pointed to the growing number of fitness centers and the fact that the company is highly leveraged. The purchase of the company in 2014 was financed with $1.35 billion in debt, about 75 percent of the total cost, according to the Moody's report.
Moody's also singled out rising labor costs due to increases in the minimum wage in many of the regions where 24 Hour Fitness operates, suggesting the company employs a large number of low wage workers. Most of the clubs are concentrated in three states — California, Texas and Colorado.
"The company should be able to offset some of the pressure from minimum wage increases by using labor optimization, and reallocating the labor force within clubs based upon their age and member profile," according to Moody's report.
The economic pressures 24 Hour Fitness faces may explain the experience of one Ms. Randle, a former Kids' Club attendant, who asked that her first name not be used. She worked at a 24 Hour Fitness in Orange County from 2014 to 2016.
She said managers told her not to leave her post to take a break or use the rest room during her four-hour shift because the other staff on duty lacked the necessary clearance to work with children. She complained to managers and eventually to the human resources department, but had to file a complaint with the California Labor Commissioner's Office to resolve the issue and secure back pay for missed rest breaks, she said.
Ms. Randle thought that one of her co-workers endured repeated urinary tract infections that could have been caused by not being able to take bathroom breaks. Randle felt the managers lacked proper training. "They were always focused on selling memberships," she said. "They didn't care too much about their employees."
---
Roxane Auer provided additional research for this story.
Copyright Capital & Main