Trump's California Henchmen: Why GOP Congressionals March to His Tune
Co-published by International Business Times
California's GOP Congressional delegation has formed the backbone of Trump's legislative efforts, marching largely in lockstep with the president's agenda, even in districts where such Trump priorities as Obamacare repeal might adversely affect large numbers of their constituents.
Co-published by International Business Times

When President Donald Trump appeared on a video monitor at the Republican National Committee's Spring Meeting in San Diego on May 12, there was no hint that his policies might be causing many problems for the GOP in California or anywhere else. The 168 delegates from across the country assembled at the Hotel Coronado cheered wildly at the prerecorded video, in which the president seemed relaxed, even happy.
"I'll be going around to different states. I'll be working hard for people running for Congress and the people running for the Senate. We can pick up a lot of seats, especially if it keeps going the way it's going now," Trump said. "We're fixing things fast."
Indeed, California's 14-member Congressional delegation has formed the backbone of Trump's legislative efforts. With House Majority Leader Kevin McCarthy of Bakersfield leading the delegation, the group has marched largely in lockstep with the Trump agenda, even in districts where Trump priorities like his American Health Care Act might adversely affect large numbers of their constituents. In the 30 votes to date in the new Congress, 10 of California's Republicans have voted with Trump 100 percent of the time, and even Tom McClintock, the most skeptical of the group, has voted with Trump 90 percent of the time. As a bloc, they swung the health care vote. They have systematically dismantled environmental regulation. And they have been silent on immigration reform and on the border wall with Mexico, and on ramped-up enforcement actions by Immigration and Customs Enforcement (ICE).
All 14 voted for the American Health Care Act (AHCA), the House bill to replace Obamacare. Since that vote defied well-known demographics in some of their districts – for instance, reducing Medicaid in districts with hundreds of thousands of people supported by Medicaid – it could look like an admirable adherence to principle. Or, seen another way, ignoring the urgent needs of their constituents.
"I think it's shocking that there was unanimity among California Republicans in supporting a [health care] bill that is so antagonistic to the interest of California constituents," said Anthony Wright, executive director at Health Access, a leading health care consumer advocacy group. "There are members of the California delegation that voted for this that are far, far more vulnerable than members who voted against this in Pennsylvania or New Jersey. The only way I can explain that is McCarthy's influence."
Kevin McCarthy, whose position is relatively unassailable in his deep red district, was an early supporter of Trump. After Speaker of the House Paul Ryan refused to campaign for Trump in response to the 2005 Access Hollywood "hot mic" audio, on which Trump infamously said that being a star allowed him to grab women "by the pussy," McCarthy went to Ryan to help smooth things between him and Trump. Ryan and McCarthy, along with former Congressman Eric Cantor, had formed the Young Guns GOP Program in 2007 to recruit new blood to the Republican Party.
The House Majority Leader, whom Trump has referred to as "my Kevin," squeezed votes out of a delegation whose members had mostly stated, in public, that they had trouble committing to the AHCA. Jeff Denham of Turlock had said he was an outright "No," expressing concerns over cuts to Medicaid and safeguarding those with pre-existing conditions. He finally voted yes, even though figures published by the Center for American Progress found that 311,200 people (including 48,000 children) with pre-existing conditions in Denham's district would be at risk of losing their coverage under the version of the AHCA that passed; the same research organization tabulates that 51,000 people in his district would lose their coverage outright.
Similarly troubling numbers prevail in most of California's congressional districts, leading to the hesitation of many in the Republican delegation to mess with Obamacare. David Valadao was on the fence about it, concerned about cuts to Medicaid and the elimination of the Medicaid expansion, since Medicaid (in 2015 figures) covers over one-third of the adults in his district and 64 percent of the children; Steve Knight talked about preexisting conditions and premium spikes for older Californians; Darrell Issa said he hadn't decided right up to the last minute; even representatives from relatively conservative districts, including Paul Cook, Doug LaMalfa and Ken Calvert expressed reservations.
In several of these districts, reliance on Medicaid – or Medi-Cal as it's called in California – is driven by skyrocketing poverty rates. The rural agricultural or desert districts represented by Valadao, Denham, Devin Nunes and Cook, for example, have high numbers of people living below the poverty line. In 2016, Valadao's 21st District had 204,517 people living in poverty, or 30.2 percent of the population, and ranked 432nd out of 435 districts in the nation. Denham's poverty rate was at 17.6 percent. Nunes' was 19.9 percent and Cook's was 21.8 percent. Constituents stand to suffer even more if Medicaid funds are pulled away.
Concerning the AHCA vote, Wright put the California Republicans in three categories: First, the early adopting representatives who passed it out of committee. Those were Mimi Walters in Energy and Commerce; Devin Nunes in Ways and Means; Duncan Hunter in Education and Labor; and Tom McClintock in Budget. The second group were what Wright called the Clinchers – the rest of the delegation, most of whom had originally waffled on their votes. Finally, there came Darrell Issa, the former doubter who cast the 216th vote that passed the bill and was in the front row at Trump's celebration afterward, smiling and shaking hands.
"If [Trump] did not have those votes, this bill would not have passed," said Wright.
House members approached for comment either declined to comment or did not reply to interview requests. Similarly, the RNC's McDaniel and others at the San Diego gathering declined in-person interviews and the California Republican Party and other party offices also declined to comment.
In a speech at the RNC meeting, however, co-chair Bob Paduchik lambasted the Democrats, calling theirs a "bankrupt ideology," saying the Democrats have gone from the party of "Yes we can," to "No we can't."
The GOP clearly feels it has a mandate to pursue a purely partisan agenda, and health care is only one issue in which California's Republican delegation has played a starring role during Trump's chaotic first 100 days. McCarthy also ginned up votes in both the House and Senate to kill new state-run retirement savings plans being planned in eight states, including California's Secure Choice program, thus making it more difficult for nearly seven million Californians whose employers do not offer 401(k) plans to save for retirement. And there's much more.
"The first person who comes to mind is Devin Nunes, and his unconscionable escapades around the Russia investigation," said Eddie Kurtz, executive director of the Courage Campaign, which has led protests and education campaigns regarding Trump immigration and health care policy in conjunction with Health Access and Service Employees International Union. "Nunes' ability to put his party above his country really shakes you to the core."
As chairman of the House Intelligence Committee, Nunes, who was part of Trump's transition team, recused himself in April from heading up an investigation into Russian meddling in the 2016 presidential election. He is now under investigation for possible ethics violations after he discussed classified information pertinent to the investigation with the president before bringing that information to other members of his committee — after White House sources provided the information to Nunes. Since then, he has kept a very low profile, though he did vote for the AHCA, and for 100 percent of the president's legislative bills so far.
As much as California's House Republicans were out front scuttling Obamacare or knocking down Secure Choice, they've provided passive support to the president's immigration and environmental initiatives – two policy areas high on the list of concerns for most Californians – simply by saying nothing.
"I've been hoping that, at some point the House and Senate leadership would conclude that they have to put some distance between themselves and Trump on [immigration], and I haven't seen it yet," said Thomas A. Saenz, president and general counsel of the Mexican American Legal Defense and Education Fund. "There is some misguided sense of loyalty. I would think that it is past time to distance themselves."
Other than the proposed Muslim ban, Saenz pointed out, the president has not yet tried to pass new federal immigration policy. But he has greatly increased ICE arrests nationwide and has waged what Saenz called "rhetorical warfare," whipping up fear within immigrant communities. As Trump has tried to fund his border wall with Mexico and has threatened to strip funding from California for attempting to declare itself a "sanctuary state," representatives Valadao and Denham, among others in agricultural districts with large immigrant populations, have remained silent.
House Republicans from California, however, have rushed enthusiastically to gut environmental regulations, voting to kill an Interior Deparment stream-protection rule that prevents coal companies and others from dumping toxins into waterways, and passing the REINS (Regulations from the Executive in Need of Scrutiny) Act, which would cripple federal agencies' ability to make any rule with economic impact, such as Obama-era safety rules proposed after the Deepwater Horizon oil spill. The House delegation voted en masse to block another Interior Department rule, requiring oil companies to police methane leaks on tribal and federal lands, a key to climate change reduction, but, surprisingly, that rule was upheld in the Republican-led U.S. Senate.
Less conspicuously, House Republicans have distanced themselves from legislation that Californians have overwhelmingly favored, including the West Coast Ocean Protection Act, which would amend the Outer Continental Shelf Lands Act to permanently ban offshore drilling off the coast of California, Oregon and Washington. Despite past Republican support for drilling bans off the coast of California – the original ban was put in place by Richard Nixon after the huge Santa Barbara spill of 1969 – not a single House Republican has joined the 33 Democratic co-sponsors of the bill.
"What jumps out at me are the sins of omission," said a Democratic Congressional staffer who asked not to be named. "The California Republicans are supporting Trump with votes, but also with their silence on various issues."
How California's Political, Business and Thought Leaders Are Advancing Trump's Agenda
The story of California in the Trump era is one of both resistance and collaboration – a tension that will help determine the success or failure of the most polarizing president in modern American politics.
For the past four months, California has been getting a lot of credit for leading the resistance to Donald Trump. From the anti-Trump declarations of Governor Jerry Brown to the dissent of sanctuary cities, California has become, in the eyes of many, the last and best firewall between an autocratic right-wing takeover of the country and the preservation of American liberal democracy.
But there's another storyline that's been buried in all the press coverage of Golden State resistance – the leading role of key California power brokers in supporting the president's policies. In "Trump's California Henchmen," Capital & Main reports on how political, business and thought leaders have become indispensable to the success of those policies.
A case in point: the House of Representatives' repeal of Obamacare and passage of the American Health Care Act, which, as Dean Kuipers reports, would have been impossible but for the unanimous support of the California Republican congressional delegation. GOP representatives have also backed Trump on gutting far-reaching environmental rules and blocking states, including California, from setting up retirement plans for the millions of people without employer-provided retirement benefits. At the same time, they have largely remained silent as Trump has launched his promised crackdown on undocumented immigrants.
Maria Bustillos finds that the fingerprints of conservative California institutions are all over the Trump administration, including those of key officials at the National Security Council who were part of PayPal founder and Trump ally Peter Thiel's Bay Area business circle. Secretary of State Rex Tillerson's appointment was championed by a set of influential California leaders associated with Stanford University, among them former Secretary of Defense Condoleeza Rice. And, as Gabriel Thompson writes, even Democratic donors such as Tesla's Elon Musk and Disney CEO Bob Iger have joined Trump's business roundtable, justifying their decisions by promising to bring an adversarial point of view to conversations with the president.
In short, the story of California in the Trump era is one of both resistance and collaboration – a tension that will help determine the success or failure of the most polarizing president in modern American politics.
Trump's California Henchmen: Stanford and Big Oil Cast Long Shadows
California provides a substantial number of Trump's enablers and protectors. Some conceal their support of the president and his far-right policies behind venerated towers, such as Stanford University; others simply keep mum in the presumed anti-Trump bastion of Silicon Valley.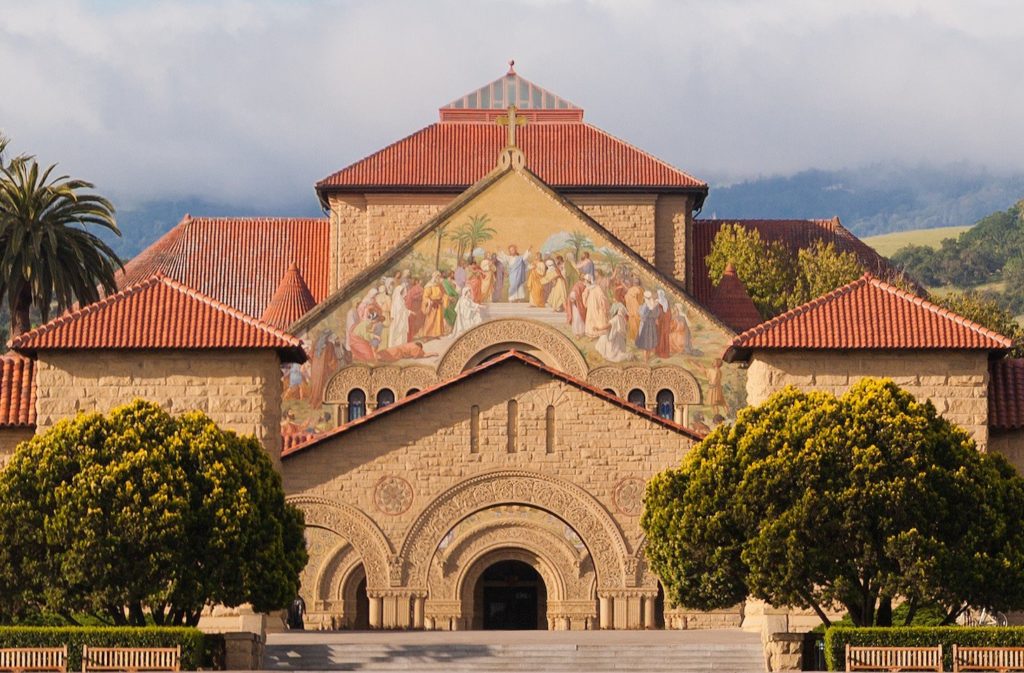 The Trump administration's best-known Californians are perhaps the three Steves: Bannon, the former Goldman Sachs trader, Hollywood producer and alt-right kingpin of Breitbart News, who is now one of the president's closest advisors; Miller, the Santa Monica-raised Islamophobe who writes Trump's speeches; and Mnuchin, the "Forrest Gump of the foreclosure crisis," as Elizabeth Warren once described him, who wound up in charge of the Treasury.
But the power of these three, built on their own mercurial personalities and vulnerable to the whims of this most mercurial of presidents, is tenuous compared with the political clout of corporations and a weaponized academia. Those twin establishments are particularly powerful in California—which, despite its avowed leadership in the "resistance," provides a substantial number of Trump's enablers and protectors. Some conceal their support of the president and his far-right policies behind venerated institutions, such as Stanford University; others simply keep mum in that presumed anti-Trump bastion of Silicon Valley.
Aside from California's obedient Republican congressional delegation, Stanford is perhaps the most powerful locus of Trump's support in the state. The university is home to two distinct pro-Trump factions. The first revolves around Peter Thiel, the libertarian billionaire investor and PayPal founder. A Stanford alum and founder of the school's ISI Collegiate Network-funded conservative newspaper, the Stanford Review, Thiel donated $1.25 million to Trump's presidential campaign, and spoke on his behalf at the Republican National Convention last year. Thiel was also an early investor in Oscar, the health insurance startup founded by Joshua Kushner, younger brother of Trump's son-in-law, Jared Kushner.
After Trump's election, Mr. Thiel went to Washington. Although Jim O'Neill, his chosen candidate to lead the Food and Drug Administration, lost out to the American Enterprise Institute-backed millionaire and pharmaceutical-company friend, Dr. Scott Gottlieb, Thiel's longtime Bay Area associates Kevin Harrington, Michael Kratsios and Michael Anton have taken high-level jobs in the administration. Kratsios serves as White House Deputy Chief Technology officer; Harrington as Deputy Assistant to the President for Strategic Planning on the National Security Council, and Anton as the NSC's Deputy Assistant to the President for Strategic Communications. (The hiring of former Thiel hedge fund manager Harrington in particular raised eyebrows, since his NSC position has traditionally been filled by people with deep diplomatic and foreign policy experience.)
Thiel, who lives in San Francisco, was also an early investor in Facebook, and sits on the company's board of directors; his connection to Trump is particularly troubling, considering the part the Menlo Park-based Facebook allegedly played in the 2016 election by enabling a fake news tsunami (that may have been a Russian disinformation campaign) intended to favor Thiel's preferred candidate. In public, Facebook CEO Mark Zuckerberg called the idea that his company had swung the election to Trump "crazy," while in private Facebook has long touted its effectiveness as a political campaign tool. Indeed, at this very moment the relevant pages invite political advertisers to use Facebook ads to "influence online and offline outcomes through DR [direct response] and video."
MediaQuant analysts estimated the total value of Trump's "free media" in the final 12 months of the 2016 campaign at $5 billion, as against Hillary Clinton's $3.2 billion. But this figure doesn't take into account Facebook's very popular News Feed, according to mediaQuant's chief analytics officer, Paul Senatori, who explained in an email that the News Feed "is a mix of actual earned media content (commercial media outlet stories), posts identified by Facebook from the user's friend connections, and a growing list of 'paid content' posts that frequently appear as 'news' but are actually promoted content." It seems safe to say that Facebook raked in a lot of real money in from all that fake news.
Thiel's fellow tech nabobs are generally careful to avoid explicit support of Trump, as Rebecca Nelson noted in the Atlantic. The experiences of Palmer Luckey and of Brandon Eich, powerful Silicon Valley executives who were excoriated when their conservative political leanings were made public, help explain why. But now that the dark money of political donations can be kept secret—the legacy of FEC v. Wisconsin Right to Life, Inc. (2007) and FEC v. Citizens United (2010)—it's impossible to know which of them may be supporting Trump behind the scenes. Unquestionably, the culture of Silicon Valley shares many characteristics with the Trump administration and its hard-right sponsors—extreme antipathy to taxes and business regulation, a taste for Ayn Rand-style libertarianism and a deeply ingrained patriarchal power structure.
Stanford's close ties to the energy industry and its lobbyists are at the center of an even more powerful web of connections to Donald Trump, whose administration has moved with unconcealed eagerness to help industry in general, and Big Oil in particular—doing away with climate and environmental protections, opening public lands up to mining and drilling, and so on.
Former Secretary of State Condoleezza Rice served as provost at Stanford from 1993-1999, overseeing the university's $1.5 billion annual budget and an academic program involving 1,400 faculty members and 14,000 students. She is a former board member of the San Ramon-based Chevron Corporation, with decades-long ties to Big Oil. And she is the founder of a lobbying (or rather, "international strategic consulting") firm, RiceHadleyGates, together with former George W. Bush administration figures Stephen Hadley and Robert Gates. Each of these three publicly praised Trump's nomination of ExxonMobil CEO Rex Tillerson as Secretary of State, despite Tillerson's lack of experience in government or with formal diplomacy. ExxonMobil is a client of RiceHadleyGates, and an active member of the Western States Petroleum Association, an industry group which spent $18.7 million in Sacramento trying to weaken California's environmental protections during the 2015-16 legislative session.
As Exxon's CEO, Tillerson entered into a $500 billion oil deal with the government of Vladimir Putin to extract oil reserves in the Russian Arctic, announced in 2012. The deal was halted by sanctions against Russia during the Obama administration. Tillerson's elevation to the position of Secretary of State takes on a particular complexion against this backdrop—as do ExxonMobil's greenwashing efforts, which swung into overdrive 10 years ago. One much-criticized example of this effort is the $100 million donation ExxonMobil pledged to found the Global Climate and Energy Project at Stanford.
"When you look at universities leading the way on climate and energy science and policy, you see that the entrenchment of fossil fuel companies is nothing short of systemic," Geoffrey Supran, a postdoc researcher at the Institute for Data, Systems and Society at the Massachusetts Institute of Technology, and in the Department of History of Science at Harvard University, told me via email. "Collaborations between academia and industry can, of course, be very constructive. But […] as I've experienced firsthand, academics risk falling prey to conflicts of interest, topic selection bias, researcher bias, and other effects, [and] history shows us that corporations frequently leverage the social license of institutions they fund as excuses for inaction and as misdirection from accusations of wrongdoing. ExxonMobil continues to use its funding at Stanford and MIT for this purpose."
In the event, Big Oil wasn't satisfied with just going to college. With the help of his influential friends in California, Rex Tillerson became Secretary of State under a president who has openly called climate change a hoax.
Tillerson's role in touting Stanford's Global Climate and Energy Project is a clear precursor of what is happening on a larger scale in Trump's Washington. In a speech he gave at Stanford in 2007 celebrating five years of the project, Tillerson said, "GCEP's work is ultimately about laying the scientific foundations for practical problem-solving that will help advance broad-based commercial solutions." In other words, he admitted quite openly that commercial interests were a key driver of Exxon's original pledge of $100 million (over 10 years) to the GCEP. Not that this could be in much doubt, in view of the fact that Stanford granted its original GCEP industry partners five years' exclusive use of any patents resulting from its research.
On May 3, Tillerson assembled his team at the State Department for what he called "a chat" in the Dean Acheson Auditorium. By then the American public was getting accustomed to a daily diet of shocks from Washington. Tillerson, widely characterized in the media as a sober, responsible "grownup," had ideas to share that were just as autocratic sounding as Trump's—though couched, to be sure, in more elegant language:
"[If] you condition our national security efforts on someone adopting our values, we probably can't achieve our national security goals or our national security interests. If we condition too heavily that others must adopt this value that we've come to over a long history of our own, it really creates obstacles to our ability to advance our national security interests, our economic interests. It doesn't mean that we leave those values on the sidelines. It doesn't mean that we don't advocate for and aspire to freedom, human dignity, and the treatment of people the world over. We do. And we will always have that on our shoulder everywhere we go . . . [A]nd in some circumstances, we should and do condition our policy engagements on people adopting certain actions as to how they treat people."
Ominous words for those Californians long accustomed to raising their voices in demonstrations, strikes and boycotts, as well as for those in the news media determined to ensure that their values condition government policy – often in direct conflict with the "economic interests" now front and center in the Republican-controlled government.
---
(Stanford photo by King of Hearts)
Trump's California Henchmen: Golden State Business Enablers
As the 2016 presidential campaign intensified, California business people would prove to be a critical source of financial support for Donald Trump, especially as more traditional GOP donors kept their distance from the unconventional candidate.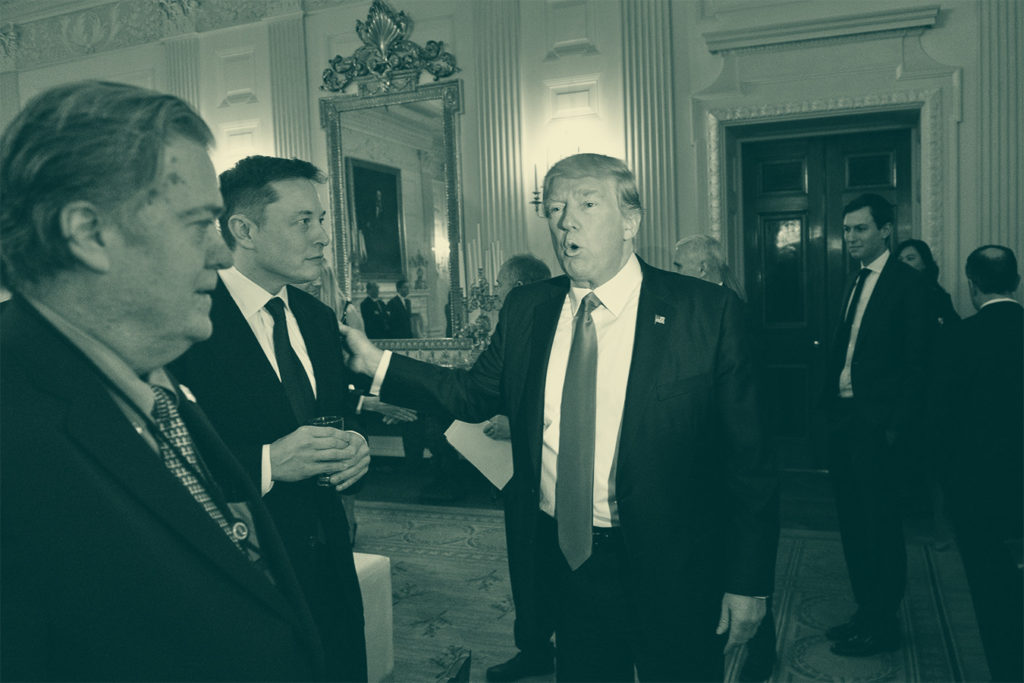 Elon Musk, center. (Photo: Brendan Smialowski/Getty Images)
Last August, on a scorching afternoon that saw temperatures reach 115 degrees, a small but noisy group of protesters gathered in front of an ARCO gas station in Mecca, an impoverished, unincorporated community 40 miles southeast of Palm Springs. It was an unusual setting for a demonstration: Miles from the nearest city and along a desolate stretch of highway, where the only crowds are typically farmworkers and Border Patrol agents gathered during the morning rush at a nearby Starbucks.
The protest's target was the gas station's owner, Nachhattar Chandi, an Indian immigrant and real estate mogul whose company is valued at $1 billion. Earlier that month, CNN had reported that Chandi—described by a local paper as "the closest thing the desert has to a tycoon"—had formed a pro-Trump super political action committee and personally donated $500,000 for billboards and radio spots in the swing states of Virginia, Florida and Ohio. The money came at a critical time, as it was just the third major advertising buy in support of Trump. Hillary Clinton and her supporters, meanwhile, were hauling in plenty of cash.
That Trump—who had launched his campaign by attacking Mexicans, and only ratcheted up the threats as he went along—had a major donor in the Coachella Valley came as a shock to many. The city of Coachella, where Chandi got his start as a gas station attendant in 1991, is 96 percent Latino, and Mecca, 99 percent. Conversations out here often slip from English to Spanish and back again. Nearly everyone has at least one friend or family member who is undocumented.
"Chandi has all these gas stations in the Coachella Valley and the majority of the customers and employees are Latinos," one protester told a local reporter. "Something is seriously wrong with that."
Along with more protests, some locals promised to boycott Chandi's businesses, which include dozens of gas stations and fast food restaurants. That fall, after Trump surrogate Marco Gutierrez warned that without Trump as president, the country could see "taco trucks [on] every corner," Coachella mayor Steven Hernandez organized four pop-up taco protests, including one across from a Chandi business. (In response, Chandi threatened to pull out of a $10.1 million development project with the city.)
Chandi did not respond to repeated requests for an interview, but he has previously stated that the "overzealous regulatory climate" makes it very difficult to start a business, and praised Trump as a "numbers man." His efforts to combat what he sees as stifling regulation have also made Chandi one of the most active political donors in the region: In recent years, he has spent more than $120,000 on state and local elections, supporting candidates who oversee zoning policies that impact his businesses. And concern for his sprawling business empire seems to overshadow whatever worries he might have about how Trump's hard-line immigration policies could impact locals. (Interestingly, he is married to a Mexican immigrant, Susana Chandi, who is the Chandi Group's chief financial officer. Efforts to reach Susana were also unsuccessful.)
Yet Chandi is far from alone. As the presidential campaign intensified, California business people would prove to be a critical source of financial support for Trump, especially as more traditional GOP donors, such as the Koch brothers and Sheldon Adelson, kept their distance from the unconventional candidate. Now that Trump is president, those same CEOs are hoping to cash in on his business-friendly agenda, which includes such long-sought goals as slashing the corporate tax rate. And despite the resistance rhetoric employed by many of California's Democratic-leaning CEOs, enthusiasm for such rollbacks is often a bipartisan affair.
The core of Trump's business support in California comes from real estate developers. A month before protesters descended upon the ARCO station, Geoffrey Palmer, whose company owns 10,000 units of housing, was identified as the country's largest individual Trump donor, giving $2 million to the Rebuilding America Now super PAC. Palmer, like Chandi, was relatively unknown in political circles, and had become involved in the Trump campaign through his friend, Thomas Barrack, a Santa Monica real estate investor.
Barrack's friendship with Trump goes back three decades. He is reported to be perhaps the closest person to Trump outside of Trump's immediate family, and says that he talks to Trump "every day." Barrack would certainly leave a lasting imprint on the campaign: his Rebuilding America Now PAC raised $22.7 million; he had a prime-time speaker spot at the Republican National Convention; chaired Trump's inauguration committee; and—quite fatefully, as it would turn out—was the person who introduced his good friend, Paul Manafort, to Trump. Manafort would become Trump's campaign manager and is now a central figure in the FBI's investigation into Russian interference in the 2016 election.
The political wish lists of California CEOs like Chandi, Palmer and Barrack are relatively simple: They want less regulation and less taxation. Palmer, known for his gaudy "fauxtalian" developments with names like Orsini and Lorenzo, once "accidentally" demolished a historic home that sat on land he wanted to develop. He has also repeatedly sued to challenge municipal requirements that his developments include low-income units, a mandate he has called "immoral." In 2007, he won a legal case against the city of Los Angeles, setting a precedent that now prevents any California city to force developers to include affordable housing in new construction.
"I'd suspect that if and when tax reform starts to take shape, there will be serious conversations with Trump to protect [business donors'] interests," says John Pitney Jr., a professor of American politics at Claremont McKenna College. "And that likely means that simplifying the tax code is not going to happen." Pitney worked for the House Republican research committee in Washington, DC, during the 1985-86 tax reform, and notes that, back then, Congress already had a full draft of the bill by this point in the year. "This time they've scarcely started, and how they expect to get it done is a mystery."
For prominent business leaders who lean Democrat, the Trump administration presents both opportunities and pitfalls. During an earnings call two days after the election, Disney CEO Bob Iger—who helped organize a fundraiser for Clinton—highlighted Trump's promise to lower the corporate tax rate. "That's obviously a good thing," he said, noting that it was now "likely to be addressed sooner rather than later." Trump has only released the sketchiest details of a plan, which calls for a reduction of the corporate tax rate from 35 percent to 15 percent. Last year, Disney paid $5.1 billion in taxes, at an effective rate of 34.2 percent. Trump's proposed tax cuts would have allowed Disney to pocket nearly $3 billion more in profits.
Iger sits on Trump's Strategic and Policy Forum, a business roundtable formed last December that has become a flashpoint for Trump critics, who argue that by participating, companies are implicitly endorsing the administration. In February, facing a consumer revolt, Uber CEO Travis Kalanick resigned from the council. But two other California members remain—Iger and Tesla's Elon Musk—and each now faces mounting pressure to step down.
During Disney's March shareholder meeting, Iger fended off criticism by arguing that he would remain on the council in part to bring an "adversarial" view. Musk took a similar tack, writing on Twitter that he was "doing good" by presenting a different perspective. This line of reasoning isn't convincing to critics like Doug Derwin, a Silicon Valley venture capitalist who has mounted a one-man campaign to drive Musk off the council. So far, he has spent $500,000 on ads that have run in the New York Times and elsewhere, and is prepared to spend $2 million in the effort. "Musk got rolled by Trump," Derwin told Bloomberg. "He has gotten absolutely nothing."
Like Iger, Musk has his own corporate interests to protect. In 2015, the Los Angeles Times reported that Musk's companies—Tesla, SolarCity and SpaceX—had received an estimated $4.9 billion in government subsidies, including nearly $500 million in direct grants from the Treasury Department.
Iger, in defending his participation in the council at the shareholder meeting, quoted from the musical Hamilton's song, "The Room Where It Happens." This premise works if one can picture Iger or Musk articulating a point during a council meeting—say, about the dangers of climate change—as Trump listens and takes notes, pondering and then acting on this new information. But is there anyone, by now, who can imagine such a scenario?
Enthusiastic Trump supporters like Chandi, of course, were never interested in playing an adversarial role. Still, it remains to be seen whether Trump will be able to deliver on the promises he wants to see, like the slashing of regulations and corporate taxes. What is clear is that Trump is already having a noticeable impact in California, especially in immigrant and farmworker communities like the Coachella Valley. Numerous medical clinics in the area are reporting significant drops in patient visits, which they attribute to fears of deportation. Families are limiting the number of times they leave their homes, and many have created emergency plans to ensure their children have someone to care for them if they are detained.
"There has been panic here, a terrible panic," said a mother of two boys, who lives in a trailer down the road from where the ARCO protest was held. The woman is undocumented and asked that her name not be used. Since Trump's election, she told me, she has felt a general heaviness, a sense that at any given moment, everything could be snatched away. The family rarely eats out and has stopped going to the movies, in order to minimize how often they drive — her nightmare is being pulled over and arrested by the Border Patrol in front of her children. She says that most of her friends are doing the same. And if this keeps up, at a certain point the fear that Trump has unleashed might even end up harming supporters like Chandi, who, after all, can't make money off of people who are too afraid to venture outside.