Trucks, Buses and Trade: Talking With Australian Labor Leader Tony Sheldon
Tony Sheldon, an internationally known trade unionist and the national secretary of Australia's Transport Workers Union, recently attended a Las Vegas convention of world labor representatives, hosted by the Teamsters. Capital & Main caught up with him later in Los Angeles.

Tony Sheldon, an internationally known trade unionist and Australia's national secretary of the Transport Workers Union (TWU), recently attended a Las Vegas convention of world labor representatives, hosted by the International Brotherhood of Teamsters.
The TWU has some 90,000 members, including truck and bus drivers, along with workers in freight logistics, aviation, warehousing and in some railroads and dairy plants.
Capital & Main caught up with Sheldon at his downtown hotel's restaurant during a brief Los Angeles stopover, and got his take on the struggles facing labor here and abroad, how multinational corporations are globally changing labor issues, Brexit and, for good measure, the proposed Trans-Pacific Trade Agreement, which is opposed by both Hillary Clinton and Donald Trump.
The lanky, soft-spoken and congenial trade unionist displayed an intense focus on the role of labor in a world dominated by multinational corporations.
"There were union people at the convention from all over, in particular the U.S., United Kingdom, France, Australia and Belgium," Sheldon said. "We focused our discussions on organizing the labor force of international corporations. We have significant fights going on around the world."
Sheldon said a handful of multinational corporations now control the lion's share of world trucking, logistics, transport and warehouse operations.
One of these corporations, he said, is XPO Logistics. According to its website, XPO – which is headquartered in Greenwich, Connecticut, with its European headquarters in Lyon, France – earns an estimated $15 billion in annual revenue and has over 88,000 employees in 34 countries.
The company, which is heavily backed by equity funds whose managers have no national allegiance or national accountability, went on a buying spree over the last few years. In the U.S., XPO bought Con-Way in 2015, a major U.S. transportation and logistics provider and a big presence at the Port of Los Angeles, he said.
"Once they [XPO] take over, the layoffs start and they've streamlined the process," Sheldon said. A particular problem in both the U.S. and in Europe, he said, is the "misclassification of workers" on road transports, which has created significant disruptions at the L.A. and New Jersey ports.
Misclassification of workers in the trucking industry, Sheldon said, is a tactic increasingly used by multinational corporations, particularly by XPO, to cut labor costs.
"They identify drivers as 'owner-operators,' even though [drivers] take all the risks and are fully controlled by the employer," Sheldon said. "The hours they work and the work they are allocated are also controlled, and they can only work for that employer."
Sheldon emphasized these owner-operators don't get paid any benefits or even a minimum wage.
"On a quiet work week, they end up paying for [a truck's] lease back to the company that owns the vehicle, as well as their fuel and insurance," he said. "They can end up going home to their families actually owing the company money."
Sheldon said that XPO has been operating this way in Europe, laying off in-house drivers and hiring what amounts to freelance drivers: "In France XPO has also been firing drivers and then engaging drivers from Eastern Europe and paying them Eastern European wages, because they are not obligated to pay them French wages or benefits." (In 2015 XPO's French division bought Norbert Dentressangle, a major logistics company that had been charged by a French prosecutor with employing this strategy. This past spring, after a court dismissed the charges against XPO/ND, the prosecutor announced an appeal would filed.)
Sheldon added that there have been a number of mini-strikes and court proceedings filed against XPO and connected to its alleged misclassification of workers in a number of countries.
"Unions have sent them correspondence asking them to come to the table to discuss these issues," Sheldon continued. "But XPO has said they will meet with the Europeans but not with the Americans or anyone else. And that's because U.S. laws don't require them to negotiate with labor unions."
According to Sheldon, the European unions, in a show of solidarity with U.S. labor, have refused to meet with XPO unless the company also meets with American unions. (XPO's representatives did not respond to repeated calls for comment on Sheldon's statements.)
  *   *   *
Another company the union reps in Las Vegas compared notes on was Durham Charter Services and its parent company, National Express, Sheldon said.
Durham, now headquartered in Illinois, began operations in L.A.'s San Gabriel Valley. It's an extension of Durham School Services, which, in turn, is a U.S. division of National Express Group Corp. – which is owned by National Express Group PLC of Great Britain.
Durham operates some 17,000 buses in 32 states, according to its website, and is the second-largest school bus operator in the country. Here in Southern California, Durham School Services operates in Santa Ana, Carson, Oxnard, San Bernardino and elsewhere.
"Wages and labor rights are collectively bargained in the United Kingdom," Sheldon points out, "but in the U.S. it's a fight for every inch."
The Teamsters, he added, are trying to organize Durham's drivers across the country but the company uses "all the classic union-busting techniques, including layoffs and firings to try and stop union activities," he said.
Much of the combined international labor activities regarding multinational corporations — calling hour-long mini-strikes, ordering slow-downs and filing legal complaints about misclassified workers – are designed to raise anti-labor issues in bargaining rounds across the world and to highlight the abuses of labor forces by these multinationals.
One successful organizing effort, he said, involved the Toll Group, an increasingly important player at the L.A. and New Jersey ports involved in container and transportation operations. Toll was purchased in 2015 by Japan Post Holdings, a Japanese multinational that owns the postal service in that country, along with banks, hospitals, logistics and transport companies.
Toll has been aggressively organized by the Teamsters, Sheldon continued. According to a July, 2015 Wall Street Journal report, Toll is one of a handful of big companies at the congested Port of Los Angeles that has been hiring drivers as full-time employees; the company has a large share of the short-haul trucking work at the L.A. port. Sheldon said it has come to the table with the Teamsters and the ensuing labor agreements have resulted in a stable and reliable work force for Toll.
As for Brexit, Sheldon said the June vote taken by the British to withdraw from the European Union "will give labor in the UK and internationally an appropriate way to deal with the growing dislike among all our communities with the current trade agreements."
Sheldon adds that unions around the globe are having a "best practices trade agreement" discussion to protect trade, labor and environmental rights: "We're seeing trade agreements around the world working against our communities and only for the corporations. So this exit vote gives us the opportunity to redefine trade agreements that are having a massive impact on our communities."
Sheldon, like most U.S. union leaders, opposes the TPP agreement and backed the Bernie Sanders campaign's evaluation of TPP, which relied on research done by the Economic Policy Institute.
Sanders claimed TPP will cost service-sector and manufacturing jobs; that U.S. sovereignty will be undermined by giving corporations the right to challenge American laws before international tribunals; that wages and benefits will be cut and collective bargaining agreements will be threatened.
Sanders, during his failed presidential campaign, laid out a forceful case against the TPP, starting with EPI's claim that the agreement will lose the U.S. an estimated 130,000 jobs to Vietnam and Japan alone.
"As much as I respect President Obama, the trade agreements he's negotiated are the worst," Sheldon continued. "There's nothing free about them except for what the corporations are free to do to our communities, particularly with TPP. It will drive many jobs away from this country, more from my country and unions will lose more workers. Capital will simply move from one country to another, wherever it's cheapest and the conditions are the nastiest."
However, Sheldon said he and his union are not opposed to all trade agreements and he would support one that protects worker rights in the U.S.
"Because when an American worker has his or her rights protected, an Australian worker gets his or her rights protected and then workers all around the world get their rights protected," he said.
---
(Photo by Jim Crogan)

What the NLRB's About-Face on McDonald's Means for Franchise Workers
While the National Labor Relations Board is currently divided 2-2, the confirmation of another Trump appointee will restore the Republican majority — which is bad news for fast-food-chain workers.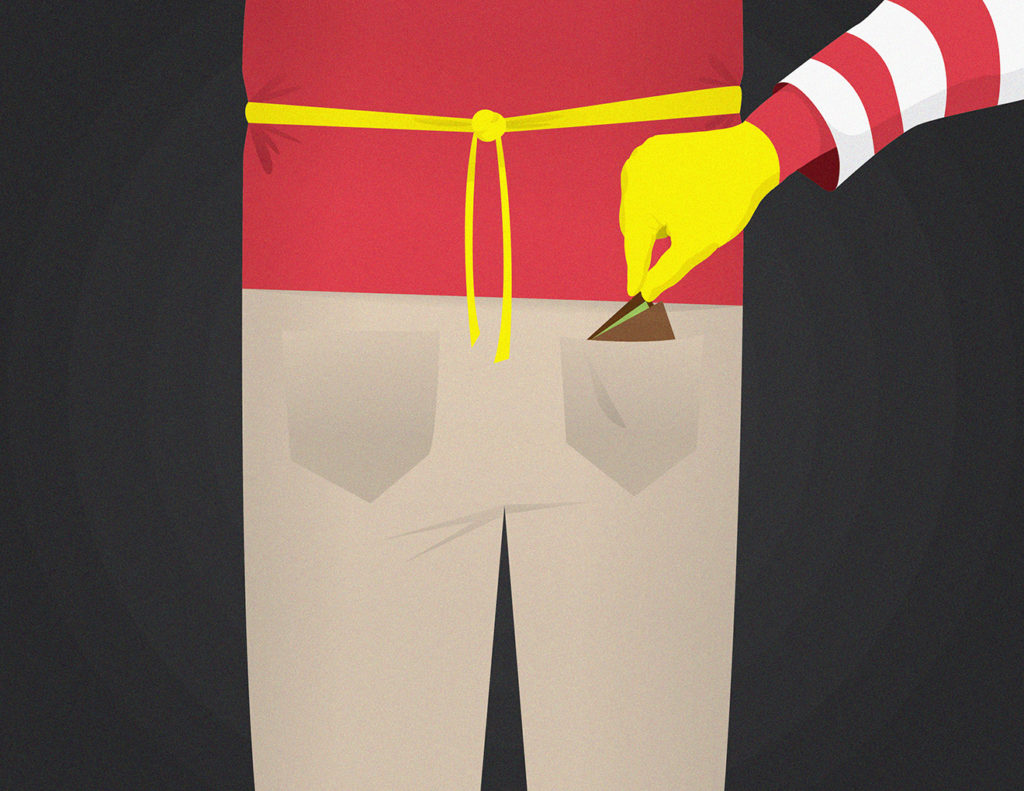 ---
With Donald Trump's election, the momentum at the NLRB is now with employers.
---
Workers at McDonald's joined the union-backed Fight for $15 campaign because many found that they could not get by on minimum wage without the help of family and public assistance. But joining that campaign spurred retaliation, with dozens of employees alleging that they lost money or their job for organizing to get better pay.
Enter the U.S. National Labor Relations Board.
In a victory for workers, the board decided the McDonald's Corporation was jointly responsible for punitive actions against employees across the country because the company dictates, among other things, how those employees cook and clean. That 2015 decision, in a case called Browning-Ferris, established a broad definition of "joint employer." It made franchisors potentially liable for the actions of individual franchises, citing the "indirect" control they exercised over employees and their workplaces. And it meant fast-food chains, among others, would have to collectively bargain with employees who joined a union.
Donald Trump was elected president the next year. By December 2017, the NLRB was back on the side of business with respect to who is and who is not a joint employer, the board overturning with a 3-2 vote the "indirect control" standard of Browning-Ferris.
Then a Republican member of the board retired, evenly dividing the NLRB along partisan lines. The board's inspector general then issued a report in February 2018 saying the December decision never should have been made — that, in particular, a Trump appointee should have recused himself due to a conflict of interest. The decision was thrown out, with congressional Democrats, such as Massachusetts Senator Elizabeth Warren, calling for hearings.
By that point, however, the NLRB had already ordered its lawyers to retreat in the most visible battle over the "indirect" joint-employer standard.
When an administrative trial began back in 2016, the NLRB had said McDonald's was jointly responsible for alleged labor violations at its franchises, including reduced hours, surveillance and wrongful termination of employees who had been organizing for better pay.
"If McDonald's is involved in determining working conditions at its franchised operations, it is responsible for what happens to workers subject to those conditions," NLRB lawyer Jamie Rucker said at the time.
But the NLRB sought and won a 60-day suspension of that trial earlier this year. Lawyers representing the Fight for $15 movement and its allies say the NLRB is now rushing through a proposed settlement that would see McDonald's get off without a finding of joint liability — which won't make it any easier for low-wage workers to collectively bargain.
"What I see is an attack on workers' ability to form a union," said attorney Marni von Wilpert of the progressive Economic Policy Institute (EPI). "If you were able to find a joint-employment relationship with the corporate [franchisor], then all of a sudden they all have one big employer, and all the employees can go to corporate McDonald's. That's really what it's all about, whether workers can organize."
Under the proposed settlement, McDonald's admits no wrongdoing, but its franchisees agree to cover back pay for workers fired as a result of their organizing.
The NLRB "is proposing a sham settlement," said Mary Joyce Carlson, a lawyer representing Fight for $15. "McDonald's directed a wave of retaliation that stretched from coast to coast and included illegally harassing, surveilling and firing workers in the Fight for $15. The hardworking cooks and cashiers who were organizing to get off of food stamps and out of poverty deserve a ruling in their case, not a settlement hammered out at the last minute in collusion with the Trump administration."
With Trump's election, the momentum at the NLRB is now with employers. Any setbacks would appear to be temporary: while divided 2-2 for now, the confirmation of another Trump appointee will restore the Republican majority. Once that happens, the NLRB can be expected to seek another opportunity to overturn the Browning-Ferris joint employer standard.
While Browning-Ferris did not explicitly pertain to the franchise model, it clearly spooked those who depend on it — and inspired those who think franchisors like McDonald's should be liable for the mistreatment of employees at locations bearing its name.
Fight for $15 has prioritized organizing at fast-food businesses, but forming unions is extremely difficult when a dozen small restaurants with the same name may have a dozen different owners. There are over 14,000 McDonald's restaurants in the United States, with only one in 10 owned by the corporation. The ability to collectively bargain with McDonald's, the corporate franchisor, would make a union's task easier — and help address the sort of labor violations that regulators routinely find at fast-food franchises. An EPI report says unionized workers are half as likely to be victims of wage theft, for example.
At an April 5 hearing, Fight for $15 attorney Kathy Krieger urged NLRB Administrative Law Judge Lauren Esposito to reject the settlement. Krieger argued that McDonald's had conspired with its franchises to thwart worker organizing, the corporation recommending, she said, that franchisees "restrict crew members from taking their meals or their rest breaks outside the crew room" as a means "to prevent concerted activity."
McDonald's attorney Willis Goldsmith said the company would never accept a settlement identifying it as a joint employer. "The franchisees, they're independent business people," he said. "They did whatever they did, and if they are willing to concede that, they're going to have to pay people. It's not our job."
While it appears the NLRB under Trump will ultimately reimpose the stricter, pre-Browning-Ferris standard that a joint employer must have direct rather than indirect control of workers, industry groups aren't taking any chances.
Jenna Weisbord, a communications manager at the International Franchise Association to which McDonald's belongs, said her group is looking to Congress to pass the "Save Local Business Act," which would legislatively reimpose the pre-Browning-Ferris standard. "We understand the Senate will take on this task later this year," she said of the bill, which passed the House last year.
A television ad campaign sponsored last year by the franchise association and the U.S. Chamber of Commerce argues the measure would restore "balance to labor law" in the face of a "runaway government agency." That agency, in the era of Trump, is increasingly tilting in the favor of business.
---
Copyright Capital & Main