Transportation and the New Mayor: The Path Forward
The success of Measure R, passed by voters in 2008, the "30-10" plan to accelerate implementation of our transit revolution, and the 66 percent "yes" vote on Measure J each demonstrates that Los Angeles voters are ready to invest in a transportation transformation. There is an opportunity now and a coalition partnership available that's too good to waste. Together with Mayor Eric Garcetti we must continue cultivating this voter trust and this partnership of labor, business, environmental, community groups and elected officials who share a common vision — of a Los Angeles with a clean public transportation system that is both robust and financially sound, and that has a vigorous economy with prosperity that is widely shared.
As Mayor Antonio Villaraigosa has demonstrated so clearly, we can think big about solutions to our challenges as a region — and we can expect to succeed. We can't let this momentum evaporate. We are a city that wants to continue to grow and prosper, and we are building the transportation infrastructure that ensures our growth and prosperity will be sustainable. And thanks to our mayor we have a path forward, we have the coalition and we have the tools.
Here is Move LA's take on the Top 10 transportation priorities for our new mayor going forward:
Continue working with our coalition to urge Congress to adopt the America Fast Forward bond program, which will provide LA Metro with the financing tools needed to build the 30-year transit program in 10 years.
Help build a statewide coalition to champion a California constitutional amendment that lowers the local voter threshold to 55 percent and restores democracy to the voting process. Why should every "no" vote count twice as much as a "yes" vote? Reducing the local voter threshold will enable voters to step up and provide local governments with the revenue that's needed to build the projects that voters have shown they truly want.
Dream big again, as we did in 2008, and begin planning what we could accomplish with another countywide ballot measure — 2016 could be the biggest opportunity to fund completion of the transit system: Extend the Crenshaw Line to Wilshire Boulevard and connect it with a new line from Hollywood and Highland, forming a continuous system from North Hollywood to LAX. Build the vision of a light rail connection from the San Fernando Valley to LAX. Extend the Foothill Gold Line to San Bernardino County and on to Ontario Airport. Extend the Eastside Gold Line to both Whittier and El Monte. Complete the Green Line/Crenshaw connection into LAX and extend the Green Line to Torrance. Complete the West Santa Ana Line from downtown LA to Cerritos. Connect the San Fernando Valley from Burbank Airport to the San Gabriel Valley. Finish the "Subway to the Sea" along Wilshire Boulevard.
Pursue public private partnerships (P3s) like the one being talked about to provide relief for the 405 Freeway — where congestion pricing and a toll road tunnel could help pay for a light rail line under the Sepulveda Pass — and provide an enormous opportunity to leverage private investment.
Invest with other counties to upgrade the Metrolink regional commuter rail system to provide cleaner, stronger transportation links between Los Angeles County and the Inland Empire, Ventura and Orange counties.
Create a truly regional airport system by connecting the regional commuter rail system to airports including Ontario, Burbank and Palmdale. This would provide enormous congestion relief as well as economic development benefit.
Continue greening the ports and the regional goods movement system — an enormous resource that provides hundreds of thousands of jobs and can do so with clean technology. There are plans for clean freight. We need to create an investment program to build it.
Collaborate with LA Metro on building out the new strategic plan that's underway for first mile/last mile bicycle, pedestrian and shuttle improvements — so riders can walk and bike and easily access stations.
Continue Mayor Villaraigosa's Transit Corridors Cabinet to coordinate policy and focus public investments along transit lines. Moderate and strategic increases in residential densities in mixed use developments will increase transit ridership while protecting neighborhood character and by honoring — rather than sacrificing — public trust and support.
Finally, the mayor must champion, protect and increase the supply of affordable housing, especially in neighborhoods with strong transit service. Affordable housing is an equity imperative and an environmental imperative. Only when working families can live with easy access to jobs and services can we have a truly sustainable community.
(Denny Zane is Executive Director of Move LA, a project of community partners. Gloria Ohland is the group's Policy and Communications Director.)

Rick Scott Invested in the Same Financial Firms As Florida's Pension System
Co-published by MapLight
For most of his time in office, Florida's governor has shielded his investments from public view. A new disclosure shows Rick Scott and his wife have invested at least $18 million in financial firms managing money for the state's pension system that he oversees.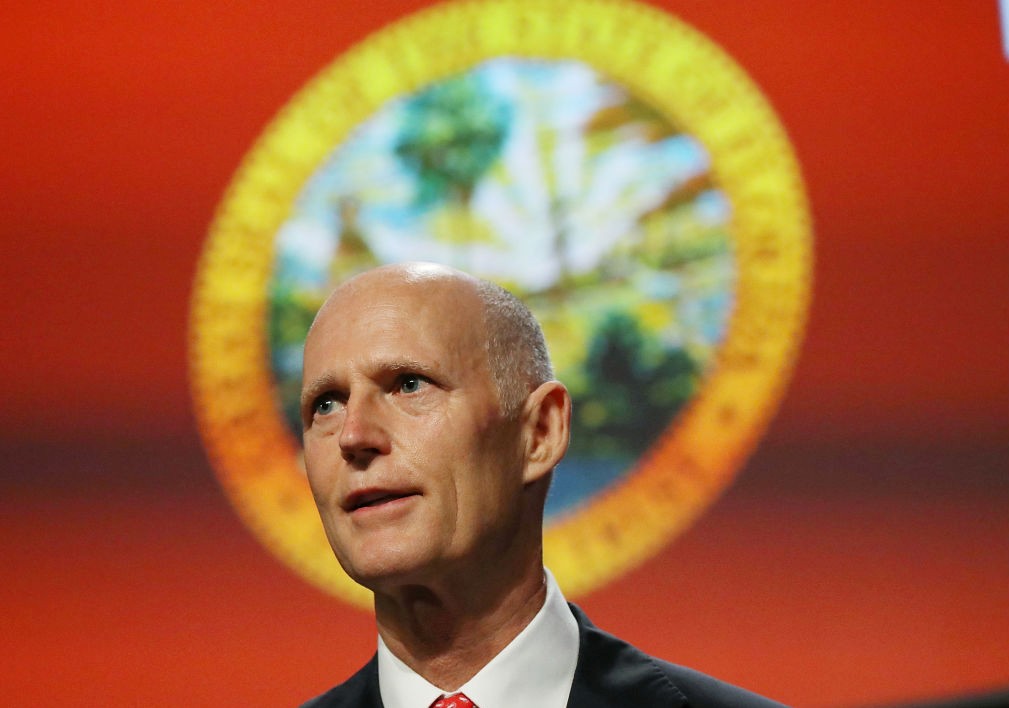 ---
Former SEC Lawyer: "There needs to be an investigation into whether the state is subsidizing Rick Scott's personal returns."
---
Co-published by MapLight
Florida Gov. Rick Scott and his wife have invested at least $18 million in three financial firms managing money for the state's pension system that Scott oversees — a situation that intertwines the governor's personal finances with his responsibility for supervising state employees' retirement savings.
The investments were first divulged in a federal financial disclosure form that Scott filed as part of his U.S. Senate campaign in July. For most of his time in office, Scott has shielded his investments from public view, and only reported their overall value in his blind trust.
The terms of Scott's investments remain undisclosed. The firms' own corporate documents say they can give certain investors special preferences not afforded to other investors — and experts have in recent years argued that hedge funds, private equity firms, and other "alternative investments" are giving such preferences to elite investors. One former Securities and Exchange Commission attorney told MapLight and Capital & Main that Scott must disclose whether he is being given such preferences.
---
Critics have raised questions about how blind the Scott family trusts really are.
---
Florida ethics laws are supposed to prohibit state officials from entering into contractual relationships with companies that do business with their agencies. However, after Scott became governor in 2011, state ethics officials said he and his family members could put their assets into a blind trust to avoid conflicts of interest and still maintain their investments in companies operating in Florida.
Critics have raised questions about how blind the Scott family trusts really are. Scott placed one of his longtime business associates in charge of managing his blind trust. The Tampa Bay Times reported that Scott's blind trust has invested with a private equity firm tied to a high-speed rail project in Florida. The trust also had an indirect interest in a cancer treatment company that received tax breaks from Scott's administration.
---
"The question is whether Rick Scott is being allowed to invest on better terms than the state pension fund."
---
"When Governor Scott was elected, he put all of his assets in a blind trust, which is managed by an independent financial professional who decides what assets are bought, sold or changed," said Scott campaign spokesperson Lauren Schenone. "The rules of the blind trust prevent any specific assets or the value of those assets within the trust from being disclosed to the governor, and those requirements have always been followed."
Scott is one of three state officials who serve as trustees for the Florida State Board of Administration, which manages a $160 billion fund for roughly 400,000 retirees. Scott, Attorney General Pam Bondi, and Chief Financial Officer Jimmy Patronis oversee lucrative state investment deals granted to cash-hungry Wall Street firms.
The three firms that have received $325 million worth of Florida pension investments have allowed the Scott family's blind trusts to simultaneously invest their personal fortunes in these funds. Scott's investments in the funds did not appear in a 2014 disclosure itemizing his holdings. His campaign did not say when the investments were made.
"There are no ethics rules that prohibit or limit a trustee from investing in funds also invested in by the SBA," said SBA spokesperson John Kuczwanski, though he added that trustees are subject to Florida's general code of ethics. Kuczwanski said that the governor has no involvement in specific pension investment decisions.
Don Hinkle, a Democratic lawyer, filed a lawsuit last year alleging that the governor has failed to comply with the state's blind trust and financial disclosure laws. He said he was surprised by the news that Scott had invested in the same firms as the Florida pension system.
"I would think that he would have avoided investments where the state of Florida's money is propping his up," Hinkle told MapLight and Capital & Main.
In 2011, a few months after Scott became governor, the SBA committed $150 million to Highline Capital Partners, a New York-based hedge fund. Scott's financial disclosure shows that his family's trusts have invested at least $4 million in the same Highline fund as the state.
The SBA also committed $100 million in 2015 to a hedge fund managed by Canyon Capital Advisors, a Los Angeles-based firm created by veterans of the notorious investment bank Drexel Burnham Lambert, which was driven into bankruptcy as a result of illegal and unethical trading practices. Scott and his family have invested at least $12 million in Canyon funds, according to his financial disclosure.
Before Scott became governor, the SBA invested $75 million with VSS, a New York-based private equity firm that was launched by a co-founder of Psychology Today. Scott and his wife, Ann, have invested more than $2.2 million in another VSS fund. A spokesperson for VSS said the firm doesn't comment on its investors.
All three firms' SEC filings say they can offer certain investors special fee terms or other benefits not offered to other investors.
"Alternative investment funds have the ability to offer every investor different fees at a different rate of return, so the question is whether Rick Scott is being allowed to invest on better terms than the state pension fund," said former SEC attorney Edward Siedle, whose Florida-based firm conducts forensic investigations of state pension systems.
"If you give one investor an advantage, another investor has to be disadvantaged," Siedle said. "That means there needs to be an investigation into whether the state is actually subsidizing Rick Scott's personal returns and whether the governor enjoys advantages that are harming the retirees."
Schenone, Scott's spokesperson, said that his blind trust has "been upheld multiple times by the State Commission on Ethics and the court system. Governor Scott has also followed the requirements of all state and federal financial filings."
She noted that former Florida Republican Gov. Jeb Bush and Scott's 2010 Democratic opponent Alex Sink had also used blind trusts, although Scott's campaign attacked Sink for hers at the time.
"Blind trusts sound good but can run afoul of state laws requiring public officials to disclose their personal finances," a Scott campaign ad said in 2010. "[But] simply moving large amounts of money into a blind trust does not magically erase the knowledge of what you own."
---
This piece was reported by Andrew Perez of MapLight and David Sirota of Capital & Main, and published in partnership with the Florida Center for Investigative Reporting.