Translators, Writers Seek Changes to Gig Worker Law
As the full scope of AB 5's passage grows clearer, independent contractors in a few fields fear the new law could hurt them.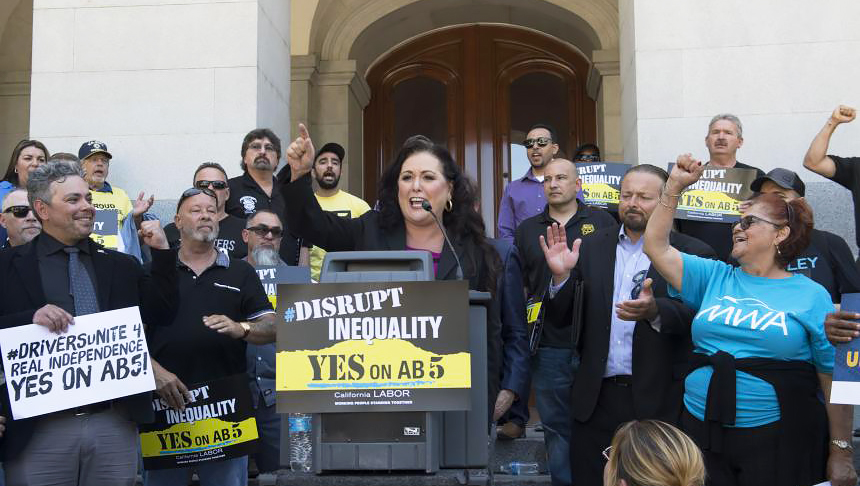 When California Assembly Bill 5, aka the "gig worker bill," goes into effect January 1, hundreds of thousands of Californians are expected to become eligible for employee rights they were denied by companies that had previously classified them as independent contractors – benefits such as overtime, sick pay, vacation leave and retirement accounts. Labor advocates are hailing it as a victory for workers that provides a clear and simple process to clarify who is an employee, with the presumption that a worker is an employee unless proven otherwise. They point to statistics showing widespread employee misclassification and wage theft throughout the U.S., especially in food service, trucking and residential construction.
But as the full scope of AB 5 slowly grows clearer, independent contractors in a few fields are claiming that the bill may cause certain employers within the state and without to hire workers from out of state, instead of Californians, whenever possible.
AB 5 codifies last year's groundbreaking California Supreme Court Dynamex decision that created a three-part test to determine whether a worker is an employee or a contractor. Under Dynamex employers must prove that the worker they are treating as a contractor a) is free from the company's control, b) is doing work not central to the company's business, and c) has an independent business in that industry. Workers who don't meet all three conditions must be classified as employees, and it's expected that AB 5 would reclassify many California workers.
Some occupations were granted exemptions, mostly on the grounds that their workers set or negotiate their own rates, communicate directly with customers, and make at least twice the minimum wage. These "carve out" occupations include doctors, psychologists, dentists, podiatrists, insurance agents, stockbrokers, lawyers, accountants and engineers. The exemptions were negotiated with the bill's author, Assemblywoman Lorena Gonzalez (D-San Diego) and industry stakeholders to cover workers who might fall through the cracks.
Nevertheless, self-employed professionals in certain occupations that didn't get exemptions question the fairness of who made the cut, and worry that they'll be hurt, not helped, by AB 5. Defenders of the law counter by arguing that AB 5 will overwhelmingly benefit workers and rein in misclassification abuses, and they insist AB 5 is clearer than Dynamex, which California employers, whether they know it or not, have been working under for more than a year.
*   *   *
Lorena Ortiz Schneider, a professional interpreter and translator for 27 years, says her industry was overlooked when discussions about exemptions were happening. "Most people don't know we exist," Ortiz Schneider said, referring to fellow translators and interpreters who work in administrative hearings, courts, classrooms and medical centers, mostly on a contract basis. They didn't get an exemption to AB 5, meaning the way they work, and whether they'll be able to work, is now in question.
"We mobilized too late, starting in mid-June," Ortiz Schneider admits. "We're not a well-organized lobbying group, historically." She says that while AB 5's goal of protecting workers is worthy, it doesn't take into account how interpreters and translators work. The 2010 Common Sense Advisory market research study, commissioned by InterpretAmerica, concluded that the vast majority of interpreters in North America are independent contractors and that "being nailed down to a 'job' would make meaningful communication and language access virtually impossible."
Ortiz Schneider believes there will be unintended consequences to AB 5 that will hurt many in her industry. "Will a court in Santa Barbara that needs an interpreter in Hmong maybe once or twice a year hire a Hmong interpreter full-time? No. [The court] will just go without that service now." She also has a prediction for workers in the industry. "I anticipate we will lose many jobs to interpreters in other states. I know of one provider of telephonic interpretation who uses freelancers throughout the U.S. and has stopped hiring certified California medical interpreters to comply with AB 5." Capital & Main has also found online employment listings excluding workers from California and Massachusetts, which passed a similar law in 2004.
Responding to the fears of translators and interpreters, Gonzalez told Capital & Main that some professionals may have to work for a company that places them for short-term gigs rather than working directly for a court or a hospital. "There will be a redistribution of work [under AB 5], but the same amount of work needs to get done," she said.
* * *
Like translators and interpreters, some California-based freelance writers and journalists worry they will be frozen out of work, even from employers to which they've contributed for years. They point to evidence that some employers, including Northstar Travel Media, which uses travel reporters, are wary of working with California writers, as the Columbia Journalism Review reported in March. The article said that that under AB 5, California reporters could lose jobs to people in other states without a similar labor law.
Freelance writers and reporters operate in a gray zone where many meet the first and third test of Dynamex—they are free of employer control and they have an independent business in that industry—but may not meet the second test. Many are doing work that's central to the company's business. It's easier to say a plumber who comes to fix pipes in a newspaper's office is not central to the news business. It's a harder argument to make for a freelance reporter, though reporters did get a major exemption that allows them to write up to 35 pieces a year per publication. Writers who produce a lot of short pieces for a publication, however, say they'll reach that 35-submissions cap well before a year is up, sometimes within 30 days, and that the law will decimate their business.
A former president of the American Society of Journalists & Authors, Randy Dotinga formed a coalition of writers, journalists and photographers to work with Assemblywoman Lorena Gonzalez (D-San Diego), the author of AB 5, in amending the bill to make it narrower than the Dynamex decision (which Gonzalez points out had no cap and theoretically put every freelance writer out of compliance with labor law). Like Ortiz Schneider, Dotinga worries that companies' confusion and fear over the submission cap will end up hurting journalists and other writers. "We worry out-of-state companies will blacklist us. That's already happening. In-state companies are saying they can't figure this out. It is very complex, and they're liable for big money if they screw up and are sued." AB 5 applies to the location of the worker, not the company: a California company hiring a Texas freelancer is fine, but if a Texas company hires a California freelancer, AB 5 comes into play.
One attorney points out that the penalties for misclassifying employees under AB 5 include "fines between $5,000 and $15,000 per violation of the law, in addition to any other fines allowed by law. If the employer is engaged in a pattern or practice of violating this law, the fines are increased to between $10,000 and $25,000 per violation." Writers and journalists—along with translators, interpreters, and musicians—say they fear employers will avoid that risk by not using Californians to do the work.
Fred Topel, a Los Angeles-based entertainment journalist who files many more stories per client than AB 5 would allow, already sees a chilling effect on employment. "In soliciting work from new clients, they have said they will avoid working with California journalists," he says. "But I can't move to another state to do this. I cover Hollywood."
Topel and other writers and journalists have been petitioning Gonzalez to amend AB 5 to lift the submission cap. But Gonzalez told Capital & Main that the cap was a fair compromise, and that her aim was to protect freelancers from exploitation.
Gonzalez, who has an extensive background as a labor leader in San Diego, suggested that any potential loss of freelance work is the price to pay for worker protections applied to those who are employed. "I can't prevent an out-of-state company from [not hiring a Californian]. Just like when we passed labor laws, you can't prevent a company from saying, 'Forget it, I'm going to move to Texas where there are no labor laws.'"
Dotinga and other professional freelancers counter that forcing companies to bring contract workers on staff, even part-time, doesn't mean the companies have the budget to do so.
In a Twitter thread, Veena Dubal, a professor at U.C. Hastings School of Law, said that fear among writers and journalists was "understandable," but that "freelance journalists across the board are not in that different of a position than they were before" and "if anything AB 5 broadens the scope of exemptions."
In a Twitter thread Gonzalez responded to critics of AB 5, saying she would "continue to work with freelancers, the industry & unions that represent writers to see if there are further changes that should be made, especially for digital quick jobs." To Capital & Main she admitted that, so far, only musicians and their union are definitely set for further discussion in next years' legislative session, because they couldn't come to an agreement in September.
California isn't the only state with a three-part employment test. Gonzalez said the model for AB 5 was a 10-year-old Massachusetts statute and that there is no indication that any lawsuits have been filed in that state based on those standards.
AB 5 is already having ramifications outside California. Legislators in Illinois and New York are discussing similar laws. And it's become an issue on the campaign trail. In an editorial for The Sacramento Bee, Sen. Elizabeth Warren strongly endorsed the bill as a way to prevent employers from denying basic worker protections. Sen. Bernie Sanders, who introduced similar legislation at the federal level, has also endorsed AB 5, as have Joe Biden and most other major Democratic candidates.
---
Copyright Capital & Main