Training Day: Police Reform in Troubled Times
In early September, a year and a half after having been pepper-sprayed by a Santa Monica police officer, a man was awarded $1.1 million by a court, plus attorney fees, to be paid by the city. He was apparently singled out by police for being in a park after curfew, while other residents, who weren't black, continued to charge their electric cars – as he recharged his car. The scars will stay with him and his family for life.

Photo: Matt Popovich
In early September, a year and a half after having been pepper-sprayed by a Santa Monica police officer, a man was awarded $1.1 million by a court, plus attorney fees, to be paid by the city. He was apparently singled out by police for being in a park after curfew, while other residents, who weren't black, continued to charge their electric cars – as he recharged his car. It took a phone video and nearly 16 and a half months for the victim to receive monetary justice. The scars will stay with him and his family for life.
With the steady drumbeat of headlines about blue-on-black shootings and police officers shot and killed, one would think that as a nation we would understand the problem and fix it. That's what Americans do. Nevertheless these tragedies continue to happen, even though we know why.
Despite several decades of policies designed to bring police and the community into a deeper understanding of one another, too many officers do not know the neighborhoods they police. Although the stereotype of a Los Angeles cop living out in Simi Valley may seem dated now, on the whole officers don't live where they work. Lots of people – including clergy and teachers – don't either. But in too many instances, officers would rather not know the other. As a police officer once said to me, "You want to live in the neighborhood you police? Never!"
On the other hand, even as police departments have significantly diversified, officers live in middle- class neighborhoods, not poor communities, because they can afford to live elsewhere. Police get paid well, relatively speaking. They make more than teachers – depending on overtime, a lot more. Municipalities raised those salaries to avoid the petty corruption that plagues low-paid police forces and to attract more competent officers.
But not knowing the community means not recognizing individuals and not understanding in what ways different groups of people might handle similar situations. For example, in a comfortable suburb, a barbecue likely happens in the back yard. If friends come over, they party at the back of the house. In the urban context it's often the opposite. The barbecue happens in the front yard and the party could include not only friends but neighbors and others who drop by. Those are very different behavior patterns.
Policing requires a bit of cultural anthropology. Moving from one setting to another requires changing the lens through which police see people in a neighborhood. Often the bias never becomes conscious, so, armed with authority, a badge and a set of weapons, police inevitably experience confrontations with people in the community.
This is culture clash. And we now know what to do about it. In 2015, the President's Task Force on 21st Century Policing released a report with six major pillars and dozens of recommendations and action items. They ranged from preventing racial profiling to deploying officers with new technologies to creating systems that reintegrate youthful offenders back into the community. It's an extensive list of practical and effective suggestions.
Training comes up again and again, because some states require less preparation for police officers than for such occupations as becoming a licensed barber or manicurist.
The Movement for Black Lives has also drafted a police reform platform. Called Campaign Zero, its 10 sets of recommendations run from methodology reform, such as the "broken windows" theory, to "demilitarization" — ending programs that send Pentagon weaponry to local police. A whole section on body cams mirrors recent research by Cambridge University. In that study, which examined seven police departments in England and the U.S. where officers began wearing the devices, complaints against police fell 93 percent over 12 months.
A recent paper by a retired professor and a RAND researcher analyzes Santa Monica's police patterns. Their recommendations focus on record keeping that would make tracking behavior problems, documenting continuing issues and investigating citizen-officer conflicts more transparent. The writers also call for de-escalation training so situations become less volatile, and they think citizen oversight is critical to good police work.
All three sets of recommendations assume that in a democracy law enforcement cannot function effectively without trust between citizens and police. In the absence of trust and a proper accountability system, we will continue to see bodies of all colors and cultures and conditions lying in the streets. Or, as in the Santa Monica case, a man lying in a parking lot, next to his electric car, after simply trying to recharge it so he can get to work the next morning.

Negotiating Trauma: How Susan Burton Gave Discarded Women a Tomorrow
Chances are you've never heard of Susan Burton. Yet her A New Way of Life organization has provided shelter and services to thousands of formerly incarcerated women and their children.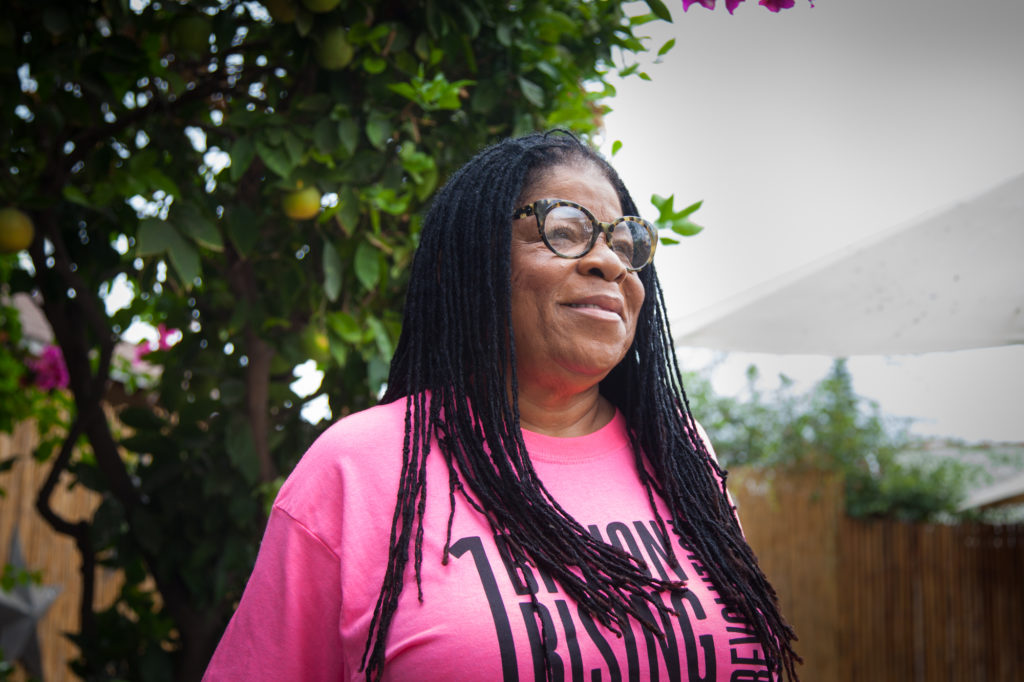 All Photographs by Joanne Kim
---
Susan Burton overcame six felony convictions and incarcerations to create and run one of America's most successful social programs.
---
Is everybody decent!?" Susan Burton yells as she ascends a flight of stairs. She is giving a visitor a tour of one of her five Los Angeles houses that provide havens for women returning to society from California's prisons.
She knocks on a bedroom door that's half ajar and peers inside.
"You ain't trying to catch the worm, huh?" Burton says to a woman still in bed.
"No I am," the woman mumbles.
"You lying here. It's 10 o'clock in the afternoon. You gotta go get the worm!'
Burton moves on and walks into an empty, freshly painted room. "We need to get pictures on the wall," she mutters to herself.
Every room has a bed and dresser for each of its occupants, usually two to four in a room, and the walls are painted bright colors. Burton reveals that the grays and greens of prison are purposely avoided. One bed in each room is usually left free for the sudden arrival of a released inmate or space for visiting kids.
Chances are you've never heard of Susan Burton. Yet to thousands of people, she has been a savior. A 2010 CNN Hero, Burton has written a book chronicling her remarkable life, Becoming Ms. Burton: From Prison to Recovery to Leading the Fight for Incarcerated Women. In it, Burton, 66, documents how she overcame six felony convictions and incarcerations to create and run one of America's most successful social programs. Since its founding in 1998, A New Way of Life has provided shelter and services to thousands of formerly incarcerated women and children. Far more than a housing agency, it has evolved into an inspiration for change and a beacon of hope to women who have been largely discarded by society.
A New Way of Life Resident:
"If it weren't for this I'd be on the street
or back in prison."
Before Burton could become an angel, however, she had go through hell. Sexual abuse started at age 4. First it was her aunt's boyfriend, then an older male neighbor whom she met selling cookies for the Woodcraft Rangers, a group similar to the Girl Scouts. A Christmas Eve gang rape resulted in her first child at the age of 14. Fifteen years later, Burton's life was shattered when her 5-year-old son was run over and killed by a van driven by an off-duty police officer. Burton retreated onto despair, turning to drugs to dissociate herself from the trauma of her tragedies.
After becoming an alcoholic and crack addict, Burton became trapped in a vicious cycle of incarceration. Her catch-and-release tale was similar to those of millions around the country. Unceremoniously dropped off in Los Angeles' Skid Row, Burton had no tools or resources to make it in a world without bars. Most states make it nearly impossible for felons to make it back on their feet. Hundreds of categories of jobs, as well as many public housing agencies, are off limits to those with records. Securing employment and housing, which are among the requirements to regain custody of their kids, is made even more difficult without necessary documents like state-issued I.D. cards, which are destroyed when entering prison. It was a chance, pejorative comment from a correctional officer on her sixth (and last) release from prison that sparked her evolution into an agent of change.
"He said, 'I'll see you in a little while,'" Burton recalls. "It was daunting and scary to hear that. And he said, 'There's no jobs for you out there. The only job you'll ever have is in a prison.'"
A friend told Burton about the CLARE Foundation recovery center in Santa Monica. She was accepted — and instantly thunderstruck by the disparity in services afforded her in this upscale community, compared to those available in her neighborhood.
"I had get-well help served to me like in a buffet at a restaurant," she remembers. "It was like having the best waitress and waiters come and serve you your food, and when you're finished with one part of your meal, they take the plate away and they take the fork and knife away, and then they bring you clean ones. I went to therapy like that. I went to dental services like that. I went to medical services like that. I went to AA meetings like that. It was like another world."
Every bedroom in the shelters has a bed and dresser for each of its formerly incarcerated women. Walls are painted bright colors — prison
  

grays and greens are purposely avoided.

Later, while working at a job as a home care worker, she devised a plan inspired by the CLARE Foundation, and after a year had saved $12,000 to make that plan a reality. She bought a small bungalow in South Los Angeles and started A New Way of Life. As newly released inmates stepped off buses near Skid Row 19 years ago, Burton was waiting to greet and offer them a sanctuary to begin their life anew. As she started to run out of savings, someone suggested she start a nonprofit. Before long she was off and running, becoming a modern-day Harriet Tubman with a string of five safe houses for society's outcasts.

But there soon came a harsh epiphany.

"I thought that if women had a safe place to go, that would be everything they needed to restart their lives," she recalls. "But we soon realized It didn't matter how hard or committed the women were in completing their tasks, there was still a box they were put in. They couldn't get their children back. They couldn't find employment. They couldn't even receive food stamps."
Aukilia, who has been at A New Way of Life since August, 2017.
Burton got to work, organizing and advocating to change bad policies.
"Some of the laws that have been changed have just been bad laws," she says. "Not giving women who have had drug crimes food stamps? That was a bad law. Having people check a box on employment applications? That was a bad law. The disparity in sentencing was a bad law. Taking people's babies away."
So she partnered with the University of California, Los Angeles' School of Law in 2006 to look at how they could reverse the institutional obstacles confronting former inmates. An in-house free legal clinic was created that in the last decade has provided pro bono assistance to thousands seeking relief from the burden of criminal histories, expunging criminal records and offering access to occupational licenses. Burton also reached out to companies for donations and now runs a distribution center that provides over $2 million dollars in household goods yearly. Thanks to her, over 3,500 formerly homeless individuals have gone on to establish their own living spaces. 
Jannie's youthful looks belie the fact that she served 28 years for killing a man who, she says, jumped on her niece.
"She is persistent, dynamic and strong," the group's associate director, Tiffany Johnson, says of Burton. "God has wrapped a unique set of skills into this one woman to be able to touch multitudes of women in ways that most people can't."
Ingrid Archie, another senior staff member, agrees. "I think Susan saw that some resources were offered in other communities as a common right," she says, "but in her community people were being criminalized and families ripped apart. She is providing a solution to a problem that everybody was sweeping under the rug. She helps you take responsibility and ownership for yourself and your future."
In the largest bedroom of one of Burton's houses, a woman named Aukilia sits on the bottom bunk, readying herself to attack the day. Her story is typical in its complexity. A couple of years ago she was asked by someone to deposit checks into her incarcerated boyfriend's jail account.
"I was so loaded. I was high, under the influence," she explains. "I said, 'Yeah, sure, free money, I'll do it.'"
Jannie: "This program is amazing."
She was arrested two years later for bank fraud. Typical of the draconian laws that help propagate the modern prison complex, each check carries with it its own separate charge. So she is facing 120 years in prison. But A New Way of Life has given her hope, allowing her to pursue a GED and her dream of going to cosmetology school while she awaits trial.
"It's beautiful here. You go to your meetings. You get up and you do your chores. You do what you're supposed to do and everything's great. If it weren't for this I'd be on the street or back in prison."
Her roommate Jenny has just finished her night shift at Foster Farms, a job A New Way of Life helped secure. Her youthful looks belie the fact that she served 28 years in prison for first-degree murder, for killing a man who, she says, jumped on her niece.
"I think it would have been difficult had I gone anywhere else, but Miss Burton and her staff and the ladies here welcomed me and made me feel special, made me feel like this is my home. I've been doing great ever since. This program is amazing."
"Unconditional love, no judgment," Aukilia chimes in.
"But I ain't no joke either," exclaims Burton, who has been hovering just outside the door. She is flashing a tough face, which she does often, but her kind eyes and a slight smirk give her away.
The women laugh and shake their heads in agreement.
"I don't save women," Burton says.
"I provide opportunity."
Susan Burton's houses shelter anywhere from four to seven women, with most staying anywhere from nine months to two years. If she runs out of space, Burton works with a network of thousands of beds in the county that provide sober living, and she is known to pay out of her own pocket to provide relief for a woman in need. Her passion and dedication have engendered remarkable results. She estimates that 80 percent of those who go through her program have not returned to jail and are employed or in school, an impressive record in light of the American prison system's traditionally high recidivism rate.
"I don't save women," Burton says. "I give them an environment that allows them to heal and thrive and begin to pull themselves up. I provide opportunity. They have to work the opportunity."
Burton makes it a point to provide individual attention to each woman's needs. But how does one continue that as the movement grows? And how does the work continue after she is gone? Add to that the colossal systemic legal and bureaucratic obstacles facing her constituency, and the future may be the biggest challenge Burton faces. She hopes that a new generation of women will carry on her crusade. Women like Tiffany Johnson and Ingrid Archie.
Johnson had served 16 years of a life sentence for second-degree murder when she walked through the doors of A New Way of Life in April 2010. She quickly found a job but soon realized that no matter how well she did it, her criminal record excluded her from upward mobility. So she returned to work at A New Way of Life and today, as the organization's associate director, serves as Burton's right-hand woman.
"If you are consistent people can depend on you," Johnson says of both Burton and the group.
California's Proposition 47, passed in November 2014, reduced six felonies to misdemeanors, but for ex-cons to have their pasts expunged, they must request that their records be changed. That's Archie's mission. A former prisoner herself, she is the organization's Prop. 47 specialist and came to A New Way of Life in 2006, driven by her passion for fixing a skewed system.
"Revenge is a deep, dark, empty hole that can never be filled. I know that from losing my son."
Just as A New Way of Life has given support to thousands of those in need, it has provided Burton herself with something just as profound. With a history riddled with misery, it is her port in the storm.
"I negotiate trauma," she says. "I've had to. And A New Way of Life insulates me from the trauma and gives me a bigger meaning and purpose to my life. We're all here to help and be a part of something bigger than ourselves. Before, I never found that something bigger because I was dodging all of the arrows that were coming my way."
But Burton is no longer dodging. She is moving and shaking, with ambitious plans. A New Way of Life now has 23 employees and survives on an operating budget of approximately $2.6 million raised primarily from grants, individual donations and an annual fundraising dinner. Burton has carefully grown the organization, mindful of the pitfalls of quick expansion:
"I don't wanna become a people-processing machine. I think the community, the individuality of the way in which we work with people is meaningful, and it brings about success. So if I have these big houses or too many places, then the interaction becomes impersonal."
Nevertheless, with a growing new generation of activists under her wings, Burton hopes to replicate her system across the country, to not only build an underground network of reentry homes and safe houses, but also civil rights advocacy groups.
But the challenge is formidable. More states. Differing laws. This country's massive prison complex, with its systemic effects, illuminated so cogently in Ava DuVernay's documentary 13th, has become part and parcel of modern society.
"We criminalize trauma in this country,' says Burton. "There should be and could be something different. What I know is [that] revenge is a deep, dark, empty hole that can never be filled. I know that from losing my son. I think one of the most powerful things that happened for me is that I was able to go deep into myself and find a place of forgiveness for all those that had harmed me, and to ask for forgiveness of those I had harmed."
So how does one make headway in a society that is bent on exploiting over rehabilitating? How does Burton plan to grow her efforts in the future without being swallowed by the system? One way is to not take their money. Burton likes to point out that she works within the community, not within the system.
"I terminated the contract with the system a long time ago," she says. "Traditional ways of doing and thinking about things doesn't allow for people to be spring-boarded and supported to realize their dream and purpose. It's too big of a risk for traditional funding agencies and governments, because you have to have all this proof of who you are and what you do. How do I support people to be able to build that track record where they're accepted back into society, humanized, treated with dignity and respect, and [where] people are able to realize their dreams? You have to have it bubble-up. I might not be here for the whole bubble, but I'm here to plant seeds."
To many, Burton is an outlier, a remarkable individual who achieves the nearly impossible. But she strongly disagrees.
"I think the biggest misconception people have about me is that I am this 'extra ordinary' person and that I'm different from other people," she says. "I just believe that there was an opportunity for me, and in that opportunity, I was able to grasp on and grow something. There are so many people where we've locked away their talent, their treasures, their love, their dreams…and they are coming back into the community. They just need opportunity."
Burton has not wasted hers. She is moving forward confidently and with a purpose.
"While I'm no daredevil, I go forward . . . in the face of racism, capitalism, homophobia and all of these things that are a part of what affected us in the first place. The universe will support me in ways as long as I am staying true to universal principles."
On one autumn afternoon Burton is back where it all started — in the first house she ever bought, in South Los Angeles. Sitting at the dining room table is a visibly upset woman whose long, salt-and-pepper ponytail falls down her back. Burton asks why she is so overwhelmed and, with her voice cracking, the woman laments that she needs a ride to get a driver's license and there is no way to get where she needs to go in time. She seems like she is about to have a breakdown. Burton looks her in the eyes and says, "Don't worry. I'll take you now on my way back to the office, just give me a minute."
A few moments later, as the two women walk to the car, Burton's latest resident, who hasn't been outside of prison since the last century, is overheard saying to herself, "Cars are so nice looking now. Look at how nice they are…" Burton is a dozen steps ahead, full of encouragement. "C'mon now," she says, "Let's go. Everything's going to be alright. We'll get it done."
---
Copyright Capital & Main