Tolerance and Solidarity at Culver City Mosque Gathering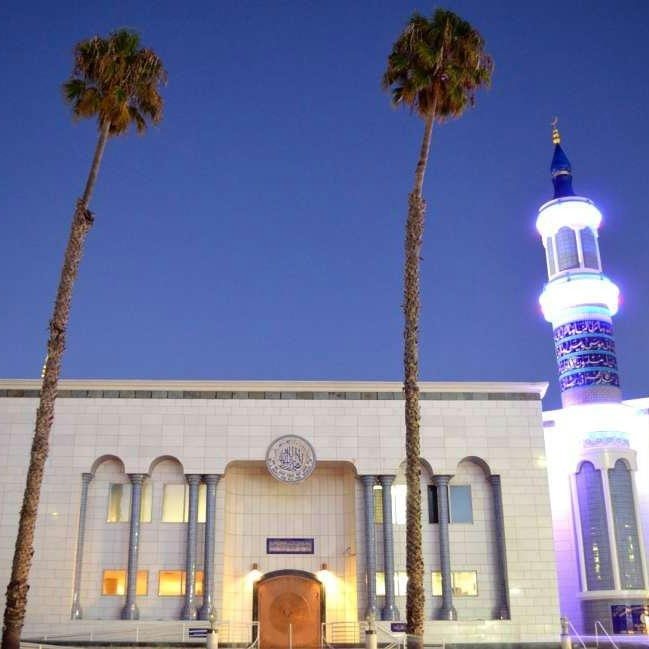 King Fahad Mosque
"There is more fear right now in the local Muslim community than after 9/11 because of the proximity of the recent violent attack in San Bernardino and the xenophobia present in U.S. political culture," Shakeel Syed told an interfaith gathering attended by about 100 people last Sunday. Syed is executive director of the Islamic Shura Council of Southern California. He added that law-abiding, peaceful Muslims living in the Los Angeles-area are feeling paranoid.
To provide comfort and information for the local Muslim community, the Shura Council and the King Fahad Mosque of Culver City organized  the event. Most of the crowd were first generation Muslim immigrants from South Asia, the Far East, West and North Africa, and the Middle East, and overwhelmingly male. The others present represented local Christian congregations, human rights activists and neighbors, all wanting to express solidarity with the Muslim community.
After a reading from the Koran and a warm welcome from Culver City Councilmember Meghan Sahli-Wells, a panel of speakers shared the historical experiences of a range of minority, mostly immigrant communities – as well as stories of the fear, discrimination and hostility they faced as they struggled to become accepted members of American society.
Tony Osumi, of the group Nikkei for Civil Rights and Redress, recounted how Japanese Americans were forced into relocation camps during World War II and later struggled for reparations from the U.S. government for all they lost in the process. Osumi also remembered the non-Japanese Americans who stood up to protest the camps, watched over the homes of the internees who had been displaced, and pressured Congress for redress and reparations for the suffering Japanese Americans were put through.
"The Japanese American communities stand with you — you are not alone, we are with you," Osumi said, and invited members of the mosque to visit Little Tokyo to learn more about his community. Osumi's group recently held a vigil and rally in Little Tokyo against xenophobia and attacks against Muslims.
After reminding the crowd that the first person killed in in the U.S. in retaliation for 9/11 was a turbaned Sikh man (possibly mistaken for a Muslim), Syed introduced Jyotswaroop Kaur, education director of the Sikh American Legal Defense and Education Fund, founded in 1996. She described her own family's experience with anti-Sikh riots in India before immigrating to the U.S. to protect their lives.
Kaur asked the crowd who knew their elected representatives (few hands were raised) and encouraged them to "call your Congressperson and let them know they are also responsible for you and your safety."
Father Alexei Smith, the ecumenical and interreligious affairs officer of the Los Angeles Catholic Archdiocese, introduced by Syed as "a person of collar," described the hatred and bigotry that Catholics experienced in this country during the early 1920s. A major St. Louis paper at the time, he said, regularly attacked the Catholic "menace." Convents were raided and set on fire in some states and, in others, Catholics were barred from seeking public office. "All this was based on fear of the 'other;' fear of the unknown," Smith said. "Inter-religious dialogue is an embrace, making room in oneself for another person."
Syed had come to the gathering from the Coachella Valley, where a local mosque, which he described as "a small structure of 1,800 square feet [serving] fewer than 150 members," had recently been firebombed. A young man has been charged with throwing a Molotov cocktail at the front door; the bomb burned nearly the entire building, which is currently boarded up. Local faith leaders and elected representatives had gathered that day to show solidarity with the Muslim families in their loss.
Syed said that, as the Shura Council director,  he hears reports every day of reprisals, attacks on women wearing hijabs and, most recently, that "Jesus is the way" was spray-painted on the Islamic Center of Hawthorne. "We can do better than that," he declared.
"I for one am so tired of the notion that Muslims are responsible for what is happening [in perpetrating acts of violence]," Syed told Capital & Main after the interfaith event. "The violent attack in Colorado Springs [in which a shooter stormed a Planned Parenthood clinic] was not seen as a burden on Christian pastors or the Christian community. They were not asked to take responsibility for the violence committed by their religious followers."
But, he added, "Shame on us if we expect our rights to come to us on a platter. When I look at the budgets of the mosques [in Southern California] I see nothing, or miniscule amounts, budgeted for social justice."
Suggesting that it is time for Muslims to translate their concerns about the direction of American society into action, and action specifically for the larger, common good, Syed pointed to the example of a Muslim neurologist in Pomona who had patients served by the Inland Regional Center in San Bernardino before the recent shooting took place there. The doctor set up Muslims United for San Bernardino with the goal of raising $20,000 for the victims' families.
After sending the crowd-funding appeal to mosques in the area, $215,000 was quickly raised, allowing the group to give $100,000 to help fund the burials of those who had lost their lives. Another $100,000 will be offered to the families through the United Way. The victims of the attack were mostly working class people with limited resources; half of those killed were union members.
"Muslims must plant themselves firmly in the street, supporting the poor and disadvantaged," Syed insisted.
The Big Chill: L.A.'s Homeless Face the Winter With Fewer Beds Than Before
With more money than ever to spend on homelessness, Los Angeles County offers fewer winter shelter beds than last year. Why?
"Everything that goes wrong in a city" gets blamed on the program and its clients, says the executive director of one homeless service provider.
---
It's a December evening at the Hope of the Valley Rescue Mission's winter shelter in Pacoima, a working-class neighborhood in Los Angeles. A mix of homeless men and women talk quietly, in English and in Spanish, while they eat their franks and beans, as others are still having their bags searched at the door, and still others are grabbing blankets and staking out cots.
Ken Craft, the mission's soft-spoken CEO, is seated at one of end of the large, brightly lit room. He seems worried. As the weather grows colder and homeless Angelenos learn how to access the shelter through its various pickup locations, this 138-bed facility will reach capacity and homeless people will be turned away, he predicts.
Los Angeles city and county officials are stepping up efforts to combat homelessness, and residents have voted to tax themselves to pay for an increase in homeless services overall. But this year, the county has 21 percent fewer winter shelter beds than last year, according to data from the Los Angeles Homeless Services Authority (LAHSA), the county's main administrator of homeless services. The number of winter shelter beds available during the coldest months of the year dropped from 1,451 to 1,146.
This should be cause for concern. From January 1, 2016 to December 21, 2018, hypothermia was listed as the primary or secondary cause of death for 10 homeless people, according to the Los Angeles County Coroner's office.
---
Seven of 10 homeless hypothermia deaths happened in December or January. Most who died were men in their 50s and 60s.
---
In 2017, county voters—faced with an exploding homeless population of more than 50,000—supported Measure H, a 0.25-cent sales tax hike intended to increase homeless services and prevention. (The prior year, city voters had approved Measure HHH, a $1.2 billion bond measure intended to fund 10,000 units of permanent housing over the next decade.) This year, $120 million of Measure H dollars went to funding "interim housing." The goal is to add 3,250 year-round shelter beds to what's already available and move homeless people into permanent housing, according Phil Ansell, director of the County of Los Angeles Homeless Initiative.
But those funds are not paying for more beds for the winter shelter program, a 15-year-old hypothermia prevention effort that providers say is a critical resource, if not the most effective way of connecting homeless people to permanent housing and services. Such shelters are generally open from early December through March and house people for just 14 hours daily, creating logistical challenges for service providers and their homeless clients, who must be rousted from their beds in the early mornings and find their way back in the evening. Homeless people benefit from more stable housing, from where they can look for jobs and take advantage of services.
Many providers who ran winter shelter programs in the past are now running year-round facilities and no longer have the capacity to open separate shelters for the winter, according to Raquel Ziegler, Crisis Housing Coordinator for LAHSA.
---
Managers of winter shelter programs often face exacting fire safety requirements and operational hassles — as well as neighborhood opposition.
---
Ziegler is not satisfied with the number of beds available through the winter shelter program, however. "It would be great if we had an additional 2,000 emergency shelter beds pop open during the season," Ziegler said. But those managing the program often face exacting fire safety requirements and operational hassles — as well as neighborhood opposition.
"Everything that goes wrong in a city" gets blamed on the program and its clients, says Laura Duncan, executive director of Ascencia, a homeless service provider in Glendale that ran a winter shelter last year. At Forest Lawn Memorial Park, during a recent Ascencia-sponsored memorial service for homeless people who died last year, Glendale City Councilwoman Paula Devine rattled off other challenges: "It's so expensive," "you have to find a huge facility," and it attracts "homeless from all over."
Seven of those 10 homeless hypothermia deaths happened in December or January. Most who died were men in their 50s and 60s. Last March, in Orange County, a homeless family of four, including two young children, were found dead in their van, apparently of carbon monoxide poisoning, when their car was left running to keep them warm while they slept.
Some regions have seen a dramatic decline in winter shelter beds this season. The vast Antelope Valley—with its thrashing desert winds and freezing night temperatures — has only 50 beds this winter compared to 178 last year, according to LAHSA.
There are costly consequences when homeless people have to find their own source of heat. Last Saturday, a fire that started at 7:10 a.m. at a homeless encampment in Palmdale caused $50,000 worth of damage to a business, according to the Antelope Valley Press. However, the lack of available beds might not be the only problem, as the nearby winter shelter reportedly had empty beds at the time.
Homeless clients may not want to leave their encampments for shelters only to be "booted out" before returning "to wherever it was that their encampment was," said Carol Crabson, CEO of Lancaster-based Valley Oasis, who ran a winter shelter last year and would like to see the program provide 24-hour shelter, which it can do now only under extreme weather conditions. With temperatures plunging to the "mid-20s" at night, she said, her staff is "seeing a lot of people who are really sick."
---
To satisfy neighbors' concerns about loitering homeless people, the latter are not allowed to approach one Pacoima shelter by car or foot, but must wait for a van to fetch them.
---
For planning purposes, the county divides itself into eight regions or "service planning areas." The South Los Angeles region has experienced a 30-percent decrease in winter shelter beds. And the South Bay/Harbor planning area has seen a 40-percent decline in winter shelter beds, even though its percentage of unsheltered homeless jumped by six percent last year. The East L.A. planning area has no winter shelters listed on its flyer this year, nor did it have any last year, even though the number of unsheltered homeless in the area also rose in 2018.
Early last year, Los Angeles Mayor Eric Garcetti pledged to cut his city's unsheltered population of homeless in half during the next five years. Overall, the region saw a small decrease in homelessness in 2018 (four percent in the county and six percent in the city). However, more people are also falling into homelessness for the first time due to the county's affordable housing shortage and the lack of good jobs, says Phil Ansell, director of the Los Angeles County Homeless Initiative. "We are successfully taking more water out of the boat than ever before," he said. "But there remains a very significant hole in the bottom of the boat."
Back in Pacoima at the Hope of the Valley winter shelter, Cheryl Jackson, who has been homeless since last February, is one who has fallen through that hole. She has struggled to support herself since moving to Los Angeles from Texas in 2007, even though, she says, she has a cosmetology license, has worked for years as an administrative assistant for medical centers, and still works as a home-health aide.
To satisfy neighbors' concerns about loitering homeless people, Jackson, who is 57, is not allowed to approach the shelter by car or foot. Instead, she must wait in the winter dark for a white van to fetch her at one of five pick-up locations.
---
One woman arrived at the shelter at 9 p.m., only to be sent away to a pick-up spot. "Why do I have to go away? I'm here," she asked.
---
That system was the result of a "good neighbor" policy, which L.A. City Councilwoman Monica Rodriguez says she spearheaded in 2017 after Pacoima residents, joined by their "five-year-olds with signs," protested the reopening of the Hope of the Valley shelter for the winter.
Neighbors were concerned about homeless people loitering as they waited each evening for the opening of the facility, which is located near two elementary schools. In addition to the establishment of pick-up sites, the policy required the hiring of a security and sanitation workers and the establishment of a feedback hotline, which Rodriguez said has received "zero calls."
"Faced with the homelessness crisis, I had one of two options," Rodriguez says. "I could either be that person that said, 'No, we're not going to do this,' or figure out how to address the community's concerns."
On my mid-December visit to the Pacoima shelter, one woman with dark, shoulder-length hair arrived at 9 p.m. only to be sent away to a pick-up spot, where staff promised they would fetch her. She's seemed frustrated and bewildered. "Why do I have to go away? I'm here," she said.
But most people I met there, like Tabatha Kauhola and her boyfriend, Hampton, understood the system. Kauhola appreciated the welcoming staff and the warm meal, and didn't complain about the austere cots, crammed together row by row. Her main grievance: the early wake-up time of 5 a.m., needed so the clients can be back in the van by 7.
Homeless since 2014, Kauhola says she has lived in hotel rooms, at friends' homes, in a car and in a tent beside the 405 Freeway. Domestic violence that led to head trauma precipitated her becoming homeless, she said. Prior to that, she had a job as a home-health-care aide, and an apartment in Van Nuys.
Now she and Hampton are hoping to find permanent housing and eventually reunite with their three young children. "Once we get housed, the light will be brighter. Then they will be able to come to our home," she said.
A few tables away, Cheryl Jackson journals, a practice she has kept for almost 40 years and has passed on to a daughter, a University of California, Los Angeles graduate, who she nursed through hospitalizations connected to a blood disorder. She works to keep a hopeful outlook.
"I'm not bitter. I'm just maturing and learning how to put this together," says Jackson, with a bright, disarming smile. "There is still something very wonderful happening."
---
Copyright Capital & Main