Tolerance and Solidarity at Culver City Mosque Gathering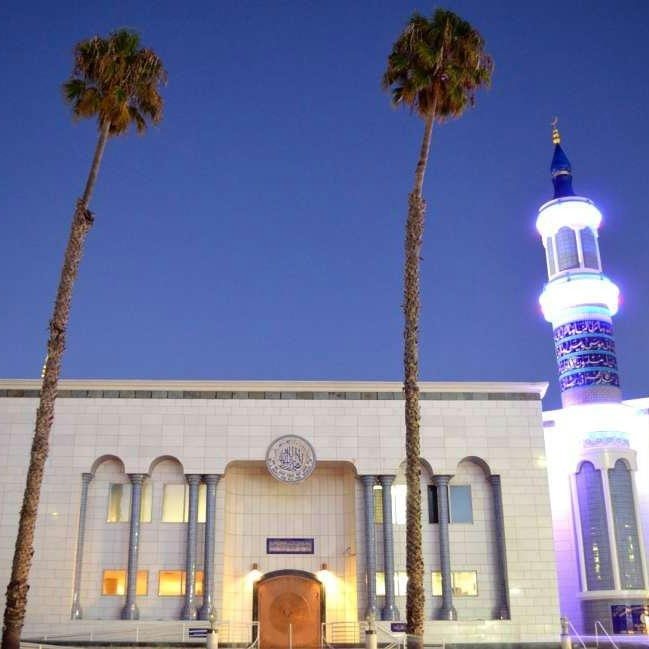 King Fahad Mosque
"There is more fear right now in the local Muslim community than after 9/11 because of the proximity of the recent violent attack in San Bernardino and the xenophobia present in U.S. political culture," Shakeel Syed told an interfaith gathering attended by about 100 people last Sunday. Syed is executive director of the Islamic Shura Council of Southern California. He added that law-abiding, peaceful Muslims living in the Los Angeles-area are feeling paranoid.
To provide comfort and information for the local Muslim community, the Shura Council and the King Fahad Mosque of Culver City organized  the event. Most of the crowd were first generation Muslim immigrants from South Asia, the Far East, West and North Africa, and the Middle East, and overwhelmingly male. The others present represented local Christian congregations, human rights activists and neighbors, all wanting to express solidarity with the Muslim community.
After a reading from the Koran and a warm welcome from Culver City Councilmember Meghan Sahli-Wells, a panel of speakers shared the historical experiences of a range of minority, mostly immigrant communities – as well as stories of the fear, discrimination and hostility they faced as they struggled to become accepted members of American society.
Tony Osumi, of the group Nikkei for Civil Rights and Redress, recounted how Japanese Americans were forced into relocation camps during World War II and later struggled for reparations from the U.S. government for all they lost in the process. Osumi also remembered the non-Japanese Americans who stood up to protest the camps, watched over the homes of the internees who had been displaced, and pressured Congress for redress and reparations for the suffering Japanese Americans were put through.
"The Japanese American communities stand with you — you are not alone, we are with you," Osumi said, and invited members of the mosque to visit Little Tokyo to learn more about his community. Osumi's group recently held a vigil and rally in Little Tokyo against xenophobia and attacks against Muslims.
After reminding the crowd that the first person killed in in the U.S. in retaliation for 9/11 was a turbaned Sikh man (possibly mistaken for a Muslim), Syed introduced Jyotswaroop Kaur, education director of the Sikh American Legal Defense and Education Fund, founded in 1996. She described her own family's experience with anti-Sikh riots in India before immigrating to the U.S. to protect their lives.
Kaur asked the crowd who knew their elected representatives (few hands were raised) and encouraged them to "call your Congressperson and let them know they are also responsible for you and your safety."
Father Alexei Smith, the ecumenical and interreligious affairs officer of the Los Angeles Catholic Archdiocese, introduced by Syed as "a person of collar," described the hatred and bigotry that Catholics experienced in this country during the early 1920s. A major St. Louis paper at the time, he said, regularly attacked the Catholic "menace." Convents were raided and set on fire in some states and, in others, Catholics were barred from seeking public office. "All this was based on fear of the 'other;' fear of the unknown," Smith said. "Inter-religious dialogue is an embrace, making room in oneself for another person."
Syed had come to the gathering from the Coachella Valley, where a local mosque, which he described as "a small structure of 1,800 square feet [serving] fewer than 150 members," had recently been firebombed. A young man has been charged with throwing a Molotov cocktail at the front door; the bomb burned nearly the entire building, which is currently boarded up. Local faith leaders and elected representatives had gathered that day to show solidarity with the Muslim families in their loss.
Syed said that, as the Shura Council director,  he hears reports every day of reprisals, attacks on women wearing hijabs and, most recently, that "Jesus is the way" was spray-painted on the Islamic Center of Hawthorne. "We can do better than that," he declared.
"I for one am so tired of the notion that Muslims are responsible for what is happening [in perpetrating acts of violence]," Syed told Capital & Main after the interfaith event. "The violent attack in Colorado Springs [in which a shooter stormed a Planned Parenthood clinic] was not seen as a burden on Christian pastors or the Christian community. They were not asked to take responsibility for the violence committed by their religious followers."
But, he added, "Shame on us if we expect our rights to come to us on a platter. When I look at the budgets of the mosques [in Southern California] I see nothing, or miniscule amounts, budgeted for social justice."
Suggesting that it is time for Muslims to translate their concerns about the direction of American society into action, and action specifically for the larger, common good, Syed pointed to the example of a Muslim neurologist in Pomona who had patients served by the Inland Regional Center in San Bernardino before the recent shooting took place there. The doctor set up Muslims United for San Bernardino with the goal of raising $20,000 for the victims' families.
After sending the crowd-funding appeal to mosques in the area, $215,000 was quickly raised, allowing the group to give $100,000 to help fund the burials of those who had lost their lives. Another $100,000 will be offered to the families through the United Way. The victims of the attack were mostly working class people with limited resources; half of those killed were union members.
"Muslims must plant themselves firmly in the street, supporting the poor and disadvantaged," Syed insisted.

No Walk in the Garden for the Urban Homeless
Throughout Los Angeles, landscaping is put to aggressive use, functioning as a weapon of anti-homelessness under the guise of beautification.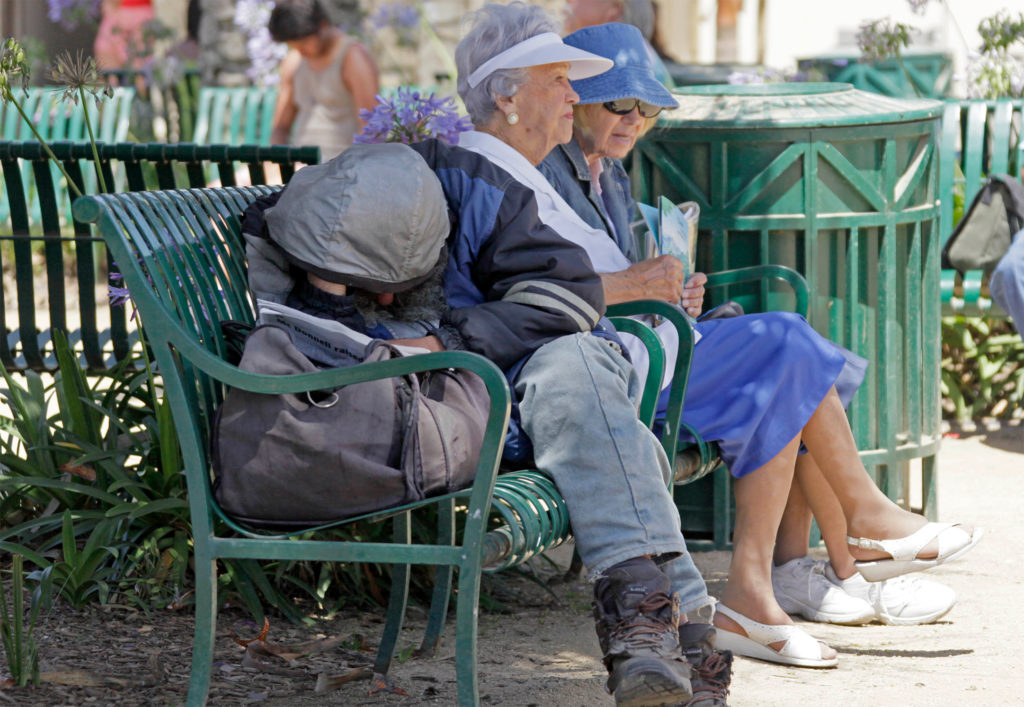 ---
The phenomenon of hostile landscaping in Los Angeles has further marginalized a swelling unhoused population.
---
Last May, in Los Angeles' coastal Venice neighborhood, Adam Smith noticed a series of planter boxes in the middle of a familiar sidewalk. Affixed near the intersection of Third and Sunset avenues, mere blocks from a Google campus and a suite of oceanside cafes, the standalone planters ran roughly the length of a wall delineating a parking lot behind a luxury condo complex.
Previously, Smith told Capital & Main, a group of six to 10 homeless people had regularly slept in tents on that block, favoring it for its relatively plentiful street light. A volunteer for the Culver-Palms Burrito Project, which prepares and serves the titular food to the unhoused of West Los Angeles, he'd become acquainted with individuals living there over the course of several years.
Once the planters were installed, however, the sidewalk was clear. "That next day, after I saw [the planter boxes] for the first time, I went there to look around because I figured they were sleeping somewhere else," Smith said. "I found people up around the corner, just, like, a block away."
---
Companies are privatizing public space to create more "landscape" for their businesses.
---
Throughout Los Angeles, landscaping is put to aggressive use, functioning as a weapon of anti-homelessness under the guise of beautification. Just as both public and private architectural design throttle space available to the unhoused internationally — via, among other examples, spikes on ledges and bars on benches to discourage sitting and lying down — and cities such as San Francisco arrange boulders to deter homeless encampments, the phenomenon of hostile landscaping in Los Angeles has further marginalized a swelling unhoused population.
Nearly 20 miles from Venice, a Los Feliz traffic median at the intersection of Vermont and Prospect avenues, and Hollywood Blvd., has regularly seen encampments arranged on its concrete ground, abutting a raised patch of desert landscaping and sycamore trees.
Christened "Vermont Triangle," the median's first redesign occurred in 2008, when the now-defunct Community Redevelopment Agency spearheaded a project to "improv[e] the pedestrian amenities" and "enhanc[e] the physical appearance of the existing median park." According to the Los Angeles Times, this yielded seating areas, lampposts to echo those at nearby Barnsdall Art Park, and the sycamores. Eventually, unhoused people began to pitch tents, availing themselves of the median's modest stretches of open public space.
Now, due to pressure from local business owners, Vermont Triangle is in flux. City Councilmember David Ryu's office, the Times noted, plans to invest $18,000 in another redesign, following a 2013 re-landscape. The 2013 update was financed in part by the Hollywood Hotel and Kaiser Permanente, according to Jeff Zarrinnam, who serves on the board of governors of the East Hollywood Business Improvement District. (Ryu's office couldn't be reached for comment.) Current proposals range from adding art installations and neighborhood signs, which Zarrinnam said the Los Feliz Neighborhood Council and East Hollywood Neighborhood Council have floated, to putting in planters.
Zarrinnam said he supports "bridge housing," a term the municipal government, neighborhood councils and local businesses use to favorably denote temporary homeless shelters and transitional housing. Yet reports indicate that the current state of temporary housing for many homeless people in Los Angeles County — who, as of May, numbered approximately 53,000 — is nothing short of abysmal. A recent investigation by radio station KPCC found infestations, harassment and medical negligence, among other scourges at various facilities throughout Los Angeles County, including those funded by the Los Angeles Homeless Services Authority (LAHSA), which conducts the county's annual homeless census.
Steve Diaz, an organizer for Los Angeles Community Action Network (LA CAN) who works with unhoused populations in downtown and South L.A., calls hostile landscaping of public space "the next level of criminalization" of homelessness. He alluded to an industrial neighborhood overlapping Skid Row, whose business owners call "The North Sea": a cluster of converted seafood warehouses and factories painted the same hues of oceanic blue — complete with landscaped sidewalks.
"They started breaking the concrete and taking away from the sidewalk to place different types of flowers, whatever garden they were putting in," Diaz said. "You have a major street [on] Skid Row that, at one point, was home to a lot of homeless folks now being gated off, and then the concrete being broken to start using these gardening pockets within the space to eliminate sidewalk access." (Miguel Nelson, a North Sea business owner involved in the area's marketing efforts, declined to respond publicly.)
As private property owners adopt guerrilla tactics to thwart homeless encampments, legal issues arise. Skid Row activist General Jeff Page has observed that, while property owners are permitted to control up to three feet of sidewalk extending from their buildings, "The North Sea is taking upwards of five to 10 feet of sidewalk, allowing only for ADA (Americans with Disabilities Act) compliance and zero space for homeless tents and/or encampments." (The Los Angeles Department of Public Works stated that the North Sea sidewalk landscaping is currently under investigation and thus couldn't comment further on the matter.)
What's more, business owners in South L.A. have illegally installed fences around their property, which, according to Diaz, will eventually give way to sidewalk landscaping. Relatedly, Adam Smith has been corresponding with city officials to ascertain the permit status of the Venice planters. The West L.A. office of the Bureau of Engineering, which issues revocable permits, told Capital & Main that it did not have a permit on file for the planters. Without one, according to the bureau, "no portion of the public right-of-way, including sidewalk, is allowed for private use."
Nevertheless, the planters remain and, according to Smith, have multiplied. Additional boxes, he said, are now ensconced in the sidewalk around the corner, to where the previously ousted people had first moved.
"For some people, [landscaping] sounds like a great idea," Diaz said. "But you're literally privatizing public space to create more 'landscape' for your business."
---
Copyright Capital & Main