This Is NOT Chinatown, Jake
Every time I drive down Sunset Boulevard toward Chinatown, I get really mad. And it's not only because Walmart wants to move into this neighborhood without extending the most basic community outreach. It's because of those monstrous, faux-Italian Renaissance apartment buildings that take up blocks of space on what should be Chinatown's Gateway. Those ugly looking bunkers house hundreds of market-rate apartment dwellers and are called Orsini I, II and III. They are owned by developer Geoffrey Palmer, and the story of how they were allowed to be built is a familiar one in Los Angeles.
A wealthy developer bought some land and wanted to build what he wanted to build. City officials were bullied into believing that there was nothing they could do about it. When Palmer managed to illegally bulldoze Bunker Hill's last remaining Victorian cottage, the city sued. Palmer counter-sued. The city settled for a compromise where the developer promised to create a project that involved the community, gave small business and job opportunities to local people and built in cultural elements designed to pay homage to the history of Chinese immigration in Los Angeles.
It's hard to remember, but where there is now a sterile streetscape nearly devoid of foot traffic, Palmer had once promised a plaza that depicted the early Chinese residents of downtown, a beautiful bridge with cultural elements that would have constituted a genuine "Chinatown Gateway." All that remains of that promise is a horse painted on the side of that bridge that today connects two hulking Orsini structures – allegedly the project's special "homage" to Chinese culture.
A confession here. I was a member of the board of commissioners of the Community Redevelopment Agency that approved the Orsini projects. I started out opposed to Orsini I and II but was later convinced to vote for them, granting approvals to change the uses from commercial to residential, and to settle the lawsuit, based on written concessions from Mr. Palmer to add some beautiful Chinese cultural features into significant parts of the projects — as well as to recruit local businesses, local residents, etc. Yes, I was convinced by Palmer's pledges.
Fast-forward a couple of years, when Orsini I and II are built. No small businesses, insignificant community outreach, and certainly no artistic or cultural elements built-in that pay homage to the history of Chinese immigration. Just that horse, which is easy to miss. The projects are structured so that residents can drive in and out of underground parking and never actually have to walk on any of the surrounding streets. And of course, it's all very expensive market-rate housing without affordable units or any other socially redeeming traits.
True, there are written requirements built in to the approval of the projects that call for things like local hiring, significant inclusion of small businesses in the ground floor retail, cultural characteristics built into multiple components of the project. But once the projects are constructed, the city's hands are substantially tied, since the developer would have to be taken to court to enforce those conditions. And that did not happen.
On the first go-around, two other CRA commissioners joined me in a "No" vote and the Orsini III project did not get approved. Earthquake! The downtown business community was outraged and I was accused of being "anti-business," "anti-development." Then Mr. Palmer made lots of new promises. He would dramatically reduce rents to recruit small businesses to the ground floor. He would up the Chinese culture game again. He turned out a few of the same people who are currently supporting Walmart's bid to enter Chinatown, saying that bringing more housing units into Chinatown would be a good thing.
In the end, those of us who advocated for accountability and a rational, community-oriented approach to development in Chinatown lost the vote four to three, and Orisini III was approved.
So now you see why I get so mad when I drive toward Chinatown and see Italianate fortresses with very little small-business activity on the ground floors, almost no pedestrian traffic and nothing suggesting to  visitors that they are entering Chinatown. To me, the way that Mr. Palmer – and now Walmart – treated Chinatown represents the height of disrespect and elitism. They don't care if their hideous development projects undermine the nature of this historic neighborhood. They feel no need to truly connect to the small businesses and low-income residents that desperately need access to good jobs, small business opportunities and a thriving, culturally rich environment.
Let's draw a line in the sand right now and say no more Orsinis. And Walmart, change your disrespecting anti-community, anti-worker ways, or go back to Bentonville.

'Skeleton Crew' Is a Play With a Moral Spine
Set in a Detroit automobile outfitting plant, Dominique Morisseau's drama grabs you from the start with its focus on blue-collar men and women, and their struggle for dignity and self-respect.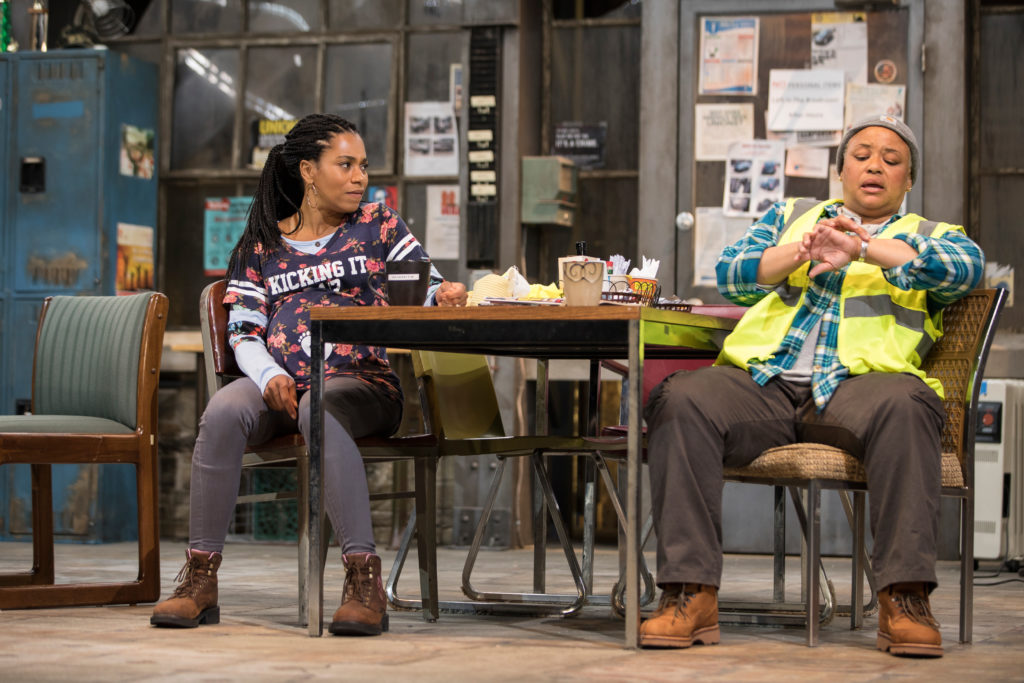 Working-class men and women of color are rarely front and center in today's media and, likewise, are presented all too occasionally on the American stage. So it's buoying to see that trend bucked in playwright Dominique Morisseau's percipient and well-crafted drama, Skeleton Crew. The play is the final installment in her Detroit  Project Trilogy; the first, Paradise Blue, is set in the 1940s amidst displacement caused by urban renewal and gentrification, while the second, Detroit '67, transpires on the eve of the 1967 Detroit riots sparked by a police action.
Directed by Patricia McGregor at Los Angeles' Geffen Playhouse, Skeleton Crew is a play with a moral spine. It takes place in 2008, when the shrinking U.S. auto industry is being further downsized. Morisseau's engaging quartet of characters — Faye (Caroline Stefanie Clay), Dez (Armari Cheatom), Shanita (Kelly McCreary) and Reggie (DB Woodside) – are employed at an automobile outfitting plant. Faye, Dez and Shanita are workers on the line while Reggie (who has a wife and kids, and has pulled himself together after a troubled youth) is their supervisor.
The first three customarily mingle in their break room (designer Rachel Myers' impressively cluttered, dingy and detailed set), trading the sort of familiar barbs and genuine concern for each other common among longtime co-workers. They also face off on philosophy: Upper-middle-aged Faye and the younger, pregnant Shanita take pride in their labor, while Dez, though a good worker, is a malcontent scornful of management and firm in the belief that everyone needs to watch out for himself. He's a thorn in Reggie's side, for while Reggie wants to be supportive of his workers, he must act at the behest of higher management. For his part, Dez resents Reggie's authority, and a palpable unease exists between them.
Besides this male matchup, we're made privy to Dez's attraction to Shanita, who mostly turns away his advances, but every now and then displays a hint of interest. Most poignant is Reggie's regard and affection for the lesbian Faye, which has roots in his boyhood when she loved, and lived, with his now-deceased mom.
These people's various predicaments intensify when rumors spread of the plant's shutdown — a disaster for all, but a particular calamity for the already near-broke Faye who, one year short of retirement, would lose her pension. The crisis forces each of these people to make a choice.
A sound piece of social realism, Skeleton Crew grabs you from the start in its focus on blue-collar men and women, and their struggle against odds for dignity and self-respect. Morisseau not only furnishes these characters a platform for their travails, she endows them with strong values, big hearts and the opportunity to choose between right and wrong.
Unfortunately, the performance I attended did not soar. Many exchanges lacked a fresh edge. The actors certainly had their characters down, but too often they appeared to be coasting on technique. (This seemed particularly true of Clay, who performed the role to great accolades in Washington, DC in 2017, also under McGregor's direction). Additionally, some of the stage movement was not entirely fluid; in confrontations, actors sometimes would just stand and face each other in an artificial way. And Cheatom's interpretation of Dez struck me as a bit overly churlish and depressive: I needed more glimpses of the intelligence and edge that would secretly attract the strong, self-directed Shanita.
The most compelling moments belong to Woodside, well-cast as a man trying his best in difficult circumstances to do the right thing.
---
Gil Cates Theater at the Geffen Playhouse, 10886 Le Conte Ave., Westwood Village; Tues.-Fri., 8 p.m.; Sat., 3 & 8 p.m. Sun., 2 & 7 p.m.; through July 8. (310) 208-5454 or www.geffenplayhouse.org