Theater: The Cracks in Robert Schenkkan's "Wall"
Building the Wall, billed as an urgent call to action, aims to alert people to the ominous stirrings of fascism in the United States. But its heavy-handed polemics and a flawed production run counter to its purpose.

Judith Moreland and Bo Foxworth in "Building the Wall" at the Fountain Theatre. (Photo: Ed Krieger)
Prolific playwright Robert Schenkkan won a 1992 Pulitzer Prize for his series of one-acts, The Kentucky Cycle, and a 2014 Tony Award for Best Play for All the Way, about the efforts of Lyndon Baines Johnson to pass the Civil Rights Act of 1964. He wrote Building the Wall in response to the election of Donald Trump. A National New Play Network rolling world premiere (a program whereby three or more theaters nationwide produce the same work over a 12-month period), it's billed as an urgent call to action, and aims to alert people to the ominous stirrings of fascism in the United States. But while there's no disputing the play's message, its heavy-handed polemics and the production's flawed execution run counter to its purpose.
The year is 2019 and the setting is an interview room in a Texas prison. Gloria (Judith Moreland), an African-American writer and professor, is interviewing Rick (Bo Foxworth), a white convict on Death Row for a heinous crime whose nature is only revealed later in the play. In response to Rick's question — "Why are you here? "— Gloria (rather unnaturally) launches into a speech about her experience of endemic racism as a child, how she decided to pursue sociology and psychology, and how she's driven to understand the motives of people who alter history, such as Rick himself.
The interview then proceeds, more like a deposition in a lawsuit than a dramatic confrontation on stage. We learn that Rick comes from a blue-collar home with an alcoholic dad, that he's ex-military and saw action in the Middle East, and that he was a security guard at a grocery store before coming to work in a private prison system that's been operating in tandem with the government to house illegal immigrants before they're deported. At the end of the questioning, the character emerges as a kind of model for the anti-intellectual, socially anxious individual who, if I recall my Hofstadter, is textbook fodder for the fascist state.
Once you get past the lengthy setup, Schenkkan posits a horror scenario in which the corralling of immigrants in a detention facility escalates, through the callous mismanagement on the part of the government, to catastrophic proportions. As manager of the facility, Rick is called upon to implement an American version of a "final solution." It's a scenario some might call unlikely or far-fetched — except that was the widespread reaction to a Trump presidency this time last year, and here we are. So the problem with Schenkkan's dystopian warnings are not that they are excessive or fantastical, but that they are presented so neatly and tidily that they are drained of power.
While a lot of the problem is in the script (let's call it a blueprint in need of shading), some of it's in the staging. For example, the role of Gloria is markedly underwritten, her occasional exposition notwithstanding. Even so, there's plenty a performer can do to flesh out this kind of role, but under Michael Michetti's direction, Moreland is content to have Gloria pitch her queries, then react with barely concealed distaste when Rick answers them. It's a routine portrayal that leaves Foxworth little to play off of. He's a skilled actor who's clearly working his arsenal, but between the cliché-ridden script and the stock work of his colleague, there's not much he can do to make the drama come alive on his own.
One final thought, regarding Se Oh's set, which situates the performers on an elevated platform. This arrangement means audience members, especially those at floor level, are staring up at the characters, while also missing Foxworth's expressions when he gazes upward in thought. Since Rick is a character unveiling the potential for the evil in us all, then looking down at him, or at eye-level, seems more in keeping with the story.
---
The Fountain Theatre, 5060 Fountain Avenue, Los Angeles; Sat. & Mon., 8 p.m.; Sun., 2 p.m.; through May 21. (323) 663-1525 or FountainTheatre.com.

'Skeleton Crew' Is a Play With a Moral Spine
Set in a Detroit automobile outfitting plant, Dominique Morisseau's drama grabs you from the start with its focus on blue-collar men and women, and their struggle for dignity and self-respect.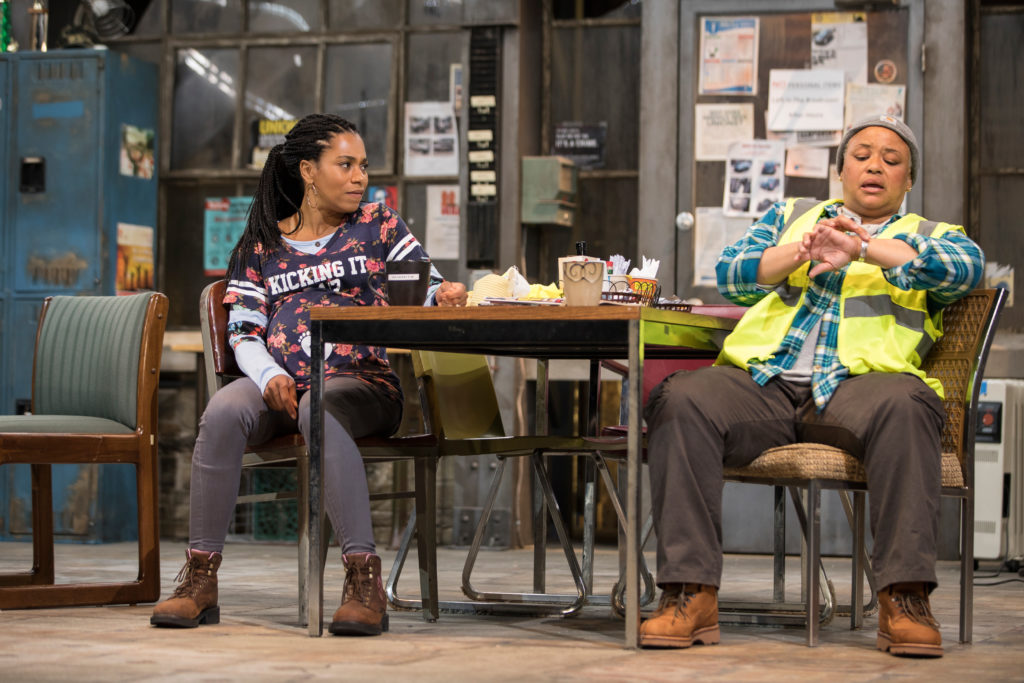 Working-class men and women of color are rarely front and center in today's media and, likewise, are presented all too occasionally on the American stage. So it's buoying to see that trend bucked in playwright Dominique Morisseau's percipient and well-crafted drama, Skeleton Crew. The play is the final installment in her Detroit  Project Trilogy; the first, Paradise Blue, is set in the 1940s amidst displacement caused by urban renewal and gentrification, while the second, Detroit '67, transpires on the eve of the 1967 Detroit riots sparked by a police action.
Directed by Patricia McGregor at Los Angeles' Geffen Playhouse, Skeleton Crew is a play with a moral spine. It takes place in 2008, when the shrinking U.S. auto industry is being further downsized. Morisseau's engaging quartet of characters — Faye (Caroline Stefanie Clay), Dez (Armari Cheatom), Shanita (Kelly McCreary) and Reggie (DB Woodside) – are employed at an automobile outfitting plant. Faye, Dez and Shanita are workers on the line while Reggie (who has a wife and kids, and has pulled himself together after a troubled youth) is their supervisor.
The first three customarily mingle in their break room (designer Rachel Myers' impressively cluttered, dingy and detailed set), trading the sort of familiar barbs and genuine concern for each other common among longtime co-workers. They also face off on philosophy: Upper-middle-aged Faye and the younger, pregnant Shanita take pride in their labor, while Dez, though a good worker, is a malcontent scornful of management and firm in the belief that everyone needs to watch out for himself. He's a thorn in Reggie's side, for while Reggie wants to be supportive of his workers, he must act at the behest of higher management. For his part, Dez resents Reggie's authority, and a palpable unease exists between them.
Besides this male matchup, we're made privy to Dez's attraction to Shanita, who mostly turns away his advances, but every now and then displays a hint of interest. Most poignant is Reggie's regard and affection for the lesbian Faye, which has roots in his boyhood when she loved, and lived, with his now-deceased mom.
These people's various predicaments intensify when rumors spread of the plant's shutdown — a disaster for all, but a particular calamity for the already near-broke Faye who, one year short of retirement, would lose her pension. The crisis forces each of these people to make a choice.
A sound piece of social realism, Skeleton Crew grabs you from the start in its focus on blue-collar men and women, and their struggle against odds for dignity and self-respect. Morisseau not only furnishes these characters a platform for their travails, she endows them with strong values, big hearts and the opportunity to choose between right and wrong.
Unfortunately, the performance I attended did not soar. Many exchanges lacked a fresh edge. The actors certainly had their characters down, but too often they appeared to be coasting on technique. (This seemed particularly true of Clay, who performed the role to great accolades in Washington, DC in 2017, also under McGregor's direction). Additionally, some of the stage movement was not entirely fluid; in confrontations, actors sometimes would just stand and face each other in an artificial way. And Cheatom's interpretation of Dez struck me as a bit overly churlish and depressive: I needed more glimpses of the intelligence and edge that would secretly attract the strong, self-directed Shanita.
The most compelling moments belong to Woodside, well-cast as a man trying his best in difficult circumstances to do the right thing.
---
Gil Cates Theater at the Geffen Playhouse, 10886 Le Conte Ave., Westwood Village; Tues.-Fri., 8 p.m.; Sat., 3 & 8 p.m. Sun., 2 & 7 p.m.; through July 8. (310) 208-5454 or www.geffenplayhouse.org