Theater: The Cracks in Robert Schenkkan's "Wall"
Building the Wall, billed as an urgent call to action, aims to alert people to the ominous stirrings of fascism in the United States. But its heavy-handed polemics and a flawed production run counter to its purpose.
Judith Moreland and Bo Foxworth in "Building the Wall" at the Fountain Theatre. (Photo: Ed Krieger)
Prolific playwright Robert Schenkkan won a 1992 Pulitzer Prize for his series of one-acts, The Kentucky Cycle, and a 2014 Tony Award for Best Play for All the Way, about the efforts of Lyndon Baines Johnson to pass the Civil Rights Act of 1964. He wrote Building the Wall in response to the election of Donald Trump. A National New Play Network rolling world premiere (a program whereby three or more theaters nationwide produce the same work over a 12-month period), it's billed as an urgent call to action, and aims to alert people to the ominous stirrings of fascism in the United States. But while there's no disputing the play's message, its heavy-handed polemics and the production's flawed execution run counter to its purpose.
The year is 2019 and the setting is an interview room in a Texas prison. Gloria (Judith Moreland), an African-American writer and professor, is interviewing Rick (Bo Foxworth), a white convict on Death Row for a heinous crime whose nature is only revealed later in the play. In response to Rick's question — "Why are you here? "— Gloria (rather unnaturally) launches into a speech about her experience of endemic racism as a child, how she decided to pursue sociology and psychology, and how she's driven to understand the motives of people who alter history, such as Rick himself.
The interview then proceeds, more like a deposition in a lawsuit than a dramatic confrontation on stage. We learn that Rick comes from a blue-collar home with an alcoholic dad, that he's ex-military and saw action in the Middle East, and that he was a security guard at a grocery store before coming to work in a private prison system that's been operating in tandem with the government to house illegal immigrants before they're deported. At the end of the questioning, the character emerges as a kind of model for the anti-intellectual, socially anxious individual who, if I recall my Hofstadter, is textbook fodder for the fascist state.
Once you get past the lengthy setup, Schenkkan posits a horror scenario in which the corralling of immigrants in a detention facility escalates, through the callous mismanagement on the part of the government, to catastrophic proportions. As manager of the facility, Rick is called upon to implement an American version of a "final solution." It's a scenario some might call unlikely or far-fetched — except that was the widespread reaction to a Trump presidency this time last year, and here we are. So the problem with Schenkkan's dystopian warnings are not that they are excessive or fantastical, but that they are presented so neatly and tidily that they are drained of power.
While a lot of the problem is in the script (let's call it a blueprint in need of shading), some of it's in the staging. For example, the role of Gloria is markedly underwritten, her occasional exposition notwithstanding. Even so, there's plenty a performer can do to flesh out this kind of role, but under Michael Michetti's direction, Moreland is content to have Gloria pitch her queries, then react with barely concealed distaste when Rick answers them. It's a routine portrayal that leaves Foxworth little to play off of. He's a skilled actor who's clearly working his arsenal, but between the cliché-ridden script and the stock work of his colleague, there's not much he can do to make the drama come alive on his own.
One final thought, regarding Se Oh's set, which situates the performers on an elevated platform. This arrangement means audience members, especially those at floor level, are staring up at the characters, while also missing Foxworth's expressions when he gazes upward in thought. Since Rick is a character unveiling the potential for the evil in us all, then looking down at him, or at eye-level, seems more in keeping with the story.
---
The Fountain Theatre, 5060 Fountain Avenue, Los Angeles; Sat. & Mon., 8 p.m.; Sun., 2 p.m.; through May 21. (323) 663-1525 or FountainTheatre.com.
Years of Infamy: A New Documentary About the Japanese-American Internment
And Then They Came For Us is not the first film to tell the story of Executive Order 9066. Rarely, however, has any account of this shameful history been presented with such persuasively contemporary urgency.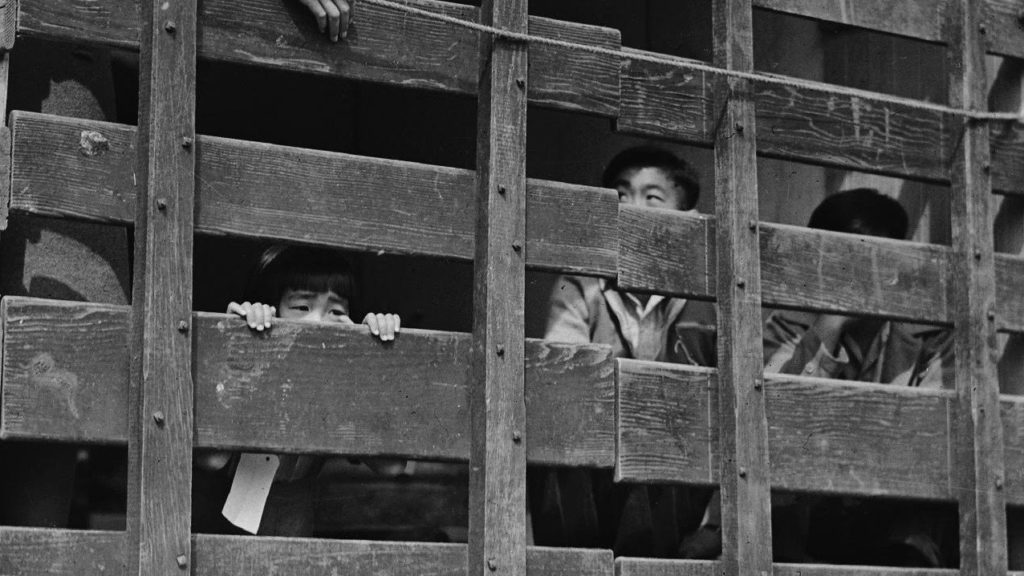 On February 19, 1942, President Franklin D. Roosevelt signed Executive Order 9066, which authorized the War Department to declare much of the West Coast to be military exclusion zones, resulting in the arrest, removal and incarceration of 120,000 law-abiding residents — including roughly 70,000 birthright American citizens — for the offense of being of the wrong race during wartime. Civil rights vanished for Americans of Japanese descent who were forcibly uprooted and deprived of their property without due process.
Social justice filmmakers Abby Ginzberg and Ken Schneider's powerful new documentary, And Then They Came For Us, is not the first to tell the story of one of modern America's most ignominious mass violations of civil rights. Rarely, however, has any account of this shameful history been presented with such persuasively contemporary urgency.
From Ginzberg's opening shots of protest at San Francisco Japantown's February 19th Day of Remembrance march, to the film's concluding call for solidarity between the survivors of 9066 and the Muslim immigrants who now find themselves targeted by yet another baldly racist executive action, it is always harrowingly apparent who is behind today's clear and present danger to bedrock civil liberties.
In fact, as Ginzberg explained to Capital & Main, it wasn't until the days following Donald Trump's 2016 election victory that she became convinced she had a compelling enough hook on which to hang an otherwise oft-told tale. That's when she saw Trump surrogate Carl Higbie appear on TV and cite the wartime internment as a precedent for candidate Trump's calls for a "complete shutdown of Muslims entering the United States," which included surveillance against mosques and establishing a database for all U.S. Muslims.
"I could suddenly see the politics of the film, I could understand its importance to today," she recalled. "It didn't become [a] dry history based on post-World War II analysis. It made me get very excited about it and decide that this film had to be done. We needed to find a way to get it out into the world as quickly as possible."
Her idea was to approach the internment as if it were a breaking news story. By keeping it lean, forgoing lengthy fundraising or complicated locations, the film might get from script to screen while the headlines were still fresh enough to have an impact. That's when the Jonathan Logan Family Foundation, which funds progressive investigative journalism, ponied up for the entire budget — a rare stroke of fortune in the social justice filmmaking world: "I was able to create a budget, give it to them and say, 'I will do this film if you pay the bills.' And they did. We started filming in October of 2016. And we finished it kind of mid- to end-of-April, 2017. For me that is record time." (Disclosure: The foundation is a financial supporter of this website.)
The heart of And Then They Came for Us lies in the trauma and unreconciled anger of the incarcerated — including the articulate testimony of former camp children like actor-activist George Takei. The experiences of now-deceased adults survive in an extraordinary trove of documentary images taken by photographers hired as government propagandists by the War Relocation Authority (WRA). The photographers, among them Ansel Adams and the magnificent Dorothea Lange, were carefully monitored by minders lest they violate rules against taking photos of camp barbed wire, guard towers and heavily armed military police. The prisoners themselves were forbidden cameras of any kind, and it is ironic that the only images of the Japanese-Americans behind barbed wire are those taken by internee Toyo Miyatake, using smuggled equipment and film.
"We tapped into a reservoir of stories," said Ginzberg, "and we were able to kind of cobble the film from everybody contributing something. But the two people who lead the film are George Takei and Satsuki Ina, who really have spent a lot of their lives working on this. … A third person, who's not related at all to George, is Barbara Takei, who's part of the Tule Lake Committee." Local authorities, she added, "are now threatening to build an airfield sorta smack in the middle of the Tule Lake camp, which would mean that any notion of sacred space, or being able to [honor] it as a historical site, will go to hell."
Eschewing the usual newsreel footage, Ginzberg sought — and was given — unrestricted access to recently unearthed and previously unpublished photographs, and research culled by photo historians Richard Cahan and Michael Williams for their 2016 coffee-table tome Un-American: The Incarceration of Japanese Americans During World War II. The book includes 170 images drawn from a 7,000-shot archive of the "evacuation." Ginzberg mostly narrows that to the work of Adams and Lange. And it is the unwavering gaze of the Lange portraits — part of an almost legendary, 800-image cache that was immediately impounded and "lost" for 60 years by the U.S. Army — that drives home the human scale of the tragedy. Many of Lange's photos were impounded for too truly reflecting the emotional reality of the camps.
"We try to let the photos in a certain way speak for themselves," Ginzberg pointed out. "We're letting people sort of read it in the faces of the Dorothea Lange [images], and something — "magical" is not the right word — but something deep happens in the experience of looking at those photos that are up there a little bit longer than they might be in some other setting. [Audiences are] able to read, as Takei says, the resilience and the stress. And so there's something happening that becomes a first-person experience."
In one of the most haunting scenes, internment historian and filmmaker Satsuki Ina, who was born in 1944 at the Tule Lake Segregation Camp near the Oregon border, a maximum security facility reserved for "troublemaker" activists, pensively encounters a Lange portrait of her mother, Shizuko, taken in 1942. Capturing an attractive, immaculately dressed young woman, the picture freezes a moment when her features are visibly drawn in worry as she waits with other first- and second-generation Japanese-Americans on a long sidewalk queue underneath government posters announcing their imminent removal.
Other speakers describe remarkably similar memories of the pain of witnessing their parents undergo the humiliation of gradually being shorn of their freedom and independence. Within a matter of weeks, the WRA froze bank accounts, limited movement and finally stripped internees of their automobiles and other property through forced sales. Los Angeles families were shipped to the Santa Anita racetrack and housed in horse stalls. Orwellian euphemisms ran through a government narrative that spoke soothingly of "evacuations" and "relocation centers," rather than forced removals and concentration camps.
According to Ginzberg the film has been well received by audiences at the handful of film festivals it has entered since its May premiere. She's been offering it for sale on the movie's website for activist groups that have already hosted a number of screenings around the country, and it has played particularly well with teachers. Ginzberg's strategy is to market the film as a classroom-friendly component (the runtime is 46 minutes) to lesson plans about the incarceration.
"Let's see if we can't educate people, organize people and have this film be as relevant as possible to what is going on, particularly with the Muslim travel ban, and then with other really repressive immigration policies."
---
The November 27 Los Angeles premiere for And Then They Came for Us, at the Downtown Independent Theater, is sold out.  Other screenings can be found at thentheycamedoc.com.
Copyright Capital & Main