The Sixties: What a Long, Strange Guilt Trip It's Been
Guilt — in the psychoanalytic tradition — is both a form of self-punishment and a key obstacle to therapeutic improvement. In The Ego and the Id, Freud wrote that the patient finds "satisfaction in the illness and refuses to give up the punishment of suffering." In a paradoxical way, obsessive guilt becomes a masochistic attempt at an unreliable cure.
The Company You Keep, starring and directed by Robert Redford, is a film awash in guilt. Redford's character, Jim Grant, an ex-radical still "hiding" in plain sight, feels guilt about his past and about the secrets he has to withhold from his daughter. A reporter, played by Shia LaBeouf, eventually feels guilty about the impact his bulldog reporting might have on the people he's writing about. A tenured radical professor feels guilty about not keeping up "the struggle," unable to inspire his students beyond a round of applause at the end of his stories. Another ex-member of the movement (played by Susan Sarandon) tells a reporter that it's the "kids that change you," the guilt of abandoning her family audible in her voice. Then there is Mimi, the hard-core hold out, who wants her former revolutionary comrades to feel guilty for easing into adulthood while U.S. imperialism still runs rampant.
In recent years there has been a kind of nostalgia for the supposedly tough, adventurous, radical critique the Weather Underground supplied a wishy-washy "white left" during the crucible of the struggle. Memoirs have been written, documentaries have been made, and a presidential candidate attended a fundraiser at the home of ex-Weathermen. Redford insists, of course, that The Company You Keep is not about the Weathermen, but simply about people who are trapped by their past, by small offenses they committed that they have to pay for — for the rest of their lives. The director made this assertion (twice) in an online discussion with New York Times reporter David Carr, during which the director was joined by LaBeouf, who pointed out that Redford had given him some books to read in preparation for the role. LaBeouf also said that he had talked to his parents who were familiar with the Weathermen, concluding, "These were the Billy the Kids of the time and my dad was rooting for them." (Proof that you can be a successful actor while still thinking from hand to mouth about politics and history.)
While the film may not be "about" the Weather Underground ("The Weathermen" took the more gender-inclusive name at some point in the 1970s), in conversations throughout the movie the characters struggle with the moral complexity of justifying political violence. In jail, Sarandon's character tells the visiting reporter that in the late 1960s there was a revolution going on: "Japan, France, Angola — and I wanted to be part of it." She adds, "If we sat at home while our country committed genocide — that was violence." She challenges the reporter about what he is willing to take a risk for, asserting that she would do it again, but "smarter, better, different." "We made mistakes but we were right," she says.
Mimi, however, remains on the run, reduced to smuggling pot into Big Sur (which struck me as rather like bringing coals to Newcastle), evading trial for her involvement in the killing of a bank security guard during a botched robbery decades earlier. When Grant finally catches up with her, she doesn't even admit mistakes: after Grant points out that during the bank robbery a father with a family was killed, she says that, in Vietnam at the time, "so many other fathers with families and with sons were getting killed," and that the US killing of innocents proceeds apace. "Everyone has given up and given in," Mimi admonishes him. Grant tells her that he has "grown up," but that they each had abandoned their "most fundamental duty": raising the child they had together.
The subdued tones and laconic dialogue of The Company You Keep add a melancholic feel to the film, as if a damp depression hangs in the atmosphere. But the film does not, and perhaps cannot, explore what and who the Weathermen were. An audience not familiar with certain events of the late 1960s and early 1970s will have no idea that the Weather Underground was an organization with a particular history, that espoused particular beliefs, and carried out particular actions. So the political exchanges between the characters have a truncated and abstract quality, having to do with "principles" set against "growing up" and accepting adult responsibilities. Without knowing the actual history of the organization, it becomes easy for someone with good progressive instincts to nod knowingly when Sarandon's character concludes that we were "right," despite the "mistakes." Her statement is somewhat like the bumper sticker that asserts, "War is not the Answer" when it would be helpful to first know the question. What were the Weathermen specifically "right" about?
It's unclear what books Redford gave Labeouf, but, given his comment about Billy the Kid, they are not likely to have been any of the following: Todd Gitlin's The Sixties: Years of Hope, Days of Rage; James Miller's Democracy Is in the Streets: From Port Huron to the Siege of Chicago; or Maurice Isserman and Michael Kazin's America Divided: The Civil War of the 1960s. All of these give an account of the history, politics, and devastating impact of the Weathermen and Weather Underground on the broader fortunes of the left in the United States, with Gitlin's being the most up-close and damning — he was president of the Students for a Democratic Society in 1963 and 1964.
And if you want a wonderful example of the "thinking" of the Weathermen circa 1969, take a look at the borderline psychotic political ranting of their 16,000-word "manifesto," a document that gives intellectual incoherence a bad name.
The Weathermen operated, as Gitlin sees it, according to a dangerous syllogism: "The revolution had to be; there was no one to make it; therefore it had to be forced." They were "the foam on a sea of rage," Gitlin writes. Put another way, they were, as movement activist and 1960s leader Tom Hayden observed, the New Left's "Id."
"The revolutionary child," Gitlin writes, "had metamorphosed into its own harsh parent, out to "smash" the retrograde, hesitant self. " The sentiment is entirely in keeping with Freud's idea of how the superego becomes the "vehicle of tradition, of all the time-resistant valuations that have thus propagated themselves across generations" — and with the notion that the superego was an agent of both life and death, preserving cultural values but attacking the individual at the same time. In the last communiqué the Weathermen wrote they framed their argument in characteristically self-loathing terms, attacking themselves as they struck out at the world: "Smashing the pig means smashing the pig inside ourselves, destroying our own honkiness."
Movies, like psychoanalysis and religion, can be ways of transforming pain into meaning. In The Company You Keep, the demands of culture and a "higher responsibility" are counter-posed to the purity of "principle." But the demonic and destructive political energy of the Weathermen could not be contained within a film that ultimately conflates the "excesses" of the Weathermen with the broader history of the civil rights and antiwar movements of the late 1960s. At the end of the movie, Redford's character becomes the nurturing parent to his own child that he couldn't be to himself. The guilt that he carried with him like a heavy bag is partly assuaged by caring for his daughter.
As the radical Weathermen would have had it: "How bourgeois."
(Kelly Candaele is a journalist, filmmaker and former union organizer. His post first appeared on Los Angeles Review of Books. Republished with author's permission.)

'Skeleton Crew' Is a Play With a Moral Spine
Set in a Detroit automobile outfitting plant, Dominique Morisseau's drama grabs you from the start with its focus on blue-collar men and women, and their struggle for dignity and self-respect.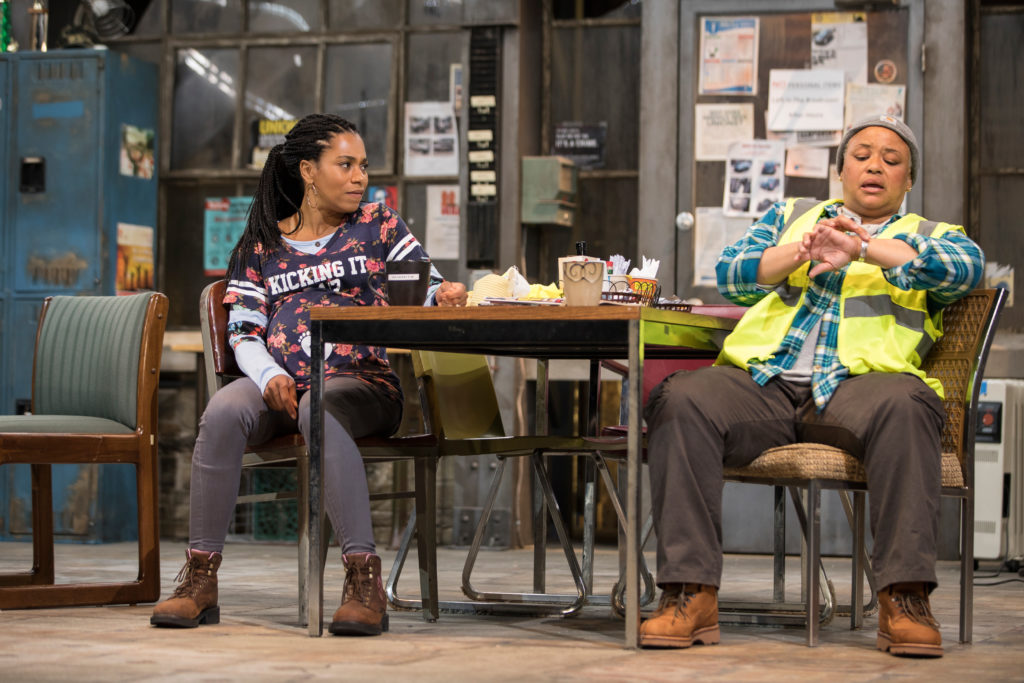 Working-class men and women of color are rarely front and center in today's media and, likewise, are presented all too occasionally on the American stage. So it's buoying to see that trend bucked in playwright Dominique Morisseau's percipient and well-crafted drama, Skeleton Crew. The play is the final installment in her Detroit  Project Trilogy; the first, Paradise Blue, is set in the 1940s amidst displacement caused by urban renewal and gentrification, while the second, Detroit '67, transpires on the eve of the 1967 Detroit riots sparked by a police action.
Directed by Patricia McGregor at Los Angeles' Geffen Playhouse, Skeleton Crew is a play with a moral spine. It takes place in 2008, when the shrinking U.S. auto industry is being further downsized. Morisseau's engaging quartet of characters — Faye (Caroline Stefanie Clay), Dez (Armari Cheatom), Shanita (Kelly McCreary) and Reggie (DB Woodside) – are employed at an automobile outfitting plant. Faye, Dez and Shanita are workers on the line while Reggie (who has a wife and kids, and has pulled himself together after a troubled youth) is their supervisor.
The first three customarily mingle in their break room (designer Rachel Myers' impressively cluttered, dingy and detailed set), trading the sort of familiar barbs and genuine concern for each other common among longtime co-workers. They also face off on philosophy: Upper-middle-aged Faye and the younger, pregnant Shanita take pride in their labor, while Dez, though a good worker, is a malcontent scornful of management and firm in the belief that everyone needs to watch out for himself. He's a thorn in Reggie's side, for while Reggie wants to be supportive of his workers, he must act at the behest of higher management. For his part, Dez resents Reggie's authority, and a palpable unease exists between them.
Besides this male matchup, we're made privy to Dez's attraction to Shanita, who mostly turns away his advances, but every now and then displays a hint of interest. Most poignant is Reggie's regard and affection for the lesbian Faye, which has roots in his boyhood when she loved, and lived, with his now-deceased mom.
These people's various predicaments intensify when rumors spread of the plant's shutdown — a disaster for all, but a particular calamity for the already near-broke Faye who, one year short of retirement, would lose her pension. The crisis forces each of these people to make a choice.
A sound piece of social realism, Skeleton Crew grabs you from the start in its focus on blue-collar men and women, and their struggle against odds for dignity and self-respect. Morisseau not only furnishes these characters a platform for their travails, she endows them with strong values, big hearts and the opportunity to choose between right and wrong.
Unfortunately, the performance I attended did not soar. Many exchanges lacked a fresh edge. The actors certainly had their characters down, but too often they appeared to be coasting on technique. (This seemed particularly true of Clay, who performed the role to great accolades in Washington, DC in 2017, also under McGregor's direction). Additionally, some of the stage movement was not entirely fluid; in confrontations, actors sometimes would just stand and face each other in an artificial way. And Cheatom's interpretation of Dez struck me as a bit overly churlish and depressive: I needed more glimpses of the intelligence and edge that would secretly attract the strong, self-directed Shanita.
The most compelling moments belong to Woodside, well-cast as a man trying his best in difficult circumstances to do the right thing.
---
Gil Cates Theater at the Geffen Playhouse, 10886 Le Conte Ave., Westwood Village; Tues.-Fri., 8 p.m.; Sat., 3 & 8 p.m. Sun., 2 & 7 p.m.; through July 8. (310) 208-5454 or www.geffenplayhouse.org