The Secret Lives of California Poll Workers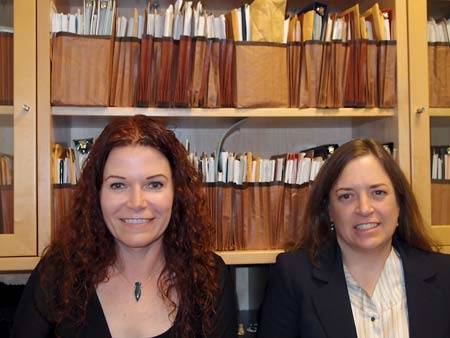 (This Berkeley Blog post is republished with permission and came to us via LA Progressive.)
About a million Americans — 100,000 of them in California  — will spend Election Day as poll workers. Karin MacDonald and Bonnie Glaser, director and research specialist, respectively, at Berkeley Law's Election Administration Research Center, say it's a role that's stressful and under-appreciated.
They should know. Since EARC's inception in 2005, the two researchers have been looking at what it takes to conduct a fair, accurate and transparent election — and sharing EARC's findings in the form of technical assistance to election officials (many of whom they know many on a first-name basis) and outreach to the public.
The two have delved into various aspects of the election process: poll-worker training, voter registration, early voting, absentee voting, voting by mail, polling-site management and more.  While data analysis plays a big role in their work (MacDonald, in fact, also directs California's statewide redistricting database), they also have done extensive research in the field — interviewing election administrators and lending a hand in polling places in order to understand the issues first-hand.
The NewsCenter sat down with MacDonald and Glaser recently to get their perspectives on the election process.
Cathy Cockrell: You've spent many years studying poll work. Why?
Karin MacDonald:  We started EARC with a big project looking at, and helping to improve, poll-worker training in California. That's not something that makes people jump out of their chairs and say "How exciting!" Researchers typically want to look at something that's really juicy and headline grabbing. We've been in the trenches studying poll workers; it's really where the rubber hits the road. Poll workers control the ballots; they have a lot of power.
In a perfect world, every voter would get the proper ballot, every voter would be subject to the same election laws. But in this decentralized election-administration system that we have in the U.S., you see a lot of variation between the states, and counties, and even from polling place to polling place, as to how poll workers are being trained, how their mission is being described to them. Once we began looking at this closely, we were hooked.
CC: Who gets trained to be a poll worker?
KM:  We discovered that there's a hierarchy at each polling place.  Some have an inspector who's in charge of the polling place. That person may have a judge, the second in charge, and then clerks and maybe translators. In some counties only the inspector gets trained; in some the inspector, the judge and the clerks get trained.
Bonnie Glaser:  To train poll workers you get an hour, basically, maybe two if you're lucky. It's a lot to do in an hour: make them feel comfortable, make them excited, make them feel a certain amount of confidence, such as how to use the voting equipment and the reference materials.
CC: And haven't the ground rules for elections been in quite a bit of flux?
KM:  Yes. In California, one day we had voting machines and certain kinds of primaries, the next day — because of law changes and the secretary of state's decertification of the machines — we didn't.
Or look at current voter ID requirements around the nation. Who implements them? Poll workers. So if there's a last-minute court order stopping the ID requirements, you need to go back to your poll workers and tell them that the policies and procedures have changed. That's easier said than done. Do you have the time and resources to revise your written materials? Is there a phone number that poll workers can call on Election Day if they have questions? There's just a lot of issues.
And when there's confusion at the polling place, you'll have voters saying: "You people are bozos! We just want to vote! What are you doing?" So then the poll workers have to deal with irate voters, and they aren't trained for that.
CC: To what extent has election administration been studied?
KM:  Election administrators were being studied left and right after the Florida debacle in the 2000 presidential election. Researchers would publish articles, in academic journals or in the media, just slamming election administrators — rather than trying to understand what it is about the job that creates problems.
We ask a lot from poll workers. Whenever I've worked as a poll worker, I've always been really stressed out. Yes, they get a little stipend, but it's not even minimum wage. Your hours at the polling place are long; it can be cold and uncomfortable. We expect them to know the election laws; we assume they understand their mission and what they should be doing.
We at EARC have a good relationship with election administrators around the state. That's in part because we've worked in election offices as poll workers, as rovers, we've taught, created trainings, in different counties. We learned about the challenges from their perspective.
How can you study poll workers if you've never been a poll worker — if you've never sat there from 6 in the morning until 9 or 10 at night, and struggled through these mountains of papers? If you want to learn it, you have to roll up your sleeves.
CC: So you've visited all 58 California counties in your work?
BG:  We've been to most of them, and those that we haven't visited, especially the really small ones like Alpine County, which has around 800 registered voters, we've talked to on the phone.
KM:  Some, like Alpine, are so tiny they don't have polling places. Their registrar of voters might call someone up and say, "Did you get a chance to vote? I don't see your ballot here."
CC: And California just started offering online voter registration?
KM:  Yes, on September 19 — just a month and a half before this huge election coming up. If you're an election administrator, that's your day in hell, when there's a huge policy change right before an election, with everyone looking, instead of before a little election, so you can refine your training materials and figure out how to implement the new policy.
CC: What kind of issues do you anticipate at the polls on Election Day?
BG:  In California there are going to be problems. You could register up to October 22, including online. About a million Californians used the online registration site; it was extremely popular. And it's going to be impossible for the counties to get their rosters printed with an accurate, up-to-date set of names of those eligible to vote at each polling precinct.
We did a study of voting by military personnel and Americans living overseas. That got us looking at electronic voting. If you're deployed to Afghanistan, there are different ways to "vote" over the web. Some states provide a ballot online. You print it, and then how do you get it back to your state? Do you fax it? Scan it? Print it? Mail it? And how do they verify the signature?
KM:  And remember, this is the first time we've voted since redistricting — besides the June primary, which had very low turnout. After the legislative districts are redrawn, counties redraw their precinct boundaries. As a result, some people may be asked to vote in a new location, which can also be confusing.
BG:  So for people who registered close to the deadline, they will be listed on a supplemental roster, which needs to be mailed or delivered, for use at each precinct and polling table. I'm planning to be a poll worker in Contra Costa County. Before Election Day, I have to go meet someone who's going to deliver supplemental materials.
So we know there's going to be a lot of provisional ballots in California. Luckily, most provisional ballots get counted in this state — I believe around 90 percent. In a lot of other states, the percentage is much lower. In California, provisional ballots submitted anywhere within the county where the voter is registered can be counted.
KM:  Provisional ballots is one of the big issues to watch in the national election, in terms of voter access and voting rights.
CC: Haven't there been calls for international delegations to observe the U.S. election?
KM:  Yes. The U.S. State Department invited international observers from the OSCE, the Organization for Security and Cooperation in Europe. The observers picked a few states to visit, Texas among them. That's a good bet, because it's a big state, with a voter ID law, etc. But Texas has issued some stern warnings, telling observers they might get prosecuted. Why wouldn't you have observers? Come on and watch, by all means.
BG:  That's what we all learned in 2000: Transparency is a great value. Other than how you actually voted, it all should all be open and public.
CC: What's the best adjective to describe your feelings about the upcoming election?
KM:  Worried. There are a lot of moving pieces. We're concerned about provisional ballots, and voter ID laws. And we're all worried about Ohio.
BG:  Uncertain. Around the country a lot is going to be decided in court. There will be a lot of process issues — voter ID laws, malfunctions with equipment, different practices in different parts of the state and country.
There are people who think all election administrators are bad, that they can be bought by the campaigns. We've seen enough of what they do, and how hard it is, that we don't see them that way. We see them as trying to do their best to be accurate and transparent.
KM:  We know many of the California election administrators well. Some of them have been doing it for long time and do a really good job. Hats off to them. The registrar of voters is sometimes the county clerk, too. Sometime they have other jobs, like treasurer and assessor. I'm still looking for a registrar who's also the coroner.
ICE's Stealth Campaign to Expand Its Budget
The new Democratic majority in the House of Representatives could pose a challenge to the agency's chronic overspending — and to its aggressive detention and deportation policies.
---
In June the Dept. of Homeland Security asked Congress to allow it to transfer $200 million to ICE to cover agency overspending, continuing a pattern of such requests.
---
Big spending on immigration enforcement at the Department of Homeland Security promises to be a major sticking point as Congress prepares to negotiate a budget deal early next month.
Even though illegal immigration to the United States appears to be at its lowest point in 46 years, spending on immigration enforcement is at an all-time high. (The U.S. Border Patrol reported that in 2017, the last year for which statistics are available, apprehensions at the U.S.-Mexico border had dropped to 303,000, and had been declining nearly every year since 2000, when a record 1.6 million people were arrested.)
---
 By overspending its congressional allocation, ICE is effectively writing its own budget.
---
U.S. Immigration and Customs Enforcement's detention operations exceeded the agency's budget this year, while ICE spending on its vast system of immigration jails shows no sign of slowing.
But a newly elected Democratic majority in the House of Representatives could pose a challenge to the agency's chronic overspending — and to its aggressive detention and deportation policies.
ICE jailed so many immigrants in 2018 that it ran out of space in its more than 200 lock-ups, and placed 1,600 people in medium-security prisons.
Congress set detention and deportation spending for 2018 at $4.4 billion, enough to detain some 40,520 people annually.
However, by June, 44,000 men and women languished in immigration detention, filling 4,000 more beds than Congress authorized. DHS asked Congress to allow it to transfer $200 million to ICE to cover agency overspending. The department plucked the funds from several of its agencies, including the Federal Emergency Management Agency, the Coast Guard and the Transportation Security Administration.
Critics of ICE say that by overspending its congressional allocation, the agency has engineered a stealth expansion of the U.S. detention system, effectively writing its own appropriation, and skirting the Constitution's separation of powers in which Congress, not the executive branch, has the authority to set spending limits.
---
Congressman: "We shouldn't be using FEMA as a piggy bank to fund detention beds."
---
"It allows them to quickly expand the detention system contrary to congressional intent," said Heidi Altman, director of policy at the National Immigrant Justice Center, a non-profit immigrant rights group.
Such intradepartmental funds transfers aren't uncommon, but a congressional staffer who asked that his name not be used for this story said this one was controversial because nearly all of the money went to ICE for detention and deportation. ICE has received other big budget increases in the past two years. In March 2017, the agency got a $2.6 billion supplemental appropriation; three months later, ICE was back, requesting that Congress approve a $91 million funds transfer.
The $200 million June 2018 transfer, wrote DHS spokeswoman Katie Waldman in an email, was "in line with the FY 2019 president's budget request for U.S. Immigration and Customs Enforcement."
However, the additional funds covered FY 2018 overspending – not future shortfalls in 2019; Congress has yet to agree to a permanent fiscal year 2019 budget. Waldman didn't answer an email asking to clarify her comments.
---
Congressional Staffer: Whenever ICE outspends its budget and adds detention beds, it gains leverage for the next round of budget negotiations.
---
The same congressional staffer who discussed the controversy surrounding the $200 million DHS funds transfer also noted that when ICE outspends its budget and adds detention beds, it gains leverage for the next round of budget negotiations because reducing beds would mean freeing detainees and, ICE argues, their release could jeopardize public safety.
Growth by funds transfer also generally avoids public scrutiny. Transfer documents submitted by government agencies are not released to the public. But earlier this year, Sen. Jeff Merkley (D-OR) released DHS's June 2018 transfer and reprogramming request, noting that $10 million had been taken from FEMA just as Hurricane Florence was making landfall in North Carolina.
DHS shot back, claiming the funds were administrative and weren't earmarked for hurricane relief. But according to Ur Jaddou, director of the advocacy group DHS Watch, and a former Chief Counsel at U.S. Citizenship and Immigration Services, the DHS agency that oversees immigration and citizenship applications, "The government these days doesn't operate on a plethora of administrative resources. It's really functioning on a very limited budget. When they say they're using unused money, it's just a ruse."
Congress has shown its frustration with ICE's disregard for its authority, but hasn't acted to rein in agency spending.
---
Congress has scolded ICE for its "lack of fiscal discipline and cavalier management."
---
In budget recommendations for fiscal year 2019, the Senate Appropriations Committee wrote, "In light of the Committee's persistent and growing concerns about ICE's lack of fiscal discipline, whether real or manufactured, and its inability to manage detention resources…the Committee strongly discourages transfers or reprogramming requests to cover ICE's excesses."
Two years before, the explanatory language in the supplemental appropriations bill was even harsher. Appropriators pointed to a "lack of fiscal discipline and cavalier management" of detention funding, saying the agency seemed to think its detention operations were "funded by an indefinite appropriation. This belief is incorrect."
"We shouldn't be using FEMA as a piggy bank to fund detention beds," said Rep. Dutch Ruppersberger (D-MD). "Unelected agency heads shouldn't unilaterally shift taxpayer dollars for purposes they weren't intended."
Still, despite congressional annoyance with ICE's free-spending ways, it hasn't conducted meaningful oversight of the immigration detention system, said Greg Chen, director of government relations for the American Immigration Lawyers Association.
"The current leadership in Congress hasn't been interested in conducting hearings on detention spending and whether detention is even necessary at the scale it is now," Chen said.
When President Trump issued an executive order calling for no-holds-barred arrests of undocumented immigrants in January 2017, the border patrol reported that apprehensions at the U.S.-Mexico border were lower than at any time since 1972 — when the detention population was a fraction of its current size.
ICE reported that in fiscal year 2017, 41 percent of crimes of which detainees had been convicted were traffic- or immigration-related.  Just 11.4 involved murder, sexual assault, kidnapping, robbery or assault.
Chen argued that ICE has a legal responsibility to screen each person in its custody for risk – either of flight or to public safety. "ICE is just not doing that and defaulting to the practice of detaining people."
Democrats in Congress could take on a more robust role in overseeing ICE spending, now that they've gained a majority in the House. They could put conditions on spending, call for Government Accounting Office reports and hearings, cut funding, demand answers if ICE overspends and bring its actions to the attention of the press, said DHS Watch director Ur Jaddou, who is also a former congressional staffer.
"The next time they [ICE] need something," Jaddou said, Congress can respond, 'Do you really want it? You better listen.'"
---
Copyright Capital & Main