The Secret Lives of California Poll Workers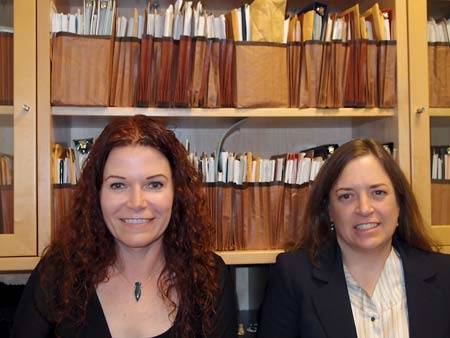 (This Berkeley Blog post is republished with permission and came to us via LA Progressive.)
About a million Americans — 100,000 of them in California  — will spend Election Day as poll workers. Karin MacDonald and Bonnie Glaser, director and research specialist, respectively, at Berkeley Law's Election Administration Research Center, say it's a role that's stressful and under-appreciated.
They should know. Since EARC's inception in 2005, the two researchers have been looking at what it takes to conduct a fair, accurate and transparent election — and sharing EARC's findings in the form of technical assistance to election officials (many of whom they know many on a first-name basis) and outreach to the public.
The two have delved into various aspects of the election process: poll-worker training, voter registration, early voting, absentee voting, voting by mail, polling-site management and more.  While data analysis plays a big role in their work (MacDonald, in fact, also directs California's statewide redistricting database), they also have done extensive research in the field — interviewing election administrators and lending a hand in polling places in order to understand the issues first-hand.
The NewsCenter sat down with MacDonald and Glaser recently to get their perspectives on the election process.
Cathy Cockrell: You've spent many years studying poll work. Why?
Karin MacDonald:  We started EARC with a big project looking at, and helping to improve, poll-worker training in California. That's not something that makes people jump out of their chairs and say "How exciting!" Researchers typically want to look at something that's really juicy and headline grabbing. We've been in the trenches studying poll workers; it's really where the rubber hits the road. Poll workers control the ballots; they have a lot of power.
In a perfect world, every voter would get the proper ballot, every voter would be subject to the same election laws. But in this decentralized election-administration system that we have in the U.S., you see a lot of variation between the states, and counties, and even from polling place to polling place, as to how poll workers are being trained, how their mission is being described to them. Once we began looking at this closely, we were hooked.
CC: Who gets trained to be a poll worker?
KM:  We discovered that there's a hierarchy at each polling place.  Some have an inspector who's in charge of the polling place. That person may have a judge, the second in charge, and then clerks and maybe translators. In some counties only the inspector gets trained; in some the inspector, the judge and the clerks get trained.
Bonnie Glaser:  To train poll workers you get an hour, basically, maybe two if you're lucky. It's a lot to do in an hour: make them feel comfortable, make them excited, make them feel a certain amount of confidence, such as how to use the voting equipment and the reference materials.
CC: And haven't the ground rules for elections been in quite a bit of flux?
KM:  Yes. In California, one day we had voting machines and certain kinds of primaries, the next day — because of law changes and the secretary of state's decertification of the machines — we didn't.
Or look at current voter ID requirements around the nation. Who implements them? Poll workers. So if there's a last-minute court order stopping the ID requirements, you need to go back to your poll workers and tell them that the policies and procedures have changed. That's easier said than done. Do you have the time and resources to revise your written materials? Is there a phone number that poll workers can call on Election Day if they have questions? There's just a lot of issues.
And when there's confusion at the polling place, you'll have voters saying: "You people are bozos! We just want to vote! What are you doing?" So then the poll workers have to deal with irate voters, and they aren't trained for that.
CC: To what extent has election administration been studied?
KM:  Election administrators were being studied left and right after the Florida debacle in the 2000 presidential election. Researchers would publish articles, in academic journals or in the media, just slamming election administrators — rather than trying to understand what it is about the job that creates problems.
We ask a lot from poll workers. Whenever I've worked as a poll worker, I've always been really stressed out. Yes, they get a little stipend, but it's not even minimum wage. Your hours at the polling place are long; it can be cold and uncomfortable. We expect them to know the election laws; we assume they understand their mission and what they should be doing.
We at EARC have a good relationship with election administrators around the state. That's in part because we've worked in election offices as poll workers, as rovers, we've taught, created trainings, in different counties. We learned about the challenges from their perspective.
How can you study poll workers if you've never been a poll worker — if you've never sat there from 6 in the morning until 9 or 10 at night, and struggled through these mountains of papers? If you want to learn it, you have to roll up your sleeves.
CC: So you've visited all 58 California counties in your work?
BG:  We've been to most of them, and those that we haven't visited, especially the really small ones like Alpine County, which has around 800 registered voters, we've talked to on the phone.
KM:  Some, like Alpine, are so tiny they don't have polling places. Their registrar of voters might call someone up and say, "Did you get a chance to vote? I don't see your ballot here."
CC: And California just started offering online voter registration?
KM:  Yes, on September 19 — just a month and a half before this huge election coming up. If you're an election administrator, that's your day in hell, when there's a huge policy change right before an election, with everyone looking, instead of before a little election, so you can refine your training materials and figure out how to implement the new policy.
CC: What kind of issues do you anticipate at the polls on Election Day?
BG:  In California there are going to be problems. You could register up to October 22, including online. About a million Californians used the online registration site; it was extremely popular. And it's going to be impossible for the counties to get their rosters printed with an accurate, up-to-date set of names of those eligible to vote at each polling precinct.
We did a study of voting by military personnel and Americans living overseas. That got us looking at electronic voting. If you're deployed to Afghanistan, there are different ways to "vote" over the web. Some states provide a ballot online. You print it, and then how do you get it back to your state? Do you fax it? Scan it? Print it? Mail it? And how do they verify the signature?
KM:  And remember, this is the first time we've voted since redistricting — besides the June primary, which had very low turnout. After the legislative districts are redrawn, counties redraw their precinct boundaries. As a result, some people may be asked to vote in a new location, which can also be confusing.
BG:  So for people who registered close to the deadline, they will be listed on a supplemental roster, which needs to be mailed or delivered, for use at each precinct and polling table. I'm planning to be a poll worker in Contra Costa County. Before Election Day, I have to go meet someone who's going to deliver supplemental materials.
So we know there's going to be a lot of provisional ballots in California. Luckily, most provisional ballots get counted in this state — I believe around 90 percent. In a lot of other states, the percentage is much lower. In California, provisional ballots submitted anywhere within the county where the voter is registered can be counted.
KM:  Provisional ballots is one of the big issues to watch in the national election, in terms of voter access and voting rights.
CC: Haven't there been calls for international delegations to observe the U.S. election?
KM:  Yes. The U.S. State Department invited international observers from the OSCE, the Organization for Security and Cooperation in Europe. The observers picked a few states to visit, Texas among them. That's a good bet, because it's a big state, with a voter ID law, etc. But Texas has issued some stern warnings, telling observers they might get prosecuted. Why wouldn't you have observers? Come on and watch, by all means.
BG:  That's what we all learned in 2000: Transparency is a great value. Other than how you actually voted, it all should all be open and public.
CC: What's the best adjective to describe your feelings about the upcoming election?
KM:  Worried. There are a lot of moving pieces. We're concerned about provisional ballots, and voter ID laws. And we're all worried about Ohio.
BG:  Uncertain. Around the country a lot is going to be decided in court. There will be a lot of process issues — voter ID laws, malfunctions with equipment, different practices in different parts of the state and country.
There are people who think all election administrators are bad, that they can be bought by the campaigns. We've seen enough of what they do, and how hard it is, that we don't see them that way. We see them as trying to do their best to be accurate and transparent.
KM:  We know many of the California election administrators well. Some of them have been doing it for long time and do a really good job. Hats off to them. The registrar of voters is sometimes the county clerk, too. Sometime they have other jobs, like treasurer and assessor. I'm still looking for a registrar who's also the coroner.

Rick Scott Invested in the Same Financial Firms As Florida's Pension System
Co-published by MapLight
For most of his time in office, Florida's governor has shielded his investments from public view. A new disclosure shows Rick Scott and his wife have invested at least $18 million in financial firms managing money for the state's pension system that he oversees.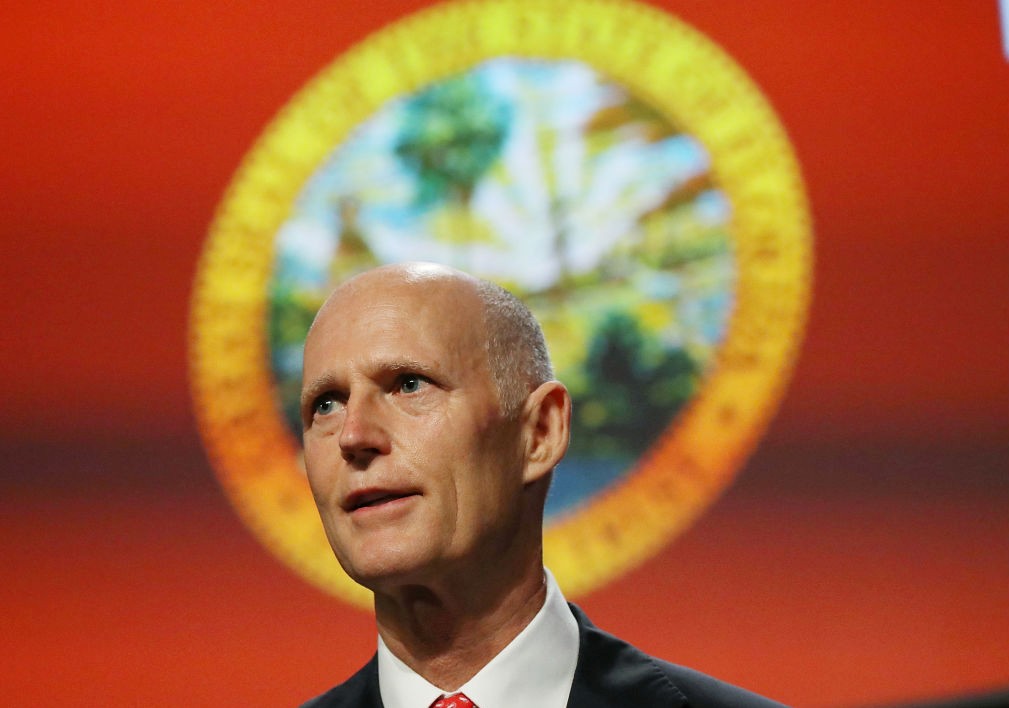 ---
Former SEC Lawyer: "There needs to be an investigation into whether the state is subsidizing Rick Scott's personal returns."
---
Co-published by MapLight
Florida Gov. Rick Scott and his wife have invested at least $18 million in three financial firms managing money for the state's pension system that Scott oversees — a situation that intertwines the governor's personal finances with his responsibility for supervising state employees' retirement savings.
The investments were first divulged in a federal financial disclosure form that Scott filed as part of his U.S. Senate campaign in July. For most of his time in office, Scott has shielded his investments from public view, and only reported their overall value in his blind trust.
The terms of Scott's investments remain undisclosed. The firms' own corporate documents say they can give certain investors special preferences not afforded to other investors — and experts have in recent years argued that hedge funds, private equity firms, and other "alternative investments" are giving such preferences to elite investors. One former Securities and Exchange Commission attorney told MapLight and Capital & Main that Scott must disclose whether he is being given such preferences.
---
Critics have raised questions about how blind the Scott family trusts really are.
---
Florida ethics laws are supposed to prohibit state officials from entering into contractual relationships with companies that do business with their agencies. However, after Scott became governor in 2011, state ethics officials said he and his family members could put their assets into a blind trust to avoid conflicts of interest and still maintain their investments in companies operating in Florida.
Critics have raised questions about how blind the Scott family trusts really are. Scott placed one of his longtime business associates in charge of managing his blind trust. The Tampa Bay Times reported that Scott's blind trust has invested with a private equity firm tied to a high-speed rail project in Florida. The trust also had an indirect interest in a cancer treatment company that received tax breaks from Scott's administration.
---
"The question is whether Rick Scott is being allowed to invest on better terms than the state pension fund."
---
"When Governor Scott was elected, he put all of his assets in a blind trust, which is managed by an independent financial professional who decides what assets are bought, sold or changed," said Scott campaign spokesperson Lauren Schenone. "The rules of the blind trust prevent any specific assets or the value of those assets within the trust from being disclosed to the governor, and those requirements have always been followed."
Scott is one of three state officials who serve as trustees for the Florida State Board of Administration, which manages a $160 billion fund for roughly 400,000 retirees. Scott, Attorney General Pam Bondi, and Chief Financial Officer Jimmy Patronis oversee lucrative state investment deals granted to cash-hungry Wall Street firms.
The three firms that have received $325 million worth of Florida pension investments have allowed the Scott family's blind trusts to simultaneously invest their personal fortunes in these funds. Scott's investments in the funds did not appear in a 2014 disclosure itemizing his holdings. His campaign did not say when the investments were made.
"There are no ethics rules that prohibit or limit a trustee from investing in funds also invested in by the SBA," said SBA spokesperson John Kuczwanski, though he added that trustees are subject to Florida's general code of ethics. Kuczwanski said that the governor has no involvement in specific pension investment decisions.
Don Hinkle, a Democratic lawyer, filed a lawsuit last year alleging that the governor has failed to comply with the state's blind trust and financial disclosure laws. He said he was surprised by the news that Scott had invested in the same firms as the Florida pension system.
"I would think that he would have avoided investments where the state of Florida's money is propping his up," Hinkle told MapLight and Capital & Main.
In 2011, a few months after Scott became governor, the SBA committed $150 million to Highline Capital Partners, a New York-based hedge fund. Scott's financial disclosure shows that his family's trusts have invested at least $4 million in the same Highline fund as the state.
The SBA also committed $100 million in 2015 to a hedge fund managed by Canyon Capital Advisors, a Los Angeles-based firm created by veterans of the notorious investment bank Drexel Burnham Lambert, which was driven into bankruptcy as a result of illegal and unethical trading practices. Scott and his family have invested at least $12 million in Canyon funds, according to his financial disclosure.
Before Scott became governor, the SBA invested $75 million with VSS, a New York-based private equity firm that was launched by a co-founder of Psychology Today. Scott and his wife, Ann, have invested more than $2.2 million in another VSS fund. A spokesperson for VSS said the firm doesn't comment on its investors.
All three firms' SEC filings say they can offer certain investors special fee terms or other benefits not offered to other investors.
"Alternative investment funds have the ability to offer every investor different fees at a different rate of return, so the question is whether Rick Scott is being allowed to invest on better terms than the state pension fund," said former SEC attorney Edward Siedle, whose Florida-based firm conducts forensic investigations of state pension systems.
"If you give one investor an advantage, another investor has to be disadvantaged," Siedle said. "That means there needs to be an investigation into whether the state is actually subsidizing Rick Scott's personal returns and whether the governor enjoys advantages that are harming the retirees."
Schenone, Scott's spokesperson, said that his blind trust has "been upheld multiple times by the State Commission on Ethics and the court system. Governor Scott has also followed the requirements of all state and federal financial filings."
She noted that former Florida Republican Gov. Jeb Bush and Scott's 2010 Democratic opponent Alex Sink had also used blind trusts, although Scott's campaign attacked Sink for hers at the time.
"Blind trusts sound good but can run afoul of state laws requiring public officials to disclose their personal finances," a Scott campaign ad said in 2010. "[But] simply moving large amounts of money into a blind trust does not magically erase the knowledge of what you own."
---
This piece was reported by Andrew Perez of MapLight and David Sirota of Capital & Main, and published in partnership with the Florida Center for Investigative Reporting.